In 1968, she headed West. By that time Chita was a tried and true New Yorker, and, she says, "Let's face it, L.A. is not New York. It doesn't have New York's pace or energy and I was very much homesick." While out there, however, Rivera did some fancy footwork as Nickie opposite Shirley MacLaine [and John McMartin, her co-star in Chicago's
The Visit
] in the film version of Cy Coleman and Dorothy Field's
Sweet Charity
[1969], which she had previously toured in as Charity for a year.
From 1973 to 1974, she appeared with Van Dyke and Hope Lange on The New Dick Van Dyke Show. "I was Dick's neighbor. It was a great opportunity, but I didn't have a lot to do. On one show I was to come in loaded with groceries and find Dick all doped up after being at the dentist. I was to try to rouse him. My lines were, 'Dick. Dick? Dick!' I knew I had to make the most of it, so I really rehearsed ways to have the most impact. 'Dick!! Dick?? DICK!' We did it and I immediately felt it was time to throw in the towel. Done in by three Dicks, I headed back to New York."
In 1975, as jealous jail-house rival Velma Kelly, Rivera and Gwen Verdon, as the infamous Roxie Hart, created the razzle-dazzle for Bob Fosse and Kander & Ebb's
Chicago
; and Rivera has a cameo in the Oscar-winning film adaptation. After stumbling through a very short-lived 1981
Birdie
sequel ["Donald O'Connor and I tried valiantly to bring him back, but hard as we tried, we couldn't do it!"].
She was back on Broadway as the Queen in Elmer Bernstein/Don Black's 1983 Merlin, which co-starred Nathan Lane and, lackluster though it was, managed a six-month run mainly due to Doug Henning's magic.

In 1984, she received major recognition playing Liza Minelli's free-spirited mom, Anna, in Kander & Ebb's The Rink, which through its trials and tribulations managed six months on Broadway [Jason Alexander was featured]. A year and a half later, she was co-headling with Dorothy Loudon and Leslie Uggams in the Jerry Herman revue Jerry's Girls.

After her ill-fated auto accident, which many predicted would end her career as a dancer, miraculously Rivera stunned Toronto and then Broadway with her awesome footwork in Kander & Ebb's Kiss of the Spider Woman [1993].

At Paper Mill, she starred as Reno Sweeney in Anything Goes. Recent starring roles include Casper: The Musical at Pittsburgh Civic Light Opera; the Chicago premiere of Kander & Ebb's The Visit [book by Terrence McNally] and the 2003 Tony-winning revival of Maury Yeston's Nine starring Antonio Banderas. Prior to that, she took a leap of faith and starred in Lorca's The House of Bernarda Alba at L.A.'s Mark Taper Forum.

In addition to numerous tours, Rivera was often seen on TV variety shows, but rarely in performance. One of those rare appearances was two weeks ago on NBC's hit sitcom Will and Grace's Valentine's Day episode.
HERE'S LOOKING AT YOU,KID
:
B
roadway baby celebrating 50 years in the business.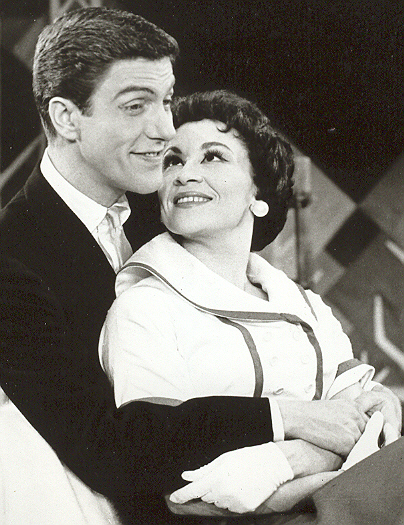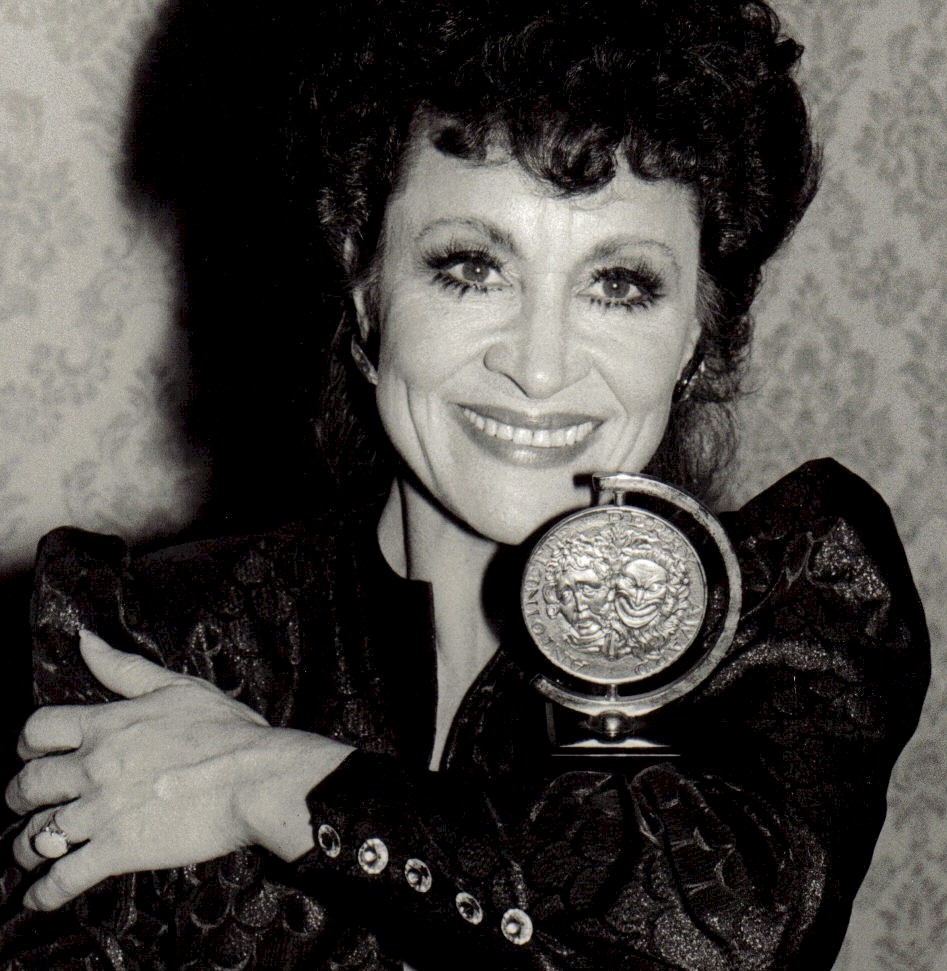 With Dick Van Dyke in Bye, Bye, Birdie; 2004; With her Tony for The Rink.
In her 50-year career, Rivera's never been a dreamer. "There's nothing easy about show business," she says. "In fact, it's so seldom that the good guy wins." She, of course, is one of the exceptions.
Looking back, she calls herself "fortunate, a lucky gal" for having had the opportunity to work with George Ballenchine, Jerome Robbins, Bob Fosse [Sweet Charity film], Hal Prince, Arthur Laurents and Frank Galati.
She's quick to note that she is, "first of all, a dancer who's grown into many other things with the great help of the geniuses I've worked with. God's been wonderful. He said, ëOkay, I'll let you go there.' And everyday, I'm still learning."
Dancers, explains Rivera, are an obedient lot. "We do what we're told - generally without opening our mouths. Most directors love that! But, working with these guys, I've always been able - no! been encouraged, to say what I feel."
She also points to her outstanding line-up of "leading men": Van Dyke, Brent Carver and Anthony Crivello [Spider Woman], Donald O'Connor [Bring Back Birdie], McMartin, Banderas "and to work with such giants as Larry Kert [West Side Story], Jerry Orbach [Chicago], Jerry Herman [Jerry's Girls] and Rob Marshall."
Her life in theater, says Rivera, "has been a wonderful and rewarding adventure. With each job, I feel as if I'm being pushed into a new area with these great playwrights and creative teams who trust me and want to direct me and take me further and further down this path of theatrical adventure."
In December 2002, Rivera received a Kennedy Center Honor. More recently, she's been featured in a Smithsonian Institution traveling exhibition, Our Journey/Our Stories: Portraits of Latino Achievement, showcasing the historical and cultural achievements of Hispanics in America.
As obedient as she may be, Rivera also has a sharp thought process. For instance, she explains, "I really wasn't anxious to do Nine. Doing a revival was not at the top of my To Do list. I don't find them challenging. I was working in L.A. and I started hearing tidbits about what it was going to be, who was going to be in it and who'd direct. When my agent called back, I wasn't so negative. I had heard a lot about director David Leveaux. When I heard Antonio was doing it, I thought, 'What an interesting project.'"
But, she laughs, she didn't arrive "all stary-eyed, looking at Antonio as this Hollywood sex symbol." It didn't take long for him to win her over, however. "Soon, I was thinking, 'He's born for the stage.' He was sweet, approachable, charming, savvy and respected everyone. He didn't walk around with star attitude. He sincerely wanted to be accepted as a stage actor on Broadway. And, to prove that, he worked harder than anyone. It was fabulous to see someone respect that space - to really love theater."
The musical adaptation by Kander, Ebb and McNally of The Visit, based on the 1958 play by Friedrich Durrenmatt, at Chicago's Goodman Theatre was, she says, a highlight of her career and she was quite devastated when financing feel through to bring it to Broadway.
The musical was originaly created for Angela Lansbury's return to theater. Early on, however, she withdrew because of her husband's illness. When she was approached, Rivera bravely stepped to the plate. "I had no fear or trepidation going in. I adore Angela. She would have been wonderful, but I made it my part."
As far as any fear about the darkness of the piece, Rivera says, "But I'd been there, done that with John and Fred and came out quite well - Chicago, The Rink, The Kiss of the Spider Woman. I'm happiest being in something that has the audience leaving saying, 'I need a drink. I need to talk about this.' And The Visit was definitely one of those shows."
She says that Kander and Ebb were not fools. "They were like my family, my brothers, so I would have done whatever they asked. It was also my first time working with Ann Reinking. Then, to work with Terrence and Frank, well that was just the topping on the dessert. It was an extraordinary experience. "
IT TAKE TWO TO TANGO . . .
CHITA AND ANTONIO BANDERAS IN ROUNDABOUT'S REVIVAL OF NINE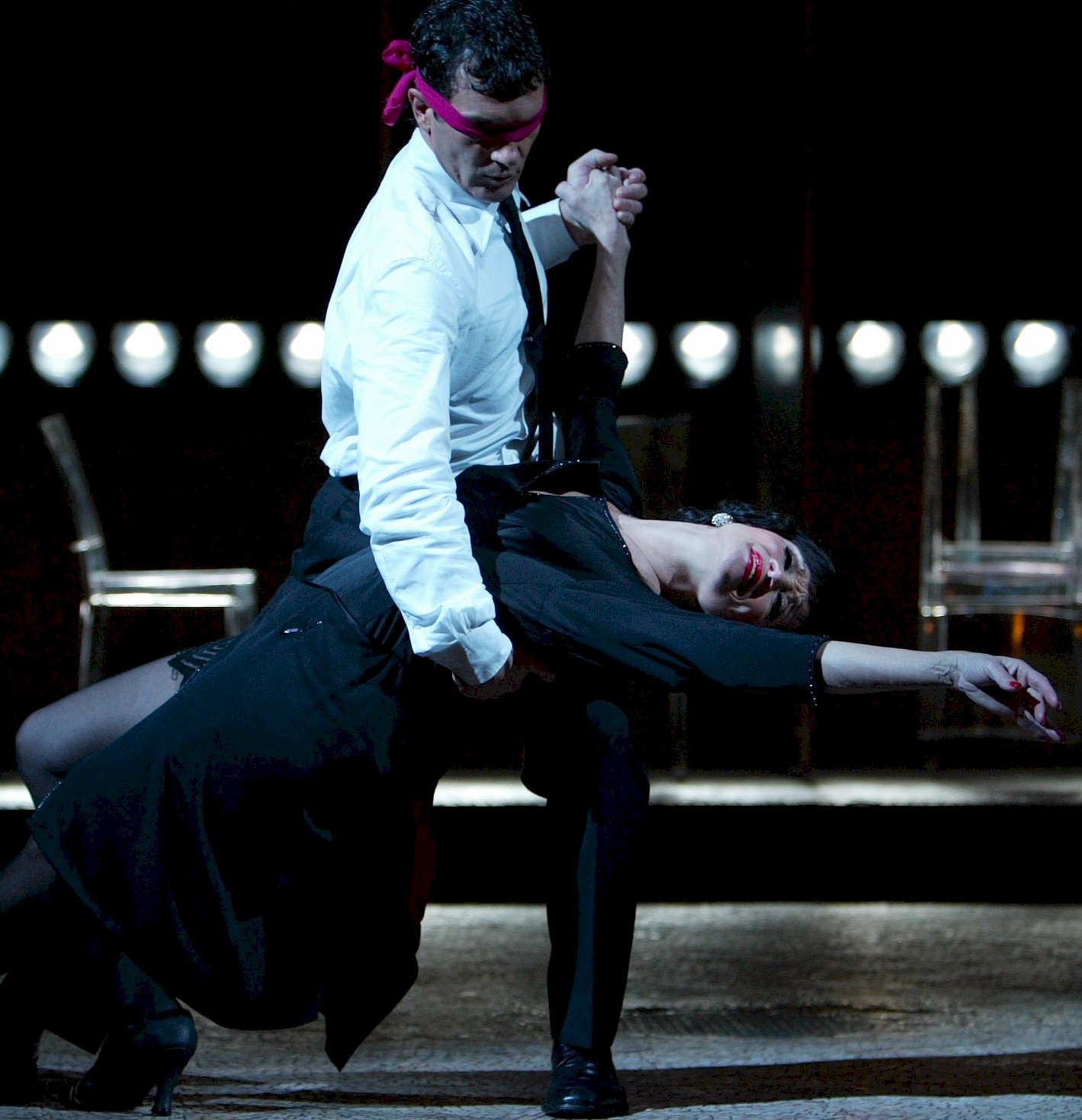 [Photo: Joan Marcus]
To what does Rivera owe her longevity? Certainly good genes, but most of all to her absolute refusal to think negatively in the face of crisis. Especially her worst crisis.
In a 1986 automobile accident, Rivera's left leg was crushed. That she is able to walk much less dance after her horrendous injuries in an automobile accident, is a miracle. "The prognosis wasn't good," she relates, "but I was determined I'd dance again. When I saw the x-rays, I realized that would be the hardest job of my career." She was thankful for her years as a dancer when discipline, discipline, discipline was instilled in her psyche. "Pity wasn't a word in my vocabulary. I've never been one who does anything half-way."
Amazingly, she was released three weeks later, albeit with 18 screws in her leg. "From day one," Rivera notes, "I obeyed, did exactly what I was told. It was fascinating because I could feel my leg mending." Eleven months later, she had the type of mobility which made her realize she would still have a career. "I wasn't happy with my dancing, but I was on my feet!"
She did a couple of "shakedown" engagements before coming full-circle, career-wise, and signing on for the 1988 international tour of Can Can, with the high-kicking Rockettes. "How crazy is that?" she screams. "Of all the shows! But I didn't miss a kick!"
Rivera says she is happy the accident didn't happen when she was younger, as she may not have been as strong.
As a dancer, Rivera has always maintained that "there is a dance in every movement we make. When you walk onstage, when you move about the scenery, you can make it all appear as dancing. It can all flow. And, when it's not so obvious, that's when you have the real magic."
Not a day goes by, she states, "that I don't pinch myself and say thank you. There's a lot of hard work involved in maintaining a career, but I don't understand it if it isn't hard work. Every once in a while, I think, 'You could be doing something much easier!' But would I be happy? No! My philosophy is: If it works, let's do it. People say, 'Aren't you sorry you didn't do the movie of this, or the movie of that?' No! Because this is the path that's been chosen for me, and I'm going to stay on it as long as I can and as long I should."
Accompaning musical director Mark Hummel for Chita Rivera: And Now I Sing, will be Jim Donica on bass and Michael Croiter on percussion and guitar. Schedule: Tuesday through Saturday, 8:30 P.M.; Friday and Saturday 8:30 & 11:00; $60 cover, with $40 minimum, early shows; $30, late shows. Jackets suggested. For reservations, call (212) 339-4095 or visit TicketWeb.com.