Long, the daughter of Asian American vaudevillians, whom she compared to Stiller and Meara, made her Broadway debut at age seven in the short-lived 1962 James Lipton [Sherry!] and Sol Berkowitz musical Nowhere to Go But Up, directed by Sidney Lumet. The choreographer was Ron Field. Though it lasted only a little more than a week, it was a great learning experience. She was appearing onstage with Dorothy Loudon, Tom Bosley, Martin Balsam and Val Avery.

"The show was set in the Prohibition era," notes Long. "I was a kid in a distillery behind a Chinese laundry. As a kid, to be on Broadway, was a terrific experience. Dorothy was something. The power she had was amazing."

[Trivia: featured with a host of Broadway song and dance veterans were Bert Convy, Frank Campanella, now choreographer/director Robert Avian and, making her Broadway debut, and as it turned out, farewell, former Miss America Mary Ann Mobley.]

But a lot of stars rubbed off on Long early on. Her father was in the original Flower Drum Song [1958], directed by Gene Kelly and choreographed by Carol Haney and which starred Larry Blyden, Pat Suziki, Miyoshi Umeki, Arabella Hong and Juanita Hall [of Green Pastures, St. Louis Woman, House of Flower and South Pacific fame] as Madam Liang [the role portrayed by Long in the FDS revival]."

Katysa in McReele isn't exactly color-blind casting. The part was written as an Indonesian. Long explained she knew she would never be accepted as Indonesian. "Happily, they changed it for me."

It wasn't the first time a script was changed after Long auditioned. The role of M in Philip Glass/David Hwang's 90-minute monologue 1,000 Airplanes on the Roof was written for a male. When her agent called to set up an audition, Long wondered why. However, she went anyway - dressed as a man. She read so well, Glass and Hwang changed the gender. That U.S. and world tour was one of her career highlights.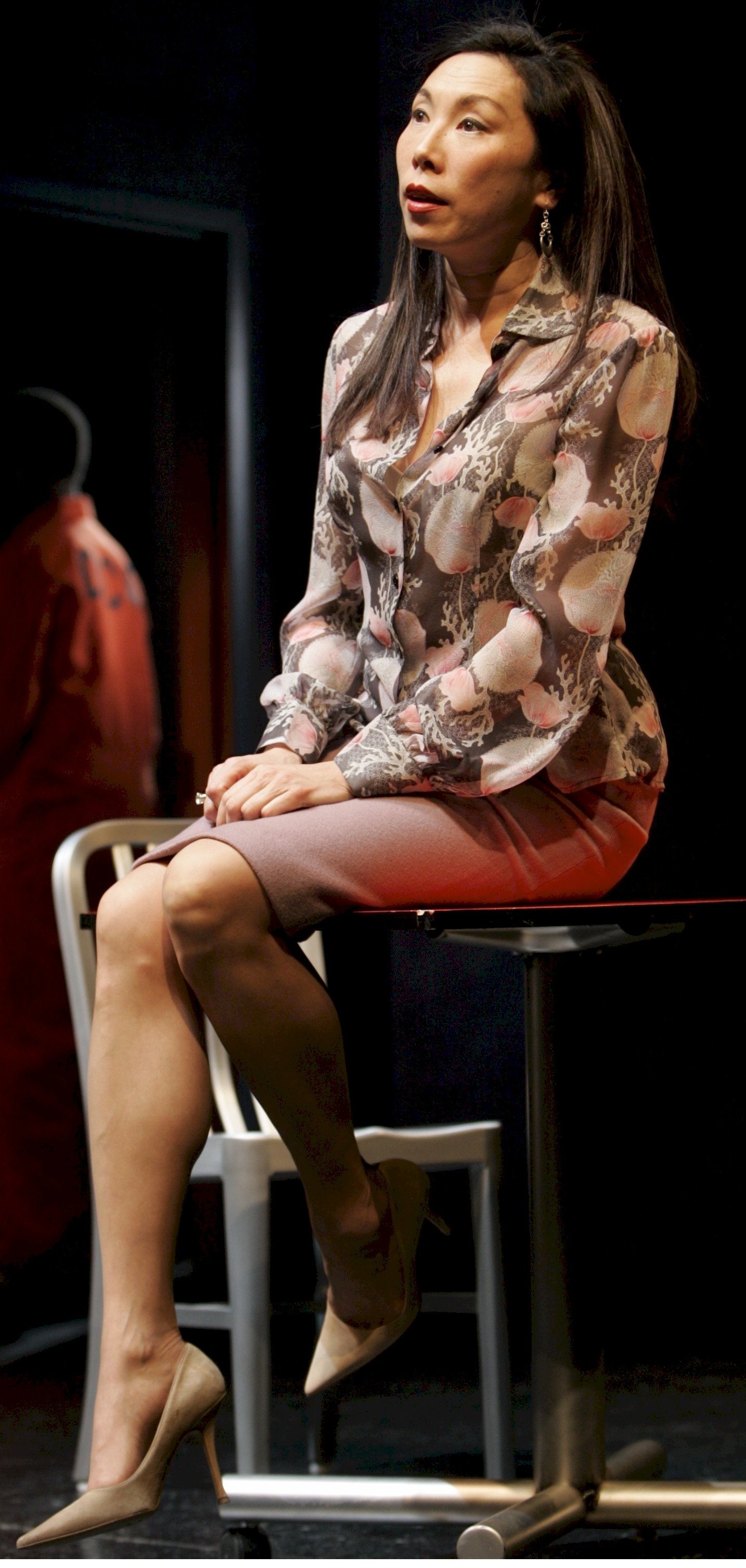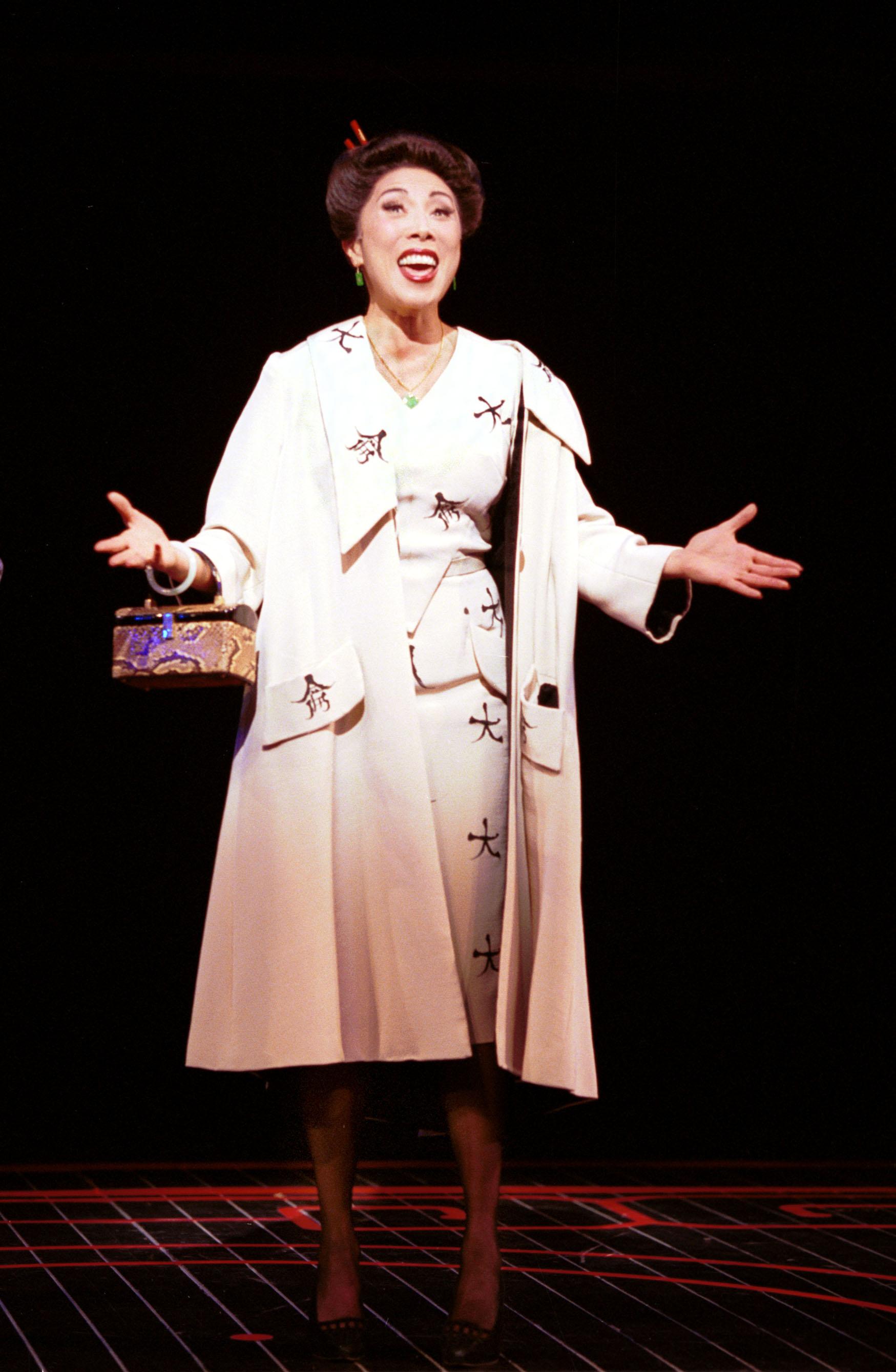 JODI LONG in McReele and in the 2000 revival of Flower Drum Song.
[Photos: JOAN MARCUS]
Long laughs when she reveals what attracted her to Belber's play. "I read the script right after the presidential election. I was so upset about the outcome that I thought, ëOh God, I could put all my energy, all my anger, about this election into this play.'" And also how her feelings about the media. "I felt it would have some impact. Unfortunately, the play is just half a season too late - well, a couple of months."
With director Doug Hughes on a roll [Frozen, Doubt; he also co-produced Wit], she was excited to be working with him. "Doug's really wonderful with actors," reports Long. "He's got great taste and doesn't talk in generalities. He's very specific in terms of ëthe moment' and what you should try and what you think. A lot of directors are just traffic cops. They move you around the stage, or I'll move around.
"After a while, you're so used to that type of situation," she continues, "that you just go off and do your own thing. They don't really talk about the more subtle things in a script or your performance. Then, working with Doug, all of sudden you're with a director who deal with the more subtle things about your performance. It's sort of like WOW! there's a director like that who still exists!"
Larry Long ["Dad changed it to Leung to make it sound more Asian," explains Long], a Chinese-Scottish tap dancer, and Portland-born Trudie Leung Long, a Japanese American showgirl, toured the dying vaudeville circuit, as a dancing duo. They also appeared frequently on TV variety shows, such as Ed Sullivan's Toast of the Town.
Her dad eventually left show business and, avid golfer that he was, became a pro at a New Jersey country club [becoming a president of the PGA Seniors]. "Then, one day he ran into an agent," recounts Long, "who wanted to send him out to do commercials. After one of them, he called and told me, ëIn the thirty years I've been out of the business, things haven't changed.'" Long can't contain her laughter at the memory. "I asked, ëWhat are you talking about?' He replied, ëAt the audition they asked me to do a Chinese accent and speak Chinese. I don't speak Chinese!'"
She explains her parents tried to stir her away from show business. Her mother had high hopes she would become an English teacher, but Long had it in her mind to become a lawyer. That changed in junior high school when she did a scene from Splendor In The Grass. After graduation, she attended the acting conservatory at SUNY Purchase.
Long had a brief fling as a recording artist, with a jazz LP. She was the lead vocalist in the Asian American Art Ensemble."
Despite the lack of diverse roles, Long deals with it consciously. "I don't have a problem with accents," she admits, "but when it's not warranted and they just want to do it because it's funny--I don't think that's funny."
The reality is that she's an Asian American woman, "but there've been times when I've thought that if I wasn't, I would have done more. I always felt Dad was concerned because he instilled a strict work ethic in me. When he was in the business, he was stereotyped. He'd tell me, ëLook, you've got to be able to do everything. And you have to be ten times more determined than everybody else, and ten times better."
Except for the occasional breakout of someone like Lucy Liu, starring roles are still hard to come by. Long looks forward to real color blind casting. She's been blessed with roles that are ethnically non-specific not only onstage but also on TV [four series and numerous guest appearances on top dramas] and in film.
Long looks forward to the day when she can go into a musical and not specifically play an Asian woman. Things are evolving, she notes. "Knock wood. It's been OK. It's difficult, but it gets easier in the sense that people in the industry know who I am. I don't have to pound on doors anymore. Well, I wouldn't do that." She breaks up laughing. "My agents would!"