Leslie Uggams and James Earl Jones, On Golden Pond

[Photo: Gregory Heisler]

Their career paths have crossed several times. But now a twist of fate has Tony Award-winners Leslie Uggams and, after much too long an absence, James Earl Jones back on Broadway and together for the first time. Along with the loons, they've returned for one more summer On Golden Pond, the revival of Ernest Thompson's hit 1978 play.
A new generation who knows Jones only from the endless cycle of those sometimes quite entertaining Verizon TV commercials and as the voice of Darth Vader [and more recently, the hardware store voice box in Robots], are being treated to an astonishing performance by one of theater's great stars as lovable curmudgeon Norman Thayer. "They're finding out what a great actor he is!" beams Uggams.
It's 18 years since his last Broadway appearance, in August Wilson's Fences, a performance which won him his second Tony. Holding her own against Jones as the long-patient wife Ethel Thayer, whose place in Heaven we know is guaranteed, is the vibrant, multi-talented Uggams.
Diahann Carroll was originally set to play Ethel Thayer for the revival's Kennedy Center premiere, but had to bow out a week before the first preview after a herniated disk led to severe back pain. Uggams, most recently [2003] on Broadway as a 20s flapper socialite in Thoroughly Modern Millie and a dramatic role in Wilson's King Hedley II, walked in the door coming home on the heels of a concert tour with husband Gramme Pratt to find "frantic messages from the producers." She returned their calls to hear the bad news and the good. "They wanted me to come to Washington NOW." A messenger promptly arrived with the OGP script. Not long after it got there, one of the desperate-to-find-a-leading-lady producers called to get Uggams' answer.
"I told them I was only on page thirty-nine!" she laughs. "I asked them to please give me ëtil morning. Ethel's a wonderful character. She's a strong woman who's full of life, fighting to make her family close again before it's too late."
However, what kept repeating in her mind was that this would be the opportunity to finally work with Jones, who she and almost everyone else considers one of the great actors of all time. "Even on such short notice," Uggams explains, "I couldn't pass up the opportunity to work with Jimmy. In rehearsals and the first previews at the Kennedy Center, all I could think about was, 'I am on stage with James Earl Jones and I can't embarrass him or myself.'"
Uggams met Jones visiting backstage in 1969 after The Great White Hope , Howard Sackler's Tony-winning Best Play, for which Jones captured his first Tony portraying boxer Jack Johnson. Now they're together again, for the first time. They had appeared over the years in so many of the same places, even on the 1969 Tony Awards. Uggams was cast as Texas Representative Barbara Jordan, the first Afro-American woman to serve in the U.S. Congress, for the 1982 mini-series, Freedom To Speak, which co-starred Jones as Frederick Douglass and Martin Luther King Jr. But they had no scenes together [and, in a series of unfortunate events, the Jordan storyline was deleted.]
"In 1995, I did a guest appearance on Under One Roof [Jones' short-lived TV series], where he played a widowed police officer, but we didn't have any scenes together. Finally, I have the opportunity to work with him."
However, things happened so fast that not everyone knew she would be. "When I walked into rehearsals that first day, the company looked shocked," Uggams laughs. "There must have been a list of actresses the producers were calling who they thought would be crazy enough to do this. I don't think I was on it." But she was the one who crazy enough to step up to the plate. She has no regrets, acquitting herself quite well in a role that's not only very dramatic and but also one that calls for quick comic skills.
"From the first moment," reflects Uggams, "Jimmy's been nothing but warm and supportive. I'm very comfortable with him. I feel like I've known him forever. It's wonderful to work with an actor who's so brilliant in his craft. He raises the bar."
Uggams and Jones have been nominated as Outstanding Lead Actress and Actor for Washington's Helen Hayes Awards, which will be announced on May 9.
"On Golden Pond is a lovely play," explains Uggams. " It deals with everything a human being deals with, from family relationships to the problems associated with aging. And it's about forgetting and learning to let go and move on. No matter what your color, it's a play for everyone."
She reports that though nothing pertinent has been changed in Thompson's script, "it has been tightened and revised. A lot of the schmaltz has been cut to get to what can be lost under all the sentimentality."
Like many who've forgotten the play since it's original run and only remember the 1981 film adaptation that starred Katharine Hepburn, Henry Fonda and Jane Fonda, Uggams and Jones have discovered the humor. "Audience members are always telling us it's funnier than they expected. There're lots of laughs. Watching the film, it was hard not to get caught up in the reality of Miss Hepburn and Henry Fonda's declining health. It was also rather historic, since it was their first time together. Then there was his relationship with daughter Jane, which made the personal drama more intense."
Down and out and plain is how Uggams described her look in King Hedley II. "There was no glamour at all! That was a raw and different look for me." It was a look and performance, however, which netted her a second Tony nomination. In Millie, playing chanteuse Muzzie Van Hossmere, a sort of composite of Josephine Baker and Texas Guinan, it was the total opposite. "Yes," she beams. "What an entrance I had!"
Indeed! Unfortunately, you had to wait an hour for it, but it was spectacular. The sets parted and there Uggams was in a jaw-dropping white fox coat, which she threw open to reveal a skin tight, sequin-studded black, white and silver dress. It was as if time had stopped. This was not a woman in her 60s, but one in her 40s!
There are those who say she's much too young to be playing Ethel. But 27 years ago, Frances Sternhagen, who's always looked older than she is, played her [to Tom Aldredge's Norman]. Then, too, it's hard-to-erase Hepburn's poignant performance matched by her perfect New England cadence.
Uggams, who's blessed with beauty and the genes of eternal youth, laughs that there's still quite jauntiness in her step. "We create magic. That's what theater is about. Ethel's really only ten years older than I am. There are no make-up tricks, but there's lots you can do with wigs - such as, in my case, make me look older by putting in a lot of gray."

_____________________________________________
LESLIE UGGAMS: Staid...Not so staid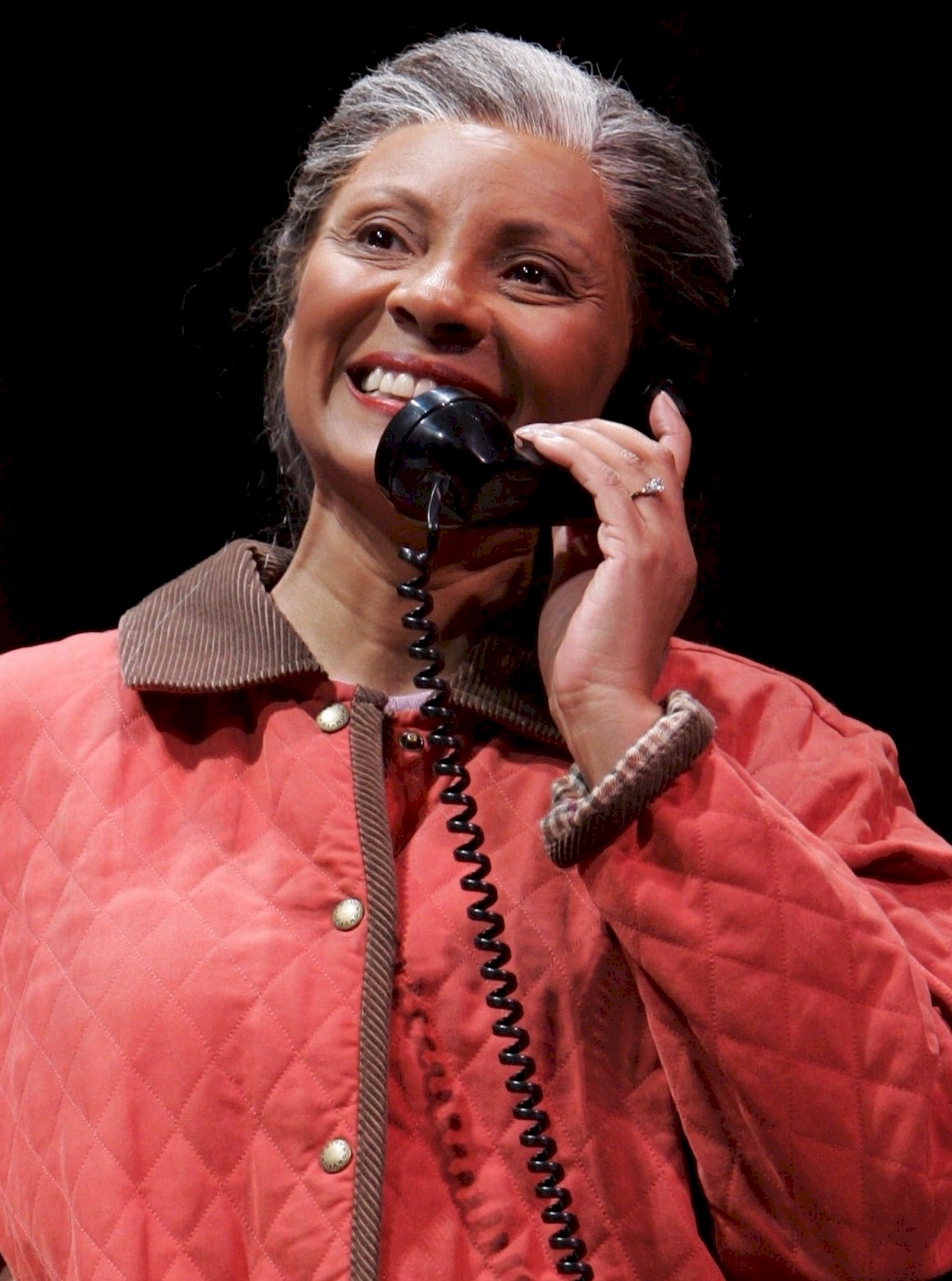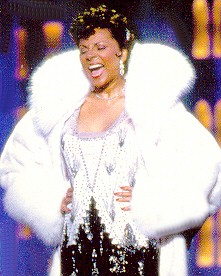 As Ethel Thayer in On Golden Pond: never too young to play old, thanks to wigs;
as vamp Muzzie Van Hossmere in Thorougly Modern Millie.
_________________________________________________________________________
Leslie Uggams has been doing what she does best for a long time; and has seemingly done it all - from young recording artist and ground-breaking TV star to Vegas and concert tour headliner, star of prime-time and daytime [One Life To Life] TV, musical theater and, of course, her acclaimed performance in TV's landmark mini-series Roots. She's even been a cover girl - TV Guide and Newsweek. Oh, and million-selling recording artist. And, as she proves on her most recent CD, On My Way To You, The Songs of Alan and Marilyn Bergman, she can still deliver the goods with her phenomenal belt, capable of reaching a high D.
"Believe it or not," laughs Uggams, "it's not a plan. You've done this drama, so now you have to do this comedy or this drama. When I finish a concert tour, I don't think, 'Oh, now I've got to do a play.' Things just seem to naturally come my way, and I'm very receptive to the right projects. I know so many talented actresses who have had a difficult time, so I consider myself blessed in that I've been very lucky in every decade to be doing something exciting. "
Uggams a New Yorker, born and raised in a four-room apartment in Washington Heights. Her father was an elevator operator and maintenance man; her mother, a waitress and later a chorus girl at the Cotton Club. She says they had "a modest but stable life where somehow my parents always made ends meet." Early on, Uggams was exposed to music. Her father was a member of the Hall Johnson Choir - "but," she points out, "in their pre-movie days." [Johnson was the music director and arranger for Green Pastures, probably sang back-up in the choral numbers. His chora group hummed and sang, often uncredited, in 30s and early 40s films, such as St. Louis Blues, Swanee River, Tales of Manhattan, Dumbo, My Old Kentucky Home.]
As a three-year-old, she was singing along to records. "Mom told me I was particularly fond of Frank Sinatra fan. She remembers I used to sing along with him Jimmy Van Heusen and Phil Silvers [yes, that Phil Silvers] ëNancy with the Laughing Face.'"
At age six, she was singing at St. James Presbyterian Church on West 141st Street. Appearances on local TV followed. The first Broadway show she saw was Porgy and Bess. "I was enthralled by Leontyne Price, William Warfield, Cab Calloway and, in the ensemble, my aunt Eloise Uggams [who was also in the revue Blackbirds of '29] and that incredible Gershwin music. That's when the bug bit!"
After third grade, Uggams attended Professional Children's School, where she became friends with Mary Martin's daughter Heller "and got to see tons of Broadway shows: Peter Pan, The Sound of Music, The King and I. Aunt Eloise wanted me to be an opera singer like Marian Anderson, but I wasn't leaning that way."
No way. In 1951, between singing dates and taking tap lessons [which later would land her recurring appearances on Milton Berle's TV variety show], she made her acting debut on TV's landmark sitcom Beulah.
"I played Ethel Waters' neice in one episode and the producers wanted my hair in ëpickaninny' braids," recalls Uggams. "Miss Waters said, ëAbsolutely not! You see the way her hair is now. She has beautiful curls. That's how it is going to be on the show.' I was impressed with her even at six years old. She invited my mother and me to see her in Carson McCullers' Member of the Wedding and it made such an impact that I see remember it as extraordinary performance.
[More trivia: Dooley Wilson, Sam in Casablanca, was Uggams' boyfriend in her Beulah appearance; and Uggams and Brandon De Wilde, who played John Henry - and Joey in Shane ó were friends in elementary and high school.]
By age eight, Uggams was winning singing competitions on bandleader Paul Whiteman's TV Teen Club , making radio appearances and doing shows in Philadelphia, Baltimore, Washington - not to mention New York's famed Apollo Theatre. Two years later, she had a best-selling record, "Missus Santa Claus" and was soon opening for such greats as Louis Armstrong, Ella Fitzgerald and Dinah Washington.
She was one busy little bee. "I was always going to auditions," reports Uggasm, "and I got lots of kiddie roles. I grew up with Gregory Hines and his brother Maurice. We were the token black kids."
By the time she reached 12, it was catching up with her. "I felt I had to take a break. My voice was beginning to settle, so we discussed this and decided it a good idea to wait until it got deeper and bigger." It wasn't long, however, before she was ready for a comeback.
Little Leslie was recording more and more and had MGM Record hits with such titles as "Every Little Piggy Has a Curly Tail," "Easter Bunny Days," "Percy, the Pale Faced Polar Bear" and "Candy Apple." In 1960, at 18, she was showcased off screen in the film adaptation of Inherit the Wind singing "That Old Time Religion."
She appeared on Arthur Godfrey's Talent Scouts and won. Registered in the Teen Category on the top-rated TV quiz show, Name That Tune, she shared the top prize of $25,000. "The excitement was like in the movies," she explains, "where everyone in the neighborhood opens their windows and shouts the news!"
________________________________________________
A LESLIE UGGAMS PHOTO GALLERY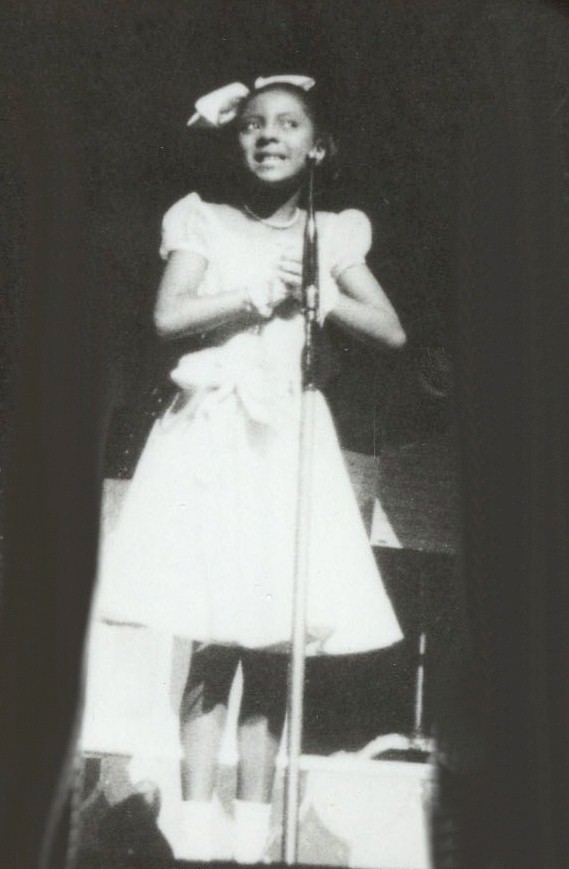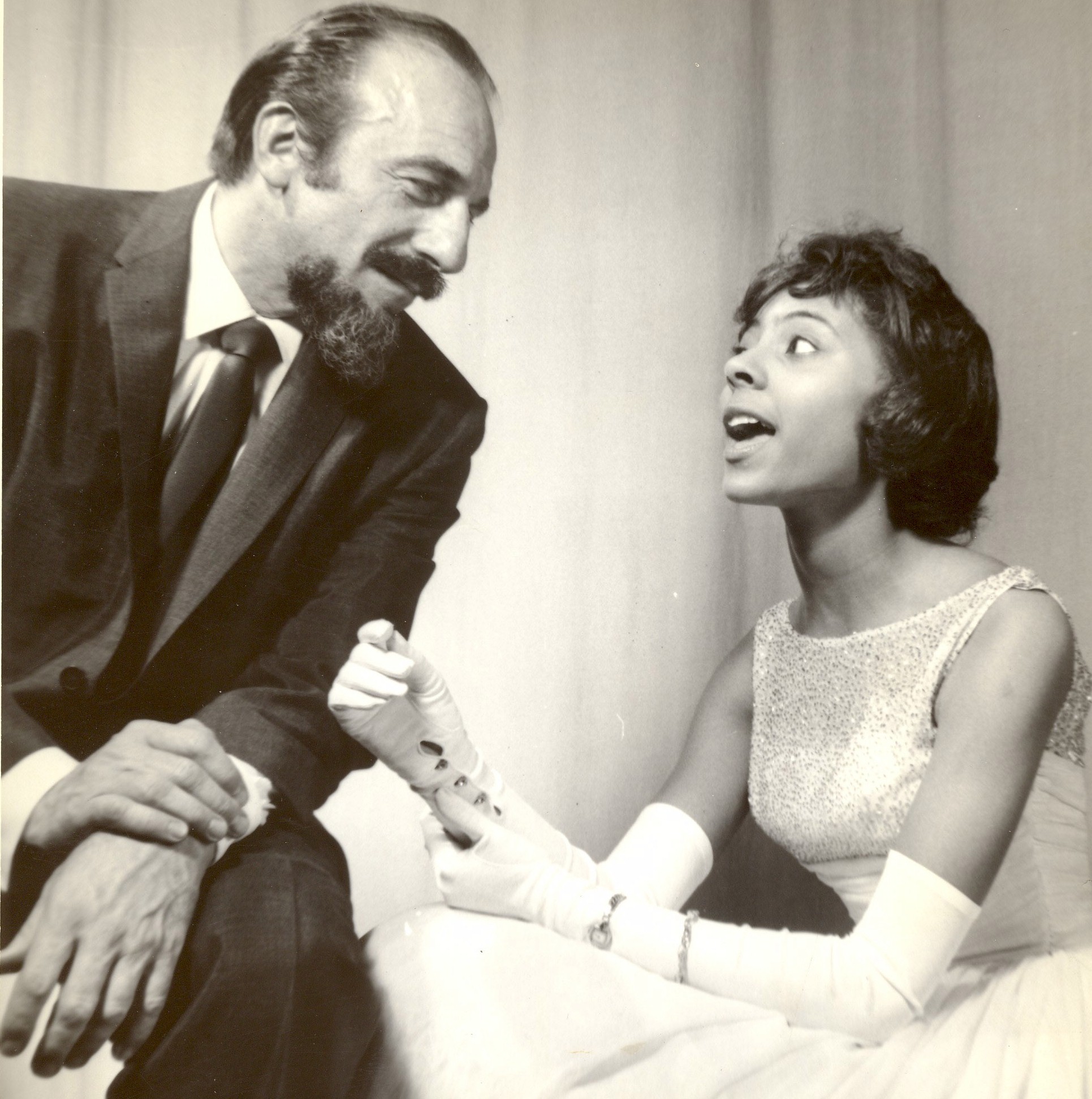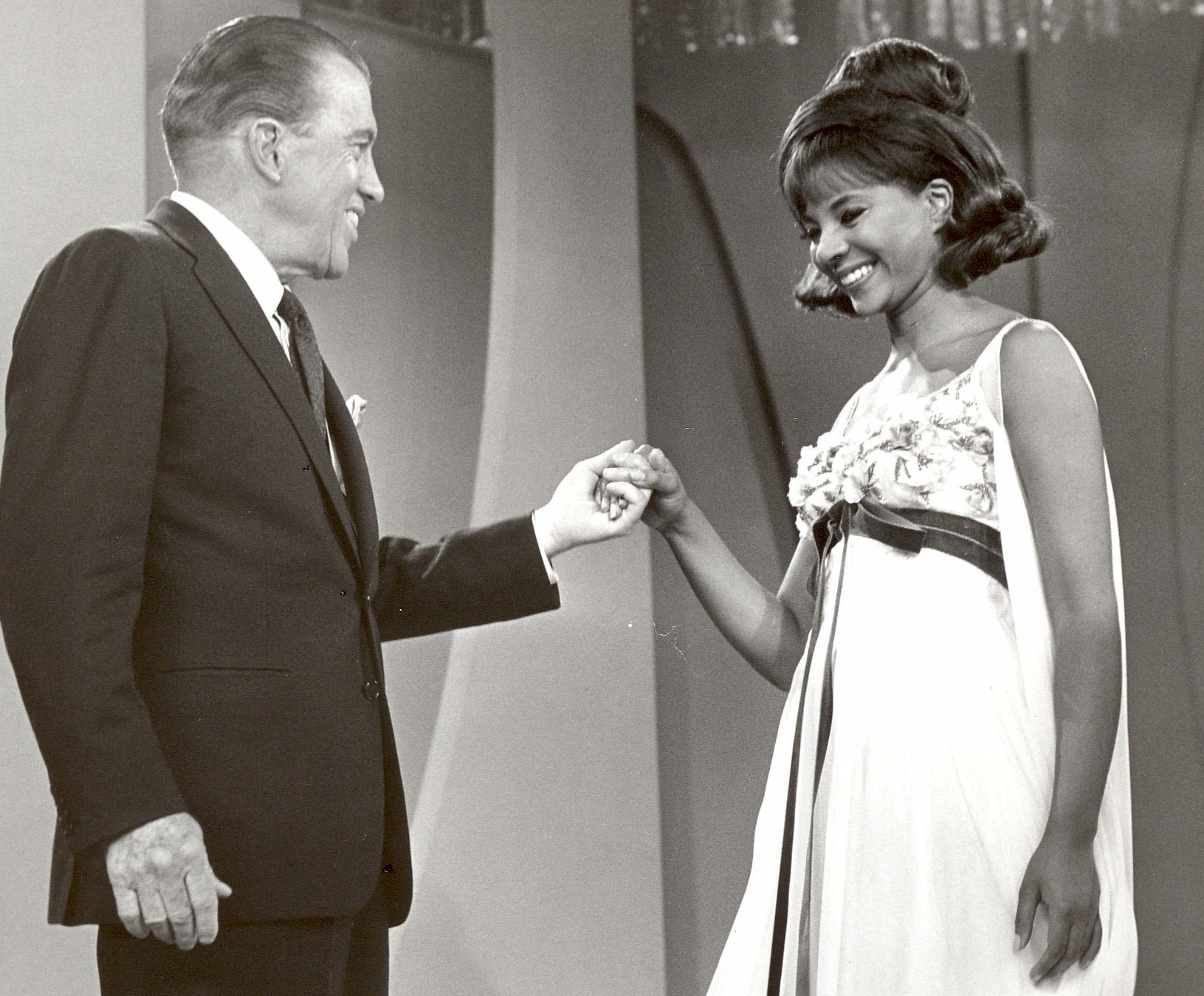 Clockwise: At the Apollo; with Mitch Miller; with Ed Sullivan; in Jerry's Girls with Dorothy Loudon.
__________________________________________________________
Young Uggams created quite a buzz. In 1961, Mitch Miller set up an audition meeting and was so impressed he signed her to Columbia Records [where she became a top-selling artist] and as a regular on his immensely popular variety show, Sing Along with Mitch.
It was a landmark decision. Uggams was not only the only female, but also the only African American on the show. Stations in the South were up in arms and vehemently complained to the network. Some refused to air the show. "Mitch was told by the network either I go or the show goes," she reports. "He said, 'She stays or there's no show.' Miller held his ground. He loved that show, and had been trying to sell it for years, so to do that was heroic."
In an interview, Sammy Davis, Jr., a big fan of Uggams, spoke of the impact of Miller's casting: "Everybody identifies with Leslie Uggams. She's bridged a very important space. The first great step has happened with her. Leslie's infectious smile and vocal talent have made her America's sweetheart."
It was all very heady and daunting. "I was only seventeen," she explains. "I went from being known only in my community to everyone knowing me. It was quite an adjustment. All of a sudden I wasn't able to go anywhere. It was like living in a fish bowl." But, now, being on national TV, I wanted people to have respect for black people, but I didn't really want to be the role model. A lot was expected of me. I had to make sure I did everything right. Here I was representing the entire black race and that sometimes got to be overwhelming." However, looking back all these years later, Uggams says, "It was wonderful to be part of history."
Thanks to her friendship with Liza Minnelli, she came to the attention of director Vincent Minnelli and, at 20, made her film debut in Two Weeks In Another Town [1962]. It was a cameo as a nightclub singer, but she got to meet Kirk Douglas, Cyd Charisse and George Hamilton.
In 1963, "when I was finally able to vote!, I was invited by President Kennedy to sing at the White House!" [She later did a command performance for President George H.W. Bush].
Uggams found it all frustrating. She was singing, singing, singing, "but, more than anything, I wanted to act. No one realized I'd been studying since I was eight. All through my teens, I was studying. In one program, she had classes with Sal Mineo, Dom DeLuise and then-song and dance man [now Tony Award-winning and Academy Award-winning producer] Martin Richards. Uggams especially remembers one fascinating project, a workshop of This Property Is Condemned, with a score by Carol Hall [inspired by the Tennessee Williams play and 1966 film set in a backwater Mississippi town].
In 1965, in a lavish, almost royal wedding, Uggams married Australian-born actor Grahame Pratt, whom she met in Australia while performing with Davis as headliner. "It was love at first sight," says Uggams, "but we were only there a week." That didn't stop Pratt, who shortly followed with a "wouldn't-take-no-for-an-answer" whirlwind courtship. [Now he's her manager. The couple have two adopted children, both following in Mom's footsteps.]
In the late 60s, Uggams starred in her own variety series, hosting such guests as Miller, Sinatra, Davis, Domingo, Como, Johnny Mathis and Kaye Ballard. Unfortunately, it was slotted opposite Bonanza and lasted only a season.
That gave her the opportunity to do a production in Berkeley of The Boyfriend. "My notices were wonderful," says Uggams, "and word filtered back to New York where, in another situation of an actress [Lena Horne] bowing out of a show, David Merrick was looking for someone to play the lead in Jule Styne and Comden and Green's Hallelujah, Baby!, which had a book by Arthur Laurents of Gypsy fame."
Back East, Uggams was in Atlantic City doing her club act. Suddenly, she heard all these Broadway folks were coming down to check her out. Then she got a call to audition. "While I was reading, Mr. Merrick fell asleep. I thought, ëI'm never going to get this part.' But, next thing I knew, he was out and there were new producers. And I got the part of Georgina! It was my Broadway debut."
The short-lived musical, which has recently been revised by Laurents and seeing new life, is a musical cavalcade of African-Americana from the turn of the 20th Century to the late 60s and the early stages of the civil rights movement. Though it covers several decades, Georgina, a sort of Everyblackwoman, never ages.
"I was twenty-three and on Broadway in a show written by legends," exclaims Uggams. "I couldn't believe it." Then, in her Broadway debut, she won the 1967 Tony for Best Actress in a Musical [tying with Patricia Rutledge, Darling of the Day]. "Talk about a shock!" she still says with disbelief. "I thought of it as being welcomed by the Broadway community. It was like being accepted into a very special family. It was a great opportunity, and I've always said the show has one of the best scores out there."
Hallelujah, Baby!, notes Uggams, "reflected on the changing lives of America's ëNegroes.' But Arthur, as the writer, felt he could have done more, that it should have been stronger. Still, it was ahead of it's time."
During the run, Uggams studied music composition at Julliard and, wanting to be taken seriously as an actress, Stella Adler, "who really changed my life as an actress."
Leslie Uggams has had her share of milestones. Uggams will always be remember for her portrayal of Kizzy in Roots, for which she received an Emmy nomination as Best Leading Actress. "The reason we were on every night for a week," she explains, "was because Fred Silverman [then head of ABC] thought it was terrible. In fact, I believe he referred to it as ëgarbage.' He wanted to put it out there and get it out of the way. We became a smash hit and, ironically, he became a hero." Roots became the highest rated show of its time. "It still holds up as great television," adds Uggams.
Other career highlights: Ervin Drake's short-lived, much under appreciated Her First Roman [1968] as Cleopatra opposite Richard Kiley's Caesar; the TV special 'S Wonderful, 'S Marvelous, S'Gershwin [1972] which also starred Fred Astaire, Ethel Merman, Jack Lemon, Robert Guillaume and Larry Kert; the [1979] TV mini-series Backstairs at the White House, which was another ratings blockbuster; the initial national company and then the Broadway company of Jerry's Girls (1985) with Dorothy Loudon and Chita Rivera; Reno Sweeney, opposite Rex Smith, in the national tour and later at Lincoln Center in Anything Goes [1987-1989].
More recently, there's been Off Broadway's Thunder Knocking At My Door, The Old Settler, Blues in the Night and Stringbean, a play with music based on the life of Ethel Waters. Uggams also appears along with 99 other Broadway names in the 2003 documentary, Broadway: The Golden Age by the Legends Who Were There [now available on DVD].
"It's been a good, exciting life," concludes Uggams. "Working with Jimmy in On Golden Pond is just the topping on the dessert. He's absolutely delicious. The rapport between us is great and we've having a wonderful time."
Working in show business from such an early age, she doesn't feel she was denied anything. "Just the opposite. I look at what it's given me. My parents weren't typical stage parents, relentlessly pushing me. I liked what I was doing. One thing show business did was save me from being a thug. I lived in a tough neighborhood! When I think of what I could have become."
Looking at the gigantic ring set with a motherlode of sparkling diamonds [designed by Pratt and a combination of her wedding band and engagement ring], the writer quips, "I bet you didn't wear that ring in Washington Heights!" Uggams laughs, "Absolutely not, but back then, I had no idea I'd ever be in such a wonderful place to have something such as this."
Outside show business, Uggams stays busy as a founding member of the BRAVO Chapter/City of Hope, dedicated to the study, treatment and eradication of blood-related diseases and as a board member of the Alvin Alley Dance Theatre and TADA, a children's musical theatre.
On her list of career achievements, there's definitely a shortage of film roles. "I would love to have done more movies." She breaks up laughing, "The ones I did weren't memorable. Not at all!" She may be referring specifically to 1978's Heartbreak Motel, starring Shelley Winters, in which she portrayed a blues singer kidnapped by a bizarre crew of backwoods characters."Film is good," Uggams states, "but it's an editor's and director's medium. You think you're in the film, but when you see it, you go ëWhat happened? I was in that scene!' I'm always doing something musical."
She admits that singing is the deepest part of her. "Whether I'm doing a musical or a drama, I feel a certain rhythm. However, I'm thrilled to be back doing live theater. What I like most about theatre is that you get to create a character. Going out to a different audience every performance and winning them over is a wonderful challenge."
Uggams says she's thankful for her experiences, "because no matter what kind of show you're doing, it demands discipline. "Every time the curtain goes up, it's deliver or else. You're on that stage with no place to go. The adrenaline starts to pump like one of those big Texas oil wells. And, when you have to do it eight times a week for months, it's not a job for sissies!"
--------
Ellis Nassour is an international media journalist, and author of Honky Tonk Angel: The Intimate Story of Patsy Cline, which he has adapted into a musical for the stage. Visit www.patsyclinehta.com.

He can be reached at [email protected]
Why are you looking all the way down here?
For more articles by Ellis Nassour, click the links below!
Previous:
THE GREATEST SHOW ON EARTH - WITH A BROADWAY PEDIGREE
Next:
DENIS O'HARE: SWEET CHARITY'S JOURNEY WASN'T ALWAYS FUN, BUT THERE ARE LAUGHS, GOOD TIMES - AND BONDING
Or go to the
Archives