Janine LaManna [Nickie] and, on the right, Kyra DaCosta [Helen] and Ernie Sabella [Herman].

[Photo: AUBREY RUEBEN/Playbill]
by
ELLIS NASSOUR
Denis O'Hare says he's found one of his favorite roles playing hapless Oscar Lindquist in the big-budget revival of Sweet Charity. O'Hare, whose name is not at all synonymous with musical comedy, notes that he was a fan of the brassy Cy Coleman score [with lyrics by the renowned veteran of countless musicals, the late Dorothy Fields] "but what really attracted me to the role was that I feel Oscar has a lot in common with many of the parts I've played."

Two of those "parts" have brought him great acclaim: the nerdy accountant reluctantly brought into the world of baseball in Take Me Out, which won him the 2003 Featured Actor Tony Award and Drama Desk's 2003 Outstanding Featured Actor Award; and his portrayal of Charles Guiteau last season in Roundabout's Drama Desk-winning Best Revival, Assassins, which netted him a Featured Actor Tony nomination.

His portrayal of Oscar has already resulted in a 2005 Drama Desk Award for Outstanding Featured Actor in a Musical and an Outer Critics Circle Award nomination for Best Actor, Musical. With the announcement of the Tony Award nominations on Tuesday, could this be the season of his triple crown?

"It's no secret," offers O'Hare, "that I'm drawn to characters who are on a journey of some kind and attempting to change themselves - or at least in the process of being challenged to change themselves. That's what's wonderful about Oscar."

In Neil Simon's book for the musical, explains O'Hare, "Oscar's on a journey of self-discovery. Sadly, he fails. He comes up against an opportunity and, even though he badly wants to, in the end he's afraid to take that all-important leap of faith. He goes back into his shell. I found that a fascinating turn of events."Oscar is a role O'Hare "rather stumbled into. I auditioned for the workshop a couple of years ago not knowing a lot about the show or the character; then I got the part and found I really liked the guy."
______________

UPS AND DOWNS
:
______________

Christina Applegate and Denis O'Hare in
Sweet Charity's hilarious Act One elevator scene.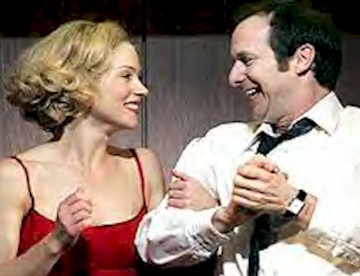 [Photo: PAUL KOLNIK]

________________________________________________
Sweet Charity, adapted by Simon from Fellini's 1957 classic film noir The Nights of Cabiria, tells the story of the roller coaster romances of Charity Hope Valentine, played by the indefatigable Christina Applegate, in her much-ballyhooed Broadway debut and a 2005 Drama Desk Best Actress [Musical] nominee for her gutsy portrayal of a cock-eyed optimist with a cotton-candy heart.
Charity survives working nights as a disillusioned dance hall "hostess" - "We don't dance," says a co-worker. "We defend ourselves to music" - stashing away her dimes in her hope chest and dreaming her dream of the day she can get out of there. Amid the pratfalls and adversity of her life, Charity unexpectedly finds love in the unlikely form of Oscar, a shy accountant who gives "neurotic" a new definition.
"Oscar's different from the abusive paramours Charity's dated," O'Hare points out. "He doesn't try to get her into bed on the first date, and he calls her Sweet Charity. He's obsessed with finding a woman of purity, and at first believes Charity to be a bank clerk - and virgin. When he discovers that she's not a bank clerk, he tells her he can handle it; and he's so smitten with Charity that he really, really wants to." But the old neurosis set in and he literally leaves her standing at the altar. "In the end," notes O'Hare, "Oscar hurts Charity the most by falling in love with her.
The 1966 Sweet Charity [nominated for Best Musical (Man of LaMancha won)], directed and choreographed by Bob Fosse, starred the legendary Gwen Verdon [nominated for Best Actress (Angela Lansbury won)] and featured John McMartin as Oscar and Helen Gallagher and Thelma Oliver as Nickie and Helene. Shirley MacLaine played Charity, co-starred with Sammy Davis Jr., in the disappointing 1969 big screen adaptation. In 1986 dancers extraordinaire Debbie Allen and Bebe Neuwirth [as Nickie] won raves starring in the first Broadway revival [with Michael Rupert playing Oscar]. It won the Best Revival Tony.
The score ranges from sweet and bittersweet ballads to upbeat, jazzy tunes. They've been recorded by Peggy Lee, Tony Bennett and Barbra Streisand. They include a slew of showstoppers: "Big Spender," "If My Friends Could See Me Now," "Too Many Tomorrows," "There's Gotta Be Something Better Than This," "Baby, Dream Your Dream," "I Love To Cry At Weddings" and "I'm A Brass Band."
For the revival, there are some surprises. Not only has Simon added a bittersweet finale twist, but also Sweet Charity's score has been supplemented with "A Good Impression" from an unproduced 60's Coleman/Fields musical. [Another song, "If There Were More People Like You," has been cut.]
"The score is infectious," says O'Hare. "Audiences will not only be humming the tunes as they exit, they'll also be dancing up the aisles." Doing, no doubt, "The Rich Man's Frug," one of the infectious Act One showstoppers.[Wayne Cilento's choreography is not only is in the spirit of Fosse's original but expands upon in, especially in Act Two's 11:00 "Brass Band" showstopper. Walter Bobbie, who helmed the Chicago revival from Encores! to Broadway, is director. Don Sebesky's orchestrations, music direction by Don York and the brassiest overture since Gypsy left town are other assets.]
One big plus is Applegate. Though she's still in therapy and nursing her broken foot, there is absolutely no indication of her injury while onstage, save for a pair of high-top granny boots to give her solid footing. She's walking quite carefully backstage and offsite, packing her foot in buckets of ice before and after performances and undergoing intense doing therapy.
When Applegate broke a bone in her right foot at the top of a performance on March 11th in Chicago, the show went on with understudy Dylis Croman and the quickly-flown-to-the-rescue Charlotte d'Amboise. All the while Applegate was in a cast and consulting doctors. When the Windy City engagement ended, the show moved to Boston's Colonial Theatre. Applegate was in the wings dreaming her dream of getting back onstage and making her Broadway debut.
"Christina was always with Charlotte and the rest of us," O'Hare says, "trying to keep up with the changes Walter was making."Then came the bombshell. "On March 25th, Good Friday," reports O'Hare, "we were informed by [lead producer] Barry Weissler that the show would close after our last performance in Boston. We weren't going into New York. "
Weissler announced: "The Sweet Charity company is one of the most gifted and talented group of individuals I've ever had the privilege of working withÖHowever, our weak sales on the road and in New York have left us with little choice other than to make the painful but fiscally responsible decision to close the production in Boston."
He didn't mention the series of pronouncements of doom from New York Post columnist Michael Riedel.
"I don't read reviews," says O'Hare, "so I have no idea what the critical response was. But, of course, word always filters back." He says he had the impression the notices were fine. "So we were a little bit shocked at not coming in. The worse was having to go on and do five more shows. That was tough. No, it was more than tough because the only thing you have going for you in a show is the belief in the good will of your audiences and the people surrounding you. Suddenly, that good will felt like it was taken away. It was very difficult in the face of that to perform with any sense of joy."
He explains that where audiences had been rooting for the show, "they were now coming in after seeing banner newspaper headlines stating ëCharity Bomb!' and ëCharity Tanks!' Failure, failure! It's all but impossible to win over an audience when they come down the aisles with their arms folded."
Less than a week later, there was a reprieve from Weissler, who stated, "Christina Applegate made a passionate and compelling case for moving forward with our Broadway plans. Her doctor confirmed that she will be ready and able to resume performances on April 18th...The only thing left for me to do is ask everyone to please refrain from using the old showbiz adage, 'break a leg!'"
He explained additional capital had been raised, with several reports speculating that some of the money came from the 23-year-old Applegate [her father is record producer Robert Applegate; her mother, the former vocalist and actress Nancy Priddy] and husband Johnathon Schaech, actor and former fashion model.

_____ CHRISTINA APPLEGATE: _____
Dreaming her dream to be on Broadway: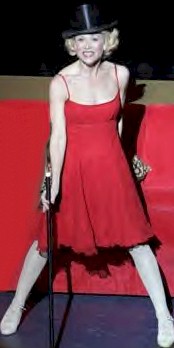 [Photo: PAUL KOLNIK]
_______________________
Applegate has been acting since age three but is best known for her role as Kelly Bundy, the vacuous vamp who for 11 seasons had teenage boys and more than a few men in heat, on the Fox sitcom MarriedÖwith Children. Among her many TV and film roles, are last summer's Anchorman: The Legend of Ron Burgundy and the 1991 cult hit Don't Tell Mom the Babysitter's Dead.
D'Amboise played the initial New York previews. Applegate finally was back onstage April 18. During the curtain call, O'Hare not only presented her with flowers on behalf of the company but crowed, "Christina is now a member of the Broadway community, and she did it through incredible determination and grit. We have never, any of us, seen anybody earn their stripes like she has.
"Indeed, observes O'Hare it's been a roller coaster of an adventure and a journey of self-discovery. He's happy to report that there was always pleasant interaction between Applegate and d'Amboise. "They were totally fine, the consummate professionals, friendly to each other and all that. On the night of our supposed opening in Boston, we did dinner together."
With the closing, O'Hare returned to New York, "where my partner was packing to go to the Bahamas. He said, ëWhy don't you come with me?' I didn't think about it too long before answering, ëOkay.' That was easy after all the craziness we'd gone through."
On April Fool's Day, before departing, he was in touch with his agent to discuss an offer he'd received "and he said, ëWhat do you mean? You've already got a job.' I replied, ëWhat job is that?' And he said, ëYou have Sweet Charity.' And I went, Ha, ha, ha! He said, ëIt's no joke. It's on the internet. Sweet Charity's back on. And that's how I learned about it." Within ten minutes, he received a call from Weissler and it was official. "And off to the Bahamas we went!"
Throughout the "adventure," O'Hare has to be complimented for always taking the high road. "I try to keep my head out of gossip," he says. "In fact, I make sure that I don't know things. The way I look at it, is that we are all in this for the same thing - to put on a show. The Weisslers and their partners are the ones putting their money, effort, energies and reputations into making it happen.
"And Christina has made amazing sacrifices to make this happen," he adds. "Working with her has been great. She's funny, fun, committed, disciplined, hard-working, beautiful, really talented and a trouper unlike any I've seen. We've bonded and have been having a great time. If fact, it's kind of like playing."
______________________________________________________

PHOTO FEST
: O'Hare and Applegate at the Drama Desk nominees' reception at Arte Cafe;
Arriving on the red carpet for the
Sweet Charity
opening nght party at Guastavino's: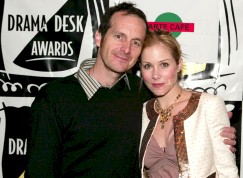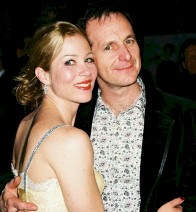 [Photo: SCOTT WYNN]

. . . . . . .. . . . . . . . . . . . . . . . . . . . . . . . . . . . . . . . . . . . . . . . . . . . . .[

Photo: LINDA LENZI/BroadwayWorld.com]

________________________________________________________
You might call Denis O'Hare a working actor. Before coming to New York, he performed in Chicago theater for over a decade.
In 1992, he starred in Hauptmann [written by John Logan, screenwriter of The Aviator]. "That put me on the map there. On the strength of that, I moved here and thought I'd have a triumphant entry. We did it here and it closed within four weeks and I was left adrift."
Looking back at age 43, he notes that success didn't happen so quickly. "I've worked steadily and had been at it so long that by the time I got to the stage that I was even nominated, people knew me. My favorite story about this is Cherry Jones winning the Tony for The Heiress [he worked opposite Jones in Roundabout's revival of Major Barbara]. People were saying, ëWho's this Cherry Jones? Where did she come from?' I rolled my eyes and said she'd been around for years doing incredibly great work."
Winning the Tony for Take Me Out hasn't had a life-changing impact on his career. "It's not like the Oscar," he quips, "however, winning it does make a big difference in how you feel about all your labors through the years to get to that point. It's a reward of recognition. It's a good thing, and an honor, but the win hasn't changed me or terribly altered the course of my career."
First and foremost, O'Hare considers himself an actor "and I love to act. I don't care where. Each venue has its own rewards. In fact, I love nothing better than working in a ninety-nine seat house in a dark, little play everyone hates. Even if audiences don't come, I have fun exploring the character."
He cites a 1997 play he did at the New York Theatre Workshop, The Devils [based on Dostoyevsky's The Possessed]. "There were sixteen of us in a dressing room about the size of the one I have now. It was three hours and forty-five minutes long. I wore this heavy wool costume and sweated more than I had ever sweated in my life. Every single critic despised it. But it was one of greatest acting experiences of my life."
From what standpoint? "You're not trying to be liked. You're just out there working and being faithful to the material. [The late] Garland Wright directed it and he was a brilliant director who taught me a lot about acting. I'd get laughs on certain lines and he'd turn to me with a very stern look and blurt out, ëKill that laugh.' He taught me the work is not about an actor trying to be liked, but the material."
[For much more on O'Hare's Off Broadway work, visit: Lortel ArchivesóThe Internet Off-Broadway Database.]
"I never thought of myself as a very gifted actor," he states. "I was acting before considering the language. I learned a lot from directors." Mark Wing-Davies [American Repertory Theatre, but who as an actor in the U.K. was in TVs Hitchhiker's Guide To the Galaxy; most recently, he directed the 2004 West End Bat Boy: The Musical], told O'Hare, "You make the words superfluous. Before you even say the words, you've said it through your face and body"; Richard Eyer, former head of the U.K.'s National Theatre [Racing Demon, 1995 LCT], he says, "taught me a lot about sense of character"; and Sam Mendes, "gave me a crash course in how to sing in a musical [the Roundabout Cabaret revival, where O'Hare Ernst Ludwig and played clarinet in the Kit Kat Band.
O'Hare grew up one of five children in a very Irish Catholic family in Birmingham, near Detroit. There were problems early on: "I was a Democrat and my parents were staunch Republicans, so I was absolutely the odd man out. And I was gay. We had lovely dinner conversations! I felt like a misfit."
He didn't come out until high school, "but from a very early age, I knew I was different. I just kept quiet about it. I didn't feel comfortable about my sexuality until my mid-twenties."
Theater was not in his mindset. In fact, "like all good Irish Catholic boys," he wanted to become a priest, an idea he quickly abandoned when he was 17. "That's when I decided I was going to be a musician." He played church organ, piano, violin, oboe and clarinet. "I didn't earn my musical gifts," admits O'Hare. "I inherited them from my Mom, who was a maternity ward nurse by profession but also our church organist. When I was little, she used to let get under the organ and play the pedals with my hands for her. My parents were always incredibly supportive, but I never practiced and always have felt guilty that I squandered my talent."
However, he still plays piano. His love of music led him to do musicals all through high school. In the early 80s at Northwestern, where he studied theater, "I did Yeomen of the Guard. I had a high D Flat, which almost killed me. I did a chamber musical and then stopped doing them because I didn't think it was serious work. I felt real acting had to be dramatic and really painful and unfunny. It was seventeen years before I did Cabaret."
It's funny, he says, "Looking back, I've always done comedy. Any actor worth their salt can do both because, in my opinion, they're the flip side of the same coin. Comedy is dependent on two things: the material - you have great comic material and you just have to learn how to get out of the way; and the second is comic sensibility. The key is understanding what's funny and why. For instance, in farce, the characters aren't being funny. They're in extreme pain. Nobody's having a good time. Everyone is at their absolute critical worst. But that's funny!"
_________________
A DENIS O'HARE PORTFOLIO
________________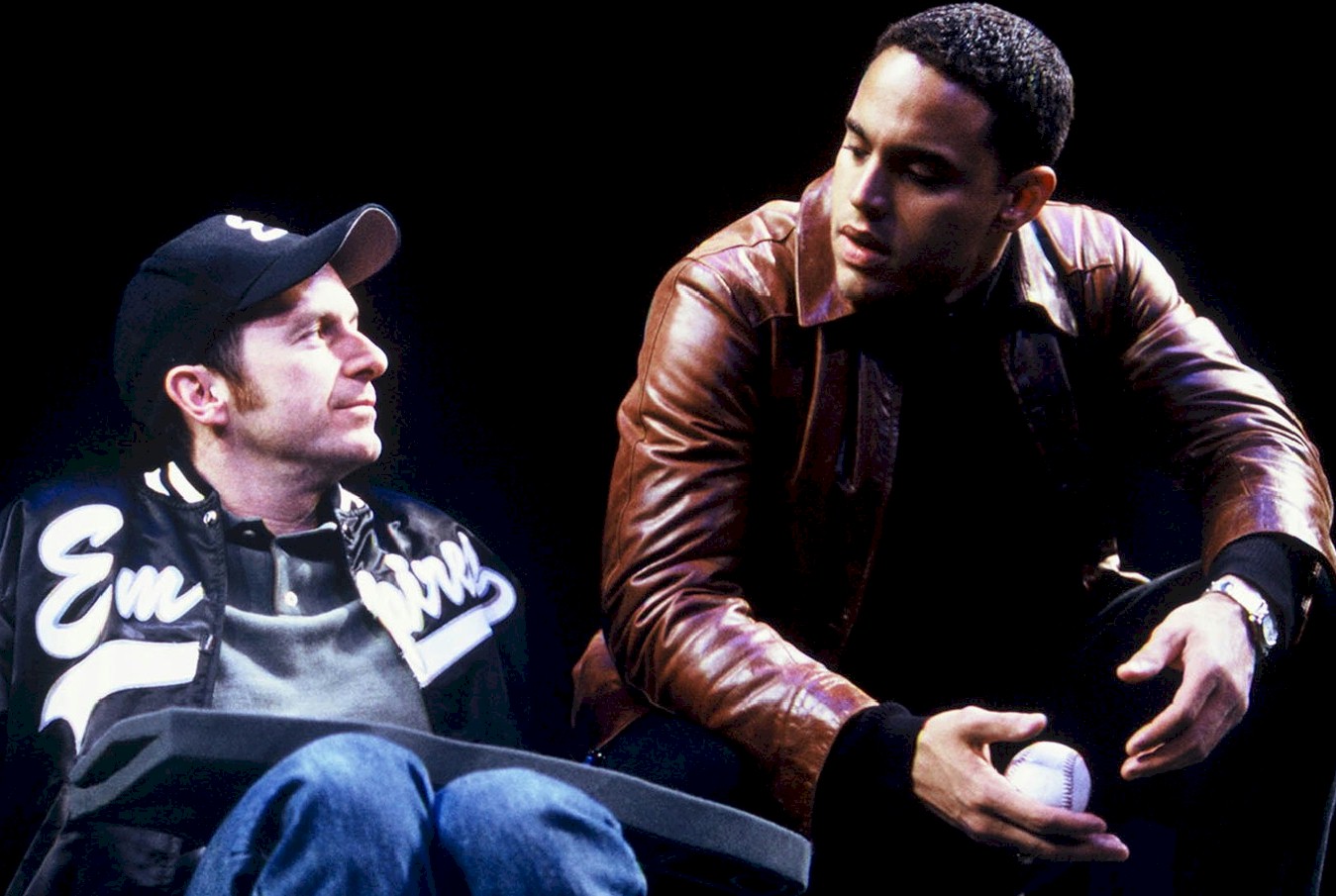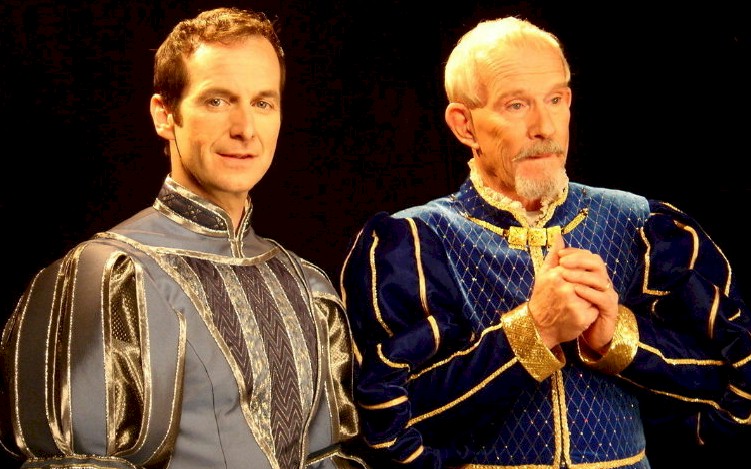 Clockwise: With Daniel Suniata in Take Me Out; all spruced up as Prince Dauntless, with Tom
Smothers as King Sextimus, for ABC-TV's November presentation of Once Upon A Mattress
;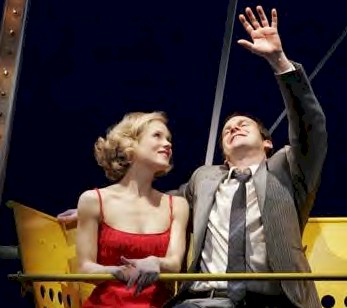 on the Ferris Wheel with Christina Applegate in Sweet Charity.
________________________________________________________

When speaking of Take Me Out [2003 Tony, Best Play], he explains that he didn't feel there was too much controversy over the extensive full-frontal nudity [of literally every character but his]. "I think the producers would have loved for it to have been more controversial. It's such a well-written play because Richard Greenberg is not a polemist and he's not an issue guy. The play's bigger than just one theme.
"He wrote a very human story about something he loves," continues O'Hare. "His point in making the main character [played by Daniel Suniata] come out of the closet was not to engender a discussion about homosexuality in sports, but about where is your community, who is your family? Everyone ended up being involved in the theme of where do you belong. The Japanese pitcher, who doesn't speak English; the redneck racist guy; me, the gay accountant, who doesn't know anything about baseball but who's yearning for community. Then there's Darren, the bi-racial player. Is he black? Is he white? Is he gay or is he straight? How do they fit in?"
O'Hare certainly finds theater to be a collaborative art. "Plays don't exist merely to be read. They exist to be performed. When I get a script and sit down to read it, I make a connection to the character fairly quickly. I recognize something in the character that I understand. I figure out my way in."
Is it difficult to be different each time so you avoid becoming stereotyped? "I don't worry about that. I consider my job to be the advocate of the character, to present him, to represent him as fully and as accurately as possible." He was thrilled to be asked to do Assassins, and states that playing Guiteau was a joyous experience "because he was crazy. His particular form of delusion was a happy one. Even at the end, when he realizes he's going to die, he decides he's going to meet his maker, and he's happy. It's a brilliant scene because it's based in fact. Guiteau sang his own little song on the way to the gallows. Sondheim just set it to his music."
The musical, he knows, wasn't everyone's cup of tea. "Audiences were split down the middle. Some loved it. Some despised it - even some of my friends, and they let me know. They were not a happy bunch! Not to get too pretentious, Seneca, the Roman philosopher, wrote ëNothing human is alien to me.' That's sort of always been my motto. My job as an actor is not to judge my character, but to inhabit them fully and make the best case for who they are. I leave it to the audiences and critics to judge them."


DRG Records Original Cast CD of Sweet Charity is scheduled to be in stores June 24.


______________________________________________________________


HER FRIENDS CAN SEE HER NOW

:
Christina Applegate's dream comes true. She's on Broadway:

_________________________________________________________________________