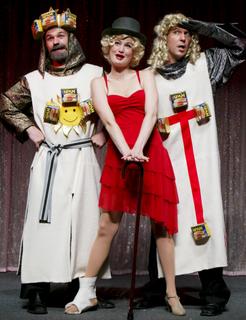 Jason Mills, Megan Lewis and Ron Bohmer spoof Spamalot and Sweet Charity's Christina Applegate in updated edition of Forbidden Broadway: Special Victims Unit.
[Photo: CAROL ROSSEG]
If you want to get rid of the blahs, shake the blues away or just go out for a helluva good time, don't miss Gerard Alessandrini's updated edition of Forbidden Broadway: Special Victims Unit, winner of the 2005 Drama Desk Award for Best Musical Revue. Hardly anyone, alive OR dead is spared.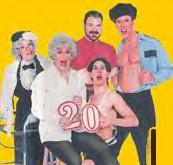 ..............Alessandrini, standing second from right, with
..............the 20th Anniversary cast of Forbidden Broadway:

And you may die laughing. If not, you'll surely be ROTF and into the aisle of the 47th Street Theatre, where the paint's hardly dry on the new proscenium [in the show's new location] but the tomatoes are ripe for the picking.
Jeanne Montano as Spamalot's
Lady of the Lake: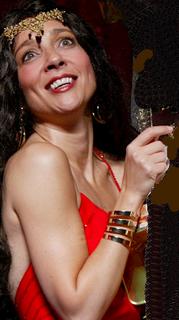 Since 1982, Alessandrini's lampooning the Broadway shows of the season and some of our most celebrated stars [Merman and Bernadette Peters immediately come to mind] and shows [such as Annie and anything Lloyd Webber], has been a favorite of theatergoers not only in New York, but also in London and around the world.
The story behind this cult show began in 1981, when Alessandrini, 27, arrived from Massassachutes with dreams of becoming an actor.
"As far back as high school," he reveals, "I'd written parodies, so when I started going to auditions, in order to be noticed, I'd sing my own versions of show tunes."
Unfortunately, or fortunately, that tact didn't get him work, but it drove him to put together a cabaret act. Critics and audiences were wowed and Forbidden Broadway has since become New York's longest running musical comedy revue.

Once again, in this update of the edition that opened last December, Alessandrini gets away with murder, especially for about 100 of the 120-minute show. His parody of Spamalot, which he accuses of "stealing" from him, is alone worth the price of admission.
But there's so much more, thanks to a brilliant and immensely talented ensemble: Ron Bohmer [a former Broadway Phantom and a member of the F.B. Fifth Anniversary cast], Megan Lewis, Jason Mills and Jeanne Montano, with David Caldwell doing duty above and beyond on the piano. Alessandrini and Philip George are co-directors. Tony Award winner Alvin Colt's costumes, all designed for immensely fast quick changes, deserve mention.

.....................Carol Channing laughed as hard as the audience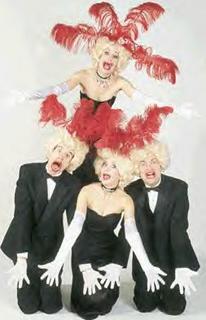 .....................at this Forbidden Broadway send-up:
While a bit on the cruel side, the Light in the Piazza sequence and Lewis' take on Patti Lupone are, nonetheless, very, very funny and show Alessandrini at his unstoppable best - as are Montano and Lewis reincarnating, respectively, two of the season's Best Actress nominees, Kathleen Turner and Cherry Jones.
Don't think Alessandrini misses the opt to tackle Disney, Abba, Lloyd Webber, Sondheim, Joel - or all-controlling wailer Yoko Ono, beautifully portrayed by Montano in a somewhat surprising setting [the corn may not be as high as an elephant's eye here, but, it's sure climbin' clear up to the sky ëcause, corn's corn - and you'll have a wonderful feeling everything's going Alessandrini's way].


Other material scoring touchdowns, homeruns, even standing ovations: Broadway's love affair with puppets [some of which are having love affairs] in Avenue Q, among others; Lewis' loving raking of Christina Applegate in Sweet Charity and the estimable Carol Channing; Mills's send-up of Norbert Leo Butz in Dirty Rotten Scoundrels and Bohmer's skewering of Robert Goulet.
There were screams of laughter as Chitty Chitty Bang Bang [with Ss replacing the Cs of the title], the original divas of Wicked [Kristin Chenoweth and Idina Menzel], high-stepping Hugh Jackman as the host of the Tonys and, before she even arrives, Rosie in Fiddler got their due.
Patti Lupone took Chritine Pedi's
lampoon with great humor: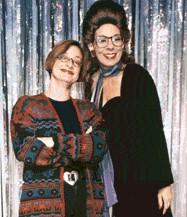 "I try to stick to mainstream stuff," reports Alessandrini. "Even our audiences haven't seen a show we parody, they certainly have an idea of what it's all about."

He doesn't flinch with even an iota of guilt over the biting takedowns he crafts but, he reports, over the years stars and composers have rarely taken offense.

In fact, notes Alessandrini, stars seem to take it as an insult now to be excluded from a Forbidden Broadway parody: "After all, it's all in fun and they know it."

Jacques Le Sourd, critic for the Journal News, writes that Alessandrini "may be the best drama critic working the beat. He is constantly updating the material ó which consists of stinging lyrics to show-tunes ... Though there is a base line of affection for the theater under all Alessandrini's satire, it's clear his patience is wearing thin."

Various editions of Forbidden Broadway revues can be found on DRG Records.

~ ~ ~


[Forbidden Broadway alums Valerie Fagan and Leisa Mather co-star in the New York premiere of 6 Women with Brain Death, Or Expiring Minds Want To Know in the New York Musical Theatre Festival for six performances, September 26 - October 1, at the 45th Street Theatre.

The rock musical satire about "the demented pop culture of our great nation" sold out at the 2002 Edinburgh Fringe Festival and has had regional and Canadian productions. Music and lyrics are by Oklahoman Mark Houston with book by Houston, Fagan, Cheryl Benge, Christy Brandt, Rosanna Coppedge, Ross Freese, Sandee Johnson and Peggy Pharr Wilson.

Director/choreographer is Marcia Milgrom Dodge [Cookin' , Closer Than Ever, Radio Gals]. Kim Douglas Steiner [I Love You, You're Perfect, Now Change] is music director.

Additional cast members are Cheryl Alexander [Caroline or Change], Amorika Amoroso, Joy Franz [Into the Woods] and Pearl Sun [Little Shop of Horrors].

Visit www.nymf.org for more information.] .......................................... [Photo: NICK COLETSOS]






--------
Ellis Nassour is an international media journalist, and author of Honky Tonk Angel: The Intimate Story of Patsy Cline, which he has adapted into a musical for the stage. Visit www.patsyclinehta.com.

He can be reached at [email protected]





Why are you looking all the way down here?
For more articles by Ellis Nassour, click the links below!

Previous: MARIAN SELDES: FIRST LADY OF AMERICAN THEATER?

Next: MINNELLI AND VEREEN HEADLINE WICKED'S KATRINA RELIEF BENEFIT ~~COULD THIS BECOME ANOTHER NIGHT OF 100 STARS?~Tickets at $100-$300 are on sale at the Gershwin box office and through Ticketmaster

Or go to the Archives