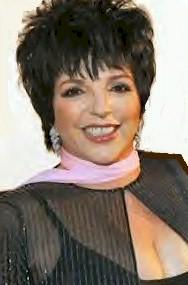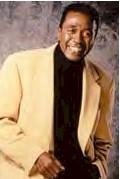 Liza Minnelli and Ben Vereen will co-hostSunday's all-star Broadway's Celebrity Benefit for Hurricane Relief
There'll be the usual green this Sunday [September 25], at the Gershwin Theatre but, hopefully, it's going to spread from Elpahba in the cast of Stephen Schwartz's Wicked and permeate through 1,900 plus theater fans to raise much-need green for a very worthy cause.
The 26-member Wicked cast wanted to do something to show support for the victims of Hurricane Katrina. Their germ of an idea of staging a benefit has turned into a huge demonstration of support and camaraderie from the Broadway community. They're putting on a show alright, but now it's going to be a really biggggg show, Broadway's Celebrity Benefit for Hurricane Relief!
Starting at 8:30, led by Shoshana Bean, Megan Hilty, Rue McClanahan, et al and hosts and long-time friends [fresh from their love-fest appearance as "legendary performers" on Martha] Liza Minnelli and Ben Vereen, Wicked's current Wiz, over 40 stars will rally theatergoers lucky enough to get into this unprecendented fund-raiser. The evening is going to be entertainment with a capital E, as Liza promises "to work my butt off."
"This will be one of the most memorable nights on Broadway," says Minnelli, "ever! Just think what you'd have to spend to see this caliber of entertainers onstage in individual shows. We're bringing them all together for one great night and a very worthy cause."
Wicked's Shoshana Bean and Megan Hilty
as Glinda and Elphaba>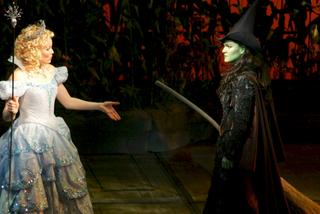 The line-up includes Christina Applegate, New Orleans native Bryan Batt, Charlotte D'Amboise, Victoria Clark, Charles Durning, Jill Eikenberry, Raul Esparza, Eden Espinosa, Shuler Hensley, Bill Irwin, Cheyenne Jackson, Brian d'Arcy James, Isabelle Keating, Jack Klugman, Judy Kuhn, Adriane Lenox, Susan Lucci, Terrence Mann, Idina Menzel, Bebe Neuwirth, Kelli O'Hara, Denis O'Hare, Bernadette Peters, David Hyde Pierce, Phylicia Rashad, Jai Rodriguez, Carole Shelley, Christopher Sieber, Brooke Shields, Daniel Sunjata and Patrick Wilson.
Ben Vereen as Wicked's wizard>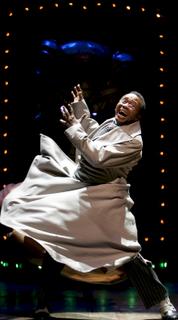 The casts of All Shook Up, Avenue Q, Hairspray, Mamma Mia!, The Light in the Piazza, Rent, The 25th Annual Putnam County Spelling Bee and Two Gentlemen of Verona, Light Tony and Drama Desk-winning composer Adam Guettel and the Broadway Inspirational Voices will also participate.
"On Monday, August 29th, Hurricane Katrina ravaged the Gulf Coast like no other storm in recorded history," says Vereen. "For hundreds of thousands just like you and me, life will never be the same again.
"We must act together," he continues, "in order to show these victims that we'll do whatever it takes to see them through this difficult time, just as the world did for New York after the horrors of September 11, 2001."


[Production photos: JOAN MARCUS]
IT'S NOT EASY BEING GREEN...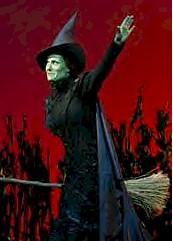 ...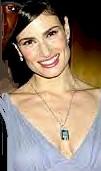 But, for a good cause, Idina Menzel, Wicked's original Tony-winning Elphaba,
returns to the Gershwin Sunday night to help raise hurricane relief money.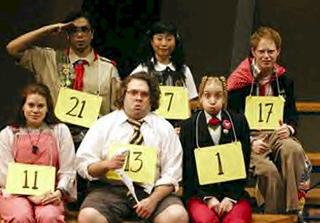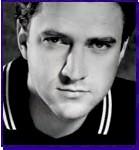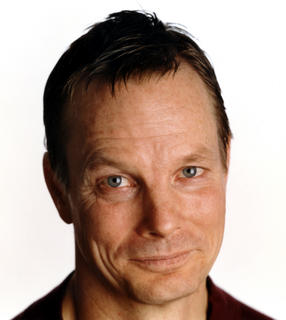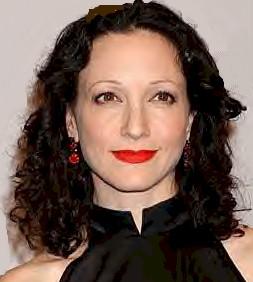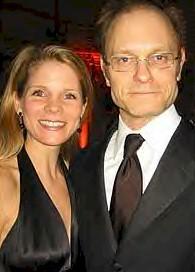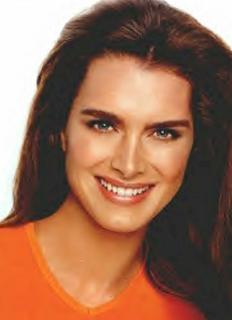 Let them entertain you and you'll have a really good time -
for a good cause:>
The cast of The 25th Annual Putnam County Spelling Bee will be on hand
with the casts of All Shook Up, Avenue Q, Hairspray, Mamma Mia!, The
Light in the Piazza and Rent - and Raul Esparza, Bill Irwin, Bebe Neuwirth,
Kelli O'Hara and David Hyde Pierce, Phylicia Rashad and Brooke Shields.
Batt, who through the years has given generously of his time to benefit and fund-raisers, planted the idea of a benefit with a call to the Nederlander offices immediately after Katrina struck. "Then I got a call from Wicked's Anthony Galde, a friend since we did our first Broadway show, Starlight Express [at the Gershwin]. He said the cast wanted to do something. I told him I'd do whatever I could do to help."
The roster of stars volunteering their time to help raise money "is nothing short of mindboggling," says Batt, who's been a sort of unoffical New Orleans ambassador to New York.
He reports that his New Orleans design business survived the hurricane with little damage or looting. Batt's mother evacuated to Houston and eventually made it to New York. "Her news is, thankfully, also good," he says, "but my brother [a New Orleans city councilman and a men's clothier], lost everything."
Batt is hoping Broadway's Celebrity Benefit for Hurricane Relief will be upbeat and festive, "since it is a celebration of one of America's most upbeat and festive cities." Things, no doubt, will get a bit nostalgic and misty-eyed when he performs one of his favorite songs, "Do You Know What It Means To Miss New Orleans?" He adds, "I hope I can get through it!'
[If you want to get an early jump on some holiday shopping, and donate to a good cause, see the box below for a special offer to also benefit hurricane relief from celebrated Christmas home furnishings designer Christopher Radko and Hazelnut, Byatt's New Orleans Garden District interior design company.]
Will the real Bryan Batt please stand up?>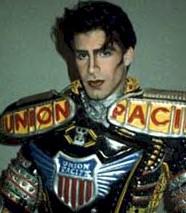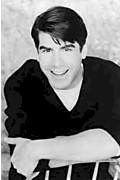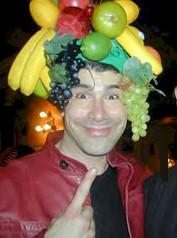 Bernadette Peters; Christina Applegate in Sweet Charity; Patrick
Wilson; and Emmy-winning Susan Lucci of All My Children>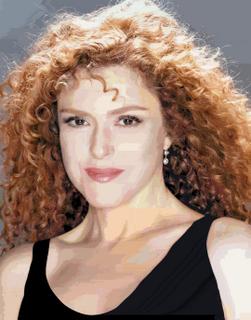 ..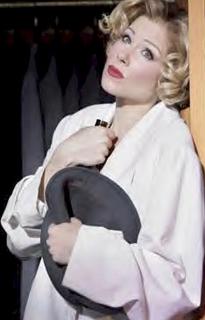 .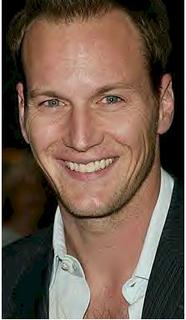 .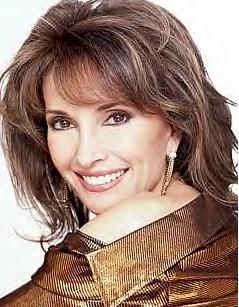 Produced by the company members of Wicked and made possible by the Nederlander Organization, Broadway's Celebrity Benefit for Hurricane Relief proceeds will benefit America's Second Harvest, the largest U.S. hunger relief organization [feeding over 23 million Americans annually]. According to the chartity's website, each dollar raised brings 15 meals to the table. As of September 12th, 14 days after Hurricane Katrina devastated New Orleans, the Gulf Coast and Mobile, the charity has delivered 21 million pounds of food and groceries to displaced residents. [For detailed information on the organization and its work, visit www.secondharvest.com]

[Hurricane relief donations from the American private sector have reached in excess of $810-millon so far.]

Another beneficiary of will be Quilts for Kids, a grass-roots organization that transforms discontinued designer fabrics into quilts for battered and abused children and children suffering from life-threatening illnesses. As a result of Katrina, the organization has expanded its mission to include the collection and distribution of clothing, toiletries, linens and everyday necessities for displaced families.

Tickets for Broadway's Celebrity Benefit for Hurricane Relief are $100 and $300 and are available at the Gershwin box office [222 West 51st Street] or through Ticketmaster [(212) 307-4100 or http://www.ticketmaster.com].








--------
Ellis Nassour is an international media journalist, and author of Honky Tonk Angel: The Intimate Story of Patsy Cline, which he has adapted into a musical for the stage. Visit www.patsyclinehta.com.

He can be reached at [email protected]





Why are you looking all the way down here?
For more articles by Ellis Nassour, click the links below!

Previous: ALESSANDRINI'S UPDATED FORBIDDEN BROADWAY: SPECIAL VICTIMS UNIT LEAVES NO SHOW OR STAR UNSCATHED

Next: CREATING MUSICALS FOR STAGE AND SCREEN DETAILED IN A FINE ROMANCE ~And More: Merman CD, Laurents Anthology

Or go to the Archives