THE COLOR PURPLE:

If Oprah promotes it, audiences will come. And they're coming to The Color Purple. And not sitting in those tight Broadway Theatre seats quietly, either. They're talking back to the cast and clapping hands when the music moves them.

Thanks to a huge infusion of cash from Oprah, only six weeks prior to the first Broadway preview, and first-time-at-bat lead producer [and a veteran TV/film producer] Scott Sanders' 13 additional investors [which include the Nederlander Presentations, Quincy Jones, who co-produced and scored the film] and the Bob and Harvey Wienstein], the $11-million plus show has made it to Broadway after a shaky start in Atlanta.

Sanders, now 48, aged a few years raising the capital to put his dream show on the boards. It's not the best-kept secret in theatrical circles that there's the perception that "black shows" do not attract white audiences, and that African-Americans don't go to theater."

So he approached non-traditional sources, such as Wall Street financier Roy Furman, who has invested in shows and, though moved by the story, "found an earlier version needing real work." But with their seed money, the work got done. And then came Queen Oprah.

The story of Celie's coming of age - from being sold into a loveless marriage where she's a virtual slave to becoming a successful business woman who finally discovers her real family - is a triumphant one. The core audience already knows the material from Speilberg's 1985 film adaptation and AliceWalker's 1982 best-seller.

The critics have weighed in on Pulitzer Prize-winner Marsha Norman's adaptation of Walker's book and the score by Grammy Award-winning composers/lyricist Brenda Russell, Alee Willis and Stephen Bray. There are pros and cons. In the latter category, which hasn't seemed to detract the least at the box office, it's been called it a "plot-crammed" musical with a plot line that "frenetically skims the surface of" the book.

Maybe Norman's Broadway book has been embellished a bit too much with more incidents from late in the book, maybe the score and choreography [or acrobatics] are not as dynamic as they could be and maybe it could have been cut by a good 20 minutes - or, better still, used that 20 minutes to develop the characters a bit more. But you can't say a majority of audiences don't leave, if not humming the score, at least ebullient at the "happy" ending.

That's thanks to a talented cast and a robust-voiced ensemble, with special appreciation for LaChanze, so memorable last season Off Broadway as a slave in LCT's Dessa Rose, for which she received Drama Desk and Obie nominations. [She received Tony and DD nominations for Once On This Island]. As Celie, she carries the bulk of the show - aging 40 years from an "ugly" young backwoods and backward teen to a confident and successful adulthood.

LaChance is a big fan of Walker's book. "I really relate to Celie's passive-aggressive qualities and the strength in her vulnerability."

But Celie doesn't have the smarts to develop into such a strong woman on her own. That comes from the irrepressible juke-joint blues singer Shrug Avery, played by Elizabeth Withers-Mendes. Their Act One finale duet, "What About Love?" is a heart-breaker.

There are two other memorable musical moments: Celie singing "Somebody Gonna Love You" early in Act One and, late in the act, Shug's "Too Beautiful for Words."

Director Gary Griffin is blessed with a strong supporting cast. It's highlighted by Felicia P. Fields as the buxom, sassy "Just Say No" Sofia [the role played so memorably on film by Oprah]; Brandon Victor Dixon as Harpo, who falls under Sofia's spell and, eventually, her domination; and a divine trio of blatant scene-stealers, the Church Ladies, Kimberly Ann Harris, Maia Knenge Wilson and Virginia Ann Woodruff, who perform as a sort of Greek chorus - prancing onstage, always stunningly costumed as if they really were at Sunday services, to nudge the plot forward and make sarcastic comments on it.

The Color Purple original cast CD from Angel Records will be in stores January 24th. For photos, downloadable music samples, background features and a making-of video, visit www.colorpurple.com.


THE WOMAN IN WHITE:

Andrew Lloyd Webber/David Zippel/Charlotte Jones' The Woman in White, which is "freely" adapted from Wilkie Collins' classic Gothic thriller, pits West End stars Maria Friedman and Michael Ball [who, over there, has had more than his share of chart-topping songs] against a dizzying array of high resolution projections.

William Dudley's video design and the Mesmer projection system advances a millennium on those of a similar nature by John Napierd, Lisa Podguy Cuscuns, Jules Fisher and Peggy Eisenhauer for 2001's Jane Eyre, but audiences either love or hate them [some members complain of becoming so dizzy that they want to run to the concession kiosks to buy Dramamine].

One must wonder why Michael Crawford, who scored so well with critics in the West End with his Count Fosco, didn't return to Broadway and repeat his role as a bit of redemption for his shameless antics in that dud of a musical, Dance of the Vampires. Audiences can be quite forgiving. After all, he was the Phantom of the opera. Maybe he was afraid that, in that amazing foppish getup, padding, make-up and wig, audiences wouldn't recognize him; but then he was the man behind the mask.

Friedman as the most loving, most giving heroine in some eons is the glue that holds the show together. Like that other British tiny dynamo, Elaine Paige, she really knows how to command the stage. Ball, so memorable in ALW/Don Black/Charles Hart's Aspects of Love, acquits himself quite well, even he's too over-the-top, as Fosco, a role that is, alas, built to be hammy.

The plot, absurd as it is, isn't that hard to follow, but some things are hard to swallow [such as the supposed resemblance between Laura and the title character; and when the good/bad count's vaudeville starts, it detracts in a not-always pleasant comic relief way from the dastardly deeds of Sir Percival Glyde [a menacing villain if ever there was one and beautifully played by Ron Bohmer].

Director Trevor Nunn keeps everything moving at break-neck speed [unfortunately not as fast as that train; speaking of which, wouldn't it have been fun if this projection was be 3-D and the audience had glasses so that the train could roar offstage and right at ëem].

The score, soon a two-CD cast recording from Angel Records, has echoes of ALW motifs from Song and Dance, Jesus Christ Superstar, Aspects and Sunset Boulevard, but then he can only be accused of stealing from himself.

How does the score rate? It depends how big a ALW fan you are. Not all of it is memorable, but there are standout moments, such as Act One's "I Believe My Heart," a duet for Friedman and Adam Brazier as the put-upon but thoroughly smitten tutor Walter Hartright], Friedman's poignant self-sacrificing anthem "All for Laura," the soaring Act One finale, "The Trio" [Friedman, Jill Paice, Angela Christian] and Brazier's heartbreaking Act Two solo "Evermore without You" on his loss of Laura, for which Zippel has written a very poignant line or two "... I'll never know a thought or feeling that isn't about you.../Though I've lost you, you're someone I can't let go of/Every living day, ever filled with sorrow/How can I face a life without you or even tomorrow?..."

RENT: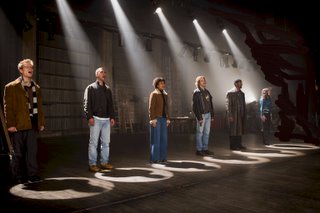 Opening scene from film adaptation of Rent: Anthony Rapp, Wilson Jermaine Heredia,
Tracie Thoms, Adam Pascal, Jesse Martin and Idina Menzel.

Some screen adaptations of stage musicals pale when compared to the originals. Look no further than the Chorus Line and Paint Your Wagon movie versions. That's not the case with Revolution Studios/Tribecca/Columbia Pictures' big-screen adaptation of Jonathan Larson's 1996 Pulitzer Prize-winning rock opera Rent [still holding its own at Broadway's Nederlander Theatre] about gays, straights and lesbians; drug and AIDS-addled bohemians; and an aspiring composer and film-maker "struggling to measure their lives in love."
Just as some things onstage don't adapt well to film, there are things that film can do better and bigger. Are there any stage production values, save maybe at Radio City Music Hall, that can top the first 15 minutes of Rent on film? In what appears to be one continuous take, floor-to-floor, through windows, with the camera on a crane, the action is as magical as it is fluid.
Director Chris Columbus [Home Alone, Harry Potter and the Sorcerer's Stone] sets the standard very high with the opening sequence, "Seasons of Love," shot over ten days at Burbank Studios' New York street with 300 extras and stunt players. Other shooting was in San Francisco in a giant soundstage on Treasure Island, a 400-acre man-made island halfway between San Francisco and Oakland. There was some location work in Manhattan's East Village and in Brooklyn.
Other instances of better-on-film-than-onstage are Mimi's storyline; the heart-warming Mimi/Mark duet "I Should Tell You"; the rousing "La Vie Boheme," the musical's Act One finale; and, something the movies can do that can't be done onstage, the moving 11:00 "Without You" montage sequence. The only time the film hits laughable moments is when it begins to stray from the stage structure
It's great, as will be the case with The Producers, to see filmmakers [Columbus and co-producer Robert DiNero] realize that Broadway's original cast members don't need replacing when they set the work on celluloid. Taye Diggs, Tony Award-winner Wilson Jermaine Heredia, Jesse Martin, Idina Menzel, Adam Pascal [looking more like Jeff Conaway from TVs Taxi than I ever imagined seeing him from mid-orchestra] and Anthony Rapp are all here, though some of the originals appear a bit too old to be "bohemians," but then it's rare to see kids playing the lead in opera productions of Pucinni's La Boheme, on which Larson loosely based his musical.
For the faithful adaptation, much credit must go to Larson's sister Julie, a co-producer; cinematographer Stephen Goldblatt, editor Richard Pearson, Tim Weil's arrangements. The costume designer is Aggie Guerard Rodgers. The choreography is by Keith Young, music supervisor Matt Sullivan and especially Rob Cavallo, who produced and arranged the score, which has been augmented by many more horns and strings and yet still maintains the hard drive of rock ën roll.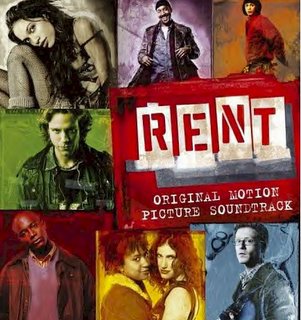 The two-CD soundtrack, with your pick of eight different covers and 23 songs, reprises, a bonus track "Love Heals" and two finale numbers, is on Warner Bros. Records. The label has also released a Highlights single CD. Vocal selections are available in the Rent songbook from Hal Leonard.
Anthony Rapp's Without You: A Memoir of Love, Loss, and the Musical Rent is also still available.
"Jonathan created genuine characters who were dealing with real concerns and issues," says Ms. Larson. "His show has meaning and is pertinent to people's lives, especially those of young people. He had a very clear vision and a sense that he could achieve something, and that the musical would die if someone didn't come along to bring younger people into the theater.
"The characters come alive onstage in an authentic way," Ms. Larson adds. "That earned audience affection. It was important for the film to do that."
It may not be readily apparent from his previous films that director Columbus would have a close affinity to the story of Rent. He says otherwise: "I lived in New York for seventeen years in the 80s when Rent takes place. In a loft, and I had a lot of those experiences. We were dirt poor for three years, so I could relate to what Mark and Roger, with their dreams and aspirations, were going through. I knew those people."
For him, the film was "an opportunity to go back to an important time in my life and to bring my own experiences to what I was doing. It was important not to homogenize any of the elements of the play. I wanted the film to be even grittier because film enables you to be a lot more realistic."
Casting is by Bernard Telsey, who did the stage production. "We looked at everyone," he says. "We looked at new actors, we looked at stars and Chris felt that the passion and talent of the original cast would be hard to duplicate."
Of his decision, Columbus says, "These actors embody something that's rare and tragic. They experienced Jonathan's death just hours before the show's first preview. The complex emotions and intense feelings that resulted helped fuel their performances for almost two years. So, besides being amazingly talented, they bring a richness, depth and understanding for the material that can only come through a shared life experience."
That was fine with Pascal. "The fact that Chris put us in the movie," he says, "makes him a genius in my mind. To have the foresight to use the original cast and not a bunch of Hollywood ëIt' kids, is amazing in and of itself."
Rapp adds, "It was a once-in-a-lifetime experience. Now to have it twice in a lifetime by getting to do the film, I don't know what to say except, thank you Chris Columbus, and thank you Joe Roth [of Revolution Studios] for giving Chris the wherewithal and freedom to make the movie."
There are a couple of newcomers, but not a false note among them. Rosario Dawson [finally in a decent film!], who replaces Daphne Rubin-Vega as Mimi, pregnant when shooting began, and Tracie Thoms, replacing original Fredi Walker are excellent. In fact, Thoms, whom you might have missed in her Broadway debut opposite Alfre Woodard in MTC's Drowning Crow is a veteran of Off Broadway. As the lesbian lawyer/girlfriend of Maureen [Menzel], she radiates magic onscreen.
As has been the case with countless stage-to-screen adaptations, character emphasis changes. And in Rent, there's seems to be less Angel [Heredia]; also, onstage, the part comes over much more poignant than onscreen.
CREATING BROADWAY'S RENT: IN ADVERSITY AND TRIUMPH
Rent, currently the eighth longest-running show in Broadway history with almost 4,000 performances to date, has been staged around the world. In addition to the Pulitzer Prize for Drama, four Tony Awards [including Musical, Book and Score], three Drama Desk awards, the New York Drama Critics Circle Award and, for the Off Broadway production at the New York Theatre Workshop, the Obie Award.

"Jonathan believed Rent could have a huge impact," recalls Julie Larson, "but he could not have imagined what's happened over the last nine years - that it would still be running on Broadway, that it would be presented in so many languages all over the world and that now it's a film. I'm proud of what my brother did and of what he accomplished. Yet, there are moments of deep sadness because he's not here to see how many lives he touched and changed."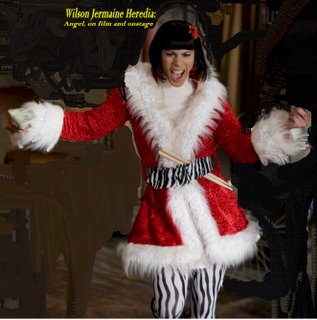 "Thanks to Jonathan," explains Heredia, who comes from Brooklyn and a Dominican background, "we were able to deal with real characters. They're taken from people he knew - mostly struggling writers, artists and singers. That's why audiences have been so impacted."
Twenty-four at the time, nothing could have prepared him for the overwhelming media spotlight focused on Rent, especially after Larson's death, and its young cast. "I was riding the wave, accepting everything for what it was. We were working like dogs, doing appearances, photo shoots, anything to promote the show. After we opened, we began rehearsing for and recording the cast album. Everything was going so fast, there was no time to react. In a way, that was probably good, because I never had time to stop, think and reflect."
After a month, he was able to step back and breathe. "One night I broke down crying to a friend, purging emotions I hadn't been able to express. That was my therapy. I said, 'Good. I have it out now.'"
Then came the Tonys, where he caused a stir dressed head to toe in black vinyl. The highlight of the awards, other than his incredulity at winning the award for Best Performance by a Featured Actor in a Musical, was "being in the presence of actors I admired and never thought I'd ever meet, and their seeing me as an equal."
He and all the original cast members say that the importance of Larson's message wasn't lost on them during the musical's early days. Transforming his vision from the workshop stages to the demanding criteria of Broadway, was an experience unlike any they'd had.
"We went through hell," recalls Martin [Tom Collins]. "When we started, we had Jonathan with us, then we lost him at the beginning of the performance process. But everybody rallied together and decided that we were going to make sure this story remained vibrant and energetic."
Menzel adds, "Jonathan's passing bonded us. We embarked on a mission to put forth his story and his music. It took us from being selfish and worrying about things like how our careers were doing. It became more about him and how important it was for people to hear what he was saying."
According to Menzel, no moment in the show crystallizes this journey better than "No Day But Today." "To sing those lyrics onstage, knowing what we'd gone through and knowing that the audience knew what we had gone through, was a transcendental experience." She points out there was an additional payoff: "The energy that came back at us every night was just incredible."
"Jonathan got to the core of something," notes Rapp [Mark]. "He told the truth about what it was like to live in that day and age in New York - about what it was like to struggle and to lose people you love and to be afraid of losing those people. When you're in the presence of something true, it's unusual and powerful."
Over the years, he says, people have come up to him and other cast members and said "Rent changed my life" and "Thank you for making a difference." Adds Rapp, "People don't say things like that without meaning them."
To keep Larson's legacy and his love of music alive, his family created the Jonathan Larson Performing Arts Foundation in 1996. It provides funding and encouragement to promising composers, lyricists and book writers.]
FRANCES STERNHAGEN: 50 PLUS YEARS ONSTAGE
AND SCREEN AND STILL GOING
Frances Sternhagen, back on Broadway in less than a season in Lincoln Center Theatre's 30th Anniversary revival of Edward Albee's Pulitzer Prize-winning
Seascape
, is celebrating 50 plus years in theater and in film.
In May, she was a special panel guest of at the Drama Desk event celebrating 50 yeaars of those awards; and in June she was among prominent women of theater honored with a Woman of Achievement Award.
Seascape, set on an undisclosed ocean beach, is not a beach party romp. Sternhagen appears as that talking-marathon Nancy, a wife anxious to do "something" adventurous late in her marriage, opposite grizzled George Grizzard's Charlie.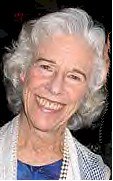 It's Albee, so it's not at all unusual to find two humans - Sternhagen and Grizzard - painting and basking in the sun and sand and encountering giant, green, squabbling newlywed lizards [Frederick Weller, fresh from
Glengarry Glen Ross
, and Elizabeth Marvel].
After years of toiling on the boards, Sternhagen's star ascended into a household name thanks to the millions of TV viewers who welcomed her into their homes as Cliff Claven's dominating mother on Cheers; Carter's grandmother on ER and Bunny MacDougal, Trey's dominating mother on Sex and the City.
Last season, as Clairee, she was one of the sparks in the
Steel Magnolias
. Other recent roles were Off Broadway in Roundabout's revival of
The Foreigner
, Off Off Broadway in the Mint's
Old Lady Shows Her Medals
and
Waiting For the Telegram
in Alan Bennett's cannon of one-acts
Talking Heads
[a rapturous solo turn that earned her an Outer Critics Circle Award].
. . . . . . . . . . . . . . . . . . Sternhagen and George Grizzard in LCT's revival of Albee's Seascape>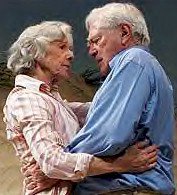 Theatre Hall of Famer Sternhagen was bitten by the acting bug at age 13 when she tired of piano lessons while growing up in Washington, D.C. "I became much more interested in drama," she says, "but I never expected to do anything professional." In fact, expectations were quite low.
"Father had to retire," she recalled. "He couldn't work because he had Parkinson's. Thirteen years of treatments and hospitals and nothing worked. My mother had to take little jobs. For a while, she taught remedial reading. There was no money for college."
Thanks to family friends who had no children, she was sent to boarding school, where she not only acted but also directed. When she qualified for and was accepted at Vassar, family friends once again came to the rescue."
At Vassar," says Sternhagen, "I first sensed what acting really was." She quickly learned to command a stage. "To interest more students in drama, I was asked to do a scene from Richard II - in the dining hall during lunch. I was playing Richard with every bit of earnestness I could muster, but there was nothing but giggles. I knew I had to take control. I grabbed my mirror and hurled it to the floor. It broke into a million pieces. Suddenly, you could hear a pin drop. That alone, got me elected head of the Drama Club!"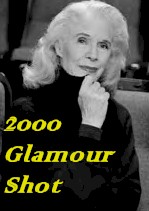 It was also at Vassar where, she laughs, she honed her famed Groton/Harvard accent, a theater voice that was nicknamed "the lockjaw." Early on she used it in a television show with Ann Jackson and Eli Wallach. "I was playing a babysitter and I said with that accent, ëI gave the bady a pacifier,' and Annie and Eli found that hilarious. I did the same sort of thing in The Importance of Being Earnest in Princeton at the McCarter with Ellis Rabb and Rosemary Harris."
In her late teens, Sternhagen made her professional stage debut as the 30ish Laura in a 1948 stock production of The Glass Menagerie. After graduation, she attended theater school and studied at the Neighborhood Playhouse. Back in Washington, she taught acting, singing and dancing. With theater still her goal, she attempted to get work in Boston. Rejected, she returned home. She found acceptance at Catholic University, where she worked diligently in their theater programs. Eventually she was asked to join Arena Stage. In 1954, she made her Off-Broadway debut as Juliette in Girardoux' Thieves' Carnival.
"That was one of the last times I'd play an ingÈnue!" smiles Sternhagen. "I was often cast in older roles. It was probably partly due to my voice, but I also had an understanding of older people, which stemmed from being around so many in my childhood. They were funny and eccentric and I must have absorbed some of that."
She says that live TV, "when it was really live, was a great training ground. You were on and couldn't correct a mistake. It was intense and crazy, so it was intense and crazy - and exciting. I miss those times."
Sternhagen reports that she had wonderful parts in her 20s and 30s, but that it wasn't until she was in her 40s that she realized she'd made it to that plateau where she could make a living as an actress. She says she never felt the urge to direct. "I've worked with wonderful directors and I don't have the kind of mind that has a concept of how a performance should be developed."
She received the 1973 Tony Award for her multiple characterizations in Neil Simon's Good Doctor. She followed with two of her favorite stage roles: Dora Strang in Equus [1974] and Ethel Thayer in On Golden Pond [1979]. In 1995, opposite Cherry Jones in The Heiress, Sternhagen received her second Tony.
Sternhagen appeared in 27 plays on Broadway alone, and numerous Off Broadway productions. She's also in that one percentile of actors who've been able to effortlessly go from stage to film to TV. "That work came about as a result of someone seeing me onstage in something or the other."
It wasn't always easy. Married to Broadway actor Thomas Carlin, the couple had six children. "Juggling career and family was very difficult."
Adding to that, her late husband had problems that led to alcoholism. "Thomas was quite handsome and started as a very promising juvenile," explains Sternhagen, "but as he got older, directors didn't know how to cast him. That added to his unhappiness and he drank more. They preyed on each other. It was sad and affected the family. Not becoming a star shouldn't bother people in our business so much. The important thing is that you're working!

ALBEE EVENT ON WEDNESDAY
Edward Albee will discuss
Seascape
Wednesday, December 7th at Lincoln Center Theater's Platform Series, a free event, at 6:30 P.M. in the Vivian Beaumont lobby. Seating is limited and first-come/first-served. Doors open at six. For more information, call (212) 362-7600 to confirm on the day of the event.
If not a comedy, Seascape certainly has a lot of laughs. The general consensus is that the current production at the Booth works a lot better than the original, directed by Albee, in 1975.
It played 63 performances. Deborah Kerr, Barry Nelson, Maureen Anderman and, in his Broadway debut, Frank Langella, who took home a Best Featured Tony.
Considering the playwright's work at the time, it's difficult to imagine such a light piece as Seascape being honored with the Pulitizer when Who's Afraid Of Virginia Wolf [1962] and Tiny Alice [1964] were overlooked. Of course, he was awarded the 1967 Pulitzer in for A Delicate Balance.
MARK YOUR CALENDAR

American Theatre Wing "Working In The Theatre" seminars will take place December 8th at the City University of New York Graduate Center Elebash Recital Hall, 365 Fifth Avenue at 34th Street.
Noon - 1:30 P.M. : "Producing Commercial Theatre" -- Susan Gallin [
The Retreat from Moscow, Woman Before a Glass
] Elizabeth McCann [
Well, Who's Afraid of Virginia Woolf?
], Kevin McCollum [
Avenue Q, Rent
], David Stone [
Wicked, 25th Annual Putnam County Spelling Bee
], Tom Viertel [
Sweeney Todd, Hairspray
]. Moderator: Ted Chapin.
3:00 - 4:30 P.M. : "Actors on Performing" - Michael Cerveris, Sweeney Todd; Jill Clayburgh, A Naked Girl on the Appian Way; George Grizzard, Seascape; Brian F. O'Byrne, Doubt. Moderator: Pia Lindstrom.
ATW members can reserve free of charge. Limited general admission seating: $10 per person [call CUNY (212) 817-8215]. Tickets are distributed one hour prior to each seminar and no later than 15 minutes before the scheduled start.
Now in their 31st year, the ATW panels bring together theatre's best known performers, producers, playwrights, directors, choreographers, composers and agents.
Support for the ATW seminars is provided by The Annenberg Foundation and The Dorothy Strelsin Foundation.
The "Working in the Theatre" Seminar series is broadcast five times a week on CUNY-TV [Time Warner channel 75] as well as on RCN Channels 24, 106 or 109, depending on area. Learn more about the American Theatre Wing and view streaming video of past seminars at www.americantheatrewing.org.
ACTORS FUND HOLDIAY BENEFIT, One Night Only:
A concert reading of the stage musical adaptation of the classic holiday film It's A Wonderful Life, book and lyrics by Sheldon Harnick and music by Joe Raposo, will take place Monday, December 12 at 7 P.M. at the Shubert Theatre.
In lead roles will be Brian Stokes Mitchell, Judy Kuhn and David Hyde Pierce. Lending support will be a virtual Who's Who of theater favorites [with a number of Tony winners among them]: Nancy Anderson, Michael Berresse, Philip Bosco, Ronn Carroll, Dominic Chianese, Chuck Cooper, Marc Kudisch, Phylicia Rashad, Marian Seldes and Karen Ziemba.
Also featured will be: Tolan Aman, Leslie Anderson, Meredith Akins, Nili Bassman, Beth Blankenship, Harry Bouvy, Dylan Jenet Collins, Ryan Dietz, Barb Folts, Jenifer Foote, Todd Alan Johnson, Cecily Kate, Ian Knauer, Marcy McGuigan, Kelli Maguire, David McKeown, Bill Nolte, Bret Shuford, Matthew Shepard, Stacey Sipowicz, Todd Michel Smith, Danny Vaccaro, John Wasiniak, Christopher Windom and Betsy Wolfe.
Lawrence Yurman is musical director. Choreography is by Denis Jones. Carl Andress is directing this one-night-only benefit for the charities of the Actors Fund.
Available tickets range from $75 to $1,000. To purchase: call (212) 221-7300 x133, through Friday from 10 A.M. - 4:30 P.M. or contact the AF via e-mail at [email protected][include: Number of tkts, address, billing info and how you wish to receive your tickets (Mail or Hold at Theatre)].
TOVAH RETURNS: Two Shows Only:
The multi-talented, multi-faceted Tovah Feldshuh will perform her one-woman show, the acclaimed Tovah: Out Of Her Mind! Saturday, December 10 at 8 P.M. and Sunday, December 11 at 3 P.M at the Queens Theatre in the Park.
In Tovah: Out Of Her Mind!, Feldshuh presents a gallery of hilarious characters [many of whom sing], ages 8 to 80, ranging from Park Avenue socialite Muffy Brooke Asthma Alsop to Grandma Ada from the Grand Concourse.
For information, directions and tickets, call (718) 760-0064 or visit http://www.queenstheatre.org/.
[Photos: Purple, White: Paul Kolnik, Rent: Phil Bray, Aubrey Reuben/Playbill, Joan Marcus, Google]
--------
Ellis Nassour is an international media journalist, and author of Honky Tonk Angel: The Intimate Story of Patsy Cline, which he has adapted into a musical for the stage. Visit www.patsyclinehta.com.

He can be reached at [email protected]
Why are you looking all the way down here?
For more articles by Ellis Nassour, click the links below!
Previous:
HALLOWEEN'S THE TIME TO BE WICKED; BIG APPLE CIRCUS PITCHES TENT AT LINCOLN CENTER
Next:
CHITA RIVERA: THE DANCER'S LIFE AND, OH, WHAT A LIFE!
Or go to the
Archives