Did you get your free Wicked green candy? Did you do well enough in the prelims to make it onstage for yesterday's finals of Z100 Radio's "Be Wicked" singing competition at the show's festive block party?
These were among the events held to commemorate the second anniversary on Broadway of Stephen Schwartz's megamusical Wicked [Opening night, aptly: October 30, 2003], still raking in megabucks [and breaking house records] at the Gershwin. The show now stars Shoshana Bean, Megan Hilty, Rue McClanahan, David Ayers and, as the Wizard. Ben Vereen.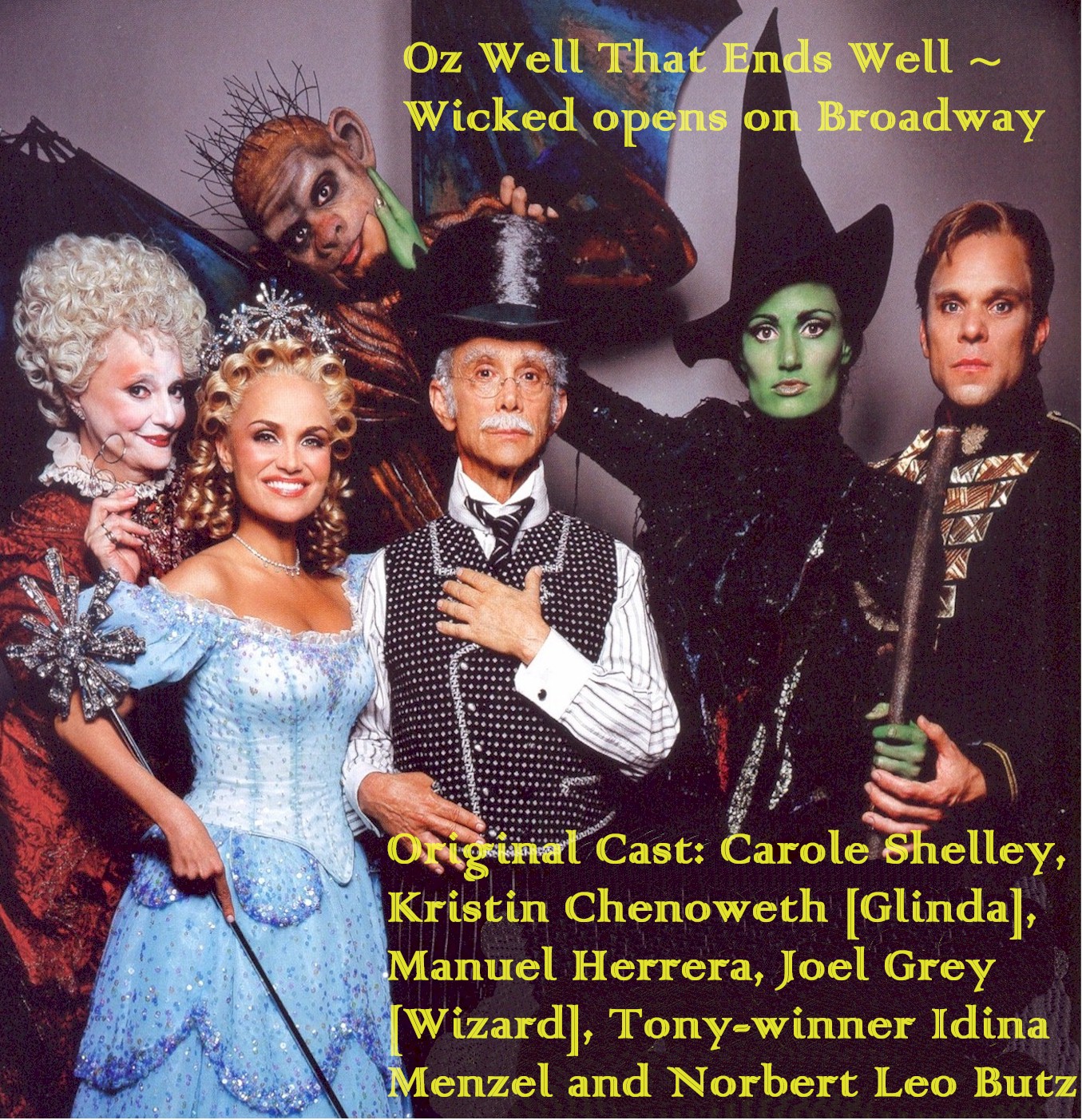 [Photo: HENRY LEUTWYLER (Courtesy Hyperion Books)]

The musical is based on Gregory Maguire's novel, Wicked: The Life and Times of the Wicked Witch of the West, which tells the backstory of The Wizard of Oz - before Dorothy drops in from Kansas - of how two little girls meet and become destined for great and dastardly things.
One, Elphaba, is "fiery and misunderstood" - no wonder since she's born with emerald-green skin; the other, Glinda, beautiful, ambitious and popular - maybe a little too popular for Elphaba's taste. This, of course, leads to Elphaba being emerald-green with envy. You don't have to be a wizard to guess who becomes the Wicked Witch of the West and the Good Witch, but it's fun watching their odyssey as their rivalry grows more heated.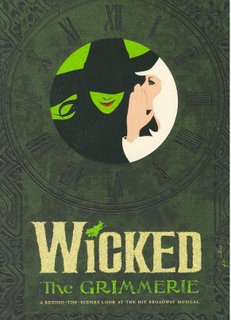 The week also brought the release of a new book, Wicked: The Grimmerie, A Behind-the-Scenes Look At the Hit Broadway Musical, the stunning coffee table tome [Hyperion, 192 pages, elaborately illustrated and with 198 pages of photos, hardcover; $40] by David Cote [Time Out New York theater editor] with gorgeous color photos by Broadway photographer Joan Marcus. The book takes you down the yellow brick road and behind the curtains of the great wizard for profiles of the cast, creative team and inside stories on the "making of" the musical.

There's much intrigue about the definition of the word "Grimmerie," which is assumed [by the publisher to mean "witch's book"], but the coffee table tome is the perfect collector's item for fans of the show and, for the price, an incredible bargain. In addition to backstage gossip, there's elaborate detail on the show from early concept to workshops to Tony-winning director Joe Mantello coming aboard to pilot the adventure and the road everyone danced along to Broadway.
A few highlights are Schwartz's lyrics, Winnie Holzman's libretto, a gallery of costume and set designs, a personality quiz to determine if you're more like Elphaba or Glinda, a glossary of Oz terms, an illustrated timeline of the history of The Wizard of Oz and Wicked and a close-up, step-by-step look at the greening of Elphaba before every show. However, nothing comes close to topping principal photographer Marcus' ab fab color photos - many full-page, several double trunk. Cote discusses the "juke box" mentality at that time on Broadway and discusses the enormous undertaking of producing the show. Co-producer Marc Platt, from the world of movies, has written the Foreword.
Cast CD achieves Gold>

It was also a good week for the original cast Grammy-winning recording of Wicked [Decca Broadway], which went from one of the fastest-selling Broadway recordings in recent years to Gold status [500,000 copies sold]. Schwartz's score was, of course, Tony-nominated.
If all this isn't enough Wicked for you, there's more. You can now go for a behind-the-scenes peek at the musical with tickets to Behind the Emerald Curtain, a Saturday morning 90-minute tour run by cast members. Your visit includes a 20-minute film containing footage from the New York and the national tour productions [with cast and creative team interviews] and a visit to the Wicked "museum" with its elaborate set model by Tony-winning Eugene Lee, costumes by Tony-winning Susan Hilferty as well as props and wigs from the show. A Q&A follows.
Tickets for Behind the Emerald Curtain, which starts at 10 A.M., are $25, adults; $15, children under 12, and can be purchased at the merchandise booth in the Gershwin lobby during box office hours. For more information, visit www.wickedthemusical.com.


~ ~ ~
THE BIG APPLE CIRCUS GOES HOLLYWOOD


Grandma will be all dolled up like a big Hollywood glamour bombshell as the annual holiday run of the Big Apple Circus goes "cinematic" at Lincoln Center's Damrosch Park through January 8th, in Grandma Goes To Hollywood, a tribute that brings the celluloid dreams of the silver screen into the circus ring.
In this season's show, a long-time dream of the Big Apple's Barry Lubin, a.k.a. Grandma, who conceived this edition, New York's intimate European-style one-ring circus brings favorite and famous big screen moments to vivid life with the superheroes, sweeping epics, musical extravaganzas, westerns, sci-fi fantasies, suspense thrillers, romances and knock-about comedy that has enthralled all of us.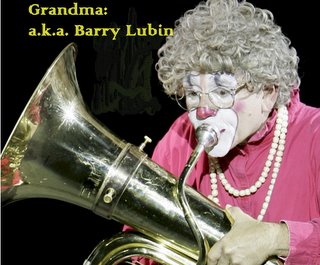 If you know Grandma the Clown like we know Grandma, you know she'll be popping up in virtually every hit movie ever made, from science fiction, like Star Wars and The Lord of the Rings, to romance. When she's not kung-fu fighting, playacting as Zorro, trying to escape the matrix and attempting to be the next Marilyn Monroe, she'll be trying to convince those movie folks to cast her in Grease, Flashdance, as Dorothy in the remake of The Wizard of Oz and as Mary Poppins.
For 28 years, the not-for-profit Big Apple Circus has been New York's original one-ring circus, delighting audiences of all ages under its Big Top with world-class family entertainment and theatrical flair. Families love it because no seat is more than 50 feet from the ring.
Everything is up close and personal - including Grandma, who has this infamous habit of frolicking among the audience.
Artistic director/producer Paul Binder and creative director Michael Christensen have put together an all-new edition for 2005 - well, all new, expect for Grandma. Artists hail from Italy, France, Chile, China, Bulgaria, Russia and, of course, the U.S.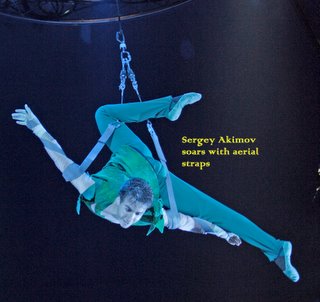 Among the presenters, acrobats and flyers, who'll be colorfully costumed as pirates [as found in Peter Pan and The Pirates of the Caribbean] and characters from The Lord of the Rings are: Sergei Akimov, a.k.a. The Incredible Hunk, soaring through space on aerial straps; Andrey Mantchev and Virgile Peyramaure in a hand-balancing act which will have you on the edge of your seat; Christian Atayde Stoinev doing hand-balancing of a different kind; the Garamov Troupe and their awesome "swashbuckling adventures" on the flying trapezes; Masha Garamova on the swinging trapeze; and award-winning equestrienne Yasmine Smart.
Then there's Karen and Greg DeSanto clowning, ventriloquist Willer Nicolodi who uses live dogs and [hopefully live] audience members as his "dummies" and the brassy Big Apple Circus band with original music by Michael Valenti.
The colorful costumes are by former French fashion designer David Belugou. Vicki Davis, a former South African actress/dancer, is choreographer.
If you have youngsters interested in learning clowning, acrobatic and production skills, check out the Big Apple Circus' Beyond the Ring program at http://www.bigapplecircus.org/, where you'll also find much information on the history and mission of New York's very own circus.
Tickets for Grandma Goes to Hollywood are available at the circus box office at Lincoln Center or through Centercharge (212) 721-6500, Ticketmaster (212) 307-4100, ticketmaster.com and at all Ticketmaster outlets.
[Big Apple Circus photos: BERTRAND GUAY]

~~~
CAPTAIN LOUIE RETURNS
Captain Louie, the family musical by Stephen Schwartz has landed at Off Broadway's Little Shubert, where it officially reopens tonight. Apt timing, with it's Halloween theme.
Louie, produced by Meridee Stein [also the director]; Bob Reich; Kurt Peterson, who made his Broadway debut in Dear World, created the role of Young Ben in Follies and, since he toured in the original Baker's Wife, has a six degrees of separation to Schwartz.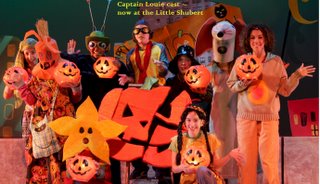 Louie, featuring Douglas Fabian as the imaginative "pilot," and a cast of nine youngsters. The story is simple and easy to follow: A New York youngster has been uprooted to a new neighborhood, having to leave his friends behind. Alone and sad without having found any friends in his new digs, he takes his toy plane and creates a scene in a magical shoe box. His imagination takes flight and brings him back to his pals. At first, he doesn't recognize anyone, but it's Halloween and everyone is tricking and treating. Soon, they are recalling "old times."

Though the Tony Award has eluded Schwartz, he has more than his share of nominations: for Best Score, Pippin [1973]; Godspell score [1977, seven years after it premiered Off Broadway]; for his book and score contributions to Working [1978]; with Charles Strouse for his lyrics for Rags [1987]; and Wicked, when it appeared a Tony might finally be his.

The show was on a roll and thenÖaudience gaspsÖthe envelope read Avenue Q. He does have the distinction of being the first composer-lyricist to have three Broadway shows running simultaneously, Godspell, Pippin and The Magic Show. He's also won three Academy Awards [Pocahontas - lyrics, Best Score and Best Song, "Colors of the Wind"; The Prince of Egypt, Best Song, "When You Believe"], five Grammy Awards, and four Drama Desk Awards.

Schwartz is currently at work on songs for a Hans Christian Anderson celebration, a musical titled My Fairy Tale.

Captain Louie finally soared off the runway, after attempting take off for 30 years. That's when Stein, artistic director/founder of the First All Children's Theater, first approached Schwartz about musicalizing the book adapted by her husband Anthony, an Emmy-winning writer of children's tales.

Schwartz recalls, "I saw her production of The Nightingale, a Charles Strouse children's opera, and was impressed with the talent and quality and told her so. She asked, ëWould you ever consider doing anything for us?' I said I would and she told me about The Trip and gave me the book to read."

That was a quick read! Ezra Jack Keats' 1978 Caldecott Award-winning children's book, though colorful and lavishly illustrated, is only 38 pages. It consists of less than 600 words.

At the time, Schwartz was giving flight to Rags, but he took breaks and wrote several songs. A 35-minute version of Louie was presented by the First Children's Theatre. "It was fine for what it was," he says, "but I knew if it was to have a real theatrical life, it had to be longer. I feel I was able to expand it without it feeling padded. We added characters and fleshed out others."

It was vital to Schwartz that good singer/actors be cast and that they had the ability to sound like children, and not adults acting as children. "I didn't have to worry," he says. "Meridee had complete artistic control and did a marvelous job."

At first, he thought, maybe a little too marvelous - because the cast was so talented and professional that he worried they wouldn't sound "fresh and spontaneous." Without Stein's persistence and the belief in the project shown by former stage star Kurt Peterson, who turned to producing, it might not have been.

According to them, Schwartz devoted his energy and passion for Louie as if it was his next Broadway musical and not a children's or family show. The show had an earlier run at the York Theatre. After the Off Broadway run, it will tour nationally.

While Peterson was in Follies, he began to segue into producing. Friends Fritz Holt and Barry Brown were seeking investors to star Lansbury in a West End production of Gypsy, which starred Angela Lansbury, whom Peterson got to know in Dear World. "They were slightly undercapitalized [one estimate is by $100,000]," reports Peterson. "I offered to help. I had stationary printed and went about raising money." He raised enough to be billed as associate producer.

Peterson's relationship with Schwartz dates back to 1975 when he played Dominique, the lusty, hot-headed younger man pining for The Baker's Wife in the pre-Broadway tour, which closed after its Washington run [not because of producer David Merrick, but because Schwartz and Stein just felt it shouldn't go any further].

Still matinee-idol handsome and in shape in the later-range of his 50s, Peterson met Stein at a January 2004 production seminar. "It was fourteen weeks, so everyone got to know each other very well. Meridee knew my involvement with Stephen and told me she had an expanded version of Captain Louie. She was very keen on producing quality theater for children and their families - something other than those Disney revues and live shows built around the Rugrats and Dora the Explorer."

He says he listened politely and was all smiles, but told her - he affects an upper crust accent, "I only do adult theater."

Looking for properties, he attended last summer's New York Musical Theatre Festival. "One of the last shows I caught was Captain Louie. Actually, it was a staged reading. I sat there, so taken that tears were rolling down my face. It was a wonderful piece of theater. It didn't matter whether it was written for children, families or what. It was well-crafted theater; in fact, the best thing I saw at the Festival."

He got aboard, "not only to raise money," he explains, "but, because I truly believed in it. I even put some of my own money in it. I knew if we had something with Stephen's name and it was a quality piece, it would be easy knocking on doors."

Of course, the hit status of Wicked didn't hurt. "If Stephen hadn't had that hit," states Peterson, "perhaps it would have been harder. The fact that Wicked is such a hit opened a lot of doors, especially when I said, ëThis is the new Stephen Schwartz show!'"

Peterson's desire to produce started in 1973 with A Tribute to Stephen Sondheim , the first important celebration of the composer's work. Jump forward to 1989, when he was co-starring in Florida in a production of Side By Side By Sondheim, directed by Rob Marshall.

"Rob wasn't the Rob we've come to know," reports Peterson, "but he was so talented and his work so specific and focused that I knew he was going places. What he knew about the Sondheim shows was amazing. He put together a very powerful revue, so powerful that I asked him if I might try to get another life going for it."

Peterson helped bring it to the Westchester Broadway Theatre, where he got representatives from Columbia Artists to see it. "They bought it," he states happily. "And I toured with it for three years. I was producing, general managing, appearing in the show, hauling stools and doing just about everything. When it came to an end, I had had it. I made the decision to take some time off."

In 2003, the inevitable happened. Peterson and his Follies co-star Harvey Evans were asked to do a concert in Michigan where they would play the older Ben and Buddy. "Maybe it was the Sondheim music and all the theatrical ghosts from my past," he explains, "but a bell rang. I thought, ëThis is why you got into this business.' I didn't know how much I had missed it. I was in total denial. I had a sort of V-Chip to eliminate show tunes from my life. I couldn't believe I walked away from something I had loved so much. Any shrink could have seen the obvious - ëWhat? He's not listening to show tunes when that's been his life!' - but I couldn't."

Recently he participated in the celebration of Sondheim's 75th birthday and, in March '04, the Symphony Space Wall-To-Wall Sondheim, where he was joined again by Evans and and Marti Rolph. They portrayed older Ben, Buddy and Sally.

More recently, he reminisced about Baker's Wife with Schwartz at the Paper Mill Playhouse, where the musical was revived.

Captain Louie, with a running time of an hour, is fast-moving enough as not to lose childrens' attention; and fun and charming tuneful enough to keep adults interested. The original cast CD is on PS Classics.The show plays a not-so-traditional schedule. For more information: Telecharge [212-239-6200] and Telecharge.com.

[Photo: CAROL ROSEGG]

--------
Ellis Nassour is an international media journalist, and author of Honky Tonk Angel: The Intimate Story of Patsy Cline, which he has adapted into a musical for the stage. Visit www.patsyclinehta.com.

He can be reached at [email protected]





Why are you looking all the way down here?
For more articles by Ellis Nassour, click the links below!

Previous: LIZA HOSTS ALL-STAR CAREER TRANSITION FOR DANCERS BENEFIT

Next: PURPLE, WHITE AND RENT: MUSICAL OPENINGS ONSTAGE AND ON SCREEN; FRANCES STERNHAGEN

Or go to the Archives