After so many disappointments [Rent and Chicago, excluded] it's such a rare treat to have a film adaptation of a Broadway musical, as in Mel Brooks' The Producers, work so well onscreen.
One writer's opinion, anyway. And, it would seem, the two packed auditoriums where I viewed the film with audiences that roared in laughter. The big question is will those three star raves and the thumb's up overide the neasayers.
Director/choreographer Susan Stroman, amazingly [well, not according to all critics] in her film directorial debut, deserves the lion's share of credit [or to read some of the reviews, blame].
There was never any illusion that the Broadway stage show would be classy. The material is tasteless and often vulgar, like in so many of Brooks films. Yet it worked, and won a record 12 Tony Awards.
Stroman has recaptured the production on film in a throwback to the old-fashioned movie musicals she popcorned her way through as a kid.
If anything, The Producers is better on film than onstage, mainly thanks to the repackaging of Nathan Lane and Matthew Broderick, who saw their careers soar to dazzling heights in the career-defining roles of Bialystock and Bloom.
More so than onstage, Lane seems to be channeling Zero Mostel's unbeatable performance in the original film from the twisted mind of Brooks. Lane and Broderick play off each other with hilarious results, particlarly at their initial meeting in the "We Can Do It" sequence. Lane's gift for comedy is well known, but it's Broderick who's full of surprises. He explodes onscreen, expanding his stage persona with ab fab slapstick and never sounded better on the vocals.
At a press event, Broderick said, "My goal wasn't to just document the stage version, because then it would feel stale." He explained that onstage you have to deliver the material with a bit more subtly. "On film, you can't be very subtle. I wanted the movie Max to be its own, new thing." He succeeded.
Broderick, daydreaming, segues into a spectacular "I Wanna Be A Producer" production
number with girls, girls, girls in pearls, pearls, pearls>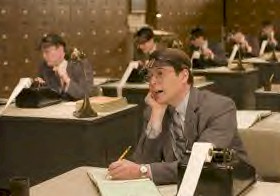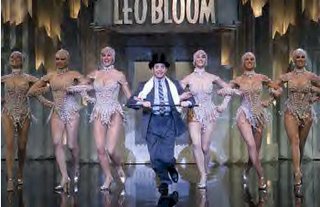 The critical shellacing from some critics aside, there's much to enjoy in the film.
Some things can be done better onstage; others, bigger and better onscreen.
The latter is certainly true regarding what Stroman has done with Broderick's "I Wanna Be A Producer" number, where he transforms from mousy accountant to a Merrick-wanna-be. It's great fun when those file cabinets pop open revealing girls, beautiful girls, in miles and miles of smiles and pearls.
"Matthew really enjoyed learning the new choreography," points out Stroman. "He has a real song and dance man inside him."Stroman staged the number across three stylized sets: a shiny black floor with a backdrop that expands like an accordion, a riser of sparkling stairs and a multi-tiered platform that illuminates Bloom's name in thousands of lights [inspired, she says, by the unique photography of Busby Berkeley films].
Lane and Broderick's recreation of their stage performances should put an end to the gossip that in the The Odd Couple revival they are delivering the same performances they gave onstage in The Producers. These guys aren't copying anything. Seeing them again in these role, it becomes clear that they're not cloning their performances in TOC.
The duo were a team, became a team again [TOC] and are once more a team. But, says Lane, don't expect them to continue a career path where they become the new Martin and Lewis or Abbott and Costello. "Something like The Producers [onstage] really only happens once in a lifetime," explains Lane, "but not everything we do is going to be The Producers. It was such a phenomenon. No one could have predicted what would happen. Now, all you can hope is that lightning will strike twice!"
When Brooks started planning the film adaptation, he says, "I was adamant that as many as possible of the original talents responsible for the success of the Broadway show would return for the film version, including Susan and, it goes without saying, Nathan and Matthew."
These include Tony-winner Gary Beach and Tony-nominee Roger Bart, who created the roles of, respectively, "flamboyantly untalented" director Roger De Bris [and you don't get the impression in the film that he is that unsuccessful] and his "common-law" assistant Carmen Ghia. Onscreen, they seem even more outrageously over the top - if that is possible. It could be the contrast of seeing them on a giant screen as opposed to from Row R.
The list included the ensemble of very talented pigeons, but, sadly, not Brad as Third Reich playwright Franz Liebkind. Studios think they have to have names to guarantee box office, so Oscar is relegated to a blink-your-eye-and-he's-gone cameo and Will Ferrell fills his shoes. He's a gifted clown and acquits himself nicely.
The false note in the major casting is Uma Thurman as luscious Swedish secretary/ receptionist Ulla, whose charms land her a plum role in the designed-to-be-a-flop Bialystock plots. Uma's got it, and she certainly tries to flaunt it - it would seem with the help of a mighty push-up bra. Unfortunately, especially when singing [which she does quite okiedokie], she slips in and out of that Swedish accent.
The splashy opening number, "Opening Tonight" and other ensemble moments feature a rooster of theater names; among them: Brent Barrett [in high leather drag!], George Dvorsky, Kathy Fitzgerald [from the stage musical], Hunter Foster, Judy Kaye, Andrea Martin, Nancy Opel, Marilyn Sokol and Karen Ziemba [not to mention Jai Rodriguez as Sabu!]. John Barrowman, gone Germanic blonde, as the singing stormtrooper, adds a jolt of theatricality to the "Springtime for Hitler" number, especially with his clarion tenor.
. . . . . . . . . . . . . . .. .. .. .. .. ... .. .. .... ... ... ... ... .... ... . ........Break a leg, if not box office records>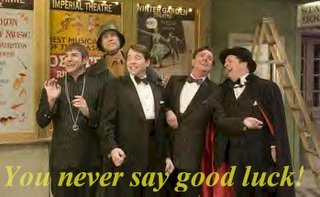 Beach interrupts Broderick and Lane walking off with the entire movie when, in the true spirit of the show-must-go-on legend, Ferrell, who's been cast as Hitler, breaks a leg and he's forced to go out there a gay director and come back a star. At first, the audience is aghast. Bialystock and Bloom are plotting their getaway in the face of the season's - no, the decade; nah, the century's - biggest flop. But Beach, flamboyant as ever, wins them over and, unfortunately for Bialystock and Bloom, critics rave and lines form at the box office.
What is Beach's little nod in the Broadway musical, still playing at the St. James, of a hint of Judy Garland's "Born in a Trunk" sequence in A Star Is Born is now an all-out tribute. Beach shines. Faithful fans will get the joke, but how Beach's big moment plays to the unknowing will be anybody's guess.
Tony Award-winning costume designer William Ivey Long is another veteran of the stage show who worked on the film.
There are several inside jokes. Tony-winning co-book writer Thomas Meehan also takes the liberty to salute the street he lives on in the far West Village. The timeline of the film has been pushed back from 1968 to 1959 when, as you can see in the Shubert Alley sequences featuring posters of The Sound of Music, West Side Story and Destry Rides Again, Broadway was abuzz with hits.
Production designer Mark Friedberg superbly recreated on a soundstage West 44th Street, including Sardi's, Shubert Alley and the Shubert Theatre [where Bialystock's office would logically be when he first spots Ulla getting out of that Rolls Royce]. In the continuity department, as you will catch in the Central Park scene at the Bethesda fountain [you'll have fun spotting which extras are there, then gone and suddenly back again], and with Broderick's quick-dry, no-wrinkle shirt [way before their time here!] somebody was not being alert.
Brooks was determined to shoot the film, just as he did the original 1968 film, in New York. "We're a Broadway story!" he says enthusiastically. "It would have been heartbreaking not to shoot here. And the studio was only eleven and a half blocks away from where I was born."
It was shot at the new, state-of-the-art Steiner Studios, a 100,000-square-foot facility at the Brooklyn Navy Yard. Freidberg supervised construction of sets on four soundstages.
Stroman comes through with shining colors in her initial job behind the cameras, which, she says, "became like another dancer to me. One day on set, I watched as a camera crewman passed the crane up into space. It was as if he was passing a dancer into the air."
She had the production storyboarded, so every move was planned. "The cameramen loved shooting to the tempo of the music," she reports, "and scenes and production numbers were planned so the camera would partner the actors as if they were a dance couple. If the actor took eight counts to move from left to right, so did the camera."
Growing up, she was an avid fan of movie musicals and."wanted to be like Ginger and Fred and Gene Kelly in Singin' in the Rain. It was glorious the way they glided and danced." It was this love of dance that got her interested in theater. "I always imagined scenarios with hordes of people dancing through my head, but movie musicals faded away. We all thought the genre was gone. But musicals will always be alive in theater."
Stroman says she finds "something timelessly appealing" about the story of The Producers. "Like any good musical, each character fulfills all his hopes and dreams. Audiences either see themselves in Leo, a caterpillar who wants to become a butterfly, or they see themselves as Max, a man who was on top and wants to rise there again. We also have a love story ó the nerdy accountant wins the beautiful girl."
The idea of turning The Producers into a stage musical was an interesting journey. In 1998, David Geffen "hounded me," says Brooks, about turning the film [which won Brooks as screenplay Oscar] into a stage production. I'd been a fan of the theater since my Uncle Joe took me to see Cole Porter's Anything Goes when I was nine."
Unknown to Geffen, Brooks had long had the desire to be a Broadway composer/ lyricist. He had written songs for his films, including "Springtime for Hitler" and "Prisoners of Love" for The Producers.

Geffen suggested Brooks meet with Jerry Herman. When they discussed the project, Herman told Brooks he knew of a better candidate to write the score. He sat at the piano and played some of the composer's songs. The composer was Brooks.
He brought aboard Meehan, a friend and collaborator [Spaceballs, To Be or Not To Be] to co-write the book. It didn't hurt that he'd won a Tony for his Annie book.
Stroman was at work on Contact when she got a call from out of nowhere. "It was Mel and he said, ëI want to meet you. Tonight.'" She was about to say, "ButÖ" but realized this was Mel Brooks. "I knew all of his movies, all the lines. I got very excited."
She dropped everything, hurried home and before she knew it there was a knock at the door. "And there he was, this legend." But Brooks didn't speak. "He launched into full voice, singing ëThat Face' [the song that would open Act Two of The Producers]. He sang right past me, down my hall and then jumped on my sofa. He finished the song, looked down at me and said, ëHello, I'm Mel Brooks.'"
She laughs that when he offered her the job she thought, "No matter what happens with this show, it's going to be a great adventure. And it has been. In fact, it has been one of the greatest times of my life."
Twelve Tony Awards, two national touring companies and three international productions later, Brooks asked Stroman, "If we were to make this show into a movie, what movie would you want to make it like?"
She answered, "Singin' in the Rain," and Brooks told her "You've got the job!" He says that SITR is the classic of "a head-to-toe musical where you see the dancers, not just in quick cuts to faces or eyes or ears, but you see beautiful bodies in motion."
Stroman was excited to introduce a camera into the mix. She notes, "In the theater, the audience sees everything in a wide shot. On film, I was able to use the close-up to tell the story more immediately and in a more intimate way. Plus, getting a close-up on the humorous faces of Nathan, Matthew, Gary and Roger heightens the comedy even more."
Brooks did give Stroman advice. He told her that she must say "action" and then, when you're happy, "cut." Highly complimentary, Brooks says, "I knew that Susan would take to this. She has an incredible visual gift."
Broderick agrees. "Susan came extremely prepared and was a very hard worker. At rehearsals, we never had to fill the time. She had it all well planned. You could feel her strength and her smarts. Her transition to movies just seemed effortless."
Regarding the adaptation, Meehan explains that the structure of a movie is traditionally three acts, "but Broadway musicals are two acts. Just as Mel and I took his three-act screenplay and fashioned it into a two-act Broadway musical, we had to take the stage book apart and reconstruct it all over again."
He noted that the Act One finale "Along Came Bialy," which takes place in what he called "little old lady land" [with 50 of Bialystock's investor honeys on walkers], is in the middle of the film. "We didn't need a big orgasmic finish to send the curtains down," he laughs, "because the show is still rolling."
Expanding the production to the screen, says Meehan, "gives it a previously unexplored breadth. When you take it off the stage and put it in movies, you can do a lot more in terms of locations. This movie doesn't just take place in offices and theatres [a brief sequence was shot in the St. James], but throughout the city. Putting it onscreen, we gave it more room to breathe."
But, for Lane and Broderick, the transition from performing onstage to onscreen was initially a bit startling. For one thing, onstage, with applauding audiences in gales of laughter, they had to, as Lane describes, "put air between certain lines" until the laughter subsided. n front of the cameras, their audience of 1,500 people shrunk to a crew of 70, boom mikes and a rather large camera.
Lane jokes, "Matthew said that shooting this on film was like doing a very quiet Wednesday matinee. We were used to an audience who are an active part of the process. That gave us a certain rhythm. But in shooting the film, we had to let go of all that ó to go back to what it is your character wants and needs."
Observing the differences between the theater and film performance, Broderick adds, "Movies are very slow, with a lot of waiting around. You have to have energy when you need it over a three-month period. Onstage, you're sort of shot out of a cannon. You go out and it's boom, boom, and you don't stop. It's a very different feeling."
Douglas Besterman, who won a Tony for his orchestrations of the stage production, was back with a score arranged for a much larger orchestra: 70 musicians. Patrick Brady, the music director and frequent conductor of The Producers onstage, conducted and was vocal arranger and, since the majority of the numbers were pre-recorded, the resident lip-synch policeman, carefully scrutinizing each performance so the vocals were perfectly in synch. In a bit of a departure from traditional movie musical shooting, the actors didn't always have to be in sync with a playback. They were given the option to sing live.
The movie soundtrack [available on Sony] has 23 numbers [the original cast CD has 20], mostly in the same sequence as onstage. The deletion of "The King of Broadway," except as a bonus track, is puzzling. Missing also is the Lane/Broderick duet, "Where Did We Go Right?"
Brooks has written two new songs, "You'll Find Your Happiness in Rio" and "There's Nothing Like A Show On Broadway," which could become an opening number for the Tony Awards and a perennial in piano bars. It's heard in the closing credits sequence, which you don't want to miss.
The Producers was nominated for 14 2001 Tonys and won 12, setting a new record. It received Tonys in each nominated category, including three for Brooks [Musical, Score and Book, the latter shared with Meehan. It will surely be in the running for Golden Globe and Academy Award nominations.
[Photos: ANDREW SCHWARTZ]



HOLIDAY TV SPECIAL : ONCE UPON A MATTRESS
Carol Burnett and Tracey Ullman - two "queens of comedy" and both six-time Emmy Award winners - top the spectacular cast in ABC's Sunday airing of the Mary Rodgers/Marshall Louis Barer musical comedy Once Upon A Mattress. Just days before it's release on DVD, it's a two-hour holiday presentation on The Wonderful World of Disney.
Burnett, who played the princess in the Off Broadway and Broadway original, now stars in the much-expanded role of Queen Aggravain, with Ullman as Princess Winnifred.
. . . . . . . . . . . . . . . . . . . . . . . . . . . . . . . .. . . . . . . . Carol Burnett stars again, but in a different role>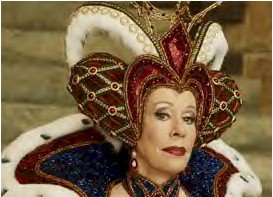 The special, directed and choreographed by Kathleen Marshall [Tony, Choreography, Wonderful Town], co-stars Zooey Deschanel, Michael Boatman, Edward Hibbert [Fraiser] and Matthew Morrison [The Light in the Piazza, Hairspray].
Denis O'Hare [Drama Desk winner, Sweet Charity; Tony winner, Take Me Out] plays Prince Dauntless. The legendary Tom Smothers is King Sextimus, the benevolent but mute ruler to Burnett's conniving queen [the running gag is that he'd rather be deaf than mute!].
Bob Mackie, the legendary designer of some pretty incredible frocks for Ms. Burnett [who is the executive producer] is onhand with some dazzling costumes and headpieces.
Denis O'Hare plays Prince Dauntless;
and with Carol Burnett, as Queen Aggravain>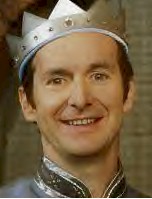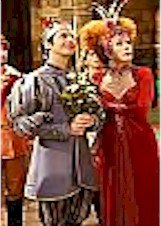 The story tells of Dauntless, desperate to find a wife, who comes in the unlikely person of Winnifred. The hitch is that the Queen's not too happy about his choice and sets an edict that the bride-to-be must be so sensitive that she can feel a pea under a mountain of mattresses.
Burnett created the role of Princess Winnifred in 1959 when the play premiered off-Broadway. The show then moved from the East Village to The Great White Way and Burnett made her Broadway debut." She later starred in 1964 and 1972 TV productions of the musical.
Marc Platt [Legally Blonde; Broadway's Wicked], Burnett and Burnett veteran Marty Tudor are executive producers. Janet Brownell [Eloise at the Plaza, Gilda Radner: It's Always Something] wrote the teleplay, based on the original stage book by Jay Thompson, Dean Fuller and Martin Barer.
Marshall is director-in-residence for City Center Encores!, where she served as artistic director for four seasons.
--------
Ellis Nassour is an international media journalist, and author of Honky Tonk Angel: The Intimate Story of Patsy Cline, which he has adapted into a musical for the stage. Visit www.patsyclinehta.com.

He can be reached at [email protected]





Why are you looking all the way down here?
For more articles by Ellis Nassour, click the links below!

Previous: CHITA RIVERA: THE DANCER'S LIFE AND, OH, WHAT A LIFE!

Next: JOHN CULLUM: VETERAN STAR OF MUSICALS IN NON-MUSICAL ROLE IN THE OTHER SIDE

Or go to the Archives