There may have been some problems along the way to opening [see below], but director Blanka Zizka had the good fortune to have two exemplary and award-winning pros, John Cullum and Rosemary Harris, to lead the three-person cast of Manhattan Theatre Club, Stage I's The Other Side - by Chilean writer Ariel Dorfman, best know for 1992's raw and divisive Death and the Maiden.

Set against a backdrop of two waring countries who find the wherewithal to declare peace, Column and Harris play government bureaucrats in what appears to be the epicenter of bombing raids whose task is to account for war dead. They have another mission, as they are still searching for their son, who ran away 20 years earlier.
John Cullum in The Other Side and, on the other side, Rosemary Harris>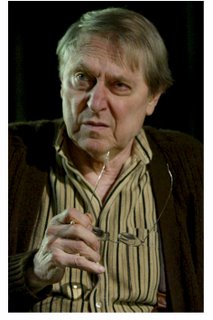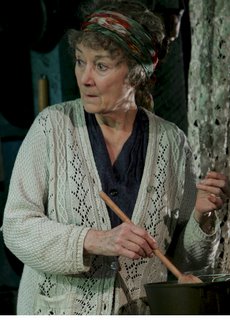 Their characters, Atam and Levana, couldn't be more different. He's crusty and a bit-illtempered [and, as in real life, doesn't cotton to a lot of nonsense]; matched point by point in the opposite direction by her sweetness and charm.
Dorfman plays the Kafka card when peace finally comes in the form of a military guard [Gene Farber], who exacts a price on the couple when he divides their home [which leads to some humorous moments] and decides they will be repatriated separately to their respective countries. Mother soon comes to think of the Guard as her long-lost son and the only skirmishes aren't on the battlefield.
As an actor, famous for his roles in Broadway musicals, not to mention acting and directing on the big and small screen, Cullum has had a varied career and the unique ability to move smoothly from one medium to the other. At a time when actors his age might be resting on their laurels - and Tony Award nominations and wins, he's Off Broadway working in a non-profit because he likes keeping on his toes.
.............................. ...... ............... ...........
Since Cullum has been on both sides of the footlights, it's natural to ask if it's difficult to be directed when you've directed? "Not at all," he states. "In fact, it makes me more empathic with them. I have more sympathy because I understand what they're going through. I don't think of myself as a good director because I want actors to be exactly what I want them to be."
John Cullum, after graduation from the University of Tennessee, became a standout tennis player, winning the 1951 Southeastern Conference doubles championship with Bill Davis. As a young actor, performing in his home town, he met dancer/choreographer, now writer, Emily Frankel "and that was the end of that or, rather, the beginning." They married and have a son, actor JD Cullum.
His stage debut was in 1960 as Sir Dinadan [and understudy to Arthur and Mordred] in Camelot, starring Richard Burton and Julie Andrews. Other highlights: the 1964 Burton Hamlet, playing Laertes, directed by John Gielgud; his Tony nomination for his portrayal of psychiatrist Mark Bruckner in Lerner and Lane's On A Clear Day You Can See Forever [1965] opposite Barbara Harris; replacing Richard Kiley [1967, for over a year] in Man of La Mancha; as a replacement in the Edward Rutledge role in 1969's Tony-winning 1776, a part he recreated onscreen.
He received a Best Actor/Musical Tony and Drama Desk Award as Civil War farmer Charlie Anderson in Shenandoah [1975]; and a Best Actor/Musical Tony for Coleman/Green and Comden's On the Twentieth Century [1978], in which he played egomaniacal Broadway impresario Oscar Jaffee opposite Madeline Kahn and Imogene Coca, featuring Kevin Kline and directed by Hal Prince.
Cullum was handpicked by Burton to star opposite him and Elizabeth Taylor in 1983's Private Lives revival. His expertise at tennis came in handy for the eight-month run of the 1985 comedy, Doubles.
In 1986, he starred with the formidable George C. Scott in the two-hander The Boys In Autumn. Later, he appeared as Captain Andy in Prince's Show Boat revival; and received a 2002 Tony-nomination for his portrayal of Urinetown's mayor. He was most recently seen Off Broadway as the controversial Bernard Cardinal Law, formerly of the Boston Archdiocese, in Sin.
John Cullum in 1964's Burton Hamlet with Hume Cronyn; On A Clear Day You Can See Forever (1966); with Clear Day co-star Barbara Harris; after joining 1776 (1969), to play Edward Rutledge, opposite Howard DeSilva's Ben Franklin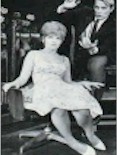 He's had his share of talented, famous and temperamental co-stars - female and male. But Cullum, known as an all-around good-guy, is, as one colleague described him, "the calm in rough seas."
There have been trying times, and The Other Side had more than it's share. It was the gunfight at the O.K. Corral as director Zizka [she's co-artistic director of Philadelphia's acclaimed Wilma Theater] and playwright squabbled over drastic cuts to the script. The opening was delayed a week, until last Tuesday, as approximately an hour was trimmed, which cut the running time in half.
Cullum has seen "more than my share" of backstage intrigue and backstabbing. Three of the most famous incidents involved Harris in Clear Day, Kahn in Twentieth Century and, most recently, Mary Tyler Moore in MTC's Rose's Dilemma.
You try your damndest to stay away from such conflicts but, he says, "sometimes you get drawn in whether you want to or not. You can't win. Barbara and Madeline were very unusual, but very multi-talented ladies. I loved them both." That's not to say that they weren't difficult? "Sometimes," he replies softly. "Barbara was difficult in the sense that she was moody. I don't know if that was based on arrogance or lack of confidence. She had a background totally different than most Broadway people, so stage discipline was missing.
"She was very improvisational," he continues. "I never knew what she was going to do from performance to performance. That said, if you walked on a stage with Barbara Harris, you were lucky if anyone even noticed you were there. She had this incredible radiance and was magic onstage."

In rehearsals, Cullum got the distinct impression that Harris wasn't that fond of him. "She was very cool, but she was very reserved in general and nervous. At first, I didn't give it a lot of thought. But, eventually, we got along. And, oh, could she be charming!"
He was also miserable, he explains, because director Robert Lewis and composer Alan Jay Lerner "squashed me into a role that I really didn't get to contribute very much to. They had me speak in a Viennese accent, bouffed up my hair and put me into these really chic outfits to make me look like a six-foot Alan Jay Lerner. So I was uncomfortable in that role for a long time. If they'd turned me loose a little, I could have done a lot better."
Kahn, explains Cullum, was eccentric. "She was tiny in stature but had the sort of presence that could take over a stage" On why she left Twentieth Century almost as soon as it opened: "That could have been avoided. The show didn't work out of town and there were a bunch of nervous people. Things didn't started to gel until four days before we opened. Barbara was having problems with the keys Cy [Coleman] wanted her to sing in and he wouldn't listen to her. Often, when things don't work, everyone but the person who should be blamed gets blamed."
Among the many "so-called crisises" theater folk have tried to embroil him was in MTC's production of Neil Simon's
Rose's Dilemma
. Simon reportedly personally and publicly came down on Moore and, indignant of the way he spoke to her, she bolted.
"Everything was all confused and terrible," reports Cullum, "and they tried to turn me against Mary, when it had nothing to do with her. What happened was unfortunate and never should have occurred. When this happens, I get upset with producers, directors and playwrights."
Cullum has also worked with his share of scene-stealers, but none better than Imogene Coca in
Twentieth Century
. "She had the most incredible comic instincts," he says, "and energy to burn. You just didn't get in her way!"
He explains that Tammy Grimes wasn't so easy to work with - at first. "She was difficult and headstrong. When we did Clear Day in California, she was looking for every way she could do it differently than Barbara. Unfortunately, she took out her frustrations on me a lot of times. But we got that straightened out! I tend to do that. I'm not a ëprima donna.' I think I'm pretty reasonable in the professionalism I expect from others."
Offstage, Cullum made his film debut in 1963's All the Way Home, based on Tad Mosel's play. There have been numerous TV and theatrical films, two daytime soaps and three TV series. But the small screen standout and what made Cullum's a household name to the masses was his five-year stint in CBS' Northern Exposure as barkeep Holling [1993 Emmy Nomination - Best Supporting Actor in a Drama]. He later appeared for a season on NBC's E.R.
The step from Broadway to TV stardom was something that happened so casually it took Cullum unawares. "For some reason," he recalls, "I got called in to do a tape audition - maybe it was because of
Shenandoah
. I was brought out to L.A. to audition with some big guns, one of whom was a western star. They seemed to be looking for a burly, athletic guy. I did my thing, going for the wry humor in the script, and didn't think much about it.
"A couple of days later," he goes on to say, "the phone rang and my agent said they wanted him to do it. "And," laughs Cullum, "they had no idea who I was. They never knew I'd done anything on Broadway. Around the third episode, there was a bit where the radio station played songs from Broadway. One album they selected was On A Clear DayÖ I realized that if they played the title song, they'd be hearing me. Who I was came as quite a revelation."
Cullum wasn't too stunned when the show became a hit, "because the characters were fun and the show had a very fresh approach. It was not easy going. We worked long hours, six days a week, which was rough in itself since we weren't on studio soundstages but shooting in a former warehouse in Washington. It developed in an interesting way, because before you knew it, the writers were writing directly off those of us playing the roles."
Working with Taylor and Burton was an experience, he says, "that would take days, weeks, months" to recount. Needless to say, it was one acting job he will never forget.
Cullum is celebrating more than 45 years in New York theater. Ms. Harris has been on New York stages going on 54 years. And, though their paths have crossed many times, The Other Side is their first time to work together.
"It's been worth the wait," he beams. "It's an honor to be sharing the stage with one of the great ladies of theater, who's as beautiful inside as outside."

[Production photos: JOAN MARCUS]
--------
Ellis Nassour is an international media journalist, and author of Honky Tonk Angel: The Intimate Story of Patsy Cline, which he has adapted into a musical for the stage. Visit www.patsyclinehta.com.

He can be reached at [email protected]
Why are you looking all the way down here?
For more articles by Ellis Nassour, click the links below!
Previous:
THE PRODUCERS ON FILM: STROMAN, LANE AND BRODERICK SCORE BIG TIME; TV ONCE UPON A MATTRESS STARS BROADWAY FAVORITES
Next:
SHOWSTOPPING HOLIDAY GIFT SUGGESTIONS
Or go to the
Archives