Run, don't walk to the Schoenfeld to get tickets for one of the highlights of the seaon. Dick's back and Chita's got him: Dick Van Dyke, that is.
The stars of Bye, Bye, Birdie are reunited for the first time in 45 years [onstage, at least] in a special edition of Rivera's autobiographical revue, Chita Rivera: The Dancer's Life. There are three more performances to catch the award-winning duo: two shows today and Thursday night.
Rivera and Van Dyke in Bye, Bye Birdie>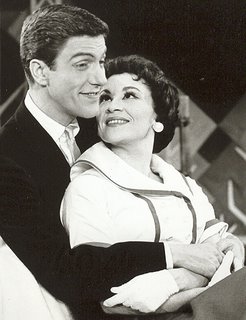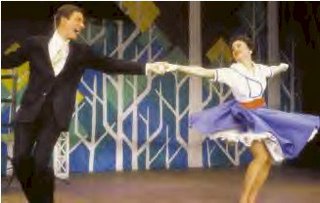 Making this week all the more special, Rivera turned 73 on Monday. Last night she was feted with a post-show birthday celebration at Times Square eatery and theatrical hangout Tony's Di Napoli [home of the Broadway Wall of Fame].

The reunited duo's first performance last night met with thunderous applause. Van Dyke is warmly saluted in The Dancer's Life but, says Rivera, "what a special thrill and absolute pleasure it is to have actually have back on stage with me." They were Rosie and Albert in 1961's Tony-winning Best Musical BBB. "I loved every performance of Birdie," added Rivera. "Working with Dick was sublime and I'm thrilled we're together again onstage!"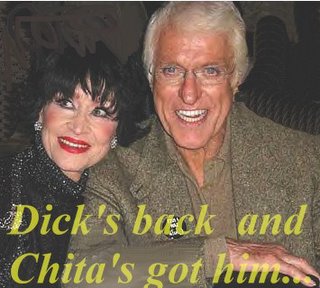 That season, Van Dyke took home the Best Featured Actor Tony, even though he was in a starring role [his billing was below the title, a stickler rule for the Tony nominating committee in those days]. Rivera, even though she was the female lead, was Featured nominated - one of those still very hard to fathom faux pas by a Tony nominating committee.
Lisa Mordente, Rivera's daughter, and choreographer/director Tony Mordente, who is Rivera's former husband, staged Van Dyke's guest appearance.
Last night, a mutual friend said to Mordente, "The biggest mistake you ever made was divorcing her!" Mordente was quick to note, "No, you got it all wrong. She divorced me!" Rivera cracked up laughing and they embraced warmly.
Attending Rivera's birthday celebration were Van Dyke, wife Michelle, Ben Stiller, Robin Givens [now co-starring in Chicago], Lee Roy Reams, [Birdie] composer Charles Strouse, cast members of The Dancer's Life, veteran choreographer/dancer/director Deedee Wood [who worked with Rivera in Can Can] and a slew of the show's producers, including Marty Bell, Martin Richards, Chase Mishkin, Marlyne Sexton, Tracy Aaron and Pat Addiss.
Van Dyke said he was "delighted" to be back on a Broadway stage. "Chita was amazing then, but look at her now! Isn't she incredible? It's as if time has stopped. She's ageless!"
His last Broadway appearance was more than 25 years ago, in a revival of The Music Man.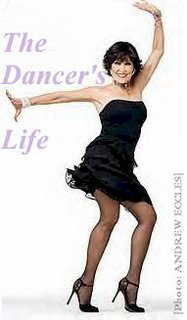 Chita Rivera: The Dancer's Life, of course, celebrates the life and career of one of Broadway's most beloved treasures. It's written by four-time Tony-winning playwright Terrence McNally and directed and choreographed by Graciela Daniele. The show has songs from the revues and musical Rivera has appeared in, such as West Side Story, The Rink and Kiss of the Spider Woman, with new songs by Tony and Drama Desk-winning composers Lynn Ahrens and Steven Flaherty. Mark Hummel is music director.
The show is a two-hour tour through some major landmarks in American musical theater fashioned by some of our greatest choreographes, composers and directors: Robbins, Bernstein, Fosse, Champion, Kidd, Prince and Kander & Ebb.
Van Dyke had small roles on Broadway until BBB catapulted him to stardom. He later starred in the film adaptation, which focused more on the body parts of Ann-Margret. That film was Rivera's second disappointment re: going from stage to screen. She lost out to Janet Leigh. When WSS segued to the big screen, Rita Moreno got the role of Anita; and received the 1961 Supporting Actress Oscar. Sadly, on Broadway, Rivera wasn't even nominated for a Tony - another hard to fathom faux pas by a Tony nominating committee [co-star Carol Lawrence was nominated in the Featured category!].
Van Dyke went on to become a TV legend with his classic Dick Van Dyke Show co-starring Mary Tyler Moore; and starred in such film blockbusters as Mary Poppins [1964] and Chitty Chitty Bang Bang [1968] and such TV specials as the 2003 adaptation of D.L. Coburn's The Gin Game [co-starring Moore]. From 1993-2001, he starred in Diagnosis Murder, on CBS with son Barry in a co-starring role. Van Dyke can be heard in the animated Batman: New Times and Curious George.
At the peak of his stardom, Van Dyke didn't forget his BBB Rosie. In 1973, Rivera appeared with her Broadway Albert and Hope Lange on The New Dick Van Dyke Show.
"I was Dick's neighbor," she says. "It was a great opportunity, but I didn't have a lot to do. On one show I came in loaded with groceries to find Dick all doped up on Novocain after being at the dentist. I had to rouse him." She adds, laughing, "My lines were, 'Dick. Dick? Dick!' I knew I had to make the most of it, so I really rehearsed ways to have the most impact. 'Dick!! Dick?? DICK!' We did it and it worked; but I immediately felt it was time to throw in the towel. Done in by three Dicks, I headed back to New York!"
TV's loss became Broadway's treasure - receiving eight Tony nominations and taking home two of the Awards.
Visit http://www.thedancerslife.com/ for Rivera news, recent video of a production number from CR:TDL and must-see archival film.

THE PUBLIC CELEBRATES WITH SONG

The Public Sings: A 50th Anniversary Celebration, a one-night-only event showcasing the rich history of musicals produced by the Public Theater, takes place Monday [January 30th ] at 7:30PM at City Center.
Among those scheduled to appear are: Zach Braff, Betty Buckley, Lea DeLaria, Savion Glover, Eartha Kitt, Donna McKechnie, Idina Menzel, Donna Murphy, Rosie Perez, Natalie Portman, Tonya Pinkins, Billy Porter, Meryl Streep, Mary Testa and Lillias White.
Five-time Tony-winning director [and a Tony winner for his book of Passion] James Lapine is director.
Lapine has a decades-long relationship with the Public. He wrote/directed 1981's Twelve Dreams and directed an acclaimed revival of A Midsummer Night's Dream [Delacorte, Central Park, 1982]; Golden Child [1996], which transferred to Broadway; and A Winter's Tale [1989].
Public Theatre founder Joseph Papp in Central Park's Delacorte Theatre>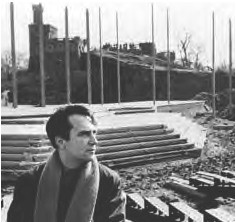 The Public's musical history includes: Two Gentlemen of Verona [1971], Threepenny Opera [1975], I'm Getting My Act Together And Taking It On the Road [1978], The Pirates of Penzance [1979], The Human Comedy [1983], the Tony-winning Best Musical The Mystery of Edwin Drood [1984], the quite-daring-for-it's time The Knife [1987, written and directed by David Hare and starring Mandy Patinkin as a husband and father of three children who undergoes a sex change], Michael John LaChiusa's First Lady Suite [1993], a revival of On the Town [1996], LaChiusa's The Wild Party [2000] and Elaine Stritch at Liberty [2001].
The benefit event is produced by David Binder and will feature a tribute to Public found Joe Papp and songs from such signature Public musicals as Hair, Runaways, A Chorus Line, Bring in ëDa Noise, Bring in ëDa Funk and Caroline, or Change.
Support for The Public Sings has been provided by Time Warner, the LuEsther T. Mertz Charitable Trust, Target, JPMorgan Chase, the Altria Group, Bloomberg, ConEdison, News Corporation/New York Post, Sony Pictures Entertainment, the Starr Foundation, Viacom Outdoor, The New York Times, New York Public Radio-WNYC and, among many other corporate and charitable entities, the Shubert Foundation.
Oskar Eustis is the Public's artistic director and Mara Manus is executive director.
Prices range from $5,000 to $1,000 [these include premium seating, pre-performance cocktail event, post-performance cast supper with gift bag). For benefit tickets, call (212) 539-8633.
Limited down-the-scale seats for $750 and $500, which include pre-performance cocktails, all the way, way, way down [up, up, up] to $20 are still available. Tickets are on sale at the City Center box office or by calling New York City Center CityTix (877) 581-1212 or (212) 581-1212. For more information please visit http://www.publictheater.org/.
ENCORES! ENCORES WITH MAJOR CHANGES

City Center's new season of acclaimed series of concert revivals of musicals, Encores! opens February 9 with Robert Wright/George Forrest/Alexander Borodin's Kismet [1953], starring Tony and Drama Desk Award winner [and multiple nominee] Brian Stokes Mitchell, multiple Tony and Drama Desk nominee Marin Mazzie and multiple Tony-nominee Tom Aldredge.
Marin Mazzie, Brian Stokes Mitchell with Encores! artistic
director Jack Viertel and Kismet director Lonny Price>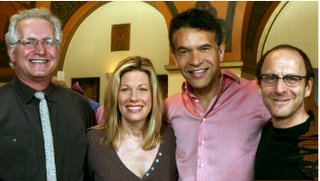 Many, many years later, Wright and Forrest were the driving force behind Grand Hotel, which took two decades to get to Broadway - with the added help of Maury Yeston and director/choreographer Tommy Tune.
The leads are no strangers to working together, having appeared on Broadway in Ragtime, Man of La Mancha and Kiss Me, Kate. Mitchell portrays the handsome but slippery poet Hajj; Mazzie is Lalume, the "voluptuous" daughter of Bagdad's wazir.
Danny Gurwin [Little Women, Urinetown, The Full Monty] is the Caliph and Aldredge appears in the feature role of Jawan.
... ........ .... ...................... ...................... Danny Gurwin with Sutton Foster in Little Women>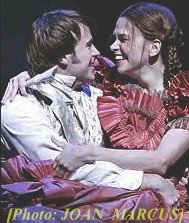 But there's more. Talk about a big show: the cast will feature Elizabeth Parkinson [Movin' Out], Rachelle Rak [Dirty Rotten Scoundrels] and a featured cast and ensemble of, get this, 30. Oh, my, and WOW!
The engagement, which runs February 9 - 12, is directed by Lonnie Price, and marks Sondheim musicals veteran Paul Gemignani's debut as music director. Encores! artistic director is Jack Viertel.
"I wanted to do Kismet to hear the score performed as it should be, with a forty-piece orchestra," says Gemignani. "No one can afford to do that on Broadway anymore."
Gemignani music directed Encores! 1999 Do Re Mi. He served as music director and conducted 35 Broadway shows, including On the Twentieth Century, Evita!, Crazy For You and the acclaimed Kiss Me, Kate revival. In 2001, he was honored with a Tony Award for Lifetime Achievement.
................................................The late Alfred Drake, a Broadway heart-throb and Tony winner>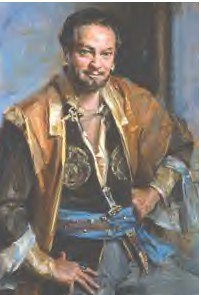 Kismet, with a book by Charles Lederer and Luther Davis, opened on Broadway in December, 1953 and ran 583 performances [nearly a year and a half], winning three Tony Awards including Best Musical. It starred theater legend Alfred Drake as Hajii, Joan Diener [later to star in the original Man of La Mancha] as Lalume, Doretta Morrow as Marsinah and, as the Caliph, Richard Kiley, who went on to become a major Broadway musical star [La Mancha; Redhead opposite Gwen Verdon; No Strings, opposite Diahann Carroll.]
Set in exotic Baghdad, Kismet is an Arabian Nights-style comedy with a lush, romantic score that includes the classics "And This Is My Beloved," "Strangers in Paradise" and "Baubles, Bangles and Beads."
The upcoming productions are Kander and Ebb/Joe Masteroff's 70 Girls, 70 [1971], March 30 - April 2; and George Gershwin and Ira Gershwin's 1931 Pulitzer-Prize winner for Drama Of Thee I Sing, May 11 - 14.
"Of Thee I Sing has one of the best overtures every written for a Broadway show," notes Gemignani. "Gorgeous music by George Gershwin. I'm looking forward to conducting that score with our orchestra."
Since its inception in 1994, Encores! has presented the works of the Gershwins, Rodgers and Hart, Rodgers and Hammerstein, Cole Porter, Irving Berlin, Kurt Weill, Bock and Harnick, Burt Bacharach, Kander and Ebb and Comden and Green. The series is the recipient of a special 2000 Tony Honor for Excellence in the Theatre and, among many other honors, a New York Drama Critics Circle Award.
Kismet's performance schedule will be: 8 P.M. on Thursday, February 9; Friday, February 10; and Saturday, February 11; and 2:00 P.M. on the 11th as well as 6:30 P.M. on the 12th.
Lead sponsorship for Encores! 2006 season is provided by Newman's Own. Season tickets and available single seats are available at the City Center box office, through CityTix at (212) 581-1212, or online at http://www.nycitycenter.org/. Prices range from $90 to $25.

[Photo: JOAN MARCUS]

35TH ANNIVERSARY THEATER HALL OF FAME INDUCTIONS

Tony Award winners Zoe Caldwell, director Jack O'Brien and choreorapher/director Susan Stroman will be among the presenters at Monday's 35th Anniversary Theater Hall of Fame inductions in the rotundas of the Gershwin Theatre. [Chita Rivera, who was set to be a presenter, has had to decline.]
John Lithgow is among the 2005 inductees>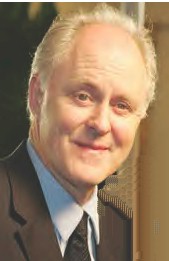 HOF member Marian Seldes will introduce Liz Smith, who will host the event. Additional presenters will include costume designer Jane Greenwood Edwards, veteran theatrical agent Lionel Larner and film/stage director Arthur Penn.
2005 inductees are: Graciela Daniele, Sir Peter Hall, John Lithgow, costume designer William Ivey Long, Sada Thompson.
Posthumous inductions will honor groundbreaking set designer Ben Edwards, playwright William Gibson and Dorothy Loudon.
.................................................... .......The late, great Dorothy Loudon, a Tony winner for Annie>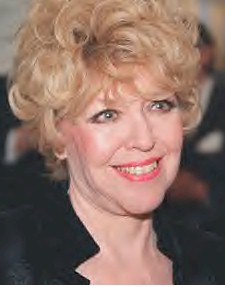 The 2005 Founders Award for Outstanding Contribution to the American Theater will be presented to Donald Seawell, Broadway and West End producer and founder and chairman of the Denver Center for the Performing Arts.

The Theater Hall of Fame was founded in 1971. Eligibility requires the theater professional having at least 25 years on Broadway and five major production credits.

Inductees are voted in by members of the American Theater Critics Association and the Hall of Fame. Terry Hodge Taylor is executive producer.


IN THE CONTINUUM

CONTINUES


Danai Gurira and Nikkole Salter's blistering play about the devastating problem of AIDS among African and African-American women, In the Continuum, has been extended until February 18 at Greenwich Village's Perry Street Theatre [31 Perry Street, west of Seventh Avenue].

Gurira and Salter also co-star, portraying black women in crisis, albeit a continent away. They give two of the most extraordinary and moving performances in recent seasons.

The play has been named one of the Best Plays of 2005 and was chosen by The New York Times among their Top 4 picks, New York Magazine's Top 3 and Newsday's Top 10.

In the Continuum, which transferred to the Perry Street after its critically-acclaimed sold-out world premiere at 59E59 Theatres, is co-presented by Primary Stages. The director is Robert O'Hara. A U.S. and African tour is planned.

Tickets are $60 and can be purchased by calling SmartTix, (212) 868-4444 or online at
www.SmartTix.com. $20 student tickets are available one-hour prior to performance.


ANNIE VETERAN AND EMMY AWARD WINNER RELEASES CD


A veteran of Annie in her youth and now an Emmy-winning daytime drama star [As the World Turns], Martha Byrne has released her third CD, The Other Side.

Byrne, whose voice has been compared to Tori Amos, Dido and Sarah McLachlan, sings ten original tunes, some paying tribute to the actress' TV alter ego, Lily.

After beginning her acting career on Broadway in Annie, she followed with numerous TV roles in series and MFTV films. Last year, Byrne hosted the 11th Annual Daytime Television Salutes St. Jude Children's Research Hospital benefit, helping to raise $250,000 for the Memphis-based hospital and research center founded by Danny Thomas.

The Other Side can be purchased online at Byrne's website, http://www.marthabyrne.net/, or by calling (800) 662-9763.



--------
Ellis Nassour is an international media journalist, and author of Honky Tonk Angel: The Intimate Story of Patsy Cline, which he has adapted into a musical for the stage. Visit www.patsyclinehta.com.

He can be reached at [email protected]





Why are you looking all the way down here?
For more articles by Ellis Nassour, click the links below!

Previous: FROM EARLY DISASTER TO TRIUMPH: PHANTOM OF THE OPERA Now In the Theatrical History Books As Broadway's Long-Run Champion

Next: WENDY WASSERSTEIN, A GREAT LOSS; JOHN CARIANI'S ALMOST MAINE; DIRECTOR JACK HOFSISS; NIGHTLIFE HAS ITS REWARDS; MORE

Or go to the Archives