Wendy Wasserstein, an uncommon woman among others, left us much too early. She was only 55. As one of our best-loved, best-liked and best-known women playwrights, her unique voice will be missed; and onstage, too.

She was literally at the top of her game from the time she left Yale School for Drama and began her New York career in 1977 with Glenn Close, Jill Eikenberry and Swoosie Kurtz starring in her play about the aspirations of college women, Uncommon Women Among Others.

The dialogue was of the moment - sharp, bitchy, smart and witty. That was the case again in 1989 when Wasserstein's best-known play, The Heidi Chronicles, the story of an art history professor, played by Joan Allen [Cynthia Nixon and later Sarah Jessica Parker were in the cast], in the midst of an emotional crisis, was produced by Playwrights Horizons [later moving to Broadway] and went on to win the Pulitzer Prize and, in a first for a solo female playwright, the Tony Award.

Her 1992 The Sisters Rosensweig, which starred Jane Alexander, Madeline Kahn and then unknown Frances McDormand; and her hit 1983 Off Broadway Isn't It Romantic at Playwrights Horizons starring Barbara Barrie [it later transferred to the Lortel, starring Betty Comden - yes, that Betty Comden]; and her sole Hollywood credit, the 1988 off-beat The Object of My Affection, about a woman's intense attraction to a gay man [it starred Jennifer Aniston and Paul Rudd] had her now-famous balance of drama and humor.

Wasserstein often noted the lack of women playwrights as role models when she was coming up the ranks. Her mother, a dancer herself, instilled an early love for ballet and Wasserstein was enrolled in classes. She worked hard, she said, because the "dessert" was her parents taking her to a Saturday matinee. A grandfather performed and wrote for Yiddish theater. But she wasn't pushed into show business.

In a speech at a 1993 Baltimore fundraiser, she joked, "Mother never said, 'Darling, please grow up to be a playwright and put off marriage as much as possible!'"She said in a New Yorker interview that "being the youngest of four siblings in a family of of very large personalities, humor became my niche, my defense mechanism." Her plays were ripe with sharp, pointed humor but also deep poignancy.

Wasserstein said she was blessed in how "the doors opened for me" and that she was determined to give something back.

She frequently spoke in public schools for the American Theatre Wing and the Theatre Development Fund [TDF], but she wanted to take mentoring a step further. In conjunction with TDF, she started a program with high school seniors that was initially called Wendy's Project. As it evolved and grew, it became known as Open Doors.

"My philosophy," she said, "what I've always believed is just as we have the inalienable right to ride the subway, it's our birthright to go to the theatre. Why grow up in New York and not go?"

Her goal was to see if theater could be as relevant to them as sports, boom boxes and video games.

"I asked TDF to find me eight smart high school students and I'd personally take them to plays for a year. I wanted students who've never gone to professional theater. Basically, I saw it as a way of developing new audiences and instilling a love of theater. Maybe even developing new playwrights."

Schools and teacher contacts were chosen. "It was the teacher's responsibility," explained Wasserstein, "to select bright, verbal and reliable students who were willing to risk entering a world they had little knowledge of."

To narrow the list to manageable groups, selected students were asked to do a qualifying essay on what they expected from the experience.

"I was amazed at the interest," said Wasserstein. "The kids came from all walks of life, all economic levels. Most were seniors who had a prime interest in math and science. However, they had never gone to the theater and had no pulsating desire to persue it professionally."

The first group came from DeWitt Clinton High School in the Bronx, and the first show was the Public's revival of On the Town.

After performances, there were 90-minute discussions over pizza and soda. Over the course of the year, the students keep a journal to document, expand and reflect on their experience.

"It became a wonderful experience for us," Wasserstein reported. "Listening to the kids talk about the plays really reinvigorated my work. I saw that what we do [in theater] has an effect on them. Students who are looking for careers saw there's passion in our work and that you can love what you do to make a living. Best of all, of course, Open Doors created a desire to go to the theater. "

Quickly, the program expanded to nearly 20 groups and many of Wasserstein's devoted friends came aboard, including Hal Prince, William Finn, James Lapine, Graciela Daniele, Kathleen Marshall, Lar Lubovitch, Scott Ellis and journalists Frank Rich and Alex Witchel.

Over the last several years, as she suffered from a series of illnesses [the latest being leukemia], she quietly disappeared from the scene.

Third, produced last year at LCT, was her last New York staging; but a not-so-thinly autobiographical play, Welcome To My Rash, recounting all the symptoms she was suffering, appeared on the bill with it in a D.C. staging.
[Photo: JUERGEN FRANK]
JOHN CARIANI TOUTED AS NEW ENGLAND WOODY ALLEN
Can the clean, wintry air of the uppermost reaches of Maine be the cure for the common cold or migraine headaches? Actor, now playwright John Cariani believes so.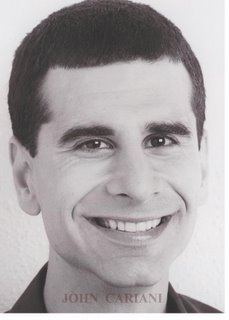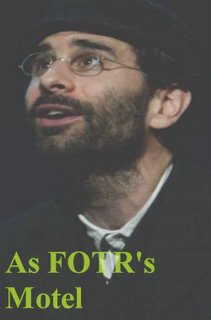 In his whimsical romantic comedy Almost, Maine, where under the spell of the Northern Lights the residents of a small town [called, naturally Almost] are falling head over heels, literally, in and out of love at an alarming rate, it's a midwinter night's dream!
He's receiving excellent audience response at Off Broadway's Daryl Roth Theatre, and some interesting accolades. One reviewer called him "the New England Woody Allen," praise Cariani says he hopes he can live up to.
Cariani made his Broadway debut as eccentric Motel the tailor in the 2004 revival of Fiddler On the Roof . He received a Tony Award nomination for Best Featured Actor. He's acted in James Lapine's Modern Orthodox [replacing Jason Biggs] and in Central Park in the Public/NYSF revival of Galt MacDermot and John Guare's Two Gentlemen of Verona, might be best known to the masses for his portrayal of forensics technician Beck, on TV's Law & Order.
Almost, Maine, directed by Gabriel Barre, features the fastest quick changes [one-upped only by the actors in Forbidden Broadway] and the hardest working actors in the business - even if they are in a New England slow-motion mode as opposed to a quick-paced New York one.
............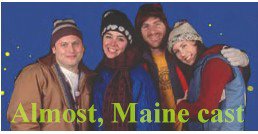 The excellent ensemble is made up of Todd Cerveris [Michael's brother], Justin Hagan, Miriam Shor [most recently seen in Dedication or The Stuff of Dreams], Finnerty Steeves and two very busy understudies, Patrick Noonan and Colleen Quinian, who do the set changes.
Yes, he admits, Cariani is a proud Maine native and the sketches in Almost Maine about the quirky, love-smitten natives he knew or heard about began to germinate there over a decade ago.
After graduation from college in Massashusetts, he did an internship at a theatre there "where I did everything from take classes from The Acting Company to clean the toilets." After a couple of years there, the artistic director told him, basically, "Go West, young man" or to Chicago or New York, "the three places where, hopefully, you can make a living doing this sort of thing." Cariani, along with eight others, chose the latter.
He found it wasn't so easy. The six-foot, rail-thin actor worked at a gym. "The first thing everybody would say is that I didn't look the personal trainer type," he laughs, "and I wasn't I worked in billing."
In spite of his lack of bulk, he got roles in such films as Scotland, PA and Kissing Jessica Stein and on the quirky TV series Ed, where he played a resident of Stuckeyville.
NBC began an innovative program at downtown's Here, called Performance Space, where the network hope to discover comedians and good sit-com material. "I was asked if I'd be interested in a couple of Monday nights now and then to put up funny material. I said, ëI'll try it.'" His stories about the quirky characters he'd known and heard about in Maine went over well.
They were taped, reviewed by the network, who owned the material for a specific period until they decided how they wanted to proceed. "They didn't wish to proceed with me," say Cariani.
By 2002, when the material was whittled down from 24 stories to the present nine sketches loosely connected by a prologue and epilogue, he workshopped Almost, Maine at the Cape Cod Theatre Project and a premiere production at Portland [Maine, of course] Stage Theatre.
There were four actors playing 19 characters. "When the cast took their bows, it always astonished audiences that only four actors played all those roles."
Then came FOTR, for which he also won an Outer Critics Circle Award for Featured Actor. He laughs, "I wasn't even nominated by Drama Desk, so I learned about awards pretty quickly."
He says he "grew up a lot with Fiddler. It was something I was so proud of. There were so many revelations in it [thanks to David Leveaux' directorial interpretation] and I found it quite moving; but you could feel New York turn on it. I guess the show is so set in people's minds, that they don't want you to try anything different.
"We're all still pretty sad," he continues, "about some of the critical beating we got [for the show, supposedly, not being "Jewish" enough - how it could have been more "Jewish" beats the heck out of me!]. Some of us feel responsible."
Responsible? In what way? "Because, even though we know we tried to do something interesting, we feel we let audiences down."
Hopefully, with the sublime audience response to Almost, Maine, Cariani will, in the words of Cher to Nicholas Cage in Moonstruck, will snap out of it. FOTR may have "let down" a couple of critics and then others started jumped on that bandwagon; but it played almost two years and over 780 performances.
"When I came to New York," says the actor/playwright, "everything I saw was about New Yorkers or celebrated New York. I wanted to do something to celebrate Maine.
Anita Stewart, the artistic director of Portland Stage, told me how difficult it had become to find new material here that would appeal to their audiences. That's why the regionals are so busy cultivating new writers, because they're not being cultivated here."
As Cariani greeted friends and audience members after a recent performance of Almost, Maine, he was ecstatic hearing the positive comments. "A lot of folks told me my play would never fly in New York," he said softly, "because it's about, well, Maine. And, sure enough, some of the critics have said that. But audiences love it. It's Off Broadway, at prices even younger audiences can afford. It's a great date play!"
[FOTR Photo: JOAN MARCUS; Production shot: CAROL ROSEGG]
JACK HOFSISS' REVERSAL OF FORTUNE


"Curtain up, light the lights," wrote Sondheim in Gypsy's showstopping "Everything's Coming Up Roses." "You got nothing to hit but the heights." In fact, in theater, the journey to the heights is fraught with trials, tribulations and reversals of fortune.
Because of the vagaries of the business, even Tony Award winners and, in this case, critically-acclaimed director Jack Hofsiss, wonder what their next job will be.
As we have seen show people, such as Chita Rivera, after her horrendous automobile accident which left her with 16 screws in her left leg, even in worst-case scenarios, have amazing resilience. No doubt or difficulty is so great that it cannot be overcome.
Hofsiss was the 1979 Tony-winning director of Best Play The Elephant Man. He says, with a laugh now, that he really put that philosophy to test.
... .... .... .... ................. .... ... ... ..TonTToTony-winning director Jack Hofsiss>



He's Off Broadway directing Steven Fales' Confessions of a Mormon Boy [which won the Overall Excellence Award in the 2004 New York International Fringe Festival] at the Soho Playhouse on Vandam Street, where it opens on Sunday.
Hofsiss, prior to his Broadway directorial debut was quite active Off Broadway, working with Joe Papp and the Public in the mid-70s, the original The Elephant Man Off Broadway and as a staging consultant to Barry Manilow for his 1976 Broadway bow.
For directing Elephant Man, Hofsiss not only won the Tony but a host of other honors. Then, in summer 1985, after directing operas and the TV adaptation of EM [winning a Directors Guild Award and Emmy nomination], on an afternoon when he took everyone's advice and decided to relax and go swimming, he fractured his spinal cord as he dove into the pool.
The accident left him dependent on a wheelchair and "totally chilled down my career."
While still in hospital, he got one job offer, which didn't work out. "But it was very satisfying to know someone wanted me, without knowing what I'd be capable of. That gave me hope."
It was an empty hope, as it turned out, because there were no other job offers. It was as if everyone forgot what he'd accomplished. For a year, he says, "while trying to figure out how to go on with my life, I wondered if anyone would hire me."
In March 1986 he was finally released. He got a job that July directing All the Way Home at the Berkshire Theatre Festival. "It was the story of a man in an automobile accident," he states with a smile, "and how his family dealt with the issues. The subject matter was as therapeutic as getting back to work."
Landing jobs was still a struggle. "But," he says, "friends, like [the late] Josephine Abady, who offered me the Berkshire job, believed in me."
That led to the one-night-only [and seven previews] of 1983's Total Abandon, starring Richard Dreyfuss.
In 1987, he was back in the theatrical eye Off Broadway, directing the musical No Way To Treat A Lady, which garnered good reviews and became a modest hit. It led to helming Circle in the Square's revival the following year of The Shadow Box, which featured an all-star cast: Estelle Parsons, Mercedes Ruehl, Marlo Thomas, Frankie Faison and Mary Alice.
He went on to be a creative consultant on the short-lived A Mom's Life, a one-woman show originally produced by Joe Papp at the Public, later that year; to direct Roundabout's 1991 revival of The Subject Was Roses; and work at Manhattan Theatre Club and with JoAnne Akalaitis, the Public's artistic director after Papp.
In 1997, the New Group's 1997 gay comedy My Night with Reg, starring Maxwell Caulfield and then unknowns Sam Trammell and Edward Hibbert, garnered quite a bit of attention and audience members with binoculars because of it's full-frontal nudity.
In 2000, there was Avow Off Broadway, starring Alan Campbell, in his first post-Sunset Boulevard outing, and featuring Jane Powell and Christopher Seiber. In 2001, Hofsiss directed Surviving Grace, featuring Illeana Douglas, Linda Hart and Doris Belack, the wife of Broadway director Philip Rose [with musical staging by none other than the American Ballet's Robert LaFosse].
At the Soho Playhouse, in a break from rehearsals for Mormon Boy, Hofsiss took a very deep breath and said, "I'm always proving myself. Of course, that applies to everyone in our business, but it's particularly true - and particularly necessary - for me."

[Photo: ELLIS NASSOUR]

NIGHTLIFE GETS ITS JUST REWARDS

The 2006 Nightlife Awards at Town Hall on Monday [February 6] is looking to create a night of epic entertainment. This always star-studded celebration of the talent onstage in Big Apple clubs will be even more star-studded this year.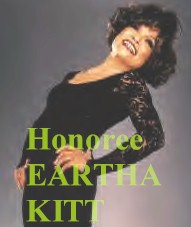 The list of big names in almost endless: You can count on performances by Tony winner Elaine Stritch [soon to be returning to the CafÈ Carlye]; Tony nominee Brian Stokes Mitchell [who'll be popping up in Encores! Kismet come Friday], both of whom joined the cabaret ranks last year as they made their niterie debuts; the legendary Eartha Kitt, who's being honored with the 2006 Nightlife Legend Award.
Some category winners are: Outstanding Male Vocalist in a Major Cabaret [Stokes], Outstanding Female Vocalist in a Major Cabaret [Stritch], Outstanding Female Stand-Up Comedienne [Kristen Schaal] and Comedian [Bill Burr], Outstanding Cabaret Musical Comedy Performance [Jason Graae] and Outstanding Female Cabaret Vocalist [Karen Mason].
Among those presenting will be gender-bender Charles Busch, Lee Roy Reams, lyricist David Zippel, playwrights William Finn and John Patrick Shanley and Marin Mazzie, Ute Lemper and Karen Ziemba - three singer/actresses who know how to heat up a stage; and Michael Cerveris, who really knows how to give close shaves.
There will also be guest performances by music legend and million-selling recording artist Leslie Gore, Darius Dehass and comedienne Judy Gold.
The Nightlife Awards is the only "all-performance" awards show. In other words, the winners, instead of making acceptance speeches, sing for their supper. They are chosen by 27 critics who cover live music and comedy, club and TV bookers and other media journalists.
Author/critic Scott Siegel [who is the creator and host of the Town Hall Broadway by the Year and Broadway Unplugged series] conceived and produces the program. "The goal of the Nightlife Awards is to promote the world of New York cabaret to as wide an audience as possible. I'm proud of the commitment of such major stars. It's an incredible line-up! I mean, just signaling out one of them, where else can you hear Eartha Kitt perform for as little as twenty-five dollars?"
Among the sponsors are ASCAP, Edythe Kenner, TheaterMania, Jill and Irwin Cohen, Trattoria Dopo Teatro, Thoroughbred Records, Edith and Ervin Drake, Joe Corcoran, Peter and Barbara Leavy and Millie and Peter Hanson.
Tickets are $25, $50 and $75 and available at the Town Hall box office or via TicketMaster (212) 307-4100. Tickets, which include the after party for an additional $50, can be ordered from (212) 365-4345 or by E-Mail: [email protected].


ON THE RECORD
The original revival cast album of John Doyle's "no frills" production of Sondheim's Sweeney Todd: the Demon Barber of Fleet Street with Tony Award-winning headliners Patti LuPone and Michael Cerveris, is officially in stores from Nonesuch Reocrds.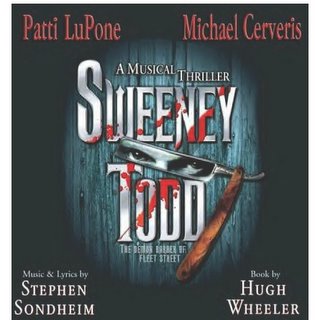 It's anything but a "no frills" package: featuring 26 tracks on two CDs and a deluxe, illustrated booklet with all the lyrics, cast and three feature articles, including one by Doyle.
Though Sondhiem songs from the composer's scores have long been a staple of LuPone's concert repertory, Sweeney Todd marks the actress' first outing in one of his musicals.
..... ..... ..... ..... ..... ..... .....
"I look upon Stephen's work as the essence of the art form that we call Broadway," LuPone says. "I always wanted to decipher a complete Sondheim score, so I feel lucky, indeed. My only wish is that Stephen would write a show for me."
...... ...............................................

....

Patti LuPone and Michael Cerveris in Sweeney Todd
>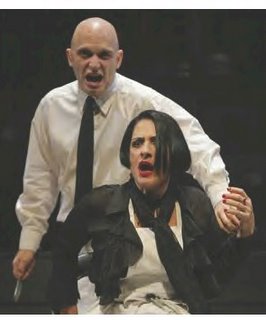 LuPone first sang the part of pie-maker Mrs. Lovett last year with the New York Philharmonic, in a televised Lincoln Center celebration of the composer's 70th birthday. She also recently performed the role opposite George Hearn with the San Francisco Philharmonic.
The CD is produced by Tommy Krasner. Accompaniment is by the 10-member cast on various instruments. Sarah Travis did music supervision and orchestrations. Anthony Tommasini, in The New York Times, wrote "Whatever Ms. Travis's scoring loses in strength, it gains in subtlety. Mr. Sondheim's curious contrapuntal inner voices come through vividly, which brings out the music's transfixing strangeness. Also, because the balances favor the singers, Mr. Sondheim's ingenious lyrics leap off the stage at youÖ[Her] work [is] revelatory."
The original Sweeney made its blood-curdling Broadway debut in a spectacular 1979 production, directed by Hal Prince and starring Angela Lansbury and Len Cariou. There was another minimalist revival at Circle in the Square in 1989, starring Beth Fowler and Bob Gunton. The book is by Hugh Wheeler.
[Photo: PAUL KOLNIK]



ENCORES! ENCORES

City Center's new season of acclaimed series of concert revivals of musicals,
Encores!
opens February 9 with Robert Wright/George Forrest/Alexander Borodin's
Kismet
[1953], starring Tony and Drama Desk Award winner [and multiple nominee] Brian Stokes Mitchell, multiple Tony and Drama Desk nominee Marin Mazzie and multiple Tony-nominee Tom Aldredge.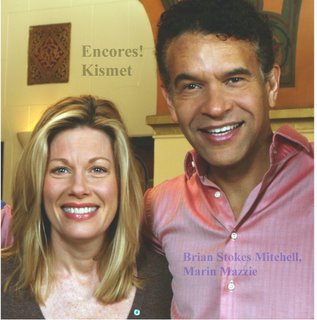 Many, many years later, Wright and Forrest were the driving force behind Grand Hotel, which took two decades to get to Broadway - with the added help of Maury Yeston and director/choreographer Tommy Tune.
The leads are no strangers to working together, having appeared on Broadway in Ragtime, Man of La Mancha and Kiss Me, Kate. Mitchell portrays the handsome but slippery poet Hajj; Mazzie is Lalume, the "voluptuous" daughter of Bagdad's wazir.
Danny Gurwin [Little Women, Urinetown, The Full Monty] is the Caliph and Aldredge appears in the feature role of Jawan.But there's more.
Talk about a big show: the cast will feature Elizabeth Parkinson [Movin' Out], Rachelle Rak [Dirty Rotten Scoundrels] and a featured cast and ensemble of, get this, 30. Oh, my, and WOW!
The engagement, which runs February 9 - 12, is directed by Lonnie Price, and marks Sondeim musicals veteran Paul Gemignani's debut as music director. Encores! artistic director is Jack Viertel.
"I wanted to do Kismet to hear the score performed as it should be, with a forty-piece orchestra," says Gemignani. "No one can afford to do that on Broadway anymore."
Gemignani music directed Encores! 1999 Do Re Mi. He served as music director and conducted 35 Broadway shows, including On the Twentieth Century, Evita!, Crazy For You and the acclaimed Kiss Me, Kate revival.
In 2001, he was honored with a Tony Award for Lifetime Achievement.
Kismet, with a book by Charles Lederer and Luther Davis, opened on Broadway in December, 1953 and ran 583 performances [nearly a year and a half], winning three Tony Awards including Best Musical. It starred theater legend Alfred Drake as Hajii, Joan Diener [later to star in the original MOLM] as Lalume, Doretta Morrow as Marsinah and, as the Caliph, Richard Kiley, who went on to become a major Broadway musical star [La Mancha; Redhead opposite Gwen Verdon; No Strings, opposite Diahann Carroll.]
Set in exotic Baghdad, Kismet is an Arabian Nights-style comedy with a lush, romantic score that includes the classics "And This Is My Beloved," "Strangers in Paradise" and "Baubles, Bangles and Beads."
The upcoming productions are Kander and Ebb/Joe Masteroff's 70 Girls, 70 [1971], March 30 - April 2; and George Gershwin and Ira Gershwin's 1931 Pulitzer-Prize winner for Drama Of Thee I Sing, May 11 - 14.
"Of Thee I Sing has one of the best overtures every written for a Broadway show," notes Gemignani. "Gorgeous music by George Gershwin. I'm looking forward to conducting that score with our orchestra."
Since its inception in 1994, Encores! has presented the works of the Gershwins, Rodgers and Hart, Rodgers and Hammerstein, Cole Porter, Irving Berlin, Kurt Weill, Bock and Harnick, Burt Bacharach, Kander and Ebb and Comden and Green. The series is the recipient of a special 2000 Tony Honor for Excellence in the Theatre and, among many other honors, a New York Drama Critics Circle Award.
Kismet's performance schedule will be: 8 P.M. on Thursday, February 9; Friday, February 10; and Saturday, February 11; and 2:00 P.M. on the 11th as well as 6:30 P.M. on the 12th.Lead sponsorship for Encores! 2006 season is provided by Newman's Own. Season tickets and available single seats are available at the City Center box office, through CityTix at (212) 581-1212, or online at http://www.nycitycenter.org/. Prices range from $90 to $25.
[Photo: JOAN MARCUS]



SPEAKING OF BARRY MANILOW
Chita's big birthday bash and reunion performance at
Chita Rivera: The Dancer's Life
with TV and Broadway legend Dick Van Dyke was marred by only one thing: the very rude Barry Manilow.
His adoring fans, of course, were thrilled to see him walk in just as the lights were to dim and surrounded by entourage and a bodyguard.
Unlike, Sarah Jessica Parker and Ben Stiller, who couldn't have been more gracious or accommodating to fans, at intermission, the stone-faced Manilow ignored requests for autographs and photos. He even pushed by two fans, rudely saying he didn't have time to give them an autograph. Then he exited and didn't even return for the second half.
Hey, Barry, I remember when you were a lowly accompanist to the diva likes of Bette Davis and Bette Midler. Is that where you learned your manners? Don't you know that your fans put you where you are?
--------
Ellis Nassour is an international media journalist, and author of Honky Tonk Angel: The Intimate Story of Patsy Cline, which he has adapted into a musical for the stage. Visit www.patsyclinehta.com.

He can be reached at [email protected]
Why are you looking all the way down here?
For more articles by Ellis Nassour, click the links below!
Previous:
REUNION, CELEBRATION, ENCORES! RETURNS, INDUCTIONS AND MORE
Next:
BOWWOWS FOR DOG SEES GOD AND LOGAN MARSHALL-GREEN; UPCOMING BENEFITS; BILLY ELLIOT AND BAKER STREET ON CD; MORE
Or go to the
Archives