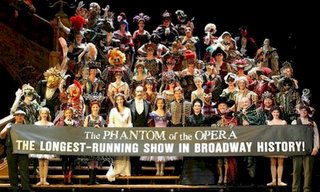 ANDREW LLOYD WEBBER SCORES ANOTHER RECORD-BREAKER: With performance 7,486 tonight [January 9], The Phantom of the Opera becomes Broadway's long-run champ. Cast, Front, Center, starting sixth from L: Howard McGillin [Phantom], Sandra Joseph [Christine] and Tim Martin Gleason [Raoul].
Andrew Lloyd Webber's The Phantom of the Opera will soar into the theatrical history books tonight with its 7,486th performance, becoming Broadway's longest-running show.
The Cameron Mackintosh/Really Useful Group production shatters the record held by ALW's Cats, which was produced by Cameron Mackintosh and ALW. It's the first time the two longest-running shows are by the same composer.
Tonight's performance will be followed by an onstage presentation devised by the musical's creators to uniquely mark the occasion. The SRO performance, with original Phantom Michael Crawford and many POTO veterans in attendance, will be followed by a gala masked ball in the Grand Ballroom of the Waldorf-Astoria.
Howard McGillin and Sandra Joseph
ride the gondala into the history books>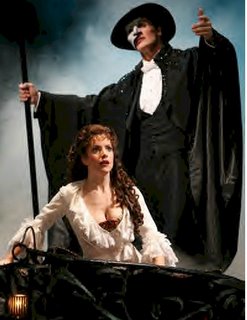 It seems POTO, not Cats, will be Now and Forever. On Thursday, January 26, the show will mark another milestone by becoming the first Broadway production to reach its 18th Anniversary.
In addition to the name above the title, the show's lyrics are by the not-so-often ballyhooed or mentioned Charles Hart [who co-wrote the lyrics of Aspects of Love with Don Black] and Richard Stilgoe. The "book" is by Stilgoe and ALW.
Harold Prince, who first met ALW when he wanted to direct Jesus Christ Superstar and who worked with him directing Evita, is director. Musical staging and choreography is by Gillian Lynne, the brilliant associate director and choreography of Cats. Orchestrations are by long-time ALW collaborator David Cullen and ALW.
Much credit for keeping the show in the black goes to the Japanese, who originally came in such droves the Infrared Sound people introduced a new interactive product: a sort of Cliff Notes version in that language; eventually, in two others.
But POTO wouldn't still be drawing audiences if the production team hadn't been doing something right. The show - all those ab fab curtains, the "travelator," Maria Bjˆrnson's lavish costumes and sets and, last but certainly not least, that chandelier - has been well maintained and its running time has been kept tight.
. . . . . . . . . . . . . . . . . . . . . Celebration: POTO's Act Two "Masquerade" and, tonight, a masked ball>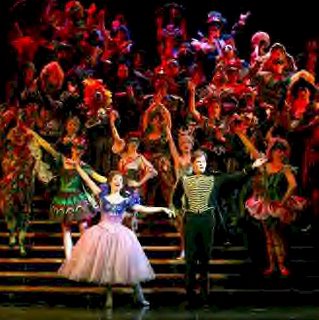 Prince takes a peek now and then, but the real credit for the fine-tuned day-to-day attention to detail goes to the production supervisors and Lynne, who does more than look in on the dancers a few times a year. She's a stickler for structure and gives pages and pages of notes.
[I only hope the Shuberts got the cleaning contractors into the auditorium to dust that magnificent faux proscenium and the banks and banks of lighting.]

There is a sadness among the POTO vets that not only is Bjˆrnson gone, but also Steve Barton, the original Raoul and a one-time Phantom [he later starred in the original Roman Polanski Vienna production of Dance of the Vampires, before it was bowdlerized for Broadway].
Howard McGillin, the man behind the mask>



Mackintosh, ALW and Prince invited back acclaimed Phantom Howard McGillin, who has played the title role on Broadway more than any other performer - donning all that make-up and the mask for nearly 1,400 performances over almost four years.
Joining McGillin are a returning Christine, Sandra Joseph, who, in addition to 1,200 times on Broadway, has played the role throughout the country; Tim Martin Gleason, from the current national tour, as Raoul; Anne Runolfsson [diva Carlotta]; Marilyn Caskey [a previous Carlotta, now stern ballet mistress Madame Giry]; original cast member George Lee Andrews [Monsieur AndrÈ]; and Tim Jerome [Monsieur Firmin]; At certain performances, Rebecca Pitcher, most recently Christine in the national tour, plays Christine.
The 35-member cast also features two other performers who've been with the show since 1988: Mary Leigh Stahl [wardrobe mistress] and Richard Warren Pugh [Don Attilio].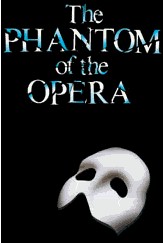 As of January 9th, the four longest-running Broadway are: The Phantom of the Opera; Cats (7,485 performances); Les MisÈrables (6,680) [also produced by Mackintosh, and rumored to be returning for a limited engagement]; and A Chorus Line (6,137).
POTO has proven to be a real boffo box office champion. It ended 2005 by shattering two records: having its highest-grossing year ever on Broadway, as well as the highest-grossing single week in its 18-year history [and a house record for the Majestic]. Of course, you have to keep in mind that when the show opened, the top price was $50. Now, it's over $100.
After 9/11, its future, like so many shows, wasn't so secure, but it made an incredible bounce back and is consistently among Broadway's highest-grossers. The film adaptation, instead of hurting its theatrical prospects, seemed to help. The film, a virtual scene-by-scene recreation of the show, was a bit of a box office dud in the U.S., but broke records in many theatres overseas.
Andrew Lloyd Webber, at home at his estate in Sydmonton Court in 2003,
plays a Broadwood piano. The portraits are Dante Gabriel Rossetti:
L, Portrait of a Lady, 1870; R, A Vision of Ammetta, 1878 [inspired by
Boccaccio's sonnet "Of His Last Sight of Ammetta"]>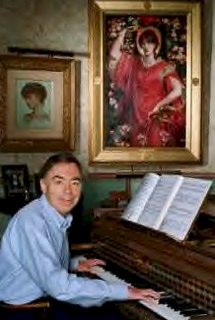 In addition to his peerage title of Sir Andrew, Andrew Lord Webber has been called many things, as he laughs all the way to the bank or into his multi-million dollar wine cellars or into the headquarters of his chain of West End theatres or as he collects another art masterpiece.
"The Messiah of the middlebrow," "a composer who writes the same three notes over and over" and "a spectacularly limited talent" are only a few of the brickbats thrown by his detractors.
On the opening in 1988, then New York Times critic Frank Rich derided the show as "impoverished of artistic personality and passion."
In conversation with lyricist Alan Jay Lerner, whom Lloyd Webber approached originally to be his POTO lyricist [he declined because of his deteriorating health from a long-term battle with cancer, from which he died in 1986], the composer noted his lack of friends and respect. "Why do people take an instant dislike to me?" he wondered to Lerner.
Could it be his aloofness or paranoia that everyone is against him? Or maybe his ineptness in handling some delicate public relations situations, such as his treatment of Patti Lupone after her success on the West End in Sunset Boulevard?
. . ............................................. .. . . . . . .As if they could never say goodbye, but they did:
. . . . . . . . . . . . . ................................ . . .ALW and Patti Lupone before the Sunset casting fisaco>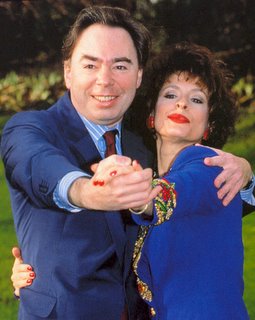 Or how he discarded original Sunset lyricist Amy Powers, whom he plucked from obscurity in a BMI musical theater workshop, without even so much as a phone call or giving proper credit for her two remaining contributions to that show? Or his treatment of Roger Moore, who was to be a co-star on the West End in Aspects?
Ironically, in spite of his prodigious output [13 musicals, including Jesus Christ Superstar and Evita, both with lyrcist Tim Rice] and commercial success, no name in musical theater elicts such negatively from critics.

Lloyd Webber has often been accused of "purloining" musical motifs from such masters as Puccini, Mayerbeer and, in the case of a major motif in his now-famous POTO cresendo, English composer Ralph Vaughn-Williams.
He's also been accused of simplicity, sentimentality and, most often, excess, as in those soaring duets, such as POTO's "All I Ask Of You" [which, I have to admit, I find breathtaking!].
A critic recently wrote that a common trait of Puccini and ALW is their ability to place "a melody in a character's mouth that can make an audience react in an almost Pavlovian way. It's a gift that cannot be learned or duplicated. One either has it or one hasn't."
The public either adores his work or absolutely despises it. However you feel, you can't take away the fact that ALW is the most popular composer of modern musical theater. One or two sidesteps to the contrary, he has his pulse on what theatergoers want.
How else to explain POTO's popularity? Or the loyal fans, whom over the years, have seen the show multiple times - in a couple of instances, over 100 times! According to its own research, and who can argue with that, POTO is already the most successful stage musical of all time.
It would seem the public can't get enough of it. In some cities, theatres have had back walls ripped out to extend their stage houses so they could accommodate the musical. Wherever the show sat down for several months, it was a boon to the local and regional economy. Hotels, restaurants benefited as tour buses arrived with theatergoers from miles and miles away.
Though the show has seemingly toured or played everywhere, here and abroad, there's still life in the old boy, as will be seen this Spring in Las Vegas with the all-new reconceived lavish 90-minute co-production between ALW's Really Useful Group and Clear Channel Entertainment [directed by Prince] at the Venetian Casino Hotel and Resort. The show will play in a $30-million, state-of-the-art theatre designed specifically for the production.
Needless to say, POTO is Lloyd Webber's all-time champion. Probably only Evita comes close in popularity and commercial success.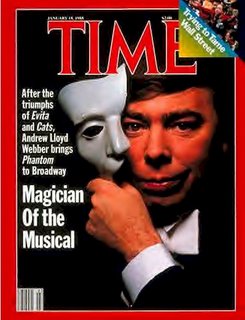 Attendance at Broadway POTO's is an estimated 11 million. But the show's international success is more staggering. Worldwide attendance: estimated in excess of 80 million. Worldwide gross: $3.2-billion. It's the most successful entertainment venture of all time, surpassing not only other stage shows, but also far surpassing the world's highest-grossing film, Titanic [$1.2- billion] and such blockbusters as The Lord of the Rings, Jurassic Park and Star Wars.
Director Prince, discussing POTO's popularity, noted "to have a hit, you have to tell an audience something they want to hear. Andrew's works always wind up reassuring us that love is good, hate is bad, villains suffer and heroes ultimately are rewarded."
But neither the West End or the Broadway Phantom opened to across the board raves.
[I recall my English guests on Opening Night in London jumping out of their seats at the interval to be among the first at the bar. One groaned, "Didn't you say this was a musical? But how can it be without dancing girls?" When it was pointed out that there were dancing girls - and a dancing guy, my friend, then the English editor of Penthouse, blurted, "Dear chap, those are ballerinas!"]

More than anything, The Phantom of the Opera is a marvel of marketing - a model all musicals could follow in the how-to of putting audiences in the seats. Long before its opening nights, it had sort of buzz that, more recently, The Producers generated. The title became a household term. Before the show opened, seemingly everyone everywhere knew something about it.
POTO had its world premiere October 9, 1986 at Her Majesty's Theatre on London's West End, where it still plays. It won every major British theatre award, including the Olivier and Evening Standard Awards for Best Musical.
After nearly a year in London, the hype was so intense, the show, capitalized at $8-million, opened here with a then-record advance of $18-million. It became one of our major tourist attractions.
Opening Night, January 1988: Director Prince, Crawford, ALW, Brightman>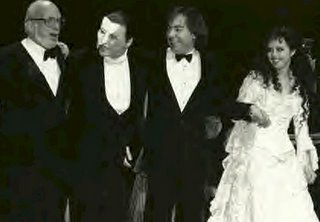 The New York production starred Crawford and, as on the West End, Sarah Brightman, then Mrs. ALW, as Christine. [Patti Cohenour, currently in The Light in the Piazza, was the original New York Christine alternate and the first replacement for Brightman]. The musical swept the 1988 Tony Awards, winning seven, including Best Musical. It also took home seven Drama Desk Awards.

Crawford, a veteran of West End musicals, was lauded by critics and achieved matinee idol status. However, it's been said by veterans of the show that soon he became quite the tempermental star - and was distant to boot. You spoke only in whispers near his dressing room, which remained closed. Vists were rumored to be by appointment only.

[If at all true, his comeuppance was certainly the embarrassment he suffered starring in 2002's ill-fated and awful Dance of the Vampires, where he let down a number of loyal fans.]

But Crawford does appear to be a changed man, and he is very mindful of and polite to his legend of fans - always taking the time to sign autographs and pose for photos.

In an interview, Crawford was quoted as saying that neither he or Lloyd Webber had an inkling of the show's long-run potential. "Not to this extent," he noted. "I don't know that anyone could have predicted the long, long term success."

Lloyd Webber recently told Playbill: "The Phantom has defied all gravity...It's one of those things that I know I will never, ever repeat in my career...it just seemed to catch a chord, catch a nerve that when you start writing you can't predict."

But, according to Crawford, something began to kick in during London rehearsals and he felt like the show would be "an extraordinary experience...very, very special."

So special in fact that the original London cast recording was the first in British musical history to enter the charts in the Number One position. It has since gone both Gold and Platinum in Britain and the U.S., selling over 40 million copies worldwide.

Crawford credits the show's vast popularity to the fact that the Phantom, instead of repelling audiences, actually touches them.

He has compared it to a "beauty and the beast cultural phenomenon, " further noting that audiences don't have trouble identifying with the story because, as he was quoted, "we've all loved and have lost." He further reported that he had received countless letters from people who wrote that they felt unloved because of their looks.

Long-time Phantom [and the most recent before McGillin's return] Hugh Panaro [soon to be seen in Lestat] agrees. "Growing up in Philadelphia, I was chunky and teased constantly about my weight. I was called vicious names. It's something that stays with you, something you don't forget. I can tell you the name of every kid on my block who made fun of me! If I was as extreme as the Phantom, I'd probably have thrown darts of flame at them!"

But that experience, he adds, was an asset to understanding the character. "When people ask me how it was playing him, I reply, 'joyful.' Some have been taken aback by that remark, but it was a joyful experience - and free therapy. If you're having a bad or angry day, you could let it all out. On our off days, I didn't know what to do. I didn't have any place to display my neuroses."

Onstage, it was very serious business. "You really had to pay attention," reports Panaro. "There were dangers everywhere, with dogtracks and gaping holes that open with the stage shrouded in smoke. At various times, and in split seconds, and in the dark I scaled some pretty great heights and ran amok on a catwalk high above the audience. I'm a born daredevil, so I enjoyed those moments. Sometimes, I could hear gasps. They were well founded, but, knock on wood, I was never been injured. Of course, there are all sorts of safety precautions."

He explains that the surprise element is vital for the show to really succeed with audiences. Panaro came up with various ways to disguise himself as he would get into various niches around and above the stage so audiences - especially those in the boxes - won't detect him before it was time. He described one such moment, high, high above the proscenium as "like being in an MRI machine. You lay totally still and can't move a muscle." In one spot, he even rigged a water bottle he could nip on.

Panaro knows the musical has more than its share of detractors, "some are even friends of mine. They say it's nothing but spectacle, but that's not what keeps audiences coming back after all these years. The show has heart and soul. It touches people. My favorite scene is the last, because it's the only time you hear how the Phantom became this angry, violent, murdering man. It began in childhood when his mother slapped a mask on his face because he was so horrendously ugly and she couldn't stand to look at her baby."

For him, the most moving moments came during the final sequence, when he would glance into the first rows of the house and see the hankies coming out. "I understood, because it's almost impossible not to feel for the Phantom. For the majority of us, life is not that dramatic, but his character is a magnified version of all of us. We walk through life with that wounded child in us. Because of my emotional scars, I know I do. But, in the Phantom's case, as Christine says, it's in his soul where the real distortion lies."

Though POTO is based on Gaston Leroux's classic novel, Lloyd Webber was actually inspired to do an original musical after seeing Ken Hill's Phantom of the Opera, which used opera motifs, in 1984. In fact, he attempted to work with Hill, then set out on his own. Then, of course, there's the other Phantom, by Maury Yeston, which has been hugely successful in regional theatres.

In early stages, ALW set out to conceive a tongue-in-cheek musical in the style of The Rocky Horror Show, with motifs from 19th Century operas by Massenet and Delibes. That changed after a conversation with Rocky Horror director Jim Sharman, who suggested that the Phanton stopy was ripe for the type of lush, romantic score Lloyd Webber is now famous for.

The story has been told onstage and onscreen in many variations, but basically it's about a terribly disfigured opera buff, who considers himself a great composer and vocal coach, who lurks in the catacombs of the Paris Opera House, exercising a reign of terror over all who don't conduct business as he sees fit. He falls madly in love with an innocent young soprano and dancer, Christine, and devotes himself to making her a star by all means at his command.

Panaro points out there's also an emotional hook: "Other aspects aside, The Phantom of the Opera is a love story, except in this case boy meets girl but never gets her."

There have been big changes at Phantom, at least in the backstage creative process. Thanks especially to the ingenuity of the show's make-up supervisor Thelma Pollard, the Phantom's make-up is now a snap. Early Phantoms had to be worked on for hours, but thanks to Pollard's innovations with prosthetics, she has reduced the time in the make-up chair to forty-five minutes or less.

Trivia: The 11 Broadway Phantoms have been Crawford [January 9, 1988], Timothy Nolen [October 10, '88], Cris Groenendaal [March 20, '89], Barton [March 19, '90], Kevin Gray [December 3, '90], Mark Jacoby [February 22, '91], Marcus Lovett [May 24, '93], Davis Gaines [July 4, '94], Thomas James O'Leary [October 11, '96], Panaro [February 1, '99 and April 14, '03] and McGillin [August 23, '99 and currently].

More Trivia: Charles Hart, now seriously dating Jane Krakowski, the drop-dead gorgeous Tony winner [Featured Actress] for the Nine revival, featured star of Grand Hotel and TVs Ally McBeal, is the lead lyricist on Phantom. As a 25-year-old, he was plucked from obscurity [eeking out a living as a keyboardist and vocal coach] from to be wordsmith. And, in his little London flat where he could not open the windows because it was adjacent to the rail yards, he toiled away in the nude.

Statistic: POTO has raised over $1-million for Broadway Cares/Equity Fights AIDS. For much more information, visit http://www.thephantomoftheopera.com/.

[Current production photos: JOAN MARCUS; McGillin photo: ELLIS NASSOUR; Andrew Lloyd Webber photo:
Royal Academy of Art Magazine; Reuters; TIME Magazine;1988 opening night curtain call: MARTHA SWOPE ]

--------
Ellis Nassour is an international media journalist, and author of Honky Tonk Angel: The Intimate Story of Patsy Cline, which he has adapted into a musical for the stage. Visit www.patsyclinehta.com.

He can be reached at [email protected]





Why are you looking all the way down here?
For more articles by Ellis Nassour, click the links below!

Previous: SHOWSTOPPING HOLIDAY GIFT SUGGESTIONS

Next: FROM EARLY DISASTER TO TRIUMPH: PHANTOM OF THE OPERA Now In the Theatrical History Books As Broadway's Long-Run Champion

Or go to the Archives