There's never been a holiday season with so much Broadway-related product in the market place. You'll have no problem finding a theater or arts gift for that special someone - or yourself! The list is long: books - big ones, small ones - galore, DVDs, CDs, cabaret, an incredible museum exhibition and, of course, tickets for that special someone to a Broadway show.

The holiday event for theater lovers, even with critics pretty evenly divided between pro and con, will be the move to Off Broadway of Dog Sees God and In the Continuum, two hot tickets and getting hotter; and then there's the screen adaptation of The Producers, with Susan Stroman making her film directorial debut.
WHAT ARE YOU DREAMING OF?
Songsmith Sammy Cahn once said, "Somebody once said you couldn't have a holiday without Irving Berlin's permission." Mr. B, if he'd written nothing else, could have and did live pretty darn well off the royalties of his played-everywhere "White Christmas." It's a song you just can't get away from this time of year.
Which must have influenced Tony Award winning director Walter Bobbie [Chicago], bookwriters David Ives and Paul Blake and brilliant multiple Tony-nominated choreographer Randy Skinner [42nd Street, State Fair, Ain't Broadway Grand] for now there's a stage White Christmas.
And not just one, not just two but three companies of the stage adaptation of the beloved Bing Crosby/Danny Kaye film
White Christmas
are in sitdowns this holiday season in Boston, Los Angeles and San Francisco.
Produced by Paul Blake, Dan Markley and Sonny Everett of The Producing Office in association with Paramount Pictures, the production includes such Berlin hits as "Count Your Blessings Instead of Sheep," " Sisters," "How Deep Is the Ocean" and, of course, the title tune.
For more information and casts of the three companies, visit www.whitechristmasthemusical.com.

BROADWAY'S LOST TREASURES NO LONGER LOST
Anyone interested in the archives of great performances from the early Tony Awards produced by Broadway impresario Alexander Cohen [through the 1986 Tonys] will enjoy excerpts from those telecasts presented on Broadway's Lost Treasures, Volumes 1 and 2.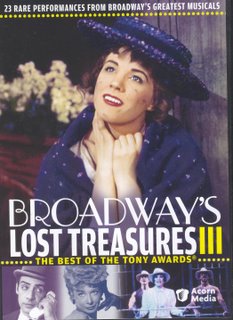 Now comes rare glimpes of Gwen, Chita, Zero, Julie and Jerry in what would be a much-appreciated stocking-stuffer for any devotee of theater: Volume 3, The Best of the Tony Awards [Acorn Productions; $25; 95 minutes] is in stores just in the nick of time. It goes beyond the Cohen years with the payoff being 23 rarely-seen performances, including the companies of Merrick's
42nd Street
["We're In the Money"] and
Fosse
.
There's also Gwen Verdon performing "Whatever Lola Wants" from Damn Yankees with Ray Walston alongside; Jerry Orbach from Promises, Promises; Zero Mostel performing "Comedy Tonight!" from A Funny ThingÖ; an eight minute tribute to Ethel Merman; a Julie Andrews medley and numbers from How Now Dow Jones, Into the Woods, Kiss Me Kate, Peter Pan, Ragtime and 1980's West Side Story.
Bonus material includes Angela Lansbury performing "Everything's Coming Up Roses" from the 1975 Gypsy revival, Jonathan Pryce from Miss Saigon and Robert Goulet from The Happy Time.


MUSIC FILLS THE AIR:
BETTE , "BETTE" AND THE LEGENDARY JULIE

The Divine Miss M is ushering in the holidays with
Bette Midler Sings the Peggy Lee Songbook
[Columbia], produced by her former accompanist Barry Manilow [he's done a good deal of the stellar arrangements and also duets with Bette on one of the 10 - yes, 10 - tracks...They didn't exactly overwork themselves, did they?].
Included Lee smashes are "Fever, " "Alright, Okay, You Win," "I'm A Woman," "Is That All There Is" and "The Folks Who Live On the Hill."
Acclaimed impersonator Tommy Femia channels screen legend Bette Davis in Elizabeth Fuller's holiday play with music, A Very Bette Christmas, at Don't Tell Mama [343 West 46th Street], through January 8.
The setting is a 1962 TV holiday special starring the divine Miss D. The fireworks begin when her Whatever Happened to Baby Jane? co-star Joan Crawford drops by and Davis begins slinging icy zingers.
Fuller got to know Davis first-hand in 1985 when the star was her house guest for a month. Wouldn't you have liked to have been a fly on the wall or a cigarette in the ashtray for that? The events of that visit became the basis for Fuller's book and show, Me & Jezebel, which played Off-Broadway, regionally and around the world.
Femia is a five-time MAC Award-winner for Outstanding Impersonation. He received a sixth MAC for Outstanding Musical Comedy Duo for Judy Garland & Liza Minnelli Live!, which co-starred Christine Pedi [of Forbidden Broadway fame] as Liza.
Admission: $20 cover and two-drink minimum. For reservations, call (212) 757-0788.
You just can't keep her down. The aptly-named "Queen of Cabaret," Julie Wilson, acclaimed as one of the greatest cabaret performers of all time, is putting her glorious smoky baritone to good use singing stage musical standards at Helen's, 169 Eighth Avenue [between 18th and 19th Streets] through December 21st.
Wilson began her career in saloons and famed nightclubs; among them, New York's famed Copacaban and Hollywood's legendary Mocambo. Onstage, she's starred in such musicals as Legs Diamond, Panama Hattie, Kiss Me, Kate, South Pacific, Bells Are Ringing, The Pajama Game, Kismet, Show Boat, Jimmy, Silk Stockings, Follies, Company and A Little Night Music.
Admission: $25 cover and $15 food/drink minimum. For reservations, call (212) 206-0609.


LITERARY STOCKING STUFFERS
If Broadway's triumphant musical hits are exhilarating, the backstage tales of Broadway failures are more in the vein of tantalizing. In
Second Act Trouble: Behind the Scenes at Broadway's Big Musical Bombs
[Applause Books; $28 oversized soft cover; 378 pages; Index; 100 color and B&W photos and illustrations], Steven Suskin [
Show Tunes
, among numerous other books] takes you into the closed door santums of rehearsals, out-of-town tryouts, the late-night production meetings and, after the openings, the recriminatory gripe fests.
Suskin has compiled and annotated long-forgotten, first-person accounts of 25 Broadway musicals that stubbornly went awry. Among the contributors are Patricia Bosworth, Mel Gussow, Lehman Engel [one of the most innovative and respected music directors and producers], William Gibson and John Gruen.
It seems, you can't have a blockbuster failure without Broadway's biggest talents. Caught in the stranglehold of tryout turmoil are Richard Rodgers, Jule Styne, Jerry Herman, Cy Coleman, Charles Strouse, John Kander, Mel Brooks, and even Edward Albee.
Some of the affected stars: Liza, Bernadette, Debbie, even Julie and Mary Tyler. The troubled shows featured include Mack and Mabel; Breakfast at Tiffany's; The Act; Dude; Golden Boy; Hellzapoppin'; Nick and Nora; Seesaw; Kelly; and How Now, Dow Jones.
JOHN SIMON ON THEATER: Also noteworthy from Applause:
John Simon On Theatre: Criticism 1974-2003
[$33; 840 pages], with provocative reviews and critical insights from America's most controversial and you-love-him/you-love-him-not critic.
This joins two other volumes: John Simon On Film: Criticism 1982-2001 and John Simon On Music: Criticism 1979-2005.
U.K. HIRSCHFELD:
Highly recommended for all the obvious reasons is
Hirschfeld's Brtitish Aisles
[$40; 220 pages; oversized soft high quality art] featuring such fabled luminaries of the West End as Olivier, Gieldud, Coward, Richardson and Guiness with running commentary by Julie Andrews, Cameron Mackintosh, Michael Blakemore, Tony Walton, Lynn Redgrave, Peter Shaffer, Julie Christie, Mel Gussow, Sheridan Morley and, among many others, Al Hirschfeld himself.
THE BROADWAY SEASON:
Avid theater fans will want Playbill's entry into the yearbook franchise,
The Playbill Broadway Yearbook: June 1, 2004-May 31, 2005
[$30, hard; 400 pages; detailed Index; thousands of photos] by Robert Viagas, which takes you onstage and behind-the-scenes in the form of a high school or college yearbook, packed with exhaustive photos and memorabilia - including
Playbill
covers and title pages - from the entire season. Bonus: the inaugural edition includes chapters on every show running during the season, not just the new shows.
MOVIE STAR TALES:

For a screen idol who kept thinking he was falling head over heels in love with beautiful women, Tab Hunter sure slept with a lot of men along the way; and he doesn't mind telling you who they are in his almost-tell-all
Tab Hunter Confidential: The Making Of A Movie Star
[Algonquin Books; $25; 378 pages; Index; photo], told with Eddie Muller. He's pretty honest and forthcoming to a point and is certainly critical of his shortcomings. In fact, it turns out he was a better actor in his personal life than he was onscreen.
What's fascinating is how everything goes wrong, scandal-wise when he gets his wish and is released from his Warner Bros. contract. The studio publicity machine couldn't protect him any longer. Lessons he definitely learned are: Carefully Select Your Neighbors and Be Especially Nice To Them.
..............................................Tab Hunter onstage with Tallulah Bankhead in Milk Train>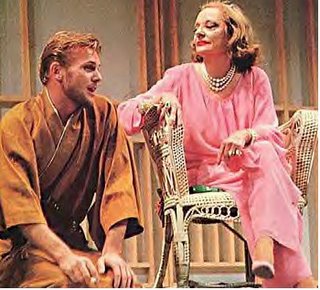 A fact that's not too well known is that theater saved Hunter from fading faster than a shooting star and total destitution. For years he starred in any regional or stock house that would have him - becoming, according to some press of that time, a decent stage actor.
That experience [even if it didn't prepare him in the ways of a stage diva] came in handy when he made his Broadway debut as Christopher, the gigolo, in 1964 opposite Tallulah Bankhead in Tennessee Williams' reworked The Milk Train Doesn't Stop Here Anymore, which also starred Ruth Ford and Marian Seldes. It was directed by Tony Richardson, who, shall we say, found he got more than he bargained for.
Hunter writes that TW's take on his character was that "he was the Angel of Death," serving God by helping souls make their crossing. He notes that it was a part he could relate to, "having spent my whole life hiding my own sense of reality."
His take on TW being wrapped in a world all his own, Tallu's excesses and absolute refusal to give anything resembling a performance and Ford's blatant upstaging and the cat fights between the gals are alone worth the read.
Though she'd spent time in Hollywood, perhaps, Ms. Seldes didn't spend a lot of time at movies starring teen idols. When Hunter came aboard the project, she didn't have a clue as "to how famous he was." He did know who she was and found great comfort in her presence, calling her "one of the finest, most generous actresses I've ever worked with...Marian's patience was endless, even touching, considering how difficult Tallulah could be."
Hunter says that she was valiant in trying "to hold us all together, while Tallulah's insecurities [not to mention her boozing] threatened to blow us all apart."
His description of Ms. Seldes running lines with Bankhead as she sat on the "throne" in the Ladies Room and how, finally having it up to "here" with Bankhead's incessant jabbering, he screamed, 'Why the f%#& don't you shut up?' are hilarious recollections not often found in other parts of the book.
Hunter was mobbed at the stage door, which didn't go over too well with Tallu. Sadly, the revival ran four performances. Even sadder, it marked the end of what was once an illustrious career. No one wanted to work with her after that fiasco. [She died four years later at age 68.]
At the end of King Kong, impresario Carl Denham is famed for saying it was beauty that killed the beast. In Hunter's case, his stunning good looks led to lots of doors opening, free rides and temptation, but, in the end, may have been his downfall. After his initial fame he seemed always to get caught up in catch 22s.


HE'S BACK FROM CENTURIES AND CENTURIES AGO


If the cold's got you and you're heading South, stop in Ft. Lauderdale where the Museum of Art has been selected as the only museum in the Southeast to host
Tutankhamun and the Golden Age of the Pharaohs
. It's just opened there, marvelously mounted on two floors, following a five-month L.A. stay [and will be on display through April].
This is the first time since The Treasures of Tutankhamun, the popular exhibition that toured here, with a major stop at the Met [from 1976 to 1979] that the fabled items associated with the burial chamber of Egypt's boy king and many of those associated with him have traveled here. This exhibition is even larger than before with more information on his death [thanks to 21st Century technology]; however, the solid gold funeral mask and several expected pieces are not included in the loan.
Entry is booked for specific times, but crowds are large, so arrive early. The Museum of Art/Fort Lauderdale is located at One East Las Olas Boulevard. For available dates, entry times, ticketing, audio tours and general information, call (954) 525-5500, or visit http://www.moafl.org/.
--------
Ellis Nassour is an international media journalist, and author of Honky Tonk Angel: The Intimate Story of Patsy Cline, which he has adapted into a musical for the stage. Visit www.patsyclinehta.com.

He can be reached at [email protected]
Why are you looking all the way down here?
For more articles by Ellis Nassour, click the links below!
Previous:
JOHN CULLUM: VETERAN STAR OF MUSICALS IN NON-MUSICAL ROLE IN THE OTHER SIDE
Next:
THE PHANTOM OF THE OPERA: NOW AND FOREVER? Musical Steps Into the History Books To Become Broadway's Longest-Running Show
Or go to the
Archives