LAS VEGAS - Transition is as natural as the blazing sun in the world's most famous monument to reckless abandon. Change has become an everyday commodity in this Nevada desert oasis of bright neon and theme architecture. And it's become the philosophy at Cirque du Soleil. Their entertainment franchise, at least for now and in Las Vegas, is growing. It won't just be G-rated anymore. Their first entry: Zumanity: Another Side of Cirque du Soleil.
But before we get to thatÖ
When Nevada legalized gambling in the early 30s, "family" entertainment in Las Vegas meant something entirely different: well-heeled mobsters. Gaming was concentrated and not too tightly controlled in casinos along Fremont Street. Then Jewish American gangster "Bugsy" Siegel hit town with his plan for a lavish casino.
The late 50s brought the jolt of topless with the opening of Minsky's Follies. Segue, through several lifestyle changes, to Elvis, Liberace, Ole Blue Eyes and his Rat Pack, Wayne Newton and glamorous showgirls, all of whom established Vegas as the international capital of entertainment.
Jump forward to now and a whirl of fantastical mega-casino resorts where the headliners are Celine Dion [A New Day] and, among numerous others, Elton John [Red Piano]; and the "girlie" shows, Bally's Jublilee and Trop's Folies Bergere, with its topless dancers in exotic, towering headdresses.
The move toward family-friendly entertainment itself had been a reaction to falling gaming revenues when gaming became no longer being exclusive to Nevada. Over the 90's, hotels were imploded or rebuilt. Every major Strip casino had mammoth showrooms capable of just about any technical feat - and thrill rides, pirate battles, exploding volcanoes and dancing waters.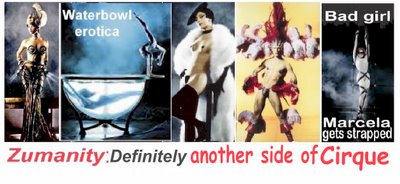 With Cirque du Soleil's entry to Vegas with MystÈre in 1993 , a new day really did dawn: the day of the mega superspectacular show.
Of course, spectacular was no stranger here - what with shows such as the Lido de Paris, Folies Bergere and Jubilee. But Cirque brought a sizzling and often elegant contemporary style and some Fellinesque innovation to what had become staid. It now has five resident shows here and is easily the dominant force in spectacle.
While there's still plenty of family entertainment, the 35 million plus tourists descending on the rechristened Sin City have the option of encounters with the under and undressed. Much of the Vegas emphasis has switched from Disneyesque to wild party clubs and erotica. Topless attractions have grown wider and wider to the point that clothing optional shows abound everywhere. In fact, they're not even just topless anymore.
Some thought Broadway musicals would be the future here, but in spite of the success of Mamma Mia [and the much more non-traditional Blue Man Group], other shows have floundered before finding large enough audiences to sustain the enormous costs of mounting entertainment or they are struggling to find audiences willing to come off the gaming floors or, in the case of locals, to the Strip. Even Phantom (Of the Opera) ~ The Las Vegas Spectacular, which was mounted with great hoopla at the Venetian for an astounding $40-million, has had some problems filling seats at two shows nightly.
The wave of the future, in addition to superspectacle, is erotica. It's not something you really ever whispered about here. But now they're shouting it from the Stratosphere tower and the Eiffel Tower.
Flamingo has Bottoms Up. The Riveria has Crazy Girls. The Hard Rock has it. The hot, hot Palms has it [and even whale suites fitted with stripper poles for the ultimate in private viewing]. Rio has it with a twist in Erocktica-Sex, Sweat and Rock N Roll, where the gals are not only topless but also perform hard rock.
Don't forget T.I., which is the contemporary slug for Treasure Island, where the pirate battles in the lagoon galleons will now be fought with an emphasis on T and A [female buccaneers].
That's just the Strip and three popular just-off Strip venues. It doesn't take into consideration the countless "gentlemen's" clubs, such as the legendary Club Paradise, with topless aerialists; and the aircraft hangar-sized $25-million Sapphire [with a 400-seat showroom called Off Broadway, where there ain't much Broadway, but plenty of Off, a huge and decent restaurant, colossal screens to watch sports, even skyboxes].
While Vegas may be a bachelor or pent-up married guy's dream of paradise, the bachlorettes and married gals have it good, too. For every "girlie" show, there's a guy show: the Aussie Thunder from Down Under at Excalibur, where the blokes swing some tools that could choke; Men from Olympus at the otherwise bachelor pad Olympic Gardens; Club Seven's Men: the Show; and the classic Chippendale's revue at Rio. Sapphire also offers something for the gals.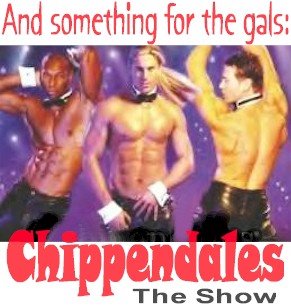 None of these, however, have the cache of the Strip's two competing brand-name provocative topless cabaret erotica, which also stress a lot of bottomless: Le Femme, the French Crazy Horse show at MGM Grand; and Cirque du Soleil's Zumanity: Another Side of Cirque at NYNY.
Yes, the roaring lion and CduS have gone from spectacular and superstar entertainers into a bold frontier of the saucy and naughty.
Tony Ricotta, the company manager for CduS's O since its 1998 opening, is a seven-year veteran of behind-the-footlights Broadway. He worked on such shows as Me and My Girl, the first Sweet Charity revival, Jerry's Girls and, among others, Aspects of Love.
"Tickets to the shows have really kicked up," he points out. "You can only do that so much over a period of time because you don't want to turn people off. It's a problem we're always addressing at Cirque."
That's not to say CduS doesn't have shows at high ticket prices; however, considering this is the new Vegas, and compared to Broadway, they're not prohibitive.
"At least," says Ricotta, "for those staying at the Bellagio, Mirage, MGM Grand, Mandalay Bay or Caesar's. They're a different clientele than those who stay at smaller properties."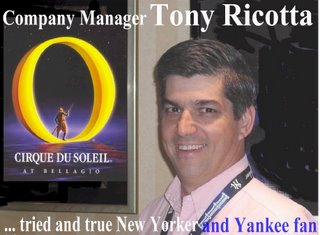 Ricotta thinks it's a misconception that Vegas visitors come with a large enough budget to see more than one high ticket show. "Our visitors fight that idea. They still expect the Strip to be paved with ninety-nine cent buffets. That's not the case. Vegas has become a destination where you have to expect to drop some cash."

Some of the numbers CduS has seen from the Convention and Visitor's Bureau and their own marketing research indicate that visitors used to see, say, three shows. That's dropped to where they see one, at most two.

"What that means," explains Ricotta, "is that where folks used to come with the intention of seeing MystÈre and O, they now have to make a choice on which one to spend the money on. Do I see MystÈre and get to do more [with my allotted travel money] or do I see MystÈre, O, K¿ and/or LOVE and get to do less?"

Spectacle in Vegas is like the mega casino resorts, shows, clubs and buffets, observes Ricotta. "Everyone is trying to outdo the other. With us [CduS], it's not so much a competition. Our shows are different enough from each other, but we don't attempt to out do the other. It's one for all and all for one. There's good-natured competition within the groups, but if we didn't have that, all the shows would be the same. Boring. And prospective audiences would say, ëI've seen Cirque, so why go see another Cirque?'"

O, which cost $25-million to mount, has been seen by over six million at the Bellagio. It was the first Cirque show where the Wow! factor went high octane and mega high tech. Written and directed by Belgium's Franco Dragone, who created 10 of CduS's productions before going competitive [Le RÈve at the Wynn*], brought a new level of performance to Cirque. Artists not only performed high up but also over and in a tank with 1.5 million gallons of water. It required more than three years of development, including 12 months of intensive rehearsals.


[ * It was Steve Wynn who brought CduS to Vegas when he was CEO of Mirage and T.I. and the developer of Bellagio. He later sold his casinos to MGM, now known as MGM Mirage.]

"The handwriting was on the wall after O," explains Ricotta. "The same creative team went to Orlando to do La Nubia, which is much more large-scale than our traveling shows but is essentially modeled on them. The next show was already predetermined to have a different creative team."

He adds, "It wasn't a matter of anyone at the top thinking anyone was getting stale. Since Cirque is expanding their horizons with more and more projects, they felt they needed to get fresh blood into the company. To do all of these as rapidly as we want and to stay healthy, you need a stable of creative minds you can pull from. So, as with K¿, LOVE and Zumanity, more and more directors, lighting designers, costumers are aboard now."

Considering that CduS has made Vegas a second home base to headquarters in Montreal, Z is part of a natural growth pattern. Acrobats, contortionists and aerialists doing daredevil stunts, even those doing them over and in water are nothing new for CduS.

Striptease on the Strip is not exactly a novelty to cause a rush to box offices. Z, which is estimated to have cost $15-million, just does it with style and as much class as it possible under the circumstances.

It's as adult mainstream as you can get if your idea of entertainment is gender-bending Mistresses of Seduction, nude gals and guys doing amazing [acrobatic and aerial] feats and engaging in simulated S&M, same-sex romance [even if presented in the form of a erotic tango] and, being polite, quite full-figured twins parading nude [Brazil's delightful eyeful, Luciene and Licemar Medeiros]. In this show, even the little guy [Brazilian acrobat Alan Jones Silva] has big feats.

Audiences for Zumanity and La Femme are mainstream and Adults Only. Z, for instance, since its 2003 debut has attracted over 1.5 million to its 1,259-seat NYNY theatre [cozy by CduS venue standards]. It's not all men at the erotic cabarets either. Not by a long shot.

The medium age of the couples, bachelors and bachelorettes is mid-30s. That's the desired visitor for casino operators. They sport designer clothes, drive or rent high-end sport cars, love to parteee and play table games. Best of all, they have pockets full of cash.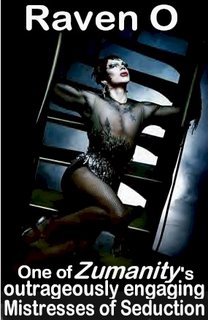 Hawaiian-born, heavily tanned and tattooed New Yorker Raven Olayver, or Raven O, is one of Z's seduction mistresses. The other is popular New York performer Joey Arias, who's been on leave this week entertaining at Fashion Week parties. Though they work more from improv than a scripted structure, their styles are quite different.
"Joey is more drag and I'm more androgynous," states Raven O, who has a body so solid that you might think he lives in the gym [he almost does]. "I really don't do drag. I come from a punk rock background. When I got the call to audition, I wasn't sure I wanted to do the show. Cirque is family entertainment. When I saw the show really was ëanother side' of Cirque - exotic, erotic, I bought in."
Zumanity bills its erotica as "conventional artists doing unconventional things. It's all about emotional freedom, natural beauty and the acceptance of differences."
States Raven O, "The idea was to be edgy and you can't be edgy if you don't provoke a few taboos."
He was actually in on the precursor to Z. The show's top billing goes to writer/directors Dominic Champagne and RenÈ Richard Cyr, however the root of the show came from Andrew Watson, a former Cirque acrobat who's now billed as "Director of Creation."
During the Saltimbanco national and international tours, Watson put together a late night show for clubs in some of the stopovers. "Andrew brought Joey and I out for that," says Raven O. "It was quite risquÈ, wild and crazy. Though it was separate from Cirque, we got to know the creative teams and the artists on the tour."
Visitors to Vegas tend to put their best freak on. They don't come here to go to church or museums. Many don't even make it 30 miles out of town to the Arizona border and awesome Hoover Dam. The motto is have a good time. What happens in Vegas really stays in Vegas, as they say.
"Our audiences pretty much let loose," adds Raven O. "In a couple of days, they'll be back in their day-to-day routine. Here they know they don't have to be themselves."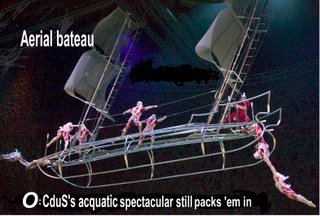 If you're easily offended, Zumanity is not the show for you.
"It's rare for anyone to walk out," reports Raven O. But it has happened. "Yes and I think, ëWhat are you crazy? You spend all that money and don't stay for the full show!'"
Z's costumes are by famed French designer Thierry Mugler. What there of them. They are quite sizzling and evocative, but this show's not shy about presenting nudity - some of it full frontal on female artists. Since it appears to be the last frontier in taboo in Vegas shows, a line that's not crossed is full-frontal for the hot hunks. It comes close, but it's mostly a lot of tease - which, needless to say, brings out the Chippendales' beast in female audience members.
In the show, Raven O pulls up audience members to participate in, shall we say, situations they're not, seemingly accustomed to. For instance, a tableaux that includes a multi-partnered orgy.
"I use my best instincts to size up whom to use," he states, "carefully observing how people react and respond to the warm up." He's seldom misfired. "They get into the swing of the moment, whether it's a ëstraight' or ëgay' bit. They know it's all in fun."
The "seduction" takes place in a romantic atmosphere that resembles a very large Art Nouveau bordello. The audience surrounds StÈphane Roy's curvilinear thrust stage in stools at the bar, traditional theatre seats and, in the front row, red sofas for two.
And, as you've come to expect in CduS shows, oh, what a stage. Tiny by comparison to The Beatles LOVE and K¿, Roy has loaded it with lifts and mechanisms that move independently of each other to keep the set in a constant state of flux.
While Z is quite sensual, it's also has tons of laugher. That starts even before the actual show with the ab fab warm-up comics Izzy and Dick [Nicky Dewhurst and Shannon Calcutt] who have you LOTF in convulsions with their gall and insanity.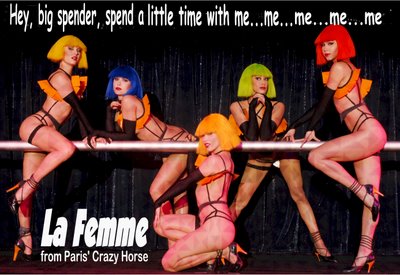 Anyone who's ever been to Paris is aware of the cultural and erotic sensation of the Crazy Horse, which for over 50 years has exalted the female form.

La Femme [pronounced "La Fahm" and not titled Crazy Horse because of a so-named Vegas gentleman's club], in an intimate cabaret theatre at MGM Grand, is Zumanity's big-ticket competition.

Though smaller in concept, it has les girls - 12, all from France, dazzling costumes when they're being worn, choreography, multi-media effects and variety acts, such as a magician or comic. The 360-seat showroom is an exact replica of Crazy Horse's home on Paree's Avenue George V.

For a definitive overview of Las Vegas through the years, check out the DVD of PBS/American Experience's three-hour Las Vegas, An Unconventional History [also available with companion book], produced by Boston's WGBH, at www. pbs.org/amex/lasvegas. The DVD can be purchased at ShopPBS.org.

The scores of Zumanity, O and the upcoming Delirium, CduS's concert and first-ever arena show and one that's based on a musical rather than an acrobatic structure, which will play New York City's Madison Square Garden November 8 and 9, are available on CD on the Cirque du Soleil label and from http://www.cirquedusoleil.com/.

For access to earlier features on Cirque du Soleil's The Beatles' LOVE, click here:
BroadwayStars ; for the feature on their sci-fi fantansy, K¿, click here: BroadwayStars.

[To purchase Cirque's Zumanity, O, MystÈre and Crazy Horse's Le Femme tickets, go to any MGM Mirage box office (if you're in Vegas).

Zumanity is performed at NYNY Casino, Wednesday through Sunday at 7:30 and 10:30. Tickets are $65-$95 with the front row center "Duo Sofas" or loveseats $125 per person. To purchase, call (866) 606-7111 or (702) 740-6815 or go online at http://www.zumanity.com/ or http://www.nynyhotelcasino.com/.

O is performed at the Bellagio, Wednesday through Sunday at 7:30 and 10:30 pm. Tickets are $93.50-$150. To purchase call (888) 488-7111 or (702) 796-9999 or go online to http://www.cirquedusoleil.com/ or http://www.bellagio.com/

La Femme is performed at the MGM Grand, Wednesday-Monday at 8 and 10:30. dark Tuesdays. Tickets are $59 (includes program). To purchase, call (800) 929-1111 or (702) 891-7777 or go online at www.mgmgrand.com.]




[Zumanity photos: TOMAS MUSCIONICO; Raven O: PHILIP DIXON; Tony Ricotta: ELLIS NASSOUR; O Bateau: TOMASZ ROSSA]


--------
Ellis Nassour is an international media journalist, and author of Honky Tonk Angel: The Intimate Story of Patsy Cline, which he has adapted into a musical for the stage. Visit www.patsyclinehta.com.

He can be reached at [email protected]





Why are you looking all the way down here?
For more articles by Ellis Nassour, click the links below!

Previous: Cirque du Soleil: The Dominant Force in Las Vegas Spectacular Amazes with KA

Next: Remembering "Mo" ~ Maureen Stapleton, One Helluva Actress, Is Recalled At Tribute

Or go to the Archives