LAS VEGAS - The attitude toward tourism here in this desert oasis has changed. After an unsuccessful trial run, the movers and shakers along the Strip have changed direction. Entertainment has gone from being Disneyesque to that of yesteryear when the city was famed for being the center of unbridled excess.
But families still come, and there is no shortage of family-friendly entertainment. In addition to magic shows [some featuring white tigers], there's Celine Dion's A New Day and Elton John's Red Piano, Cirque du Soleil's spanking new The Beatles LOVE, their acquatic O and Mystere. Add the first spectacular with a storyline, KA, the thrill-a-second show introduced last year in the 1,950-seat MGM Grand Theatre.
The first part of your adventure starts as soon as you enter the mammoth auditorium [where EFX played from '95-'04] , brilliantly transformed into an intergalatic space Fritz Lang would be envious of. As an intergalatic visitor to this often weird metropolis, you are surrounded by soaring catwalks as battles ensue and people and objects fly in. And we haven't even gotten to the high-tech feats the stage is capable of.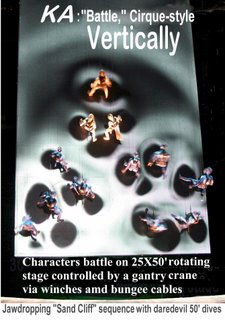 KA, which premiered in February '05, is created and directed by theater and film director Robert Lepage [Bluebeard's Castle, The Far Side of the Moon]. The title is inspired by the ancient Egyptian belief in the "ka," an invisible spiritual duplicate of the body that accompanies every human being throughout life and into the next.
Okay, got that. Now add imperial birthed twins - a boy and a girl embarking on a journey to fulfill their destinies but who, in an interesting plot twist, are separated.
The story line is explained as a sort of "coming of age story as the twins encounter the duality of life, love, conflict, separation and reunion."
If you're not keeping up, it doesn't matter. It's easier to follow visually. And it's KA's spectacle and technical feats that make it a must see.
There is a sort of proscenium, but beyond that no traditional stage exists. You sit facing a bottomless void filled with floating clouds. Above and all around, the performers make their entrances.
Amid eye-popping pyrotechnics, the 80+ performers do incredible martial arts and acrobatic feats in one blockbuster sequence after another on five stage lifts. Two of them are 25X50' and called the Sand Cliff deck and the Tatami deck. All have the capability of operating independently of the other.
Attached at the rear to a gantry crane, they can spectacularly go up, down, out toward the audience and back. In the jawdropping "Battle" sequence, the Sand Cliff deck flats-out in a downward spiral to a totally vertical position as the seemingly fearless artists float down into the action via cables and bungee cables. When done in by the enemy, they fall to their fate [detaching themselves from the cables] for amazing 50' falls into the mosh pit below - hopefully onto very large airbags. What a landing!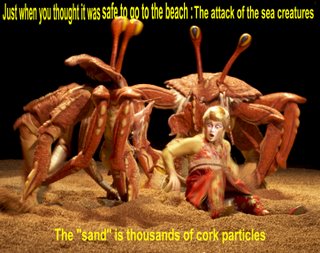 If that's not dazzling enough, during the battle, the sand [which looks a lot like fake snow but turns out to be cork imported from Portugal] dissipates straight down. I wondered who had the [well-paying, I'm sure] job of cleaning that up. One essential backstage appliance is a giant vacuum cleaner.
Eric Heppell, the show's French Canadian artistic coordinator, states that where Franco Dragone broke the mold of the early CduS shows with O and having performers do their thing above and in a tank holding 1.5 million gallons of water.
"KA goes even further," he explains, "by telling a story that, even though there's no dialogue we can understand, has a narrative essence. Cirque shows have themes and story lines but they're ethereal. K¡ is the first time we have a rigid story line from start to finish."
It all takes place, maybe/perhaps, in a galaxy far, far away. That definitely seems to be the idea, anyway. It moves along quite like an epic superspectacular movie on the lines of a Star Wars.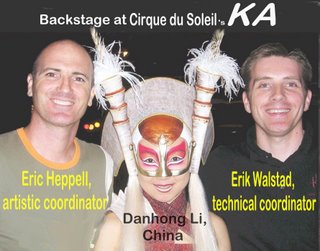 "But," observes Erik Walstad, the show's technical coordinator, "the big difference here is that nothing you see is computer-generated. The mechanics may be guided by hundreds of computers, but everything is real." And sometimes pops right off the stage.
A film can show different perspectives of a scene. Even though KA is framed onstage, it offers many perspectives because of the stage's ability to configure in so many angles. Unlike in a two-dimensional film, you're never looking at something on a flat surface. There's this gigantic, black void and it morphs into many different playing surfaces.
Often the stage appears to be hanging in a void. Amazingly, thanks to that gantry crane, it can hang vertically and float upstage to downstage as if through thin air. The weight of the entire machinery [crane, arms, winches] is 300,000 lbs. The stages weigh 5,000 lbs. each.
"The physical capabilities and technical complexities of this theatre blows everyone right out of the water," states Heppell. No understatement there.
In CduS tradition, KA has no star. The technical feats, Mark Fisher's design, Marie-Chantale Vaillancourt's extraordinary costumes, Rene Dupere's vastly entertaining score, the fight choreography by Jacques Heim get the billing above the title.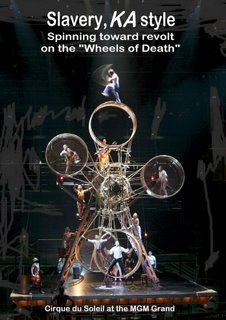 Jonathan Deans is back as sound designer. He fills the KA Theatre with 524,150 total watts of amplifier power to pump the music and sound effects to nearly 5,000 speakers. Every seat has two speakers built into its headrest.
"KA audiences," states Walstad, "come expecting the WOW! Factor, and we don't disappoint them." He went on to say that many of the stunts in the show are dangerous. "But we have professional stunt persons doing them and we take all necessary precautions." They do, but often you can't see the safety wires, which adds to the edge-of-the-seat drama.
"Even after you've seen the show over and over again," Heppell proudly boasts, "it still grabs you. More than O, KA is the first to go beyond what world-wide audiences have come to expect from Cirque" and such memorable 's touring shows, such as Saltimbanco, AlegrIa, Dralion and Quidam.
"Those shows travel well in twenty-five to thirty containers on truck beds," he notes, "but when you want to mount a show that might require up to sixty containers, it gets too expensive to move about." But in Vegas, because budget and travel restrictions aren't an issue CduS "can offer creative directors the opportunity to be as creative as they dream to be."
In an apt aside, he says that the fact that CduS is still privately held, "is one reason we can afford to take risks creatively." Add in the gaming conglomerate with money pouring in from gaming profits "and the fact that Cirque is now a vastly popular international brand."
Heppell says that in Vegas has gone "above and beyond" in setting a new standard not only for spectacle but also entertainment.
Corteo, which recently had an extended run in New York, "with its many aerial entrances and displays [that require special heavy rigging] is very close to reaching the limits of how far you can go technically and production design-wise with a traveling show."
Cirque's new Vegas shows are even a huge distance from Mystere, CduS's first to open on the Strip. "There is nothing in K¡ you can relate to our Cirque roots."

[The score to KA has been released on CD. The show performs at 7:30 and 10:30 P.M., Tuesdays through Saturdays. Tickets are $99-$150. To purchase, go to the K¿ box office - if you're in Vegas, or call (800) 929-1111 or (702) 891-7777 or go to http://www.ka.com/ or http://www.mgmgrand.com]

Next: Cirque du Soliel's erotic cabaret Zumanity and O.
If you missed CduS's The Beatles LOVE, visit : BroadwayStars


[Photos: 1, 2 and 4: TOMAS MUSCIONICO/Cirque du Soleil; 3: ELLIS NASSOUR]

Ellis Nassour is an international media journalist, and author of Honky Tonk Angel: The Intimate Story of Patsy Cline, which he has adapted into a musical for the stage. Visit www.patsyclinehta.com.

He can be reached at [email protected]





Why are you looking all the way down here?
For more articles by Ellis Nassour, click the links below!

Previous: Cirque du Soleil: The Dominant Force in Las Vegas Spectacular - The Beatles LOVE

Next: Cirque du Soleil Opens A New Frontier with Zumanity: Erotic Entertainment

Or go to the Archives