The season is off and running with three showstopping performances currently onstage: the sparks fly and attention is paid as Mark Saturno delivers a tour-de-force as Jimmy Caesar in the revival of St. John Ervine's John Ferguson.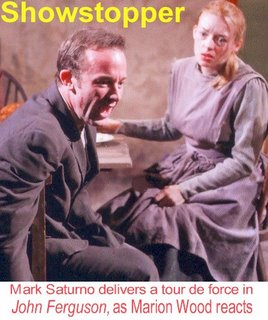 The Australian actor has toiled Off Broadway, Off Off and regionally, but this role is his most out-there one on the New York stage. He appeared in LCT's Ancestral Voices and covered for Ben Chaplin in The Retreat from Moscow; in addition to receiving raves for his I Am My Own Wife and The Tempest [opposite Brian Murray] at Pittsburgh Public.
As Jimmy Caesar, Saturno gives a riveting bravura performance, awash with amazing physicality and commanding stage presence.
The play is a critically-acclaimed 1919 Irish family drama presented by the Drama Desk and Obie Award-winning Mint Theater [311 West 43rd Street, third floor]. The final performance is October 29th. For tickets, call (212) 315-0231 or reserve online at www.minttheater.org
Jason Tam stands out from the auditioning hopefuls in the revival of A Chorus Line, delivering an emotional wallop as Paul. It's early in the season, but his performance is certainly worthy of award consideration. Tam previously appeared on tour and Broadway in Les Miz [Gavroche].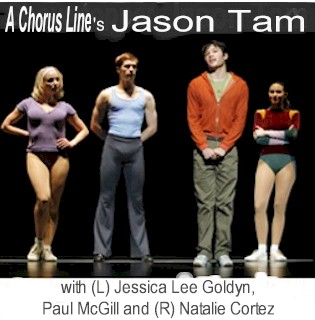 While on the subject of ACL, the revival cast CD of the Pulitzer Prize and Tony Award-winning musical is just in stores from Sony/BMG Masterworks Broadway. It was recorded during the pre-Broadway run in San Francisco; produced by Grammy-winner David Caddick [POTO].
Ed Harris, in his first New York stage appearance in ten years, stands and delivers in the Public's American premiere of Neil Labute's controversial Wrecks - considering the plot similarities, an allusion to Oedipus Rex.
As chain smoking Edward Carr, whose family business is automobiles and who's quite casually relaxed at his wife's wake, Harris is riveting even before he reveals the deep, dark secret that leaves about half the audience gasping [and then, as they exit and explain the bombshell to the other half, they gasp all the way to the street].
"It's great to be back in front of a live audience," Harris told me. "Frankly, I've been so busy with movies and family that I hadn't realized it's been ten years since I was onstage [Ronald Harwood's Taking Sides]."
Recent films were the HBO miniseries Empire Falls, for which he received an Emmy nomination, A History of Violence and his Oscar nominated performances in The Hours and Pollock.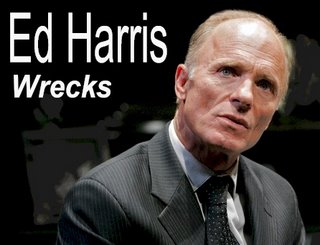 The Public has extended Wrecks, also directed by LaBute, in its Anspacher Theater through November 19. Tickets are $50 - $60 at the Public box office [425 Lafayette Street], calling (212) 967-7555 or on-line at http://www.publictheater.org/. A limited number of $20 Rush Tix [two per person] go onsale an hour before curtain.
Before Wrecks closes, Harris will be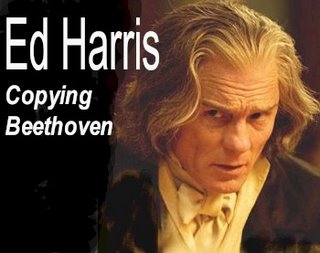 hitting the art house circuit flamboyantly playing the title role in director Agnieska Holland's Copying Beethoven, their third collaboration, for which he not only gained 25 lbs. and wore a wig for the larger-than-life role but also took an extensive course in conducting. Harris prepared for the role for over a year, relearning to play the piano for the first time since childhood and learning to play the violin.
He joked that the 55-member symphony and 60-member chorus "had some initial trepidation about my conducting Beethoven's intricate Ninth Symphony, which has flummoxed conductors with years of experience, but they soon realized I had some idea of what I was doing."
There were numerous takes, which made the job all the more daunting but, adds Harris, "the more takes we did, the freer I felt and the more enjoyable it became. At one point, Agnieszka yelled ëCut' but we were doing so well, we couldn't get ourselves to stop. I kept conducting and they kept playing all the way to the end. Then everyone broke out in applause. It was a very gratifying moment."

CLOTHES OFF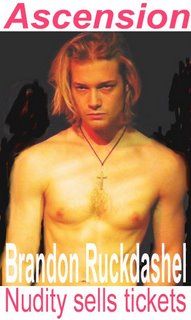 Off Broadway, there's another kind of showstopping performance that filled the seats of Theater Row's Lion Theatre [410 West 42nd Street] to such overflowing capacity that the run has been extended into mid-November.
Emerging film actor Brandon Ruckdashel raises the temperature to red hot in Red Light District's production of Edmund De Santis' Ascension by spending a third of the 90-minute running time naked and seducing Stephen Hope, playing a priest struggling to avoid falling into the arms of temptation until the devil makes him do it.
Usually when a play promotes itself with the come-on of "full frontal nudity," it's ticket buyer beware; but as convoluted as the plot is, this hunk acquits himself quite nicely, in and out of his clothes, to the degree that he enamored the Times' Anita Gates into writing a rave.
Red Light's Marc Geller is director. Tickets are $55 and available at the box office and through Ticket Central, (212) 279-4200, or online at www.ticketcentral.com.

LIFE IS A CABARET, OLD CHUM
Tony, Drama Desk, Emmy, Nightlife and MAC Award winners galore - some of them among the most respected singers in the business - dominate this weekend's 2nd Annual Broadway Cabaret Festival, Friday through Sunday, at Town Hall.
Friday's opening night, 8 P.M. curtain, features 16 artists celebrating Jerome Kern's musical legacy in Music Is In the Air. They include Nancy Anderson, Michel Bell, Stephen Bogardus, Ron Bohmer, Joyce Chittick, Cady Huffman, Deven May, Carolyn Montgomery, Julie Murney, Jack Noseworthy, Noah Racey, Lari White and Michael Winther. Musical director is Scott Cady. Mindy Cooper is choreographer/director.
Among the highlights: Bell [Show Boat] singing "Ole Man River" off-mike as well as several dance production numbers.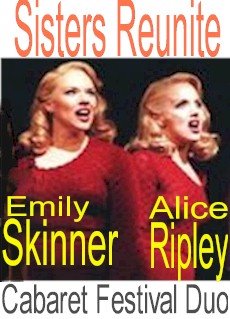 Saturday at 8 P.M., Emily Skinner and Alice Ripley, the Tony-nominated stars of Side Show, are the hot, hot tickets as they reunite to blend their soaring voices in perfect harmony for an all-Broadway concert. Ross Patterson is music director. Dennis Jones directs.
For the final Broadway Cabaret Fest entry, Sunday at 3 P.M., 20 stars return to perform the songs they made famous in 50 years of main stem musicals. They include Liz Callaway, Catherine Cox, Nancy Dussault, Beth Fowler, Helen Gallager, Joanna Gleason, Debbie Gravitte, Cheyenne Jackson, Nancy Lemenager, Christiane Noll, Mary Testa and Chip Zien. Dan Foster directs.
Scott Siegel [Broadway by the Year, Broadway Unplugged] is writing and hosting the three-day series, made possible in part by a grant from the Booth Ferris Foundation and Edythe Kenner. Larry Zucker is executive producer.
Limited tickets are still available for all shows, priced $45 and $50 each, at the Town Hall box office, through TicketMaster, (212) 307-4100 or online at TicketMaster.com. For more information, visit www.the-townhall-nyc.org.

HELPING DANCERS AFTER THEIR FINAL CURTAIN
Rolex is once again the generous lead sponsor of Career Transition For Dancers annual gala, one of the season's most worthy benefits. Monday at 7 P.M. at New York City Center [131 West 55 Street], stars from a wide spectrum of show business turn up to help their peers. Because of this, the benefit has established a reputation for being one of the premiere entertainment-dance events of the year.
The 2006 theme is One World: A Spectacular Global Celebration. The evening will showcase the diverse cultures of movement - highlighting ethnic, ballet and modern dance.
This year's honoree is two-time Tony Award winner [with six nominations] and Broadway Living Legend Chita Rivera.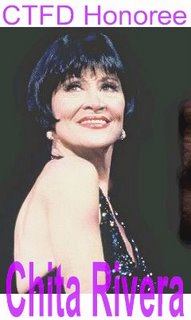 She will be the recipient of the Rolex Dance Award with a citation stating that she "is our strongest link to the Golden Age of the American Musical."
A CTFD Award will be presented to the Rudolf Nureyev Dance Foundation for outstanding contributions to the world of dance.
And, get this, you don't have to drive a Ferrari to attend. To accommodate Rivera's legend of fans, Rolex and other sponsors are underwriting the majority of upper level seating, which is available at the box office only at a 50% discount.
The performance and black-tie dinner dance will celebrate the organization's 21st anniversary of assisting professional dancers identify their unique talents in preparation for establishing new careers when dance is no longer an option.
Monday's spectacular line-up includes appearances by Mercedes Ellington, Sutton Foster, James Earl Jones, Liza Minnelli, Bebe Neuwrith and Rosie O'Donnell.
There will be performances by Billy Porter; Noah Racey, Pilar Rioja; and from a huge roster of dance talent and companies: the American Ballet Theatre, Ballet de Monterrey, Dance China NY, Donny Golden Irish Dance, Sachiyo Ito, the Joffrey Ballet, the National Dance Institute of New Mexico, the San Francisco Ballet, Sounds of Korea, the Thunderbird American Indian Dancers, Mr. Wiggles and Rosie's Broadway Kids [as in Rosie O'D].
As has become tradition, audiences will be treated to several world premieres.
CTFDs' One World: A Spectacular Global Celebration is produced and directed by Ann Marie DeAngelo and written by Deborah Grace Winer.
Event honorary chairs are some of the premiere names in the world of dance, past and present: Carmen de Lavallade, Cynthia Gregory, Judith Jamison, Donna McKechnie, Jane Powell and Ann Reinking.
The 21st anniversary chairs are Patricia J. Kennedy and Anka K. Palitz. Premium seating is $75 - $125 and can be purchased at the City Center box office and by calling CityTix (212) 581-1212 or online at www.nycitycenter.org.
Gala tickets are $600 and $1,000, and include the post-performance supper dance and auction at the Hilton New York. Contact Marjorie Horne, (212) 228-7446 X. 33.
Alexander J. Dube is CTFD executive director. For information on the outstanding work of Career Transition For Dancers, visit http://www.careertransition.org/

A RARE OPPORTUNITY
Don't miss the rare visit to these shores of the Gate Theatre of Dublin. Through Saturday, they're performing their internationally-acclaimed production of Beckett's Waiting for Godot at the NYY Skirball Center for the Performing Arts [566 LaGuardia Place, at Washington Square South].
Tickets are $45-$65 and available through Ticket Central, (212) 279-4200.

MINT BENEFIT READING
In 1999, the award-winning Mint Theater Company enjoyed such great success with its revival of Harley Granville-Barker's The Voysey Inheritance that it was remounted for a sold-out 2000 engagement.
This Monday at 7:30 P.M. original cast members, including George Morfogen [OZ] as Mr. Voysey, will reunite for a one-night only reading.
Tickets are $25. You can join the company for a pre-show dinner and discussion for $85. Call (212) 315-0231 for reservations or more information.

A GREY GARDENS COINCIDENCE
Turner Broadcasting's TCM cable network will premiere David and Albert Maysles' acclaimed documentary Grey Gardens on October 29 to coincide with the Broadway debut on November 2 of Grey Gardens, the musical by Doug Wright [book], Scott Frankel and Michael Korie.
The stage musical is directed by Tony and DD-nominee Michael Greif [Rent], with musical staging by Jeff Calhoun.
The cast album from Playwrights production has just been released on PS Classics.
The award-winning 1975 documentary will include new commentary from the show's stars, Tony Award-winner Christine Ebersole, who won a 2006 Drama Desk Award for her role of "Little" Edie Beale in Playwrights Horizons' premiere production; and Tony and DD-nominee Mary Louise Wilson, who plays the mother, Edith Bouvier Beale, the eccentric and once prominent kin of Jacqueline Kennedy Onassis.
TCM movie host, author and film historian Robert Osborne will interview Ebersole and Wilson prior to and concluding the film.
For more information, visit tcm.com.

FILM BUZZZZZ
One of the favorites from the 2005 Hamptons InternationalFilm Festival has made it onto Manhattan screens, Sweet Land, the coming-to-America story of a German war bride to a Norwegian farmer in 1920s Minnesota. It's the debut feature film from writer/director Ali Selim, a Minneapolis native of Egyptian descent who looks like a young Troy Donahue.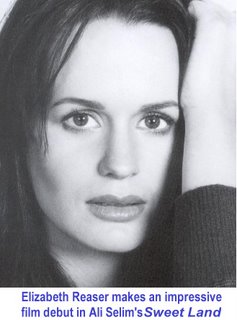 The film is stunningly shot by the brilliant David Tumblety. But that's not the only stunning thing about it.
Starring with Ned Beatty, Alan Cumming, John Heard, Alex Kingston [Croupier, The Cook, the Thief, His Wife and Her Lover, TV's ER], Paul Sand, and Lois Smith, is Elizabeth Reaser. As the young Inge from Germany, she never hits a false note as she comes to grip with life in America and the obstacles placed in the way of her marriage to Olaf, beautifully played by handsome, hunk Tim Guinee [husband of Daisy Foote].
Reaser will soon be seen as Froggy in the film adaptation of Adam Rapp's blisteringly Off Broadway hit Blackbird [a role she also played in the London Fringe production] opposite Paul Sparks, the star of the play here two season ago.
HALLOWEEN PARTY

ëTis the season to scream! And this weekend and next [through October 29] is the last chance to holler your lungs out into Halloween at Six Flags Great Adventures' Fright Fest, the tri-state area's largest Halloween party. There are tons of ways to raise some cain, including the nightly Parade of the Walking Dead and those two new monster roller coasters, Kingda Ka and El Torro. Daytimes, there's the drive-through animal safari, one of the best in the U.S. It's a 90-minute drive away [70 miles SW, through the Lincoln Tunnel]. For directions, pricing and information, visit http://www.sixflags.com/.
[Photo credits: 1) RICHARD TERMINE; 2) PAUL KOLNICK; 3) MICHAL DANIEL; 5) MARC GELLER; 6 and 7) JOAN MARCUS; 8) GIDEON LEWIN/Lifestyles Magazine]
--------
Ellis Nassour is an international media journalist, and author of Honky Tonk Angel: The Intimate Story of Patsy Cline, which he has adapted into a musical for the stage. Visit www.patsyclinehta.com.

He can be reached at [email protected]





Why are you looking all the way down here?
For more articles by Ellis Nassour, click the links below!

Previous: Remembering "Mo" ~ Maureen Stapleton, One Helluva Actress, Is Recalled At Tribute

Next: You Can't Escape Jim Dale; Julie Harris to Be Honored; Inside Broadway Celebrates with Free Performance; Cabaret Meets Country; More

Or go to the Archives