Since his 2006 Drama Desk win for Outstanding Featured Actor, Musical, and his 2006 Tony nomination as Best Featured Actor, Musical, for his lively English music hall antics in the revival of The Threepenny Opera, Jim Dale is the actor about town. You look here, there he is; you look there, and there he is.
October 16 found him hosting the Theatre Museum's 2006 Awards for Excellence at the historic Hudson Theatre where, among other honors, the Manhattan Theatre Club received recognition for its outstanding restoration of the Biltmore Theatre.
Before and after that, Dale, the man of hundreds of voices on the J.K. Rowling's Harry Potter audio book series [a feat which won him a Grammy Award], was recording an audio book of Peter Pan, just been released [Random House] to rave reviews.
This Monday will find Dale at the Friar's Club, where he will be honored by his fellow Friars. Celebrating his life in theater in a musical program will be Anna Bergman, Len Cariou, Jason Danieley, Tovah Feldshuh, Dee Hoty, George S. Irving, Bebe Neuwirth, Lee Roy Reams, Lillias White and Karen Ziemba.
MC will be Friars Dean Freddie Roman. Music director is Dennis Buck. Friar Randie Levine Miller is producing.
"This should be a ball," says Dale. "To be celebrated and not roasted in the great tradition of the Friars. I'm honored that so many friends I've worked with over the years are coming together to say a big musical hello. Who could ask for anything more?"
The modest, easy-going Dale has also been "knighted" by Queen Elizabeth II as a Member of the Order of the British Empire [MBE]. The British native is well-remembered over there for his roles in the Carry OnÖ movie series as well as his numerous stage roles - the latest of which was Fagin in Cameron Mackintosh's lavish London revival of Oliver!
He was a member of the National Theatre and the Young Vic, in addition to being one of the first recording artists produced by Sir George Martin of Beatles fame.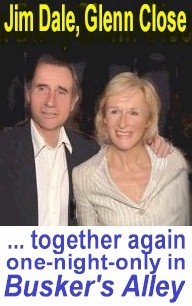 The next big Dale event for this Tony and Drama Desk winner [and multiple nominee] and Academy Award nominee [for Best Song, Georgy Girl] will be starring in the Drama Desk-winning York Theatre Company's one-night only benefit and New York premiere of Busker Alley on November 13 at 8 P.M. at Hunter College's the Kaye Playhouse [East 68th Street, between Park and Lexington Avenues].
His co-star will be none other than Tony and DD winner Glenn Close, who starred opposite Dale in Barnum [for which she received a Tony nom]. Her character is Dame Libby.
Also appearing will be Jessica GrovÈ , Simon Jones, Noah Racey, Greg Mills, Krista Rodriguez, Michael Lane Trautman, Jeff Williams and with a special appearance by Anne Rogers, a West End veteran of The Boy Friend and My Fair Lady as Eliza and who played on Broadway in Half A Sixpence, Walking Happy and the original 42nd Street .
With music and lyrics by Richard and Robert Sherman [Mary Poppins, Chitty Chitty Bang Bang] and a book by A J Carothers, Busker Alley is the 1995 musical that was long in development and which was aborted in its pre-Broadway run when, during a performance in Tampa, leading man Tommy Tune broke his foot.
The show had played 16 cities to mixed reviews. The accident happened six weeks prior to its scheduled opening at the St. James.
Acclaimed theater/film designer and director Tony Walton is directing the November 13th performance and York fundraiser. Lisa Shriver is choreographer with Aaron Gandy as music director.
Busker Alley not only reunites Dale and Close but also Close and Walton, who worked together on Tom Stoppard's 1984 The Real Thing.
"Busker Alley is right up my alley," says Dale, who is a longtime student of the English music hall traditions. "It's about a guy who entertains in public on the streets of London."
As busker Charlie Baxter, he falls for a much younger woman [GrovÈ] who yearns to star in theater and leaves to follow her dreams. The show is based on the 1938 British film St. Martin's Lane [a.k.a. The Sidewalks of London].
The film starred Charles Laughton and Vivien Leigh in her last role over there before beginning production on Gone with the Wind.
"I never saw Busker Alley when Tommy toured with it," notes Dale. "When I first heard the title years ago, I said, ëThat's for me!' But I need not have worried. Tommy decided not only to direct it* but to also star. Wrong! From everything I heard, it didn't work for various reasons. Tony feels all those reasons have been eliminated for this production.
[* That was the original plan, but in the end Jeff Calhoun directed.]
"It will work this time for one reason," Dale continues. "It has utter sincerity. George [Irving], Simon [Jones] and myself work so well together. It's just been incredible. And, flying over from England to appear as one of the leading buskers is the great Anne Rogers. Add to that the delicious, delovely Jessica GrovÈ."
But, says Dale, "the topping on the desert" is having "Glenn, my wonderful, darling leading lady from Barnum. We are so blessed that we have a great cast in a great story with great music and a great director. Who could ask for anything more?"
Dale says Walton is "working me to the bone. For some reason, he seems to think I can do everything!"
Maybe that's because Dale is so well regarded because of his agile ability to do almost anything.
In Busker Alley, "if Tony has his way, you can expect to see me play a ukulele, work a ventriloquist's dummy, perform choreography, not to mention singing eleven songs. I may break my foot!"
Unlike the Friar's event, this one is open to the public - but at a price. Tickets are $100-$250 and available at the Kaye Playhouse box office or by calling (212) 772-4448.
For special donor seating - prime orchestra seating for donations of $500 and $1,000, which include a post-show reception with the cast and creative team, limited edition posters and a program listing. call the York Theatre at (212) 935-5820.
For more information, visit http://kayeplayhouse.hunter.cuny.edu/ or www.yorktheatre.org

Musicals Monday Night
Monday, October 30, the Theatre Lab of Musical Mondays will present a first look at two short musicals in development in the 2006 Tony Award-winning BMI -Lehman Engel Musical Theatre Workshop.
The double bill consists of Easy City by Fred Thaler and Craig Fols [the Leading Man, Musical of Musicals], which is based on Katrina survivor interviews; and Top of the World by Aron Accurso and Steve Routman, described as a microscopic look at two New Yorkers whose lives are about to change.
The duo bill starts at 6:15 P.M. at the McGinn/Cazale Theatre [Broadway and 76th Street, above the Promenade Theatre].
MM's producing director Frank Evans notes that both musicals feature full casts "and examine the ever-changing fiber of the American experience."
Admission $10. For reservations, call (212) 989-6706 or contact [email protected].

Silver Anniversary
On Thursday, November 2, at 10:15 A.M. at the Cadillac Winter Garden Theatre, the casts of Hairspray, The Lion King, Wicked, Mamma Mia and other shows will perform excerpts from their productions in a free event celebrating the 25th Anniversary of the service organization Inside Broadway.
There will also be highlights from IB's upcoming 50th anniversary production of Rodgers & Hammerstein's Cinderella, a special 50-minute version of which plays area schools next month. The tour will culminate in early February performances at Florence Gould Hall.
Special guests at this free performance will be Shubert Org chairman Gerald Schoenfeld, and Manhattan Borough President Scott Stringer. In addition, 1,000 balloons will released from the Cadillac Winter Garden ceiling.
Though the November 2nd presentation is essentially for school groups, there'll be limited general public seating. Doors open 9:45 A.M.. Seating is on a, first-come, first-served basis.
Inside Broadway [www.insidebroadway.org] serves New York City children with innovative theater programs and services. It was founded by executive director Michael Presser at the encouragement of Bernard Jacobs, the late president of the Shubert Organization.
Each season, over 85 performances featuring Equity actors are presented for students as well as weekend performances for families at Florence Gould. All shows include study guides and teacher lesson plans.
With Mr. Jacobs' assistance, IB was the first to create a student ticket program, study guides to Broadway shows and talk backs with cast members. It also produced the first educational video for schools showing behind-the-scenes operations of Broadway shows. Presser developed the concept of 50-minute versions of musicals to introduce young people to musical theater.
Educational programs have included The Shakespeare Connection, which feature the education department of the Royal Shakespeare Company; and the Creating the Magic series, seminars held in Broadway theatres demonstrating the production elements of shows. In addition, IB operates an extensive teaching artist residency program in over 75 city schools.
For more information on the outreach programs of Inside Broadway, visit www.insidebroadway.org.

A Li'l Bit Country, A Li'l Bit Cabaret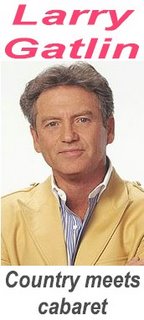 Cabaret legend, Broadway, film and record producer and recording artist/actress Jamie deRoy, winner of eight cabaret MAC Awards and four Back Stage Bistro Awards [among numerous others] will present a very special attraction in her Jamie deRoy & Friends series: Country Meets BroadwayÖand 95th.
Guest star is best-selling recording artist and Grammy Award winner Larry Gatlin [The Will Rogers Follies]. The show is Saturday, November 4, at 8:30 P.M. in the Leonard Nimoy Thalia Theatre at Peter Norton Symphony Space [2537 Broadway at 95th Street].
Also appearing will be Erich Bergen [White Christmas, L.A. company], Kathy Brier [Hairspray; TVs One Life to Live], Leslie Kritzer [Drama Desk nominee for The Great American Trailer Park Musical; Hairspray; Bat Boy;] and Deven May [Bat Boy], Directing is Barry Kleinbort. Brian Nash is music director.
Tickets are $45, which includes the post-show reception, and $30. All seats are general admission. For reservations, call (212) 864-5400 or visit on-line at symphonyspace.org.

Busy Mondays, Not So Blue Anymore

Monday, which has always been the almost virtually dark night in theater, has become the new Saturday. An amazing number of events, benefits and staged readings now crowd the Monday schedule. Monday, November 6, is a typically busy one.

Great Lady Of Theater Receives Another Honor
Julie Harris, one of theater, film and television's most loved leading ladies and a multiple Tony and DD winner, will be honored at Primary Stages' 22nd Anniversary gala at Tavern on the Green on November 6 at 6:30 P.M.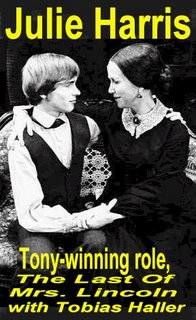 For more than half a century, Ms. Harris, 81, has been recognized for her extraordinary work in plays and musicals.
"The stage was where I wanted to be," states Ms. Harris. "I loved it all. It became this great source of nourishment and spiritual nourishment. I wanted to touch people with the meaning of life. What is thrilling about the theater is that it's a forum where for two hours or more people belong to something, to ideas, to a feeling of being a member of the human race."
Ms. Harris is the most-honored performer in Tony Award history with ten nominations and five victories. She won as Best Actress for I Am a Camera [(1952], The Lark [1956], Forty Carats [1969], The Last of Mrs. Lincoln [1973] and The Belle of Amherst [1977]. Her five additional nominations were for Marathon '33 [(1964], The Au Pair Man [1974], Skyscraper [1966], Lucifer's Child [(1991] and The Gin Game [1997].
Of course, there have been tons of movies and TV roles for Ms. Harris, most prominently her acclaimed portrayals of Frankie in The Member of the Wedding and Abra in the Kazan/ Steinbeck classic East of Eden opposite James Dean; and her equally-praised Catherine Sloper in the TV production of The Heiress. You also can't dismiss the role that made her a household name not only in the U.S. but around the world, that of Lilimae Clements in the long-running series Knots Landing.
PS's a. d. Andrew Leynse said, "Each year, we attempt to honor an artist who has made significant contributions to the American theater, especially in the area of development of new plays. The legendary Julie Harris is at the top of anyone's lists in that category and most deserving of this honor."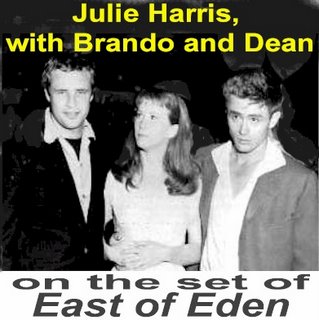 The benefit will include testimonials from agent Samuel "Biff" Liff, Anne Jackson and Eli Wallach, Marian Seldes and Elizabeth Wilson plus clips from Miss Harris' film work. There'll also be a scene from The Member of the Wedding performed by the legendary Ruby Dee, Marin Ireland and Gregg Edelman.
Past honorees have included Susan Stroman, Horton Foote, Harvey Fierstein, A.R. Gurney, John Guare, Betty Comden and Adolph Green, Stephen Sondheim, Wendy Wasserstein and Terrence McNally. Casey Childs is PS' executive producer.
Tickets and VIP tables are available for $300 - $10,000. The dinner will include cocktails and a silent auction. For additional information or to purchase tables or tickets, call PS board chair Sue Breger at (212) 840-9705.

Headliners For Only Make Believe
Donny Osmond, who has triumphantly returned to Broadway in Beauty and the Beast; Euan Morton; Liz McCartney [Mama Mia, Taboo], Merle Dandridge [Tarzan's Kala], the amazingly versatile Christine Pedi [of Forbidden Broadway fame] will be on hand for the Sixth Annual Only Make Believe benefit on November 6 at 7:30 P.M. at the historic Hudson Theatre [145 West 44th Street].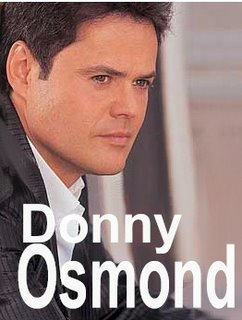 The indefatigable Kathie Lee Gifford hosts. Bon Jovi's David Bryan and famed acrobats Ken Berkeley and Matthew Cusick, better known as KENiMATTix, will also perform.
Joe DiPietro, who did the book for All Shook Up and created the long-running smash revue I Love You, You're Perfect, Now Change, will direct. Jason Debord is music director.
Jeremy Gilley, founder of the non-profit peace organization Peace One Day, will receive the 2006 James Hammerstein Award in recognition of his dedication to children in need. Only Make Believe's mission is to bring the magic of theater to disadvantaged children living with chronic illnesses and disabilities.
OMB is dedicated to the principle that freeing a child's creative spirit is a valuable part of the healing process. With a professional troupe of multi-racial, multi-ethnic actors, the org engages children in performance.
The org debuted in 1999 at NYU Hospital Center's Rusk Institute of Rehabilitation Medicine Pediatric Unit as a project of the James and Dena Hammerstein Foundation, established in memory of her husband, Oscar Hammerstein's son, James.
The workshops, where actors interact with young patients, have been performed in 23 city facilities. Actors arrive armed with a trunk of costumes, props and backdrops. They encourage the participation of the children by using scripts and through improvisation. The trunk is left behind as a gift to encourage play.
Tickets for the star-studded benefit range from $25 - $300. To purchase, call (646) 336-1500 or go online to www.onlymakebelieve.org.

Tony Winner Directs
Long established as a Monday night entertainment staple, Jim Caruso's Cast Party at Birdland [315 West 44th Street] features something a bit different on November 6. Tony and Drama Desk winner Victoria Clark [The Light in the Piazza] will direct Strings Attached, featuring cellist Peter Sachon, Broadway-bound in Tom Kitt and Amanda Green's musical High Fidelity. He performed in and can be heard on the cast CDs of Light and Fiddler on the Roof. Showtime is 7 P.M.
Special guests are Kelli O'Hara and Michael Winther. In addition, Clark will perform.
There's a $25 cover and $10 food/drink minimum. For reservations, call (212) 581-3080 or got to www.InstantSeats.com/Birdland. For information on Caruso's popular series, visit www.castpartynyc.com.
Actor/singer/songwriter Jeff Daniels [Infamous, Good Night and Good Luck, Terms of Endearment] returns to Birdland and Cast Party on November 13. Proceeds benefit the Purple Rose Theatre in Daniel's hometown of Chelsea, Michigan. Book early!

Good News: He's Back [Soon]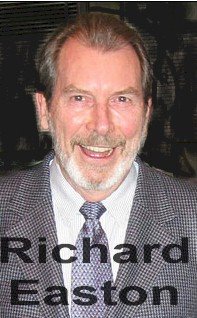 Award-winning Jack O'Brien [Hairspray, Dirty Rotten Scoundrels, Henry IV] brings the news that Richard Easton, a co-star in the massive cast of Voyage, the first part of Lincoln Center Theatre's nine-hour production of Tom Stoppard's The Coast of Utopia trilogy, is now home from hospital and on his way to a full recovery.

Theater veteran Easton became an overnight sensation on winning the 2001 Tony and Drama Desk Awards for Best/Outstanding Actor for his portrayal of the older A.E. Houseman in O'Brien's production of Stoppard's The Invention of Love. He has been active on the New York stage since the 50s.

O'Brien, who's also directing TCOU, has delayed the opening of Voyage at the Vivian Beaumont from November 5 to the 27th to await Easton's return.

Easton, who plays Russian landowner Alexander Bakunin, became ill during the production's second preview last week and was rushed to the hospital. He's scheduled to return to the production within two weeks. The role is currently played by his understudy, David Manis.


A Great Loss




Beloved philanthropist Edyth Kenner died this week. The gracious Ms. Kenner was diminutive in size but a giant when it came to contributing sponsor money for numerous events in the city that didn't attract the corporate world. These included the successful Broadway by the Year and Broadway Unplugged series, hosted by Scott Siegel at Town Hall and the now annual Broadway Cabaret Festival. A memorial program celebrating her life is in the planning.


Last Chance

Francesco Scavullo: A Photographic Retrospective on view at The Gallery at New World Stages [340 West 50th Street, formerly Dodger Stages] is a must-see. It closes November 2nd.

NWS also features the TONY [Time Out New York] Lounge, which is open nightly for cocktails and theatrically-themed drinks.

Broadway theatre portraitist Robert Miles Parker's exhibit of renderings of Broadway's historic theatres is up through November 26 at the Museum of the City of New York [Fifth Avenue and 103rd Street].

The Museum's theater collection, established in 1750 and now the largest in the world, presents rotating exhibitions of its massive inventory of costumes, props, photos, posters, set models, sketches and sheet music.


--------
Ellis Nassour is an international media journalist, and author of Honky Tonk Angel: The Intimate Story of Patsy Cline, which he has adapted into a musical for the stage. Visit www.patsyclinehta.com.

He can be reached at [email protected]





Why are you looking all the way down here?
For more articles by Ellis Nassour, click the links below!

Previous: Showstopping Performances On and Off; Broadway Cabaret Fest Weekend; Chita Rivera To be Honored; More

Next: Michael Emerson's Bold Moves; Benefits, Galas and Honors; Another Other Side Of Cirque; Actors from Stage to TV; More

Or go to the Archives