Sadly, the party is officially over.
The "better half" was the way the late Adolph Green described his long-time writing partner Betty Comden, who died late Thursday. She was 89.
I loved the photo taken by Suzanne DeChillo in 1998 and used in Friday's New York Times obit of Ms. Comden. It showed Mr. Green, who died in 2002, with his head on Ms. Comden's shoulder. It was an affectionate portrait of one of Broadway's most cherished, most celebrated book writer/lyrics duos and one of those photos that speak louder than a thousand words.
The depth of their friendship and loyalty was legendary. The song "Perfect Relationship" from their hit Bells Are Ringing, with music by Jule Styne and which starred Judy Holliday, aptly summed up their professional partnership, which scanned more than six decades.
Comden and Green, as book writers and lyricists, were at the forefront of Broadway's Golden Era of musicals from the early 40s into the late 70s.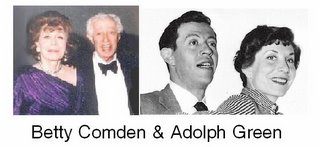 They met daily, most often in Ms. Comden's living room, either to work up lyrics for a show or, as Ms. Comden revealed in 2001 when I spoke to her and Mr. Green about the release on CD of their revue Two On the Aisle, which starred Dolores Gray and Bert Lahr, "to do nothing more than sit and talk about the weather, which we've done a good bit of the time lately."
In a 1977 Times interview, Ms. Comden said, "We stare at each other...There are long periods when nothing happens, and it's just boring and disheartening. But we have a theory that nothing's wasted, even those long days of staring at one another. You sort of have to believe that, don't you? That you had to go through all that to get to the day when something did happen."
Ironically, they were seen together and their names mentioned together so often that it is no surprise that many people, even in the industry, thought they were married.
They were, quipped Ms. Comden, "but to other people."
Comden and Green, who recieved six Tony Award nominations [winning four times for best score and/or book], were together so much that they felt "lost and lonely" when apart. [Their "wins" often include Tonys for Best Musical, but now a "win" in that category officially goes to the producer(s).]
Those meetings through the years evidently produced a lot more than just stares at each other.
Comden and Green wrote such classic stage shows as On the Town, Wonderful Town, Applause, On the Twentieth Century [in which Ms. Comden briefly appeared, replacing Imogene Coca as Letitia Primrose], The Will Rogers Follies [Tony Award]. Working with Styne, in addition to BAR, they also wrote Do Re Mi, Fade Out, Fade In, Hallelujah, Baby! [Tony], additional lyrics for the 1954 Mary Martin Peter Pan and the infamous David Merrick musical Subways Are for Sleeping.
The team was Oscar-nominated twice, for their screenplays for The Band Wagon and It's Always Fair Weather.
The latter co-starred Gene Kelly, Dan Dailey, Gray, Cyd Charisse and Michael Kidd. Of Gray, Ms. Comden termed "wonderful, first rate." Mr. Green added, "she was statuesque, tall and quite stunning. She looked great."
"Dolores had this marvelous voice," noted Ms. Comden, "and a great body, too."
She noted that IAFW was "a lovely, underrated musical," which centered on the reunion of three G.I.s after WWII. She spoke briefly of the temperamental Gray and the "madly egotistical" Kelly's clashes on the film, "It wasn't a match made in Hollywood heaven. If Gene said it was black, Dolores absolutely insisted it was white. It went on like that for the whole picture. But, somehow, the movie got made. It's my personal favorite. It had a remarkable story and I'm proud of the score."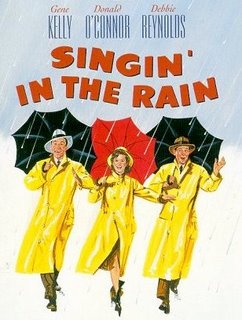 Strangely, Comden and Green were not nominated for their screenplay for one of the most successful movie musical comedies in cinema history, Singin' in the Rain, which in 1998 was ranked Number 10 on the list of the 100 Best American Movies of the 20th Century.
A not-too-well-known fact is that Ms. Comden wrote the lyrics for Donald O'Connor and Gene Kelly's memorable number "Moses Supposes."
C&G won a Writer's Guild of America Award and were nominated for a Golden Globe. Looking back, one might be totally perplexed that the film, in spite of its box office clout [and, now, it's status as a movie classic], didn't get nominated for Best Picture.
In 1991, President George H. W. Bush and Mrs. Bush honored them at the White House and that evening they were among the recipients of Kennedy Center Honors for "contributions to American musical theater."
The first book to give these two creator-artists their due was Alice Robinson's well-documented Betty Comden and Adolph Green: A Bio-Bibliography [1993, Greenwood Press].
I had the pleasure of interviewing Ms. Comden and Mr. Green several times; and was asked to be host to Ms. Comden when she was among the Broadway composers and lyricists receiving 2003 Tony Award Honors. She was extraordinarily frail but her wit was intact. In the dark, we made our way slowly to the stage to await her introduction.
For a second, Ms. Comden seemed to panic. "I can't see a thing!" she said. I replied, "That's because all the lights are off." She responded, "Well, when they come back on, just push me out there!"
That wasn't necessary: the MC collected her. As she walked away, Ms. Comden said, "Now, don't you go anywhere. I'll be right back."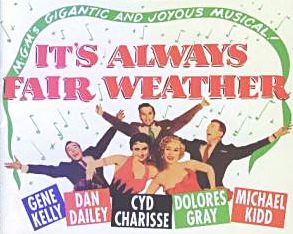 Comden and Green met as players in an improv group called the Revuers. She was still Elizabeth Cohen from Brooklyn.

Ms. Comden began her career as Claire DeLoone in the team's On the Town, with music by Leonard Bernstein. She won a 1945 Theatre World Award as one of the season's promising newcomers. As the rechristened Betty Comden, she teamed with Mr. Green to write sketches and lyrics for a series of revues.

Joining ASCAP in 1945, she collaborated not only with Bernstein and Styne, but also Morton Gould and Andre Previn.

"After Two On the Aisle," noted Ms. Comden, "revues fell out of favor. It became a time when you made your money from a sale to the movies, and Hollywood was buying book shows. They couldn't get a story out of a revue. So we went that route, because we had to make a living. "

Among the long list of Comden and Green collaborations are "Lonely Town," "New York, New York," the hilarious showstopper "I Can Cook, Too" and "Some Other Time" from OTT; "It's Love," "A Little Bit in Love," "Ohio" and "One Hundred Easy Ways (To Lose a Man)" from WT; and "I Met A Girl," "Just in Time," "Long Before I Knew You" and "The Party's Over" from BAR.

At a 2001 Drama Desk event, I visited with Mr. Green, who had not been well, and said it was nice to see him out and about with his wife. Mr. Green deadpanned, "You're speaking of Phyllis [Newman], not Betty, right?"

Yes, he was informed. "Good," he replied, as Ms. Comden who was seated with them laughed. "I only ask because through the years almost everyone, even those who'd you'd think are in the know, think that Betty and I are married. It's happened a lot since we've been a team for so long. Of course, I always clear it up in a few minutes. Since I spend literally every day with Betty, I can understand why people think we're married."

Added Ms. Comden, "In many ways, you can say we're wedded. Adolph seems to know what I'm thinking before I know what I'm thinking and I've gotten very adept at finishing his thoughts for him. That's what happens in a lot of marriages!"












--------
Ellis Nassour is an international media journalist, and author of Honky Tonk Angel: The Intimate Story of Patsy Cline, which he has adapted into a musical for the stage. Visit www.patsyclinehta.com.

He can be reached at [email protected]





Why are you looking all the way down here?
For more articles by Ellis Nassour, click the links below!

Previous: Busy Monday the 13th: Benefits and Special Events Galore

Next: Dreamgirls Comes Lavishly to the Screen; Jennifer Hudson and Beyonce Knowles Break Out; Murray Hill's Holiday Treat; An Acting Milestone; More

Or go to the Archives