Monday, November 13th is going to be one helluva one-night-only. It will give new meaning to Monday being the new Saturday.
The following line-up presents a partial list of what's going on. You're probably attending at least one or two, but Monday is one night you'll wish you could be in two, no four! no six! maybe seven or more places at the same time.
You will note the extraordinary number of actors giving of their free time on their traditional dark night to help raise funds for these valued theatrical and musical institutions and care givers. And in another event, very brave artists putting their vocal reps on the line.
Break A Leg?

The Drama Desk-winning York Theatre Company's one-night only benefit performance and New York premiere of Busker Alley at 8 P.M. at Hunter College's Kaye Playhouse [East 68th Street, between Park and Lexington Avenues] is headlined by two of show business' brightest and most talented stars: Jim Dale and Glenn Close.
The musical has music and lyrics by Richard M. and Robert B. Sherman and book by A J Carothers.
The Sherman brothers did the score for MGM's 1968 colorful flying car spectacular, Chitty Chitty Bang Bang, which starred Dick Van Dyke and Sally Ann Howes and featured a brief bit of buskering, and last year arrived in a stage adaptation.
Before that, they were Disney musical staples. Among their output was 1964's supercalifragilisticexpialidocious Mary Poppins, which won an Oscar for Julie Andrews and two for the Shermans: Original Song, "Chim Chim Cher-ee"; and Original Score. The stage adaptation, starring Ashley Brown, Olivier nominee Gavin Lee, Daniel Jenkins and Rebecca Luker, is currently in previews at the New Amsterdam where it opens next Thursday.
Their "little tune," as Richard S. referred to "It's A Small World" [originally written as a 60s peace anthem] is probably one of the universe's most heard tunes. More than 100 million people have sat in boats at Disney theme parks and heard it. It's played over 4,800 times across the globe during any 24-hour period.
Carothers was a frequent script collaborator on projects with Sherman scores. His career began in the Golden Age of live TV on Studio One, carried forward to the 60s with TV's Disneyland and, with Nanny and the Professor, into the 70s. He continued to write for TV and film until the late 80s.
Five-time Tony Award and six-time Drama Desk nominee Dale costarred with four-time Tony and two-time DD nominee Close in Barnum. In Busker Alley, Dale plays street entertainer Charlie Baxter and Close plays Dame Libby. Jessica GrovÈ is Charlie's love interest, who yearns for stardom on the West End.
For his portrayal of P.T. Barnum, Dale received 1980 Actor Tony and DD Awards; and Close copped a Tony nom.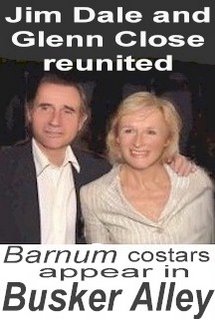 Close didn't need a costume designer for Busker Alley. She'll be wearing an outfit from her huge collection of movie role couture - this one from her uncredited cameo in In & Out, which starred Kevin Kline. Some fans might have appreciated her choosing one of the costumes she wore in her Tony and DD-winning role of Norma Desmond in Sunset Boulevard or one of those way over the top creations that Cruella De Vil wore in 101 Dalmatians.
If you count her mystery guest appearance in The Play That I Wrote, this is only Close's second New York stage appearance since her Tony and DD winning performance in S.B., the film adaptation of which she starts shooting late next year.
She has an association with the York, having appeared with the company [billed with William Hurt, her co-star in the film The Bill Chill] in a thundering 1985 production of Claudel's Joan of Arc at the Stake, adapted by Arthur Honegger. York founder Janet Hayes Walker directed an ensemble that included dancers and a choral group - and an orchestra.
Dale won the 2006 Drama Desk Award for Outstanding Featured Actor, Musical, and a Tony Award nomination as Best Featured Actor, Musical, for his lively English music hall antics in the revival of The Threepenny Opera. He also has two additional DD wins.
Acclaimed theater/film designer and director Tony Walton is directing. He's the recipient of 16 Tony and 14 DD nominations for his scenic and costume design. He won 1992, 1986 and 1973 Tonys and DDs for, respectively, Guys and Dolls, LCT's House of Blue Leaves and Pippin; and scored another two DDs. He has directed regionally and Off Bway.
Lisa Shriver is choreographer, with Aaron Gandy as music director.
Busker Alley also reunites Close and Walton, who worked together on Tom Stoppard's 1984 The Real Thing, for which she won a Best Actress Tony.
Featured in the York's benefit production, which according to the buzz is hoping to make the move to Broadway next season, are George S. Irving, Simon Jones, Greg Mills, Noah Racey, Krista Rodriguez, Michael Lane Trautman and Jeff Williams. Making a special appearance is veteran English actress Ann Rogers.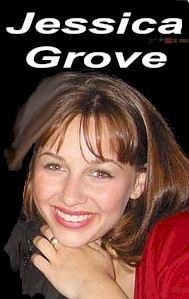 Long in development, Busker Alley hit the road to Broadway in 1995. During a performance in Tampa, it's 16th play date, leading man Tommy Tune broke his foot. This was six weeks prior to its scheduled opening at the St. James. The production, which had received mixed reviews, was aborted by producers Barry and Fran Weissler, Kardana Productions and then Pace Theatrical Group.
"I never saw Busker Alley when Tommy toured with it," notes Dale. "When I first heard about it I said, ëThat's for me!' It's about a guy who entertains in public on the streets of London, so that was right up my alley. But Tommy decided to star in it." [He had also planned to direct and choreograph.]
Dale is a master class in everything British, and especially steeped in the lore of English music hall tradition. He also starred on Broadway in Me and My Girl, which had some buskering.
"I've heard various reasons why Busker Alley didn't work," explains Dale. "Tony feels they've all been eliminated. One thing going for it is utter sincerity. George [Irving], Simon [Jones] and myself work so well together. It's been incredible. And, flying over from England to appear as one of the leading buskers is the great Ann Rogers, who toured in the original My Fair Lady and The Boy Friend. Add to that the delicious, delovely Jessica GrovÈ."
But, adds Dale, "the topping on the desert is having Glenn, my wonderful, darling leading lady from Barnum. We are so blessed that we have a great cast in a great story with great music and a great director. Who could ask for anything more?"
Close calls Dale a brilliant physical comedian. He compliments her saying, "Madam Glen is just as gorgeous as she was in Barnum. It's been terrific renewing old memories [from 26 years ago]."
Walton has kept Dale busy. In the show, he'll play a ukulele, work a ventriloquist's dummy, dance, not to mention sing a ton of songs.
Faced with such learning such daunting tasks for one-night-only, Dale jokes, "I may break my foot!"
Of the 19 featured tunes, Dale sings the showstopper "Paddle Your own Canoe," "How Much Do I Love Libby," "Ordinary People," "Blow Us A Kiss," "Never Trust a Lady," "What To Do With 'Er" and, among others, the title tune. He has duets with GrovÈ, but is disappointed not to have one with Close.
Busker Alley is based on the 1938 British film St. Martin's Lane [a.k.a. The Sidewalks of London], which starred Charles Laughton and Vivien Leigh in her last role over there before beginning production on Gone with the Wind.
JAY Records will record the evening for release as a cast album.
York Theatre Busker Alley benefit tickets are $100-$250 and available at the Kaye Playhouse box office or by calling (212) 772-4448. For special donor seating - prime orchestra seating for donations of $500 and $1,000, which include a post-show reception with the cast and creative team, limited edition posters and a program listing. Call the York at (212) 935-5820.For more information, visit http://kayeplayhouse.hunter.cuny.edu/ or www.yorktheatre.org

Don't Pump Up the Volume
The cast of Scott Siegel's Broadway Unplugged III, Monday at 8 P.M. at Town Hall [123 West 43rd Street] is all-star and no one will be complaining about the sound.
The annual Unplugged is a step back into that memorable time on Broadway when there was no amplification to throw singers' voices to the last row [and sometimes down the street]. It recalls a period when Broadway musical stars did it the hard, pure, unadulterated way.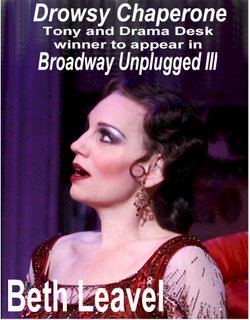 Among the 20 big-voiced theater and cabaret artists performing tunes from great [and some not so great] Broadway shows will be two-time DD nominee Nancy Anderson, DD nominee Sarah Uriarte Berry, Tony winner Chuck Cooper, DD Ensemble winner Lisa Howard from Ö Spelling Bee, Cheyenne Jackson, DD nominee Eddie Korbich, two-time Tony nominee and three-time DD nominee Marc Kudisch [soon to be seen in The Apple Tree], Tony and DD-winner Beth Leavel of The Drowsy Chaperone, DD nominee Norm Lewis, Liz McCartney, Tony and DD nominee Euan Morton, Tony and DD-winner John Lloyd Young from Jersey Boys.
Ross Paterson is music director and arranger, accompanied by his Little Big Band. Dan Foster is directing.
Since events of this nature are expensive to mount, Siegel is thankful to lead sponsors Thoroughbred Records, Trattoria Dopo Teatro, TheaterMania.com and the estate of Edythe Kenner.
Tickets are $25-$75 and available at the Town Hall box office and through TicketMaster, (212) 307-4100 or TicketMaster.com.

Unplugged II on CD

Broadway Unplugged II, presented in September 2005, has just been released on Bayview Records. It features 21 unamplified Broadway and cabaret performers belting to the rafters from such shows as Annie Get Your Gun, Babes in Arms, Company, Earl Carroll Vanities, Follies, Kismet, 110 in the Shade, South Pacific and The Wiz.
Ron Bohmer, Liz Callaway, Mary Bond Davis, Sutton Foster, Cheyenne Jackson, Eddie Korbich, Marc Kudisch, Norm Lewis [Les Miz], Deven May, Euan Morton, Christiane Noll and Emily Skinner are among the artists.
Music director is Ross Paterson, conducting his Little Big Band. Peter Pinne produced.

Six Songs, Nine Composers, But One Night Only
Guests will circulate throughout the five floors of Playwrights Horizons [416 West 42nd Street] on Monday to hear six new songs from upcoming shows in Songs on Five Stories. Entertainment begins at 7:30, following a gala dinner at Theatre Row's Chez Josephine. There will also be a post show reception.
There will be tunes from upcoming musicals by Lynn Ahrens and Stephen Flaherty, Scott Frankel and Michael Korie, Michael Friedman and Rinne Groff, Ricky Ian Gordon, Adam Guettel and Michael John LaChiusa.
DD nominee Judy Blazer, three-time Tony nominee [and a winner in 1993] Andrea Martin [who also has four DD noms, with a win in 1993], Tony and DD nominee Kelli O'Hara and two-time Tony and three-time DD nominee Mary Testa will be among the artists singing onstage, backstage and in rehearsal spaces.
Tickets are $150 [performance and reception] and $325 [dinner with select playwrights and board members, reception]. They may be ordered by calling (212) 564-1235 or online at http://www.playwrightshorizons.org.

Soul for Arts Sake
Amas Musical Theatre's Monday night benefit, Broadway Soul, will be a concert tribute to America's great jazz composers. The event, to be followed by dinner, begins at 7 P.M. at New World Stages [340 West 50th Street], where the company presents their shows.
Founded by the late veteran stage and TV star Rosetta LeNoire in 1987, Amas [Latin for "you love"] was a pioneer in performing arts diversity and multi-ethnic casting. Donna Trinkoff is producing artistic director.
Conceived, arranged and directed by Chapman Roberts, Broadway Soul salutes the music and lyrics of Alberta Hunter, Louis Jordan, Billy Strayhorn, Fats Waller, Cab Calloway and, among others, Duke Ellington. Tony nominee B.J. Crosby and Freda Payne will be among the 14 performers. Will Barrow is music director, with choreography by Leslie Dockery.
Maurice Hines will receive the Rosie, the award named in honor of Ms. LeNoire. A Rosetta LeNoire Scholarship will also be given to a college-bound student from the Rosetta LeNoire Musical Theatre Academy, Amas' arts education program.
Tickets are $75 and $125 [performance only], $200 [performance, cocktails and dinner] and $500 [premium seating, etc.]. For tickets, call (212) 744-1048 or (212) 563-2565.

A Trilling Evening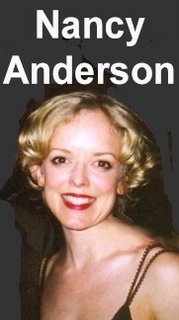 A huge array of theater stars will be on hand Monday night at 7:30 for Broadway High Note: Theater Stars Go Classical, a benefit for Greenwich House Music School, founded in 1905, at the Minetta Lane Theater [18 Minetta Lane, near Bleecker Street].
The roster of 16 performers includes Nancy Anderson, Eddie Korbich, Ray Jaramillo McLeod, Christiane Noll, Max von Essen, Jim Walton, Michael Winther and cellist Peter Sachon.
Tony Award-winning composer Stephen Schwartz will debut an aria; and there'll be songs from several other composers.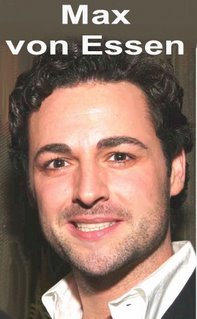 Cathy Venable is music director, with Jim Caruso [Cast Party, Broadway at Birdland] producing.
Funds raised will be matched by an endowment challenge grant from the Mary Flagler Cary Charitable Trust. Interest from the endowment will provide critical financial support for the Greenwich House Music School's scholarship fund and education outreach programs.
Tickets are $75-$150 [includes reception with the artists] and are available at the Minetta Lane box office or by calling (212) 242- 4770.

Gershwin Rhapsody Overlooking Central Park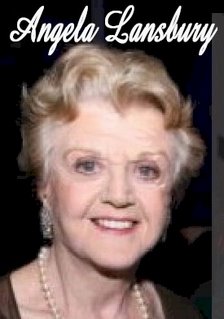 Monday's Jazz at Lincoln Center's Fall gala and dinner, Manhattan Rhapsody: A Celebration of George Gershwin, at 7 P.M. in the Frederick P. Rose Hall [Broadway at 60th Street] will, undoubtedly be dedicated to veteran TV newsman Ed Bradley, who was to host the event.
Appearing will be Patti Austin, Kitty Carlisle Hart, Michael Feinstein, Angela Lansbury, Brian Stokes Mitchell, Marcus Roberts, the Jazz at Lincoln Center Orchestra with Wynton Marsalis and the American Composers Orchestra.
A limited number of concert-only tkts are available. If you're in an unlimited financial bracket, spring for the $1,500 tkt which will give you unlimited access, cocktails and as many servings as you wish.
For more information, call the JALC Special Events Office, (212) 258-9961 or contact [email protected].

The Puck Stops Here for Tom Stoppard

Among those dining, dancing and saluting Tom Stoppard, whose The Coast of Utopia trilogy at LCT is one of the most anticipated events of the season, at Monday night's Williamstown Theatre [Williamstown, MA] Festival gala at the historic Puck Building [293 Lafayette Street, at Houston] will be Marshall Brickman, Bob Crowley, Blythe Danner, Rick Elice, Paul Newman and Roger Rees [WTF A.D., who created roles in two Stoppard plays].
Joanne Woodward, a former WTF trustee, is gala chair. The honorary chairs include Marge Champion, Dana Ivey, Bebe Neuwirth, Gwenth Paltrow, Ann Reinking, Jean Kennedy Smith and Kathleen Turner.
Providing entertainment will be three-time Tony-nominee Kate Burton, Matt Cavenaugh [Grey Gardens], Nikki RenÈe Daniels [Les Miz], Malcolm Gets, five-time Tony nominee Bill Irwin [who took home the 2005 Tony for Best Actor for Who's Afraid of Virginia Wolf] and three-time Tony nominee Faith Prince [a winner for Guys and Dolls].
Sir Tom was nominated for five Best Play Tony Awards, and won three times [Rosencrantz and Guildenstern Are Dead, Travesties, The Real Thing]. His work has been nominated for four DD Awards.
Williamstown, located in rolling Berkshire hill country, has been presenting lively summer theater for over half a century. The company received the 2002 Tony Award for Outstanding Regional Theatre.
Gala tickets are $350 - tables for $10,000. To purchase, call (212) 395-9090 or (413) 458-3200.

Folk Legend Honored

Strata restaurant [Broadway at 21st Street] is the site for Monday's 6 P.M. Village Care of New York Legends of the Village fete, which honors Greenwich Village residents for contributions to the community and the not-for-profit organization's services to seniors and people living with HIV/AIDS. Legendary singer Judy Collins will be saluted with the org's William F. Passannante Award.
Additionally, those featured in VCNY's 2007 Legends Calendar will be honored. These include actress Kaye Ballard [whose memoir How I Lost 10 Pounds in 53 Years is in bookstores], civil rights activist Norma Becker, actress Kathleen Chalfant [currently Off Broadway in Great Expectations], actress/playwright Lynn Redgrave [currently performing her Nightingale at L.A. Mark Taper Forum] and Playbill and The Villager contributor Jerry Talmer.
Proceeds will support VCNY's geriatric services including the Village Nursing Home, adult day health and senior centers, out-patient rehabilitation and The Village at 46th and Tenth, an assisted living residence for seniors. For tickets, call (212) 337.5750.

Tuesday Night Should be Fun, Too
Tuesday marks the 10th Anniversary of the Chicago revival, which is still going strong. Congrats, Fran and Barry! You know how to keep a good show going. With that Kander and Ebb score, this is one show that's hard to beat.
--------
Ellis Nassour is an international media journalist, and author of Honky Tonk Angel: The Intimate Story of Patsy Cline, which he has adapted into a musical for the stage. Visit www.patsyclinehta.com.

He can be reached at [email protected]





Why are you looking all the way down here?
For more articles by Ellis Nassour, click the links below!

Previous: Michael Emerson's Bold Moves; Benefits, Galas and Honors; Another Other Side Of Cirque; Actors from Stage to TV; More

Next: Remembering Betty Comden

Or go to the Archives