Twenty-five years after first bringing audiences to their feet, Dreamgirls finally arrives onscreen. David Geffen, who controlled the rights, was very protective and wanted to make sure he put the show in the right adapter's hand. He did. It was a long wait, but well worth it. Dreamgirls is a dream!
In the season premiere of American Idol, Simon Cowell should eat crow. His treatment of Jennifer Hudson, as she made her way to the third season finals, was disgraceful. He never missed an opportunity to diss her appearance and her performances.
However, diva that he is, Cowell would tell Hudson and others, laughing all the way, that his comments were for the TV audience; and not how he really felt!
Hudson, whose only "formal" singing experience had been as a vocalist from age seven in her church choir, inspired by her gospel-singing grandmother [whom, she says, could have a career "but she didn't want to live her life that way and away from her family].
The vocalist/actress now being hailed as A Star of Tomorrow, came to AI after gigs as a cartoon character for six months on Disney cruises and her only "land" job - working with her sister at a Burger King. "That didn't last long," she points out, "because I was terrible at doing just about everything I had to do." The one thing she wasn't terrible at was singing and she performed at numerous functions, such as weddings and funerals.
Her grandfather operated a funeral home and she was so often brought in to sing at passings that she became known as "the funeral singer."
By the time Hudson arrived on AI, she was still a novice at performing under pressure and was always a nervous wreck. In the end, she didn't get the public votes to make it beyond seventh place. She did, however, score where it counted: with producer Laurence Mark, who was knocked out every time he heard her sing.
"When it came time to leave," Hudson reveals, "I was okay because I knew American Idol wasn't my dream - that my dream was coming. I was like Effie - on a kind of rollercoaster ride and coming out of it with a deeper understanding of myself and my art."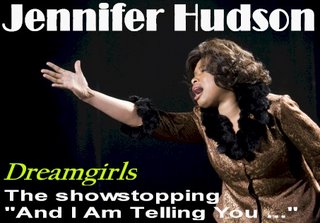 Hudson's ultimate revenge, if the sweet, easygoing young woman from Chicago would ever contemplate revenge of any sort, is that she's one of the stars in one of the year's most eagerly anticipated films, playing the much sought-after role of Effie Melody White in Bill Condon's adaptation of Michael Bennett's landmark musical production of Henry Krieger and the late Tom Eyen's Dreamgirls.
The musical, of course, is a thinly disguised story of the path to fame by the Supremes and the conflict between former lead singer Florence Ballard and soon-to-be diva Diana Ross.

Hudson stars opposite Academy Award winner Jamie Foxx, the stunning BeyoncË Knowles [in the role of Deena Jones], Eddie Murphy [finally in a movie that won't tank at the box office and giving, perhaps, the finest performance of his career] as James "Thunder" Early and Tony winner Anika Noni Rose [Caroline or Change] as Lorrell Robinson.
"I knew Dreamgirls was going to be a big deal," understates Hudson, "but what I didn't realize was how much weight was going to be on my shoulders. Thank God, I didn't know! I would have been a constant nervous wreck."
Featured in the knockout musical are Danny Glover, Keith Robinson as Effie's brother C.C., three-time Tony Award winner [and two-time Drama Desk Award nominee] Hinton Battle and Sharon Leal [who was a highlight, along with original Dreamgirls star Loretta Devine, in David E. Kelley's award-winning TV series Boston Public].
The movie opens today in New York, Los Angeles and San Francisco to qualify for nominations, but a star is already born. [The initial engagement is reserved seats, with souvenir book and limited edition prints; $25 in NYC.]
More engagements follow on Christmas Day but the film [from Dreamworks and Paramount Pictures] will not receive wide release until mid-January. The Dreamgirls soundtrack has just been released by Music World Music/Sony Urban Records.
Unless you've been totally out of touch, you know that the tall, big-boned Hudson is being heralded as this year's breakout movie star. It was just announced that she won a Golden Globe nomination; and it's all but certain that she'll receive an Oscar nod.
Mark and Condon conducted a six-month search for their Effie and Deena. They saw more than 780 women in Atlanta, Chicago, Detroit, L.A., New York and St. Louis, and here in before, as Condon points out, "finding the right combination of strength, passion and vulnerability to embody the characters" in Hudson and Knowles.
"Effie, especially, was so important," explains Mark, "because she's the heart of the movie. It was critical that we find exactly the right person."
Hudson auditioned, was told thank you; didn't think she'd get a call back; got call backs; was told thank you; and never thought she'd hear from Mark, Condon or the casting directors. "Then one afternoon," she says with excitement building, "the phone rang and they told me I had the job!"
Hudson is nothing short of breathtaking. Her Effie is one of the most impressive motion picture debuts ever. She scores extraordinarily well in performance, in comic bits and especially when she lets go of the caged fury that's been building as she realizes the man she loves, group manager Curtis Talylor [Jamie Foxx, who makes a smooth slick "villain"] is pushing her into the background in the recording studio and onstage because he infatuated with Deena.
She may have been dismissed from AI, but [unlike Cowell] Mark was very impressed each time he saw Hudson - "not only with her amazing vocal ability but also in graceful way she handled herself. When I contacted Jennifer and invited her to audition for us, I was amazed at her confidence."
For her part, Hudson states, "I had always told people that Effie was a role I would one day love to play. To have the opportunity to audition for such a high caliber project and then to get the role was just unbelievable. With everyone believing so strongly in me, my goal was just not to let them down."
However, it wasn't exactly "easy does it" at the beginning. "I was nervous," states Hudson, "I thought, 'How is a contender for the title of American Idol going to do this?' And one who didn't even make it. I wondered, 'What have I gotten myself into?'"
Her worries quickly dissipated as everyone from bottom to top was supportive.
Hudson not only can soar when she sings, but she has acting chops. She's surprisingly comfortable and capable of great depth in the multi-layered role of the Detroit R&B singer who struggles to get recognition, and when she's on the verge of stardom gets pushed aside in favor trio member Deena.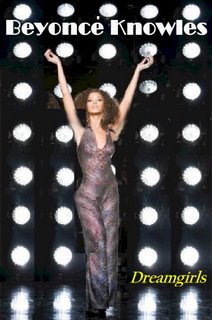 Speaking of Deena, Knowles affects an amazing transformation. "Fans are going to be very shocked," smiles Knowles. "They'll be expecting BeyoncÈ, but BeyoncÈ is nowhere in this movie."
Something they can be certain of is that an Oscar bid will follow on the heels of her GG nomination.

For almost a third of the film, Knowles downplays her stunning voice and cover girl looks. "I thought it important to hold back," she explains, "because Deena's performance style is so different from mine. I kept reminding myself, ëDon't sing it in full voice, sing it like Deena.' She's all about subtletiesóshe's very feminine and sexy, but in a subtle, slightly mysterious way."
"It took a great deal of skill on BeyoncÈ's part," observes Mark, "for her not to pull focus in the first part of the movie and to be very different from herself until her moment came."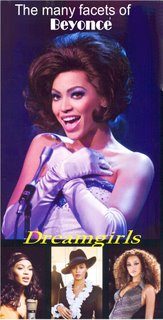 It would be hard to top the praise heaped on the film by a fan writing of "a spectacular movie musical experience" after catching Dreamgirls at an advance screening: "This is one worth waiting in line for! Beautifully realizedÖDreamgirls reminds you of when movie version of Chicago knocked our socks off and, with the help of the gorgeous Moulin Rouge, helped to revive the modern movie musicalÖ.As amazing and eye-popping as the dramatic scenes and musical numbers are, this is, ultimately, a movie rooted in its performancesÖ Everyone wildly applauded when Jennifer Hudson struck her last note in 'And I Am Telling You.' I've never watched a movie where the audience erupted in applause like they would in a Broadway theatre. It was such an intense experience."
Movie musical-wise, great hope was held out for the adaptations of Rent and The Producers. Though much care went into bringing the shows to the screens, ultimately they failed because they didn't create audience buzz.
Dreamgirls will have a different trajectory. It's being presented as an event. Even before its limited opening today, at ticket prices up to $25, there 's buzz and heightened anticipation not only here but also abroad. It's the can't-wait-to-see movie of the year.
Much credit must go to director and adapter Bill Condon [Kinsey, Gods and Monsters; adapter of the 2003 Best Picture Chicago]. In spite of numerous other nominations, amazingly he was snubbed by the GGs. He was smart not to tamper with Bennett's blueprint and, in numerous ways, honor his stage concept. [The film is also dedicated to his memory.]
"I tried hard to know the show inside out," says Condon. "It was important to honor Bennett's achievement. But when I tried to present everything a bit too accurately, it tended to spook me, so I pulled back a little."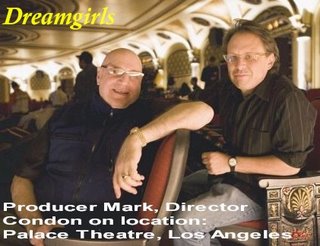 The film captures the sung-through aspect of the stage show, an element, explains Mark, that he and Condon felt essential and one they had to fight hard for.
Dreamgirls onstage, recalls Condon, "was one of those experiences you never forget. It was thrilling, with a brilliant cast and Michael's legendary staging. With the passage of time, it was possible to take a fresh look at the material. The story of the crossover success of urban [African-American] music in the volatile 60s resonates more than ever today, when a new hybrid of that music is defining the mainstream."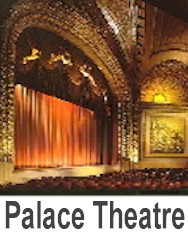 Other than Hudson, Condon and Mark's casting coup is Murphy as flamboyant R&B star James "Thunder" Early. As soon as Murphy got wind the film was "on the boards," he really went after the role. "Dreamgirls came along when music was changing," he points out, "when the industry began to recognize ëurban' influences. R&B, rock roots dug by black artists, became the sound of the times. The show was the story about this group that rode their sound into mainstream pop America, and their struggles with stardom, jealousies, romances, deceit, heartbreak, set backs. It had it all."
"Thunder," describes Condon, "is a force of nature. Nothing can hold him back when he's performing and that electric energy bleeds into his personal life. I had Eddie in mind to play him from the beginning. He'd seen the stage show several times. He told me he wanted the part because of the challenge of doing something that didn't connect to anything he'd done before."
"Eddie took the biggest risk," adds Mark, "and he really went for it, aiming for the rafters." Murphy not only displays an incredible range of maturity as Early but he also surprises with a good singing voice. His vocals are his. Nothing was dubbed.
"We knew Eddie had talent and was very deft playing comedy," says Jamie Foxx, "but when he came in and went into his song and dance numbers, it was incredible. The guy can do it all!"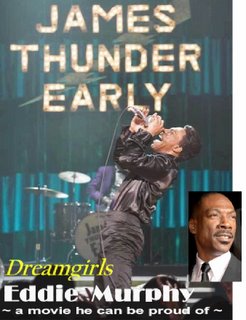 Knowles agrees, adding, "We had to look out when Eddie took the stage. He rocked. The middle name in his character, ëThunder,' really doesn't do justice to describing his energy and the effect he had on us and the audience [extras] in the theatre where we shot."
Dreamgirls began life titled Big Dreams. It was workshopped for Joseph Papp at the Public Theatre, where Bennett had struck gold with A Chorus Line. Nell Carter sang the role of Effie. When she took the lead in the sitcom Gimme A Break, the project was shelved. A year later, Eyen and Krieger brought ten songs from the workshop to producer Bob Avian and Bennett.
The show was an anomaly when it came to life on Broadway in December, 1981; and went on to win 13 Tony Award nominations. The show took six: Best Book - Tom Eyen; Outstanding Actor - Ben Harney; Outstanding Actress - Jennifer Holliday; Outstanding Featured Actor - Cleavant Derricks; Outstanding Lighting - Tharon Musser; and Outstanding Choreography - Bennett and Michael Peters.
It was also nominated for 10 Drama Desk nods [winning only four, but not Outstanding Musical, Score or Director]. Maury Yeston/Arthur Kopit/Mario Fratti's Nine captured the top honors.
Bennett was out to make a statement, and he did. Visually, Dreamgirls was unlike anything ever attempted on Broadway. Maybe, for the voters, a little too "unlike." As stunning as it looked and sounded, it worked on the dramatic level as well.
Bennett's Tony for his choreography would be his seventh and final honor. Dreamgirls was his final production before he succumbed to complications from AIDS on July 2, 1987 at age 44. He was to be the director/choreographer of Tim Rice/Benny Andersson/Bjorn Ulvaeus' Chess on the West End, and developed a concept. The reins were eventually passed to Trevor Nunn.
Dreamgirls ran on Broadway for nearly four years, 1,521 performances, before touring the U.S. and traveling to France and Japan. There have been numerous overseas productions.
"The show was an extraordinary, unforgettable experience," says Mark. "The look of that show and the music stayed with me all these years."
"There's something primal about musicals," says Condon, who was galvanized when he saw the show on Broadway from a seat on the very back row on opening night. "They can get under your skin in a way that straight dramas can't. Dreamgirls goes to another level. The emotions bleeding through the songs make it a profoundly affecting experience."
Mark feels that the themes are more relevant today than they were 25 years ago. "What are the gains and losses that accompany fame, following your dream? What are the consequences if you don't compromise? What are the consequences if you do?"
All these years later, Krieger is reliving the dream. "The show has been faithfully kept intact and yet given its own vibration. Credit goes to Bill's screenwriting and direction, along with those who worked on Harold Wheeler original orchestrations."
He notes that the film offers its own interpretations of the original material, including Jennifer Holliday's raw, emotional Act One finale show-stopper that always brought the house down. In the film, it is also sort of an Act One finale.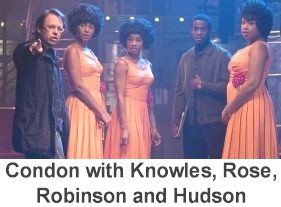 "Jennifer Hudson brought very different things to ëAnd I Am Telling You,'" he says. "What she does in a very vulnerable way isn't what Jennifer Holliday did. Ms. Holliday did the song in a huge, brassy way, but Jennifer uses a different quiver of arrows. That's really the case throughout the film. The cast brought their own artistry to the material, and it's valid. It works."

There has been some press about Jennifer Holliday feeling she was "shut out" of the film adaptation. But what role did she expect to play? Effie's mother?

Twenty-five years is a long time ago, especially in show business, where you can be quickly forgotten in two years. Holliday was plucked from the 1980 revival of Your Arms Too Short To Box with God [which netted her a Drama Desk nomination for Featured Actress] by Michael Bennett, who made her the toast of Broadway. She went on to win Best/Outstanding Actress Awards from the Tony and DD. Then her behavior became erratic. She would often miss performances only, it was heavily reported, to be appearing in one-night-only concert gigs. That led to a rift with bennett.

Holliday went off on a much-ballyhooed recording career, briefly returning to Broadway as a replacement in two revivals: as Teen Angel in Grease and, in the summer of 1996, for five weeks, as patron Morton in Chicago.

You don't hear gripes from Tony and DD-nominee Sheryl Lee Ralph, who went on to TV sitcom stardom and returned to Broadway as the glamourous Muzzy Van Hossmere in 2002's Thoroughly Modern Millie.

Back to the movie, for which Krieger composed music for four new songs: "Love You I Do," performed by Hudson; "Listen," passionately sung by Knowles; "Patience," for Murphy, Keith Robinson and Anika Noni Rose; and "Perfect World."

Regarding "Listen," which Deena uses to tell Curtis she's not standing still, "it's an actor's dream to have a moment like that - to have a song like that to act," says Knowles. "It says everything Deena needs to say, the words and emotions any woman can relate to. It was amazing working with Henry ó twenty-five years after the original, to still write something so wonderful is incredible. I hope twenty-five years from now, I can still write songs like ëListen.'"

There is hardly a false note in the film regarding casting or musical numbers. Ironically, sometimes in the film, the quieter, more subdued moments top some of the big, occasionally overorchestrated production numbers, which, in themselves, are quite eye-popping. In a nod to the stage show, there's a cameo appearance by Loretta Devine, the original Lorrell.

Additional praise must be heaped on Virginia Katz for her dazzling editing, costumer Sharen Davis, production designer John Myhre, choreographer Fatima Robinson, Broadway veteran award-winning lighting designers Jules Fisher and Peggy Eisenhauer, music supervisors Randy Spendlove and Matt Sullivan and cinematographer Tobias Schliessler.

Condon has opened the screen adaptation up to place the story in a very particular time frame: the beginning of urban music [a.k.a. the Motown Sound] and the beginning of the Civil Rights movement. Often that works well, making for an even more affecting film. There are a couple of false steps. Even at two and a half hours plus, it would have been more satisfying to delve deeper into characters we're familiar with and not introduce new ones that are not given time to develop.

There is one jarring transition, which gave me the impression something had been cut. It's the jump from Hudson's "Act One finale" showstopper to life back in Detroit as she struggles to start anew and also raise a child. [There's the hope that the eventual DVD release will have deleted scenes and numbers.]

Off soundstage locations were the early vaudevillian Palace and Orpheum Theatres in downtown L.A. and Pasadena's historic Ambassador Auditorium. At the Palace, production designer Myhre discovered a stage lift [manually-operated to transport actors and props from below the stagehouse]. His team fitted the lift with a motor, which allows "Thunder" to rise as if by magic before the star-struck Dreamettes for the first time. While shooting at L. A.'s Alexandria Hotel, uncovered ornate columns and plasterwork from a long-gone era were uncovered.

--------
Ellis Nassour is an international media journalist, and author of Honky Tonk Angel: The Intimate Story of Patsy Cline, which he has adapted into a musical for the stage. Visit www.patsyclinehta.com.

He can be reached at [email protected]





Why are you looking all the way down here?
For more articles by Ellis Nassour, click the links below!

Previous: The Holidays Are Upon Us! Have You Found That Special Gift? If Not, Select from Lots of Theatrical Possibilities

Next: Five Days to Christmas and Hanukkah's Already Here - Have You Done Your Holiday Shopping?

Or go to the Archives