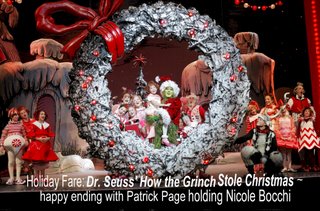 There's never been a holiday season [whether yours is Christmas, Hanukkah or Kwanzaa] with so much Broadway-related product in the market place. You'll have no problem finding a theater or arts gift for that special someone - or yourself!
The list is long: books - big ones, small ones - galore, DVDs, CDs. There's something for everyone - even if you're on a limited budget. If you're not, you're going to have some festive holidays!
Everyone knows the best gift of all is tickets to live theater, whether on Broadway or Off. There are shows for adults - such as the new hot ticket Spring Awakening; and, more than ever before, shows for the kids. In addition, there are several worthwhile live attractions playing limited engagements.

Kids' Night On Broadway
The holiday event for theater lovers with families who wish to introduce their children to theater is the 11th Annual Kids' Night on Broadway, where shows offer a free ticket to children ages six to 18 accompanied by a paying adult. The dates are January 30 and 31, but tickets to the 23 participating shows are going fast [over 20,000 sold to date], so it's wise to book now.
The event is presented by the League of American Theatres and Producers in association with Madame Tussaud's, The New York Times and WNBC-TV.
"Theater is a family affair," says Julie Andrews, who will be Kids' Night national ambassador with daughter Emma Walton Hamilton of Sag Harbor's Bay Street Theatre.
The 2007 spotlight is on Autism Speaks, the organization dedicated to increasing awareness of the developmental disability, which affects a staggering one out of 166 kids.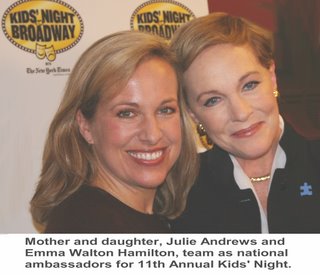 Ms. Andrews, who came from a theatrical family and started her career at age nine, says Kids' Night "is about exposing young people to the enchantment of theater. But Emma and I are especially thrilled to help raise public consciousness about autism."
The duo collaborated as authors of best-selling children's books, some illustrated by Emma's dad, award-winning theater designer Tony Walton. "Our sixteenth, Thanks To You [due in May]," reports Ms. Hamilton, "is about wisdoms exchanged between mother and child." Their The Great American Mousical, underscores the connection between young people and Broadway.
Since its inception, over 200,000 have participated in KNOB. Last season, children and teens accounted for 1.2 million Broadway tickets sold. Another KNOB benefit, straight out of A Chorus Line, is that some kids will say "I can do that!" and develop theatrical careers. The Hamiltons' two children, says Emma, "are certainly passionate appreciators" of theater.
Madame Tussaud's will kick off Kids' Night with its Fan Festival on the afternoons of the 30th and 31st , with performances, autograph booths, makeup stations, dance lessons and free tours. A souvenir Kids' Night will be a Playbill written by kids through the auspices of the Theatre Development Fund (TDF).
For more about Kids' Night, participating shows, restaurant deals and parking discounts, go to http://www.kidsnightonbroadway.com/.

Holiday Shows Galore
Right here in the Big Apple, there's a feast of appropriate family entertainment, ranging from long-run mega hit Wicked to Disney's long-running Beauty and the Beast, the sixth longest running musical in Broadway history, Tarzan and the spanking new Mary Poppins.
The Disney tech wizards have MP's Ashley Brown, everyone's favorite nanny with spoonfuls of sugar, flying so high in the finale she may be heading to the international space station. Also flying high but with his feet not always firmly grounded in one of the season's most winsome performances is Gavin Lee as Bert.
The carolers are a caroling and the snow is a falling in two really big holidays shows:
* The Radio City Music Hall Christmas Spectacular starring the world-famous Rockettes is thrilling holiday audiences with spectacular dance routines, including the classic March of the Wooden Soldiers, and some new additions.
* It's truly a white Christmas at the Hilton Theatre, thanks to Theatre Hall of Famer and Tony and DD-winning John Lee Beatty's Arctic set. Squeals of delight are emanating there as audiences, including tots in rapt attention, go wild for Dr. Seuss's How the Grinch Stole Christmas. Running Subway Productions and a host of producers [including Dr. Seuss/Theodor Geisel's widow, Audrey] brought its Old Globe blockbuster into town for a limited run, through January 7.
They're pulling out all the stops to keep the kiddies happy. The score by Timothy Mason and Mel Marvin is enjoyable and there's an opportunity for a mass sing-a-long.
Patrick Page as Grinch is having a ball chewing every bit of scenery he can; Tony winner John Cullum is a perfect host as Old Max; and there's a character, Cindy-Lou Who, who steals the show and your heart. Depending on what cast [Red or White] you see, the role is played by Nicole Bocchi and Caroline London.
Seven-time Tony and Drama Desk-nominee [and two-time Tony and four-time DD winner for directing] Jack O'Brien, currently represented on Broadway by Tom Stoppard's The Coast of Utopia trilogy and Hairspray, has done quite a capable job of making it all run smoothly; and the running time, just over an hour and 15 minutes [no intermission] is perfect. For ages three up. And don't you dare leave early, because this show really ends with a big bang!
* TheatreworksUSA, the leading not-for-profit professional theatre for family audiences, continues its 45th Anniversary season with the New York premiere of Henry and Mudge Off-Broadway at the Lucille Lortel Theatre [through January 20].
The musical is based on Cynthia Rylant's best-selling picture books about a boy and his lovable 182-pound slobberly dog and the gal that comes between them.Book and lyrics are by Kait Kerrigan, with music by Brian Lowdermilk, the 2006 Jonathan Larson Award winners. Peter Flynn directs, with choreography by Devanand Janki [the team behind TUSA's 2004 hit, Junie B. Jones].
Joseph Morales is Henry opposite Todd Buonopane [ÖSpelling Bee] as Mudge. Jennifer Cody [Pajama Game ] and Patrick Boll and Joan Hess [Dirty Rotten Scoundrels] as Henry's parents co-star.
Tickets are $25. To purchase, visit TicketCentral.com or call (212) 279-4200. Henry and Mudge is appropriate for ages four and up.
* Even though it's at the mammoth cavern A.K.A. the Theater at MSqG, Charles Strouse/Martin Charnin/Thomas Meehan's Annie, stopping over through December 30 on it's national tour, is everyone's favorite family musical. The sun will always come out tomorrow, and maybe today, with the rousing score from 1977's Tony and DD-winning musical.
Conrad John Schuck is Daddy Warbucks and, attempting to channel the spirit of Dorothy Loudon as Miss Hannigan, is former TV A.M. chat host, sweet-as-Equal-and-Splenda-and-without the aftertaste Kathie Lee Gifford.
Tkts are $35 [don't ask where!] - $99 [VIP] and available, if you dare venture into that mob, at the Garden box offices, through Ticketmaster.com and its outlets or by calling (212) 317-1000.
* Not exactly in the holiday entertainmnt mode, but Roundabout's revival of Tennesee Williams's Suddenly Last Summer at its Off Bway Laura Pels Theatre is worth a visit if only to experience Blythe Danner's 30s all-consuming Southern belle, venerable Violet Venable and 14-time Tony nominee [with three wins] Santo Loquasto's rain forrest set.
Moviegoers with good memories who see the play will note that Venable's exit lines, uttered so memorably by Katharine Hepburn, as she ascends in her elevator, delusions and fantasies intact, are missing. Those lines ["...Isn't it wonderful, my darling, to have one another and need no one else"] weren't written by Williams but by co-screenplay adapter Gore Vidal.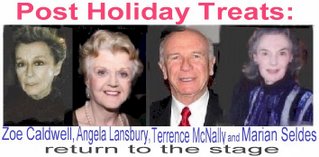 * Hot ticket events to look forward to:
Legendary actress Zoe Caldwell, winner of four Tony and three DD Awards, returns to the stage in Classic Stage Company's January 10 -February 8 English language premiere of Tony and DD Award winner for Play [Art] Yasmina Reza's A Spanish Play, set at a play rehearsal. David Ives translated. The director is Emmy-winning stage/film actor/director John Turturro.
The much-celebrated Ms. Caldwell, who's appeared with most of the great companies of the theater world, will be joined in ASP by Katherine Borowitz [Illuminata], Linda Emond [Homebody/Kabul], Tony and DD winner Denis O'Hare [Take Me Out] and Larry Pine [Stuff Happens].
Also, much-anticipated, is the return of Tony and Drama Desk-winning Angela Lansbury who teams with five-time Tony-nominated [she won in 1971] and six-time DD-nominated [and a winner in 1971] Marian Seldes at the Music Box in Terrence McNally's Deuce, set at a tennis match where two doubles legends reunite. Performances begin April 16. Tony and DD-winning Michael Blakemore is directing. The Tony-winning McNally and Ms. Seldes were DD-nominated last season for PS' Dedication or The Stuff of Dreams.

At the Movies
It's not too late to catch two of the year's most acclaimed female performances: Dame Helen Mirren in Steven Frears' The Queen and PenÈlope Cruz's amazing leap into middle-aged womanhood in Pedro AlmodÛvar's Volver.
* Do you love sports? Well, even if you don't, the movie that will bring the real spirit of the holidays into cinemas is We Are Marshall. As co-star Matthew McConaughey says, "Anyone with a heartbeat will love this movie. It's the ultimate family movie."
It is the true story ["true, not based on or inspired by," states McConaughey] of the 1970 tragedy in which 75 people - members of the football team of Marshall University and of the Huntington, WVa community - were killed in a plane crash enroute home after a game.
In a city of 40,000, this was truly a life-changing event as those affected and unaffected struggled to cope with the loss. The movie is centered on the arrival of the new coach and efforts to not only rebuild the team but also to rebuild the community.
McConaughey and TV star of Lost Matthew Fox were quite popular with the townfolks. Director McG [a.k.a. Joseph McGinty Nichol] sought to allay suspicions of what "Hollywood" might do to the story, which still had deep wounds over 25 years later, by allowing those interested to read the script and offer their comments.
Needless to say, with its strong emotional message, We Are Marshall is a two-box Kleenex opus, but one you don't want to miss.
* It's taken forever to get to the big screen, but the wait was worth it. Charlotte's Web, the classic E. B. White tale of friendship and loyalty, is fun for the kids and the adults won't be bored. Dakota Fanning, who's 12 but seemingly going on 30, is adorable as Fern Arable, who befriends Wilbur, the runt of a pig litter. Too often the film with its CGI effects is reminiscent of the Babe franchise; but this is one film where the voice-overs and Fanning's screen radiance carry it a long, long way.
Voicing Charlotte the friendly, encouraging spider and Wilbur's second best friend is Julia Roberts, with Steve Buscemi as a sardonic farm rat. Other voices: Oprah Winfrey as Gussy, the maternal-yet-irreverent goose; Cedric the Entertainer as Golly, Gussy's gander; John Cleese as Samuel, a quite authoritative sheep; Kathy Bates and Reba McEntire as sarcastic cows; Thomas Haden Church and AndrÈ Benjamin as dimwitted crows, Brooks and Elwyn; and, digest this, Robert Redford as Ike, an arachnophobic horse.
* If you're not in for an inspiring film such as We Are Marshall or Sylvester Stallone's Rocky Balboa, and you don't want a blood 'n guts shoot 'em up, then your choice should be Miss Potter, a small but charming and endearing film that looks at the conservationist and mega best-selling writer of the Beatrix Potter children's books and her romance with her publisher, who just as they are engaged, dies of a strange illness. Old friends three-time Oscar nominee [and a Featured Actress winner for Cold Mountain] RenÈe Zellweger and Ewan McGregor [who's come a long, long way since Trainspotting] star. England's stunning Lake District, where thousands of acres are now a public trust thanks to Potter, makes a scenic co-star.
There are two holiday movie hot tickets:
* The Pursuit of Happyness starring Will Smith and almost stolen by Smith's real-life son Jaden, is perhaps the perfect holiday movie as at its essence is the pursuit of the American dream. Sure, it's a bit smaltzy, contrived, manipulative and a bit unrealistic [in that 25 years ago it would be difficult not to put racism into the quotient], but it has heart. And a quite convincing performance by Smith, who omits "all my go-to moves, the things fan know me for; the so-called 'willisms.'" As it turns out, he can act as well as be funny.
* The holiday musical blockbuster is, of course, the big screen adaptation of Henry Krieger and Tom Eyen's Dreamgirls starring Jamie Foxx, BeyoncË Knowles, Eddie Murphy and introducing Jennifer Hudson in the break-out performance of the last few years.
For an in-depth feature on Dreamgirls, click here: >>> BroadwayStars <<<

Dreaming of a White Christmas?
With the stage musical adaptation of the ultimate feel-good holiday film Irving Berlin's White Christmas [1954] playing just about everywhere but here, lots of people are. We'll just have to be satisfied with the just released Ghostlight Records cast CD, which features the 2004 World Premiere San Francisco cast: Anastasia Barzee, Brian d'Arcy James, Jeffry Denman, Karen Morrow and Meredith Patterson.
Songsmith Sammy Cahn once said, "Somebody once said you couldn't have a holiday without Irving Berlin's permission." Mr. B, if he'd written nothing else, could have and did live pretty darn well off the royalties of his played-everywhere "White Christmas." It's a song you just can't get away from this time of year.
Which must have influenced Tony Award-winning director Walter Bobbie (Chicago), book writers David Ives and Paul Blake and brilliant, multiple Tony-nominated choreographer Randy Skinner [42nd Street, State Fair, Ain't Broadway Grand]. There are two official companies playing in Minneapolis and Detroit, numerous other licensed productions, even a U.K. tour.
The musical dropped some of the songs featured in the film, but the CD's 18 tracks include "Blue Skies," "Count Your Blessings Instead of Sheep," "The Best Things Happen While You're Dancing," "Love, You Didn't Do Right by Me" and the sensational duet "Sisters." Other Berlin tunes interpolated into the stage show are "Let Me Sing and I'm Happy," belted to the heavens by Morrow, "I Love A Piano," which features one of Skinner's most memorable tap routines, "Falling Out Of Love Can Be Fun," "Let Yourself Go," "I've Got My Love to Keep Me Warm" and "How Deep Is the Ocean."
The booklet has vivid color photos, notes, synopsis and lyrics.
You can have a white Christmas with White Christmas if you're also in the vicinity of Coral Gables, Hilton Head, Seattle and among others, Sacramento.

At the Ballet
The New York City Ballet is presenting their holiday classic, George Balanchine's The Nutcracker through December 30 at Lincoln Center's New York State Theatre. More than 100,000 people annually see this perennial, which premiered in 1954. NYCB's presenting partner is Wachovia.
Set to Tschaikovsky's glorious score, Nutcracker features not only Balanchine's choreography but scenery by renowned Russian designer and five-time Tony nominee Rouben Ter-Arutunian [he won a 1959 Tony for costume design, Redhead]. The production includes the Company's entire roster of more than 150 dancers and musicians, as well as two alternating casts of 50 children from the School of American Ballet.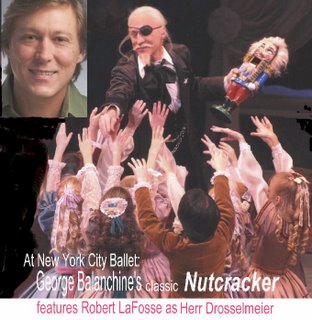 Highlights include a one-ton Christmas tree that grows from 12 to 40 feet, an onstage snowstorm and hundreds of elaborate costumes [by Karinska] [one for Mother Ginger that measures nine feet wide and weighs 85 pounds]. The grand finale involves one million watts of lighting.

Tickets are $30 - $110 for peak performances and $22 - $92 for off-peak and are available at the NYState Theatre box office, through Center Charge (212) 721-6500 or the web site www.nycballet.com.

NYCB's Sweet Seat VIP Package [$200, peak; $185, off] includes premium center seating, souvenir book and ten percent off purchases at the NYCB Gift Shop [for every two Sweet Seat tkts purchased, there's a keepsake photo with a Nutcracker character, which might include celebrated guest artist, former American Ballet principal dancer/choreographer and Tony nominee Robert La Fosse [Jerome Robbin's Broadway; also, Dancin'] who's appearing as Herr Drosselmeier.

[Photos: 1) PAUL KOLNIK; 3) JOAN MARCUS; 5) PAUL KOLNIK; 6) BERTRAND GUAY ]





--------
Ellis Nassour is an international media journalist, and author of Honky Tonk Angel: The Intimate Story of Patsy Cline, which he has adapted into a musical for the stage. Visit www.patsyclinehta.com.

He can be reached at [email protected]





Why are you looking all the way down here?
For more articles by Ellis Nassour, click the links below!

Previous: Dreamgirls Comes Lavishly to the Screen; Jennifer Hudson and Beyonce Knowles Break Out

Next: Three Days to Christmas and Four Before Kwanzaa; More Holiday Gift Suggestions; and Guess Which Really Hip Actress Is Coming Back to Chicago?

Or go to the Archives