It was utopia for a multiple-part epic and a seasonal musical had Spring in its step at last night's 52nd Annual Drama Desk Awards, but the jawdropping moment for even the most jaded awards-watchers was when Marsha Mason opened the envelope and excitedly announced that Audra McDonald and Donna Murphy tied for Outstanding Actress, Musical.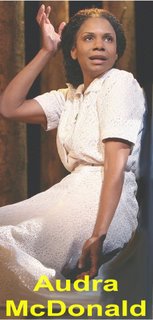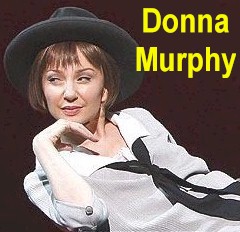 With their other wins leading up to the Drama Desk Awards, which honor seasonal achievement in the Broadway and Off Broadway arenas, the win by Tom Stoppard's The Coast of Utopia as Outstanding Play and Steven Sater and Duncan Sheik's Spring Awakening's capturing Best Musical weren't unexpected.
COU took seven awards, with SA next in line with four.
Among their awards were Jack O'Brien, COU, and Michael Mayer, SA, for Outstanding Director.
The wins met enthusiastic audience response except, perhaps, from the producers of other nominated plays and musicals.
McDonald, a four-time Tony winner and now a three-time DD winner, and Murphy, a two-time Tony winner and now three-time DD winner, received "to die for" reviews in their respective shows, Roundabout's revival of Tom Jones and Harvey Schmidt's 110 in the Shade and Manhattan Theatre Club's spanking new Kurt Weill musical LoveMusik.
When Mason announced their names, McDonald and Murphy ran to the stage from opposite sides of the LaGuardia concert hall and into each other's arms.
McDonald spoke first, saying "I'm thrilled to share this honor with Donna." She recalled a moment on a TV movie location when Murphy was dropping by to pick up a script. Only moments before McDonald discovered she was pregnant. The doorbell rang and it was Murphy. "So Donna was the very first to find out!" She dedicated her win to daughter Zoe, whom she named after Zoe Caldwell, her co-star in Master Class, and "my father [who passed away two weeks ago] who's in Heaven."
Murphy spoke eloquently about McDonald and dedicated her Award to McDonald and Zoe. She went on to praise her LoveMusik co-star Michael Cerveris. "I couldn't give my performance without the support he provides. The show is like a tennis game. You never know what coming at you, but it's always golden."
The most recent tie in Drama Desk annals was in 2003, when Antonio Banderas and Harvey Fierstein, the host for the last two DDAwards, locked on Best Actor, Musical for, respectively, the Nine revival and Hairspray.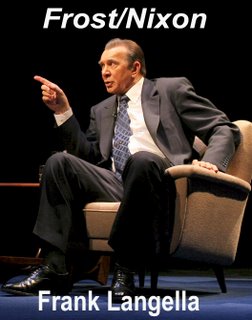 With the acclaim heaped on his performance as the former president in Frost/Nixon, it wasn't the stunner of the season when Frank Langella won Outstanding Actor, Play for his poignant portrayal of Richard Nixon.
Langella, referring to himself as a veteran actor, spoke of his path to stardom and the audience was deeply moved. He had special praise for co-star Michael Sheen. He closed with six words of advice for anyone interested or involved in theater: "Never give up, never give in. They were spoken to me at a time in my life when I needed to hear them most."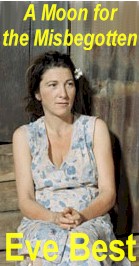 Eve Best, who mesmerized audiences and the DD nominators in Moon for the Misbegotten, grabbed Outstanding Actress, Play in a category which didn't have a front-runner nominee you could with certainty place a bet on. She was most effusive in her praise of co-star Kevin Spacey.
In a category filled with stellar performances, Ra˙l Esparza, one of the business' most popular stars, won Outstanding Actor, Musical for Sondheim's Company, which won the prize for Outstanding Revival.
Boyd Gaines, Journey's End, and Martha Plimpton, COU, captured Featured Actor/Actress, Play. Though both are in starring roles, Gavin Lee, Mary Poppins, and Debra Monk, Curtains, won Featured Actor/Actress, Musical.
Duncan Sheik and Steven Sater were on Cloud 9 over their award for Outstanding Music/Lyrics, a win which will certainly establish a long musical theater career for the duo. Rupert Holmes and the late Peter Stone were honored with Outstanding Book, Musical for Curtains. Andy Blankenbuehler won Outstanding Choreography for Off Broadway's In the Heights. The very gracious Vanessa Redgrave won for Outstanding Solo Performance for Joan Didion's Year of Magical Thinking.
Early this morning, someone quipped, "Is it still going on?" The evening did seem endless, with a pre-show event, then speeches and the resquisite sponsor acknowledgements. The show got underway about 9: 25 and ended at 12:25, with everyone rushing to the after party.
The Drama Desk Awards were hosted by the irrepressible Kristin Chenoweth, who opened the show with a hilarious and very upbeat bit of special material, "Size Doesn't Matter."
Just before the interval, she came onstage and, looking into her deeply low-cut dress, said "Wow! Wow! Wow!" She had the audience ROTFWL for her Q&A with Vanessa Redgrave, Bebe Neuwirth, David Hyde Pierce and T.R. Knight.
She nearly broke and had the house in stitches when she asked Knight, a star of the hit TV series Grey's Anatomy, "Are you married? Is that your girlfriend?" She leaned in low, waving her most impressive bosom literally in his face and blurted, "That's what I do at a lot of my auditions. Oh, I forgot! I don't audition anymore." Beat. "I'm kidding! I'm kidding!"
When she located Debra Monk, she remarked, "You' have worked with a lot of young people and they all refer to you as Mama Monk. Who is your favorite kid?" Replied Monk, "I'm working with Megan Sikora, who plays my daughter in Curtains, and she's so fabulous." Asked to name another one "who really brightens up your day," Monk mentioned Mary Louise Parker [Reckless]. Taking exception, she said, "We can get out now or we can get out in four hours. It'll be up to you!" Monk responded, "T.R. Kninght, my son in Grey's Anatomy - but besides that, you, baby girl!" Chenoweth made her Broadway debut opposite Monk in K&E's Steel Pier.
She spotted a "random" audience member Mitch in a prime aisle seat and asked, "Are you important?" The gent replied, "Only to my wife and kids." Chenoweth said, "That's who you need to be important to...That's the right answer. " Then Chenoweth asked DD official photog Scott Wynn to take her photo with Mitch.
In the sequence, Chenoweth reported that because of her star status she doesn't do plays or takes the subway. "I'm kidding! I'm kidding!" she quickly chirped.
When Chenoweth spotted Frank Langella, she plopped into his lap only to immediately jump up. He quipped, "See, size matters!" She exclaimed, "Help me! Help me!"
Later did several comic sketches saluting some of Broadway's newer musical arrivals.
The Awards featured "Mama Who Bore Me" from the winning Spring Awakening by nominee Lea Michelle and company, Curtains' Jason Danieley singing "I Miss the Music," "Marry Me a Little" from Company by winner Ra˙l Esparza, Alexander Gemignani [Les Miz's Jean Valjean] performed "Bring Him Home" and a number by the cast of Off Broadway's dance spectacular BE by Mayumana.
Ashley Brown, Michael Cerveris, Billy Crudup, Jim Dale, T.R. Knight, Joey Lawrence, Audra McDonald, Bebe Neuwirth, Phylicia Rashad, Kevin Spacey, Stephen Spinella, Tommy Tune, Barbara Walsh and were among the star presenters.
Among the special awards was one presented by David Hyde Pierce and Karen Ziemba to John Kander and the late Fred Ebb "for 42 years of Excellence in Advancing the Art of the Musical Theater."
In the media room, Deborah Monk and Gavin Lee couldn't contain their happiness. John Kander came in, posed for the photographers and said, "Now, take me home!"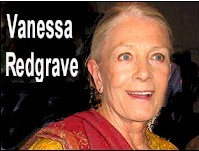 By the time of Vanessa Redgrave's win, the night was becoming morning. As she was escorted to meet the press, spontaneous applause broke out and segued into a standing ovation. She appeared quite moved. Gracious beyond anyone's imagination, she stood patiently for photographers, even making a joke and did TV interviews. She conversed with arriving winners Boyd Gaines and a visibly shaking Martha Plimpton, who told Miss Redgrave how honored she was to meet her. Miss Redgrave thoughtfully replied, "My dear, I'm delighted to finally have the opportunity to meet you."
The jovial Jim Dale, always a favorite with media, arrived after presenting and chatted up everyone with his delicious humor. Liev Schreiber and the very expectant Naomi Watts had refreshments and, surprisingly, didn't mind being photographed even while eating chocolate cake.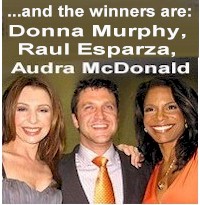 Frank Langella and Ra˙l Esparza, media favorites, arrived to say their Thank Yous. With the show rushing to the finish life to avoid continuing into the wee hours of Monday, there was a resulting traffic jam of more stars than there are in Heaven. As Audra McDonald and Donna Murphy, now bonded forever at the hip, came in, there was a volume of electric flash power to keep city air conditioners running on high for the summer.
Other plays in consideration were David Harrower's Blackbird, Terrence McNally's Some Men, Peter Morgan's Frost/Nixon, Bernard Weinraub, The Accomplices and August Wilson, Radio Golf. Also up for Outstanding Musical were Curtains, In the Heights, Legally Blonde, LoveMusik and Mary Poppins.
In the Actor, Play category were Philip Seymour Hoffman, Jack Goes Boating; Br"an F. O'Byrne, Coast of Utopia; Christopher Plummer, Inherit the Wind; Liev Schreiber, Talk Radio; Kevin Spacey, Moon for the Misbegotten; and Paul Sparks, Essential Self-Defense.
Actor, Musical nominees were Michael Cerveris, LoveMusik; quasi-newcomers John Gallagher, Jr. [he was featured in the Pulitzer Prize and Tony-winning Rabbit Hole] and Jonathan Groff [featured in In My Life], Spring Awakening; David Hyde Pierce, Curtains; and from very early in the season Martin Short, Martin Short: Fame Becomes Me.
Actress, Play nominees also were Orlagh Cassidy, The Field; Blythe Danner, Suddenly Last Summer; Jennifer Mudge, Dutchman; Sandra Oh, Satellites; Annie Parisse, The Internationalists; and Meryl Streep, Mother Courage and Her Children.
Ashley Brown, Mary Poppins; Laura Bell Bundy, Legally Blonde; Kristin Chenoweth, Apple Tree; and Lea Michele, Spring Awakening were the other Actress, Musical nominees.
The pre-show reception hosted by last year's DD-winning Best Actress, Musical, Christine Ebersole of Grey Gardens and honoring the 2007 nominees was held at the spectacularly stunning Russian Tea Room. The post-show celebration was at China Grill, gathering spot for mid-town powerbrokers and movers and shakers.
The Drama Desk Awards was webcast live by TheaterMania.com. Thirteen/New York will telecast a two-hour adaptation of the show Sunday, May 27 at 12:30 P.M., with NYC-TV/ Channel 25, which did the taping, on Thursday, May 24 at 8 P.M. and Saturday, May 26 at 10 P.M. Broadcast on PBS stations around the nation will follow.
For a full list of winners, nominees and recipients of special awards, go to www.dramadeskawards.com.

2007 Tony Nominees Meet the Media
There was more hugging and kissing going on among old and new friends than between Laura Bell Bundy, Chico and Chloe on and backstage at Legally Blonde at the Palace. It was a wonderfully congenial time. Even those A-List stars who regally passed us by, unable to even us the time of day, were at least cordial as they waved in their sprint to the more A-List media.
The nominees include:
Best Play - Coast of Utopia, Tom Stoppard; Frost/Nixon, Peter Morgan; Little Dog Laughed, Douglas Carter Beane; Radio Golf, August Wilson
Best Musical - Curtains, Grey Gardens, Mary Poppins, Spring Awakening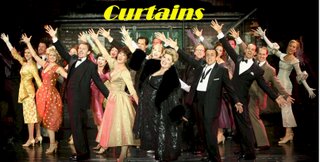 Book, Musical - Curtains, Rupert Holmes, Peter Stone; Grey Gardens, Doug Wright; Legally Blonde, Heather Hach; Spring Awakening, Steven Sater
Score: Curtains, John Kander, Fred Ebb, Rupert Holmes; Grey Gardens, Scott Frankel,Michael Korie; Legally Blonde, Laurence O'Keefe, Nell Benjamin; Spring Awakening, Duncan Sheik, Steven Sater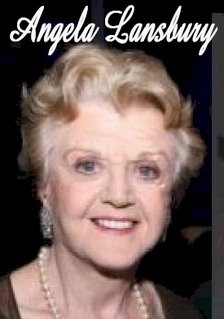 Actor, Play - Boyd Gaines, Journey's End; Frank Langella, Frost/Nixon; Br"an F. O'Byrne, Coast of Utopia; Christopher Plummer, Inherit the Wind; Liev Schreiber, Talk Radio
Egregious omissions: Hugh Dancy, Brian Dennehy, Michael Sheen
Actress, Play - Eve Best, Moon for the Misbegotten - Swoozie Kurtz, Heartbreak House; Angela Lansbury, Deuce; Vanessa Redgrave, Year of Magical Thinking; Julie White, Little Dog Laughed
Egregious omission: Marian Seldes
Actor, Musical - Michael Cerveris, LoveMusik; Ra˙l Esparza, Company; Jonathan Groff, Spring Awakening; Gavin Lee, Mary Poppins; David Hyde Pierce, Curtains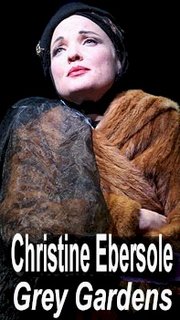 Actress, Musical - Laura Bell Bundy, Legally Blonde; Christine Ebersole, Grey Gardens; Audra McDonald, 110 in the Shade; Debra Monk, Curtains; Donna Murphy, LoveMusik
What? No Ashley Brown?
Featured Actor, Play - Anthony Chisholm and John Earl Jelks, Radio Golf; Billy Crudup and Ethan Hawke, Coast of Utopia; Stark Sands, Journey's End
What? No Bill Camp?
Featured Actress, Play - Jennifer Ehle and Martha Plimpton, Coast of Utopia; Xanthe Elbrick and Jan Maxwell, Coram Boy; Dana Ivey, Butley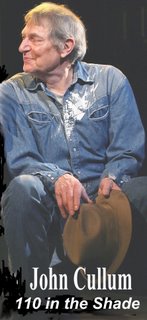 Featured Actor, Musical - Brooks Ashmanskas, Martin Short: Fame Becomes Me; Christian Borle, Legally Blonde; John Cullum, 110 in the Shade; John Gallagher, Jr., Spring Awakening; David Pittu, LoveMusik
We know it's McDonald's show, but isn't Cullum the co-star?
Featured Actress, Musical - Charlotte d'Amboise, Chorus Line; Rebecca Luker, Mary Poppins; Orfeh, Legally Blonde; Mary Louise Wilson, Grey Gardens; Karen Ziemba, Curtains
Direction, Play - Michael Grandage, Frost/Nixon; David Grindley, Journey's End; Jack O'Brien, Coast of Utopia; Melly Still, Coram Boy
Direction, Musical - John Doyle, Company; Scott Ellis, Curtains; Michael Greif, Grey Gardens; Michael Mayer, Spring Awakening
For a full list of Tony nominees, go to www.tonyawards.com.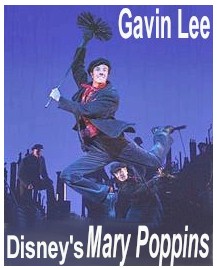 Among those dropping by or stopping to chat at the nominees' reception were Eric Bogosian, Bundy, Bundy, Chisholm, Cullum, d'Amboise, Gaines, Gallagher and Groff, Jelks, Langella, Miss Lansbury, producing team Stewart F. Lane and Bonnie Comley, Lee and Luker, director Mayer, Monk, Legally Blonde's composer and real-life duo Laurence O'Keefe and Nell Benjamin, Pierce, a very relaxed Shubert chairman Gerald Schoenfeld, congenial Disney Theatricals chief Thomas Schumacher, prodigious producer Mort Swinksy and White.
Missing in action was Donna Murphy, who sent word that she was saving her voice for the matinee.
After an absence of 23 years on Broadway, Angela Lansbury, elegant as always, basked in the spotlight. She hadn't planned on staying long, since it was a matinee day, but lingered long enough to say she was there not only representing herself but also Deuce co-star Marian Seldes who was notably not nominated.
Monk, no stranger to Kander and Ebb shows and who's been aboard Curtains since 2001's workshop, was lounging in bed when the nominations were announced. She spoke lovingly of her "Freddy" and how much he's missed. Her showstopping number, "Show People," she said, "is so typical of John and Freddy, but this is one of their greatest scores. They can do something big and brassy, then turn around and write the most heartfelt ballad; and follow that with a great eleven o'clock number." Monk looks forward to going to work. "It's therapeutic. No matter how I'm feeling, no matter what's happening, it makes you forget all that. And could you ask for a more fabulous cast?" She calls co-star David Hyde Pierce "our angel."
Gavin Lee, Bert in Mary Poppins, spoke of the years toiling away paying his dues in the Brit regionals before getting his first leading role in the West End MP. He said, "I'm still pinching myself over being on Broadway and getting a Tony nomination." There was a bit of a downer for him and co-star Rebecca Luker [Mrs. Banks], the lack of a Tony nod for DD-nominee Ashley Brown [Mary] and Daniel H. Jenkins [Mr. Banks].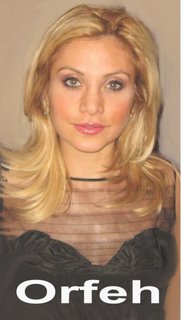 Orfeh reported hearing the announcement of her nomination hiding under her bed. "You always hope, of course, but since I had just received the Drama Desk and Outer Critics nominations, I thought that perhaps the Tony nominators would say, ëShe's got her nominations, let's honor someone who doesn't.' I'm so happy they didn't!" What does the nomination mean to her? "What does the Tony nomination mean to me? Oh, my goodness, it means everything! I'm so honored!" The nomination must be quite satisfying since she revealed that even after "umpteen" auditions," she wasn't even on the short list for Legally Blonde's Paulette.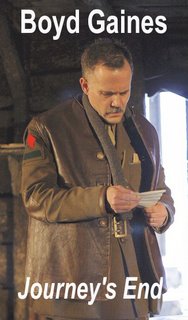 Boyd Gaines, Tony and DD-winner for Contact and Tony winner for the 1993 revival of She Loves Me, has proved himself equally adept in dramas [Twelve Angry Men, Heidi Chronicles] and musicals [also the 1995 Company revival, Anything Goes]. He's co-starring with Hugh Dancy in one of the season's most provocative plays, the revival of R.C. Sherriff's Journey's End.
"The play has a fascinating past," he says. "The 2004 West End revival was supposed to run two months to celebrate the 75th Anniversary of the original production, but spanned two and a half years." [It had two Broadway productions, 1929 and 1939.] "It's a taunt, remarkable play, and for me an extraordinary experience. Ironically, it almost never got produced." Based on a WWI friendship, it follows a group of British officers "as they await their day of reckoning." When the playwright, an insurance agent, submitted his script, he couldn't find producers. The war ended ten years previously with a huge loss of life. "It was too soon, too painful," says Gaines. Eventually, Sherriff found a daring producer, but even after raves it was an uphill climb.
Mort Swinsky, who is a producer with three of the season's nominated shows - Grey Gardens, Spring Awakening and Talk Radio [in addition to the long-running Chicago and Hairspray], says he uses a simple test. "I decide to invest based on gut instinct. The only thing I consider is if I like it."
Grey Gardens lyricist Michael Korrie and Playwrights Horizons A.D. Tim Sanford and Spring Awakening producers Tom Hulce and Ira Pittleman and Atlantic Theatre Company's M.D. Andrew Hamingson spoke of the massive changes made, not to mention the huge gamble and risk, in moving their shows from not-for-profit Off to Broadway.
The 61st Annual Antoinette Perry "Tony" Awards will be presented June 10 at Radio City Music Hall. A host has yet to be named.
Young Playwrights Showcased
Tonight and Wednesday, the emerging playwrights from New York City schools will present their work at New World Stages through a program called Fidelity FutureStage, an arts education initiative that has been ongoing for seven-months.
The program, open to more than 800 students, was made possible by a partnership with theatrical producers the Viertel/Frankel/ Baruch/Routh Group [Company, The Fantasticks], and LEAP [Learning through an Expanded Arts Program] and Fidelity Investments.
FutureStage also afforded students the opportunity to learn from some of professional theater's leading playwrights, composers, directors, set and costume designers and actors.
The ten plays being presented are by writers aged 13-18 and include romantic and family comedies, a mystery, coming out stories, urban challenges a criminal attempting to reform and the dilemma of being stuck in an elevator.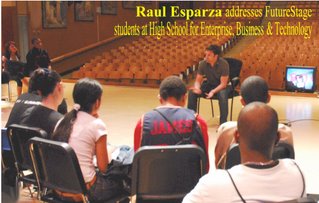 LEAP is a non-profit educational service org committed to improving the quality of public education through hands-on, arts-based approaches to learning. For the past 30 years, it has brought artists and educational experts to under-served students in the metro area and developed customized programs for schools and cultural institutions.
The goal of Fidelity FutureStage is to give City kids an opportunity to develop a passion for theater arts. They were afforded the opt to attend Broadway shows at no cost.
Sessions on playwriting, production, acting and directing with held with such theater pros as Walter Bobbie, set designer David Gallo, A.R. Gurney, Tom Jones, William Ivey Long, Kathleen Marshall, Alan Menken, Jerry Mitchell, set designer David Rockwell, Susan Stroman, Charles Strouse and Jerry Zaks.

Comedy Tonight and Tonight and Tonight
The Theatre District is alive with the sound of music and laughter and more than a few clinking glasses and bottles. To keep the night merrily rolling along, check out Don't Quit Your Night Job, a late night happening of music, comedy and improvisation at HA! Comedy Club [163 West 46th Street at Seventh Avenue]. Conceived and performed by Steve Rosen [Spamalot], David Rossmer [Nerds], Sarah Saltzberg [...Spelling Bee) and Dan Lipton [Coast of Utopia], DQYNJ will feature a rotating roster of Broadway names.
Among those aboard are Hank Azaria, Kristin Chenoweth, Brian d'Arcy James, Jesse Tyler Ferguson, Dan Fogler, Hunter Foster, Sutton Foster, Heather Goldenhersh, Jane Krakowski, Marc Kudisch, Andrea Martin, Andrea McArdle, Bebe Neuwirth, Kelli O'Hara, Anthony Rapp, Seth Rudetsky, Marian Seldes, Christopher Sieber, Mary Testa, Patrick Wilson and among numerous others, B.D. Wong. Producing is Jed Bernstein.
Tickets at $55 for preferred seating and $35, with a two drink or food minimum, are available through SmartTix, (212) 868-4444 or online www.smarttix.com.

Electric Sophocles
The OBIE, Drama Desk and Lortel Award-winning Classical Theatre of Harlem presents Electra, a new adaptation of the Sophocles' legend adapted and directed by CTH A.D. Alfred Preisser, May 24-June 24 at the HSA Theatre [645 St. Nicholas Avenue, near 141st Street].
The story's major themes concern retribution by Electra for crimes by the family of Atreus, her grandfather. Zainab Jah [CTH's Medea, Trojan Women] has the title role. Featured is Trisha Jeffrey [All Shook Up, Little Shop of Horrors].
Preisser is director of the Theatre Division at the Harlem School of the Arts. His adaptations of Caligula and King Lear [both starring Tony nominee AndrÈ De Shields] had sold out runs in Miami and Washington D.C.
Tickets are $25-$45 and can be purchased by calling (212) 868-4444 or on line at www.smarttix.com. For more information, visit www.classicaltheatreofharlem.org.

[Photos: 1, 3, 5, 9, 12 and 13 ) JOAN MARCUS; 2) CAROL ROSEGG; 6) LORENZO AGIUS; 7 and 8) AUBREY REUBEN; 10 and 14) ELLIS NASSOUR; 11) DOUG HAMILTON; 15) PAUL KOLNIK ; 16) STASH SLIONSKI/ East Pleasant Productions ]
Recent Archive :
Friday, April 20, 2007 [
STARS
] Remembering Kitty Carlisle Hart: Just Point Her in the Right Direction and She Would Be Off and Running

Tuesday, May 1, 2007
[
STARS
] Drama Desk Honors 2007 Nominees; Celeste Holm and Jane Powell Feted; Dreamgirls On DVD

Monday, May 7, 2007
[
STARS
] Donna Murphy: Singing in a Different Key in
LoveMusik

Friday, May 11, 2007
[
STARS
] Tom Jones and Harvey Schmidt on 110 in the Shade; Champion Legends Onstage in Deuce; Encores! Salutes Broadway Revues in Stairway to Paradise

Tuesday, May 15, 2007
[
STARS
] Brian Murray's Back as Gaslight Sleuth; Country Star Larry Gatlin Goes Metro; Papal Audiences; Brit Invasion; At the Obies with a Knight and a Nixon; A Few Words from Dame Helen

Monday, May 21, 2007
[ STARS ] 2007 Drama Desk Awards - Utopia 7, Spring 4 As Win Streak Continues, Gasp! A Tie for Actress, Musical; 2007 Tony Nominees' Reception; FutureStage Playwrights; Comedy Every Night