The ever-dependable Brian Murray, one of the hardest and always-working actor/directors in the business, is back on the stage after a two year absence. He's playing Scotland Yard Inspector Rough in the Irish Repertory Theatre's revival of Angel Street, now known as Gaslight.
The play is a dark drama about a husband, with a mysterious past, who, believing his new wife is being unfaithful, submits her to psychological abuse and manipulative dominance that brings her to the brink of a nervous breakdown.
Murray, a Tony nominee and Drama Desk winner, is a recent inductee into the Theater Hall of Fame. His last appearance on Broadway was opposite Dana Ivey and Richard Easton in LCT's 2005 The Rivals and, the same year with Judith Light Off Broadway in Colder Than Here.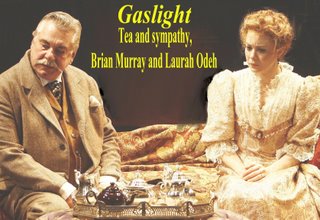 David Staller [Ernst in the 1987 Cabaret revival] is Jack Cunningham, the debonair but diabolical husband.
Co-starring are veteran actress Patricia O'Connell, who made her Broadway debut in 1933's Uncle Tom's Cabin, Laura Odeh as wife Bella Cunningham and Laoisa Sexton is sassy maid Nancy.
Gaslight, which is set in Victorian London, is directed by Irish Rep co-founder and artistic director Charlotte Moore.
The 1941 Broadway play by Patrick Hamilton starred Vincent Price and Judith Evelyn as the husband and wife and Leo G. Carroll [later of Topper fame] as the detective. With names changed and characters added, it became a huge screen hit three years later, adapted by John Van Druten and directed by George Cukor. Charles Boyer and Ingrid Bergman played husband and wife with Joseph Cotten as the crafty inspector.
There were two standout supporting roles: Dame May Whitty and Angela Lansbury, making her screen debut as maid Nancy, a role which won her an Academy Award nomination at age 19 and put her on the quick ascent to stardom.
Murray is excited "to be in such a rich drama with all sorts of twists and turns" and especially happy to be back at Irish Rep, where he has directed.
He was born of British parents in South Africa and from age eight worked professionally on stage and radio. He went to England at 18 to study, "but I took a repertory company job, which gave me my education."
Accepted into the Royal Shakespeare Company in the early 60s, he was asked to join their 1964 world tour in honor of Shakespeare's quattrocentenary year. "It was the RSC's first time in the U.S. We did King Lear, directed by Peter Brook at Lincoln Center's New York State Theatre, the only time there's ever been a straight play there. It opened only two weeks before we did. We didn't have mikes, and the acoustics were dreadful!"
Murray, who's now a U.S. citizen, fell in love with New York. "I'd never known a place as exciting," he says. When the tour ended, he returned here and was cast in the Off Broadway hit The Knack, directed by Mike Nichols.
"I caught as much theatre as possible," recalls Murray. "What impressed me was the passion, commitment and vitality of the actors. By comparison, English theater was laid back. It was considered bad form to get too intense, and I was intense. I found myself in a place where everyone was intense. I knew this was where I wanted to be."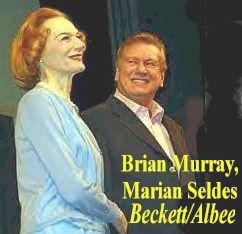 In 1965, Murray made his Broadway debut but soon after he was back in the U.K., "only to ruminate on coming back to America. It took three years."
But what a return! It was Tom Stoppard's Rosencrantz and Guildenstern Are Dead. "That was an extraordinary experience," Murray states.
He was nominated for a 1968 Tony for Featured Actor along with cast members Paul Hecht and John Wood. "We won the Tony [for Best Play] and became a cult hit. None of us realized it was going to be that popular, least of all our producer David Merrick, who only took the theatre for three months."
One reason the show resonated so well with audiences, says Murray, "was because it was the 60s and every kid who was possibly going to Vietnam identified with these two almost nameless, background people who are used by the government. We ran for a year."
Did the Tony nomination secure his future? "Yes," he replies. "Let's say, ëOf course, it did!'" he adds thoughtfully. "More than anything, it was the play and the incredible reviews."
Some highlights of his career as an actor are: Hugh Leonard's 1978 Tony-winning Best Play Da, in which he played Charlie, the son; Sleuth; Noises Off ; Off Broadway in Travels with My Aunt opposite Jim Dale; and the revival of The Entertainer with Jean Stapleton. He later had the opportunity to do Da again at Irish Rep, this time playing the title role.
"Noises Off was memorable," he notes, "because of its nature. Being farce, it wasn't considered as great to work on as Rosencranz, but I'd put it right up there. It was a carefree time and so much fun to go to work every day. It's wonderful to be in a show that makes people giddy with laughter."
Murray says he would never want to be in a play he's directing because "you cannot have your ego get in the way of your concern for the actors. As director, you have to be their nurse, lover, daddy, all those things. An actor has to have an ego, but a director shouldn't - not that sort of ego, anyway."
Tickets for Gaslight at Irish Rep, 132 West 22nd Street, between Sixth and Seventh Avenues are $55 and $60 and may be purchased by calling the Irish Rep box office at (212) 727-2737.

A Country Boy Loves the Big Apple

"I just love New York," says Grammy Award-winning country star Larry Gatlin, who's back in town this week to debut an intimate new act at the intimate Metropolitan Room [34 West 22nd Street, between Broadway and Sixth Avenue] tonight and tomorrow [May 16] at 8 P.M. as part of the club's first anniversary celebration.
"D.C. is the capital of the United States but New York City is the capital of the world," Gatlin exclaims, "and I'm happy to have so many good friends there." A lot of those "friends" are devoted fans who've followed the singer/guitarist/songwriter par excellence for a good portion of his 40 years in show business.
Gatlin is certainly no stranger to the city. Long before his well-received run on Broadway in The Will Rogers Follies, he played Madison Square Garden; and long before that the late-lamented Max's Kansas City. More recently, Gatlin has been featured with Jamie deRoy & Friends at Symphony Space's Thalia Theatre and was a special guest at Town Hall's Nightlife Awards in January.
For his Metropolitan Room gig, Gatlin has something different planned. "I rarely know exactly what I'm going to do," he laughs. "I just go out there, joke with the audience and do some of my hits and songs from Will Rogers. As that good ole boy said, ëThis ain't rocket science.' I know the folks come to hear the music and I'm going to sing some of the hits they associate with me and the Gatlin Brothers."
Tonight and Wednesday at the Metropolitan Room, he'll sing tunes from his musicals in development "to get the pulse of how folks respond" and will do some of his chart-topping hits, such as "All The Gold In California," "Houston" and his Grammy-winning "Broken Lady."
Gatlin will also feature some of his New York friends, such as Tony and Drama Desk nominee Dee Hoty, who appeared with Gatlin on Broadway in TWRF, Tony and Drama Desk winner James Naughton and Nicolette Hart, who's appeared in The Wedding Singer and Rent and whom Gatlin's known since they did a production of Frank Wildhorn's Civil War.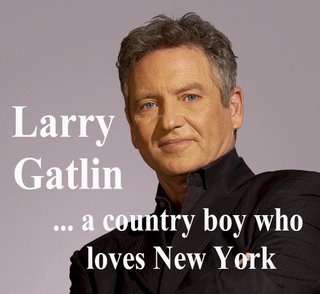 You may be seeing a lot more of the gentle, jovial Texan. Gatlin has plans to stick around. New York may become his second home. "I don't know what number it's going to be," he said from his current home in Austin, Texas. "It could be third, fourth or fifth. I've moved around some. But I'm coming to New York and looking for a place I can hang my hat several times a year."
For several years now, Gatlin has been composing not one, not two, but three musicals "all at one time. And why not? The words are in the dictionary. Every lyric for every song I'm writing is in Funk & Wagnalls."
The musical that's closest to his heart and closest to being stage ready is Quanah, which he's previewed here "in some readings and singings." It's the story of a young white girl captured in 1836 Indian raid on Port Parker in Texas near the Trinity River, how she was raised by the Indians, became one of them and gave birth to a son, Quanah, who became a Comanche leader.
Movie fans might be familiar with the story, based on the novel by best-selling Western writer Alan LeMay, and adapted for the 1956 screen classic The Searchers, directed by the legendary John Ford. John Wayne starred as a Civil War veteran searching for his niece, whom he reintroduces to "civilization." Natalie Wood co-starred.
Gatlin has had some "readings and singings" of the material from Quanah and is meeting with potential producers and tour orgs. He hopes to launch the show next year and eventually bring it to Broadway.
"I've purposefully distanced myself from the film," he advises, "not only for obvious reasons but because it only told half story. I've gone back to the source material. Even if John Ford had wanted to tell the true story, back in the mid-50s that would have been impossible because of political and racial climate. The part put on film shows the Indians as murdering savages. You couldn't broach the subject of how the white settlers came, seized Comanche lands and killed thousands of Indians."
In the show, because the girl was raised from childhood by the Comanches, she's quite reluctant to leave because she doesn't really know any other family but the Indians; nor could she speak any English, by the time she was found. Her reunion with her family was a hollow one.
"I don't plan to make big political points," Gatlin points out. "That's not my job. I'm going to use music to tell the story of what happened to the girl, after living with the Comanche for thirty years and bearing children. Here's the part that few people know today: there were thousands of children abducted as the West was settled. What makes this story important or the most important is that her son Quana became the savior of his people."
Gatlin, who came up the ranks of the music business singing gospel with brothers Steve and Rudy, eventually went solo by seguing into country and pop music. In addition to his own songs, he's penned tunes for the likes of Elvis, Roy Orbison and his good friends Johnny Cash and Dottie "Country Sunshine" West.
Admission for Larry Gatlin at the Metropolitan Room is $25 plus two-drink minimum. For reservations, call (212) 206-0440.

Papal Audiences
The Storm Theatre is offering devout theatergoers an opportunity to get up close and personal with Karol Wojtyla, later better known Pope John Paul II, through plays he wrote as a young man when he was a journeyman actor and budding playwright.
Part 1 of the Karol Wojtyla Theater Festival will open Wednesday with The Jeweler's Shop and Our God's Brother, playing in repertory through June 17. In the Fall, the Festival will continue with two more plays and readings.
Storm is located at 145 West 45th Street, in the historic Theatre District church, St. Mary the Virgin or "Smokey Mary's" [because of the amount of insence burned at solemn masses].
Young Wojtyla was a member of Poland's Rhapsodic Theatre, which continued to operate even during the Nazi occupation as a means of preserving the country's literature.
Storm co-founder Peter Dobbins found a translation of the Pope's plays 20 years ago in a Texas bookshop. "Needless to say, they aren't flashy," he notes. "The ideas are deep and heady, but when you put those words into the mouths of actors, they leap out at you."
Series associate producer Michelle Kafel says, "The plays open a window into pivotal moments of the 20th Century and explore conflicts, ideas, religious insights and nationalistic yearnings that shaped the unique vision of a man who transformed our world forever."
The Jeweler's Shop, 1960, explores "the mystery of the sacrament of marriage, not only as the sacrament itself, but also as a symbol of Christ's relationship to His Church."
Our God's Brother, written during the Soviet occupation of Poland is the story of a freedom fighter-turned-artist faced with the dilemma of choosing between an artistic vocation and the religious path.
Tickets are $20, with seating first come, first served, and can be purchased by calling (212) 868-4444 or on line at www.smarttix.com. For more information, visit www.stormtheatre.com.

The Brits Are Coming! Wait, They're Here
The Brits Off Broadway Festival, host to some of the U.K.'s innovative and provocative theater, is back and in full swing at 59E59 Theatres [59 East 59th Street, between Lexington and Park Avenues].
Among the plays being presented through July 1 are: The Receipt, written and performed by Will Adamsdale and sonic artist Chris Branch, was an award-winner at the 2006 Edinburgh Festival Fringe.
May 5 - 27, Memory written by Jonathan Lichtenstein [The Pull of Negative Gravity] and directed by Tony Award-nominee Terry Hands, dramatizes "the power and failure of memory as it crosses two generations, linking the Holocaust with the modern-day Israeli- Palestinian conflict."
May 29 - June 10: Rosebud: The Lives of Orson Welles, written by Mark Jenkins [author of Playing Burton] has actor Christian McKay revisiting the glories of Welles' youth, meteroric rise and subsequent exile from Hollywood.
May 31 - July 1: Intimate Exchanges, direct from a sold-out run in the Brit regionals, is written and directed by Sir Alan Ayckbourn. It brings to life the axiom Where there's smoke, there's fire in this play about suicidal friends, busybody neighbors and pushy family members is set ablaze when one character's dilemma to smoke or not to smoke that releases off eight separate plays with 16 endings.
June 5 - July 1: Rabbit, a comedy about friends and lovers celebrating a birthday, written and directed by Nina Raine, one of England's most exciting young playwrights, caused a sensation when it premiered on the West End in 2006.
For a schedule of works being presented, visit www.59E59.org or www.britsoffbroadway.com. Single tickets are $25 - $55 [$17.50 - $38.50 for 59E59 members]. A four-show Brit Pass if $125/$105 members [two shows in Theater A; choice of one each in B and C]. A seven-show Brit Pass [all shows] is $185/$160, members). Single tickets are available through Ticket Central, (212) 279-4200 or online at www.ticketcentral.com. Brit Passes can only be purchased by phone or at the box office..

A Knight and a Nixon to Host the Obies

T.R. Knight of Grey's Anatomy fame and Tony-winner Cynthia Nixon of Sex and the City fame join together to host the 52nd Annual Village Voice OBIE Awards next Monday [May 21] at New York University's Skirball Center.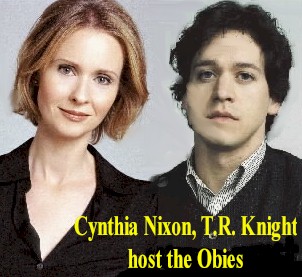 Knight, a member of Minneapolis' Guthrie Theater, has performed such stage roles as Richard Miller in O'Neill's Ah, Wilderness! and the title role in Peter Shaffer's Amadeus.
Nixon is certainly no stranger to theater, having graced stages since age 14 [making her Broadway debut as Dinah Lord, Tracy's little sister, in LCT's The Philadelphia Story revival]. Most recently, she starred, winning Best Actress honors, in Roundabout's production of David Lindsay-Abaire's Pulitzer Prize-winning and Tony and DD-nominated Rabbit Hole.
The OBIEs are the freewheeling wild child of New York theater's awards world. They were established in 1955 by then Village Voice theater editor and still prodigious theater writer Jerry Tallmer [a frequent contributor to Playbill].
What makes the OBIEs unique is that there are no set categories, but rather their goal is to reconize "a distinctive pursuit of quality beyond categorizing." There are only winners, and a category might have any number of honorees. There are a few set awards - such as Lifetime Achievement and Best New American Play. A committee of critics and theater professionals selects recipients.
The event is by-invitation-only. For full coverage, visit www.villagevoice.com/obies or the May 23 issue of the Village Voice.

From McNally to LaBute
Frederick Weller, a 2007 Drama Desk nominee for his role in Terrence McNally's Some Men, will co-star with Ron Livingston [TV's Matt Flannery in Standoff] in MCC Theater's world premiere production of Neil LaBute's In A Dark Dark House beginning Wednesday at the Lucille Lortel Theatre [121 Christopher Street, near Hudson Street].
Weller is known for his work in Glengarry Glen Ross, whose cast received a DD Ensemble Award, his acclaimed performance in Take Me Out as Shane Mungitt, which won him a DD nom and, last summer's, Mother Courage and Her Children, starring Meryl Streep.
In a Dark Dark House centers on two brothers facing their traumatic past of personal animosities and a family secret. Carolyn Cantor is the director.
Single tickets to are priced at $70 and are available by calling (212) 279-4200 or at TicketCentral.com. New MCC subscribers the 2007-2008 season can purchase tickets for only $33. For more information, visit www.MCCTheater.org.

Follies Return to 42nd Street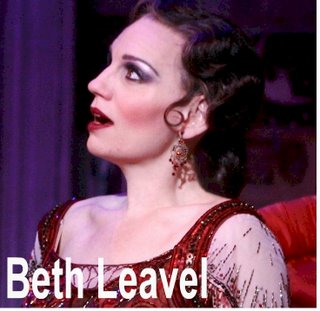 Next Monday, Jason Danieley [Curtains], John Glover and Beth Leavel [Drowsy Chaperone], Marin Mazzie [Spamalot], Orfeh [Legally Blonde], Josh Strickland [Tarzan], Barbara Walsh [Company] and cast members from The Color Purple and Coram Boy will perform songs from their shows at the West 42nd Street's historic New Victory Theater as part of the first-ever New 42 Follies, a benefit for the New 42nd Street.
Tony nominee and DD winner and TV star [L&O] Sam Waterston will host this one-night-only revue.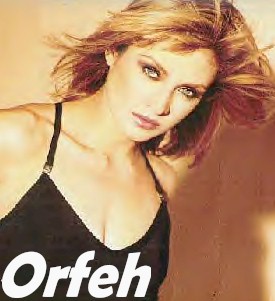 Producer Bob Boyett and Tony and DD-winning director/choreographer Susan Stroman are the chairs for the gala and after-performance dinner. Proceeds will benefit, among other programs, the New Victory's arts education outreach programs.
Individual tickets $1,000 - 1,500, with tables of ten from $10,000 - $25,000 and may be reserved by calling (646) 223-3082. Performance tickets are $100 for mezzanine seating and include the pre-performance cocktail reception. A limited number of performance-only balcony tickets are available at $25 by calling (646) 223-3010.

Oh, Helen!

Presenting Helen Mirren with the Distinction in Theater Award at the Fifth Annual Backstage at the Geffen Theatre gala in Westwood, California, John Lithgow became very emotional as he vividly recalled when, as a theater student, he first saw Mirren onstage.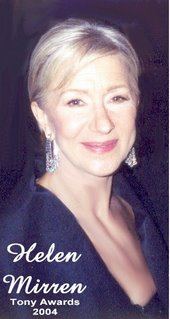 Accepting the honor, everyone became quite emotional, some to the point of tears as Dame Helen Mirren made her acceptance speech. Since this is Awards season, and considering what she said, her words are worth repeating:
"There are people who deserve awards," said Mirren. "People who jump higher than anyone has ever jumped before, people who save people from burning buildings, any parent with a sick child and probably all the soldiers serving in Iraq. But me? I don't. However, here I am accepting this award with great pride, because it is a theater that is presenting it. Theater is my beginning, my middle and probably will be my end.
"It was an amateur production of Hamlet that opened my eyes to what storytelling could do," she continued. "I was fourteen and I thought it was the most exciting thing I had ever seen. In the theater, stories can be told that can't be told anywhere else, and delivered in a form that is unlike any other. Theater can show us the things about ourselves we fear to see and the things we love to see. Theater investigates argument, thought, convention, history; our foibles, our nobility, our crassness, our passions, our hypocrisy. Above all, it challenges and questions the status quo. And hopefully it entertains, too."
Dame Helen, hurry back to Broadway.

[Photos: 1 and 2) CAROL ROSEGG; 5) JOAN MARCUS; 7) ELLIS NASSOUR]


Recent Archive :
Monday, April 16, 2007
[ STARS ] In Legally Blonde, Opposites Attract: Orfeh and Andy Karl Are a Real Life Duo; Celeste Holm Milestone; Cryer and Ford Return Big; Naked Angels One Act Fest; Rockin' Arias; Movies from Tribecca to Boxed Errol Flynn
Friday, April 20, 2007
[ STARS ] Remembering Kitty Carlisle Hart: Just Point Her in the Right Direction and She Would Be Off and Running
Tuesday, May 1, 2007
[ STARS ] Drama Desk Honors 2007 Nominees; Celeste Holm and Jane Powell Feted; Dreamgirls On DVD
Monday, May 7, 2007
[ STARS ] Donna Murphy: Singing in a Different Key in LoveMusik
Friday, May 11, 2007
[ STARS ] Tom Jones and Harvey Schmidt on 110 in the Shade; Champion Legends Onstage in Deuce; Encores! Salutes Broadway Revues in Stairway to Paradise