The Entertainment World Mourns
Luciano Pavarotti, probably the best known and most loved opera singer of modern times, died in Modena, Italy this morning. Pavarotti, known as The King of the High C's, hadn't sung in public in a year and a half since being diagnosed with pancreatic cancer.
The burly Pavarotti, who grew up fixated on the movie arias of Mario Lanza, reached world fame in opera houses and captured the imagination of the world's everyday folk, especially with his showmanship and outsized personality on TV shows, to make opera almost as popular as easy listening music.
With his stunning voice, he easily became the world's best-selling opera recording star. In later years, he made it almost as profitable - appearing in stadiums and Central Park - eventually and shamelessly overexposing himself and, said many, harming his voice. With great stardome comes great fortune and great scrutiny. Pavarotti ran into financial trouble over his use of tax havens. As his opera house career reached its zenith, his career not only rebound but also skyrocketed as he joined Placido Domingo and Jose Carreras and, dubbed as The Three Tenors, become an entertainment phenomenon.

A Broadway Babe Goes Metro

In a sort of cabaret-version of Broadway Bares, Jodi Stevens, the stunning beauty with the power pipes is telling all, musically, as she makes her cabaret debut with A Broad's Way the next four Monday nights at the Metropolitan Room at Gotham [34 West 22nd Street, between Fifth and Sixth Avenues]. Directing is none other than Tony and Drama Desk nominee Sally Mayes. Musical supervisor is Jo Lynn Burks.
Stevens, who received raves Off Broadway in Walter Marks' Bodyshop [directed by Sue Lawless, with choreography by Tony Stevens]. She went on to Broadway in Jekyll & Hyde, eventually playing Lucy, and Urban Cowboy. She's making her return to the show business after taking some time off to get hitched and have a bambino.
A Broad's Way features songs by the Gershwins, Porter, Andrew Lippa and, among others, her friend Frank Wildhorn and exposes the compulsions, relationships and obsessions that colored her life - being a twin, a dyslexic stripper, thespian and now wife and mama.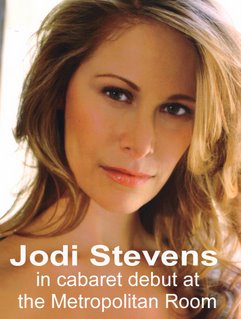 Stevens and Mayes met and bonded on Urban Cowboy. "I'd always been a fan," said Stevens, "and, since our musical had such a short run, I hoped we'd work together again. When producer Jeff Landsman wanted to put up a show with me, Sally was my first call. The only way to hang with her was to hire her to direct!"
She and Burks met on a Rat Pack musical where Stevens was the only female. "When Jo Lynn showed up as associate musical director," she recalled, "I immediately took to her. We shared a dressing room. Her sense of humor is as great as her musical talents. It's such a joy to work with such a consummate pro. In fact, it's great to make music with your girlfriends! It's sort of ëLet's put on a show,' but in the intimate confines of the Metropolitan Room."
"Jodi is aces with me," says Tony and Drama Desk nominee Mayes. "She's not only beautiful, but a terrific singer and a constantly questioning actor, which you have to be to do your work well. We almost have a shorthand with each other, probably because she's also a dear friend. We've had a ball working on this with the incredible Jo Lynn."
Mayes, who also took time off to be a mama and become, as she put it, "the laziest gal in town," says her focus really shifted. "I've been directing cabaret, on and off, for a few years, Mayes. I worked with Tovah Feldshuh's concert act for a couple of years we took it to South Africa, the U.K. and Australia. I love collaborating with strong women, and it's taught me so much about this craft. I always wanted to direct and it just seemed the natural progression for me. Now, I want to direct a theatre piece."
Stevens' debut solo CD Girl Talk [$13] is on Sons of Sound available at http://www.sonsofsound.com/ and http://www.amazon.com/.
Showtimes for Jodi Stevens' A Broad's Way are 7 P.M. this Monday and again next - and 9:30 on September 24 and October 1. The cover charge is $20 plus two drink or dessert minimum.
For reservations call (212) 206-0440 or visit http://www.metropolitanroom.com/.

Hosts Announced for Graham Dance Series
The Martha Graham Dance Company begins an 80th Anniversary season a two week engagement at the Joyce on Tuesday, performing three programs featuring many Graham classics. The opening night program at 7:30 P.M. will be hosted by James Lipton. On Saturday, the 15th at 2 P.M.,
From the Horses Mouth
, the heart and history of Graham told in stories and dance by illustrious alumni, will be presented. Former leading dancer and now world-wide impresario Paul Szilard is the presenter.
The Graham Dance gala is Tuesday, September 18, at 7 P.M. and will feature Blythe Danner.
Each program features three Graham masterworks and will open with anecdotes about Graham from such special guests as Patricia Birch, Jacques D'Amboise, Carmen DeLavallade, Garth Fagan, former BAM director Harvey Lichtenstein, Lar Lubowitch, Donald McKayle, Douglas Sonntag, Tina Ramirez and Susan Stroman.
The Martha Graham Dance Company, founded in 1926, is the oldest and most celebrated contemporary dance company in America. Janet Eilber is artistic director and LaRue Allen is executive director.
Tickets for Martha Graham $25 - $44 and available at the box office, through JoyceCharge at (212) 242-0800 and the web site.

Sex, Lies and Alfred Kinsey
Alfred Kinsey: A Love Story, the highly theatrical, fictionalized comic and erotic play by Mike Folie that places Kinsey's own erotic voyage under examination, is creating quite the buzz - media and audience - Off Broadway at the Michael Weller Theatre [311 West 43rd Street, sixth floor, West of Eighth Avenue].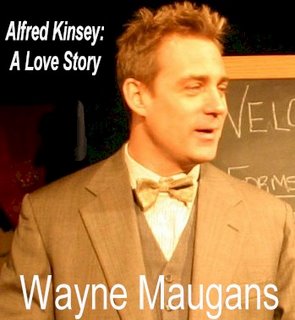 Presented by the New York Theatre Collective, it stars Wayne Maugans, in the title role searches for the truth through his subjects' sex lives - a journey that ultimately leads him full circle to shattering discoveries about himself. Melinda Wade and, as multiple characters, Carter Roy co-star.
Folie, whose The Adjustment was done Off-Broadway by Jewish Rep, regionally and in the U.K., was recently named as one of "50 to Watch" playwrights. by the Dramatist Guild. He's resident playwright at NJ Rep.
Directing is Craig J. George, former director/producer of the Hamptons Shakespeare Festival, whose adaptation of The Taming of the Shrew recently played Off Broadway to critical acclaim.
Barring an extension or move, the end date is September 23. Alfred Kinsey: A Love Story tickets are $18 and available by calling (212) 352-3101 or through http://www.theatermania.com/.

Hyde Pierce Takes His Tony to the Friars

TV's Emmy-winning sensation and Tony-winning co-star of Curtains, David Hyde Pierce will be feted by his fellow Friars on Monday. Putting him on the hot seat will be theater historian/critic Peter Filichia. Randie Levine-Miller, Rick Newman and Stewie Stone chair the Friar's entertainment committee. Levine-Miller, also Drama Desk director of special events, is producing the invitation-only event. The legendary Freddie Roman is Dean of the Friars Club.

How I Learned to Write

Playwrights Horizons and the multi-faceted Jewish cultural group Makor present The New Face of Drama: Eight Rising Theater Stars on Monday at 8 P.M. at the 92nd Street Y. The panel discussion, moderated by Pulitzer Prize-winning Paula Vogel [How I Learned to Drive, The Baltimore Waltz], will include Pulitzer finalist Sarah Ruhl [The Clean House, Eurydice],whose Dead Man's Cell Phone will have its PH premiere next February; Obie winner Adam Bock [Swimming in the Shallows], whose The Drunken City prems at PH next March; Kate Fodor, who kicked off PH's season with 100 Saints You Should Know; and two-time Olivier Award nominee John Dempsey [The Witches of Eastwick] and Obie Award winners Michael Friedman and Rinne Groff, all of whom-wrote the musical Saved, which has its world prem in May at, where else, PH.
Tickets are $10 and available at the Y box office, online at http://www.92y.org/ or by calling (212) 415-5500. Visit http://www.playwrightshorizons.org/ for more information.
Maye in September
Powerhouse singer Grammy nominee Marilyn Maye, who, in March, ended a 16-year-absence from New York with her acclaimed act in March at the Metropolitan Room, returns to the scene with Maye Sings RayÖ and More!, a quasi tribute to Ray Charles and others. Billy Stritch accompanies on piano.
Performances are September 12 - 15 at 7:30 P.M.; September 16 at 7 and 9:30; the 17th at 9:30; September 19 - 22 at 7:30; and the 23rd at 7 and 9:30. Reservations, as above. The cover charge is $30 plus two drink or dessert minimum.

Remembering Jerry Hadley

A Mass of Remembrance will be celebrated in memory of Jerry Hadley at St. Malachy's Church [239 West 49th Street, East of Eighth Avenue] in the Actors Chapel on September 15 at 1 P.M.
Among the soloists for the Mass will be soprano Talise Trevigne and tenor David Ossenfort. St. Malachy's director of music is Daniel Brondel. The Mass celebrant will be the Reverend Richard Baker. The liturgal readings will be by Brian Cheney and Guy Novo. Reflections will be given by David Hartman and Midge Woolsey. Among those expected to attend are Jamie Bernstein, the soprano Amy Burton, Metropolitan Opera star James Morris and composer John Musto.
This is a liturgical service. Memorial observances are being organized. The first will be a Jerry Hadley memorial in his home town with musical performances at the Bureau Valley High School in Manlius, Illinois on September 22 at 7 P.M. Memorial gifts in memory of Jerry Hadley may be made to the Hadley Fund for Music Excellence at his alma mater: Bradley University Department of Music, Development Office, 1501 West Bradley Avenue, Peoria, IL 61625. Funds will be used to assist talented voice students in financial need.

Free Broadway!

The League of American Theatres and Producers and the Times Square Alliance presents the 16th Annual Broadway on Broadway free concert on Broadway in the heart of Times Square on September 16 at 11:30 A.M. It will be light, but the stars will be shining from shows A to X.
Hosting will be Lance Bass, Hairspray's Corny Collins and former member of million-selling boyband NSYNC, which sold over 25 million albums worldwide.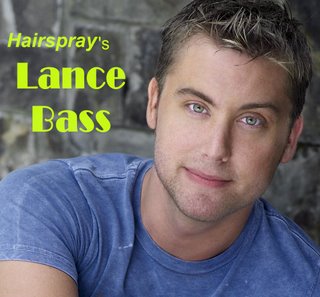 "Broadway on Broadway is a celebratory kick off to the Broadway season," said League executive director Charlotte St. Martin, "and this year's concert will be bigger and better than ever."
BOB features a grand finale with a rain of confetti. Advisory: it's not New Year's Eve but with over 50,000 expected arrive early and dress appropriately. Bring water!
Are you Broadway's Biggest Fan? If so, enter the competition and prove it with a 60- second video showing why you are, well, Broadway's biggest fan. Winning videos will be broadcast on a jumbo screen to thousands. Making its debut this year will be the Broadway Fan Zone, a VIP area near the stage for up-close and personal viewing. It's free - yes, FREE! - but only available to the first 100 fans that arrive dressed as their favorite Broadway character. Visit http://www.broadwaysbiggestfan.com/ and http://www.broadwayonbroadway.com/ for details.
IMG Media, the world's largest packager and producer of sports and live event television, is producing Broadway on Broadway, which is co-presented by Continental Airlines, The New York Times, Theatre Development Fund [TDF] and Madame Tussauds.

Joe's Pub Is Movin' On Up

The Public Theater's Joe's Pub in the Park, a two-week series of free and paid triple-bill concerts through September 30, is being presented at Central Park's Delacorte Theater.
Million-selling recording NY-born/Jersey-bred icon Leslie Gore will surely treat fans to "It's My Party," when she makes a rare live appearance on September 19. Among her many hits was "Out Here on My Own," written for the film Fame with brother Michael Gore [Carrie], for which they were nominated for an Academy Award. Sharing the bill with Gore will be pop-satirist Jill Sobule and punk minimalist trio New Standards.
Highlights of the concerts, all at 7 P.M. are Grammy-winning alt-country star Patty Griffin, whose work was recently presented in 10 Million Miles at the Atlantic Theater Company, and New Orleans pianist-laureate Allen Toussaint [September 20]; and Balkan Beat Box; indie-folk band Beirut and the NY Gypsy All-Stars [September 26].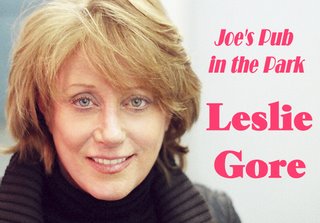 On September 29, join Justin Bond's [Tony and Drama Desk-nominated Kiki and Herb] Close to You, an appreciation of the Carpenters; David Driver singing the Scott Walker songbook; and an all-star commemoration of T. Rex leader Marc Bolan.
Paid concert reserved seats are $25 - $50 for the general public and $20-$45 for Public Theater members and available at the Public Theater box office, on-line at http://www.joespub.com/.

20at20 Returns

Where can you see five shows in a day for less than the price of one Broadway ticket? Why, right here in New York, but conditions apply. Through September 16th, 20at20 offers the avid theatergoer on a budget tickets to a long roster of Off-Broadway plays, musicals and revues for only $20. Tickets must be purchased twenty minutes before show time on a cash basis at the show box offices. 20at20 is a project of the Off-Broadway Brainstormers. Go to www.offbroadway.com for the list of participating shows.

Going Dutch at the Met
Beginning September 18 through January 6, the Met presents a landmark exhibition, The Age of Rembrandt: Dutch Paintings in The Metropolitan Museum of Art, putting on display the museum's 20 Rembrandts and its entire Dutch Paintings Collection on view. In all, there will be 228 Dutch works on display, as opposed to the 100 on regular view. The Metropolitan is closed on Mondays.

Last Chance
Don't miss the opportunity to revisit or discover the wonderful career of Molly Picon, in the fabulous exhibition in the Vincent Astor Gallery of the Lincoln Center Library of the Performing Arts, through September 22.

[Photos: 1) PAUL KOLNIK; 4) SARAH LAMBERT]
--------
Ellis Nassour is an international media journalist, and author of Honky Tonk Angel: The Intimate Story of Patsy Cline, which he has adapted into a musical for the stage. Visit www.patsyclinehta.com.

He can be reached at [email protected]
Why are you looking all the way down here?
For more articles by Ellis Nassour, click the links below!
Previous:
A LuPone and a Gypsy for a Broadway Time Capsule; Summer Broadway Festival; Lois Smith Surfaces; Summer Film; Screen Goddesses
Next:
Remembering Hair and West Side Story; Starstudded Flea Market; Remembering Betty Comden
Or go to the
Archives