The 40th Anniversary of Hair: The American Tribal Love-Rock Musical will be celebrated with concert performances at Joe's Pub in the Park, at the Delacorte Theater in Central Park Saturday, Sunday and Monday. Performances are free and begin at 7 P.M.
The year is 1967, and the Vietnam War is at its height. In New York, a hippie tribe rails against the establishment, intolerance and brutality. When one of their own gets drafted, he must make a decision about what values are worth fighting for.
Book and lyrics are by Gerome Ragni and James Rado, with music by Galt Macdermot. The concert production is directed by Diane Paulus with Xanadu's Rob Fisher as music director.
The 30-strong cast is highlighted by Spring Awakening's Tony and Drama Desk nominee Jonathan Groff as Claude, Tony-nominee Megan Lawrence [Pajama Game, Urinetown] as Mother of the Tribe and Will Swenson [one of the standout stars of Roundabout's 110 in the Shade revival] as Berger.
Tickets are available day of the performance [two per person] at the Delacorte box office from 1 P.M. and at the Public from 1 - 3. Enter Central Park at West 81st Street and Central Park West and East 79th Street and Fifth Avenue. The 2007 season of Joe's Pub in the Park is made possible by generous funding from The New York State Music Fund.
Hair premiered at the Public in October 1967, officially opening its home on Lafayette Street. It has the distinction of being the first off-Broadway musical to transfer to Broadway when it moved to the Biltmore in April 1968, where it ran for 1,750 performances. Among those in the cast were Paul Jabara, Diane Keaton, Lynn Kellog, Melba Moore, Rado [Claude] and Ragni [Berger]. It reopened for a short-lived run in 1977. Among those featured were Cleavant Derricks and [pre-Dreamgirls] Loretta Divine, Annie Golden [currently an u/s in Xanadu] and Charlaine Woodard.
"Make love, not war!" was the battle cry in 1968 among the free wheeling, anti-war East Village hippies. Rado and Ragni, two unemployed actors, had the idea to create "something new, something different" for the stage. The result impressed New York Shakespeare Festival impresario Joseph Papp so much that he urged the duo to add music.
They collaborated for two years to create their "pop rock/showtune hybrid." Ragni says it wasn't easy finding a composer. "We rejected several, until finally, in early 1967, we found Galt. What he composed was love at first hearing. It was more than a fulfillment of a dream. It was a clear illustration of a marriage made in heaven."
MacDermot's forays into music had been quite heavenly. He was a church organist before becoming a band pianist. Even though MacDermot was as straight-laced as Rado and Ragni were hip, it became, as Ragni said.
On its Off Broadway opening, Hair became a major turning point in theater. Hippies advocating peace over war, drugs over soda pop and free love - not to mention onstage nudity and words never heard even in impolite society - created an uproar. Old-line drama critics didn't know what to think, but youth bellied up to the box office. The fledging Public Theatre had a blockbuster and Papp was established as a producer to be reckoned with. Out with the traditional and in with the avant-garde became the rallying cry. There were cries for censorship and, subsequently, many cities banned productions.
Even after becoming a smash, it appeared the creative team's dream of being on Broadway wouldn't come true. "We offered it to the established producers," reported Rado, "but it was rejected again and again."
Then producer Michael Butler, a handsome, independent-minded young yachtsman from an aeronautics family, and Papp moved the show to a Theatre District disco. When Papp began to doubt Hair's future - or fear for his own because of necessary funding for his theatre - and when Butler's dad turned off the finance spigot, Adela Holzer, who billed herself as a Spanish aristocrat, came to his rescue with additional money.
Holzer became that rare commodity: a major female producer, later bringing Treemonisha and The Ritz to Broadway. She was an early supporter of Terrence McNally and the directorial aspirations of Dustin Hoffman [who got so fed up with her interference, he locked her out of the theatre]. Holzer was also lead producer of Rado/Ragni/MacDermot's second Broadway outing, the disastrous Dude.
In 1979, she was convicted of grand larceny and landed in prison. In 2003, she got was convicted of bilking immigrants of money on the promise of securing their Green Card. She's still serving time and will be unable to see the production she helped salvage and guide into the theatrical history books.
Bulter, who was, ironically, pro the Vietnam conflict and who ran for a Democratic U.S. Senate seat in Illinois, was the godson of film legend Tyrone Power; a devoted friend Greta Garbo, the Windsors and John and Jacqueline Kennedy.
The most avant-garde of avant-garde directors, Tom O'Horgan was brought in to revise the show and Broadway was never the same. In May 1971, he enjoyed controversy all over again with his production of Lenny, followed in October by his Jesus Christ Superstar, which also had its fair share of protestors - this time, religious.
If the creators wanted something different, they got it. More than one cast member said that the majority of the cast was "high on acid." To encourage nudity, cast members were offered an additional $7.50 each time they exposed themselves.
The perception of what a Broadway show "should be" is vastly different today. Back then, even with its great popularity, Hair was only nominated for two Tony Awards: Best Musical and Best Director. What amazed most traditional theater power-brokers was that it was nominated at all. Snub or no snub, there was no shortage of audiences. They went because they believed or to be shocked. Hair became a cause celebre.
Some of the show's rock score grew to accepted by the mainstream: more accessible songs, such as "Aquarius" and "Let the Sunshine In," which made it to the pop charts. The sun shined in and the Age of Aquarius dawned. Peace, love, freedom were in vogue, at least onstage.

West Side Story's 50th Anniversary
The Leonard Bernstein/Stephen Sondheim/Jerome Robbins landmark production of West Side Story opened on Broadway in September, 1957. The stars were Larry Kert, Carol Lawrence, Chita Rivera and Mickey Calin. Among the supporting cast were Martin Charnin, Marilyn Cooper, Gover Dale and Tony Mordente.
To celebrate the Tony-winning musical's 50th Anniversary, Decca Broadway assembled a roster of classical crossover artists for West Side Story, a new, state-of-the-art recording of the score.
Bernstein's score was dazzling and varied, using Latin, jazz, street-savvy harmonies along with the soaring melodies of "Maria," "Somewhere," "Tonight," "I Have a Love" and "Something's Coming."
On the CD, two best-selling recording artists and critically acclaimed singers take on the roles of Maria and Tony: soprano Hayley Westenra and Italian tenor Vittorio. USA Today named Vittorio one of four possible heirs to Pavarotti's musical throne. Westenra, barely out of her teens, was said to have the "voice of an angel" by The New York Times.
The role of Anita is sung by Melanie Marshall. The cast includes an additional 15 singers. Nick Ingman conducts the Royal Liverpool Philharmonic Orchestra.
Jamie Bernstein provides introductory liner notes. "One of the many reasons I love my father's scor," she writes, "is that it can be enjoyed on so many levels. You can let the music was h over you like a glorious tide and simply revel in the rich melodies and propulsive rhythms; or inspect it more closely and be amazed at the intricacy of its composition."
Bernstein observes that "three notes, just three little notes, provide the musical key to the whole score. These are the opening notes: a g, a C and an F sharp. We hear these three notes again and again Ã- in endless anagrams and permutations, creating and ingenious musical portrait of ambiguity."
Masterworks Broadway just released A Place for Us: A Tribute to 50 Years of West Side Story, which reassembles chart-topping artists and instrumentalists on 10 tracks from various albums. They include Julie Andrews, Joshua Bell, the Dave Brubeck Quartet, the Canadian Brass. Eldar, Johnny Mathis, Brian Stokes Mitchell, Streisand and Andy Williams. Kristin Chenoweth and Hugh Panaro recorded a duet of "Tonight" especially for the album. In the way of previously unreleased material, Andre Previn, on piano, leads a jazz trio in a six-minute riff on "Gee, Officer Krupke."

More WSS News
World-renowned impresario Paul Szilard, who is presenting the Martha Graham Dance Company in their acclaimed Joyce season [which ends this weekend], and Michael Brenner will co-produce West Side Story with an American cast this November at Paris' historic Theatre du Chatelet. Two-time Tony-nominee Joey McKneely [Smokey Joe's Cafe, The Life] will direct and choreograph the four week engagement.
Szilard, a former leading ballet dancer, produced the first Japanese tour of WSS with an American cast, who were rehearsed by Jerome Robbins. It was the first English language Broadway show to appear there.
Brenner is no stranger to live entertainment. In addition to the Alvin Ailey American Dance Theater [which Szilard represented for nearly 40 years] and Les Ballets Trockadero de Monte Carlo, he's presented Matthew Bourne's Swan Lake, Ballet Nacional de EspaÒa, Sarah Brightman, Shirley MacLaine, Marcel Marceau, Broadway shows such as Tango Argentino and Fosse as well as a long roster of foreign language productions of Broadway hits.

Broadway's Star-studded Flea Market

Who wouldn't want a share of Broadway to keep and cherish? Well, get your grove on, because Sunday's the day to make out like O.J. did - or tried to - in Vegas.
The 21st Annual Broadway Flea Market & Grand Auction to benefit Broadway Cares/Equity Fights AIDS this Sunday from 10 A.M. - 7 P.M. in and around Shubert Alley promises to offer something for everyone - from the bargain shopper on the hunt for theater memorabilia to the well-heeled bidders who want to make their Broadway debut in a musical.
They'll be stars from all shows signing autographs and posting for photos, signed Playbills, posters, costume sketches, cast albums and refreshments. Again this year, stars from TV's daytime dramas will be on hand.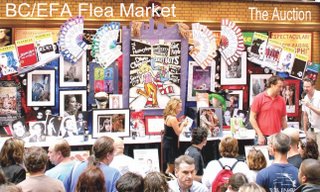 The highlight of the day is the "grand auction," where fans can bid for walk-on roles in such shows as Hairspray, Jersey Boys, Legally Blonde, Mamma Mia!, The Phantom Of The Opera, Rent and Wicked; private backstage tours of such TV shows as Battlestar Gallactica, Bones, The Daily Show, Scrubs and Ugly Betty; and VIP seating to the opening nights of Cyrano, The Little Mermaid, The Ritz and Young Frankenstein.
And how about the opportunity to own one-of-a kind Broadway memorabilia, such as Jessica Tandy's wardrobe trunk from the tour of A Delicate Balance.
In the market for a used van? Look no further than the Broadway Flea, where the long-running hit Altar Boyz will be donating the 1987 VW show van to be auctioned off. The winner will celebrate with the cast with a photo with boyz Andrew C. Call, Chad Doreck, Jay Garcia, Ryan Ratliff and Ryan Strand and the van; backstage tour and photos; autographed poster; 10 VIP tickets and souvenir programs; show CD, t-shirt, water bottle and promo button; and special drive about the city in the van in addition to a walk-on as the "Fogger" during the Altar Boyz opening sequence.
Celebrities scheduled to appear at the celebrity autograph table and photo booth include Max Crumm [Grease], Tyne Daly, Sir Ian McKellen, Laura Osnes [Grease), Bebe Neuwirth, Bernadette Peters, David Hyde Pierce, Anthony Rapp, Corin Redgrave [Tynan], Lynn Redgrave [Grace], Vanessa Redgrave, Jo Anne Worley [The Drowsy Chaperone] and many more.
BC/EFA is the nation's leading industry-based, nonprofit AIDS fund raising and grant making organization. By drawing upon the talents, resources and generosity of the casts of shows and audiences, the org has raised an astounding $130 million plus for services for people with AIDS, HIV or HIV-related illnesses since its inception in 1988.

Remembering Betty Comden

If planners had waited any longer to have Betty Comden's memorial, it could have been celebrated on the first anniversary of her death. As it was, on Tuesday, it was a few weeks short. One might wonder why it took so long, but Miss Comden was finally honored, and it was quite a memorable tribute.
Sadly, the party is officially over. The "better half" was the way the late Adolph Green described his long-time writing partner Betty Comden, who died November 23. She was 89.
I loved the 1998 photo taken by Suzanne DeChillo and used in Ms. Comden's the New York Times obit. It showed her and Mr. Green, who died in 2002, with his head on Ms. Comden's shoulder. It was an affectionate portrait of one of Broadway's most cherished, most celebrated book writer/lyrics duos and one of those photos that speak louder than a thousand words.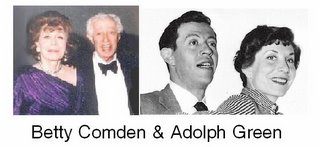 The depth of their friendship and loyalty was legendary. The song "Perfect Relationship" from their hit Bells Are Ringing, with music by Jule Styne and which starred Judy Holliday, aptly summed up their professional partnership, which scanned more than six decades.
Comden and Green, as book writers and lyricists, were at the forefront of Broadway's Golden Era of musicals from the early 40s into the late 70s. They met daily, most often in Ms. Comden's living room, either to work up lyrics for a show or, as Ms. Comden revealed in 2001 when I spoke to her and Mr. Green about the release on CD of their revue Two On the Aisle, which starred Dolores Gray and Bert Lahr, "to do nothing more than sit and talk about the weather, which we've done a good bit of the time lately."
In a 1977 Times interview, Ms. Comden said, "We stare at each other ... There are long periods when nothing happens, and it's just boring and disheartening. But we have a theory that nothing's wasted, even those long days of staring at one another. You sort of have to believe that, don't you? That you had to go through all that to get to the day when something did happen."
They were seen together and their names mentioned together so often that it is no surprise that many people, even in the industry, thought they were married. They were, quipped Ms. Comden, "but to other people."
Comden and Green, who recieved six Tony Award nominations [winning four times for best score and/or book], were together so much that they felt "lost and lonely" when apart.
[Their "wins" often include Tonys for Best Musical, but now a "win" in that category officially goes to the producer(s).]
Comden and Green wrote such classic stage shows as On the Town, Wonderful Town, Applause, On the Twentieth Century [in which Ms. Comden briefly appeared, replacing Imogene Coca as Letitia Primrose], The Will Rogers Follies [Tony Award]. Working with Styne, in addition to BAR, they also wrote Do Re Mi, Fade Out, Fade In, Hallelujah, Baby! [Tony], additional lyrics for the 1954 Mary Martin Peter Pan and the infamous David Merrick musical Subways Are for Sleeping.
The team was Oscar-nominated twice, for their screenplays for The Band Wagon and It's Always Fair Weather. The latter co-starred Gene Kelly, Dan Dailey, Gray, Cyd Charisse and Michael Kidd. Of Gray, Ms. Comden termed "wonderful, first rate." Mr. Green added, "she was statuesque, tall and quite stunning. She looked great." Added Ms. Comden, "Dolores had this marvelous voice, and a great body, too."
They termed Gray one of the most difficult actresses they ever worked with, mainly because of her constantly interfering stage mother. Gray did go on to become a formidable stage presence, but rarely got on well with her leading men.
She noted that IAFW was "a lovely, underrated musical," which centered on the reunion of three G.I.s after WWII. She spoke briefly of the temperamental Gray and the "madly egotistical" Kelly's clashes on the film, "It wasn't a match made in Hollywood heaven. If Gene said it was black, Dolores absolutely insisted it was white. It went on like that for the whole picture. But, somehow, the movie got made. It's my personal favorite. It had a remarkable story and I'm proud of the score."
Strangely, Comden and Green were not nominated for their screenplay for one of the most successful movie musical comedies in cinema history, Singin' in the Rain, which in 1998 was ranked Number 10 on the list of the 100 Best American Movies of the 20th Century. A not-too-well-known fact is that Ms. Comden wrote the lyrics for Donald O'Connor's showstopping number "Moses Supposes."
C&G did win a Writer's Guild of America Award and were nominated for a Golden Globe for SITR. Looking back, one might be totally perplexed that the film, in spite of its box office clout [and, now, it's status as a movie classic], didn't get nominated for Best Picture.
In 1991, President George H. W. Bush honored C&G at the White House. That evening they were among the recipients of Kennedy Center Honors for "contributions to American musical theater."
I had the pleasure of interviewing Ms. Comden and Mr. Green several times; and was asked to be host to Ms. Comden when she was among the Broadway composers and lyricists receiving 2003 Tony Award Honors. She was extraordinarily frail but her wit was intact. In the dark, we made our way slowly to the stage to await her introduction. For a second, Ms. Comden seemed to panic. "I can't see a thing!" she said, tightly gripping my hand. I replied, "That's because all the lights are out." She responded, "Well, when they come back on, just push me out there!"
That wasn't necessary: the emcee collected her. As Miss Comden walked away, she quickly turned and said, "Now, don't you go anywhere. I'll be right back."
C&G met as players in an improv group called the Revuers. She was still Elizabeth Cohen from Brooklyn, who began her career as Claire DeLoone in the team's On the Town, with music by Leonard Bernstein. She won a 1945 Theatre World Award as one of the season's promising newcomers. As the rechristened Betty Comden, she teamed with Mr. Green to write sketches and lyrics for a series of revues. Joining ASCAP in 1945, she collaborated not only with Bernstein and Styne, but also Morton Gould and Andre Previn.
"After Two On the Aisle," noted Ms. Comden, "revues fell out of favor. It became a time when you made your money from a sale to the movies, and Hollywood was buying book shows. They couldn't get a story out of a revue. So we went that route, because we had to make a living. "
Among the long list of Comden and Green tunes are "Lonely Town," "New York, New York," the hilarious showstopper "I Can Cook, Too" and "Some Other Time" from OTT; "It's Love," "A Little Bit in Love," "Ohio" and "One Hundred Easy Ways (To Lose a Man)" from WT; and "I Met A Girl," "Just in Time," "Long Before I Knew You" and "The Party's Over" from BAR.
At a 2001 Drama Desk event, I visited with Mr. Green, who had not been well, and said it was nice to see him out and about with his wife. Mr. Green deadpanned, "You're speaking of Phyllis [Newman], not Betty, right?" Yes, he was informed. "Good," he replied, as Ms. Comden who was seated with them laughed. "I only ask because through the years almost everyone, even those who'd you'd think are in the know, think that Betty and I are married. It's happened a lot since we've been a team for so long. Of course, I always clear it up in a few minutes. Since I spend literally every day with Betty, I can understand why people think we're married."
Added Ms. Comden, "In many ways, you can say we're wedded. Adolph seems to know what I'm thinking before I know what I'm thinking and I've gotten very adept at finishing his thoughts for him. That's what happens in a lot of marriages!"
[Photo Credits: 3) FRIEDMAN-ABLES; 4) MARK RUPP]

--------
Ellis Nassour is an international media journalist, and author of Honky Tonk Angel: The Intimate Story of Patsy Cline, which he has adapted into a musical for the stage. Visit www.patsyclinehta.com.

He can be reached at [email protected]





Why are you looking all the way down here?
For more articles by Ellis Nassour, click the links below!

Previous: Mary Testa, Xanadu's Evil Woman; Pavarotti; Jodi Stevens Goes Metro; Martha Graham at the Joyce; The Skinny on Kinsey; Broadway On Broadway; Hyde Pierce Honored; Playwrights Discussion; More

Next: Tony Roberts for Lunch; Estelle Parsons Directs; Elizabeth Swados Atones; Laura Bell Goes Country; Judy Kuhn On Stage and CD; High School Musical Chills; Mickey and Judy Boxed; More

Or go to the Archives