Arthur Laurents, who wrote the original book for Sondheim/Styne's Gypsy and directed the SRO City Center Encores! Summer Stars revival, was happy the St. James Theatre would be available for March and the return of the acclaimed revival. Rehearsals are set to start at the end of January.
The idea all along was for the three-week run at CC to test the waters to see if the show could be mounted for the West End. Laurents wasn't happy with theatres there that would be available.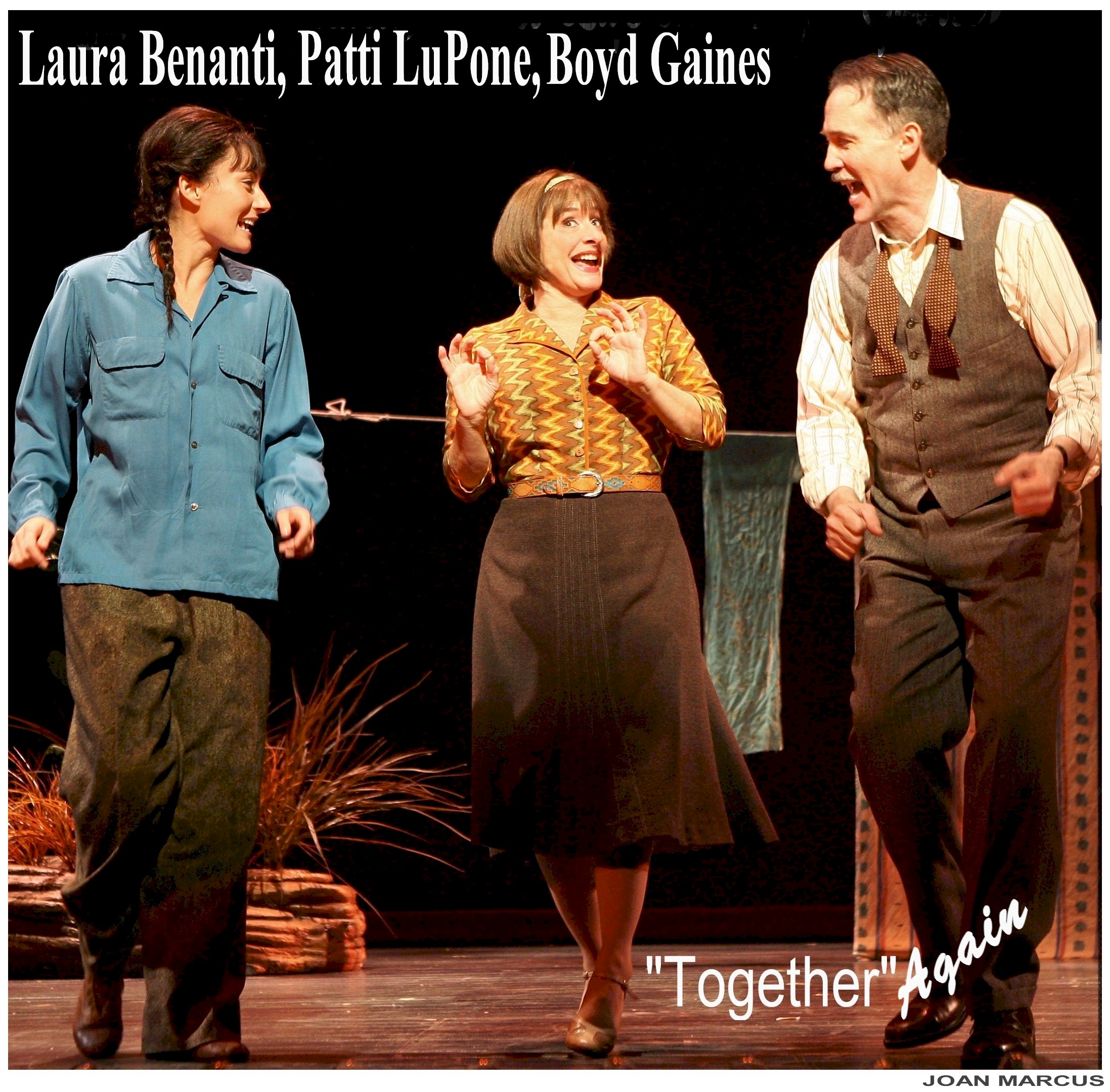 "It was suggested we go into the Savoy on the Strand," he explained, "but [producer] Richard] Frankel and I just felt it was all wrong for the show. That pretty well took care of taking the show to London."
He says he's very happy that the show will open at the St. James "with virtually the entire cast as seen at City Center."
Of course, playing Rose, will be the much acclaimed Tony, Drama Desk and Olivier Award-winner Patti LuPone. More good news: two-time Tony-winner and Drama Desk winner Boyd Gaines and Laura Benanti will return as Herbie and Louise, who eventually became Gypsy Rose Lee.
Gypsy marked a return to musical theater for Gaines, who had done two plays in a row [Twelve Angry Men revival and an acclaimed performance in last season's Journey's End for which he won the Drama Desk for Outstanding Featured Actor and a Tony nom for Best Actor. From 1993 to 2001, Gaines starred in the revivals of She Loves Me [Tony and DD Awards], Company and Cabaret and in LCT's Contact [Tony Award, DD nom].
Following Gypsy, he was on Broadway opposite Jefferson Mays and Clare Danes as Colonel Pickering in Roundabout's Pygmalion revival. In his 1989 Broadway debut, he took home a Tony as Best Featured Actor for The Heidi Chronicles.

More good news: Leigh Ann Larkin [Dainty June], Tony Yazbeck [Tulsa] and those three scene-stealers Tony and DD nominee Alison Fraser [Tessie Tura], Tony and DD nominee Nancy Opel [Mazeppa and a superlative Miss Cratchitt] and Marilyn Caskey [Electra] will be back.
Since he has been known to be a stickler for presenting Gypsy as written, don't expect any drastic changes. However, regarding a possible revival of the classic West Side Story for next season, Laurents says the new production "will be radically different from any production ever done."
Music directing Gypsy will be Patrick Vaccariello. Bonnie Walker is all set to reproduce Jerome Robbins' original musical staging. Everyone is wondering if the rather cartoonish sets designed for the three-week summer run by James Youmans will graduate up to a new look.
Not that it would matter. Lupone will be front and center in what so many felt was the definitive performance of her career. There was such a last-minute clamor for tickets, especially by those who had seen the production twice and three times, for the closing performance that the CC box office was overwhelmed [to say nothing of the press agent, whose telephone service went beserk].

Doubt in Greenwich Village
Scott Rudin's production of John Patrick Shanley's Tony and DD-winning play Doubt, set for release next December, recently wrapped filming in the far West Village with historic St. Luke in the Fields Church and gardens standing in for the Bronx's St. Nicholas Church and School.
Greenwich Street was quite alive with Sister Aloysius played by none other than 13-time Oscar nominee [and two-time winner], six-time Golden Globe-winner, Tony nominee, seven-time DD-nominee and two-time Emmy winner Meryl Streep, who took a moment between shots to say Hello and not much else. Unlike in the play, her lips were sealed. She loved the shoot, only a hop, skip and jump from her new SoHo condo.
Streep and Oscar and Golden Globe-nominee Amy Adams as young Sister James were escorted from the set, heads bowed and hand folded over their 60s habits, to their trailers by P.A.s.
Co-starring are Oscar and GG-winner and 2007 double GG-nominee Philip Seymour Hoffman as Father Flynn and veteran TV and film actress Viola Davis as Mrs. Muller. Shanley adapted his play for the screen and directed.
At one point, two-time Tony and three-time DD-winner Cherry Jones, on foot instead of trusty bike, who originated the role in 2005 of Sister Aloysius at MTC and on Broadway passed within a block of shooting. Jones reported she had been out of New York for nearly four months starring as Allison Taylor, President of the United States in the 2008 season of Fox's 24. She said that as much as she enjoys the environs of Hollywood, she missed the City. She was preparing to celebrate girlfriend Sarah Paulson [late of Studio 60 on the Sunset Strip and Deadwood]'s birthday.

Kennedy Center Honors Televised
On December 5, the 30th Annual John F. Kennedy Center for the Performing Arts presented honors to pianist Leon Fleisher, Steve Martin, Diana Ross, Martin Scorsese and Brian Wilson "for the gifts they have shared with us" in a star-studded evening attended by President and Mrs. Bush and a host of capital politicians.
Kennedy Center chairman Stephen Schwarzman praised Fleisher as "a consummate musician whose career is a moving testament to the life-affirming power of art"; Martin as "a Renaissance comic whose talents wipe out the boundaries between artistic disciplines"; Ross for her "singular, instantly recognizable voice that has spread romance and joy throughout the world" - however, no mention was made of ability to change costumes several times in a 50-minute concert, during which she deigns to stay onstage and actually sing for about 40 minutes; Martin Scorsese as "a visionary filmmaker and a fearless artist"; and, in a choice that many found very strange – considering those who have not been honored, Brian Wilson who "led not only a spectacularly popular rock group [the Beach Boys] but also an era-defining transformation of the sound of music."
Among those making honoree recommendations were Emanuel Ax, Dan Aykroyd, Dave Brubeck, Francis Ford Coppola, Melissa Etheridge, Laurence Fishburne, Renee Fleming, Anjelica Huston, Rob Marshall, Peter Martins, Terrence McNally, Helen Mirren, Anna Netrebko, Christopher Plummer and Catherine Zeta-Jones; in addition to previous Honorees Edward Albee, Julie Andrews, Carol Burnett, Sean Connery, Bill Cosby, Kirk Douglas, Elton John, Mike Nichols, Smokey Robinson and Steven Spielberg.
The 2007 Kennedy Center Honors, produced by George Stevens Jr., will be broadcast December 26 on CBS at 9 P.M., edited to a two-hour special.

Pianist in the Spotlight
The pianist Leon Fleisher, now 80, was hailed as "the pianistic find of the century" when he was 15. A year later, beginning a career that set standards still unsurpassed, he made his New York Philharmonic debut. He later was acclaimed as America's first native-born piano virtuoso.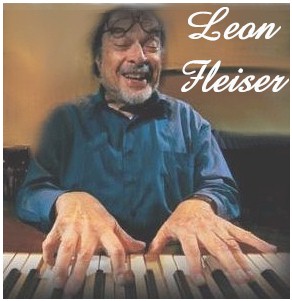 Fleisher is celebrating his Kennedy Center Honor [introduced by Yo-Yo Ma] with the release of The Essential Leon Fleisher, a two-disc commemorative anthology [Columbia Masterworks] that features highlights from his acclaimed recordings, which will hit stores next month.
Among the highlights are the opening movement [Molto moderato] of Schubert's Sonata in B-Flat Major, D.960, from Fleisher's first Masterworks recording in 1954; movements of Beethoven's Emperor Concerto, Mozart's Piano Concerto No. 25 and Grieg's Piano Concerto; in addition to a complete performance of Ravel's Concerto for the Left Hand and, for the first time on CD, the Scherzo movement from Brahms' Piano Quintet Piano Quintet in F Minor.
In a bow to 21st Century marketing, a digital-only edition, with bonus tracks, is now available on iTunes. It features the complete 1963 recording of Brahms' Piano Quintet with the Juilliard String Quartet, as well as his long-unavailable Bach's "Jesu, Joy of Man's Desiring."
Fleisher's career took a dramatic turn in 1965, when at 37, two fingers of his right hand became disabled as the result of focal dystonia. Not one to stop, he performed bodies of music written for the left hand, conducted and taught.
New treatment advances and therapy have restored the use of his right hand. His amazing body of work and renaissance has been documented an Oscar-nominated short by Nathaniel Kahn.

Laura Bell Bundy in Free Concert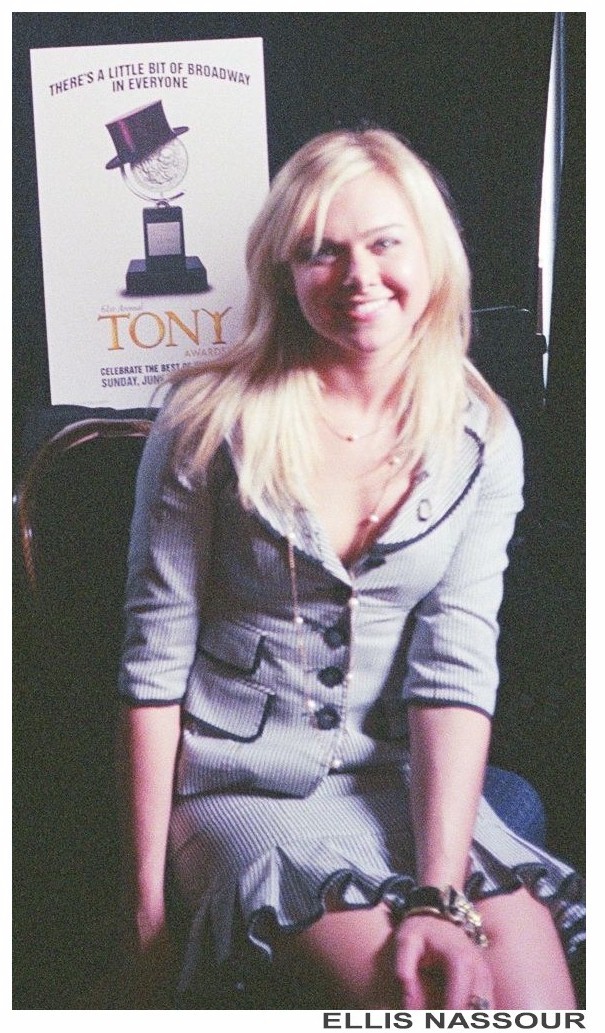 Legally Blonde's Tony and DD-nominated star Laura Bell Bundy will give a free hour-long holiday performance today at 4 P.M. at the SKY360 by Delta Lounge [101 West 57th Street, off Sixth Avenue].
Bundy will perform songs from her CD I'll Be Home for Christmas. Signed copies will be on sale with proceeds benefiting one of Bundy's favorite charities, the Kreative Kids Foundation. There will be giveaways of Legally Blonde tickets and merchandise, as well as snacks and beverages provided by Delta. Attendees will receive a Delta Skymiles Legally Blonde discount offer with a savings of over $50 per ticket [valid for performances through March 16].
For more information on the Kreative Kids Foundation, visit www.kreativekidsfoundation.org.

Fosse Film Retrospective
The Film Society of Lincoln Center is saluting one of dance's true visionaries, Bob Fosse, in the eight-film series All That Fosse, December 28 – January 1 at Lincoln Center's Walter Reade Theatre. Rarely-screened studio prints of all five of Fosse's directorial efforts on film - including his multi-Academy Award-winning films Cabaret and All That Jazz - as well as three '50s musicals in which Fosse performed and served as choreographer.
On various days, there will be multiple showings of All That Jazz, Cabaret, Give a Girl a Break, Lenny, My Sister Eileen, The Pajama Game, Star 80 and Sweet Charity.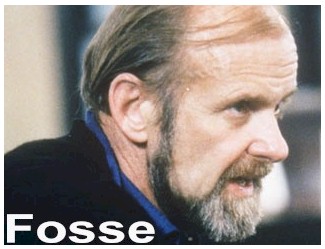 Fosse not only lived for the theater, he spent virtually all of his life inside it. He toured in vaudeville and choreographed burlesque dance numbers before he entered high school. He spent two years in the Navy before setting sights on New York, where he scored his first significant Broadway role in 1950's Dance Me a Song. Hollywood beckoned and West he went.
The acclaimed, innovative choreographer appeared as an actor in Give a Girl a Break [1953], My Sister Eileen [1955] and The Pajama Game [1957], the last adapted from the 1954 Broadway show that debuted Fosse as a choreographer and first exhibited the innovative, sexually charged dance style and dress that became his trademark.
Feuds with producers and directors over the controversial elements of his choreography prompted Fosse's segue to directing, first on Broadway with Redhead [1959], Little Me [1962] and the Fellini-inspired Sweet Charity [1966]. Three years later, Fosse put Cabaret on screen, The film won eight Academy Awards.
That completed Fosse's still unequalled trifecta: an Oscar, Tony [Pippin] and Emmy [Liza With a "Z"] for direction in the same year. Then came his groundbreaking Broadway productions of Chicago [1975] and Dancin' [1978], which he countered with films that established his skill outside the musical genre: Lenny [1974]; the semi-autobiographical All That Jazz [1979]; and Star 80 [1983]. After collapsing during a rehearsal for the Broadway revival of Sweet Charity, Fosse died of heart failure in 1987.
Single screening tickets for ATJ are $11, $7 for Film Society members, students with valid photo ID and seniors [weekday screenings before 6]. They are available at the Walter Reade box office and online at www.filmlinc.com, where you can find full scheduling information.

Theatrical Holiday Gifts
This holiday season, there is no finer gift for theater fans than a book you'll want to go on reading forever, How Does The Show Go On?, An Introduction to the Theater by Disney Theatricals president Thomas Schumacher and Jeff Kurt [Disney Editions; 120 pages; SRP $20]. One reason you'll want to go on reading forever is to discover all the book's fun surprises.
HDTSGO gives readers the opportunity to meet the casts and behind-the-scene workers and explore the inner workings of theater and theatre buildings. It is a complete guide to what goes on behind the curtain.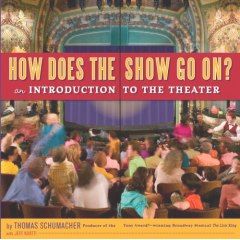 Schumacher stated, "I wanted to create the kind of book about the theater that I would have enjoyed when I was a kid." Another goal was to craft an indispensable guide "for young theater lovers to show the countless career opportunities that do not involve being on stage."
Readers meet everyone from the playwright, choreographer and stage manager to the set designer, composer, director and actors, even the usher. Considering the gorgeous color illustrations, production and at-work photos and all its fun elements, the book is amazingly bargain-priced. It is filled with artifacts you can pull out and hold in your hand.
How Does The Show Go On? includes a mock ticket to The Lion King, costume designer's sketchbook with swatches, Playbill, two excerpts from a Tarzan rehearsal script, theater-speak glossary, a page on how to put on a play, sections on Front of House and Back of House and hundreds of color photos from mini to oversize [with a stunning Lion King endpaper and a mid-section quadruple trunk fold-out of a scene from Lion King and Mary Poppins].
Schumacher has launched a Gift-A-Book pilot program to provide drama teachers and students throughout New York public schools with gift copies of HDTSGO. "This book exists because of the great inspiration of my childhood teachers," he explains. "When I heard from people that they were buying multiple copies to give as gifts, I thought it would be great to offer that concept to anyone who wanted to gift a book to a public school."
Individuals interested in gifting a copy of How Does The Show Go On? to a City public school can go to www.howdoestheshowgoon.com for instructions.
He had seen school plays, but Schumacher's first professional play came when he was in seventh grade, a production of You Can't Take it With You in San Francisco. After that, he became obsessed with theater make-up and costumes. "I grew up in rehearsal rooms and in dark theatres," he says, "sitting among audiences and also backstage. From the time I did school and community plays, the theatre has always been home to me."
For his 16th birthday, his parents gifted him with a season subscription to the American Conservatory Theatre. Thereafter, he was hooked.
Schumacher and Kurt have created a stimulatingly interactive book that the novice will treasure for years as an introduction to all aspects of theater and jaded fans will want as the ultimate theater collectible.

Buy Tickets, Help Charities
Givenik.com, an innovative way to see shows and help worthy charities, has been launched by Jujamcyn Theatres. According to Jordan Roth, Jujamcyn VP, "by using the givenik.com site, theatergoers can give and get. When you purchase discounted tickets to Broadway and Off Broadway shows, five per cent of the ticket price is given to the not-for-profit organization of their choice."
More than 150 organizations have joined Givenik.com. Among them are Gay Men's Health Crisis, Dress for Success, God's Love We Deliver, Central Park Conservancy, NYU Tisch School of the Arts, Habitat for Humanity, the Dance Theatre of Harlem, chapters of the Susan G. Komen Breast Cancer Foundation, Big Brothers/Big Sisters and PTA's, schools, churches and temples.
Theatergoers can become "giveniks" and charitable organizations can join the program at www.givenik.com.

Busker Alley Launches to Broadway
While launching the Jay Records CD of the one-night-only York Theatre benefit performance of Robert and Richard Sherman's Busker Alley aboard the QM2 [between sailings], producers Margot Astrachan, Robert Blume, Kristine Lewis/Jamie Fox and Joanna Kerry & Heather Duke announced the show is Broadway bound for 2008. For those not in the know, a busker is an English street performer.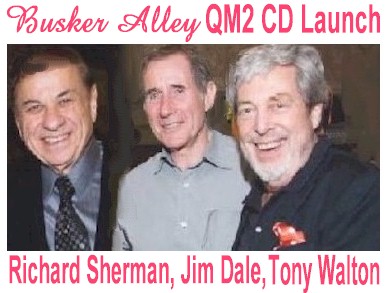 Tony and DD-winner Jim Dale, [Barnum, Harry Potter audio books, Pushing Daisies narrator], Jessica Grove, Anne Rogers and a cast of season veterans presented a one-hour program of highlights introduced by Richard Sherman at the piano playing an overture of his and brother Robert's famous songs. Full casting is to be announced. The show will be designed and directed by Academy, three-time Tony and five-time DD [for scenic design] and Emmy Award winner, Tony Walton.
Busker Alley has a score by Oscar winners Robert B. Sherman and Richard M. Sherman [Mary Poppins, Chitty Chitty Bang Bang], who have written more movie scores than any other songwriting team in history - in addition to that much-heard anthem "It's a Small World After All." The late AJ Carothers wrote the book.
The show is based on the 1928 film The Blue Angel that skyrocketed Marlene Dietrich to fame and the 1938 British film St. Martin's Lane, which starred Charles Laughton and Vivien Leigh [introducing her to David O. Selznick and capturing for her the coveted role of Scarlett in Gone with the Wind]. The films were inspired by Heinrich Mann's early 20th Century novel, Small Town Tyrant by Heinrich Mann.

A Welsh Christmas
The Irish Repertory Theatre [132 West 22nd Street, between Sixth and Seventh Avenues] is presenting Dylan Thomas' A Child's Christmas in Wales and 'Twas the Night Before Christmas, with traditional and original music, through December 30. The works are adapted and directed by Irish Rep A.D. Charlotte Moore and feature a cast of five.
Tickets are $35 and can be purchased by calling (212) 727-2737 or, prior to performances, at the Irish Rep box office.

RCMH Sparkles - Really Sparkles
In celebration of the 75th year of the Radio City Christmas Spectacular, Swarovski is making the Art Deco grand foyer of the megatheatre shine like never before! Magically suspended from the ceiling is a $1-million, 35-foot Christmas tree created with 3,000 pounds of Swarovski crystals.
Lots of changes have been made for this "re-imagined" new edition of the perennial. Sadly, the great sets have been done away with for the most part and a huge LED screen takes you zipping through the city via tour bus and, in a 3-D sequence [no one tells you, but your 3-D glasses are fitted onto the program] over the city and beyond as Santa makes his rounds. The Living Nativity still impresses if only for how it's so over-produced. One of the great assets of the Music Hall are the dueling organs, so arrive early for the delightful pre-show.
One thing that hasn't changed are the awesome Rockettes, who also sparkle like never before as they debut costumes adorned with over 3,000 crystal Swarovski "elements" in the sensational new finale, "Let Christmas Shine."
The RCCS runs through December 30. Prices are $40 [up, up, up into the gods] - $100 and available online at www.radiocity.com or at the Radio City box office, at Ticketmaster outlets or by calling at (212) 307-1000.

Broadway's Piano Gal
Jo Lynn Burks is no stranger to Broadway. The former Miss Alabama and Miss Miami is a frequent keyboardist and assistant conductor at The Color Purple and on keyboards at Hairspray. This holiday season, she's attracting attention in the Star Lounge at the ritzy Ritz-Carlton on Central Park South, where she's added glamour and livened things up.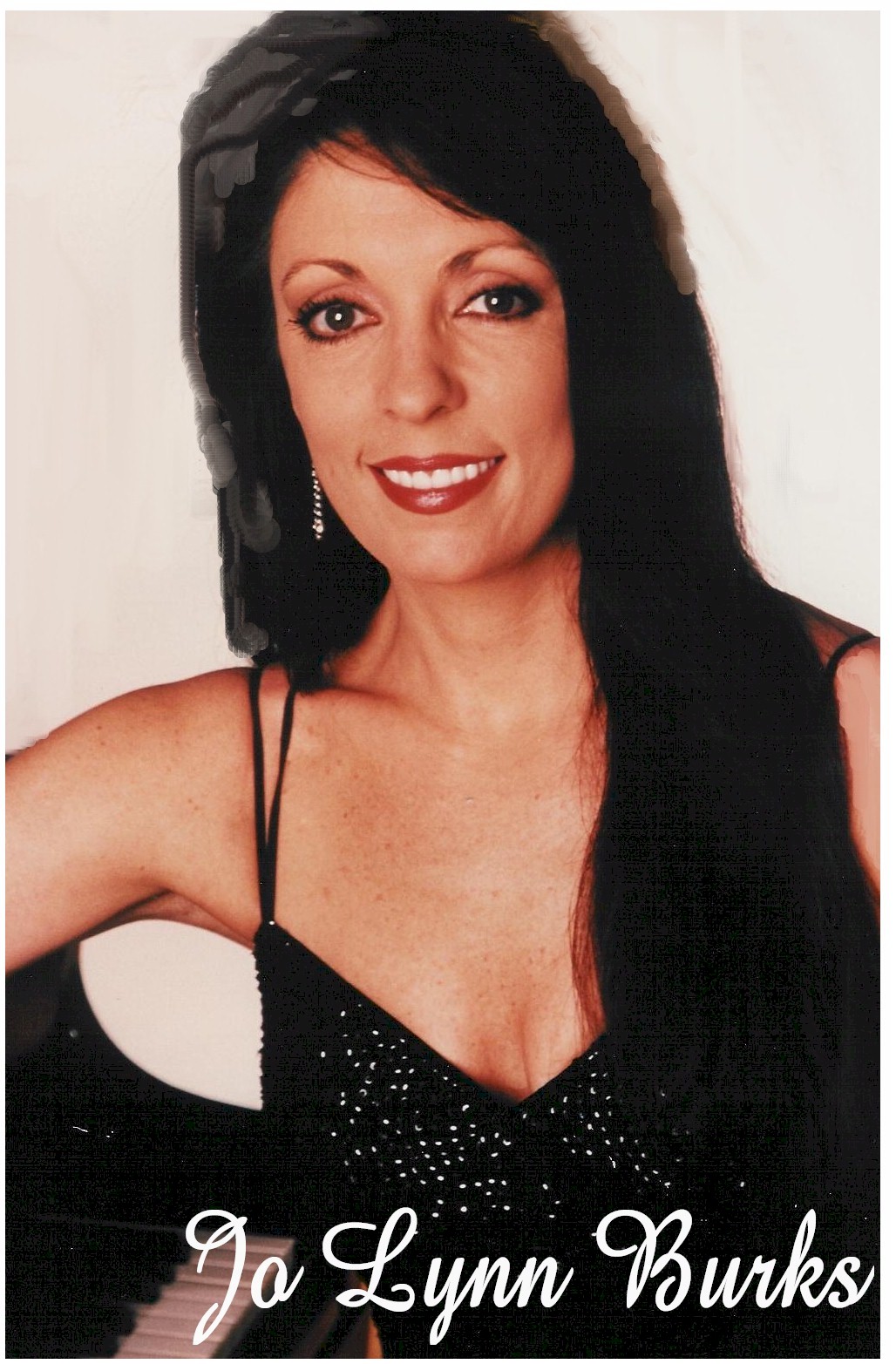 One thing for certain, the personable Burks does not fade into the polished woodwork in an elegant, intimate setting akin to having your personal pianist in your living or music room. She sings and plays everything from holiday classics and Broadway [Porter, Kern, Gershwin, R&H, Sondheim] to light opera, blues and pop.
Her music and ebullient personality have been enjoyed by not only the CP elites but also Aretha Franklin [who left not only a generous gratuity but also generous praise], John Cusack and some Purple and Hairspray cast members.
Burks has toured as music director with the Temptations and done keyboards/vocals for Gladys Knight, Faith Hill and Roger Daltrey; played such famous boites as the Carlyle; St. Moritz; Fairmont; Plaza; and that unique den of fun and drink, Pat O'Brien's in the Big Easy - even in palaces in Gothenburg [Sweden] and St. Petersburg. During the Clinton Administration, she was no stranger at the White House - hitting the ivories!
On Broadway, she originated a principal role in Buddy: The Buddy Holly Story. Other Bway credits include Mamma Mia, The Wedding Singer, Smokey Joe's Cafe, The Full Monty and All Shook Up.
There's no cover charge or minimum. Just don't shoot the piano player.
Ellis Nassour is an international media journalist, and author of Honky Tonk Angel: The Intimate Story of Patsy Cline, which he has adapted into a musical for the stage. Visit www.patsyclinehta.com.

He can be reached at [email protected]





Why are you looking all the way down here?
For more articles by Ellis Nassour, click the links below!

Previous: The Razors are Sharpened and Glistening: Tim Burton Brings Sondheim's Demon Barber to the Screen

Next: Lion King's Kissy Simmons, TV Pioneers, Barbara Returns, Chita's Back, Schmidt and Jones' Celebration Revived, Holiday Fare, More

Or go to the Archives