Every actor dreaming of being on Broadway should have Kissy Simmons' luck. But you might say that Simmons came to theater the hard way - kicking and screaming. She was quite determined that performing onstage wasn't something for her. Her drama teacher thought otherwise. And that's how Simmons got to Broadway and Disney's The Lion King, where she plays Nala..
LK was in the process of celebrating its tenth anniversary when the strike interrupted the festivities. "Now everything is back to normal," says Simmons. "As normal as things can ever be at The Lion King, especially with people lined at the box office to get tickets during the holidays."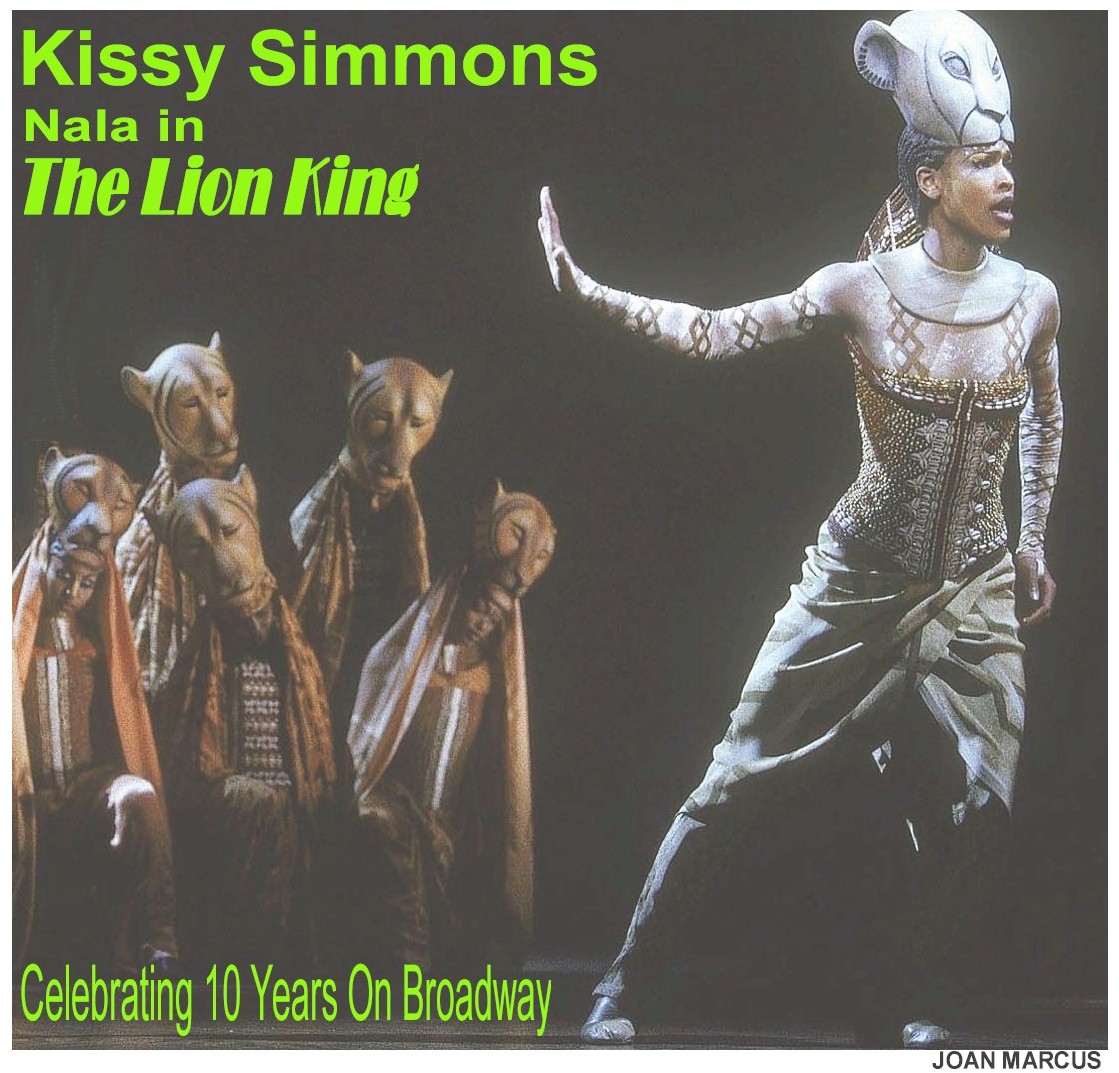 The Lion King had opened on Broadway and was a smash when Simmons auditioned and was cast as Nala for the much-anticipated 2002 first national tour. "Because of the Broadway buzz," she says, "the tour was a huge deal. We did long sit-downs and people slept outside theatres to get tickets. The response was mind-boggling."
A native of Floral City, FL, about an hour from Tampa, Simmons grew up singing and playing piano and then the organ at her church from age eight. "The organ is a powerful instrument," she says, " and I was always amazed at what you could get out of it."
In high school, her drama teacher Cheryl Israel "encouraged by whatever means it took" to pursue performing. "I fought it all the way, saying 'I'm scared...I can't.' She wasn't having any of that. It was tricky how she lured me in. She knew I played the organ, so she suggested that I play for the school choir. But as much as I loved music, I was more interested in track. When I was finally set to audition, I complained that I didn't have anything appropriate to wear. She took me shopping! I don't know why I was so reluctant, because I was already 'performing,' but it was in church." Ms. Israel didn't give up and finally Simmons surrendered. She laughs that, once she heard the sound of applause, she had been bitten by the theater bug.
"She was the very best teacher ever," says Simmons. "And it didn't stop when I started working. She came to the rescue to help Mom with all sorts of things. She was always there, even when I needed a ride home."
But there was still that love of track, which incidently got her a full scholarship to the University of South Florida. There was no musical theater program, but the word was out on Simmons and she was invited to sing and she accepted every opportunity she could.
Simmons felt she didn't blend in with the Florida college set, especially when she began working onstage. "It was an interesting time, with everyone dressed in black with their fingernails polised black. I never felt the urge to dress up as some character just because I was an actor."
Two months before graduation, she was convinced to go to Tampa and audition for a musical revue titled Decades. "It was 'Oh, my God! Oh, my God!' I was scared. I didn't know what I should sing. But there was no way I couldn't go. Everyone was convinced but me! So I went down there and [long pause as she breaks into a big smile] and got hired!"
When Disney was conducting auditons for Aida, Simmons was told she looked a lot like Heather Headley. "At that time," reports Simmons, "like Heather, I had absolutely no hair." She got the score and told herself she could sing the songs. Now married, she and her husband ventured to New York for the first time and the next morning at six o'clock she was in line at the Apollo Theatre to audition. It turned out that Disney was looking for actors for Aida and TLK.
"The funny part," laughs Simmons, "is that I didn't know The Lion King was a show. In fact, I knew nothing about it."
Of course, that didn't stop Disney. When she was invited to callbacks, she informed casting that she didn't have the money to fly up again. "They must have been very interested," she says, "because they flew me up." Then 9/11 happened. "I didn't know what was going on and I didn't know what to do." Michele Steckler of Disney Theatricals arranged to put her up with strict instructions not to leave the city." And she got hired and found out a lot about TLK.
Segueing to 2003, Simmons transferred from the national tour to Broadway as Nala and her track experience came in very handy in the vast environs of the New Amsterdam Theatre and now at the Gershwin.

PBS Landmark Series on TV Pioneers
Beginning January 2, PBS will present a landmark documentary series, Pioneers of Television, four one-hour programs at 8 P.M. on television innovators. Nearly 100 stars from TV's formative years meld compelling new interviews with archival clips - many classic, some not seen for years.
First up is Sitcoms, which focuses on I Love Lucy, The Honeymooners, Make Room for Daddy, The Andy Griffith Show and The Dick Van Dyke Show. The last remaining Honeymooner, Joyce Randolph, offers into the mind of Jackie Gleason; Marlo Thomas speaks candidly about her father; Andy Griffith talks of the dynamics that made his show work; and Mary Tyler Moore and Dick Van Dyke recount their years working together.
Following on January 9 is Late Night with stories of Steve Allen, Johnny Carson, Dick Cavett, Merv Griffin, Arsenio Hall and Jack Paar. Sigourney Weaver offers personal details about her father, Pat, who created the Tonight Show in an episode peppered with never-before-seen clips, including Carson performing in his early 20s.
On January 16, Variety begins with Ed Sullivan's Toast of the Town and Milton Berle's Texaco Star Theater and progresses through The Carol Burnett Show, Smothers Brothers and Laugh-In. Tim Conway and Jonathan Winters tell hilarious stories about their variety show years but the highlight is Pat Boone in a memorable sequence where he discusses early unspoken racism. Stars include Flip Wilson in a hilarious turn as the infamous Geraldine.
Game Shows conclude the series on January 23. Bob Barker, Merv Griffin, Monty Hall are interviewed. Betty White discusses her role as the first female MC. Clips include Phyllis Diller's first TV appearance as a shy contestant on Groucho Marx's You Bet Your Life.

Barbara Cook Returns
By popular demand, the New York Philharmonic will continue to celebrated the milestone of Barbara Cook's 80th birthday with an additional concert on Tuesday, January 8 at 7:30 at Avery Fisher Hall. Miss Cook will again reminisce about her storied career and sing from her lengthy repertory of songs by Bernstein and Comden and Green, Lerner and Loewe, Arlen and Mercer, Gershwin and Caesar, Hammerstein and Romberg and, among others, a friend named Stephen.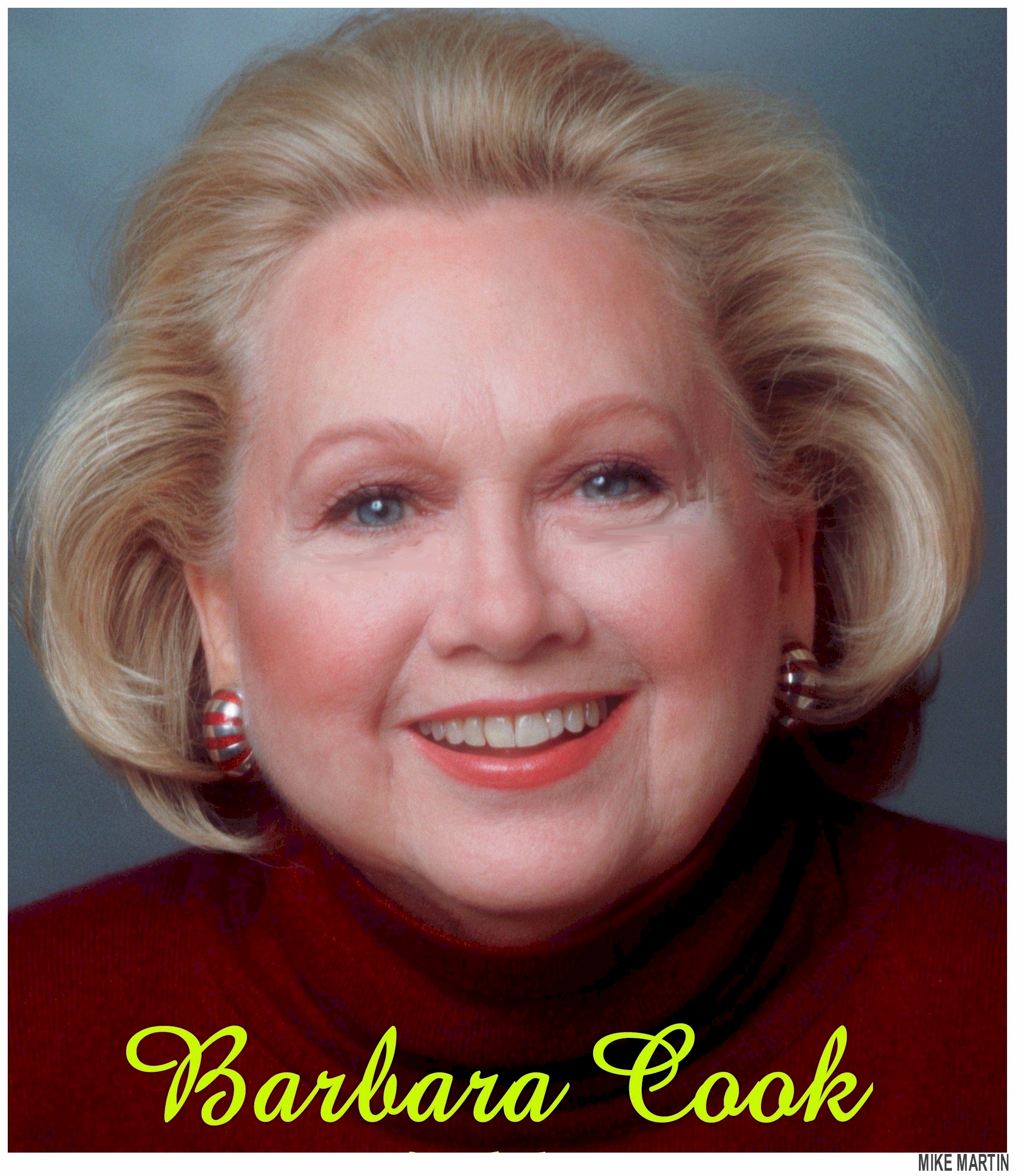 The November birthday concerts marked Miss Cook's first time with the Phil since playing Sally in the still-talked-about 1985 concert version of Follies. Lee Musiker, who received his share of acclaim in his Phil debut and accompaning Miss Cook, will again be on keyboards.
Sondheim will be in the concert repertory. Miss Cook says she doesn't think of his tunes as songs but as gifts. "I love the simplicity and the clarity of Irving Berlin, and Stephen's work has that also. There's something so rich about his work that I never tire of his songs. The more I do them, the more I'm finding different things and subtleties. Quite simply, nobody writes as he does."
This added concert follows Miss Cook's Barbara Cook and Friends in London December 2 at the mamouth Coliseum with the all-star West End World AIDS Day concert. Some of her friends were Ruthie Henshall, Julia McKenzie, Elaine Paige and Sian Phillips.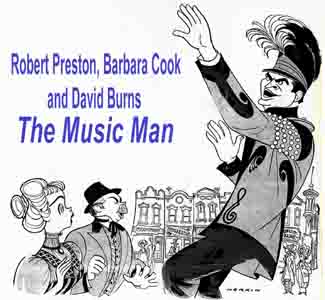 Barbara Cook's pure soprano tone and warm presence have delighted audiences around the world for more than 50 years. Considered a favorite ingenue during the heyday of the Broadway musical, Miss Cook launched a second career as a concert and recording artist.
In her trasdemark black pants, black pull-over that's a cross between a chemise and a poncho and those oh-so-comfortable sandals, Miss Cook has been equally at home on international stages, such as London's Royal Albert Hall, Carnegie Hall or intimate cabaret settings, such as Cafe Carlyle, where she often rang in Spring with long-time collaborator and accompanist [the late] Wally Harper, and Feinstein's at Loews Regency.
She has a much-lauded career with Tony, Drama Desk, New York Drama Critics Circle and Grammy Awards. Miss Cook is a Theatre Hall of Fame inductee. In January, Miss Cook became the first female pop singer to be presented by the Metropolitan Opera in its 123-year history.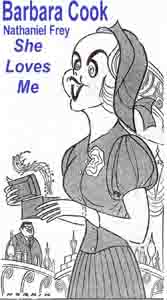 Her 2004 engagments on the West End and at Lincoln Center's Beaumont Theatre, Barbara Cook's Broadway, were hot tickets and received critical raves. Three years earlier, she premiered Mostly Sondheim at Carnegie Hall and took it to the West End, where she was nominated for Olivier Awards for Best Entertainment and Best Actress in a Musical.

Returning stateside, she took the show to the Beaumont for 14 sold-out weeks, and was Tony-nominated for Best Theatrical Event. Miss Cook and Harper, a team for over 30 years, were recipients of MAC Lifetime Achievement Awards.

It's been quite a lifetime filled with more than its share of ups and downs for the seemingly ageless Miss Cook, but she's still here - and with one of the most impressive lyric soprano voices in show business.

Tickets for the continuation of Barbara Cook's 80th birthday celebration with the NYPhil are $29 to $119 and available at the Avery Fisher box office, online at nyphil.org or by calling (212) 875-5656.




[Barbara Cook caricatures by SAM NORKIN]


Chita's Back for BC/EFA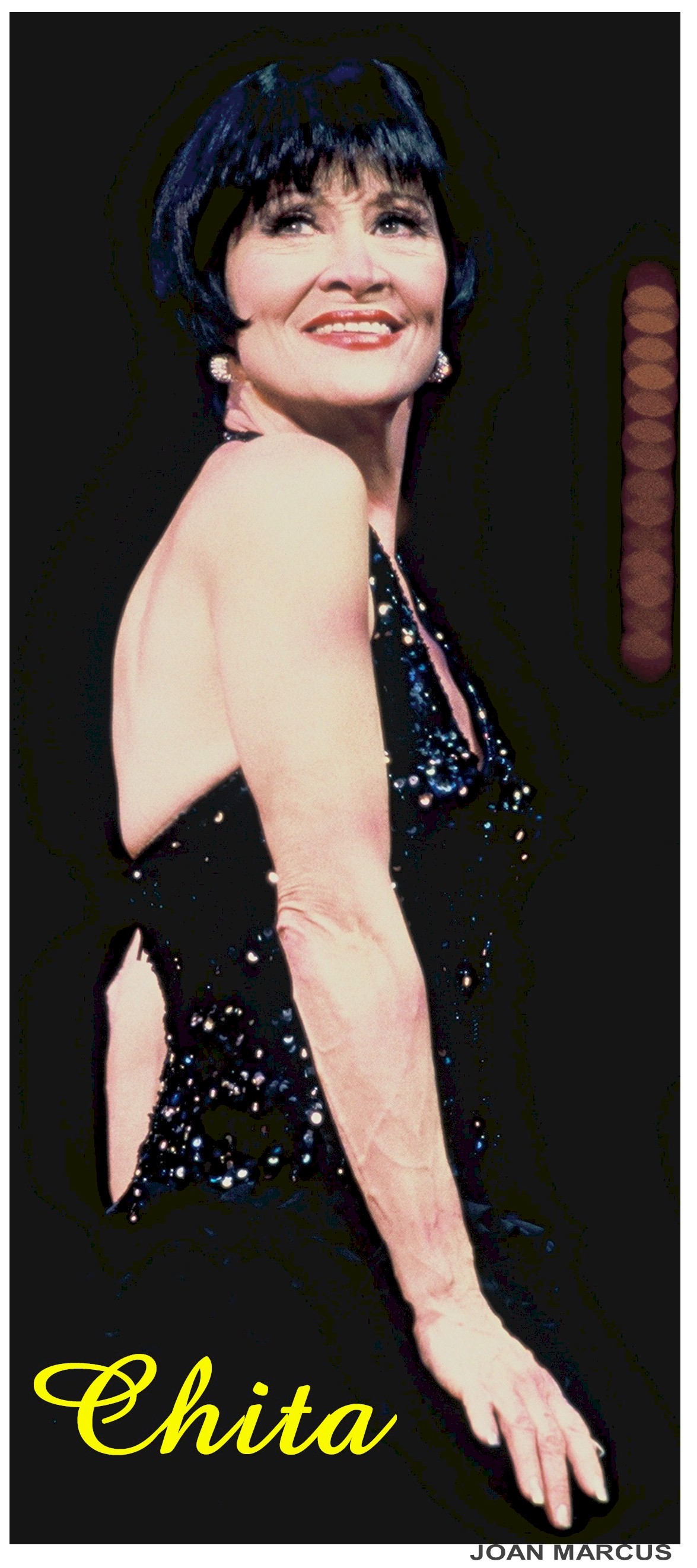 Before she heads for Arlington, VA and intense rehearsals for Kander and Ebb's The Visit, a show she has truly championed, theater treasure Chita Rivera, on the heels of reuniting with fellow original cast members of West Side Story for Broadway Cares/Equity Fights AIDS Gypsy of the Year SRO event, will bring Chita Loves Broadway Cares to Birdland on January 14 at 7 and 10 P.M. The concerts are presented under the auspices of Jim Caruso's Cast Party and TheaterMania.com. Total proceeds will benefit BC/EFA, the nation's leading industry-based, not-for-profit AIDS fundraising and grant making organization.
Two-time Tony and Drama Desk-winner Rivera, who next may will celebrate 55 years on Broadway, will perform songs from her celebrated Broadway performances, including WSS, Sweet Charity and Chicago. Carmel Dean will music direct, with Michael Croiter on drums and Jim Donica on bass.
Tickets are $40 plus a $10 food/drink minimum. VIP tickets are available for $100 plus the minimum. To purchase, call (212) 581-3080 or go online at www.birdlandjazz.com.

Rare Schmidt and Jones Revival
Directions Theatre Company is presenting Harvey Schmidt and Tom Jones' rarely revived Celebration at the 14th Street Theatre [344 East 14th Street, between First and Second Avenues on the second fllor of the 14th Street Y Jewish community center] through January 6. Erin Smiley directs the cast of 11.
An avant-garde fable set on New Year's Eve, Celebration focuses on four characters: Orphan, an idealistic young man in possession of the stained-glass eye of God, a wealthy but jaded old man who sees his younger self in Orphan; Angel, a sweet entertainer who longs to be "somebody"; and Potemkin, a Loki-like character who serves as narrator and advisor. Surrounding them are a chorus known as the Revelers, a group masked by the impersonal industrialism of their society, who take on various roles.
The show grew out of experimental workshops. You probably can already tell that the themes of the struggle between youth and old age, innocence and corruption, love and ambition and poverty and wealth didn't exactly register with audiences when it debuted at the beginning of 1969. Eeven after the duo's success Off Bway with The Fantasticks and their Bway I Do! I Do! and 110 in the Shade], there was no run on the box office. With an unknown cast and some puzzling reviews, it ran for 109 performances.
General admission tickets are $18 and available at Smartix.com.

New Year's Eve
Want to celebrate the new year in Times Square to ring in the new year, but would prefer not in the eye of the hurricane as that crystal ball drops? The Laurie Beechman Theatre in the West Bank Cafe [407 West 42nd Street at Ninth Avenue] solves that dilemma by offering to entertain you with their Second Annual New Year's Eve Celebration. There will be hors' d'oeuvres, a three- course dinner, champagne toast and performances by MAC and Bistro Award-winners Lisa Asher and Brandon Cutrell. Tickets are $98, which includes tax and gratuity, and may be purchased at www.smarttix.com or by calling (212) 868-4444. Suggested arrival time is 8:15.

Or Perhaps For Something Completely Different
Far away from Times Square, the New York Gilbert & Sullivan Players will creating havoc and making merry on December 31 at 8 P.M. at Peter Norton Symphony Space as perform parodies of G&S operettas and take audience requests to perform impromptu with the backing of a 25-piece orchestra. All that and a champagne toast at midnight.
Tickets are $ $60 - $80 and availalbe at the box office or by calling (212) 864-5400.

Family Holiday Fare
The animated film The Littlest Light on the Christmas Tree has been adapted into a stage musical for young audiences. It plays through January 6 at Vital Theatre Company [2162 Broadway, fourth floor].
The cast of ten delivers a very accessible story, "about the miracle of believing and the power of the human heart," tells of two friends: and eight-year-old boy and a discarded Christmas bulb he finds. When their town suffers a blackout caused by a winter storm, Little Light triumphs and shines, helping others to, ahem, see the light.
Tickets are $18 and are available at (212) 352-3101 or online at www.vitaltheatre.org.

Sigourney on the Rocks
The Film Society of Lincoln Center welcomes Sigourney Weaver for a Q&A to a Young Friends of Film screening of Ang Lee's The Ice Storm, at the Walter Reade Theatre on January 15, at 7:30 P.M. The movie opened the 1997 NYFilm Festival.

Set in 1973, with Watergate unfolding, the film follows two Connecticut families overcome by emotional distress and strained to the breaking point by infidelity, sexual experimentation, drug use and petty crime. Lee [Crouching Tiger, Hidden Dragon, Brokeback Mountain] directed. Kevin Kline, Joan Allen, Tobey Maguire, Elijah Wood and Christina Ricci co-star in this adaptation of James Schamus' award-winning screenplay, based on the Rick Moody novel.
Pending schedules, Weaver will be joined by other cast members. A post-film party with an open bar and hors d'oeuvres follow the screening. YFOF members receive one complimentary ticket. Additional tickets are $25 and are available at the Walter Reade box office and online at www.filmlinc.com.

Celebrities Appear for Charity
Cause Celebre, a theater company founded by Food For Thought A.D.Susan Charlotte, is devoted to fostering an enhanced understanding of psychological, physical and social issues through plays. Proceeds will go to various foundations and charities.

Marlo Thomas, Rue McClanahan and Elizabeth Wilson will appear January 30 in a program with proceeds benefitting St. Jude Hospital, Memphis, TN, which was founded Marlo's father, Danny Thomas. In March, you can be entertained by Christine Ebersole and Mercedes Ruehl in a new work dealing with the Fortune Society and prison reform. A later program will be a tribute to Kitty Carlisle Hart benefiting the Glaucoma Foundation and a leading New York museum.
Tickets are $100 and are tax-deductible. For reservations and full schedules, call (212) 362-2560.

Off with Their Heads: Henry VIII on DVD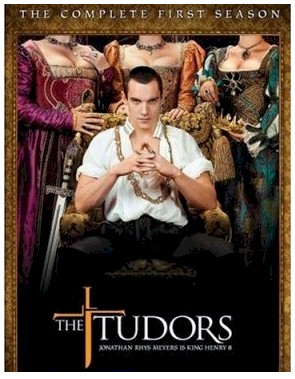 Fans of Showtime's acclaimed epic, lavish, scandalous and sexy historical series The Tudors can regale in the regal splendor of the complete first season when it arrives for purchase on January 1 [Paramount Home Entertainment, Four discs, Nine hours plus; SRP $43]. Jonathan Rhys Meyers [Mission Impossible IIi] stars young Henry, excellently acquitting himself not only as a power-mad monarch and rebellious 19-year-old but also as warrior and salacious lover.
Meyers is well-suited to the role of man of mischief and intrigue who in his nearly 40 years of tumultuous reign, between numerous affairs [It's good to be the King!] married and divorced - married and divorced, married and divorced - all total, six wives, some of whom lost their heads [to the axe] - in his determination to have a male heir on the throne.
From the series debauchery, evidently the 60s had nothing on the decadent 16-Century. A central element of the series is Henry's conflicts with Pope Clement VII and the deconstruction of the Catholic Church in England when he cannot get his way. From the historical standpoint, don't expect a lot of accuracy.

A Remastered Disney Family Classic
The 1967 Disney animated classic The Jungle Book, loosely based on Rudyard Kipling's classic tale, is the story of Mowgli who was raised in the jungle by animals and his nemesis Shere Khan, a threatening Bengal tiger [voiced by none other than the great character actor George Sanders]. The film returns in a magnificent remastering that includes original ratio framing, eye-popping color and sound [Disney, SRP $30].
All the characters are still here, only more vivid than ever: the brave, wise panther Bagheera [voiced by Sebastian Cabot], jazzy King Louie of the Apes [Louis Prima], Kaa the snake [Sterling Holloway] and the lovable bear Baloo [Phil Harris] [in the Disney jungle you never know what you might find!]. With the bonus of a deleted scene, you'll also meet Rocky the Rhino for the first time.

Mowgli's journey is, of course, filled with songs, such as two long-lasting hits "I Wan'na Be Like You" and the Oscar-nominated "Bare Necessities." This Platinum Edition includes bonus interactive games, music video ["I Wan'na Be Like You"], songs deleted from the film, Making Of features and commentary by modern-day animators, even Walt Disney himself.

Mickey and Judy Boxed
Mickey and Judy are ready to put on that show. And what a show! Actually, a whole bunch of 'em.
The five-disc DVD boxed set The Mickey Rooney & Judy Garland Collection: Ultimate Collector's Edition has arrived in stores [Warner Home Video; SRP $50]. The MGM musical classics, all remastered, finally making their first DVD appearance are the duo's Babes in Arms, Babes on Broadway, Strike Up the Band and Girl Crazy - four "backyard" extravaganzas that cemented their reputation as one of Hollywood's beloved screen teams.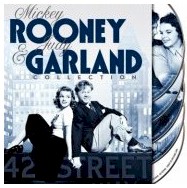 Disc Five contains nearly three hours of bonus material, including Private Screenings with Mickey Rooney, an in-depth, deeply personal interview by TCM's Robert Osborne, and The Judy Garland Songbook, 21 complete Garland movie musical numbers.
These four films were produced by the legendary Arthur Freed. Rooney earned a Best Actor Oscar nomination for BIA, considered the quintessential Mickey-Judy musical. It was quite freely adapted from the 1937 Rodgers and Hart Broadway hit. Busby Berkeley directed and lavishly choreographed.

Tony Bennett's Back
Just in the nick of time for holiday-giving to your favorite music fan is Clint Eastwood's acclaimed PBS American Masters documentary Tony Bennett: The Music Never Ends on DVD [Warner Home Video, two discs; SRP $25].
Covering the five decades of Bennett's career as an artist capable of moving the hearts and touching the souls of audiences, it touches on his continuing appeal to a huge cross-section of audiences, 14 Grammys and longtime association with Columbia Records. He sings his hits and then some along the way.
Lovingly produced, the 90-minute program features narration by Anthony Hopinks, interviews by Eastwood and reminisces from Christina Aguilera, Louis Armstrong, Alex Baldwin [doing his Saturday Night Live impersonation of Bennett], Harry Belafonte and, among others,Don Rickles; and re-mastered archival footage of Bennett's TV appearances in addition to clips from films starring Astaire, Crosby and Sinatra.
Disc Two is Bennett's 2005 set at the Monterey Jazz Festival.

The Nativity as Healer of Religious Differences
Liam Neeson narrates Andrew Miller's The Birth of Christ which is getting a DVD and CD release [SONY BMG Masterworks; SRP $15 and $16, respectively] following its broadcast on PBS, tells of how Protestant and Catholic choirs, after decades of sectarian conflict and bloodshed, came together for in Dublin to celebrate what unites them: The birth of Christ.
Through song, "the timeless characters beloved the world over: Mary, Joseph and Elizabeth reveal their humanity and passion to awaken in everyone the startling wonder of Christmas."
Accompanied by a full orchestra in Dublin's Christ Church Cathedral, The Birth of Christ "underscores the universality of the Christmas story, and how the power of music can help overcome strife and conflict."

Holiday Musical Cheer
In the Classical Style:
For the first time, Andrea Bocelli, the world's best selling tenor, is releasing his greatest hits, and then some, on The Best Of Andrea Bocelli, Vivere [Decca/Sugar, SRP $19]. The 16-track set, with such classics as the poignant "Time to Say Goodbye" [duet with Sarah Brightman], the inspiring "The Prayer" [duet with Celine Dion], selections from his multi-Platinum CD Romanza, his double-Platinum CD Sogno and "Because We Believe" from his recent Amore, which is heading toward double-Platinum.
In addition, there are four new tunes and a special bonus: the DVD of Bocelli's Statue of Liberty concert [with arias from Cavalleria Rusticana, Il Trovatore, La Boheme, La Traviata and ],
Special guests on the CD include Latin singing sensation Laura Pausini, Kenny G, pop star Georgia and acclaimed classical pianist Lang Lang.
Vivere translates from Italian to English as "to live" and Bocelli's stunning voice certainly brings the music to life in all its vivid dimensions. It's no wonder he's racked up sales of over 55 million albums worldwide.

In the Swingin' Style:
How about some Michael Bolton traditional Christmas music under the tree or to stuff in that stocking? The Grammy-winning singer/songwriter comes out with new interpretations of some yuletide chestnuts on A Swingin' Christmas [Concord Records, SRP $15]. Joy to the world, indeed!

Last Chance to Catch Milestone Exhibition
The Met's The Age of Rembrandt: Dutch Paintings in the Metropolitan Museum of Art ends January 6. The exhibition displays in 12 galleries the museum's 20 Rembrandts and its entire Dutch Paintings Collection. In all, 228 works as opposed to the 100 on regular view. The Collection dates mostly from the 1600s and is widely considered the greatest collection of Dutch art outside Europe. The exhibition also commemorates the 400th anniversary year of Rembrandt's birth.
The museum is hosting another major exhibition, Abstract Expressionism and Other Modern Works: The Muriel Kallis Steinberg Newman Collection through February 3.
Ellis Nassour is an international media journalist, and author of Honky Tonk Angel: The Intimate Story of Patsy Cline, which he has adapted into a musical for the stage. Visit www.patsyclinehta.com.

He can be reached at [email protected]





Why are you looking all the way down here?
For more articles by Ellis Nassour, click the links below!

Previous: Arthur Laurents on Gypsy; Meryl Streep on Location; Kennedy Center Honors; Laura Bell Bundy in Free Holiday Concert Today; Fosse Film Fest; Holiday Theatrical Gifts and Fare; More

Next: Alan Menken on Little Mermaid; Cook's Birthday Concert on CD?; John Lithgow Sunny Side Up; Off Bway Bargains; More

Or go to the Archives