The Little Mermaid swam from under the sea onto the Broadway stage last night, making quite a leap from its origins as a 1989 hit Disney animated film. The score is by multiple award-winner Alan Menken, the late Howard Ashman - the team responsible for one of the most successful theatrical shows of all time, The Little Shop of Horrors, and Glenn Slater.
Mermaid, from Disney Theatrical Productions is based on the classic fairy tale by Hans Christian Andersen. In the stage musical adaptation Sierra Boggess [Christine in Phantom: The Vegas Spectacular, Les Miz tour] stars as Ariel. Co-starring are Sean Palmer as Prince Eric, Norm Lewis as King Triton, Tituss Burgess, Eddie Korbich, Jonathan Freeman and Sherie Rene Scott as the evil Ursula. The company of 35 also includes: Tyler Maynard, Heidi Blickenstaff and John Treacy Egan.
The musical takes place in an underwater kingdom, where young mermaid Ariel longs for romance and to live in the dry world above. To do so, she has to defy the King of the Sea, who alas is also her father, and escape the clutches of Ursula, the sea witch. On top of everything else, she has to convince a prince that she's the girl with the perfect voice.
Menken, with Ashman and other collaborators is an eight-time Academy Award winner in the Song and Score categories [with 15 nominations categories] and a Tony [Beauty and the Beast] and Drama Desk nominee [Little Shop ].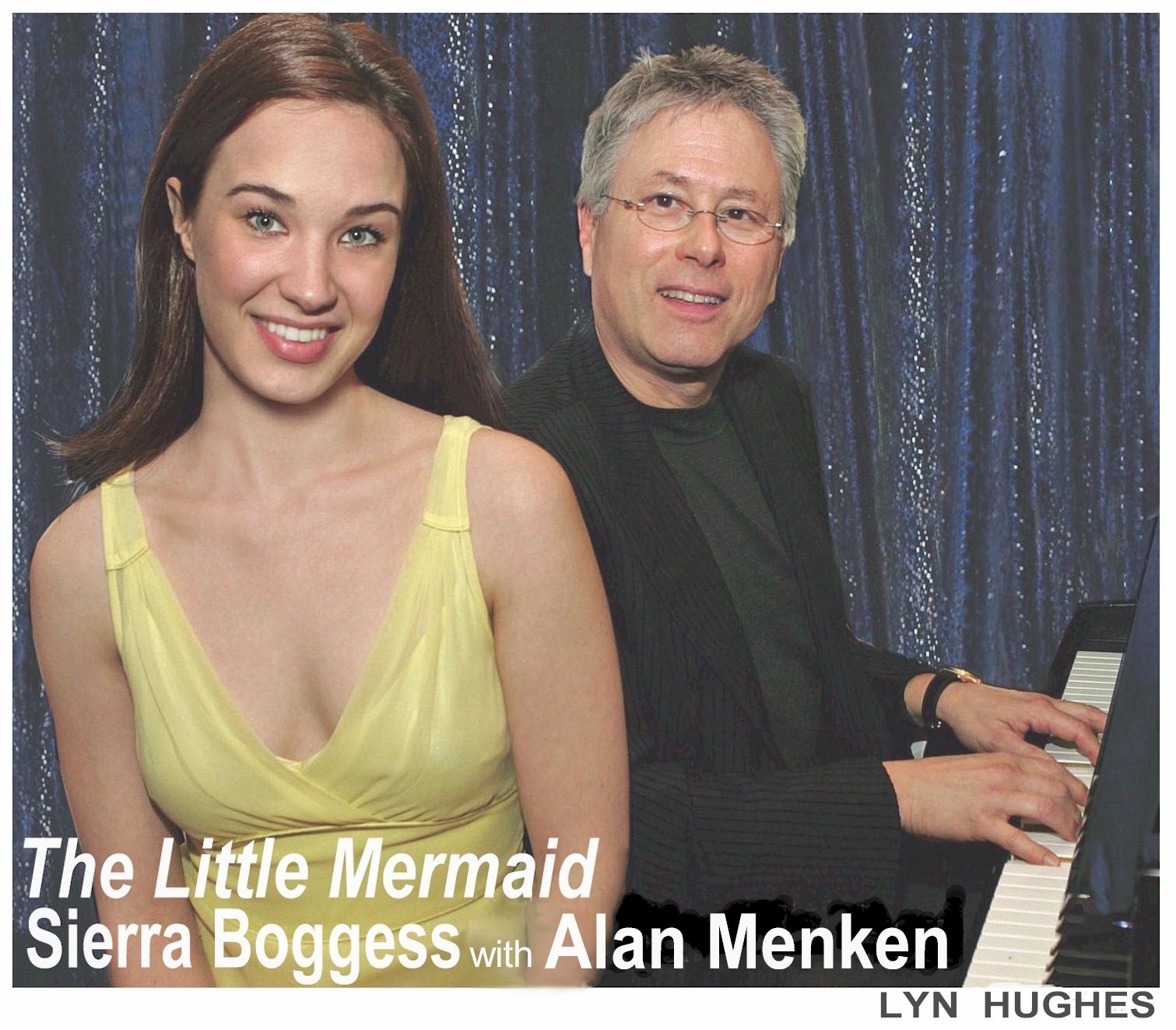 For TLM film, Menken and Ashman won Oscars for Best Score and Best Song, "Under the Sea"; and were nominated for Best Song for "Kiss the Girl."
Menken is back on Broadway for the fist time since Disney's Beauty and the Beast.
"Many friends in theater ask me, 'Why do you keep working at Disney. Don't you want to come back to Broadway?'" says Menken. "Now, I'm back. It's where I am right now."
He's back with a lot of projects, including adaptations of his film musical Newsies; Sister Act, which has gone back to the drawing boards before its planned West End debut and Leap of Faith, which he sees as a throwback to his and Ashman's early musical, God Bless Mr. Rosewater.
Sister Act "has been fun but difficult. In the film, Whoppi [Goldberg] made it star vehicle. We don't have stars on Broadway the same way we do in movies. You can bring stars to Broadway for a limited amount of time, but you need to write a show that's not star-driven. The key lies ultimately in finding the right person."
For Leap, written with Slater, film director Taylor Hackford [Ray, An Officer and a Gentleman] will make his theater directorial debut. The plan is for a five-week workshop in April and a Spring 2009 Broadway opening.
"Taylor's movies have been very musical," Menken points out. Many aspects of his films show that he'll be very comfortable moving about in a theatrical place."
Film and stage, as Menken doesn't have to point out, "are two unique processes that aren't compatible. Not at all. There are lots of challenges. It takes a certain ability and mentality."
Obviously, it's something Menken has mastered for he's become one of Disney's "go-to guys." As far as film is concerned, "I found a very good medium for what it is I do and what I enjoy." Menken loves working on projects that are tuneful, uplifting and that will appeal to a wide spectrum of audiences. "That's something in my wheelhouse. I do it well. I understand it. I love it. I love catchy songs. I love tongue-in-cheek."
Menken has often been referred to as a fountain, with ideas constantly jetting out of him. "I'm very fast." And not just when composing and writing lyrics but also when he's speaking. Keeping up with him is a challenge. He could easily beat that TV battery bunny in a heartbeat.
At Disney, in film or on theatrical projects, Menken reports that he never felt constrained or limited. "I've always been a big fan of Disney animation, as was Howard."
He notes that working at and with Disney hasn't changed much. "There's still this family aspect. Dick Cook, who runs the studio, came up the ranks from the parks. He's a believer, and was a champion not only of Little Mermaid but also Enchanted. Bob Iger, Disney's studo chief lets people do the work they need to do. That said, I had the greatest time knowing and working with Michael Eisner and Jeffrey Katzenberg.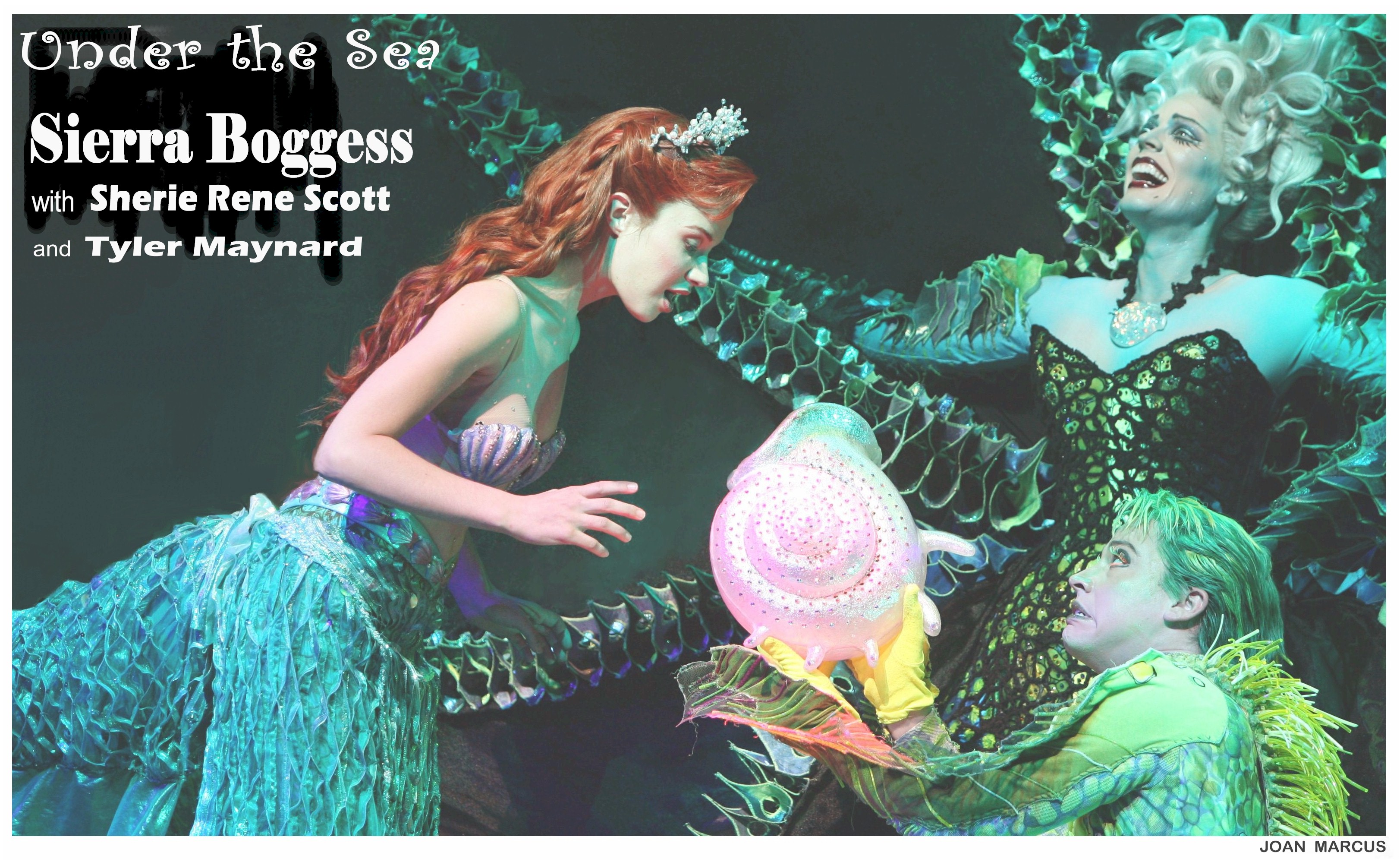 "No mistake about it, Disney's an extremely business oriented company," he continues. "As with anything, it's all about individual relationships. Peter Schneider was our company manager on Little Shop, went on to become VP of Disney animation and worked his way up to studio president. Tom Schumacher, who worked in regional theater, worked in Disney animation and how runs the theatrical division. Eisner was a theater major."
For Menken, whether onstage or in film, Disney's a good fit. "I've become somebody they like because I'm a known entity. When I write something sweet and sentimental, I mean it. That's where I live. I'm an emotional, schmaltzy person."
When he's involved in a project that doesn't have that sort of opportunity, it can be very frustrating and difficult. "And there have been a couple," he states.
A period of frustration and difficulty set in when Howard Ashman died from complications from AIDS in 1991. "The loss of Howard was a devastating blow. He wanted to do Newsies, but was too ill. He would have liked to finish Aladdin. There wasn't a long transition period. Because of projects on the table, there was very little time to find another collaborator. Tim Rice came in. Thankfully, he's a quick writer."
Uncharacteristically, he pauses, slows his speech considerably, grows introspective and admits, "I had a great deal of fear that I wouldn't be able to duplicate the type of success Howard and I had. To a degree, artistically, it was certainly justified. There was no replacing Howard Ashman. His greatest strengths were his control of stylistic palettes, laying the groundwork for our projects and being the producer, undertanding the Zeigeist of our culture and being able to pick a project and tell it in a way that was hip and smart and, at the same time, very traditional musical theater. He was the best at that."
Film or stage, Menken believes "it's not a good score unless the music can serve something that it's helping and that it's being helped by. You can have good songs, but I'm a big believer it's all about the game you're playing, what musical vocabulary I choose to tell the story.
"You have to ask yourself why does this story need to be told through song and not simply spoken," he continues. "And if you're going to tell it in song, how do I let the audience know what the rules are and why it's being sung."
He says if he can answer those questions, "then audiences will stay with me; otherwise, they'll run away." As he found out on a couple of projects, "having a good score isn't all. There's no such thing as a good score unless it's attached to a good musical."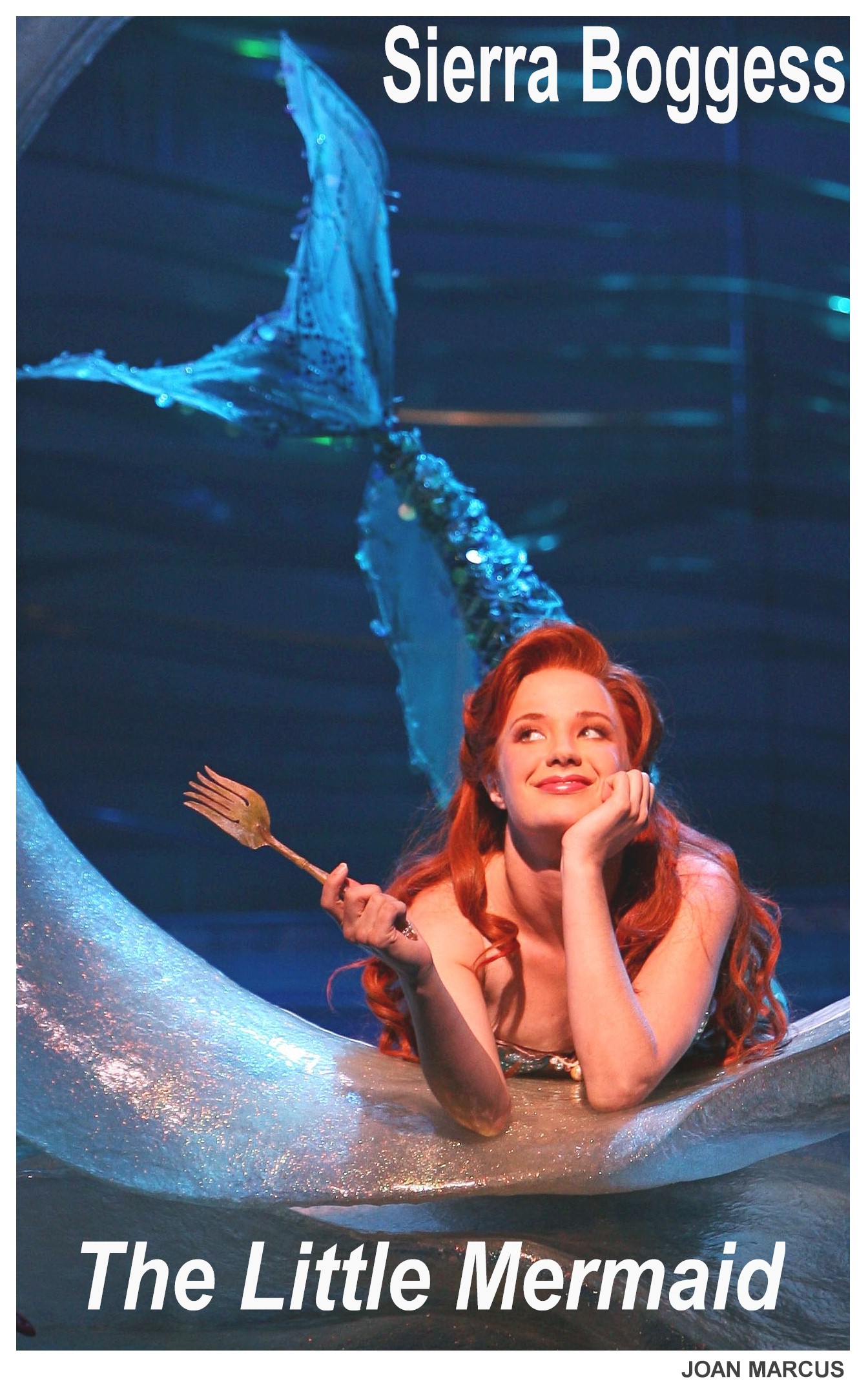 This season, in addition to launching the refitted Mermaid, Menken and Stephen Schwartz have a huge movie hit with the Disney musical fantasy Enchanted, which has been nominated for two Golden Globes: Best Song and Best Actress, Musical or Comedy, Amy Adams [soon to be co-starring opposite Meryl Streep in the film adaptation of Doubt].
Menken doesn't consider his work with Ashman, Slater, Stephen Schwartz and a host of other collaborators juvenile. "I don't write for a specific audience," he states emphatically. "I write for me. I write for the cynics and hope that the rest get it. My goal is to always write a score to which a smart audience will go, 'I get it. I'm with you.'"
The stage score for TLM features the classic songs "Part of Your World," which went on to become a hit but which the studio wanted to cut from the film, "Kiss the Girl" and Oscar-winner "Under the Sea" as well as 10 new songs, which include "The World Above," "I Want the Good Times Back," "Her Voice," "Beyond My Wildest Dreams" and "If Only."
The book is by Pulitzer Prize and Tony and DD-winner Doug Wright [I Am My Own Wife; also Tony and Desk-nominee, Grey Gardens].
Though there are no tanks of water onstage at the Lunt-Fontanne, Menken sasy, "You definitely get the look of being underwater. I love the flying and the special shoes they wear. Every aspect collaborates to create the impression of water and earth."
He explains that the biggest difference from the film is that the Broadway production is all live and we made big changes in Prince Eric and the King. "They're much more three dimensional characters now."
TLM is of course Disney's much-anticipated live follow-up to B&B, The Lion King and Tarzan, which wasn't exactly warmly embraced by critics. It's a big show and it's Disney, so Menken knows the critics are just waiting to weigh in. He isn't shy to make it known that he was very involved in Mermaid's whole process - first, with acclaimed choreographer/director Matthew Bourne and now award-winning director Francesca Zambello.
"I love Matthew," Menken says. "His departure wasn't Disney's decision, but his. Little Mermaid is molded in the musical comedy form. Matthew wanted to work with those elements but surround them with his own artistry. For a year, we met off and on in London having story meetings and conceiving songs to develop the film into a stage story.
"Beauty and the Beast and Little Mermaid opened themselves up quite naturally to expansion for the stage and finding the moments in song that are implied. But there were challenges. For one thing, the vocabulary was set. You knew audiences would be coming in knowing 'Be Our Guest,' 'Belle' and Beauty's title song - and [from TLM] 'Under the Sea,' 'Part of Your World' and so on. In the end, Matthew didn't feel he had the right sensibility for it."
The American-born Ms. Zambello has worked around the world. She's been awarded the Chevalier des Arts et des Lettres and the Russian Federation's Medal for Service to Culture. Other honors include an Olivier nomination for the Royal Opera's production of Paul Bunyan and Evening Standard Awards, the French Grand Prix des Critiques and tons of others. From 1985 to 1990, she was co-artistic director of Milwaukee's Skylight Opera Theater.
This season, at the Metropolitan Opera, she did Cyrano de Bergerac with Placido Domingo, Love of Three Oranges for Australian Opera and a film for the BBC of the children's opera by Rachel Portman, The Little Prince. Other projects include Tibet Through the Red Box, a new play by David Henry Hwang; the world premiere of Tobias Picker's opera An American Tragedy for the Met, Porgy and Bess for the Kennedy Center and a new Disney musical that's being kept tightly under wraps.
TLM's artistic team includes Olivier Award-winning choreographer Stephen Mear, scenic designer George Tsypin, costumer Tatiana Noginova, make-up design by Angelina Avallone, lighting by award-winning Natasha Katz and orchestrations by frequent Menken collaborator Danny Troob.
Now the critics weigh in. Will TLM sink or swim? Will it be all that it could be, was expected to be?
The original cast album of The Little Mermaid from Disney Records will hit stores on February 26.

Barbara Cook's Extended 80th Celebration on CD?
Did you somehow miss Barbara Cook's three night 80th Birthday Celebration accompanied by the 106-piece New York Philharmonic Orchestra and a combo?
Fear not, for though it certainly won't be the same as being there and being swept up in the emotion of the moment and the waves of standing ovations, it appears Miss Cook's concert will materialize on CD.
The 90-minute intermissionless concert was recorded November 19 and 20 and January 8 and a deal for release is in the works with DRG Records, which has maintained a long-term relationship with Miss Cook.
Label head Hugh Fordin wouldn't confirm a release date, even going so far as to state "a deal hasn't been worked out." But it appears that it only remains to dot the Is and cross the Ts. After all, as great as Miss Cook is in her intimate venues, it's better with a band -- especially a huge orchestra as incredible as our NYPhil.
Now, with Fordin presumably producing, the next step, in collaboration with Miss Cook and her music director Lee Musiker, who conducted and played keyboards for the concerts to great acclaim, is selecting the best takes from the three nights, editing the banter, which was often filled with asides and great humor in addition to some good career stories and mastering the work for CD.
It should be quite a package, hopefully, including Miss Cook's astonishing encore "unplugged" moments "Some Other Time" and "We'll Be Together Again.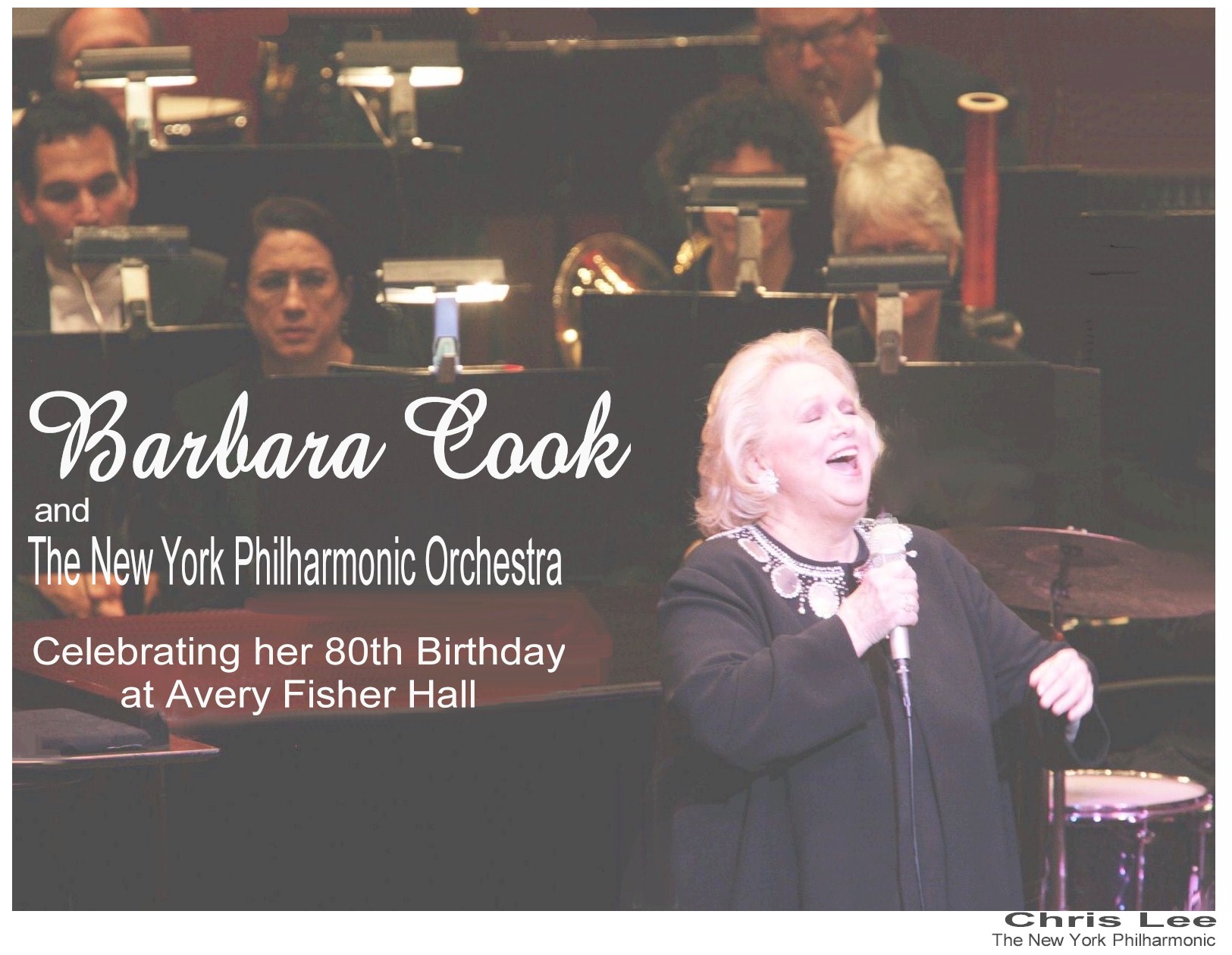 The CD will certainly begin with a flourish with the Philharmonic, under Musiker's baton, doing a phenom full-out arrangement of Berstein's Candide overture. Miss Cook costarred as Cunegonde in that classic musical 50 years ago.
Miss Cook, still going very strong after all these years and looking at least 20 years younger, followed with a new orchestration by Musiker of Bernstein/Comden and Green's "Lucky to Be Me" from OTT; Rodgers and Hammerstein's "A Wonderful Guy" and a stunning female take on Emile's "This Nearly Was Mine" from South Pacific; a rousing "Give Me the Simple Life" by Rube Bloom and Harry Ruby; Berlin's "I Got Lost in His Arms" from Annie Get Your Gun; and the magnificently poignant "Smile" [music by Charlie Chaplin from his Modern Times score]; songs by Jerome Kern, Sigmund Romberg, Harold Arlen and Johnny Mercer; and of course Sondheim.
Two of the most mesmerizing moments in the concert were Miss Cook's renditions of "Lost In The Stars" by Kurt Weill and Maxwell Anderson and Leonard Bernstein/Betty Comden and Adolph Green's "Some Other Time" from On the Town.
There were many light moments, such as Gershwin and Irving Caesar's uptempo "Nashville Nightingale," whcih she discovered on the the 1966 Ben Bagley recording, George Gershwin Revisited as sung by Bobby Short and Ray Henderson, Jack Yellen and Caesar's hilarious "My Dog Loves Your Dog."
Noting her admiration for Sondheim, she surely made him proud with a devastating rendition of "I Wish I Could Forget You" from Passion that had some audience members in tears and "No One Is Alone" and "No More" from Into the Woods.
Missing but to be found on so many of Miss Cook's previous albums were songs from Candide, The Music Man, The Gay Life and She Loves Me. There wasn't anything from Carrie, either.
Miss Cook's last studio CDs were No One Is Alone, with songs from her 2006 Carnegie Hall concert, and Tribute, produced by Fordin with music direction by Michael Kosarin,in honor of her late and beloved music director and collaborator Wally Harper. DRG also has relased Sings from the Heart [1959], which showcases Miss Cook, the young Broadway ingenue, in songs written by Rodgers and Hart; Barbara Cook's Broadway; The Lyrics of Oscar Hammerstein; Sings Mostly Sondheim; and It's Better with a Band, which includes her memorable rendition of Noel Coward's "If Love Were All".
The end of the year and beginning of the year concerts belatedly celebrating Miss Cook's October 25 birthday were sell-outs. Afterward, there were almost as many people waiting in the line that ran the length of the orchestra to greet Miss Cook in the Avery Fisher Green Room. They were a Who's Who of show business and beyond.

A Bid to Help the NYPhil
There's an eBay auction in progress of an autographed New York Philharmonic tee by Miss Cook and Lee Muskier. Proceeds will benefit the NYPhil. The current bid is $162.50. The end date is Monday.

A Return to the Carlyle

Miss Cook's 80th Birthday Celebration concert on CD should be out just in time for her return to her old stomping grounds at the intimate Cafe Carlyle on March 4 [through April 12], where she says she'll be presenting an all new program. The engagement will mark Miss Cook's 27th show at the club. Suggestion: Reserve now! And you'll have to dig into post-holiday empty pockets. Forgetting anything to drink or eat, the cover charge will range from $90 - $125. Of course, Miss Cook is worth it at any price.

John Lithgow Sunny Side Up
John Lithgow returns to theater, the New Victory Theatre, next weekend for five performances of The Sunny Side of the Street, where he not only tells stories in his inimitable way - oozing with charm - but also sings tunes from his recent children's CD.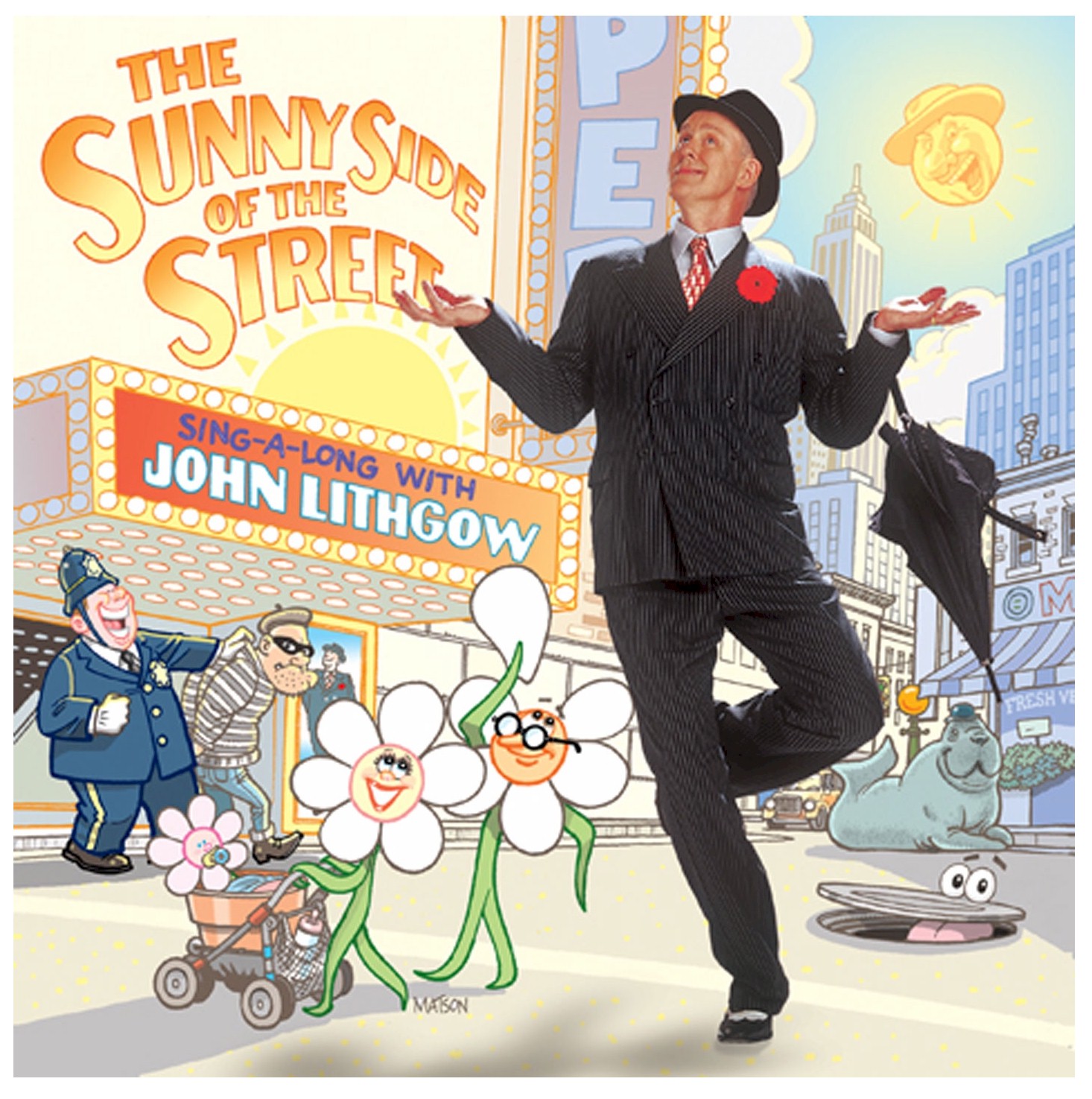 The Oscar-nominee, Golden Globe, Tony, Emmy and Grammy winner and member of the Theatre Hall of Fame will be joined by the musical group, the Sunny Side Strutters. The infectious songs include "Marsupial Sue," "I'm a Manatee," "I Got Two Dogs" and "Getting to Know You."

Lithgow has written seven New York Times best-selling children's picture books, activity books for parents and children and the soon-to-be published The Poets' Corner, a compilation of fifty classic poems suited for young readers.
Tickets are $12.50 - $35 and available at the New Vic box office, by calling (646) 223-3010 and online at www.NewVictory.org. Those who purchase tickets to this show and at least two other New Vic productions during this season become New Vic members and save 30% on tickets.

Off Bway Twofer
In celebration of Live Theatre Week [what week isn't theater live?], 20 Off-Broadway shows will offer buy-one-get-one-free tickets from January 21 - 27. The post-holiday promotion is sponsored by the League of Off-Broadway Theatres and Producers. Visit www.OffBroadway.org for the participating shows.

Off Bway Threefer
3 LD Art and Technology Center, Dance New Amsterdam and HERE Arts Center, a newly-formed partnership to offer audiences affordable cutting-edge performances in Lower Manhattan's alternative arts scene, have united under The Downtown 3. The venues dedicated to innovative, risk-taking modes of expression merge dance, theater and technology.
Upcoming will be 3-Legged Dog's premiere of Charles Mee's Fire Island; DNA's OB·ject.ob·JECT, highlighting women choreographers; and HERE's Oph3lia, a new work by HERE resident artist Aya Ogawa, which will open their newly renovated facility in June.
With a $33 Downtown 3 Punchcard, audience members receive discounted admission [a savings of 60%] for all 2008 performances at the venues. Purchase online at www.downtown3.org, by calling (212) 352-3101 or at the venue box offices.
The initiative is made possible, in part, by the Lower Manhattan Cultural Council with support from the September 11th Fund and the Fund for the City of New York's Performing Arts Initiative.

Save the Dates
Scott Siegel [Bway by the Year, Bway Unplugged] will present the just-announced winners of the 2008 Nightlife Awards at Town Hall January 28 at 7 P.M. This is one awards event where there are no acceptance speeches. The winners, announced on the 9th, sing for their honor. Bruce Vilanch has been announced to host. Among those on hand will be Marilyn Maye. Tickets are $25 - $75 and available at the Town Hall box office, by calling (212) 307-4100 or at www.ticketmaster.com and Ticketmaster locations.
Kids' Night on Broadway, with Rosie O'Donnell serving as national ambassador, takes places February 5 and 6 and 12 and 13. Kids, ages six to 18 can attend a Broadway show for free when accompanied by a full-paying adult. There are all sorts of fun pre-show events plus discounts on dining and parking. For participating shows and more information, visit www.KidsNightOnBroadway.com.
Ellis Nassour is an international media journalist, and author of Honky Tonk Angel: The Intimate Story of Patsy Cline, which he has adapted into a musical for the stage. Visit www.patsyclinehta.com.

He can be reached at [email protected]





Why are you looking all the way down here?
For more articles by Ellis Nassour, click the links below!

Previous: Lion King's Kissy Simmons, TV Pioneers, Barbara Returns, Chita's Back, Schmidt and Jones' Celebration Revived, Holiday Fare, More

Next: Vaudeville Is Alive and Well at Desert Follies; Star-Studded Film Fest; More

Or go to the Archives