The much-anticipated TV adaptation of Lorraine Hansberry's A Raisin in the Sun, featuring the stars of the 2004 Broadway revival Sean Combs, Tony and Drama Desk-winners Phylicia Rashad and Audra McDonald and Tony-nominee Sanaa Lathan airs tonight in a three-hour presentation on ABC. The revival not only brought in new audiences to the theater, thanks to Combs hip-hop fame as P. Diddy, but also broke box office records even in it's very limited run.
Executive producers Neil Meron and Craig Zadan felt it vital to bring Hansberry's play about family struggle and racism in Chicago in the 50s to TV so it could be seen by a new generation. Their faith in the project is more than rewarded by the results achieved by director Kenny Leon, who directed the stage revival [receiving a DD nom], and the the stellar performances of Rashad, McDonald, Lathan [who's quite the scene stealer] and last, but by no means least, Combs.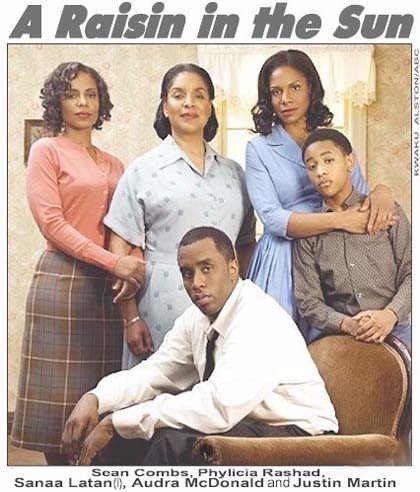 ARITS is Hansberry's poignant story of a family struggling on Chicago's South Side who await the $10,000 life insurance policy of their late father/husband. Son Walter Lee especially wants to get a piece of the pie. Sister Beneatha has dreams of a better life, not necessarily in the U.S., as she has hopes of becoming a doctor. And widow Lena Younger just wants to retire from her job as a domestic and trade the family's tenement apartment for a deluxe home in the sky.
Tension rises when Walter Lee announces he wants to invest in a can't-miss business, which doesn't sit well with his mother. Needless to say, obstacles are thrown in their path and dreams are almost shattered. Almost.
Rashad is the film's anchor and anchor it she does. Her poignant and blistering performance will long be remembered. In fact, If this was a theatrical release it would surely have lots of Oscar buzz for picture and cast. As it's a teleplay, it should have lots of Emmy buzz come late summer.
As excellent as the leads are, with Lathan proving quite the vivacious scene-stealer, there are two notable supporting roles: David Oyelowo as Asagai, the student from Nigeria; and Sean Patrick Thomas as George, the sophisticated, wealthy college student, who are after Beneatha's hand. Oyelowo has a memorable moment [when Beneatha finally agrees to give him her phone number] that will have the ladies swooning and that will be the talk on Tuesday around the water coolers. Any guy who wants to impress a gal needs to memorize that moment.
Though there's no shortage of dramatic moments for Rashad, she did have a light moment following Asagai's exit after his first visit to the apartment that she milks for all it's worth.
If anyone wants to pick hairs, they're there; but it's a movie based on a play and you don't expect faithful period realism. Still, it gets a high score. Seeing the film on a big screen without interruption certainly gave it more impact. Hopefully, ABC will be very careful with the placement of commercials.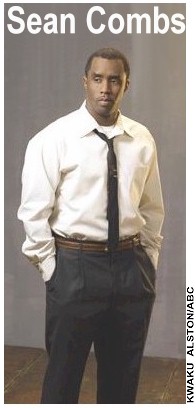 One reason the Broadway revival became such a blockbuster was the daring leap Combs made from music to the stage. And what a leap it was.
Combs, a co-producer on the film, said his first-time theater-acting gig "was one of the most challenging things I'd ever done and it truly changed my life. To be able to tell my kids and grandkids that I did that! That's crazy! It's definitely one of my proudest things I've ever done. Who can start on Broadway, sell out a theatre week after week and then have it become the second highest grossing non-musical play in Broadway history?"
He says that the timing of ARITS couldn't be better. "This is not only Black History Month, but also a particularly historic time where we have a historic election and also the fortieth anniversary of Dr. King's death. We always see examples of racism trying to stick its head out, but I think America has said we're not going to have that anymore. This is an uplifting story and with all that's going on, the film will have an impact and touch people's hearts. They'll get the message."
It didn't take long for Combs to fall in love with Walter Lee's character. "He had so much passion and many different colors and dimensions," says Combs. "You don't read scripts like that these days. There aren't an abundance of roles that look into the dimensions of a black man."
He sees things changing for the better. "You don't see those gang-banging, stereotypical movies as much as you used to. African Americans are getting more power being executive producers. The work Will Smith, Jamie Foxx and Denzel Washington are doing is opening up doors for actors like me.
"My acting coach told me that if I wanted to get serious as an actor," he continued, "Walter Lee was a dream role. I was like, there's no way I can do that. When I was offered the part, I was so thrilled that I jumped into doing it without knowing how tough starring on Broadway would be. But it was an experience I'll remember forever." He was to receive strong encouragement from Poitier, Ruby Dee and her late husband Ossie Davis."
He recalled the stress his family went through when he was going to Howard University and he was having dreams of being in the music industry. "It all related to Walter Lee's dream. I feel I was destined to play this role."
Not everyone agreed. "A lot of people looked at me like I was crazy - just like, in the play how everyone looks at Walter Lee. They forgot I've had success in the music field and run several companies successfully [including his very popular international Sean John clothing line]. I come from the world of hip hop and most of the artists are known for the bling bling and Champagne. But, in my regard, that was blown way out of proportion because most of the time I was just in my office working or in the studio."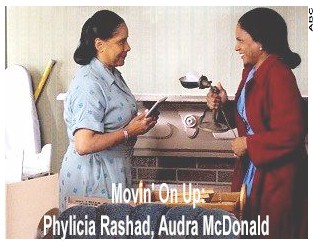 Being with Rashad and McDonald onstage boosted his confidence. "If you're playing basketball and want to get better, you don't play with scrubs. You play with guys that are great. All I could do was try to get better every day, and there were times I stood out. The hardest part was adjusting to the schedule. With eight shows a week, you don't have another life. And you're so worn out because it's such an emotional play. All I did was sleep and do the play, sleep and do the play."
Anytime he got stressed out, he says he thought of how blessed he was to have the opportunity to play Broadway. "So many would love to be in my shoes," he says. "Hopefully, what I did will open more doors for others."
Combs noted that he drew on his childhood experiences growing up in Harlem and Mount Vernon, New York. "A lot of people think that because I've had a little bit of success I may not be able to relate. My father was killed when I was three and I grew up in a house with three women - my mother, my grandmother and my sister. Mom and my grandmother worked two jobs and still weren't able to take care of us. I remember the look on my mother's face when I'd ask for things and she couldn't afford it."
He explains that he knows about the anxiety that exists when you're born into conditions where your life is predestined for failure. "When you're pursuing a dream and constantly hitting obstacles, you can't give up. You have to keep that passion and motivation. The fact that I couldn't stop was something I was able to tap into for the movie from my life."
As much as he loves music, he's transitioning from music to acting. "Acting is something I'm passionate about. It's something that you have to have to fall in love with it and be totally dedicated to. I always have to constantly be expressing myself."
Combs isn't rushing into another film, but "awaiting the right script, the right role." Though he would love to return to Broadway, he says, "No one has submitted any scripts. I still have a lot more growing and learning to do. I want to continue working with great actors, but I'm proud of my progression from roles I've had in films to Broadway and now being able to help bring Raisin to TV, where it will be seen by millions."
Broadway was a warm up game for Combs, he says; and while shooting the film he found himself, once again, in incredible company. "Working with these actors makes you feel vulnerable. They're not acting. They're living it. They're so real, you can't but help tell the truth when you're looking into their eyes. It's important when you're speaking lines with actors that you listen and they listen to you. You're having a conversation and speaking the truth. It becomes reality."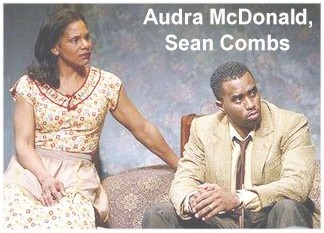 Playing Walter Lee Jr. onscreen was easier. "I had time to mature as an actor. On Broadway, I was kind of thrown out onto the stage. I was trying to find the character and never truly found him until I had time to mature and gain more confidence. By the time we began shooting the movie, I felt I'd become Walter Lee. I truly did my best to tell the truth in the film."
The stakes were high, but doing the film gave Combs more of an adrenalin rush "because I knew how important it was to give something different than what was onstage. There was pressure and anxiety, but for three-and-a-half weeks in Toronto [where the movie was shot] the adrenalin stayed up."
Hansberry's play was the first written by an African American woman to be produced on Broadway. It premiered in 1959, running 530 performances, starring Sidney Poitier, Claudia McNeil, Diana Sands, Ruby Dee [as Beneatha, a role that closely paralleled Hansberry's aspirations] and Louis Gossett Jr. Poitier. The play, Miss McNeil and director Lloyd Richards were Tony-nominated. The play was also honored with the New York Drama Critics Circle Award.
A film with the same cast followed in 1961, with the screenplay by Hansberry [Columbia Pictures rejected two earlier drafts as too controversial]. Miss McNeil and Poitier were nominated for Golden Globes. The film was also honored at Cannes.
What touched him about Hansberry's writing "was her understanding of each character's motivation. I haven't read another script where every single word from beginning to end means something or could relate to something. She was a genius. That's what makes this work so timeless."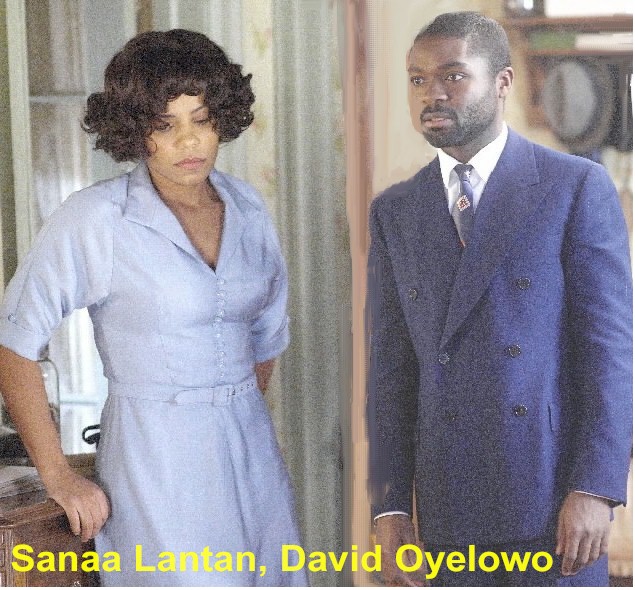 Combs sings the praises of director Leon, who has opened the play up in many ways so that it doesn't feel like a stage play. "Kenny's a genius. He truly knows how to work with actors. Every director is different. There aren't a lot out there who know to help an actor. Kenny can really bring out the best in you. On Broadway and in the film, he made me feel comfortable and allowed me to break the rules. He didn't mind as long as I did things to protect the role, to make audiences feel the character."
Though the producers respect the original film, says Meron, "We wanted to reintroduce the voice of Lorraine Hansberry, who's someone we haven't talked enough about. She should be a role model. She was only twenty-seven when A Raisin in the Sun opened, which makes it all the more remarkable considering the time. Sadly, she passed away at thirty-four in 1965. Hers was a voice that only blazed bright for a moment."
Born on Chicago's South Side, the playwright was the youngest of four children of a real estate broker. When the family moved to a "better" area near the University of Chicago, they faced fierce racial discrimination from, as Hansberry described it, "a hellishly hostile white neighborhood." Her father battled against a binding covenant that, in essence, prohibited blacks from buying homes in the area. The case led to the landmark Supreme Court case of Hansberry v. Lee and the covenant was struck down; still, fierce resistance to the family's presence continued. Mr. Hansberry even considered relocating the family to Mexico to escape racism.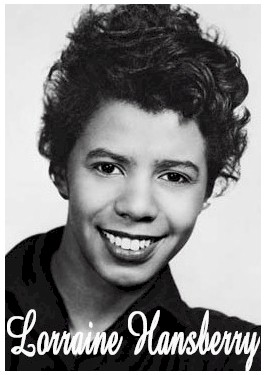 In the early 50s, Hansberry became a freelance writer for Freedom magazine [published by Paul Robeson] in New York and worked odd jobs to make ends meet. She was quite the activist. While picketing to protest the exclusion of black athletes at NYU, she met Robert Nemiroff, a Jewish literature student and songwriter. Considering Hansberry's lifestyle choices, it came as surprise to intimates when the couple married. Nemiroff had a hit song, which gave Hansberry to devote herself to writing full time.
The original A Raisin in the Sun was produced on Broadway by Philip Rose and Nemiroff. The couple had a daughter, separated and were divorced in 1964. Three months before her death from cancer, Hansberry saw a second play, The Sign in Sidney Brustein's Window, about a Greenwich Village political activist seeking social reforms, arrive on Broadway for 101 performances. It closed the night she died. Hansberry had been working on a novel and three plays. A third work, Les Blancs, had a short run in late 1970.
Nemiroff adapted much of Hansberry's unpublished work [including a teleplay commissioned by NBC about slavery] into the hugely successful 1968 Off Broadway play To Be Young, Gifted and Black, which appeared in book form.
A musical version of ARITS, simply called Raisin, by Judd Woldin and Robert Brittan, opened in 1973, winning the Tony for Best Musical. Like the original play, It was produced by Nemiroff, who co-adapted the Tony-nominated book with Charlotte Zaltzberg. The stars were Virginia Capers, Joe Morton [as Walter Lee], Ernestine Jackson and Ralph Carter, all nominated with Miss Capers winning as Best Actress.

Sunday in the Park with George Projections
Director Sam Buntrock has dared to reinvent Sondheim's 1985 Pulitizer, Tony-nominted and Drama Desk-winning musical Sunday in the Park with George using animation and CGI to conjure up the world of French painter Georges Seurat's controversial in its day [1880s] and now famous canvas, A Sunday on La Grande Jatte.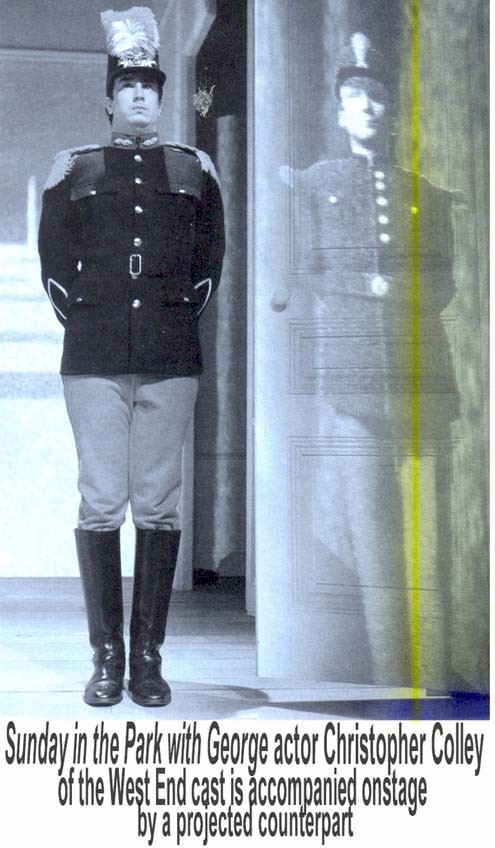 He told journalist Randy Gener, "The collaborative work of musicals and the work of an animator are very much intertwined in my mind. It's all about object, space and time at play. Ninety-percent of the work goes into elements that the audience doesn't even realize have been worked on in great, painstaking detail."
The audiences at Roundabout's hit revival of the musical at Studio 54 may not know what went into the details, but that are in awe of the form, color and light of Seurat's images swirl into being as he's imagining them in his mind; and, later, how animation adds not only depth but also characters and props not seen live onstage to the painting as it's being produced.
In several sequences through projected video shot in a studio, George, played by Olivier Award-winning Daniel Evans, interacts with himself - even pouring Champagne live to himself projected on the set.
Timothy Bird, creative director of London's Knifedge Creative Network, is the projection designer. His company "is all about mixing up worlds which have traditionally remained apart" and he executes that quite well in SITPWG, pulling off digital and animated stunts that require split second coordination between the computer operators, music director and the actors.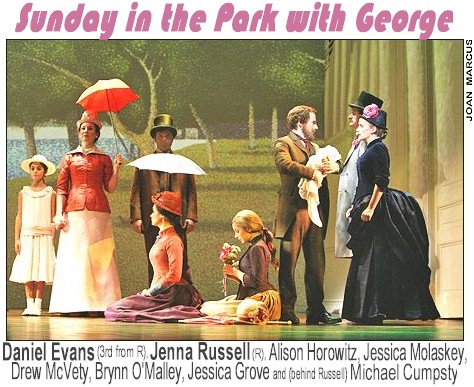 He worked hand in hand with animators and set and costume designer David Farley. He and Farley won the 2006 Olivier Award for Best Design for Sunday...Park...George.
"It's like a movie that just happens to be caught in a play," he told Gener. "From the very beginning, I was determined that everything had to be intrinsic. It initially had to feel as though both the actors and the video content inhabited the same world."
The project, using a team of 10 animators, took almost a year.
Farley says that while he wanted audiences to be totally amazed by what they're seeing, it was important that the technology being used wasn't spectacle for spectacle's sake. However, some of these moments are so inventive and intriguing they can't help but be noticed and admired. A few bits of the magic come close to stealing the show.

Golden-throated Luba Mason Returns
When Luba Mason enters a room, heads turn. After all, she's tall, blonde, beautiful and carries herself with the kind of je ne sais quoi that says she owns the world. When this classically-trained Broadway babe sings, she has all ears. And she really had them on Broadway in the revival of How to Succeed..., then spectacularly so as Lucy in J&H [replacing Linda Eder] and most recently as Velma in Chicago.
Mason, who can belt a song out of the ballpark, returns to the Metropolitan Room [34 West 22nd Street, between Fifth and Sixth Avenues] to rock the intimate room with a blend of Latin, pop, jazz and some signature Bway, of course, for six shows Wednesday through March 1 at 7:30 P.M. and March 2 and 3 at 9:30.
She'll be doing songs from her Collage CD [PS Classics] and debuting songs from Krazy Love, her new CD. You can expect to hear Bacharach and David, Elvis Costello, Neil Diamond, George Harrison, Van Morrison, Lou Reed and Frank Wildhorn and Leslie Briscusse. Mason will be accompanied by the Daryl Kojak Trio.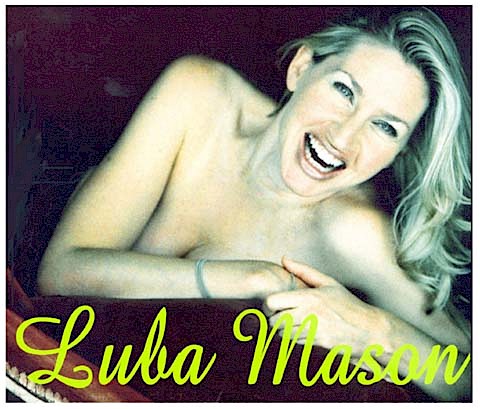 Mason also appeared on Broadway in Sunset Boulevard, The Will Rogers Follies and Capeman. From April 1 - 6, she appears with Paul Simon at BAM in the Capeman concert.
The singer/dancer grew up in Queens. Auditioning after college, she worked extensively in regional theater, where she met Michael John LaChiusa, a budding composer who's a close friend. In Capeman, she met Ruben Blades, who tapped as a guest vocalist for his Grammy-winning 2002 CD Mundo; then he tapped her to be his wife. The couple recently celebrated their first anniversary.
"Not only have I studied and can now sing in Spanish," she says proudly, "I've been learning how to cook a lot of Spanish dishes." That may come in handy if Blades, currently Panama's Minister of Tourism, decides to run for president of that country again.
Admission for Luba Mason is $30 with a two-drink mininum. To reserve, call (212) 206-0440 or visit www.metropolitanroom.com.

Upcoming at the MR:
Singer/actress/comedienne Joan Crowe, a 2002 MAC Award-winner, with The Key of Comedy, Thursdays at 7:30 on March 13, 20 and 27. "The show is a tribute to the great jesters of jazz," says Crowe, "the writers who wrote not only great jazz tunes but also songs that have a sense of humor - such as Cab Calloway, Fats Waller and Louis Jordan." Admission will be $20 cover charge with a two-drink minimum.
Spring Awakening's Tony and DD-nominated Lea Michele, appears February 25. Into April, watch for the much-anticipated return of Marilyn Maye.

Barbara Cook Returns
Spring's a comin' and what does that mean? Well, in additional to warmer weather and tulips sproutin' up all over Park Avenue, Barbara's back! Barbara Cook, that is. Even if she hasn't been away that long.
On the heels of celebrating her 80th birthday with sold-out concerts with the New York Philharmonic and getting ready to release a CD of those shows on DRG Records, Barbara Cook returns to one of her favorite boites, the elegant Cafe Carlyle [Carlyle Hotel, 35 East 76th Street at Madison Avenue], all newly renovated for her, in a six-week engagement beginning March 4. She has played the Carlyle nearly every year since her 1981 debut engagement.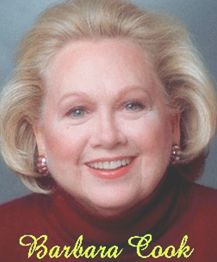 She will perform an all new program, Love Is Good for Anything That Ails You, a collection of, yes, love songs - such as Berlin's "I Got Lost in His Arms," Rodgers & Hart's "Where or When," Burton Lane's "Old Devil Moon," Peter Allen's "Harbour," Ray Gilbert/Charles Wolcott's "Sooner or Later" [from Disney's Song of the South] and, among many others, her unforgettable rendition of Sondheim's "Loving You" [from Passion]. Wanna bet that "many others" includes a couple more Sondheims?

Ms. Cook will be accompanied by her music director Lee Musiker on piano, Peter Donovan on bass and Jim Saporito on drums.
Experiencing the magic of Barbara Cook is worth any price, and at the Carlyle it's very upfront and personal. Don't get left behind. Admission is a $90 music charge; $125, weekends. Dinner is served from 6:30 p.m. For reservations, call (212) 744-1600.www.thecarlyle.com.

Tovah's Back - Time Singing, Cutting Up
Feinstein's at Loew's Regency [540 Park Avenue at 61st Street] is presenting the dynamic Tovah Feldshuh in her new show Tovah in a Nutshell! beginning March 4 and through March 15. In what she's calling a "zany musical evening," Feldshuh, who most recently played Off and on Broadway in the ultra dramatic Golda's Balcony, is also known as a singer/comedienne with chops.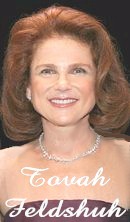 For those who only know Feldshuh from G'sB or her film and TV work and not for her many musical roles on Broadway and in concert, you're in for a very pleasant surprise. When she says "zany," this four-time Tony nom and four-time DD winnner adept at playing a huge variety of female roles of all shapes and ages, she means it. In fact, it's rare to find a performer with Feldshuh's range from one end of the spectrum [ultra dramatic] to the other [downright hilarious and an ab fab vocalist].
In her new show, she promises songs from Gershwin to Judy Collins "in addition to inhabiting a gallery of characters, ages 8 to 80 - from Grandma Ada in the Bronx to socialite Muffy Brooke Asthma Alsop on Park Avenue." She'll be accompanied by her musical director Mathew Eisenstein on piano.
In June, London will get a glimpse of Feldshuh's dramatic side as she once again does her acclaimed portrayal of Israeli Prime Minister Golda Meir in William Gibson's Golda's Balcony, which focuses on incidents during 1973's Yom Kippur War. In it's '04 move to the Helen Hayes, it became the longest-running one-woman show in Broadway history.
Tickets for Tovah! in a Nutshell , Tuesday - Thursday at 8:30 P.M.and Friday and Saturday at 8 and 10, are $40 and $60 [premium seating, $60 and $75] with $40 food/beverage minimum. Jackets are suggested, but not required. For reservations, call (212) 339-4095 or visit online at feinsteinsatloewsregency.com and TicketWeb.com.

Upcoming at Feinstein's:
Anna Bergman, Emily Skinner, Legally Blonde's Tony-nominated Orfeh, Adam Pascal and the one and only, sensational Julie Budd.

Maureen McGovern News
Just as the dynamic DD-nom and two-time Grammy nom Maureen McGovern was closing her show A Long and Winding Road on Saturday at the Metro Room came news that it will soon be released on PS Classics. Doing whatever free time she had when not onstage, McGovern was in the recording studio.
Ellis Nassour is an international media journalist, and author of Honky Tonk Angel: The Intimate Story of Patsy Cline, which he has adapted into a musical for the stage. Visit www.patsyclinehta.com.

He can be reached at [email protected]





Why are you looking all the way down here?
For more articles by Ellis Nassour, click the links below!

Previous: Roll Out the Red Carpet for the Oscars on Sunday; Have You Voted?; Oscar Nominees on DVD

Next: As Black History Month Ends: Off Broadway Pioneer Ellen Stewart; Remembering Rosetta LeNoire, Virginia Capers and Bert Williams; More

Or go to the Archives