Oscar fever will officially end Sunday as the envelope is opened and, as the heart beats of nominees reach maximum velocity, cinema lovers and celeb watchers the world over will be on the edge of their seats as the age-old expression "And the winner is..." -- or, now, the politically correct "And the Oscar goes to..." [since everyone nominated is a winner] is uttered. It's the 80th Academy Awards live on ABC from Hollywood's Kodak Theatre. Festivities, hype, red carpet arrivals and ripe anticipation begin at 8 P.M. as moviedom's top prize, those golden statuettes, are given out.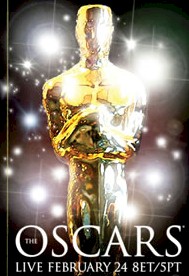 Even with its intrerminable length, it's one of the most-watched programs on TV - right up there in the ratings stratosphere with the Super Bowl. Jon Stewart of The Daily Show will host, bringing an entirely different comic sensibility to the precedings than Ellen, Billy, Chris, Steve or Whoopi.
The annual Oscar presentation has been held since 1929. For the 80th, four-time Emmy winner [for the telecasts] Louis Horwitz returns to direct for his 12th time, with award-winning producer Gil Cates returning for his 14th year.
The Oscar, designed by the celebrated Cedric Gibbons, at the time chief art director at M-G-M, was sculpted by L.A. George Stanley. Depicting a nude knight standing on a reel of film with a crusader's sword at the ready, It's probably the most-recognized of awards.
The Academy of Motion Picture Arts and Sciences didn't officially use the name Oscar until 1939. How he received his nickname isn't exactly clear. But two people take credit. An Academy librarian and eventual Academy executive director Margaret Herrick claimed she remarked that the statuette resembled her Uncle Oscar. Not to be outdone, none other than Bette Davis made the same claim. So it's a toss up.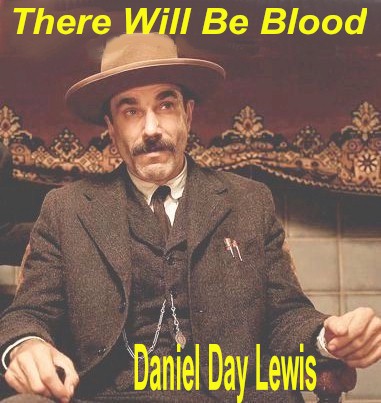 Through tomorrow, from Noon to 7 P.M., at ABC's Times Square Studios [1500 Broadway], where Good Morning, America emanates weekdays, 50 Oscars will be on display. There's a special Oscar on hand for the public to pick up and hold. In addition, the Oscar won by Gary Cooper for his performance as the title character in Sergeant York [1941] and that of multiple winning film editor Thelma Schoonmaker, a long-time collaborator on Martin Scorsese films, will be exhibited.

Highlights of the Nominations
Best Picture
Atonement, Focus Features
Juno, Fox Searchlight
Michael Clayton, Warner Bros.
No Country for Old Men, Miramax/Paramount Vantage
There Will Be Blood, Paramount Vantage/Miramax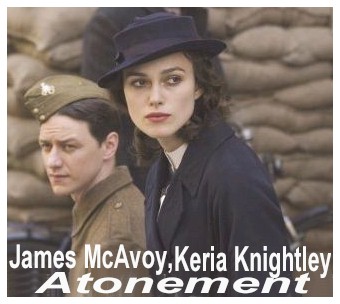 Director
The Diving Bell and the Butterfly, Julian Schnabel
Juno, Jason Reitman
Michael Clayton,Tony Gilroy
No Country for Old Men, Joel Coen and Ethan Coen
There Will Be Blood, Paul Thomas Anderson
Actor
George Clooney, Michael Clayton
Daniel Day-Lewis, There Will Be Blood
Johnny Depp, Sweeney Todd, The Demon Barber of Fleet Street
Tommy Lee Jones, In the Valley of Elah
Viggo Mortensen, Eastern Promises
Actress
Cate Blanchett, Elizabeth: The Golden Age
Julie Christie, Away from Her
Marion Cotillard, La Vie en Rose
Laura Linney, The Savages
Ellen Page, Juno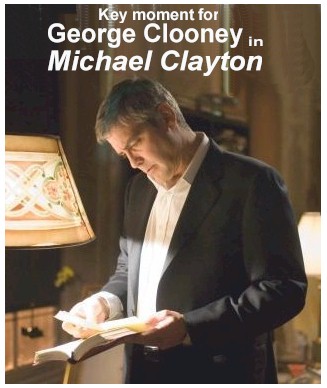 Supporting Actor
Casey Affleck, The Assassination of Jesse James by the Coward Robert Ford
Javier Bardem, No Country for Old Men
Hal Holbrook, Into the Wild
Philip Seymour Hoffman, Charlie Wilson's War
Tom Wilkinson, Michael Clayton
Supporting Actress
Cate Blanchett. I'm Not There
Ruby Dee, American Gangster
Saoirse Ronan, Atonement
Amy Ryan, Gone Baby Gone
Tilda Swinton, Michael Clayton
Foreign Language Film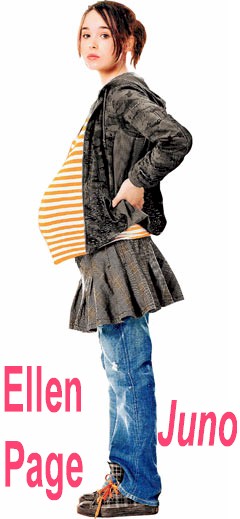 Beaufort, Israel
The Counterfeiters, Austria
Katyn, Poland
Mongol, Kazakhstan
12, Russia

Score
Atonement, Dario Marianelli
The Kite Runner, Alberto Iglesias
Michael Clayton, James Newton Howard
Ratatouille, Michael Giacchino
3:10 to Yuma, Marco Beltrami

Original Song
"Falling Slowly" from Once
~ Music and lyrics: Glen Hansard, Marketa Irglova
"Happy Working Song," from Enchanted
~ Music, Alan Menken; Lyrics, Stephen Schwartz
"Raise It Up" from August Rush
~ Music and lyrics:Jamal Joseph, Charles Mack
and Tevin Thomas
"So Close" from Enchanted
~ Music, Alan Menken; Lyrics, Stephen Schwartz
"That's How You Know" from Enchanted
~ Music, Alan Menken; Lyrics, Stephen Schwartz
Trivia: Alan Menken, with his late lyricist Howard Ashman and other collaborators, is an eight-time Academy Award winner in the Song and Score categories [with 18 nominations]. In addition, he's won 11 Golden Globes [with 15 nominations], six Grammys, a Tony [Beauty and the Beast] and a Drama Desk nomination [Little Shop of Horrors].

For a complete list of the nominees, visit www.oscars.com.

Nominee Highlights
Best Picture nominee No Country for Old Men, Persepolis, nominated in the Animated Feature category and The Diving Bell and the Butterfly, whose director Julian Schnabel is nominated, were hits of the 2007 New York Film Festival.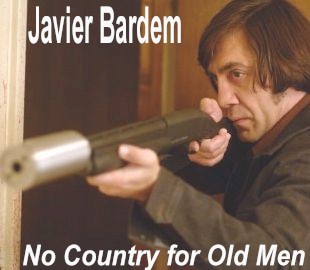 No Country for Old Men is Joel and Ethan Coen's modern-day Western thriller of a serial killer on the rampage. In addition to being the NYFF's, it won the Golden Palm at Cannes. Starring are Tommy Lee Jones, who's nominated as Best Actor Supporting but for In the Valley of Elah, Javier Bardem [nominated in the Supporting category] and Josh Brolin [who deserved a nomination], Scottish actress Kelly Macdonald [playing a Texas trailer park wife], Woody Harrelson, former E.R. and John from Cincinnati hunk Garret Dillahunt [The Assassination of Jesse James...] and, in what amounts to a cameo, Tess Harper.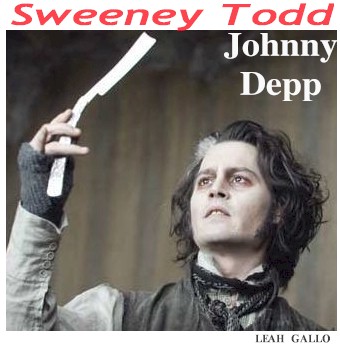 Johnny Depp is nominated as Best Actor for swinging his razors as brilliantly as his swords in the Pirates franchise as Sweeney Tood [Golden Globe, Best Picture - Musical or Comedy]. The Sondheim musical finally came to the screen in a Grand Guignol production in the accomplished dark hands of director Tim Burton [Edward Scissorhands, Beetlejuice, Batman, Ed Wood, Sleepy Hollow, Corpse Bride]. Helena Bonham Carter co-starred as piemaker Mrs. Lovette.
Sweeney was a much sought-after role. There were eight other contenders; however Burton had only one actor in mind, Depp, who's already won the Oscar in Sondheim's opinion.
"Johnny's performance is quite remarkable," says the composer. "Sweeney's desire for revenge and the simmering anger and hurt that he feels carry the story forward, and Johnny finds the most remarkable variety within that narrow set of emotions. The intensity is at a boil all the time and he never drops it. It's real anger."
[See DVD Releases Below]
Persepolis, in B&W and Vincent Paronnaud's very unsophisticated animation, is based on Marjane Satrapi's novel about her childhood in Iran during the Islamic Revolution. Among the voices were those of France's gorgeous Catherine Deneuve and her daughter [with Marcello Mastroianni] Chiara Mastroianni.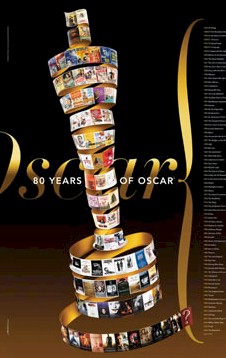 80 Years Poster
The Academy is offering a commemorative poster celebrating all 80 of the Best Picture winners with key art from each of the films. Alex Swart designed the poster, which will be printed on 27 x 40-inch premium recycled paper.
The price will be $25, which includes shipping and handling. You can pre-order at www.oscars.com or by calling (800) 993-4567 and selecting Option 5.

Oscar Nominees on DVD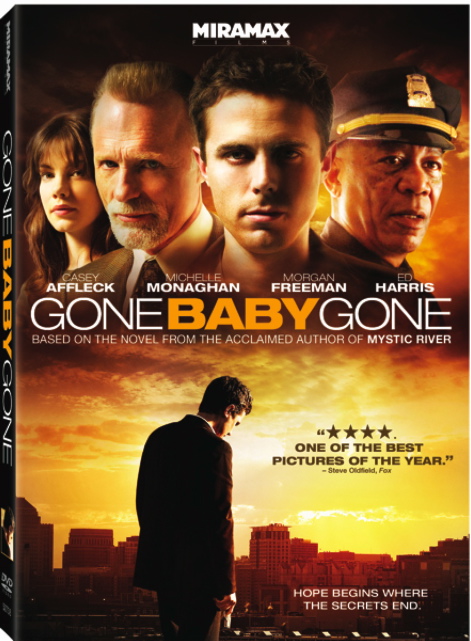 Gone, Baby, Gone [148 minutes; Buena Vista Home Entertainment, SRP $30] won raves for Ben Affleck's seamless actor-to-filmmaker transition. He also adapted the film from the novel by Dennis Lehane [Mystic River] and returned to familiar locations in the Boston area to shoot.
The plot is a bit ludicrous and unbelievable, but strong performances by a very low-key Casey Affleck, Ed Harris and Amy Ryan save the film. Starring Affleck [nominated in the Supporting Category for The Assassination of Jesse James...] as a low-rent private eye, Morgan Freeman as a police captain who's suffered a great lost, a very gritty Harris as a veteran cop, [Harris' wife] Amy Madigan as an unhappy sister-in-law in Dorchester, a working class section of Boston and Featured Actress nominee Ryan, acclaimed for her portrayal of a drug mule mom, the story centers on the search by Affleck and partner Michelle Monagham for a missing girl. As they get closer to solving the case, they discover nothing's as it seems. In fact, they encounter a tangled web of deceit and quite unexpected turns.
Among the special features is an "eye-opening" extended ending, deleted scenes and a "making of" feature. Except for that alternate ending, which if anyone wants my opinion, would have made a better theater ending since it plants a seed of doubt that the audience has already picked up on, there's not a lot of bonus material to really glue you to the TV set.
Into the Wild [114 minutes; Paramount Home Entertainment, Two discs, SRP, $36] - Available March 4 - What happened, Oscar nominators? Wasn't this one of the most acclaimed films of the year? Wasn't Emile Hirsch's performance hailed as one of the best? Shouldn't he have been nominated just for the ordeal he went through?
Based on Jon Krakauer's bestselling book, Sean Penn's adaptation pretty accurately tracks the story in Krakauer's book and e Hirsch's performance received wide acclaim. Penn also directed, with many feeling he would be Oscar-nominted. Well, the film did make many 10 Best Lists.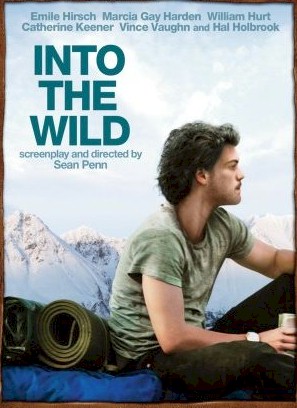 Christopher McCandless, superbly inhabited by Hirsch, leaves his wealthy but dysfunctional family [William Hurt, Marcia Gay Harden] after graduating from college, donates his money to charity and undertakes a life-changing and life-challenging journey of discovery and freedom - one that eventually leads to the Alaskan wilds, where he pitches tent in an abandoned school bus. His idyll goes sour as he finds difficulty dealing with the wilderness life.
Vince Vaughn is featured in what amounts to an extended cameo, but he's fun. Oscar-nominee Catherine Keener [Capote] and newcomer Brian Dierker play wandering, middle-aged hippies who provide the type of family bonding McCandless never found at home; and, still the scene-stealer, Hal Holbrook, Oscar-nominated for his performance, portrays a retired military widower living along the Salton Sea who tries to give direction and also establish family bonds with Christopher before he heads into the wild and becomes Alex Supertramp.
Among the special features on Disc 2 are bonus footage and a "making of" feature.
Oscar winner George Clooney in Michael Clayton [119 minutes; Warner Home Video, SRP $29] leaves the comedy behind and returns to cinema gravitas [Syriana, Good Night and Good Luck] and turns in a Oscar-nominated performance in Tony Gilroy's high-stakes, corporate thriller.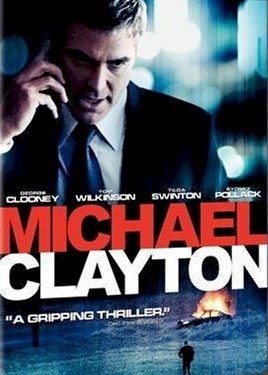 Cloon carries a lot of baggage as a burnt-out divorced father and recovering alcoholic battling a gambling addiction. He's his powerful law firm's go-to guy when a mess needs to be swept under the rug. But now he's handed a crisis even he may not be able to fix.
His mentor, the firm's top litigator in a $3-billion case has gone from advocate to whistleblower when he learns the truth about injuries caused by the chemical company he's defending. GG-nominee and NYFilm Critics winner Tom Wilkinson, who is Oscar-nominated for this role. Though only in a third of the picture, it's an incredible third and, as he melts down into a babbling psychotic, he manages to steal a great portion of the film from Cloon.
Clayton has his hands full and is further complicated as he attempts to extracate himself from a sideline business and cover his loses by gambling. In an attempt to find purpose in his life's downward spiral, Clooney tries to get Wilkinson him back on his meds and back on track. When that fails and he discovers the truth, he goes to the other side; but finds himself against forces that put corporate survival over human life.
Director Sydney Pollack, one of the producers with Steven Soderbergh, Anthony Minghella and Clooney, also co-stars with Oscar-nominee in the Supporting Actress category Tilda Swinton, Michael O'Keefe and Ken Howard.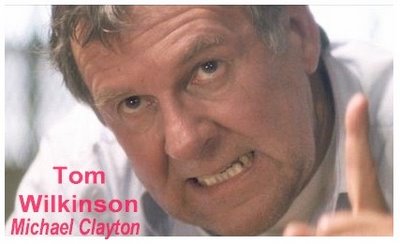 James Newton Howard's Oscar-nominated score isn't the type of score you'll listen to again and again, but it's perfect for this film. From the moment he kicks it into high gear -- when GC jumps in his car after a high-stakes poker game, it's one of his most exciting and different scores ever.
Michael Clayton was a hit at the Venice, Deauville American and Toronto International Film Festivals.
Trivia: Gilroy, writer/co-writer of the Bourne movies and who wrote the exceptional screenplay, is the son of 1965 Pulitzer Prize and Tony-winning playwright Frank Gilroy, who wrote the much-acclaimed The Subject Was Roses.
Highly-acclaimed thriller and Best Picture nominee, co-starring Supporting Actor noninee Javier Bardem, No Country for Old Men [122 minutes; Paramount Home Entertainment, SRP $30] will be available March 11. That same week, Disney's Enchanted, starring Golden Globe-nominee Amy Adams and with a score by multiple Oscar winners Alan Menken and Stephen Schwartz, ships. Look for Sweeney Todd on DVD on April 1 [PHE].
Ellis Nassour is an international media journalist, and author of Honky Tonk Angel: The Intimate Story of Patsy Cline, which he has adapted into a musical for the stage. Visit www.patsyclinehta.com.

He can be reached at [email protected]





Why are you looking all the way down here?
For more articles by Ellis Nassour, click the links below!

Previous: Saluting Black History Month: An ABC Movie Event ~ Sean Combs on Lorainne Hansberry's A Raisin in the Sun Segue from Broadway to TV

Next: Excellent Adaptation of A Raisin in the Sun on ABC Tonight; Sunday's Projection Design; Cook, Feldshuh, Mason Return; More

Or go to the Archives