2005 Drama Desk and two-time Grammy nominee Maureen McGovern [Little Women], soon to be celebrating 35 years in show business, is bringing her new cabaret act, A Long and Winding Road to the Metropolitan Room 34 West 22nd Street, between Fifth and Sixth Avenues] February 13 - 16 and 21 - 23 at 7:30.
The singer/actress - recordings, concerts, theater [Broadway, Off Bway, regional], films, TV/radio, became famous early on for her seemingly limitless range and jazz-tinged pop register which enabled her to glide easily into a crystalline coloratura.
"I've always had a four octave range," she explains. "Now, it's a few notes shy. As you get older, you lose a little of the higher register, but my bottom register has opened up."
To quote her musical mentor, the legendary Mel Torme: "Maureen's quite simply the most glorious singer to come down the pike in a long while. Possessed of one of the finest vocal instruments in the world, she has a range that hasn't been matched since Yma Sumac stunned us decades ago. Her greatest quality is the ability to softly breathe the words in a clear, strong voice, perfectly in tune."
ALAWR features an eclectic mix of tunes from 60s singer/songwriters Dylan, Carole King, Lennon, McCartney, Joni Mitchell, Randy Newman, Nyro, Simon, Taylor and Jimmy Webb. Songs in the revue, which McGovern soon hopes to launch as a full theater event, include "The Circle Game," "Will You Still Love Me Tomorrow?," "The Moon' a Harsh Mistress" and "Imagine." McGovern's longtime arranger and music director, Jeff Harris, will be on keyboards accompanied by Jay Leonhart on bass.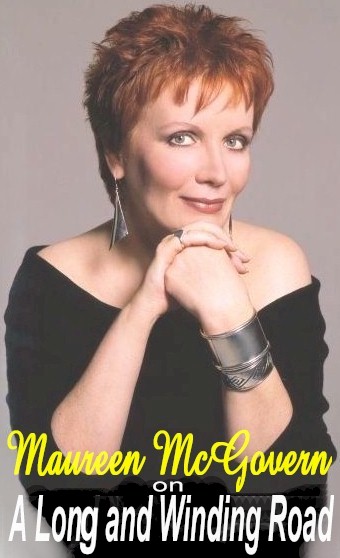 McGovern's performing credits are numerous. Her return to Broadway, for the first time since 1989, as Marmee in Little Women was an event. Prior to that she appeared in The Threepenny Opera, Nine and her 1981 Broadway debut, The Pirates of Penzance. Films include The Towering Inferno and Airplane! . She did not, as many assume, appear in the original upside down thriller The Poseidon Adventure singing what became her anthem. The road to that recording was long and winding, but it put her on the map and soaring up the pop charts. In Utah, at the Sundance Theatre, she starred in Jerry Herman's Dear World and the stage adaptation of The Umbrellas of Cherbourg.
"After the Little Women tour," says McGovern, "friends and fans were asking me to do a concert featuring so-called 'baby boomer' songs. What interested me were those introspective songs that influenced and inspired my own development before my life and career changed with the release of 'The Morning After.'"
The new act evolved after meetings with co-conceiver Philip Himberg, A. D. of the Sundance's Theatre Program. who's directed McGovern there. "If I was going to do a new show," she says, "it was important to focus on the singer/songwriters I loved growing up. I made a list of every song that moved me - over four hundred! I didn't want to perform them as museum pieces, so there was a long process of shaping it all into an act."

She started as a folk singer in the late '60s, so McGovern found it nostalgic to go back and explore her musical influences. "And I fell in love all over again. The songs, as The New York Times has called them, have become 'the second half of the Great American Songbook.' They're classic, timeless and evoke all kinds of memories."
McGovern is best singing poignant ballads about loss and longing and moving. One reason for the emotion and vocal intensity might be because McGovern experienced all those emotions in what began as a rocky career. Now that she's been blessed with stardom and recording fame, she finds it a bit easier to look back and discuss her darkest days - a time when she thought she was on the fast track to fame and fortune and ended up a "has been."
Before McGovern could put words together to make sentences, she was singing. As she got to school age, her dyslexia made it difficult to read music; and it was quite a blow in fifth grade when her piano teacher told her parents they were wasting their money. But McGovern persevered, believing that it's not the smartest or most talent who make it in life, but the ones who don't give up.
In high school, she played guitar and sang in the choir. "I never studied voice," notes McGovern, "but I listened to great singers: Ella, Garland, Mel Torme, Jo Stafford, Streisand, Joni Mitchell, Judy Collins - all different styles. When I was singing, nothing else mattered."
In 1967, at 18, while at Ohio's Kent State University, singing led to romance. The next year she and a drummer married. She sang Top-40 and rock in lounges. One Cleveland audience member she impressed told a local record producer about her voice. Several sides landed in the record division of Twentieth Century-Fox and, in 1972, she was signed, sight unseen. A month later, she was recording "The Morning After" by Joel Hirschorn and Al Kasha, sung by the Carol Lynley character [lip syncing to the voice of Renee Amand] in Poseidon Adventure.
The movie became a huge box office hit, but the song did nothing; however, it was submitted to the Motion Picture Academy as a Best Song candidate and accepted. But the label dropped her "and I was back playing lounges and clubs. When the song won the Oscar, stations started playing my record. Suddenly, a year later, it was zooming up the charts, and not just in the U.S."
When success happened, says McGovern, she was naive. "My manager convinced me to sign a contract. What I didn't realize was that it gave him a guaranteed forty percent of my earnings. Math not being my strong suit, I signed. A lot of people made decisions for me. Whoever spoke the loudest could shut me up."
She attempted to get her life and career back on track. In 1974, she obtained a divorce. She also sued to void her contract with the manager. But just as she was beginning to cope, her mother was diagnosed with colon cancer.
That year she recorded Hirschorn and Kasha's "We May Never Love This Way Again," the theme for The Towering Inferno. It was Oscar-nominated for and won Best Song. Unfortunately, McGovern, even with a record that had gone Gold, didn't get to sing it on the telecast. "Though my records were selling around the world and I was in demand for concerts, I couldn't get arrested here."
McGovern found herself "flat broke." She somehow pulled together just enough to relocate to L.A., where she worked as a secretary under an assumed name. When she got overseas bookings, "My boss' wonderful wife would fill in for me. When I'd return a few days after having audiences cheering, I was back behind the typewriter."
She did occasional radio jingles to pay bills. Then in 1978 the winds changed. John Williams and Leslie Bricusse choose her to record the main theme from Superman, "Can You Read My Mind?" It became a Number One Adult Contemporary single. It wasn't sung in the film and was ineligible for Oscar consideration, but McGovern was on her way again.
The late George Rose took her under wing she joined the Broadway company of Pirates, replacing Linda Ronstadt as Mabel. "I didn't know enough to be frightened," she laughs. "I had the goal, but I didn't have the plan. George put me on the right path. I learned so much just watching him. I never knew a star who was as supportive of other actors as he was."
As a result, McGovern got very serious about theater, studying voice and acting. Crooner Mel Torme became her music mentor. "He was amazingly generous, even taking me on the road and featuring me in his TV specials."

McGovern has spent the better part of her career on the road. "It is grueling, a hard life. Not fun. It robbed me of a personal life. It's not so easy for a fifty-seven-year-old woman to find a single guy to date. I have a house [in Beverly Hills], but I'm rarely home."

After all these years, McGovern admits to "pre-show nerves. But once I get onstage the built-up energy takes over. In the lights, in the moment, I'm fine. I've gone through just about everyone anyone can go through and I've found my way."

McGovern is a national board member for Jerry's Kids/Muscular Dystrophy Association and has performed on the Labor Day telethons for 27 years.
She always knew was therapeutic, but when she began hearing how "The Morning After," her exquisite rendition of "Ordinary Miracles" [Marvin Hamlisch/Marilyn and Alan Bergman], "Born in the Heart" and "State of the Heart" were used during surgery and letters detailing how they got people through depression, "I decided if there was something healing about my voice, it should be used for good. Music has power. It reaches us inside at a deep and profound level where nothing else does."
Now, she's established the Maureen McGovern Works of Heart Foundation to explore using music for therapy and healing.
Already a Nightlife Awards winner [Outstanding Female Vocalist/Major Engagement], McGovern was named 2007 Nightlife Awards Legend. She was recently feted by the American Federation of Radio and Television Artists with their Media and Entertainment Excellence Award.
A Long and Winding Road will be released on CD from PS Classics. For much more on McGovern, including information on her charity work and an extensive photo gallery, visit www.maureenmcgovern.com.
For reservations to ALAWR, directed by Himberg, at the Metropolitan Room [$35cover, plus two-beverage minimum], call (212) 206-0440.

Applause, Applause
City Center's 2008 Encores! season kicked off last night with Christine Ebersole starring as Margo Channing in the ultimate backstage musical Applause, the 1970 stage adaptation of the classic film All About Eve , with music and lyrics by Charles Strouse and Lee Adams with a Comden and Green book. The concert adaptation is by David Ives.
Kathleen Marshall is directing and choreographing the musical which was a precursor to A Chorus Line in many ways, especially with the two numbers showcasing Broadway gypsies. Ebersole even has two Rose moments with "Welcome to the Theatre" and "Something Greater."
The cast of 30 includes Kate Burton and Mario Cantone [both singing!], Tom Hewitt, Michael Park, Megan Sikora [Curtains], Chip Zien and, as Eve, Erin Davie [Grey Gardens]. Music directing the Encores! 31-piece orchestra is Rob Berman [Pajama Game revival], Encores! new music director.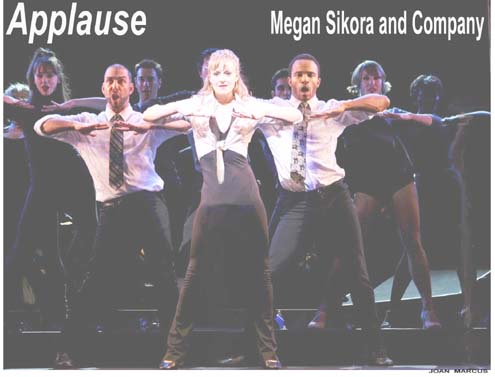 Sikora leads the ensemble, which includes some of Broadway's top dancers, in the very high-energy title tune production number, which in an inserted bit has pastiches of several of the musicals presented in the Encores! seasons. The original had pastiches of Broadway musical of 1970; but because there was a problem obtaining music rights the bit was, sadly, left off the cast album.
Tickets are $25 - $95 for tonight, twice on Saturday and the Sunday matinee and available at the City Center box office, by calling (212) 581-1212 or online at www.nycitycenter.org. Subscriptions are $120 - $270.
Tony and Drama Desk winner Victoria Clark follows March 27 - 30 with Juno, which had a short-lived Broadway run in 1959. It's adapted by Joseph Stein [of Fiddler fame] from Sean O'Casey's Juno and the Paycock. The score is by Marc Blitzstein. Tony-winner Garry Hynes [Beauty Queen of Leenane] will direct.
No, No, Nanette, book by Burt Shevelove and songs by Vincent Youmans, Irving Caesar and Otto Harbach, will be presented May 8 - 12. Walter Bobbie will direct. Sandy Duncan, Tony winner Beth Leavel and Rosie O'Donnell co-star with Mara Davi as Nanette.

Festival of Song

The New York Festival of Song continued the celebration of its 20th Anniversary Tuesday and last night in the Carnegie Hall jewel box Weill Recital Hall with a revival of Harry, Hoagy & Harold, a tribute Harry Warren, Hoagy Carmichael and Harold Arlen from the 2000 season. Soprano Jonita Lattimore; mezzo-soprano Mary Testa of Xanadu; and baritone James Martin joined NYFOS music director and arranger Steven Blier at the piano, Greg Utzig on guitar/banjo and Vince Giordano on bass and other instruments.
There were mesmerizing moments, particularly Testa's rendition of "Skylark" by Johnny Mercer/Carmichael; her take on Mercer/Arlen's "That Old Black Magic" and "Dancing Partner," a rarely heard Ira Gershwin/Arlen song that was intended for Judy Garland in the 1954 A Star Is Born; and her channeling Brazilian bombshell Carmen Miranda on "I Yi Yi Yi (I Like You Very Much)" by Warren/Mack Gordon from the 1941 film That Night in Rio.
Lattimore and Martin had a brilliant moment that Jeanette McDonald and Nelson Eddy would have envied in their stunning rendition of "You' Be Hard to Replace" by Gershwin/Warren from the 1949 film The Barkleys of Broadway that starred Astaire and Rogers.
The New York Festival of Song season continues March 11 and 13 in Weill Recital Hall at 8 P.M. with Bastianello/Lucrezia, newly commissioned comic operas by Oscar-winner John Musto [Bastianello] and Pulitzer Prize-winner William Bolcom [Lucrezia], with librettos by Mark Campbell. They are scored for five singers and two pianos and will be presented in semi-staged performances. Bastianello, a folk fable of "love and folly" set in 18th century rural Italy; Lucrezia, is a wickedly funny seduction satire based on Machiavelli's La Mandragola.
On April 15 and 17, in Weill at 8 P.M., NYFOS presents Obsession a la Russe, highlighting the musical influences of, among others, Tchaikovsky, Stravinsky, Poulenc, Debussy, Prokofiev and Feodor Chaliapin.
Tickets, $48 - $150, are available at the Carnegie Hall box office and through CarnegieCharge, (212) 247-7800.
The season concludes with a May 21 benefit gala featuring Frederica von Stade, Stephanie Blythe and Tony winner and four-time DD-nominee Judy Kaye at Carnegie Hall's Zankel Hall. Visit www.nyfos.org for additional information.
A 1991 program recorded live at the 2004 Caramoor International Music Festival, Spanish Love Songs, has is available on CD [Bridge Records, SRP $18] with the late acclaimed mezzo soprano Lorraine Hunt Lieberson, who starred regionally and at the Met, and tenor hunk Joseph Kaiser [Met debut opposite Anna Netrebko in the title role in Romeo and Juliet, conducted by Domingo; and starred as Tamino in The Magic Flute, in addition to Kenneth Branagh's film adaptation]. Blier and Michael Barrett accompanied on piano in this collaboration with Julliard.

Celebrating the Chinese New Year
There's been more than Chinatown fireworks and dragon parades to ring in the Chinese New Year of the Rat, which began yesterday. Two huge companies, one from Shanghai, are presenting cultural spectaculars.
Through tomorrow at Radio City Music Hall, U.S.-based New Tang Dynasty TV and Divine Performing Arts are presenting the Fifth Anniversary of the Chinese New Year Splendor, a stunningly-costumed spectacular of traditional dance and music with a huge cast, 55-member orchestra, six composers and six choreographers [including DPA company manager Tia Zhang].
Most of the audience was under the impression the troupe was from Taiwan, maybe even Korea, but that's not the case. The 200-member [yes, you read correctly, 200!] company comes from all over the U.S. and Asia, but DPA is New York-based. This is their third annual New Year entertainment celebration.
For most of the numbers, the show takes full advantage of the Hall's great stage; but a few sequences featuring two and three dancers should have been rethought because even from mid-house the performers are dwarfed.
The show worked best with the big numbers, but don't go expecting a Broadway pace. The production numbers have breathtaking scenic images provided by the Hall's huge LED screen, but for the most part are more cultural pageant. The pounding "The Drummers of the Tang Court" with its 50 Asian Buddy Riches is an exception. This group could give the famed Brazilian samba parade drum corps a run for their money.
Sadly, other than the slow pacing, the show is part propaganda, especially in how it promotes Falun Gong, the spiritual practice of meditation mixed with calisthenics that's banned in mainland China. This is the same org that regularly demonstrates against China's human rights situation on corners throughout the city. They have a rep for being very disruptive and, according to a spokesman for the annual Chinatown New Year Parade, most Chinese organizations disown them. They aren't invited to march in the parade, said the spokesman, "because they bring out anger in the local Chinese population.
No one condones oppression on the people of mainland China, but how wise is it to promote an event as a celebration of the Chinese new year and then load it with an anti-government ballet on the brutality committed against Falun members and opera arias singing Falun's praises? Not very, from the number of walk-outs and, after the interval, no returns.
With Music Hall rentals going for several hundred thousand dollars a pop, this 11-day run must have cost New Tang, Divine Performing Arts and the sponsors [the Daily News and Yellow Book phone directories prominent among them] a fortune. The New York company is one of two touring worldwide.

Tickets, starting at $58, are available at the Music Hall box office, through Ticketmaster.com, by calling (212) 307-4111.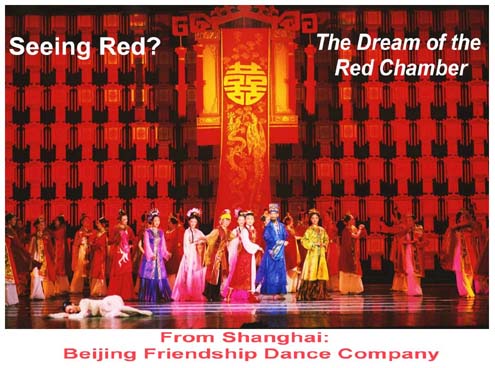 Tonight and Saturday at 8 P.M. in the Rose Theatre at Frederick Rose Hall at Jazz at Lincoln Center in the Time-Warner Building Nederlander Worldwide Entertainment in association with several Chinese cultural and broadcast entities salutes the New Year presenting the Beijing Friendship Dance Company in an adaptation of one of China's revered literature works, The Dream of the Red Chamber.
It's the story of high-stake passions and marriage among three scions of a noble feudal family. It deals with ancient times philosophy, culture and social customs and is considered one of China's greatest literary works.

Principal dancers include the celebrated Zhang Jin and Shan Chong. Directed and choreographed by the award-winning Zhao Ming, TDOTRC has a score by Oscar-winning composer Cong Su [The Last Emperor].
NWE, through its affiliate Nederlander New Century, produced the first foreign joint venture approved by the Chinese Ministry of Culture with 42nd Street, the first Broadway show to tour throughout the People's Republic. Participating producers are the Shanghai City Dance, Shanghai International Cultural and Communication Association and Eastern Shanghai International Cultural Film & Television.
Tickets are by invitation only.

A Note to Music Hall Management
The way audiences are herded into the great hall by security guards yelling loudly makes one wish for the staff in starched uniforms once greeted visitors to the people's palace. Why corral and cattle-shove audiences in through side doors when you have that grand box office lobby?
With its stunning Art Deco architecture and decor, Radio City Music Hall is one of New York's most glorious assets: a crown jewel, a treasure. That gigantic LED screen is quite an innovation, but part of the fun of going to the Music Hall was seeing those incredible sets descend from the flies or rise up on the elevators from the below-stage depths. Drilling holes in those soaring golden arches to accommodate hanging banks of speakers was disgraceful enough, but now the cascading gold curtain has been replaced with a much lighter, far less lustrous fabric. Sadly, it rarely extends to fully hit the stage to block behind-the-scenes light. Worse, the ends are badly frayed with visible dangling chards. Can't one of those well-paid stagehands grab a pair of shears and do a little snip here and a little snip there?
When Madison Square Garden acquired ownership of the Music Hall, everyone expected the worse. The fact that it's still here is good, but this is one of the world's largest and greatest theatres. Shouldn't it be treated so?

Katrina-inspired

The Flea Theatre [41 White Street, between Broadway and Church Streets] will present the premiere of Lower Ninth, a play by Beau Willimon, inspired by the aftermath of Hurricane Katrina in New Orleans, from February 14 - April 5.
Lower Ninth was part of the 2007 Summer Play Festival. Willimon is the recipient of a Lila Acheson Wallace Juilliard Playwriting Fellowship. His Farragut North , about a young man who is a staff member for a rising presidential candidate, arrives on Broadway soon, directed by Doug Hughes.
Gaius Charles, Smash of NBC's hit series Friday Night Lights, making his Off-Broadway debut in Lower Ninth, DD and Obie-winner James McDaniel [NYPD Blue, A Soldier's Play] and Gbenga Akinnagbe [The Wire] star as stranded New Orleans residents in one of the hardest hit areas who struggle to survive against great odds. Directing is Daniel Goldstein, who helms the forthcoming Broadway Gospell revival.
Tickets are $40 and $45 and available through OvationTix.com and by calling (866) 811-4111.

At the Ballet
Mexico's Ballet de Monterrey, celebrating its 18th Anniversary, makes a triumphant return to New York and its debut at the Joyce Theater with a company of 30 for one week, February 26 - March 2, with a diverse program that will have a Latin flavor.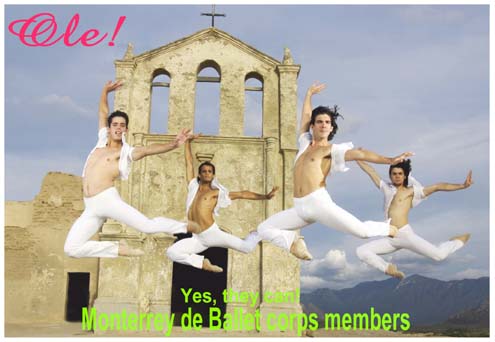 A. D. Luis Serrano's program will include: Perfidia with choreography by Serrano, music by Alberto Dominguez and songs by Linda Ronstadt; La Noche, choreography by former A.D. Ann Marie DeAngelo; Volver, choreography by Yannis Pikieris; and Huapango, choreography by Serrano.
Tickets are $38 [members, $29] with Sunday seats at $25 and are available at the Joyce box office, through JoyceCharge by calling (212) 242-0800 and at www.joyce.org.

Save the Date
The venerable organization Career Transition For Dancers will take audiences on a historic journey through the eyes of legendary stage choreographers at their 23rd Anniversary gala at City Center on October 27 , On Broadway! A Glittering Salute to the American Musical.
The recipient of the Rolex Award, always a major dance personality, will be announced next month along with the gala host. The t's aren't crossed and the i's aren't dotted but the host is likely to be one of show businesses most famous, glamorous, accoladed and admired stage, screen and TV stars.
The evening will include appearances by celebrities, dance companies, ballet companies and musicians. Ann Marie DeAngelo will produce and direct, with Deborah Grace Winer onboard as writer.
Once again as evidence of their dedication to the work of CTFD, the event will be presented by Rolex. Conde Nast Publications and the Samuel I. Newhouse Foundation will be underwriters. CTFD has awarded millions in scholarships for education and entrepreneurial grants to dancers when they find they can no longer dance.
Gala tickets are $600 to $1,200 and include a post-performance supper dance and are currently available by calling (212) 228-7446 X. 33. In the next few months, City Center's box office will sell individual show-only tickets [priced from $45 - $130].

Stars Come Out to Salute One of Bway's Best
Broadway's best are coming to the Rainbow Room to honor one of Broadway's best, most successful and most beloved producers, Roger Berlind, at Monday's Drama League gala. Scheduled to appear at A Musical Celebration of Broadway Honoring Roger Berlind are Walter Bobbie, Carolee Carmello, Jason Danieley, Gregg Edelman, Scott Ellis, Brian Stokes Mitchell, Debra Monk, Donna Murphy, David Hyde Pierce, James Naughton, Mary-Louise Parker, Karen Ziemba and the entire cast of Curtains. Hyde Pierce is the host. B.T. McNicholl is directing with Broadway veteran Paul Gemignani music directing.
Berlind, a multiple Tony and DD-winner, has been producing Broadway for more than 30 years. Shows include Anna in the Tropics, Caroline, or Change, Copenhagen, Curtains, Doubt, Deuce, the soon-to-be Gypsy,The History Boys, Is He Dead?, Kiss Me, Kate, Proof, Rock 'n' Roll, the revivals of Who's Afraid of Virginia Woolf? and Wonderful Town and The Year of Magical Thinking.
Ellis Nassour is an international media journalist, and author of Honky Tonk Angel: The Intimate Story of Patsy Cline, which he has adapted into a musical for the stage. Visit www.patsyclinehta.com.

He can be reached at [email protected]





Why are you looking all the way down here?
For more articles by Ellis Nassour, click the links below!

Previous: Vaudeville Is Alive and Well at Desert Follies; Star-Studded Film Fest; More

Next: Sondheim's Company on Great Performances; Grammy Winner Dale Reads; deRoy Salutes the Oscars; Vishneva and Richardson Dance; Broadway 1947; More

Or go to the Archives