John Doyle's no-frills 2006 adaptation of Sondheim's groundbreaking Tony-winning and Drama Desk-honored* musical Company bows on PBS on February 20 at 9 P.M. starring Raul Esparza as the eternally single Bobby and the original cast. The Great Performances presentation marks the first time the musical has been seen on TV. The production was recorded June 30, 2007, at the end of its Tony and Drama Desk-winning run as Best Revival at the Ethel Barrymore Theatre.
[*The DD didn't begin Musical and Play categories until 1975. Instead, the org honored Outstanding composers and lyricists.]
Book writer George Furth describes his blistering take on being single vs. being married as a honest, funny and sophisticated portrayal of five couples as seen through the eyes of their 35-year-old bachelor friend Bobby, who's waffling the pros and cons of commitment. It's set in real time, 1970, in New York at a party where the guests, in Tony and DD-winner Doyle's staging, are also the orchestra. For the finale, Doyle has Esparza at the piano and singing a showstopping "Being Alive."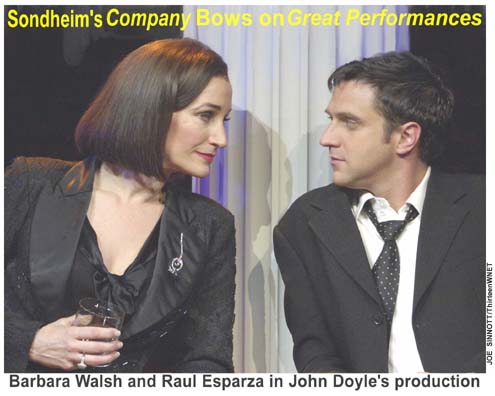 Esparza won the Outstanding Actor, Musical, DD and was Tony-nominated. Co-star Barbara Walsh, playing the worldly, never-saw-a-Martini-she-didn't like Joanne, was DD-nominated. She showed off her musical abilities playing percussion and orchestra bells and set off some bells and whistles with her sexy portrayal. In addition, she brought down the house with her stinging rendition of "The Ladies Who Lunch."
"Bobby finally joins the band of human life," wrote Ben Brantley in his glowing New York Times review. "There's something about Mr. Sondheim that allows Mr. Doyle to find a new clarity of feeling through melding musicians and performers. It is, after all, the person who controls the music in a Sondheim production who has the best chance of finding the show's elusive but resonantly human heart."
Complimenting Esparza and Walsh are Keith Buterbaugh, Matt Castle, Robert Cunningham, Angel Desai, Kelly Jeanne Grant, Kristin Huffman, Amy Justman, Heather Laws, Leenya Rideout, Fred Rose, Bruce Sabath and Elizabeth Stanley.
Desai has her big moment as Marta, singing "Another Hundred People." Among the other musical highlights are "Someone Is Waiting," "Marry Me a Little," "Side by Side by Side," "What Would We Do without You," "The Little Things You Do Together," "Sorry-Grateful" and "You Could Drive a Person Crazy," the latter performed by Desai, Grant and Stanley blasting saxophones.
Mary-Mitchell Campbell conducts and provides the new orchestrations, for which she won the DD.
Company opened on Broadway following successful runs at London's Watermill Theatre and the Cincinnati Playhouse in the Park. Doyle, nominated for the Tony and DD, directed an equally unconventional and acclaimed production of Sondheim's Sweeney To oh Broadway in 2005.
Esparza is currently co-starring in Daniel Sullivan's revival of Harold Pinter's The Homecoming.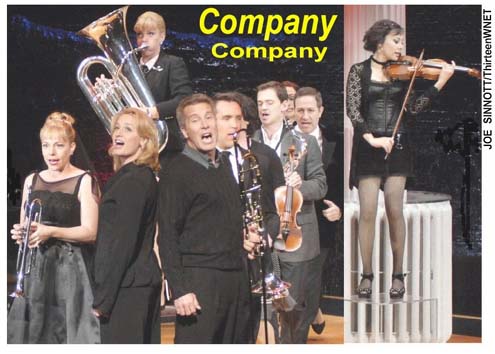 Doyle's production of The Rise and Fall of the City of Mahagonny for LA Opera, starring Patti LuPone and Audra McDonald, premiered on Great Performances in December 2007.
Lonny Price directed the Company telecast for Thirteen/WNET with Ellen M. Krass, Mort Swinsky and NHK Enterprises as lead producers. Great Performances is funded by the Irene Diamond Fund, the National Endowment for the Arts, the Corporation for Public Broadcasting, the Lillian Goldman Programming Endowment, the LuEsther T. Mertz Charitable Trust, PBS and generous viewers like you.
The original Company garnered a total of 14 Tony nominations - the record until The Producers' sweep. The show was last seen on Broadway in Roundabout's 1995 revival starring Boyd Gaines and Deborah Monk.

Grammy Winner Reads
Oscar nominee [lyrics for Best Song, Georgy Girl], three-time DD-winner and five-time Tony-nominee Jim Dale, the voice of hundreds of characters in the Harry Potter audio book series, just walked off with his second Grammy, for Best Spoken Word Album For Children. He has an additional four Grammy noms.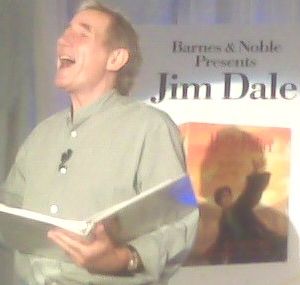 This Saturday The Poetry Center will present him in the Weill Art Gallery at the 92nd. Street Y [at Lexington Avenue] at 1 P.M. reading favorite excerpts from the Harry Potter series, Spike Milligan's Puckoon* and Dickens' A Christmas Carol* .
[Trivia: Dale played Milligan in the hilarious British screen adaptation of the author's book Adolph Hitler - My Part in His Downfall; and he played Scrooge in the musical adaptation of ACC at the Theatre at MSqG].
Tickets are $10 are available at the 92nd Street Y box office or by calling Y-Charge at (212) 415-5500.

Next week, he's back in the studio to record voice tracks for the characters in the latest Harry Potter video game, then is off to do a a two-day session with the Seattle Symphony Orchestra, recording narration for Peter and the Wolf and Eudora Welty's The Shoe Bird.

With the writers' strike officially ended, Dale hopes to be back behind the scenes setting the scene as the droll narrator of ABC's fantasy series Pushing Daisies, starring Tony and DD-winner Kristin Chenoweth, DD-winner Anna Friel [Closer], Tony and DD-nom Ellen Green, Chi McBride, Lee Pace and Tony and DD-winner and multiple nom Swoosie Kurtz. It was recently announced that the Sherman Brothers' Busker Alley, which will star Dale, is Broadway bound.

Cabaret Salutes the Oscars
Producer and award-winning cabaret artist Jamie deRoy, of TV's multi MAC Award-winning variety show, Jamie deRoy & Friends will celebrate the Oscars with Academy Award- winning songs on February 20 at 7:30 P.M. at the Metropolitan Room [34 West 22nd Street, between Fifth and Sixth Avenues].
DeRoy will host and perform. Her "friends" will be acappella group The Accidentals, Loni Ackerman, tenor Frank Basile, impressionist Steven Brinberg, MAC and Bistro Award winner Scott Coulter, Oscar winner [and Broadway's original Ado Annie in Oklahoma!] Celeste Holm, violinist Joan Kwuon, Broadway and former Rosie O'Donnell Show musical director John McDaniel, pianist Steve Ross and Oscar-winning composer/songwriter David Shire. Directing is Barry Kleinbort.
The cover charge for Jamie deRoy & Friends is $25 with a two-beverage minimum. For reservations, call (212) 206-0440.

At the Ballet
Russian prima ballerina Diana Vishneva will star with acclaimed American dancer Desmond Richarson in the East Coast premiere of Diana Vishneva - Beauty in Motion, February 21 - 24 at New York City Center. The program consits of three diverse new ballets created by choreographers Bolshoi A. D. Alexei Ratmansky; Complexions Dance Company co-A.D. Moses Pendleton; and Momix A.D. Dwight Rhoden. Joining the stars are members of the Kirov Opera, Ballet and Orchestra.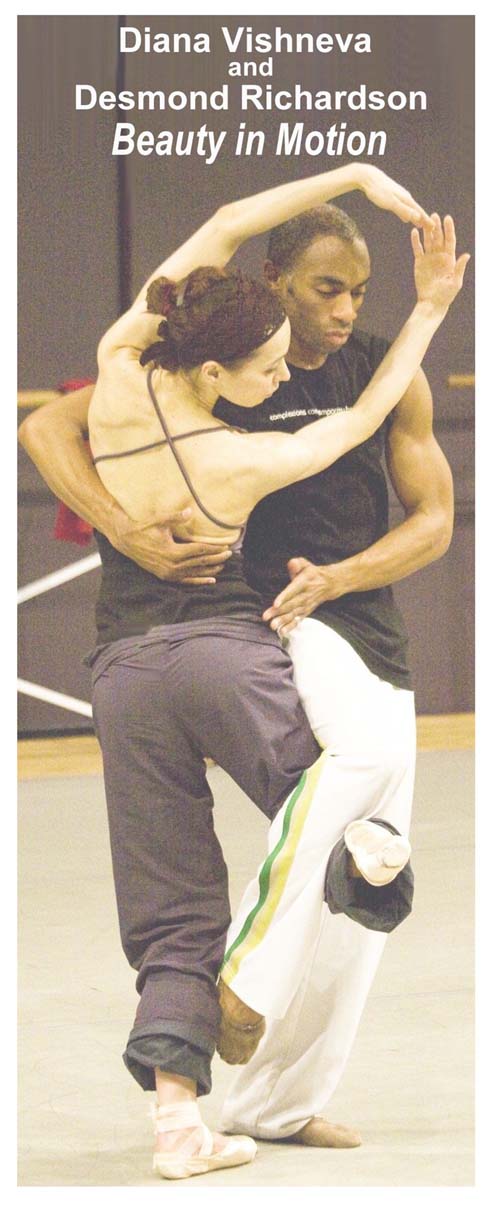 Beauty in Motion is a co-production of Ardani Artists and the Orange County Performing Arts Center, where it just had its world premiere on Wednesday. Following City Center, it plays Moscow's Stanislavsky Musical Theatre.

Ratmansky will stage a new version of Pierrot Lunaire, set to Schoenberg's song cycle performed in German by Kirov mezzo-soprano Elena Sommer. Conducting members of the Kirov Orchestra will be Mikhail Tatarnikov. Rhoden is choreographing Three Point Turn, set to a score for electronic and live percussion by David Rozenblatt. Pendleton will choreograph F.L.O.W. (For Love of Women), a solo piece with music by Zero One, Lisa Gerrard and Deva Premal and costumes and props by Tony-winning puppeteer Michael Curry [Lion King].
Ms. Vishneva's prizes and awards include Lausanne's International Ballet Competition and the St. Petersburg Golden Sophit and Russia's highest theatrical prize, the Golden Mask. She was named Best in Europe by Dance Europe Magazine in 2002.
Former ABT and Alvin Ailey principal dancer Richardson is co-founder and co-A.D. of Complexions Dance Company. He earned a Tony nom in Broadway's Fosse.
Tickets for Diana Vishneva: Beauty in Motion are $35 - $110 and available at City Center box office, through CityTix at (212) 581-1212 and online at www.nycitycenter.org.

A Taste of Broadway, 1947
Kicking off the eighth season of Town Hall and Scott Seigel's acclaimed Broadway by the Year series on Monday, March 3 at 8 P.M. as two-time Tony and three-time DD-nominees Marc Kudisch and Howard McGillin, Broadway's longest-running Phantom, headline The Broadway Musicals of 1947.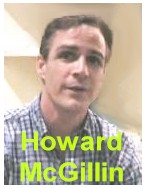 Joining Kudisch and McGillin are Donna Lynne Champlin [Sweeney Todd], Jeffry Denman [The Producers], Alexander Gemignani [Sunday in the Park with George, Les Miz, Sweeney Todd], celebrated young dancer Kendrick Jones [Encores! Stairway to Paradise], Eddie Korbich [Little Mermaid, Drowsy Chaperone], Christiane Noll [J&H], Kerry O'Malley [Into the Woods], Meredith Patterson [42nd Street], ).and acclaimed dancer/choreographer Noah Racey [Curtains].
Audiences will take a musical journey back some of the songs and dances from R&H's Allegro, "The Gentleman is a Dope"; L&L's Brigadoon, "Almost Like Being in Love"; Lane and Harburg's Finian's Rainbow, "How Are Things in Glocca Morra?"; Jule Styne's High Button Shoes, "Poppa Won't You Dance with Me?"; and, among others, Weill's Street Scene, "Lonely House."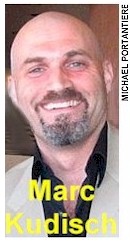 "There is no formula for Broadway by the Year," said Siegel, who hosts the series. "Style and content of each show is dictated by the year's material. In 1947, there was an unusual amount of fantasy on Broadway, Finian's Rainbow and Brigadoon are the most obvious examples. There was also a lot of dance, so I've gone to extra lengths to cast this concert with some of Broadway's most incredible dancers."
As usual, you can bet on some surprises, not all of them miked. Denman,Jones, Patterson and Racey will direct and choreograph. Musical direction and orchestrations are by Ross Patterson, who appears with his Little Big Band. Lawrence C. Zucker is Town Hall executive producer and A.D.
The Broadway by the Year series is funded by Bank of America and the Edythe Kenner Foundation. Upcoming shows are 1954 on April 7; 1965, on May 12; and 1979 on June 16.

Tickets are $45 - $50 and available at the Town Hall box office, through TicketMaster by calling (212) 307-4100 or online at www.ticketmaster.com.

News
Veteran comedienne and star of TV, Broadway and Off-Broadway Kaye Ballard may soon be returning to an Off Broadway stage with a new one-woman show.

Tennessee Williams Revival
Tennessee Williams' The Night of the Iguana is being revived February 21 - March 30 at the Gloria Maddox Theater at T. Schreiber Studios [151 West 26th Street, 7th Floor, between Sixth and Seventh Avenues]. Terry Schreiber is directing. .
Tickets are $20; $17, students; and $15, seniors and can be purchased at www.theatermania.com, by calling (212) 352-3101 or at the theatre one hour prior to showtime.

Luba Mason Returns

Luba Mason, the blonde belter who starred on Broadway in J&H, How To Succeed..., and most recently as Velma in Chicago, returns to the Metropolitan Room for six shows February 27 - March 1 at 7:30 P.M. and March 2 and 3 at 9:30. She'll be doing songs from her Collage CD [PS Classics] and debuting songs from Krazy Love, her new CD. Mason will be accompanied by the Daryl Kojak Trio.

Mason also appeared on Broadway in ALW's Sunset Boulevard, The Will Rogers Follies and Paul Simon's Capeman. From April 1 - 6, Mason will appear with Simon at BAM in a concert presentation of Capeman. Recently, she starred opposite Val Kilmer in the American premiere in L.A. of The Ten Commandments: The Musical.
Admission is $30 with a two-drink mininum. To reserve, call (212) 206-0440 or visit www.metropolitanroom.com.
Currently appearing at the MR, tonight, Saturday and February 21 - 23 at 7:30, is the dynamic DD-nom and two-time Grammy nom Maureen McGovern, who takes audiences down A Long and Winding Road with her musical tribute to the 60s.

Upcoming at the MR
Singer/actress/comedienne Joan Crowe, a 2002 MAC Award-winner, with The Key of Comedy, Thursdays at 7:30 on March 13, 20 and 27. "The show is a tribute to the great jesters of jazz," says Crowe, "the writers who wrote not only great jazz tunes but also songs that have a sense of humor - such as Cab Calloway, Fats Waller and Louis Jordan." Admission will be $20 cover charge with a two-drink minimum.

Spring Awakening's Tony and DD-nominated Lea Michele, appears February 25 in Once Upon A Dream. Into April, May and June, watch for the much-anticipated return of Marilyn Maye, Anna Bergman, Emily Skinner, Legally Blonde's Tony-nominated Orfeh, the one and only, sensational Julie Budd and Adam Pascal.

More Joan Crawford on DVD
In an era long, long ago, Joan Crawford was everyone's favorite rags-to-riches gal or sinner. Now there's more of the Oscar winner's film legacy on DVD. Crawford - from vamp, tramp and "working girl" to working girl, femme fatale and dancing queen - was the actress women envied [those shoulder pads, "f--- me" pumps, glaring eyes] and men [and I mean every man] desired [those shoulder pads, "f--- me" pumps, glaring eyes]. After leaving her Broadway showgirl career behind, she had quite the Tinseltown career; and the highway to fame was littered with broken hearts from 42nd Street to Culver City and Burbank.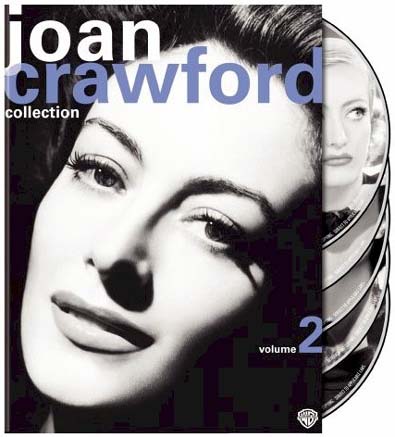 Following the 2005 DVD box set The Joan Crawford Collection, Volume 1, comes five more classic films in The Joan Crawford Collection, Volume 2 [Warner Home Video, SRP $50]. This set features titles from the star's years at M-G-M and WB: Sadie McKee [1934], Strange Cargo [1940], A Woman's Face [1941], Flamingo Road [1949] and the musical Torch Song [1953] in vivid color.
As per the usual standard from WHV, each film has been restored and remastered for their DVD debut; and the stunning package in glorious B&W comes in a trendy plastic slip case and flips open like a book. The five panels feature scenes from the films with the flip sides filled with credits and info on the the myriad bonus material, which include featurettes [one on Crawford and frequent co-star Clark Gable, whom in a live appearance at Town Hall years later JC described as a man "with balls" and had the audience gasping], a recording session for Torch Song [though she was ultimately dubbed by India Adams], shorts, trailers, cartoons and radio programs.
"The Warner Bros. Entertainment library is fortunate to have most of Joan Crawford's films," said George Feltenstein, WHV senior VP, Theatrical Catalog Marketing. "The films in this collection represent some of her most requested appearances. Much time and effort went into creating beautiful new masters to please her ever-loyal fans."
Granted, this set doesn't quite match the firepower of Volume 1 [The Damned Don't Cry, Dancing Lady, Grand Hotel, Humoresque, her Oscar-winner Mildred Pierce (after being branded box office poison), Possessed, the high-camp Trog, the delicious The Women, featuring an all-star cast and, probably her most famous film, Whatever Happened to Baby Jane?, with her going head-to-head with legendary rival Bette Davis, who absolutely hated her as much as she hated infamous scene-stealer and notorious upstager Miriam Hopkins], but it's a fine companion piece.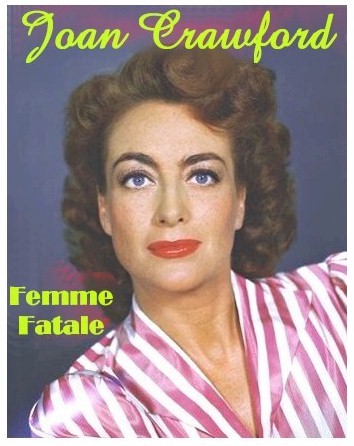 Sadie McKee was made during the period when Crawford was box office queen. This sudsy story where JC rises from poverty to wealth, with three suitors - one, of course, a tycoon; another, a singer, who abandons her at the altar -vying for her affections, was saved by brilliant director Clarence Brown, who had brought out the best in Garbo. There was plenty of chemistry between JC and co-star Franchot Tone, soon to become Mr. Joan Crawford. Gene Raymond, Edward Arnold and Leo G. Carroll [later TV's Topper and a co-star of The Man from U.N.C.L.E.] are featured. Arthur Freed and Nacio Herb Brown's song "All I Do is Dream of You" was introduced in the film, which is the movie Blanche Hudson is watching on TV in Baby Jane.
The "rugged adventure" Strange Cargo was the eighth and final teaming of JC and Gable. Under Frank Borzage's direction, Crawford, as a tough-as-nails "dancer" among escaping Devil's Island felons, gives a gritty performance in a film "explores the lures of the flesh and the transcendence of the spirt." That flesh part got M-G-M in big trouble with the then Legion of Deceny, a powerful censorship arm of the Roman Catholic Church. However, in spite of cuts there's a lot of crackling passion between JC and the King. Among the feature players are Peter Lorre and Paul Lukas.
A Woman's Face, directed by George Cukor [The Women], is a thriller based on Francis de Croisset's play Il Etat Une Fois [It Was One Time] which starred Ingrid Bergman when in its first film inception. Mayer wanted the remake as a comeback vehicle for Garbo. But Crawford more than acquits herself as a disfigured woman who finds beauty through countless plastic surgeries. Redemption comes when she refuses to commit murder for the aristocrat [the stoic Conrad Veidt] she loves. Melvyn Douglas [who co-starred three times with Garbo] plays the doctor who gives her more than a new face.
Flamingo Road provided a reunion between Crawford, Zachary Scott and director Michael Curtiz [Mildred Pierce]. Crawford plays a carnie dancer who finds more than she bargained for when she ends up on, where else, Flamingo Road. In the end, of course, she crossses from the wrong side of the tracks to the right side. David Brian and Sydney Greenstreet [as a tyrannical town boss, as usual, eats every bit of scenery that's not nailed down until he gets his comeuppance] and co-star.
Torch Song marked JC's return to M-G-M and was her first feature entirely in color. Crawford, displaying glam legs, portrays Broadway diva Jenny Stewart [doing one number in black face], who has everything - except someone to love. She functions on two levels: demanding and impossible. Then comes along Ty Graham, played by Liz Taylor's then-husband Michael Wilding, a pianist blinded in WWII, whose passion for her awakens her vulnerability. But will they get together for a happy ending? You betcha. Marjorie Rambeau, as her beer-chugging mom, gives a memorable star turn and received an Oscar nom, which must have seen JC seething. Rodgers and Hart's "Blue Moon" and "Tenderly" by Jack Lawrence and Walter Gross are heard. The film became a sort of cult classic and inspired Carol Burnett's parody "Torchy Song."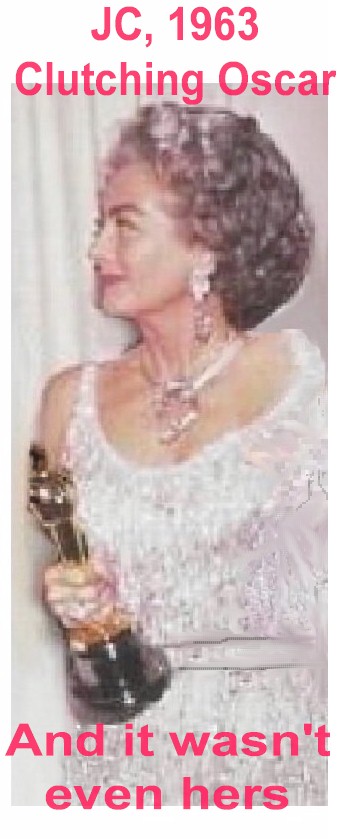 Crawford, then Lucille LeSeur, rose to screen stardom with early Talkie Our Dancing Daughters [1928]. She became Joan Crawford after a fan magazine naming contest. By the 30's, Crawford was one of Hollywood's biggest stars and one of Louis B. Mayer's queens on the M-G-M lot. No star there, except Garbo, was rewarded with more lingering closeups. She had that face! When Mayer, thinking she was washed up, discarded her, JC signed with Warner and earned her Best Actress Oscar in her first outing. She went on to earn a second nom.
Crawford worked steadily throughout the '50s, receiving a third nomination. Considered washed up again, she showed amazing resilience. In the early '60s, she made a stunning comeback, back at Warner, in Baby Jane, her last great role [if you don't count Johnny Guitar!]. She could have invaded all of America's enemies in 1963 when Davis and not she was nominated for an Academy Award. JC hatched all sorts of plans to make sure La Davis didn't win - even going so far as to offer to accept for ailing Anne Bancroft shoud she win for The Miracle Worker. She did! And JC pushed right by fuming-mad Davis in the wings and waltzed onto center stage as if she was the all-time champ of Dancing with the Stars.
A last marriage wedded her to the Pepsi generation and she became a dedicated and fun spokesperson for the soft drink company. She died, much too young, of cancer in 1977, age 72. Davis did not attend the funeral or send flowers.
Ellis Nassour is an international media journalist, and author of Honky Tonk Angel: The Intimate Story of Patsy Cline, which he has adapted into a musical for the stage. Visit www.patsyclinehta.com.

He can be reached at [email protected]





Why are you looking all the way down here?
For more articles by Ellis Nassour, click the links below!

Previous: Golden-Voiced Maureen McGovern at Metro Room; Encores! Applause; Festival of Song; Year of the Rat; Monterrey Ballet; Career Transitions to Salute Broadway; More

Next: Saluting Black History Month: An ABC Movie Event ~ Sean Combs on Lorainne Hansberry's A Raisin in the Sun Segue from Broadway to TV

Or go to the Archives