Once she hops on the bike and revs the engines; once she stokes the furnace and reaches full speed ahead; once she takes off and reaches maximum throttle and roars into orbit, the luminous Patti LuPone is unstoppable as she gives the performance of several lifetimes in Arthur Laurents stupendous revival of Jule Styne and Stephen Sondheim's beloved Gypsy.
As she enters down the St. James aisle, LuPone shouts, "Sing out!" Later, in her terrifying and breathtaking, horrific and edge-of-the-seat; electrifying and probably never-to-be-forgotten take on the musical's 11:00 number, virtually a woman on the verge of a nervous breakdown, she shouts, "Let me, me, me, me entertain you!"
In her much acclaimed and fierce performance, the actress makes incredibly steep climbs and dizzying descents. And, WOW! does she deliver the goods. And then some. Then, there's that over-the-top bit.
LuPone's Rose is one for the ages. She accents her charming, adorable, heroic, playful, sexy, sometimes mean, sometime bitchy, ingratiating, often grating, sympathetic and tormented portrayal of the stage mother from hell with sly smiles, deadly stares and a face capable of as many grimaces and twists as Lon Chaney's. At times, it even seems she's channeling aspects of Medea.
The "musical star built for another age, an Ethel Merman without portfolio," as the New York Times' Jesse Green referred to her last summer when Gypsy inaugurated Encores! Summer Stars at City Center, is receiving cheers and standing ovations for her Rose's turn in the quintessential Broadway musical from another age.

Whether in glacial eye-to-eye combat with Louise, a stage manager or an annoying producer's secretary; charming the pants off Herbie with calculating but disarming ease; lurking upstage, tiptoeing through the scenery [what little she hasn't already chewed to shreds]; shaking her bootie; being twirled by Herbie in a playful dance that ends with him dipping her to a back-breaking depth [where they end up ROTFWL and he gives her a playful pat on the derriere]; or as a woman at the end of her ropes railing against the world in front of a ghost light, LuPone is, well, LuPone -- even LuPone Plus or LuPone High Octane.
It's no secret that LuPone is a musical force of nature. If beverage makers could discover the secret of what sustains and propels her at 59 [in two weeks], seven years older than Merman was when the musical debuted], move over Red Bull and all those assorted vitamin and caffeine-laced drinks.
Her Rose is a tour de force. The Tony and Olivier Award-winning belt queen is a formidable presence. She's not known for giving laid-back performances, and there's nothing laid back about this one. However, she seems to be drawing energy from a nuclear power plant. Her diction is so clear and precise you might think she works part-time as an elocutionist.
Forgetting, if you can, her other stage achievements, her dazzling performance alone merits her a prime page in the theatrical history books. If in 100 years, you wanted theatergoers to experience the definitive and classic Broadway backstage musical and the dynamics of a dynamic leading lady, put a video of this revival in a time capsule and bury it under the bleachers of the TKTS booth.
It's simply mind-boggling to think that when originally presented on Broadway in 1959, Gypsy didn't win Tonys for Best Musical, Actress and Director [Jerome Robbins] [back then a nomination for Best Musical, included the composers and book writer] and was totally overlooked by Drama Desk.
Can't you just hear The Merm's reaction when the Tony honors went to Fiorello! and The Sound of Music [a tie] and Mary Martin [SOM]. You have to wonder, especially with Merman's earth-shattering performance, what the voters were thinking.
LuPone, unless another miraculous performance emerges this season, undoubtedly won't suffer that fate.
However, it should be pointed out that at the St. James the overture doesn't quite seem to soar from the get-go as it did in those opening bars at City Center. It takes a while for this inception of the revival to get going. But, when it does, get out of the way because it's full speed ahead. However, one might wonder about at least once choice LuPone has made for Broadway [indeed, if it was hers]; and that's her prancing SR to SL, with kisses and Huhs thrown to the audience giving a thunderous ovation. The only thing missing is a shower of rose petals or people throwing flowers onto the stage. But until those antics appear, her incredible, earth-shattering and jaw-dropping take on "Rose's Turn" is one of the most breathtaking moments in theater history.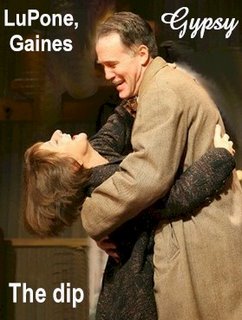 Though LuPone is the sum of all of Gypsy's parts, there are other noteworthy elements in this no-frills production.
The production is blessed with two extraordinary costars. Laura Benanti exhibits amazing range as she grows from awkward Baby Louise to a radiant, sexy Gypsy Rose Lee. She has a particularly mesmerizing moment late in Act One, just as the musical begins to steam roll. As she stands on the sidelines watching Tulsa's "All I Need Is the Girl" number smitten with love for him and then joins in the number, she paints a splendid picture of happiness and heartbreak.
Boyd Gaines tries hard to melt into the background as weak Herbie but his poignant, fine-tuned stage presence just won't let him.
A Tony nominee and DD winner for last season's revival of Journey's End, Gaines is back in his first "traditional" musical since appearing in later casts of Roundabout's Cabaret and Company revivals and his Tony and DD-winning role in their 1993 She Loves Me revival; for his non-singing role in LCT's 2000 Contact, he received the Tony and a DD nom.
It doesn't stop there, which is one reason this Gypsy never goes flat when LuPone's not center stage.
In celebration of her centenary, Fox has released it's Bette Davis DVD tribute [SRP $60] which includes fully-restored prints of All About Eve, Hush...Hush, Sweet Charlotte, The Nanny, Phone Call from a Stranger and The Virgin Queen.
Years later, when the industry again thought she was washed up, she was lured back to Warner by director Robert Aldrich and teamed with arch rival Joan Crawford for their tour-de-force horror debuts in Whatever Happened to Baby Jane. With that picture, both were discovered by a new generation.
Davis became became the first female president of the Motion Pictures Academy of Arts and Sciences [which administers the Oscars] and the first female honored with the American Film Institute's Lifetime Achievement Award.

Broadway 1954
Scott Siegel and Town Hall's popular Broadway by the Year series has another installement on Monday at 8 P.M. with 1954.
Siegel and a line-up of stars that will include Sierra Boggess [direct from Disney's The Little Mermaid], Scott Coulter, Harvey Evans, Tony-winner Debbie Gravitte, Cheyenne Jackson [direct from Xanadu], Kendrick Jones, Sean Palmer [direct from TLM], Noah Racey [direct from Curtains] and Emily Skinner wil take the audience on a musical tour of such Great White Way shows as The Boy Friend, Fanny, The Golden Apple, House of Flowers, The Pajama Game, Peter Pan and more. Coulter directs, with musical direction and arrangements by Ross Paterson, accompanied by his Little Big Band.
There will surely be at least one "unplugged" moment and, certainly, memorable choreography from Racey and incredible tap from Jones.

Some tickets remain, at $45 and $55, and are available at the Town Hall box office and through Ticketmaster [www.ticketmaster.com] or by calling (212) 840-2824.
The BBTY season continues on May 12 with highlights from 1965 under the direction of Marc Kudisch; and on June 16 with 1979, directed by Skinner.

Show Offs
Incomparable actress/writer/comedienne Julie Halston and actress/writer/director Donna Daley have written Monologues for Show-offs [Heinemann, SRP $15], 74 all-new and original fun, bold and brassy monologues for men and women. The book includes performance notes and advice on auditioning from top industry professionals.
Halston and Daley have known each other for years and collaborated on several projects, among them the animated short Open Call and a book for young people.
"Donna and I know auditioning is tough enough," says Julie. "But when you connect with something fresh and vibrant, everyone remembers you."
"There's a window of opportunity at your audition to dig in fast and show personality," points out Donna. "It's important to establish the scene from the moment the actor speaks. And that's where Monologues for Show-offs comes in handy. Bold choices are built in. All the elements that help you pop are there."
To purchase Monologues for Show-offs, go online at www.heinemanndrama.com, www.amazon.com or www.barnesandnoble.com.

Last Chance for Film Society's New Director's Series
Lincoln Center Film Society's New Directors/New Films Series is coming to a close. Screenings Saturday and Sunday at the Walter Reade and MOMA include La France [France, director: Serge Bozon; Set in 1917 as war rages across Europe and a woman goes to great lengths to save a relationship]; the highly-praised A Lost Man [Lebanon/France, director: Danielle Arbid; A photographer travels the globe in search of extreme experiences to document and embarks on a sensual journey through the Middle East]; Trouble the Water [U.S., directors: Tia Lessin and Carl Dea; Sundance-winning doc about the Katrina aftermath in Louisiana]; and XXY [Argentina/Spain/France, director: Lucía Puenzo; a hermaphrodite faces life choices].
For full schedule, showtimes and film details, check out www.filmlic.com. Tickets at $12 for the public [$10, members] for New Directors/New Films, at the WR and MOMA box offices and online or by calling CenterCharge, (212) 721-6500.

New to DVD
What an incredible time for quality releases of hit films on DVD!
Paul Thomas Anderson's sprawling epic of family, faith, power and oil, There Will Be Blood [Paramount Home Entertainment, 158 minutes; SRP $40 ], winner of two Academy Awards [Best Actor, Picture] and praised by critics debuts on Tuesday [also as a single disc, SRP $30]. The film is set against the incendiary frontier of California's turn-of-the-century oil boom. Named by more than 200 critics as one of the 10 Best films of 2007, the film and especially star Daniel Day Lewis, whose character transforms from a down-and-out silver miner raising a son into a self-made oil tycoon, have a unique ferocity.
In addition to Lewis' Oscar nom, he won Golden Globe and BAFTA Awards. Anderson came in for his share of praise, being called "a modern cinematic visionary."
The package is a two-disc set, with bonus features that include deleted scenes, a behind-the-scenes doc and vintage images exploring the historical context of the film selected by Anderson that served as inspiration for the film's look.
Just released is the much-acclaimed and controversial The Kite Runner, based on Khaled Hosseini's best-selling novel [PHE, 127 minutes; SRP $30] and directed by Marc Forster [Finding Neverland]. The picture was Golden Globe-nominated for Best Foreign Language Film.
Remarkably shot mostly in China, Kite Runner spans several decades and set against the backdrop of first the Soviet invasion and later the Taliban takeover of Afghanistan, the story explores social conscience. It tells of the friendship between well-do-do Amir and servant boy Hassan [beatifully played by Zekeria Ebrahimi and Ahmad Khan Mahmidzada].
The film is slow in starting, but once it's set in motion by Amir's act of deceit and betrayal after he's not able to muster the courage to protect his friend from a violent rape, it propels into a gripping suspense thriller with a fascinating plot twist.
There are several other excellent actors, including Khalid AbdallaIn, who is Scottish/Egyptian, in the starring role as the older Amir, who must face his lifetime of regret over his betrayal; and Homayoun Ershadi, who plays Amir's kind father.
Composer Alberto Inglesias was Oscar and GG-nominated for Best Original Score.
For a complete change of pace -- for fantasy, comedy and a musical score by multiple Oscar winner Alan Menken [Beauty and the Beast, Aladdin] and Tony and DD-winner Stephen Schwartz [films, Pocahontas, Hunchback of Notre Dame], there the new Disney family classic Enchanted [Walt Disney Studios Home Entertainment, 107 minutes; SRP $30], a modern-day fairytale that incorporates animation and live action.
Enchanted is a clever, gentle spoof of Disney's animated classics. It tells of an animated heroine from a far away kingdom who's exiled from Andalasia by a sorceress and finds herself transformed into Giselle, a live storybook princess [enchanting Oscar-nominee Amy Adams -- a 2005 nominee for Supporting Actress for Junebug] lost in bustling New York City. Kevin Lima directed. Lisa Keene is animation art director
Providing excellent support are Patrick Dempsey as a contemporary knight in shining armor; Oscar-winner Susan Sarandon as the evil Narissa; Tony-winner and three-time DD-nominee Idina Menzel as Dempsey's gf; and James Marsden [Hairspray] as Giselle's handsome prince.
If you're sharp, you'll spot Tony-nominee Jodi Benson [on film, voice of Ariel in Little Mermaid], three-time Tony and DD-nominee Judy Kuhn, Tony and DD-winner Tonya Pinkins and Paige O'Hara.
There are enough bonus features, including games and pop-up adventures, to keep every member of the family entertained for years.
It might all be too good to be true, but in Enchanted the principals all live happily ever after in the true Disney tradition in one of the very best offerings from that studio in decades.
Ellis Nassour is an international media journalist, and author of Honky Tonk Angel: The Intimate Story of Patsy Cline, which he has adapted into a musical for the stage. Visit www.patsyclinehta.com.

He can be reached at [email protected]





Why are you looking all the way down here?
For more articles by Ellis Nassour, click the links below!

Previous: Tim Rice Reacts to Phantom Sequel News; Victoria Clark in Encores! Juno; Angela Lansbury Front and Center; Champion Alum Remember Director/Choreographer; Robbins Exhibition; Fierstein Honored; More

Next: Matinee Idol: Paulo Szot of South Pacific; Marilyn Maye in Party Mood; More

Or go to the Archives