Lincoln Center Theatre and Bob Boyett have a winner in their sumptuous revival of South Pacific, which has just been extended into January because of ticket demand.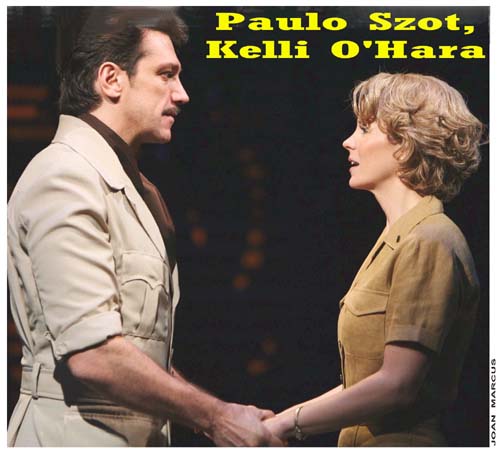 The Rodgers and Hammerstein classic, which was adapted into a libretto from the short stories in James Michener's Pulitzer Prize-winning book Tales of the South Pacific, is blessed with four outstanding stars in lead roles:Tony and Drama Desk nominee Kelli O'Hara as Nurse Ensign Nellie Forbush of Little Rock; the celebrated Brazilian baritone Paulo Szot as French planter Emile de Becque; Tony and DDesk nominee Matthew Morrison as the love-smitten Marine Lieutenant Joe Cable; and Tony nominee Danny Burstein as mischievous Seebee Luther Billis.
The revival received rapturous raves. Szot, who comes to the Beaumont from the world of opera, is the first Broadway matinee idol in some time. In opera, singers receive audience adulation all the time, but it's rare in theater to hear audience members shout "Bravo!" In S.P., Szot gets bravos at the end of his rapturous "Some Enchanted Evening" and his big 11:00 number, the equally poignant "This Nearly Was Mine."
When that prospect and the mention of women swooning as he sang was mentioned, he seemed flattered and smiled, but wasn't quite sure what "matinee idol" status meant. He said a few cordial words in Portuguese. Then, in the hall outside his dressing room, he may actually have understood as, suddenly, he was surrounded by eight women and two teenaged girls all heaping praise on him.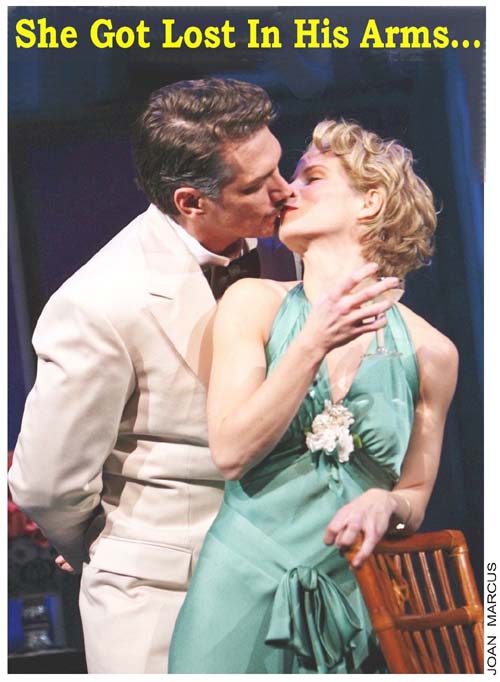 As an internationally-acclaimed baritone Szot's New York credits include starring roles in NYCOpera productions of L'Elisir d'Amore, Carmen and Le Nozze di Figaro; and as a cover in numerous operas at the Met. He's actually better known here than in his native Brazil, where one of the leading newspapers, Folha de S.Paulo, reported on New York's sudden "passion" for a "strange" singer, previously "unknown" to Broadway.
"That's not surprising," says Rio-based actor/director Claudio Bothello, who presents Portuguese and English-language productions of Broadway musicals with writer/designer Charles Moeller in Rio, Sao Paulo and in Portugal. "In Brazil, opera singers aren't famous except to a small crowd of connoisseurs. Opera is very far from an intense activity. Of course, Paulo is very famous among these people. He's simply wonderful onstage, both vocally and as an actor. It's a pleasure to see an opera singer who's also handsome and in shape." He added, "Since we present musical theater, I'm very enthusiastic that Paulo has been so positively accepted in the Broadway community and that, as an artist, he may become more interested in musicals than opera."
Szot made his opera debut in a Sao Paulo production of Il Barbiere di Siviglia. Shortly thereafter, however, he was singing lead roles with major opera companies throughout Europe and the U.S. In heavily-accented English, which he learned from watching American films, especially the screen adaptation of A Chorus Line, he explained that he never expected the sort of buzz and attention he and his performance is receiving.

Women, and no doubt some men, are literally swooning as he sings. He's got leading man looks, but it's that voice that makes him a standout.
Except, of course, for the requisite cell phone that must go off right in the middle of a poignant ballad, you can hear a pin drop in the vast Beaumont as Szot soars into song. This is one actor who doesn't need amplification thanks to his opera training. At a recent performance, a woman [and maybe a few more] gushed to her friend at the end of "Some Enchanted Evening," "I could fall in love!" Her friend replied, "So could I."
There's a lot to fall in love with in this production: O'Hara is everything you expected she would be after making splashes in Piazza and Pajama Game. She's got her game on, is fun. However, when the drama gets heavy, [although she rolls with it], the acting chops aren't quite there. That said, you cannot fault her vocal prowness or the spirit she brings to the uptempo numbers ["I'm Gonna Wash That Man Right Outa My Hair" and "Honey Bun"].
Standouts in the cast of 40 include Morrison, who perfectly captures the torn Cable; and direct from his scene-stealing role as the outrageous Armando in Drowsy Chaperone, is Burstein as the outrageous Billis. Hawaiian-born Loretta Ables Sayre is making her Broadway debut as Bloody Mary.
Tony and DD-nominated director Bartlett Sher [Piazza] and Chirstopher Gattelli, who's done the musical staging, have created a whopper of a showstopper for O'Hara and Burstein's "Honey Bun." I can't put my finger on the reason, but the legendary "I'm Gonna Wash that Man ...," one of the few moments from the original production that was captured on film and has been seen again and again, comes off a bit flat.
Last but by no means least, there's Rodgers and Hammerstein's timeless score, with the original orchestrations of the brilliant late music director Robert Russell Bennett. How wonderful it is to hear it played by 30 musicians under the director of Ted Sperling. They're a hard-working orchestra with a lovely string section headed by Belinda Whitney, the concert master; and busiest of all, Bill Lanham, who's constantly moving from drums, cymbals, timpani, snare drum and all manner of percussion.

LCT A.D. Andre Bishop, Bernard Gersten, exec producer, and associate producer Boyett have, as Gersten put it so well, "pulled out all the stops and even a few starters," production-wise and allowed Michael Yeargan to create quite an evocative setting.
South Pacific premiered at the Majestic in 1949 and enjoyed a five-year run, winning countless awards set off by the Pulitzer Prize for Drama and nine Tonys, including Best Musical. The score also includes such favs as ," "Bali Ha'i," "Bloody Mary," "Happy Talk," "Honey Bun," "There is Nothin' Like A Dame," "(I'm in Love with) A Wonderful Guy," "Younger than Springtime" and "You've Got to Be Carefully Taught."


She's Back and in a Party Mood
Making her fourth Metropolitan Room [34 West 22nd Street, between Fifth and Sixth Avenues] engagement in a little over a year, Marilyn Maye is celebrating her 80th birthday by giving herself quite a musical celebration, It's My Party... and I'll Sing 'Cause I Want To in seven performances beginning tonight through April 16. "I've concocted a gift bag of my favorite songs from a Who's Who of my favorite songwriters," she explains. Last night, after recently being honored with a Nightlife Award, she received a Bistro Awards Lifetime Achievement tribute.
Miss Maye's '07 Metro Room engagement was her first here in 16 years. She stirred up a groundswell of excitement and acclaim. Now New York can't get enough of her, "and I can't get enough of New York," she says. "I'm excited about being back. There's a lot of love from the audiences there. They are, if I may use an old-fashioned word, hip; and cognizant of every little thing. They just get it." Elsewhere, that's not always the case else. "They get some of the stuff, but not everything. At the Metropolitan Room, they get everything."
What also impresses Miss Maye here is the age of her fan base. "Some are so young, I assume they're discovering me for the first time. I think some of them are historians. They're true music lovers. They've either researched a lot or paid attention to the singers of the past. It's amazing how many young people show up with an old album. I often wonder, 'Where did they get that? At a garage sale?' It's recycling!"
She notes that her audience range is young "to, shall we say, mature." Laughing, she continues, "Mature. That's a nice word. I've been using it a lot lately. Sometimes I'll go to say another word and I slap myself and say, 'No, mature!'"
Miss Maye reveals that she had a mother determined to make her into a superstar singer. She was already impressing folks with her brassy voice at 10; and, by the time she was 14, she had her own radio show.
In the 60s, Miss Maye was an up and coming recording artist. "I had done one LP and was the so-called 'overnight success,' but I'd been working for twenty years! I worked one club, the Colony, in Kansas City, my home base, for eleven years. Steve Allen heard a record I did and invited me to do his show in the 50s. He had me back many times. That led to a lot of positive things but not a lot of bookings."
It was on Allen's last show, than an executive from RCA saw Miss Maye and recommended the label sign her. When the LP came out in the late 60s, she was booked into the chic New York Living Room and, as fate would have it, Johnny Carson's forever sidekick Ed MacMahon happened to come in. "Afterward, he took my hand and said, 'You've got to do The Tonight Show.'" I said, "Alright." He told her she wouldn't even have to audition, and she didn't.
She was booked. Carson was knocked out by Miss Maye's jazz-tinged Broadway belt and kept inviting her back; often lavishing her on camera with high praise and singling her out as one of music's great vocal stylists.
"I started with Skitch Henderson in New York," notes Miss Maye. "It was very successful and when they headed West, I continued to appear with Milton Delugg and Doc Severinsen."
Watching some of the video from those years and listening to tracks she's been able to obtain from the Carson Estate, you realize what pipes she possesses. Those arrangements for the big band Carson favored on his show were big and loud, but Miss Maye was never drowned out.
Miss Maye was on the show 76 times, the most appearances by any singer. "It was an incredible career boost. Sadly, many of the tapes of the shows have been destroyed," she reported. "Only about twenty of the shows I was on still exist."
She became such a fixture on The Tonight Show that she became part of the Carson family and was chosen several times by the King of Late Night to open for him in Vegas.
"Johnny was adorable," she recalls. "He was a great music lover and a musician [played drums]." He had a reputation of being remote and keeping his distance [not becoming friends] with the majority of his regulars. That wasn't the case with Maye. "We didn't sit and have hour-long conversations," she admits, "but he was definitely my friend. In the early days, he was still performing on weekends. And he carried me many times with him.
"After the show, we'd all go and have dinner," she continues, "and that's where we talked. One of the things that created a bond between us was the fact that we were both mid-Western kids. He was from Nebraska, I was from Wichita, went to high school in Iowa, then I married a man from Kansas City."
She says she and Carson had something else in common. "He worked to the audience. He worked for them. And so did I."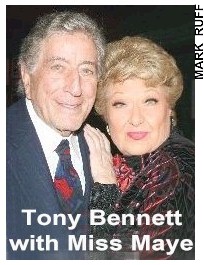 Miss Maye had a daughter, Kristi, who is a singer who lived in New York for a while before "going off to have a normal life" and becoming a teacher in Kansas City.
She says she doesn't know the meaning of "normal life." She's always been a nomad. "I'm insecure if my bags aren't out. I used to work four months a year, but in the last two years it seems I'm constantly on the go."
Wherever she goes, there's always a loyal group of fans who follow her from date to date. For her MR gig, fans from as far as Florida and California will be coming in; and seeing the show multiple times. When Miss Maye travels, she accompanied by her drummer of 45 years, Jim Eklof; and her long-time assistant Helen. On those rare times at home, Miss Maye relaxes by puttering around in her garden. But her daughter revealed, "Frankly, I've never seen mother relax! She never stops, which, I guess, is what keeps her going!"
At RCA, Miss Maye did numerous albums, always Introducing songs, such as "Cabaret" [one of her many hits and it was a hit long before the show ever opened on Broadway and other artists began covering it] from shows that RCA would be releasing as cast albums. "Sometimes, I recorded them fresh out of the composer's hand. In those days, there was radio play for showtunes and that helped box office."
She was also fortunate to introduce Bachrach/David's "I'll Never Fall in Love Again" from Promises, Promises [and "What the World Needs Now" long before it ever became a hit for Jackie DeShannon]; and, among numerous other songs from Broadway-bound musicals, renowned film composer Elmer Bernstein and Carolyn Leigh's "Step to the Rear (and Let a Winner Lead the Way)" from How Now, Dow Jones. The latter became a must-have song for political campaigns in the mid-West. Says Miss Maye, "I've written several thousand versions of it for those running for office. Governor Robert Ray of Iowa used it for six campaigns."
Miss Maye was nominated for a Best New Artist Grammy in 1965, "but by then it was too late for me to have a big career. I was in a category with Tom Jones, Sonny and Cher, Herman's Hermits and the Byrds. And I had albums, not singles that got airplay.
In the 70s, musical tastes had changed. "I found work by clinging to the mid-West and Texas. I was strong there. That was my market. I've always considered what I do a business. I never thought of it as a hobby. And if you don't draw, you can't make a living. People knew me and knew they'd be entertained when they came."
Nothing prepared her for the rebound in popularity. "It's simply astounding and amazing!" She attributes her longevity to the fact that she's never stopped singing. "Honey, it's all I know how to do. I've never done anything else." She adds that it has helped to maintain a very positive attitude.
Singing all those great Broadway tunes before they became Broadway hits did make her yearn to be on Broadway, "But the desire was never a burning one. However, later, I got to fulfill my dream of being onstage. I did a lot of regional theater, musicals such as Hello, Dolly!, Mame and Follies. I still want to do a one-woman show on Broadway. What a dream that would be! But right now, my Broadway is the Metropolitan Room and I'm happy to be back there among friends."

For her MR engagement, Miss Maye will be backed by Billy Stritch on piano, Tom Hubbard on bass and Eklof on drums.
Admission to Marilyn Maye's It's My Party... is $30 plus a two-beverage minimum. For reservations call (212) 206-0440. For showtimes, visit www.metropolitanroom.com.

They're back, too! One night only!

They've been away almost a year, but tonight -- for one night only -- Creation Nation returns straight from L.A. and Miami to the Zipper's Factory Theatre [336 West 37th Street, between Eighth and Ninth Avenues] with Cynthia Nixon in tow as guest. Billy Willing and Robin Lord welcome the Tony and Emmy-winning star of stage, screen and TV [soon to repeat her role as Miranda Hobbes in the big-screen adaptation of her Sex and the City series].
The performance, at 8 P.M., will be a unique variety show with stand-up, comedy sketches, musical numbers and multi-media. Benjamin Salka will direct, with musical direction by Eli Bolin.

Tickets are $20 and available online at www.thezipperfactory.com or by calling (212) 352-3101. For more information, visit: www.creationnationstation.com.

On the Radio
Tonight at 7 [with various repeat dates] Playbill Radio at www.playbillradio.com welcomes Cry Baby's Wade Walker, James Synder for a CenterStage chat. Then on Wednesday, Sunday in the Park with George stars Jenna Russell, Daniel Evans, Jessica Molaskey and Michael Cumpsty drop in with director Sam Buntrock.

On Thursday host Robert Viagas welcomes Alan Menken, composer of Little Shop of Horrors, Beauty and the Beast, The Little Mermaid and the Oscar-winning composer of tunes for Disney animated blockbusters.

Free Events at Lincoln Center Library
The New York Public Library for the Performing Arts at Lincoln Center, which really can be found through that maze of reconstruction, has an ambitious April planned.
Thursday at 6 P.M. in the Dorothy and Lewis B. Cullman Center Tony-winning composer/lyricists Lynn Ahrens and Stephen Flaherty will discuss their career and perform excerpts from their shows.
Saturday at 3, Hepburn niece Katharine Houghton will host with Irish Reps Charlotte Moore Remembering Kate, with reminiscences and readings.
On April 17 at 6, you'll have the rare opt to have Edward Albee in Conversation as the Pulitzer, Tony and DD-winning playwright, who last month celebrated his 89th birthday, reflects on his career. If you're lucky, he may even smile.
Programs are free, on a first-come/first-served basis, but tickets are required. They are distributed, one per person, from 1 P.M. on the day of the program at the Cullman Center auditorium's entrance at 111 Amsterdam Avenue at 65th Street.

Tropical Isle On Rector Street!
Wildly experimental art group 3-Legged Dog invites you to get away to the isle of fun and sand a bit before the season begins with their ambitious multi-dimensional multimedia world premiere of Charles Mee's Fire Island at the 3LD Art & Technology Center [80 Greenwich Street at Rector Street] from April 10 - May 3.
Mee is this year's resident playwright at the Signature Theatre, where his Paradise Park debuted in February. Other works include Hotel Cassiopeia, Iphigenia 2.0 and Queens Boulevard.
The performance space has had an extreme island makeover, complete with adventurers in thongs or less on the dunes, weathered boardwalk, beach chairs, pine trees -- and blended drinks -- for the playwright-as-voyeur's exploration of "the birth and dissolution of relationships amidst the diverse and fragile ecosystems of a suntan lotion-stained barrier reef." Characters include such island inhabitants as hunks, drag queens, six-foot tall girls, freak clowns and, for good measure, Japanese bondage junkies.
Fire Island features a cast of 108 artists, including the "Tuvan throat singer" Albert Kuvezin.
Tickets are $30 [$15, student with ID]. To reserve, call (212) 352-3101.

Uptown
The OBIE and DD-winning Classical Theatre of Harlem will present Emancipation, a new play by longtime company member and OBIE-winner Ty Jones, at the Shabazz Center in the Audubon Ballroom [3940 Broadway, between 165th and 166th Streets] starting Thursday through May 3.
Jones, a veteran of NBC's Law & Order franchise, starred last year in Brian De Palma's controversial quasi-military doc Redacted. Onstage, he's appeared with Kevin Kline in Henry IV and Denzel Washington in Julius Ceasar.
The play is described by Jones as "a thoughtful, powerful, and visceral examination of Nat Turner's 1831 slave rebellion, which became a watershed event in America's long and troubled history of slavery and racial conflict."
Jones heads the 13-member cast. CTH co-founder Christopher McElroen directs.

A Cast Party
Jim Caruso's Cast Party and TheaterMania.com will present The Leading Men III on April 21 at 7 P.M. as part of Caruso's long-running concert series Broadway at Birdland [315 West 44th Street, between Eights and Ninth Avenues].
Leading Men III concert is a benefit for Broadway Cares/Equity Fights AIDS. John Tartaglia, the Tony-nominated star of Avenue Q, will again host the annual celebration of stellar male singers and actors from Broadway and cabaret. Alan Muraoka will direct, with Emmy-nominated writer/host Seth Rudetsky returning as musical director.
The star lineup includes five-time MAC Award-winner Tom Andersen, Skylar Astin [Spring Awakening], David Burnham [Wicked], Caruso, Tony and DD-nominee Jonathan Groff [SA], Norm Lewis [Little Mermaid], Michael McElroy [Rent], Sean Palmer [LM], Christopher Sieber [late of Spamalot], two-time MAC Award-winner Marcus Simeone, Bobby Steggert [110 in the Shade] and Jim Walton [original cast, Merrily We Roll Along].
LMIII is produced by NYDaily News editor Wayman Wong, who originated Playbill.com's Leading Men column from 2003-2006.
Tickets are $50 plus $10 food/drink minimum with VIP tickets at $100 and can be purchased online at www.birdlandjazz.com.

Ellen Stewart and La MaMa
After a whirlwind theatrical tour of Europe, the unstoppable Ellen Stewart, the artistic force behind the East Village's La MaMa, returns to present more cutting edge theater with the world premiere of Brothers, a multimedia work with live and canned electronic music inspired from a poem by Stewart, based on stories from the Old Testament. It will be presented April 24-May 11 at La MaMa's Annex [74A East 4th Street, between Second Avenue and the Bowery].
The piece, described by Stewart as "a haunting and explosive work depicting a world where centuries of conflicts have led to turmoil, upheaval and global struggles," is adapted and directed by internationally-acclaimed artist Andrea Paciotto, partnering with the Bosnian theater company Jacavaz. The score and video design are by visual artist Jan Klug.
Following New York, Brothers will be presented in Spoleto, Italy, and Banja Luka, Bosnia..
Tickets are $25 and available on-line at www.La MaMa.org, by calling (212) 475-7710 or at the main La MaMa box office.
Ellis Nassour is an international media journalist, and author of Honky Tonk Angel: The Intimate Story of Patsy Cline, which he has adapted into a musical for the stage. Visit www.patsyclinehta.com.

He can be reached at [email protected]





Why are you looking all the way down here?
For more articles by Ellis Nassour, click the links below!

Previous: Luminous Patti LuPone, Grand Boyd Gaines and Breathtaking Laura Benanti in Gilt Gypsy; Meryl Streep Honors; Bette Davis Centennial; More

Next: Sir Andrew as Idol Mentor; Drama Desk Nominations TBA; Alan Menken Saluted; A Hot Mama Returns; Tribeca Film Fest; More

Or go to the Archives