The Tony Awards, to be hosted on June 15 live in a three-hour telecast on CBS from Radio City Music Hall by Oscar-winner Whoopi Goldberg, will have Tony-winning TV stars David Hyde Pierce and Sara Ramirez on hand Tuesday to announce nominations from the New York Public Library for Performing Arts Bruno Walter Auditorium.
Goldberg is one of the elite group who've won the Oscar, Golden Globe and Tony [not for acting, but producing.
The Awards will be exe produced by Ricky Kirshner and Glenn Weiss. "How lucky are we to have such a legendary performer presiding over this year's Tony?" said Weiss, in his eighth year, who will also direct.
"Whoopi not only brings with her an immense amount of star-power, but also a charm and humor that is all her own," said Kirshner, aboard for his 14th year.
The Tonys, founded in 1947 by the American Theatre Wing, honor actress/producer Antoinette Perry. They are co-presented by the Broadway League. For more information on the fascinating life of Ms. Perry and tons of information on the Tonys, including multimedia and interactive features, visit www.TonyAwards.com, designed and hosted by IBM.
At the Wing, Sondra Gilman is chairman, Doug Leeds president and Howard Sherman is exec director. At the League, Nina Lannan is chairman and Charlotte St. Martin is exec director. Veteran Tony and Drama Desk-winning producer Elizabeth I. McCann is managing producer with Joey Parnes as coordinating producer.
Official Tony partners include Visa, Hilton Hotels, Continental Airlines and Sprint.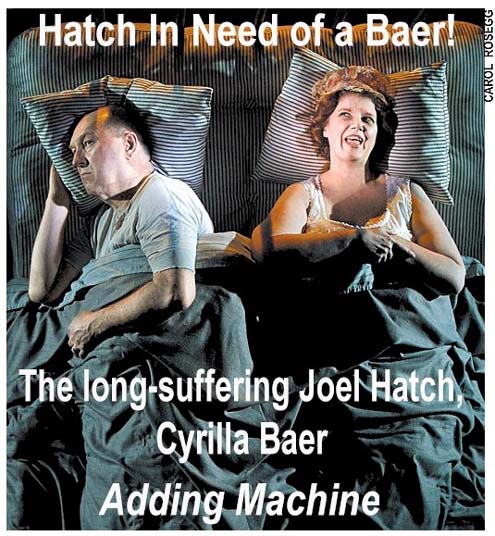 Outstanding Musical:
A Catered Affair
Adding Machine
Passing Strange
The Glorious Ones
The Slug Bearers of Kayrol Island
Xanadu
Outstanding Revival, Play:
Boeing-Boeing
Happy Days
Macbeth
The Country Girl
The Dining Room
The Return of the Prodigal
Outstanding Revival, Musical:
Black Nativity
Gypsy
South Pacific
Sunday in the Park with George
Take Me Along
Outstanding Actor, Play:
Bill Champion, Intimate Exchanges
Kevin Kline, Cyrano de Bergerac
Bill Pullman, Peter and Jerry
Mark Rylance, Boeing-Boeing
Tobias Segal, From Up Here
Rufus Sewell, Rock 'n' Roll
[This category couldn't be expanded to salute not only Morgan Freeman's return to Broadway but his performance in Country Girl and Ben Daniels Bway debut and show-stopping turn in LLD?]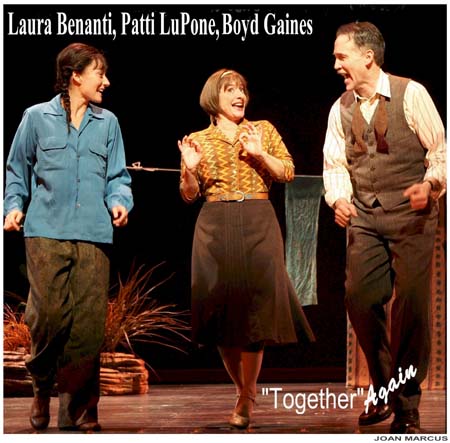 Outstanding Actress, Play:
Sinead Cusack, Rock 'n' Roll
Deanna Dunagan, August: Osage County
Frances McDormand, The Country Girl
Amy Morton, August: Osage County
Fiona Shaw, Happy Days
Julie White, From Up Here
[Hard to explain the absence of Laura Linney, for her icy LLD performance and Cat...'s Phylica Rashad for her wailing Big Mama.]
[Aside to McDormand - and Morgan: What do you mean, you don't sign autographs? Those fans are the ones who gave you the ability to get top billing!]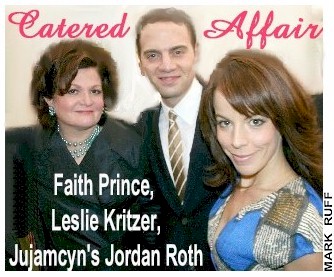 Outstanding Actor, Musical:
Daniel Breaker, Passing Strange
André De Shields, Black Nativity
Daniel Evans, Sunday...Park...George
Cheyenne Jackson, Xanadu
Matthew Morrison, 10 Million Miles
Paulo Szot, South Pacific
Outstanding Actress, Musical:
Sierra Boggess, The Little Mermaid
Patti LuPone, Gypsy
Kelli O'Hara, South Pacific
Faith Prince, A Catered Affair
Alice Ripley, Next to Normal
Jenna Russell, Sunday...Park...George
[A little aside: Kelli O'Hara and Faith Prince are the very definition of charming and lovely. And darn it, Patti L. didn't show. Maybe she was on vocal rest.]
Outstanding Featured Actor, Play:
John Cullum, The Conscientious Objector
Conleth Hill, The Seafarer
Francis Jue, Yellow Face
Arian Moayed, Masked
Jeff Perry, August: Osage County
Michael T. Weiss, Scarcity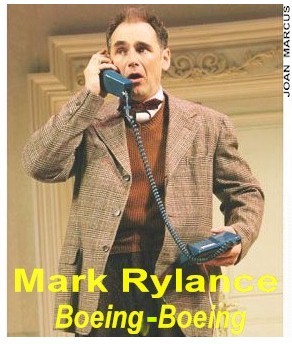 Outstanding Featured Actress, Play:
Elizabeth Ashley, Dividing the Estate
Johanna Day, Peter and Jerry
Zoe Kazan, 100 Saints You Should Know
Linda Lavin, The New Century
Rondi Reed, August: Osage County
Marisa Tomei, Top Girls
[Tomei is just as lovely with clothes on. Ashley's a hoot. Could Lavin be more gracious? Aside to LL: buy that TNC sparkling jacket you enter in. Dynamite!]
Outstanding Featured Actor, Musical:
Danny Burstein, South Pacific
Christopher Fitzgerald, Young Frankenstein
Boyd Gaines, Gypsy
Shuler Hensley, Young Frankenstein
Bobby Steggert, The Slug Bearers...
Tom Wopat, A Catered Affair
Outstanding Featured Actress, Musical:
Laura Benanti, Gypsy
Leslie Kritzer, Catered Affair
Andrea Martin, Young Frankenstein
Mary Testa, Xanadu
Amy Warren, Adding Machine
Mare Winningham, 10 Million Miles
[How did Jackie Hoffman of Xanadu and Mary McCormack of Boeing-Boeing escape this category?]
Outstanding Director, Play:
David Schweizer, Horizon
Anna D. Shapiro, August: Osage County
Leigh Silverman, From Up Here
Jonathan Silverstein, The Dining Room
Matthew Warchus, Boeing-Boeing
Deborah Warner, Happy Days
Outstanding Director, Musical:
Christopher Ashley, Xanadu
Sam Buntrock, Sunday...Park...George
David Cromer, Adding Machine
John Doyle, Catered Affair
Bob McGrath, Slug Bearers...
Bartlett Sher, South Pacific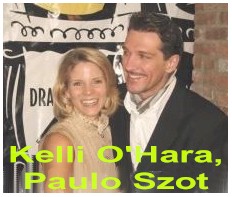 Outstanding Choreography:
Karole Armitage, Passing Strange
Rob Ashford, Cry-Baby l
Shana Carroll and Gypsy Snider, Traces
Dan Knechtges, Xanadu
Peter Pucci, Queens Boulevard
Susan Stroman, Young Frankenstein
[That Susan Stroman is something! Trying to throw off the paparazzi by losing weight and coming without her baseball cap on!]
Outstanding Music:
John Bucchino, Catered Affair
Stephen Flaherty, The Glorious Ones
Tom Kitt, Next to Normal
Mark Mulcahy, The Slug Bearers...
Joshua Schmidt, Adding Machine
Stew, Heidi Rodewald, Passing Strange
Outstanding Lyrics:
Lynn Ahrens, The Glorious Ones
Mel Brooks, Young Frankenstein
John Bucchino, Catered Affair
Ben Katchor, The Slug Bearers...
Jason Loewith, Joshua Schmidt, Adding Machine
Stew, Passing Strange
[Was there anyone more thrilled than John Bucchino? Are there nicer folks in this crazy business than Lynn Ahrens and Stephen Flaherty?]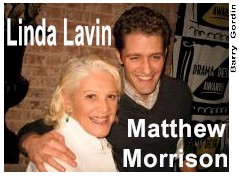 Outstanding Book of a Musical:
Douglas Carter Beane, Xanadu
Harvey Fierstein, Catered Affair
Ben Katchor, The Slug Bearers...
Jason Loewith, Joshua Schmidt, Adding Machine
Stew, Passing Strange
Eric Weinberger, Wanda's World
[Have you ever been exposed to Harvey Fierstein's wicked, devilish sense of humor? Move over Bruce Valanch!]
Outstanding Solo Performance:
Kris Andersson, Dixie's Tupperware Party
Laurence Fishburne, Thurgood
Stephen Lang, Beyond Glory
April Yvette Thompson, Liberty City
Unique Theatrical Experience:
Between the Devil and the Deep Blue Sea
Cut to the Chase
Fabrik
The 39 Steps
Traces
Robert R. Blume is exec producer of the Drama Desk Awards, with Lauren Class Schneider producing and Jeff Kalpak directing. Roy A. Somlyo is consulting producer.
The DDs will be webcast by TheaterMania.com and broadcast live on satellite radio XM - 28 On Broadway.

Tickets to the Drama Desk Awards are $225, with Gold VIP ticketing [first eight rows, surrounded by the nominees] at $800, which includes invitations to the star-studded pre- and post-parties. To purchase, visit www.Theatermania.com/DramaDesk or call (212) 253-3101.

Yes, Yes for No, No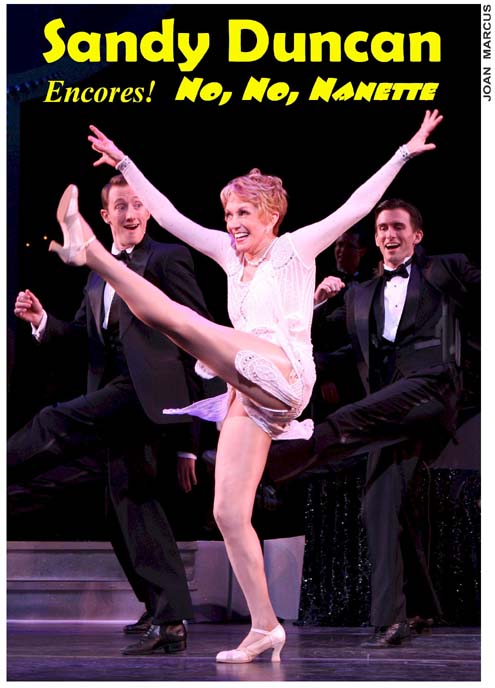 Sandy Duncan, Charles Kimbrough, Beth Leavel, Michael Berresse, Mara Davi, Shonn Wiley and Rosie O'Donnell are featured along with a cast of 30 in No, No, Nanette, the final 2008 Encores! presentation of City Center season. Long-time Encores! director Walter Bobbie [Chicago] has returned to direct NNN, which has music direction by Encores! founding M.D. Rob Fisher, directing the huge Encores! orchestra, and choreography by Randy Skinner.
There are four remaining performances: tonight, Saturday matinee and evening and Sunday at 6:30. On Monday, there will be the annual City Center gala benefit performance.
The musical premiered on Broadway in 1925 and had a hugely successful 1971 revival, supervised by none other than Busby Berkeley and starring Ruby Keeler [in the Encores! role played by Duncan], in her first stage appearance in 40 years, and veteran screen comedienne Patsy Kelly [whose shoes O'Donnell is, indeed, filling quite well].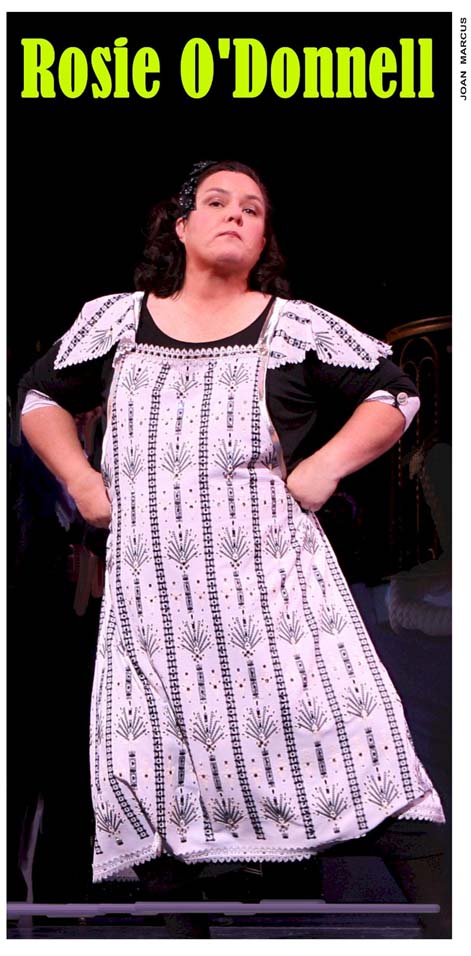 Based on the comedy My Lady Friends by Frank Mandel and Emily Nyitray, the ultra light-weight No, No, Nanette is a tale of millionaires, misunderstood wives, bathing beauties, wanton women and flappers. Nanette [Davi], a Manhattan heiress running away to bad and bawdy Atlantic City is followed by her straight-laced, tap-dancing fiance [Wiley], her cook/chaperone [O'Donnell], her lawyer and his wife [Berresse, Leavel], her legal guardians [Duncan, Kimbrough] and a bunch of happy-go-lucky coconuts.
NNN has music by Vincent Youmans, lyrics by Irving Caesar and Otto Harbach and book by Otto Harbach and Frank Mandel. The score features such classics as "Tea for Two" and "I Want to Be Happy" in addition to such tunes as "I've Confessed to the Breeze," "Too Many Rings Around Rosie," " "Where-Has-My-Hubby-Gone Blues," "Take a Little One-Step" and, as danced by Berresse and Leavel, an Encores! showstopper, "You Can Dance with Any Girl."
Ticket are $25-$95 and available at the box office and CityTix, (212) 581-1212.

Broadway 1965
Scott Siegel and Town Hall present another installment of the acclaimed Broadway by the Year series at 8 P.M. on Monday, saluting the Broadway Musicals of 1965.
Headlining the cast is Brian d'Arcy James [Next to Normal; Broadway's soon-to-be Shrek], four-time Tony nominee and DD-winner Gregg Edelman, two-time Tony and three-time DD-nominee Marc Kudisch and Julia Murney [Wicked].
Also featured will be Brandon Cutrell, sensational young tap star Kendrick Jones, Shannon Lewis, Julie Reyburn and Melinda Sullivan. Lorin Latarro and David Eggers will not only perform but also direct and choreograph.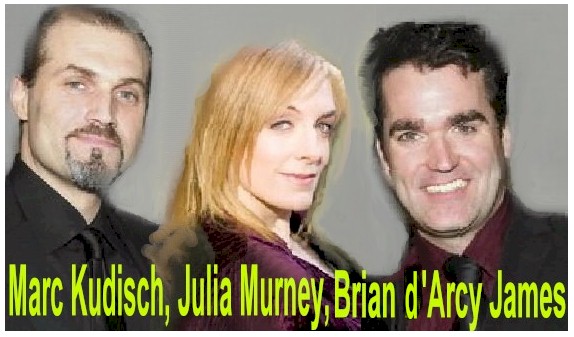 There will be songs, surely at least one "unplugged," from such shows as Man of La Mancha, On A Clear Day You Can See Forever, Do I Hear A Waltz?, Flora, The Red
Menace and The Roar of the Greasepaint, The Smell of the Crowd.
Included in the price of admission is Siegel's witty commentary on the season and it's highs and lows.
BBTY musical director is Ross Patterson, who also masters the keyboards with his Little Big Band.
"Broadway Musicals of 1965 matches an extraordinary, dream cast with one of
the greatest years on the Great White Way," says Siegel. "The concert will feature
virtually non-stop classics."
Among the tunes are "Why Did I Choose You?", "She Touched Me," "Who Can I Turn to?" and "The Impossible Dream."
"When I got Marc, Gregg and Brian in the same concert," continues Siegel, "they asked if I could put them in a number together. I was happy to oblige. It will surely be another memorable moment in the series."
Tickets are $45 and $50 and available at the box office or through TicketMaster, (212) 307-4100 or www.ticketmaster.com
Save the date: Monday, June 16 at 8 P.M., Emily Skinner directs Broadway By The Year's Broadway Musicals of 1979. Already signed to remember such shows as Evita, I Remember Mama, Sarava, Sweeney Todd and They're Playing Our Song are Jeff McCarthy, Terri Klausner and Noah Racey. Skinner will also perform.
BBTY is sponsored by Bank of America and the Edythe Kenner Foundation.
New Voices, New Scores
Premieres, a not-for-profit musical theater development company, will host Inner Voices: Solo Musicals, to showcase three new works by emerging talent and starring performers who have, well, emerged, at the Zipper Factory Theatre, beginning Monday at 7 P.M. The series will run through May 30.
There will be librettos by Ellen Fitzhugh, Laura Harrington and Michelle Lowe; scores by multiple Tony and DD-nominated Michael John LaChiusa, Jenny Giering and Scott Davenport Richards; and the work of directors Jonathan Buttrell, Jeremy Dobrish and DD-nominated Jack Cummings III.
The performers include Tony and DD-winner Award winner Victoria Clark, Jennifer Damiano [Spring Awakening] and Tony and DD-nominee Barbara Walsh.
Tickets are $20 and available by calling (212) 352-3101 or online at www.thezipperfactory.com, where you will find information.

Therapy for therapy
Therapy Bar [348 West 52nd Street] and Project Achieve will present fourth annual event to promote HIV Vaccine Awareness Day and salute HIV-awareness volunteers on May 14th at 8 P.M. The show, also sponsored by Columbia University Medical Center, AIDS Vaccine Advocacy Coalition and Gay Men of African Descent, will feature performers Jalynn Steele, Jacqueline Dupre, Mike Agnew and Jiggly Caliente. Co-hosting will be Therapy's popular Peppermint.
Project Achieve's goal is to find ways to prevent HIV infection and other sexually transmitted diseases. For more information, go to nycvaccine.org. Admission is free.

South PacificSalute>
Lincoln Center Theater's critically acclaimed production of South Pacificwill be the subject of a 30 minute special, A Salute To Rodgers & Hammerstein's South Pacific, May 17 at 7:30 P.M. on WABC-TV, with a rebroadcast scheduled for May 25 at 5:30 A.M.
Eyewitness News anchor Sade Baderinwa will host, giving viewers a rare behind-the-scenes look and doing interviews with Kelli O'Hara, Paulo Szot, Matthew Morrison, Danny Burstein and Loretta Ables Sayre, director Bartlett Sher and Mary Rodgers Guettel [daughter of RR, mother of Adam]. The program will feature rarely seen footage of Rodgers and HammersteinI and performance footage featuring the musical's original stars Mary Martin and Ezio Pinza.
The South Pacific revival has been nominated for eight Drama Desk Awards, including Best Musical Revival, and will surely have a slew of Tony noms on Tuesday. The original cast recording will be released by Sony Masterworks on May 27.

And Don't Forget the OBIEs
No more elitists at the Obies! Come one, come all! For years, the Obies has been an elite downtown restricted to an invitation-only audience. Change! Now it will be open to the world! The Village Voice OBIE Awards will be web cast live from Webster Hall on May 19 at 8pm. To view, log on to www.villagevoice.com/obies or www.iclips.net.
The Awards will be hosted by Elizabeth Marvel and Bill Camp. Presenters will include Neil Patrick Harris, Priscilla Lopez, S. Epatha Merkerson, Marisa Tomei, Bradley Whitford and Julie White. The cast of Passing Strange, which premiered Off Bway before its move to the Belasco, will perform.
The OBIEs are chaired by Voice's chief theater critic Michael Feingold.

Stars Salute Emerging Musical Writers
The DD-winning York Theatre Company, whose mission is to produce new musicals and celebrate some vintage ones, will present New, Emerging, Outstanding [NEO], the fourth in a series of annual concerts celebrating emerging musical theater writers, May 19 at the Theatre at Saint Peter's. Following a 6:30 P.M. supper and silent auction, performances begin at 8:30.
Among those scheduled to sing the works of emerging writers are Nancy Anderson [Encores! NNN], Michael Arden [The Times They Are A-Changin'], Skylar Astin [Spring Awakening], Deborah Craig [...Spelling Bee], Curtis Holbrook [Xanadu], Pamela Myers, Christiane Noll, Laura Osnes [Grease], Aaron Ramey [Curtains], Anthony Rapp, Bobby Steggert [110 in the Shade] and Aaron Tveit [Next to Normal].
Tickets are $125-$500. To purchase, visit www.yorktheatre.org, or call the York box office, (212) 935-5820, after Noon.

Long Island Theater Gateway
L.I.'s premiere professional Equity musical theatre, the state-of-the-art 500-seat Gateway Playhouse in Bellport, is celebrating its 59th season with "= a blockbuster lineup of something for everyone" and at great season subscription discounts. Located 60 miles East of the City on L.I.'s South Shore, Gateway is considered one of the Top Ten summer theatres.

Gateway is offering 33% off season subscriptions. which includes five musicals, such as Tony-winning The Will Rogers Follies [May 21-June 14]; and the Forbidden Broadway revue [June 18-July 6.
The premiere L.I. professional engagement of Disney's Beauty and the Beast will play at the Patchogue Theatre, Patchogue, NY [July 9-26]. The ambitious season also includes Jerome Kern and Oscar Hammerstein's Show Boat, one American musical theater's all-time masterpieces. The winner of the most ever Tony Awards, The Producers, will make its L.I. debut at the Patchogue [August 27-September 13]. The season closes at Bellport with the Island premiere The Wedding Singer [September 17-October 4].
Tickets range from $39-$43 for adults, $25 for children 12 and under, and can be purchased by calling (888) 4-TIX-NOW, on the web at www.gatewayplayhouse.com, or in person at the Gateway Bellport box office.
Ellis Nassour is an international media journalist, and author of Honky Tonk Angel: The Intimate Story of Patsy Cline, which he has adapted into a musical for the stage. Visit www.patsyclinehta.com.

He can be reached at [email protected]





Why are you looking all the way down here?
For more articles by Ellis Nassour, click the links below!

Previous: Sir Andrew as Idol Mentor; Drama Desk Nominations TBA; Alan Menken Saluted; A Hot Mama Returns; Tribeca Film Fest; More

Next: A Visit with Chita Rivera at Signature's The Visit

Or go to the Archives