TV viewers got a rare glimpse of a relaxed Sir Andrew Lloyd Webber when he returned to Season Seven of American Idol for two nights this week as "mentor" to the six remaining contestants: David Archuleta, Jason Castro, David Cook, Syesha Mercado Carly Smithson and Brooke White.
Normally, quite ill at ease in front of the camera and audiences, ALW speaking from the stage of Phantom: The Las Vegas Spectacular at the Venetian Casino and onstage at the Kodak Theatre was relaxed with the "kids" and reported he "gave them a belief in themselves."
A natural charm and recognition of people as people often eludes the erudite Sir Andy, who lives in a strata all his own; but here he worked with the singers in a down-to-earth way helping them select songs that best suited them. The majority of the tunes had lyrics by Charles Hart [POTO] and Tim Rice [Jesus Christ Superstar].
On the second night, after playing on the concert grand as the "Final Six" performed "All I Ask of You," ALW sat with host Ryan Seacrest. Though Sir Andy appeared to be nervous, often slapping his hands against his knees [he could have been preoccupied measuring the beat of a new tune he was composing in his head for the sequel to POTO], he was highly complimentary of the six and, lo and behold, even cracked jokes [a couple, spot on].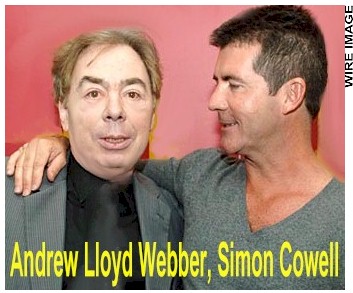 When Seacrest brought up the moment the night before when White lost the lyrics just as she began "You Must Love Me," he called it a "very unique moment," a-first-time-ever; but White had gone blank before, and only three weeks ago Archuleta, who normally gets praised to the high heavens, took heat for forgetting the lyrics to a Beatles classic. ALW pointed out this happens to some of the best singers "and has happened here, just last night, on the [judges'] panel." Simon Cowell was playfully and devilishly pointing to Paula Abdul, who often gets tongue-tied.
We've seen instances where Barbara Cook has gone blank on tunes she's sung a hundred or more times. There's never a performance by country queen Loretta Lynn when she's not whispered lyrics to tunes, even some she wrote, by her bandleader.
"You Must Love Me" is the song that reunited Webber and Rice, albeit briefly, for the film adaptation of Evita [it was incorporated into the score of the 2006 West End revival],
The judges weren't too impressed with White's interpretation, but audiences gave her a typical thunderous standing ovation. And she survived the massive voting [28 million] to return next week.
The judges and Webber were puzzled at Castro [he's the white, non-Jamaican with the dreadlocks] and his choice of "Memory." Cowell felt "it came over as if you were a young guy being forced by your mom and dad to sing a song at a wedding you didn't want to sing." Randy "Dawd" Jackson labeled it a "train wreck." A critic termed it "grueling." ALW noted it was "most curious."
Seacrest asked if the contestants had taken his advice. Some had, "but I don't think Jason would take my advice whatever I said. I didn't want to agree with Simon last night [Tuesday]. Jason's very talented and he wanted to do it and that's that."
He and Seacrest discussed the "discipline" of singing onstage as opposed to TV. Webber said that onstage singers have more mannerisms. As far as connecting with audiences, he noted that the singers on Idol have it far harder. "This is a live show and they not only have to impress the panel of judges, the audience here but also those watching at home."
Jackson displayed a great knowledge of ALW's body of work and spoke of the difficulty pop singers have trying to take songs from a musical and make them their own - as Archuleta quite successfully and spectacularly did with his rendition of POTO's "Think Of Me." It's often been said that he could sing the names in the phone book and make it entertaining.
The bombshell came at the very end of the hour when Seacrest announced that strong-willed rocker Carly Smithson, she of the colorfully tattooed right arm [and the totally tattooed husband], who at ALW's urging had sung the rousing "Jesus Christ Superstar" when she had planned to sing the poignant "All I Ask Of You" would be going home. Disbelief erupted - not only in the Kodak but on chat rooms galore. Smithson, a class act with a phenomenal range, didn't break down in tears. She took it in professional stride and let it be known she'd be heard from again. On the American Idol tour!
Amazingly, chat rooms were buzzing that Smithson had committed "blasphemy," which might give you an idea of of the naivete of those who vote [not just once but numerous times]. From its Broadway debut to performances today, it's not unusual to see the landmark rock opera picketed by shouting protesters. Had ALW, noting Smithson's bold tattoos and remembering her rock timbre, not suggested she sing "JCS," she certainly would have been very much at home with "I Don't Know How to Love Him," but undoubtedly someone somewhere would have taken offense at that.
The show also took a look at Idol contestants currently starring on Broadway, such as Clay Aiken in Spamalot [as Sir Robin and Brother Maynard through May 4], Tamyra Gray in Rent and Fantasia's acclaimed run in Color Purple.
Speaking of Aiken, the multi-platinum-selling recording artist, has also been busy in the studio. Next week, his fourth CD, On My Way Here [RCA/19 Entertainment] is dropping into retail and online stores. The album chronicles Aiken's experiences over the last five years, as he ascended from contestant on AI Season 2 to pop superstar. The "message" on the 12 tracks [why aren't there more?] is "how the lessons we learn while growing up shape us into who we become as adults."
For more on Aiken, visit www.clayaiken.com.

And the Drama Desk Award Nominees Are
Nominations for the 53rd Annual Drama Desk Awards will be announced Monday at 9:45 A.M. by multi-award winning stage, screen and TV stars Bebe Neuwirth and Len Cariou at the Friars Club. Once again, the theater community will see the importance Nominating Committee chair Barbara Siegel and the committee of five very serious theatergoers [Dan Bacalzo, Robert Cashill, Celia Ipiotis, Gerard Raymond and Richard Ridge] put on recognizing not only the best of Broadway but also of Off and Off Off.

The DDs, hosted for the first time by the cast of a show, [title of show], which opens in July on Bway after its successful Off Bway run two seasons ago, take place May 18 at 9 P.M. in the F.H. LaGuardia Concert Hall at Lincoln Center.

Alan Menken Saluted
The Broadway League bookers and shakers were in town seeing all that's new and hot on Broadway and every night it was party time. Disney Theatricals pulled out all the stops with a concert honoring Oscar, Tony and DD-winning composer Alan Menken, hosted by no less than DT chief Thomas Schumacher with performances by Disney's past and present Broadway stars. It was held in the sparkling jewel box Hudson Theatre, once a legit house [still spectacular with its Tiffany mosaics lining the boxes]. [Another Hudson claim to fame is that runs the entire East/West block of West 44th and thus has a quite spacious lobby, something that is missing in most Bway houses [and the way the theatre owners keep adding rows to the back of the orchestra, soon you'll walk into the theare right off the sidewalk].
Schumacher, aptly aided by surprise guest superstar sidekick Donny Osmond [looking 30 in spite of what his driver's license states; and in a white leather jacket], announced that partygoers would hear probably for the first time songs that were cut from Disney shows.
Broadway's reigning Ariel, Sierra Boggess, sang "Never Again" [Menken/Tim Rice] from the King David concert that reopened the New Amsterdam Theatre after Disney's multi-million dollar restoration of the former home of the Ziegfeld Follies. Little Mermaid's prince Sean Palmer sang "Proud of Your Boy" [Menken/Rice], which was cut from Aladdin when the decision was made to send the rogue's mommy to the cutting room floor.
Mary Poppins herself, Ashley Brown, performed "Change in Me" [Menken/Ashman] Richard and Robert Sherman], dropped from Beauty and the Beast. Tarzan's New York adventure came to life in the form of returning jungle man Josh Strickland, singing "Made of Stone" [Menken/Steven Schwartz, from Hunchback of Notre Dame, which came to life onstage in Europe and may have Quasi ringin' them bells on Bway soon.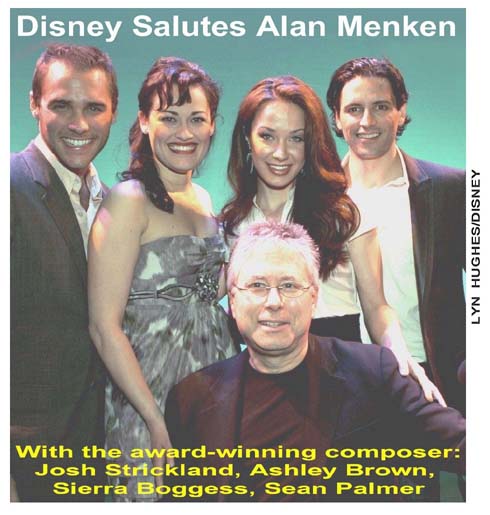 Menken introduced by Schumacher as "the most talented person I know - all that amazing talent and all that ego." The composer stumbled onstage in disbelief. "Me? Ego? What?" Then he sang "Shooting Star" [Menken/David Zipple], a tune cut from the animated Hercules. Menken has a fine voice and should consider an evening of cabaret followed by a one-man show showcasing his and his collaborators work.
Guests included LM's evil Ursula Sherie Rene Scott, looking quite stunning, and others from LM's underwater kingdom, such as John Treacy Egan and Tyler Maynard.
Menken, with late partner Howard Ashman and other collaborators is an eight-time Academy Award winner in the Song and Score categories [with 15 nominations] and a Tony [B&B] and DD-nominee [Little Shop of Horrors].
For the LM film, Menken and Ashman won Oscars for Best Score and Best Song, "Under the Sea"; and were nominated for Best Song for "Kiss the Girl."
"Many friends in theater ask me, 'Why do you keep working at Disney. Don't you want to come back to Broadway?'" says Menken. "Now, I'm back. It's where I am right now." And he's back with a lot of projects, including adaptations of his film musical Newsies; Sister Act, "which for now has gone back to the drawing boards" before its planned West End debut; and Leap of Faith, [with LM collaborator Glenn Slater] which he sees as a throwback to his and Ashman's early musical, God Bless Mr. Rosewater. He announced that film director Taylor Hackford [Ray, An Officer and a Gentleman] will make his theater directorial debut with Leap.
"Taylor's movies have been very musical," Menken points out. "Many aspects of his films show that he'll be very comfortable moving about in a theatrical place."
As Disney's Number One musical go-to guy, Menken said, "I found a very good medium for what it is I do and what I enjoy - projects that are tuneful, uplifting and that will appeal to a wide spectrum of audiences. That's my wheelhouse. I do it well. I understand it. I love it. I love catchy songs. I love tongue-in-cheek."
In addition to launching the refitted Mermaid, Menken and Stephen Schwartz had a huge movie hit with Disney's musical fantasy Enchanted, just released on DVD. It was Oscar nominated for three Best Songs and two Golden Globes: Best Song and Best Actress, Musical or Comedy, Amy Adams [soon to be co-starring opposite Meryl Streep in the film adaptation of Doubt].

How to Put the Show On
Thomas Schumacher has not only been busy traveling and supervising the world-wide Disney stage shows but also working on the Second Edition of his very popular How Does the Show Go On?, An Introduction to the Theater [with Jeff Kurt; Disney Editions; 120 pages; Vastly illustrated; SRP $20], a book that gives interactive a new definition. It's a gorgeous collectible and a must for theaterlovers.
Full of surprises - some pop up, some pull out - HDTSGO gives readers the opportunity to meet the casts and behind-the-scene workers and explore the inner workings of theater and theatre buildings. With the new edition, expanded to include The Little Mermaid and more Mary Poppins, it's a complete guide to what goes on behind and in front of the curtain [from playwright, director, choreographer, actor, designers and stage manager to the ushers].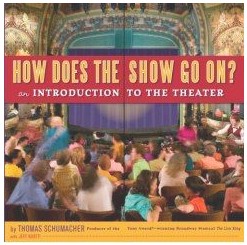 Schumacher stated, "I wanted to create the kind of book about the theater that I would have enjoyed when I was a kid." Another goal was to craft an indispensable guide "for young theater lovers to show the countless career opportunities that do not involve being on stage."
He launched a Gift-A-Book pilot program to provide drama teachers and students throughout New York public schools with gift copies of HDTSGO. "This book exists because of the great inspiration of my childhood teachers," he explains. "When I heard from people that they were buying multiple copies to give as gifts, I thought it would be great to offer that concept to anyone who wanted to gift a book to a public school."
Recently, he visited with students at Chicago's Hitch Elementary School and signed several thousand copies.

Individuals interested in gifting a copy of How Does The Show Go On? to a City public school can go to www.howdoestheshowgoon.com for instructions.

Hot Mama McNight Is Back
After much, much, much too long an absence in a city she loves, Tony-nominated actress and singer Sharon McNight [Starmites] is back and unleashing "a star-shower of erudite show business fun" with her incredibly powerful chops but, sadly, it's two nights only. McKnight is announcing her return in style with a new show, Gone, But Not Forgotten, tonight and tomorrow at the Metropolitan Room, both shows at 10 P.M.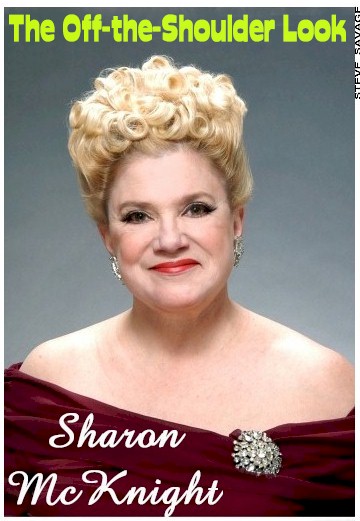 In a to-say-the-least eclectic repertory that ranges from blues and country "to good old-fashioned entertainment," McNight gleefully channels "a rogue's gallery of some of the juiciest, funniest and down-to-earth lady legends of the silver screen, the stage and the recording world." Among the grand dames are Pearl Bailey, Ozark Opera comedienne Judy Canova, Patsy Cline, Bette Davis, Hildegarde, Madeline Kahn, Martha Raye, Sophie Tucker and, adds, McNight, laughing, "the Ethels - Merman and Waters."
McNight, winner of East Coast and West Coast cabaret awards galore, including the MAC, Bistro and Nightlife, has a huge following. Bistro-winning musical director Ian Herman will tackle the keyboards.
Tickets for Sharon McKnight and Gone But Not Forgotten are $20 plus $15 minimum. Reservations recommended. Call (212) 206-0440 or book online at www.metropolitanroom.com. For more information on McKnight, visit www.sharonmcnight.com.

Country Takes Manhattan - One Night Only
Tuesday at 9:30, for one night only, Grammy Award winning singer/songwriter Larry Gatlin returns, joined by brothers Steve and Rudy, presented by Jamie deRoy. Steve Smith will accompany on guitar. Special guests will be the Nynth Avenue Drifters.
The bros' mastery and art of family and gospel harmony spawned some of country music's most memorable hits.
Tickets for An Evening with Larry Gatlin and the Gatlin Brothers are $35 plus $15 minimum. To reserve, call (212) 206-0440 or book online at www.metropolitanroom.com..

Come on Down(town)!
As expected, the variety of the Seventh Annual Tribeca Film Festival, presented by American Express and running indoors and outdoors all over West Side/East Side Lower Manhattan and up into the Teens, is staggering. Selections, running from shorts and docs to big-ticket feature premieres, have been entered from around the world by high-profile and newcomer directors. So, come on downtown. And the price is right.
Since its founding, by Tribeca movers and shakers Robert De Niro, Jane Rosenthal and Craig Hatkoff in 2001 to boost downtown morale and business following 9/11, the Festival has attracted over two million and generated more than $425 million in economic activity.

Go to www.tribecafilmfestival.org or call (866) 941-3378 for package ticket purchase, senior and student discounts, venues, panels, free events, schedules, the complete film roster and film showcase categories. Single tickets, at $15 each, can be bought at the Festival box office at 15 Laight Street, online and phone.

At the Ballet
The jewel box Dicapo Opera Theatre [184 East 76th Street at Lexington Avenue] will host acclaimned Dances Patrelle for its 19th repertory season, Women, Men ... and Women, May 2 -4. The program will include a world premiere as well as two classics by founder Francis Patrelle.
Is That All There Is? [premiere] features the hit vocal by music great Peggy Lee. The presentation is supported by a 2007 choreography award from the Choo-San Goh & H. Robert Magee Foundation. Black & Blue ... and Bartok, with music by the composer, predates the company's 1988 founding. Fuoco a Fiama, with music by Respiggi and staged by dance legend Cynthia Gregory, is based on the love letters between Lucrezia Borgia and Pietro Bembo. Gregory stages.
A.D. Patrelle has created ballets for distinguished dancers worldwide [including Lynn Aaron, Lourdes Lopez, Douglas Martin, Jock Soto, Tim Wengerd and Gregory]. In additioin to preserving Patrelle's works, dP provides a forum by which experienced dancers mentor young dancers.
Tickets are $20 and $50, with Patron seating at $100. Ticketholders are invited to join the company for the May 2 opening night reception. To purchase, call (212) 868-4444 or go online at www.smarttix.com and www.dancespatrelle.org.

White Will Host Lortels
Julie White, currently starring in Manhattan Theatre Club's From Up Here [City Center, Stage 1], will host the 23rd annual Lucille Lortel Awards, which recognize Off Bway achievement, on May 5th at the Union Square Theatre [100 East 17th Street of Park Avenue South].
White won acclaim Off and on Bway as the Hollywood agent in The Little Dog Laughed for which she garnered a Tony for Best Actress and DD and Obie nominations, among many others.
A complete list of nominations can be found on the website, www.lortelaward.com.

New On CD
Karen Akers, international award-winning chanteuse and star of stage, screen and TV, returns May 13th for one month for her ninth consecutive Spring engagement at the Algonquiun Oak Room. The new show is titled Move On and will feature Flaherty and Ahrens, McBroom, Porter, Rodgers and Hart, Sondheim and the poetry of controversial Algonquin habitue and wit Dorothy Parker.

Ms. Akers will be accompanied on piano by her longtime musical director Don Rebic and directed by Eric Michael Gillett.

Performances at 9 P.M. Tuesdays - Thursdays with 11:30 shows added on Fridays and Saturdays. Admission is a $65 music charge plus $30 minimum. At the weekend early shows, there is a $70 prix-fixe dinner with dinner seatings at 7 and 7:30. For reservations, call (212) 419-9331.

Akers's current CD "Simply Styne" (DRG Records) has just been released. For more on Akers, visit
www.karenakers.com
New from William Finn is a deluxe, two-disc set of his Off Bway revue, Make Me A Song: The Music of William Finn [Ghostlight Records] recorded live duing its New World Stages run. The musical was conceived and directed by Rob Ruggiero. Darren Cohen was musical director; Michael Morris, musical supervisor.

Feinstein at Feinstein's
Following Linda Eder, whose engagement ends this weekend, Michael Feinstein will be returning to, of course, Feinstein's at Loews Regency from May 8-17 with a show celebrating the 50-year collaboration of the Oscar, Grammy and GG-winning lyricists Alan and Marilyn Bergman. Alan Bergman will appear as a guest vocalist along with nightly guest stars.
Feinstein plays to perform such Bergman standards as "The Windmills of Your Mind," "How Do You Keep The Music Playing" and "Where Do You Start?," in addition to some of their rarely heard songs. Musical director John Oddo will lead an "all-star" quintet.
Tuesday, Wednesday and Thursday shows are at 8:30 P.M.; and 8 and 10 on Friday and Saturday. All shows are $100 [$125, premium seats] plus a $40 minimum. Jackets suggested, not required. To reserve, call (212) 339-4095 or go online at feinsteinsatloewsregency.com and TicketWeb.com.
Ellis Nassour is an international media journalist, and author of Honky Tonk Angel: The Intimate Story of Patsy Cline, which he has adapted into a musical for the stage. Visit www.patsyclinehta.com.

He can be reached at [email protected]





Why are you looking all the way down here?
For more articles by Ellis Nassour, click the links below!

Previous: Matinee Idol: Paulo Szot of South Pacific; Marilyn Maye in Party Mood; More

Next: Tony Nominations Announced on Tuesday, Whoopi to Host Telecast; Drama Desk Awards May 18, Meet the Nominees; Yes, Yes, Nanette; Broadway 1965; More

Or go to the Archives