Will there be a lot of surprises in store Sunday night at the 62nd Annual Tony Awards?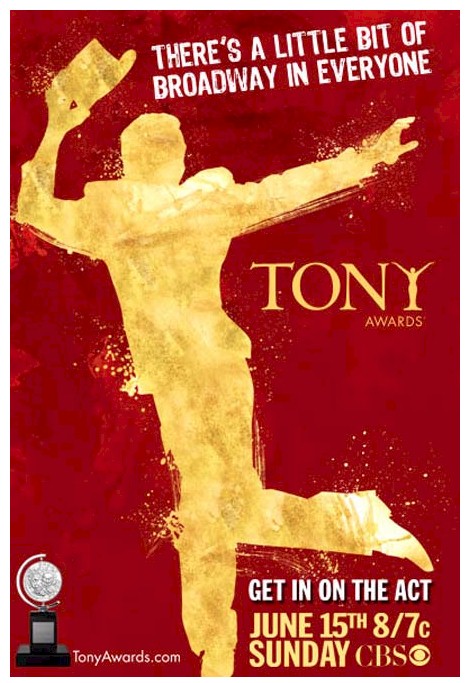 Once again, thanks to the loyalty of CBS and such sponsors as Visa, Broadway's coveted honors will be telecast June 15 live in a three-hour special from Radio City Music Hall, hosted by Oscar-winner Whoopi Goldberg.
Co-exec producer Glenn Weiss and director, returning for his eight telecast, said, "How lucky are we to have such a legendary performer presiding over this year's Tony?" Question mark? No, it should be an exclamation point. Co-exec producer Ricky Kirshner, aboard for his 14th year, added, "Whoopi not only brings with her an immense amount of star-power, but also a charm and humor that is all her own."
Regarding her debut as Tony host, Goldberg, an elite member of that honorary society of those who've won the Oscar, Golden Globe and Tony [not for acting, but producing], said, "I'm excited to be hosting the Tonys for the first time. I love Broadway [where she got my start in a controversial 1984 one-woman show under the direction of Mike Nichols] and I'm thrilled to be doing anything for the first time. I'm gonna have a blast."
Eleven musicals from the 2007-2008 season will strut their stuff during the telecast. The featured shows will include A Catered Affair, The Little Mermaid and Young Frankenstein - ironically, none of those received a Best Musical nod. But, says Awards executive producer Ricky Kirshner, "When you're trying to appeal across America, you want to get as many familiar names up there as possible."
Sierra Boggess will perform Alan Menken, Howard Ashman and Glenn Slater's score; Faith Prince, who is nominated, will do justice to a tune from John Bucchino's score, which should have been nominated [wouldn't you have liked to be a fly on the wall when that category was voted on by the vast list of Tony nominees?]; and naughty-but-nice and all-pumped-up Megan Mullally will channel Marilyn Monroe's breathy voice for one of the breathakingly marvelous tunes from Mel Brooks' score, which also wasn't nominated [how could that be?].
At the 62nd Tonys, a show not only doesn't have to be nominated to have a performance slot, it also doesn't have to be from this season. Appeal is another reason why the production team will have numbers from long-running Lion King, commemorating its 10th Anniversary on Broadway, and the soon-to-depart Rent after more than 12 years.
Appeal is the all-important ingredient if the ratings, which rank sometimes lower than New York's coldest winter, are to bubble up. Will Whoopi make a difference? She's a former Oscar host and can be depended on for deadpan and outrageous humor. However, it's the big, splasy numbers from big Broadway shows that keep the faithful tuned in.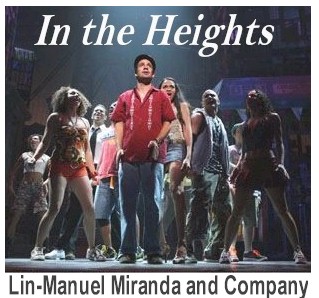 Increasing the appeal value will be the star-power of such presenters as Alec Baldwin, Christine Baranski, Gabriel Byrne, Kristin Chenoweth [how much of her upper self will she reveal this year?], Glenn Close, Harry Connick, Jr., Gina Gershon [coming solo?], Richard Griffiths, Laura Linney, John Lithgow, Liza Minnelli, Mary-Louise Parker, Mandy Patinkin, David Hyde Pierce, Daniel Radcliffe [in black tie, we presume, and not au natural], Brooke Sheilds, Marisa Tomei [fully clothed?], Lily Tomlin, John Waters and the devil-may-care Bradley Whitford.
There will certainly be a high-enegry dance number from the nominated Cry-Baby by nominated choreographer Rob Ashford [granted with the sound pumped up so loud in the Marquis that you can actually save money and just listen to the show from across the street, but has anyone listened to lyrics from nominees David Javerbaum and Adam Schlesinger's songs? Who says nominating committee members don't pay rapt attention?].
On the same great stage, making their appeal evident to potential ticket buyers glued to their sets, will be Grease, Lin-Manuel Miranda will undoubtedly appeal with some Salsa flavor from In the Heights; Alan Menken, Howard Ashman and Glenn Slater will provide memorable undersea moments from Little Mermaid; Stew and Heidi Rodewald will attempt to do the same to mesmerize viewers at RCMH, but not necessarily at home, with a jaunty blues ditty from Passing Strange; and, racing almost to the end of the alphabet, there'll be Xanadu [perhaps with Nathan Lane making an awe-struck cameo?]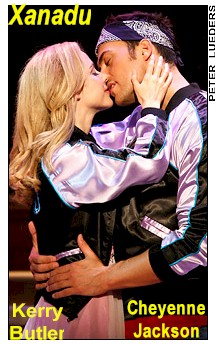 Of special interest will be moments to remember from the nominated revivals: Ms. LuPone and Gypsy, Ms. O'Hara and Senor Zsot and South Pacific [Rodgers and Hammerstein's South Pacific, that is; as if there were two!] and Mr. Evans and Ms. and Sunday in the Park with George.
Please note that Lifetime honoree Sondheim has two shows in the Revival category. Will that make him any nicer to fans who would like to have his autograph? Hope springs eternal [and maybe Morgan Freeman and Frances McDormand will ponder why they were not nominated; could it be because enough members of the nominating committee heard them say to a waiting mob of at least 14 fans, "I don't do autographs!" -- and on the other side of the coin, and even Raul would venture to say it's not the only reason he got nominated and won last year, but you have that very nice Hyde-Pierce fella not only signing autographs but also posing for photos until every last one of the Curtains mob (a real one!) got what they came for]. [I mean, even Angela Lansbury signed autographs.]
There'll also be enough smiles to boost Con Ed's output for the summer. But, alas, not everyone will be smiling; for not everyone or every show can be a winner. Of course, each and every one is!
In the face of ratings that aren't blockbuster, competition from Pay TV, cable and video games no other commercial network would probably be as loyal as CBS.

Former long-time network president and CEO Peter Lund, a huge theater fan, felt CBS' fit with the Tonys was an integral part of the network's identity as the "Tiffany" network. Current [since 1998] CBS president and CEO Leslie Moonves, who happens to be a former actor and for 11 years a Broadway GM, feels the same.
"The Tony Awards, which are the embodiment of live theater in America," says Moonves, "have a rich tradition on CBS. We're delighted this spectacular show is again on our network. The Tonys represent what we represent, the best quality entertainment."
However, CBS closely adheres to the bottom line, so seven categories - Scenic Design, Play and Musical; Costume Design, Play and Musical; Lighting Design, Play and Musical; and Orchestrations - will be presented in a pre-broadcast segment. Winners will be recapped on the broadcast, but to watch this portion of the Awards segment live be tuned in to www.tonyawards.com.
On the Tony web site, with features content from Playbill, you can enjoy a video player link for up close and personal encounters with winners; access to their acceptance speeches and their thoughts on the impact of winning a Tony; an archive of nominees and winners in every category from 1947; Tony trivia; and a detailed profile of the fascinating Miss Perry, among other things, a pioneer for women producers on Broadway.
The Tonys, founded in 1947 by the American Theatre Wing, honor actress/producer Antoinette "Tony" Perry. They are co-presented by the Broadway League. For more information on the fascinating life of Ms. Perry and tons of information on the Tonys, including multimedia and interactive features, visit www.TonyAwards.com, designed and hosted by IBM.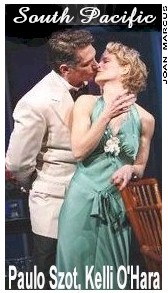 At the Wing, Sondra Gilman is chairman, Doug Leeds president and Howard Sherman is exec director. At the League, Nina Lannan is chairman and Charlotte St. Martin is exec director. Veteran Tony and Drama Desk-winning producer Elizabeth I. McCann is managing producer with Joey Parnes as coordinating producer.
Official Tony partners include Visa, Hilton Hotels, Continental Airlines and Sprint.

So the big question is will it be utopia for a Pulitizer Prize-winner set way, way West and a musical set way, way Uptown?
Have you voted? No? Then, here is your opt:
Nomination Highlights of the 2008 Tony Awards
Best Play
August: Osage County - Tracy Letts
Rock 'n' Roll - Tom Stoppard
The Seafarer - Conor McPherson
The 39 Steps - Patrick Barlow
Best Musical
Cry-Baby
In the Heights
Passing Strange
Xanadu
Best Revival, Play
Boeing-Boeing
The Homecoming
Les Liaisons Dangereuses
Macbeth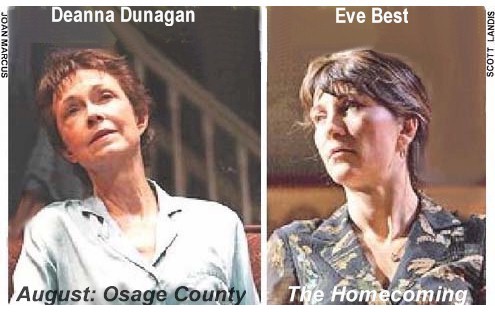 Best Revival, Musical
Grease
Gypsy
South Pacific
Sunday in the Park with George
Best Performance, Leading Actor, Play
Ben Daniels, Les Liaisons Dangereuses
Laurence Fishburne, ThurgoodMark Rylance, Boeing-Boeing
Rufus Sewell, Rock 'n' Roll
Patrick Stewart, Macbeth
[My faith in nominating committee members is restored with Mr. Daniels in this category.]
Best Performance, Leading Actress, Play
Eve Best, The Homecoming
Deanna Dunagan, August: Osage County
Kate Fleetwood, Macbeth
S. Epatha Merkerson, Come Back, Little Sheba
Amy Morton, August: Osage County
[My faith in nominating committee members is unrestored with Laura Linney not included in this category.]
Best Performance, Leading Actor, Musical
Daniel Evans, Sunday in the Park with George
Lin-Manuel Miranda, In the Heights
Stew, Passing Strange
Paulo Szot, South Pacific
Tom Wopat, A Catered Affair
[My faith in nominating committees is hereby restored with the inclusion of Mr. Wopat in this category.]
Best Performance, Leading Actress, MusicalKerry Butler, Xanadu
Patti LuPone, Gypsy
Kelli O'Hara, South Pacific
Faith Prince, A Catered Affair
Jenna Russell, Sunday in the Park with George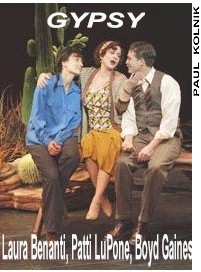 Best Performance, Featured Actor, Play
Bobby Cannavale, Mauritius
Raul Esparza, The Homecoming
Conleth Hill, The Seafarer
Jim Norton, The Seafarer
David Pittu, Is He Dead?
Best Performance, Featured Actress, Play
Sinead Cusack, Rock 'n' Roll
Mary McCormack, Boeing-Boeing
Laurie Metcalf, November
Martha Plimpton, Top Girls
Rondi Reed, August: Osage County
[My faith in the nominating committee members is restored with the inclusion of Ms. McCormack in this category, but for the life of me I can't figure out how she manages to perform in that painted-on dress and 10-inch heels.]
Best Performance, Featured Actor, Musical
Daniel Breaker,Passing Strange
Danny Burstein, South Pacific
Robin De Jesús, In The Heights
Christopher Fitzgerald, Young Frankenstein
Boyd Gaines, Gypsy
Best Performance, Featured Actress, Musical
de'Adre Aziza, Passing Strange
Laura Benanti, Gypsy
Andrea Martin, Young Frankenstein
Olga Merediz, In the Heights
Loretta Ables Sayre, South Pacific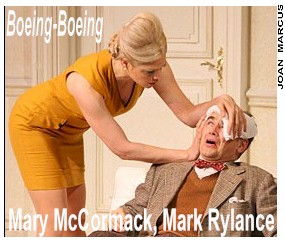 Best Book, Musical
Cry-Baby - Mark O'Donnell, Thomas Meehan
In the Heights - Quiara Alegría Hudes
Passing Strange - Stew
Xanadu - Douglas Carter Beane
Best Original Score
(Music and/or Lyrics) Written for the Theater
Cry-Baby - David Javerbaum, Adam Schlesinger
In the Heights - Lin-Manuel Miranda
The Little Mermaid - Alan Menkenm, Howard Ashman, Glenn Slater
Passing Strange - Stew,and Heidi Rodewald
[My faith in nominating committee members is irrevically withdraw with the amazing decision to omit A Catered Affair, John Bucchino, in the category.]
Best Direction, Play
Maria Aitken, The 39 Steps
Conor McPherson, The Seafarer
Anna D. Shapiro, August: Osage County
Matthew Warchus, Boeing-Boeing
Best Direction, Musical
Sam Buntrock, Sunday in the Park with George
Thomas Kail, In the Heights
Arthur Laurents, Gypsy
Bartlett Sher, South Pacific
Best Choreography
Rob Ashford, Cry-Baby
Andy Blankenbuehler, In the Heights
Christopher Gattelli, South Pacific
Dan Knechtges, Xanadu
Special Tony
Robert Russell Bennett (1894-1981)
In recognition of his historic contribution to American musical theatre in the field of orchestrations, as represented on Broadway this season by Rodgers & Hammerstein's South Pacific.
Tony, Lifetime Achievement
Stephen Sondheim
The complete list of nominees can be found at: www.tonys.org
This and That

She Didn't Do It Alone: Patti LuPone doesn't contribute any of her acclaimed, mesmerizing, dynamic, shattering performace as Mama Rose in Gypsy to anything she has especially brought to the role. She said, "I brought Patti LuPone, but it's Arthur Laurents who's responsible for what Patti LuPone is doing. It has been one of the most satisfying and incredible journeys of my career working with Arthur in creating Rose. Did I say he is amazing? This has long been his dream project and he really wanted to bring something new to it. Throughout the entire process he was very focused. Whatever I've accomplished, I owe it all to Arthur."
Writing and Working: Patrick Barlow, author of Best Play nominee for 39 Steps, the hilarious and loving send-up of Alfred Hitchcock's famous 1935 thriller [from John Buchan's 1915 novel], won the 2007Olivier Award for Best New Comedy for the work. He's a working actor who appeared in such films as the Oscar-winning Shakespeare in Love.
Double Duty: The Seafarer's author/director Conor McPherson is a double nominee: Play and Director.
He's Done It Again: The prodigious, yet extremely modest Alan Menken [Little Shop of Horrors], a nominee again this year for Best Original Score, with Howard Ashman and Glenn Slater, for Little Mermaid, was nominated in 1994 Beauty and the Beast, with Ashmam and Tim Rice. He has won has won eight Oscarts - more than any other living person - and been nominated 18 times. He also has an Olivier and 10 Grammys, not to mention enough Golden Globes to transform the economy. Next up [and there's nothing Disney about it]: Leaf of Faith, starring Raul Esparza.

Down Tony Awards Memory Lane
Who Was This Tony, Rather Toni, The Namesake of the Tony Tony Awards?
by Ellis Nassour
Toni was the nickname of beautiful Denver actress Antoinette Perry, who, after several years playing ingÈnues on Broadway, turned to producing and directing in an era when women in the theater were relegated to acting, costume design, or choreography. The success of the same named home permanent product that was the subject of a huge media blitz caused her to change the i to a y. When she decided to move from acting and become a producer and director, she became a theatrical trailblazer for women.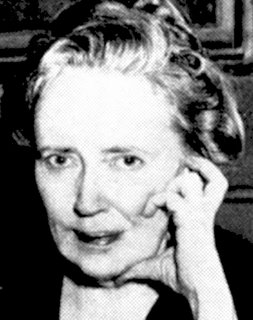 Amazingly, well into the 70s, Miss Perry was the only woman director with a track record of hits. Today, she's all but forgotten. In her prime, she showed innovative theatrical instincts and scored an enviable roster of hits - producing and often directing 17 plays in 13 years. In one month in 1937, according to her daughter Margaret, Miss Perry directed and produced three productions, "once rehearsing in our Fifth Avenue living room while peeling peaches for preserves."
Among her impressive hits were Personal Appearance [1934] and Claire Boothe's Kiss the Boys Goodbye [1938], a spoof of the search for Scarlett O'Hara for the film adaptation of Gone with the Wind. The latter had a stellar cast, including Benay Venuta, a perennial star of stage and screen [who died in 1995].
"Tony was rather a theatrical pioneer," said Miss Venuta, "in that she made a huge impact as a producer and director in an era of male theatrical powerbrokers. She was successful and success either earns you envy or respect. In Tony's case, it was both, but I never heard her criticized on the basis of being a woman."

Trivia
Early awards to honor Antoinette Perry by making her the namesake of best in theater awards were engraved ladies' compact and cigarette cases. In 1949 a contest was held to select a special design. Herman Rosse won with a silver medallion that, on one side, features the masks of comedy and tragedy and, on the other, a profile of Miss Perry. Initially, they were presented in felt cases. Later, they were mounted on a swivel stand.

Do You Know:
1. What now famous composer was rehearsal pianist for the original production of Styne/Sondheim/Laurents Gypsy?
A. Cy Coleman
B. Jerry Herman
C. John Kander
D. Frederick Loewe
E. Charles Strouse
2. Which of these one-word play titles took Best Play Tony Awards?
A. Art
B. Closer
C.Copenhagen
D. Da
E. Equus
F. Seascape
G. Tru
3. Which of these one-word musical titles took Best Musical Tony Awards?
A. Candide
B. Carnival!
C. Fiorello!
D. Gypsy
E. Jamaica
F. Mame
G. Redhead
4. Which actresses tied for the coveted Tony Award for Best Actress in a Musical in 1968?
A. Barbara Harris, The Apple Tree; and Mary Martin, I Do! I Do!
B. Julie Harris, Skyscraper; and Angela Lansbury, Mame
C. Angela Lansbury, Dear World; and Dorothy Loudon, The Fig Leaves Are Falling
D. Mary Martin, The Sound of Music; and Ethel Merman, Gypsy
E. Patricia Routledge, Darling of the Day; and Leslie Uggams, Hallelujah, Baby!
5. He won a Tony for his performance in Jerome Robbins' Broadway but never won an Emmy for his most famous TV character. Who is he?
A. Jason Alexander (George Costanza, Seinfeld)
B. John Goodman (Dan Conner, Roseanne)
C. Matt Perry (Chandler Bing, Friends)
D. Andy Griffith (Andy Taylor, Andy Griffith Show)
6. Patti LuPone is the fifth actress to be nominated for the role of Mama Rose in Gypsy. Angela Lansbury and Tyne Daly both took home Tonys. Which other Gypsy stars didn't?
A. Rosie O'Donnell
B. Ethel Merman
C. Bernadette Peters
D. Linda Lavin
7. n 2003, Vanessa Redgrave in Long Day's Journey Into Night became one of a handful of actresses to have won a Tony, an Emmy and an Oscar. Who else can boast membership in this award trifecta club?
A. Patty Duke
B. Rita Moreno
C. Suzanne Somers
D. Joanne Woodward
8.Who is the only Tony to have hosted the Tony Awards since the first national telecast in 1967?
A. Tony Bennett
B. Tony Curtis
C. Tony Martin
D. Tony Quinn
E. Tony Randall
9. Three sets of family members have been Tony-nominated in the same category in the same year. Which duo below is not correct?
A. Tammy Grimes and daughter Amanda Plummer, 1982
B. Rosemary Harris and daughter Jennifer Ehle, 2000
C. Lynn Redgrave and niece Natasha Richardson, 1993
D. Richard Rodgers and daughter Mary Rodgers, 1960


Lost Treasures from Broadway
Anyone interested in the archives of great performances from the Tony Awards, including the early shows produced by Broadway impresario Alexander Cohen [through 1986] will enjoy excerpts from those telecasts presented on Broadway's Lost Treasures. Acorn Productions has issued a boxed set of Volumes 1-3 [SRP, $60].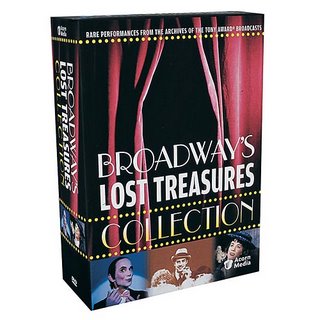 Volume 3, for example, is a motherlode of rare Broadway moments: 23 production numbers, including the company of the lavish revival of 42nd Street ["We're In the Money"], Gwen Verdon performing "Whatever Lola Wants" from Damn Yankees along with, among others, an eight minute tribute to Ethel Merman, a Julie Andrews medley and numbers from Fosse, A Funny Thing..., How Now Dow Jones, Into the Woods, Kiss Me Kate, Peter Pan, Ragtime and West Side Story.
A bonus bonus DVD is a real plus with some rare excerpts from 18 nominated Best Plays featured on Tony telecasts. Performance highlights are by Jane Alexander, Philip Bosco, Art Carney, Charles Dutton, Morgan Freeman, Victor Garber, James Earl Jones, Linda Lavin, John Lithgow, Brian Stokes Mitchell, Gary Sinise and, among others, Maggie Smith.
Ellis Nassour is an international media journalist, and author of Honky Tonk Angel: The Intimate Story of Patsy Cline, which he has adapted into a musical for the stage. Visit www.patsyclinehta.com.

He can be reached at [email protected]





Why are you looking all the way down here?
For more articles by Ellis Nassour, click the links below!

Previous: A Visit with Chita Rivera at Signature's The Visit

Next: Blockbuster Movie Weekend with Mamma Mia! and The Dark Knight; Town Hall's Alive with the Sound of Music; Kyra Sedgwick's Back in More Ways Than One; More

Or go to the Archives