Meryl Streep, in yet another amazing performance - mesmerizingly beautiful, youthful and doing things expected of only the world's top gymnasts, headlines a star-laden cast to bring the music of ABBA and the glories of Greece to the screen in the feature-film adaptation of Mamma Mia! [Universal Pictures], the stage musical [a 2002 Best Musical Tony nominee] that's become a phenomenon the world over.
Onstage, it's claimed the ABBA-fueled songfest has been seen by more than 30-million [grossing in excess of $2-billion]. Now, with the movie version hitting screens here, after already becoming a runaway hit in the U.K. and Sweden, that number will multiply to the nth degree. It opens "wide" today in cineplexes while, mamma mia!, the Broadway production continues to do capacity business and rake in "Money, Money, Money" at the Winter Garden [June 30-July 6: $909, 558].
Besides her agile ability to leap and do splits, as if she'd been training for months on a trampoline, Streep's been keeping another secret. She can still sing! For someone's who last major singing role was 31 years ago in the Brecht-Weill musical, Happy End, [BAM, Chelsea Theater Center], for which she received a Drama Desk nomination, she must keep a full-time voice coach on payroll.

As she tramped, stamped and flung herself through Mamma Mia!, all I could think of was why hasn't she come back to Broadway? And in a musical? She is a dyed-in-the-wool New Yorker and, undoubtedly, there have been countless offers. We got a taste of her stage vocalizing last summer in the Public Theater's production of Mother Courage and Her Children at the Delacorte.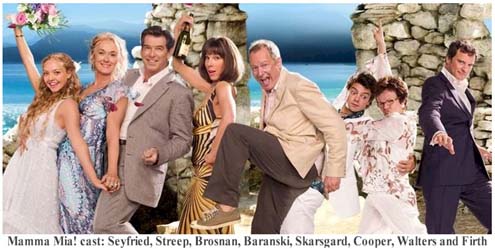 In 2001, for the Public, Streep returned to the stage for the first time in more than 20 years as Arkadina in Chekhov's The Seagull, directed by Mike Nichols. It was a sensation that had people waiting in line 24/7 for free tickets.
Though there's the occasional dud - Lions for Lambs [co-starring Tom Cruise and directed by/co-starring the usually inimitable Robert Redford - what in the world was he thinking? Finding a station on the radio was more fun!], Streep more often than not rocks.
In MM!, she rocks! And often against great odds [ignoring the material and just having a great time].
Her screen work has earned two Oscars out of 14 nominations [more /than any actor], six Golden Globes [21 noms], a Tony nom, two Emmys, two SAG Awards, four Grammy noms, a BAFTA award and recognition from the Cannes Film Fest. Here, she's having a good time and is very game, but whether you will find this performance honored on the Best lists is questionable.

More recent movie versions of stage musicals had a spotty track record at the b. o.; then along came Chicago! and Hairspray. Mamma Mia!, which literally translates "my momma," has not only been giddily and carefully crafted for ABBA fans but also for movies' most sought-after audience, the 18-49ers.
The story is strung on the most threadbare of plots - a plot that has absolutely nothing to do with the ABBA songs, which are just thrown in, as in the musical, pot luck.
Donna, a former mega girl group lead singer, has retired to eek out a living running a rundown hotel in an idyllic spot high up on an idyllic Greek isle where her daughter Sophie is about to get married. Sophie, never having known her father, finds her mom's diary and discovers that because of her mom's promiscuity her father could be one of three men. At the mere arrival of wedding invites sent by Sophie, they crisscross the world and arrive with great curiosity as to why they've been summoned.
Chasos reigns supreme as romance begins to rekindle [or kindle in the strangest of circumstances]. Donna refuses to reconcile herself with her past; and as Sophie searches for her true identity. Joining the wedding party are two of Donna's forger singers, the thrice-divorced Tanya and Rosie.

You might wonder how many story ideas were tried that somehow even loosely might accommodate the ABBA songs before this one was settled on. And it the story sounds vaguely familiar to movie fans, it has much in common with a colorful 1968 comedy, Buona Sera, Mrs. Campbell, written by Melvin Frank, Denis Norden and Sheldon Keller and starring Gina Lollobridgda. It told of three former GIs who think they are the father of the daughter of the girl they left behind in WWII. It scored modestly well at the b.o. even without ABBA tunes.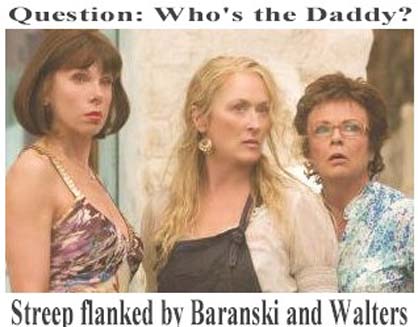 Streep, like Streisand, is not your typical Hollywood beauty, but Haris Zambarloukos' camera embraces Streep and her sun-glazed look lovingly. There are moments when she really lets her all-over-the-place hair down and is even downright sexy.
The critical response is unknown but MM! will probably rank as Streep's biggest worldwide hit. And in the awards category, there could even be another Grammy nom in her future since Decca's soundtrack CD has become a best-seller.
But the movie is not all-Streep. She has incredible back up from Pierce Brosnan, Colin Firth, Stellan Skarsgrd [the prime suspects], Christine Baranski as Tanya [channeling her drunken Maryann Thorpe from the 1995 TV series Cybill], the irrepressible Julie Walters [Rosie], Amanda Seyfried [Sophie] and Dominic Cooper [Sky].
The very game Brosnan, whose singing will be fodder for talk around office water coolers, and golden-girl, golden-voiced Seyfried score especially well. Though, certainly, Streep and Seyfried can sing, the inexperience for the majority of the lead cast makes for a much more charming and realistic picture - especially against a backdrop of everything else being so darn perfect.
The songs, which include "Dancing Queen," "Honey, Honey," "Lay All Your Love on Me," "Money," "Take a Chance on Me," "SOS," "The Winner Takes It All," "Voulez-Vous" and the title tune, not only celebrate the timeless mother/daughter/dearest friends bond but also new family found.
However, MM! hits some false notes: the ABBA uptempo songs, while quite infectious, sound alike so after a while they get monotonous; the choreography, by Anthony Van Laast [from the WE and Bway prods], is on a par with that of the Academy Awards or an Opening Ceremony of an Olympics: lots of jumping up and down, flailing around, falling down - and, since we are in Greece, jumping into the ocean; and there's very little Greek about it. Even the minister at the wedding is Anglican. In fact, it's an odd package. Still, it works and it's funny and lively.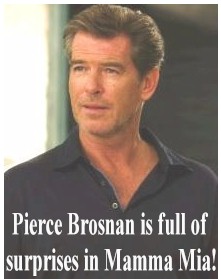 The acting and glorious Greek postcard scenery [Corfu, Pelion, Skiathos, Skopelos] save MM!. And then there's the music, which you'll have no problem hearing. Audiences are singing aloud [what fun!] and, during the showstopping finale and credits, dancing in the aisles.
Bringing ABBA's songs to stage and screen wasn't easy. How in the world do you string a plot line around those wildly eclectic tunes, which in the first place aren't so easy to sing? Co-founders Benny Andersson and Bjorn Ulvaeus didn't think it possible and stonewalled until producer Judy Craymer, down to her last pence, wore them down. She had a bit of an in.
ABBA had been burned when Chess, their quite successful original West End musical with Tim Rice which began with Michael Bennett at the helm, was bastardized for Broadway. They vowed never to do another show. Craymer was exec producer on the original, so when she came with a proposal for a show originally titled The Winner Takes It All, Andersson and Ulvaeus at least listened.
"But," states Craymer, "they wouldn't give me the rights until I could come up with a story they felt worth doing. The rights were the carrot they dangled in front of me. They thought, 'She'll never get it together!'"
Then, she got avant-garde writer Catherine Johnson to weave a story. Suddenly, though they must have wondered how in the world it would relate to their songs, the response from Sweden was Ja! Ja! And they struck oil, gold, silver at the b.o.
Since opening on the West End, Craymer, who's said to own nearly 25% of the show, has kept a tight leash on Mamma Mia! Hollywood threw tons of money at her for the rights, but she wouldn't sell. "I insisted on total artistic control," she says, "and that all the creators and designers of the musical work on the movie." She got her way with Univeral, even bringing aboard stage director Phyllida Lloyd, who's staged opera but who's making her screen directing debut.
She and Johnson are now two of the wealthiest citizens of the U.K. and probably in line for Queen's Honors.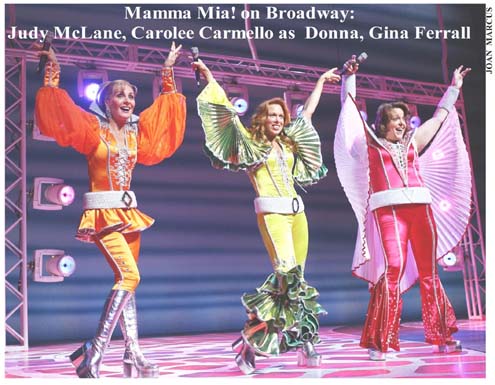 Executive producers Rita Wilson and Tom Hanks said from the beginning that Meryl Streep was their hand-picked Donna, lead singer of the girl group The Dynamos.
Andersson knew who Streep was, but he was thoroughly convinced when she journeyed to Sweden to record "The Winner Takes It All" and did it in one take.
The official web site, www.mammamiamovie.com, features a virtual tour of the various island locations seen in the film, a "Gimme! Gimme! Gimme!" music video with Seyfried and a "making of" doc.
Since opening in London in 2000, MM! has played 170 cities around the world, grossed more than $2 billion, and has been seen by more than 30 million people. On Broadway, even in its seventh year, it's one of the Top Five highest grossing shows, routinely taking over a $1 million a week. There are two U.S. touring companies and a very successful Las Vegas production at Mandalay Bay, where it remains the longest-running, full-length Broadway show ever to play the Strip.
The current Broadway cast includes Carolee Carmello [Donna], Judy McLane [Tanya], Gina Ferral [Rosie], Carrie Manolakos [Sophie], Andy Kelso [Sky] and, as the potential fathers, Pearce Bunting, Christopher Shyer and Ben Livingston.

Batman Returns
There have been no shortage of megascenestealers in the Batman movie franchise created from the DC Comic books of Bob Kane: Jack Nicholson's 1989 Joker; Danny DeVito's Penguin and Michelle Pfeiffer's Catwoman in 1992; Tommy Lee Jones Two-Face and Jim Carrey's Riddler in 1995; and Schwarzenegger's Mr. Freeze and Uma Thurman's Poison Ivy in 1997.
However, there has probably never been a Batman movie where the film was stolen lock, stock and barrel from Batman and all his state-of-the-art state-of-the-art gadgets and vehicles, as is The Dark Knight by Oscar-winning Heath Ledger, giving the performance of his much-too-short life as The Joker. It's a performance that will surely be recognized at Awards time. At the moment, it would hard to believe that he won't be awarded them all.

The film reunites Batman Begins [the first in the re-thinking of the franchise as a much darker concept as opposed to high camp] writer/director Christopher Nolan and Christian Bale, who reprises the role of Bruce Wayne. Aaron Eckhart plays crusading White Knight district attorney Harvey Dent, Oscar-winnner Michael Caine returns as the faithful Albert along with Gary Oldman as Lieutenant Gordon; Oscar winner Michael Caine as Alfred; and Oscar winner Morgan Freeman as Lucius Fox. Maggie Gyllenhaal steps in to fill the shoes of Katie Holmes as love interest Rachel Dawes.
As Batman battles to destroy organized crime in Gotham City [Chicago, this time around] he comes up against mad criminal mastermind The Joker, who thrusts Gotham into the type of anarchy that almost destroys the city Batman is trying to save. Or is he really trying to save it? Our long-beloved hero is getting a rep among the politicos and citizenry as a vigilante. There are the time-honored, spectacular car chases, explosions by the dozens and one helluva implosion.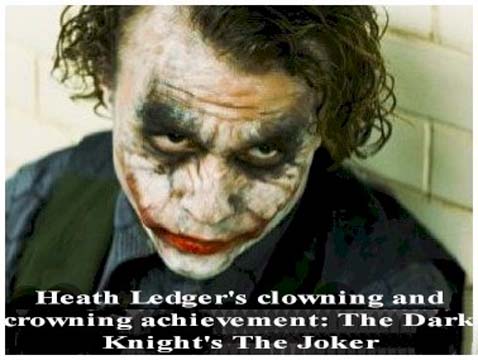 The Batmobile remains a formidable presence in TDK, but a new, high-powered two-wheelie, the Bat-Pod, heavily armed with 40mm blast cannons, 50-caliber machine guns,and grappling hook launchers, is introduced.
The filmmaking is flawless, thanks to two-time Oscar-nominated cinematographer Wally Pfister [The Prestige, Batman Begins], Oscar-nominated production designer Nathan Crowley and Oscar-nominated editor Lee Smith. The score is by Oscar winner and multiple Oscar nominee Hans Zimmer and seven-time Oscar nominee James Newton Howard, who also collaborated on Batman Begins.
Bale acquits himself okay at Batman, but the movie belongs to Ledger and also to Eckhart, who should come out of TDK as a major leading player and, without a doubt, the compelling character he evolves into, will surely return in the next Batman outing.
Ledger, certainly, had he lived, on the basis of his complex and fascinating performance would be catapulted to the mega star power of James Dean at his short-lived peak and a b. o. superstar ala Nicholson at this zenith.
With Batman Begins, Nolan opened a new chapter by taking Batman back to his origins, re-imagining why and how billionaire industrialist Bruce Wayne became the enigmatic crime fighter. In The Dark Knight Nolan continues to reform the character as Wayne faces fear, trauma, uncertainly over his role in saving the city and mob anger. In addition, he meets his nemesis, The Joker, "a maniacal, remorseless fiend."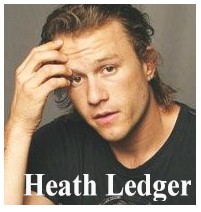 "He's the ultimate arch-villain," Nolan attests. "In his own way, The Joker is as much an icon as Batman, and that presented us with both an opportunity and a challenge in terms of exploring the character's distorted point of view. We also wanted to create a villain who, as colorful and outrageous as he is, is still coming from a place of reality dry, sardonic way."
It's a strange sort of reality, because The Joker, as inhabited by Ledger, is a flamboyant, malevolent clown and purposeless criminal who is only out to create chaos for the sake of creating it.
Notes Bale, "He's somebody without any rules whatsoever. He's bent on destruction, even if it means self-destruction. That's a formidable foe. The Joker wants to break Batman, to prove that everybody has a price and even Batman can be leveraged to compromise his principles. He's rather delighted to find that Batman won't because that creates an even better opponent in the games he plays."
To say that Nolan found the perfect and consummate actor to create this sort of monster in Ledger is a vast understatement. Ledger's Joker will go down in cinema history as one of the best mad men ever. For certain, the movie wouldn't have worked as well if it hadn't had an actor of Leger's caliber.
The defining quality Nolan was looking for was fearlessness. "I needed a phenomenal actor, but he also had to be someone unafraid of taking on such an iconic role. Heath created something entirely original. It's stunning, captivating and it's going to blow people away."
He met with Ledger even before there was a script. "We talked about how we saw this character," he explains, "and, amazingly, we had exactly the same concept: that The Joker revels in creating anarchy and fear on a grand scale. Heath seemed to instinctively understand how to make this character different from anything that had ever been done before."
He says Ledger astonished everyone with his characterization. "We wanted The Joker to represent pure, unadulterated evil and Heath was able to summon that up and unleash it in spades."
Eckhart had several intense scenes with Ledger. "Sorry to say, I didn't get to know Heath well," he says, "but the time I spent with him was amazing. As an actor, it's a gift to work with someone who really loves their craft, loves their character and enjoys the process of acting so much. It was a pleasure to work with and observe him. In one of our scenes, I had to hold on to my shirt. He was going a hundred miles an hour. He was doing all this great stuff with his hands and facial expressions. Every time it was different."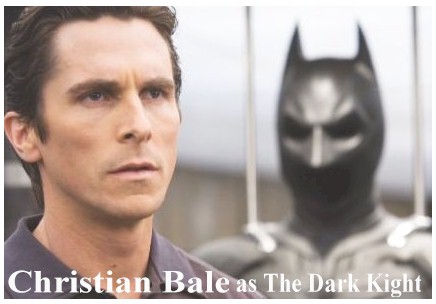 Because of the way movies are shot, Eckhard would shoot scenes then not be needed again for weeks at a time. "When I would return, I'd ask Chris 'What's going on?'" He didn't speak of the pryrotechnics or mindboggling car chases [actually done on Chicago's main arteries], but of Ledger. "His eyes would light up and he'd say, 'Oh, my gosh, Heath did this and Heath did that.'"
He says that when Ledger came on the set, even the most jaded members of the crew would perk up. "Everyone was in awe," he reported. "Heath was electrifying."
Costumer Lindy Hemming wanted The Joker's outfits "to reflect the generation of the actor playing him. Once I knew he was going to be played by Heath Ledger, I wanted his costume to have a younger, trendier style than previously. Basically, my research ranged from Vivienne Westwood to Johnny Rotten and Iggy Pop to Alexander McQueen."
Hemming ultimately designed an eclectic ensemble that she says "has a somewhat foppish attitude, with a little grunge thrown in." Staying with The Joker's traditional color palette of purple, his jacket was based on the Carnaby Street Mod look. Interestingly, The Joker's shoes came from Milan and were selected because they had an upward swoop at the toe, which she thought was reminiscent of clown shoes. His tie was fashioned by Turnbull & Asser, the London-based clothier better known for dressing British royalty.
"Heath wanted it to be thin," says Hemming, "so it's a '60s tie but in a Turnbull & Asser fabric. I dare say it's the weirdest tie that Turnbull & Asser has ever made!"
Nolan shot six major Dark Knight action sequences with IMAX cameras, becoming the first to film even a portion of a traditional feature with the large-format cameras.
"The challenge," he explains, "was to make things bigger and better -- to expand the world we established in the first film, both through the story and in the way we presented it. IMAX catapults the audience right into the action in a way no other film format can because of its scope, scale, grandeur and clarity."
So, if you're seeing The Dark Knight in an IMAX theatre, the negative is not merely enlarged to fill about 75% of the screen. Scenes integrate effortlessly and seamlessly expanding vertically from the "letterbox" format to IMAX size.
Nolan and Pfister knew that filming on Windy City streets with IMAX cameras would come with its challenges. "The cameras are enormous and, of course, much heavier than a 35mm," Pfister notes. "It required an entirely different approach, but like any challenge, you can't be so intimidated that you shy away from it. You just bite off one piece at a time until you've tackled it."
In addition to camera size, composition of scenes had to be addressed. "The frame's so much bigger," Pfister explains, "so you need to center things more to pull your attention to the action. And focus is much more critical because it is a shallower depth of field."
Everyone agreed the end result was more than worth the effort. "You absolutely see the difference," Pfister attests. "Scenes are sharper; have more resolution and contrast and a richer color saturation. It's an overall improved image, whether you're seeing it on an IMAX screen or on a regular screen. Either way, the action will jump off the screen."

Summer Fun at Town Hall
The careers of dozens of Broadway hopefuls will, hopefully, be launched Monday night at 8 P.M. at Town Hall when the very busy and sleepless in Manhattan Scott Siegel [Broadway by the Year, Broadway Unplugged] joins forces with TH's Larry Zucker to bring Broadway's Rising Stars to the stage. Tony nom Emily Skinner and Nightlife Award-winning vocalist Scott Coulter co-direct 20 outstanding young talents from performing arts schools across the country.
They've been auditioning since Spring and, says Siegel, "America's got talent. They're wonderful, wonderful and you should take a chance on them. If last year's show was any indication, you'll be in for some mighty impressive surprises."
Skinner, who's done her share of auditions, notes, "The performers who get the jobs are the ones who bolt out with their personalities ablaze. If they can leave an impact on me in a small room, I always wonder what they can do onstage. As I've discovered time and again, it's not always the one who's the best singer or dancer. This group is excited and exciting and I'm excited for them."
Seeing these kids make their "Broadway debut" is also easy on the stressed out wallet: tickets are $25 - $30.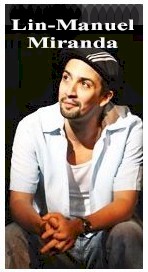 The big event in Town Hall's Summer Series is the return on Monday, July 28th at 8 P.M. of All Singin', All Dancin', an extraordinary, star-filled evening of, well, song and dance with choreography by Josh Rhodes [assistant choreographer, Drowsy Chaperone; in Fosse, Chicago] that features some impressive Bway hoofers, including Tony and DD-winner Cady Huffman [The Producers, Will Rogers Follies], the amazingly hot-footed Kendrick Jones, Megan Sikora, Melinda Sullivan, Lisa Gadja, Lorin Latarro and Shonn Wiley [42nd Street].
Joining them to sing Bway classics are Michael Arden [The Times They Are A Changin'], DD-winner Christopher Jackson [Benny, In the Heights], Alie Mauzey [Cry Baby], Liz McCartney [South Pacific, Taboo] and more.
As usual, you can certainly expect an "unplugged" moment or two. Other than that, Siegel, still sleepless, who will direct, is tight-lipped. Well, he did spill the beans on one surprise you can expect: Tony and DD-winner Lin-Manuel Miranda, creator and star of In the Heights, will debut a new song.
Audiences lucky to be at Town Hall for this show last year are still talking about the many memorable star turns that had them giving thunderous ovations. Tickets are a reasonable $40-$50. Can you think of a better way to spend a lazy Monday night as the Dog Days of Summer approach?
Tickets are available at the Town Hall b. o. and through TicketMaster, (212) 307-4100, and www.ticketmaster.com.

Emmy Nod for the Tonys
Kristen Chenoweth and Neil Patrick Harris announced that the 2007 broadcast of the 61st Annual Tony Awards has been honored with a Prime Time Emmy Award nomination, Outstanding Special Class -- Awards Programs. White Cherry Entertainment, in association with Tony Award Productions, received the nom, their third.
Exec producers Ricky Kirshner and Glenn Weiss of White Cherry won the Emmy in the same category last year for the 60th Tony Awards, and also the Emmy [Outstanding Variety, Music or Comedy Special] in 2005 for the 58th Tony Awards. The duo has served EPs of the telecast for the past five years.
For a complete list of the nominations, visit www.emmys.tv. The Awards air on ABC on September 21.

Not Only in New York, Kids

On Long Island:
Gateway Playhouse [215 South Country Road, Bellport, NY], LI's premiere professional Equity musical theatre, continues its 59th season with a rare opt to catch a first-class production of Kern/Hammerstein II's American classic, Show Boat July 30 - August 23. The large cast includes Erik Van Horner [Ravanel], Jillian Louis [Magnolia]; Isabel Santiago [Julie] and Robert Lydiard [Captain Andy]. Bill Theisen is director with choreography by Michelle Webber. Nathan Perry music directs.
The book is based on Edna Ferber's sprawling novel of life [spanning 40 years] on the Mississippi, and deals with love found/love lost and, quite controversial in its day, racial prejudice.
The score is laden with classic songs, including "Ol' Man River," "Why Do I Love You," "Can't Help Lovin' Dat Man of Mine," "Make Believe", "Bill" and "Life Upon the Wicked Stage."
Performances are Tuesday - Friday at 8 P.M.; Saturday, 4 and 8; and Sunday, Wednesday and Thursday matinees at 2. Tickets are $39 - $43 for adults and $25 for children 12 and under. They can be purchased at the Gateway b. o., by calling (888) 4-TIX-NOW or on the web at www.gatewayplayhouse.com.
Upstate:
Bi-coastal singer Jason Graae returns to the Caramoor International Music Festival [149 Girdle Ridge Road in Katonah, NY] with his latest show, Graae's Anatomy for two Cabaret at Caramoor evenings of his infamously wild and mischievous performances of Broadway standards and pop hits July 30 and July 31, in the Reception Tent at 8:30 P.M. Alex Rybeck will music direct.
Graae, who won his fourth NY Bistro Award for GA, has recorded over 40 original cast albums, concerts, compilations and solo CDs, including You're Never Fully Dressed without a Smile and Jason Graae Sings Charles Strouse. His show Coup de Graae! won the 2006 NY Nightlife Award, as well as the Bistro for Best Major Engagement.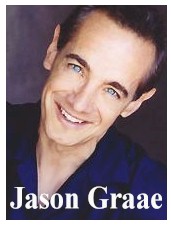 On Broadway, Graae has graced A Grand Night for Singing, Falsettos, Stardust, Snoopy! and Do Black Patent Leather Shoes Really Reflect Up? Off- Broadway shows include Hello, Muddah, Hello, Fadduh, for which he was nominated for a DD, Forever Plaid and, among others, Olympus on My Mind.
Tickets for Graae's Anatomy at Caramoor are $60 and available by calling the b.o., (914) 232-1252 or online at www.caramoor.org.
The treasure-laden home at Caramoor is the legacy of Walter and Lucie Rosen, whose musical evenings were the seeds of the Festival in 1946 when they established a public charity to open Caramoor to the public.
"We invite audiences to come early," says managing director Paul Rosenblum, "to explore the grounds, tour the House Museum and enjoy a pre-concert picnic in the gardens." You can bring your own food and beverage or order from Great Performances, (212) 337-6055.
Guided tours of the House Museum are Wednesday - Sunday, 1- 4 and Saturdays, during the Festival, 1 - 5. Tickets are $10; children 16 and under, free.
To get to Caramoor by train, take Metro North's Harlem Division to Katonah. The site is five minutes away. Taxi service is available.

Brenda Leigh Johnson's Back
Warning! Brenda Leigh is addictive.
The worst thing about watching The Closer, one of TV's best, taunt and most absorbing dramas on TNT, is that at the end of an episode you want more, more, more. That won't be a problem now that Season Three of the acclaimed, provocactive series is available on DVD, The Closer: The Complete Third Season [Warner Home Video, 14 episodes, four discs; SRP $40].
While TV's feistiest killer detective, a Georgia peach with a CIA background portrayed by Golden Globe-winner and Emmy nom Kyra Sedgwick, is back on basic cable [The Closer is Basic's biggest hit] solving crimes and makin' those men at LAPD look so bad, you can bring a slew of excellent Three episodes home.

Despite her offbeat personality, bad eating habits and endearing tendency to step on people's toes while managing somehow to love cats, Brenda Leigh's tough-as-nails approach, interrogation charm and boiling female intuition solves murders.
Besides Sedgwick's amazing star turn, she's got good back up from co-stars Corey Reynolds as loyal right hand Sgt. Gabriel; that scoundrel Commander Taylor played by Robert Gossett [gosh, he seems to have changed, which means he must have something up his sleeve!]; lazy but loyal Lt. Provenza, G.W. Bailey, who provides comic relief; and Michael Paul Chan, Raymond Cruz, Anthony Denison, Gina Ravera; and J.K. Simmons [Juno; Oz] as Chief Pope and Jon Tenney, Brenda Leigh's patient love-interest FBI agent.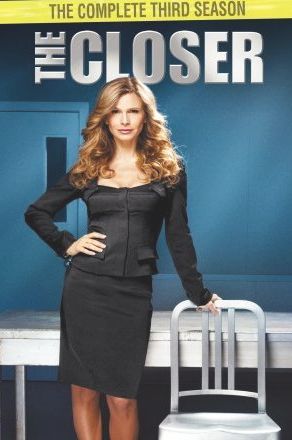 The series is created by James Duff, who has frequently contributed extremely well-written teleplays [along with Hunt Baldwin, John Coveny, Mike Berchem, Wendy West, Adam Belanoff and Steven Kane].
Three features excellent guest stars [which the series consistently does] that include screen legend Nina Foch [there's a priceless bit between her and Sedwick in the bonus material], Frances Sternhagen [as BL's mom], Orson Bean, French Stewart, Kathryn Joosten and a star-making role by Heath Freeman. It includes the edge-of-the-seat Three finale, which aired as a two-hour special. One of my favorite series lines is on Three: "And you thought nuns were tough!" - referring to Brenda Leigh's unrelenting drive to solve her cases.
During Three, Brenda Leigh faced change and challenges both personal and professional. One of her complex cases involved seven murders by a man at a retirement community who has no known I.D. and the slaughter of a family in an upscale neighborhood. Brenda Leigh also has to deal with becoming the most downloaded "fully clothed" video on YouTube [this was before Trish Smith!] after she's assaulted by a bridezilla whose wedding is interrupted. Half-way through the season, Brenda Leigh discovers the surprising results from a medical exam.
Sedgwick manages an amazing consistency of charm, quirkIness and spunk in one of TV's most off-beat and compelling characters. The role has earned her two Emmy noms [Season 1, 2] and a third Golden Globe nom for 3. She received the 2007 GG for Best Performance, Actress, Television Series Drama. Three also earned the cast a SAG nom for Outstanding Performance, Ensemble, Drama Series.
Arresting bonus features on the DVD set include a "gag reel" and deleted scenes.
Ellis Nassour is an international media journalist, and author of Honky Tonk Angel: The Intimate Story of Patsy Cline, which he has adapted into a musical for the stage. Visit www.patsyclinehta.com.

He can be reached at [email protected]





Why are you looking all the way down here?
For more articles by Ellis Nassour, click the links below!

Previous: The Tony Awards: Whoopi!

Next: Glam Beth Leavel in Unglam Role; FringeNYC Packs 'Em In; Spiegelworld is Back; Luba Returns; Patti Signs and Sings; More

Or go to the Archives