It's rare to have such a busy October, much less a month of openings with such powerhouse actors delivering tour de force performances. The Tony and Drama Desk Awards race is on!
In A Man for All Seasons, by Robert Bolt and abridged presumably by director Doug Hughes*, Tony and DD-winner Frank Langella as Sir Thomas More is charming, insightful, crackling and cracking jokes as Chancellor of England's King Henry VIII from his defense of marriage all the way to the axe. The Act One confrontational scene between More and VIII is taunt theatrics at their best. VIII is played by Patrick Page, and the Grinch who stole Christmas literally steals that [his only] scene.
* This production, for unexplained reasons and setting a terrible precedent, omits the role of The Common Man, which added a lot of zing to the proceedings. In the original, it was played hilariously and to great acclaim by the late George Rose.
Little to nothing has been made of the fact that Maryann Plunkett, a 1987 Tony winner and DD-nominee for Me and My Girl, who's been absent from the Bway stage since playing the title role in the 1993 revival of Saint Joan, portrays Alice More. She doesn't have much to do until well into Act Two; but then, after stifling her emotions over the inevitable, she explodes. She left Broadway a stunning ingénue to marry and raise her children and returns as a brilliant character actress. Welcome back, Maryann!
The measured and quite devastating performances by John Lithgow and three-time DD-nom Dianne Wiest in Arthur Miller's always under-estimated All My Sons are going to be very hard to top. Lithgow is simply magnificent in Act Three as he comes to terms with the consequence of what he did. The fight scene between Lithgow and Patrick Wilson as son Kris is intense, raw and edge-of-the-seat.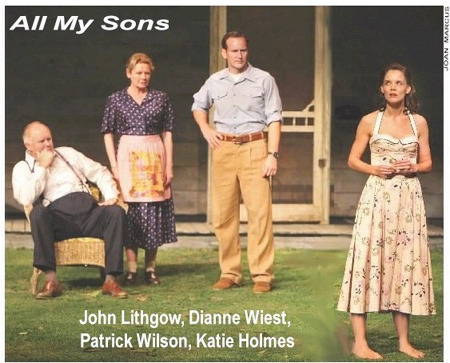 In her first Bway outing since the still- talked about [and not necessarily in a good way] 2005 Salome reading starring Al Pacino and directed by Estelle Parsons, this could be the year Wiest goes from nominee to winner.
Simon McBurney, who directed the 2008 Olivier-winning A Disappearing Number and is featured acting in the films Body of Lies and The Duchess, has chosen some strange effects, such as that opening storm, which seems louder and fiercer than the one that blew Aunt Em's house all the way to Oz with Dorothy in it. And what's that business of having the actors exit and stand, back to the audience, against the wall as if in grammar school in punishment for some prank.
But the actors bring out the genius and emotion of Miller's writing. Musicals star Wilson may be determined to become a movie star but here he shows he has the acting chops to tackle any Bway play. Katie Holmes, as former neighbor and now Kris' fiancé, acquits herself quite respectably.
Just in time for a post-Halloween treat, "Broadway composer" Jacob Sterling moves one step closer to eventual fame and fortune when David Pittu, revives his musical and comic tour de force impersonation in What's That Smell: The Music of Jacob Sterling. It begins an open-ended run beginning November 1 at New World Stages [Stage Five] after it's Off Off premiere at Atlantic Stage 2. Co-starring in the revue by Pittu and Randy Redd is that indomitable force of the droll, Peter Bartlett. Neil Pepe directs. Tickets are now on sale at the NWS box office and through Tele-charge, (212) 239-6200, and www.telecharge.com.

Theatre Museum Honors
TV/radio talk show pioneer and Nostalgia King Joe Franklin, who's been entertaining New York and national audiences for more than half a century [currently on WOR radio's Memory Lane and Bloomberg Radio's Lifestyles], will be the recipient of the Theatre Museum's Career Achievement Award at tonight's gala at the Players Club.
Among other honorees is Broadway: The Golden Age producer Rick McKay, who receives the Award of Excellence for Theatre History Preservation to an Individual.
Tony and DD-nom Euan Morton [Taboo,] will be master of ceremonies and, along with Jessica Grove, perform. Tony Walton directs. Barbara Cook, Pat Copper, Danny Aiello, and composer Ervin Drake will be among the presenters. Special guests include Jo Sullivan Loesser. Musical director Aaron Gandy will present excerpts from the restored score for Rodgers and Hart's Spring Is Here.
The evening begins at 6 P.M. with cocktails and a silent auction, followed by dinner and the awards ceremony.
[Franklin has been a friend since my days as a cub reporter. His WOR-TV studio, where the Reuters building now stands, was around the corner and he'd call in his guests to be inserted in the TV log. It was the beginning of a beautiful friendship during which "Uncle Joe" showed enormous thoughtfulness on many occasions not only to me but also my family. To this day, I enjoy visiting his office on West 44th Street and finding him, surrounded by an always-interesting retinue, at the back of a meandering "nostalgia" stacked floor-to-ceiling. It's fun to test his ability to find something. Joe gets up, walks past - say, on this day, a middle-aged woman quietly sitting, apparently with nothing else to do, on a lone chair, and blurts in the most nonchalant way, "Ellis, meet Marilyn Monroe's daughter." While your mind attempts to absorb that startling information, Joe saunters to a stacked column, pulls an item out and asks, "Is that what you wanted?"]
On this TV chat show [with over an estimated 100,000 guests during its 43-year run*], Franklin introduced the Who-Would-Eventually-Become Who's Who to the tri-state region. Bette Midler was his "in-house" singer, along with her accompanist Barry Manilow [even then a bit shallow and aloof]. Tony Curtis, Woody Allen, Dustin Hoffman, Babs, Cosby and Liza with a Z got their first exposure on The Joe Franklin Show. Among his friends: Jolson [Franklin may have been his only real friend], Cantor, Benny, Sinatra, Martin and Lewis, Crosby, Bennett.
* With as many as six to eight guests seated side-by-side-by side, Franklin's programs gave unique new definition. He mixed a slew of unknowns with dreams and aspirations [not only unknowns but totally unknown] with knowns. His patter was rapid-fire and he had a habit of throwing a question on a topic being discussed by an out-of-space guest to another guest, and asking them to expound on something they knew absolutely nothing about. [Sorry, Joe. You know I love you!] Billy Crystal took great glee in imitating him on Saturday Night Live.
The extent of the affection many hold Franklin in was evidenced recently by Curtis. In his appearance at Barnes & Noble Lincoln Triangle to promote his book American Prince: A Memoir [Harmony], there was a room full of celebrities but the only one Curtis introduced was Franklin.
McKay is the producer/director/writer/cinematographer and CEO of Second Act Productions, which made B:TGA, the winner of over 15 film festival awards. He also produced the video of Elaine Stritch: At Liberty. He's currently finishing Fay Wray, a semi-doc chronicling the actress film career, certainly highlighted by the scream heard around the world in the original King Kong.
Tickets for the gala, which benefits the work of the Theatre Museum, includes a cocktail reception, dinner and a silent auction. They are $300 and available at www.thetheatremuseum.org

Sassy Dames Get Down
Blunt and sassy Elaine Stritch, a Tony winner and three-time DD-winner, will be interviewed by the equally blunt and sassy [but in an oh, so much nicer way] Liz Smith, a paragon of Texan charm, on November 11 at 7 P.M. in the Broadway at the Center series at the Lesbian, Gay, etc. Community Center [208 West 13th Street, between Seventh and Greenwich Avenues]. Smith will get the lowdown on Stritch's New York stage career that has ranged from musicals to Albee and her TV and film work. Everyone's hoping La Stritch will be on time and wondering who'll be paying the hairdresser. Tickets are $75 and $125. The latter includes a meet-and-greet cocktail reception and priority seating. To reserve, go to www.gaycenter.org.

CTFD Salutes Broadway
Broadway will be brighter and glitzier next Monday night as the supporters of dance and dancers and dance lovers glide into City Center for one of the most anticipated entertainment and star-studded events annually, Career Transition for Dancers' gala tribute to dancers in all fields. Proceeds support the CTFD's programs on the East and West Coasts that help dancers transition into other careers when they are no longer capable of the rigors of dancing.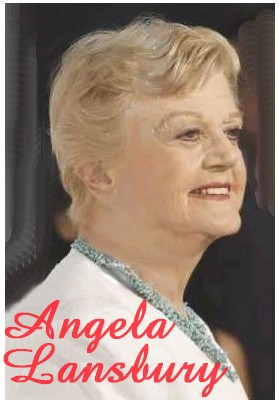 Amidst the haute couture gowns and dazzling diamonds of CTFD's beloved patrons, the 23rd anniversary show, On Broadway!, A Glittering Salute to the American Musical, presented by Rolex, will be a memorable treat. Showtime is 7 P.M. and the iconic Angela Lansbury, soon to be back on Broadway in the revival of Noel Coward's Blithe Spirit, will be the hostess with the mostess.
Producer/director Ann Marie DeAngelo describes the program as "a glorious historical journey inside the Broadway musical seen through the eyes of legendary choreographers who created some of the greatest musicals of all time."
Nine-time Tony and eight-time DD-winner Tommy Tune, fresh from Chicago's Goodman and directing/choreographing Marshall Brickman and Rick Elice's jukebox musical Turn of the Century, receives the Rolex Dance Award.

Honorees include beautiful dancer/actress Sono Osato [One Touch of Venus, On the Town], one of the first American dancers in the original Ballet Russe de Monte Carlo and later a member of Ballet Theatre; and American Ballet Theatre VP/Treasurer Brian Heidtke, a long-time financial supporter of ballet around the world including the international ballet competition Youth America, who'll receive the award for Outstanding Contributions to the World of Dance.
There will be fully-choreographed numbers from 42nd Street [Tony and DD-nom Randy Skinner, Irving Berlin's White Christmas]; "Cool" from West Side Story [Josh Bergassee]; Fosse's "Steam Heat" from The Pajama Game [Mary MacLeod]; Karen Ziemba and Noah Racey in a duet from Crazy for You, music by the Gershwins [Susan Stroman].
Bebe Neuwirth, David Gibson and Pam Sousa will perform the "Manson Trio" from Fosse's Tony-winning Pippin [the title may not ring a bell, but it was one of the prime highlights of the musical]; and, back together again, Jane Krakowski and Cheyenne Jackson will revive their showstopping "Two Lost Souls" from Damn Yankees, as seen this summer at City Center's Encores! The On Broadway... finale will be staged by Mercedes Ellington.
There will also be appearances by Baryshnikov, Kelly Bishop, American Ballet Theatre stars Xiomara Reyes and Herman Cornejo, artists from New York Theater Ballet who'll perform and excerpt from Oklahoma!'s "Dream Ballet" and China's acrobatic Nanjing Duo [in their U.S. debut]. Music will be provided by the Jubilee Orchestra. There'll also be a film montage of Broadway musical choreography. Special material for On Broadway will be written by Deborah Grace Winer.

The CTFD gala continues with a supper dance in the Hilton New York's grand ballroom. The 23rd Anniversary chairs are Anka K. Palitz and Allen Brill. Honorary chairs include Cynthia Gregory, Jane Powell, Ann Reinking and Chita Rivera. Show tickets, at $45 - $130, are available at the City Center box office and through CityTix, (212) 581-1212.

The World of Cabaret
The Laurie Beechman's very own Phil Bond will be performing his one-man show My Roaring 20's: How I Learned to Drink Fast this Saturday at 7 P.M. Where else? Yep, the LB. He hilariously chronicles coming of age in 90's New York "with anecdotes of Joan Rivers, Eli Wallach, working for Disney, hanging at Fire Island and in one boy bar too many, and a childhood confessional or two about Sondheim, Steinem and [Kathleen] Turner. Cover, $12; with a $15 food/beverage minimum. To reserve, call (212) 695- 6909.

Cabaret Cares, the series that brings together the best of the Broadway and cabaret to raise funds for Broadway Cares/Equity Fights AIDS and Help Is On the Way Today, the not for profit org providing funds for children living with HIV, will take place next Monday at 9:30 P.M. at the Laurie Beechman Theatre. Cover: $25, etc. as above.

Next Monday, at 7 P.M., the LB's Voices from the Great White Way series welcomes Alexander Gemingnani. Judy McLane, already sold out, appears November 3, with Alison Fraser and Mary Testa returning on November 10 and at 10 P.M. on November 24. Cover, etc., as above.

Upcoming at Feinstein's: Brian Stokes Mitchell's new show, Songs...I Like to Sing, November 11 - 15. Tuesday through Thursday shows are at 8:30 P.M. and Friday and Saturday at 8 and 10. Admission is $40 - $60 and, for premium seating, $60 - $75 with a $40 food/beverage minimum. Jackets are suggested but not required. To book online, go feinsteinsatloewsregency.com or TicketWeb.com or call (212) 339-4095.

The Play about the Gay Mormon
There's an early buzz all the way from Utah for a "very intense and provocative personal drama" coming to Off Off via just one performance in Salt Lake City and a January reading at Ars Nova.
Missa Solemnis or The Play about Henry, which begins performances October 30, is based on the life of emotionally-torn gay Mormon Henry Stuart Matis, who committed suicide in 2002. To make his point about the church's efforts to ban same-sex marriage, he ended his life at the Mormon Ward House in Los Altos, CA.
Its arrival to the 99-seat TBG Theatre [312 West 36th Street, between Eighth and Ninth Avenues; third floor] for a one-month engagement [with hopes that it can create enough buzz to move to an open-end Off Bway run] is timely because the Mormon-supported Proposition 8 to ban same-sex marriage is on the California ballot in November.
Playing Henry in the five-member cast will be Matthew Huffman [Strom Thurmond Is Not a Racist...]. Warren Katz, who won the U.K.'s 2001 Manchester Evening News Theatre Award for Supporting Actor in the Bolton/Greater Manchester's Octagon Theatre production of Arthur Miller's The Price, plays Matis' confidant, sympathetic Mormon Bishop Robert Rhodes. Utah native Linda Nelson, founder and co-AD/PD of Shotgun Productions, is directing.
The play is by Long Islander Roman Feeser, who's not a Mormon but who became fascinated with the story in the wake of the Matthew Shepard tragedy in Wyoming after reading a magazine feature by Mark Miller.
"The Newsweek article stunned me," says Feeser. "I was especially struck by the last sentence, which read ''The people who dressed him [Matis] for burial were struck by the sight of his knees, deeply callused from praying for an answer that never came.' I thought, 'Who prays that hard?' Praying is an act intended to fill one's soul, not drain it. I always say this story found me. It wanted to be told. There was something deeper here. The equation wasn't adding up. It was one of those deeply tragic stories you just can't get out of your mind. It stayed with me until I sat down and began researching it."
Feeser is at work a book, Latter Gay Saints - the Mormon Church and God's Second Class Saints, based on his experience writing Missa Solemnis...
Tickets, available through www.SmartTix.com or by calling (212) 868-4444, are $18; however, a limited number of tickets at $50 are available for the November 1st 8 P.M. performance, which will include a reception honoring Affirmations, an organization supporting gay Mormons. For more information, visit www.ThePlayaboutHenry.com.

Sneak Peek Behind the Scenes
The cast, crew and creative team of the upcoming Broadway revival of David Mamet's American Buffalo have collaborated on a web series, American Buffalo: Backstage, which presents a behind-the-scenes view of the in and outside of rehearsal. In addition to footage shot by the cast, there are interviews with cast members Tony nom John Leguizamo, Cedric the Entertainer and Oscar nom Haley Joel Osment and director Robert Falls.
The series can be accessed at various sites from AB's website: http://www.americanbuffalobroadway.com. American Buffalo begins previews at the Belasco October 31.
A Don't-Miss Met Exhibition
The curators of the Metropolitan Museum, one of the city's major tourist attractions, wanted to do something special to honor and celebrate Philippe de Montebello's 31 years as director of the Metropolitan Museum. And, WOW!, have they succeeded. The Philippe de Montebello Years: Curators Celebrate Three Decades of Acquisitions, opens Friday and the truly spectacular and breathtaking collection comprising more than 250 masterpieces of art, busts, silver, period dress and furniture acquired during de Montebello's leadership, runs through Feburary 1. This is a don't-miss exhibition.

MM On Stage and On Stage and Screen
Imagine acclaimed vocalist Marilyn Maye as a Halloween triple treat! Yes, indeed; but the trick will be trying to catch all three appearances. MM will be one of the highlights at the 19th annual Mabel Mercer Foundation's Cabaret Convention at Time-Warner's Rose Hall October 29 - November 1. This cocktail courtesan, who radiates the worldly nonchalance of the quintessential lounge singer, will also be reprising her recent acclaimed torch act Love on the Rocks at the Metropolitan Room on October 30 at 10 P.M., November 1 at 7:30 and November 2 at 9:30. For reservations, call (212) 206-0440. But she's indefatigable! In addition, on Halloween, October 31, at 2pm, MM will be on hand at the Paley Center for Media [25 West 52nd Street, between Fifth and Sixth Avenues] for a Q&A as it screens an hour-long compilation of her appearances on The Tonight Show Starring Johnny Carson, where she sang a record 76 times -- the most ever by an individual singer. This event is open to the public and free with Paley Center admission. To reserve, go to www.paleycenter.org.

Save the Date
Eudora Welty is acknowledged as one of the 20th Century's great authors; however, it's not so well known that she was a brilliant photographer. Eudora Welty in New York: Photographs of the Early 1930s , at the Museum of the City of New York from November 7 - February 16, will showcase 50 of her stunning B&W photos from her home state of Mississippi that constitute a near re-creation of her first solo New York 1936 exhibition. The pictorials capture America in the depths of the Great Depression and reveal a compassion and sensitivity that was a hallmark of her writing. There will be an additional 11 photos taken during her many visits to New York, which she loved as much as the Magnolia State.
Ellis Nassour is an international media journalist, and author of Honky Tonk Angel: The Intimate Story of Patsy Cline, which he has adapted into a musical for the stage. Visit www.patsyclinehta.com.

He can be reached at [email protected]





Why are you looking all the way down here?
For more articles by Ellis Nassour, click the links below!

Previous: Broadway Buzz; Mitzi Gaynor Razzle Dazzles; Rising Star Tenor Joseph Kaiser; Broadway Cabaret Festival; More

Next: Ken Russell Makes Stage Directorial Debut with Psycho Drama Mindgame

Or go to the Archives