You won't have to wait until The Secret Life of Bees opens to hear the buzz. Even though it's early in the season, there are actors on the boards - and on TV - creating nomination buzz or just buzz in general.
Business at Christopher Hampton's new version of Chekhov's The Seagull is so great that an extension beyond the scheduled 14 weeks is possible. Though the new version has some detractors, the majority feel it's quite contemporary in its accessibility.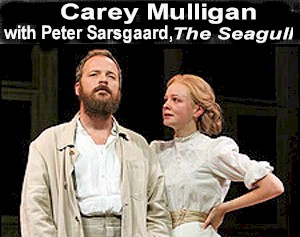 The revival [?] marks an auspicious Broadway debut for Kristin Scott Thomas as Arkadina and Peter Sarsgaard and West Ender Mackenzie Crook as Trigorin and Konstantin. But there are three actors who really stand out: Carey Mulligan in the role of Nina, Zoe Kazan as Masha and Peter Wight as Sorin.
Standing ovations have become so passé on Broadway, but Seagull's cast would certainly be getting a lot more if audiences could get out of seats that appear to be made for a children's theatre [you have more butt and leg room in Economy!]. And if Jujamcyn Theatres keep move the Kerr's orchestra seating any further back, they'll have to install an aerial crossover for audiences to get to the restrooms -- or start selling premium-priced tickets for them.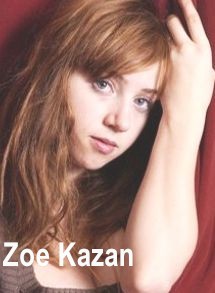 A fortune was spent on the splendid make-over of the Ritz, but they forgot to address the restrooms in that rare theatre with no basement. Gender-specific restrooms -- Ladies on one side; Men on the other, are on landings between orchestra and balcony with no crossover from one side to the other except across the rear orchestra.
The interval is like the subways at rush hour. To make matters worse, there's a bar tucked under the right stairwell. FYI: there's a handicap restroom on the 47th Street side in the passageway of the exit doors nearest the stage; and the Infrared Listening device station.
It would be an understatement to stay that the critics weren't that wild about mini-Les Miz A Tale of Two Cities. Wags have been saying it wouldn't be around after the holidays. In a sign that Les Miz might have left town a bit too soon, things are looking promising, as audiences seem to be lapping it up. Revenue at other shows is slipping while there are hefty increases at the Hirschfeld.
A video crew has been taping "It's-the- best-musical-I've-ever-seen" testimonials outside the theatre. It may not be, but it does have its moments - several of them quite magical. More than anything, ATO2Cs' cast is game and intent on pleasing audiences. [There's also a coupon offer in the Playbill for a steep discount for returning audiences or for the friend of anyone who accesses one.]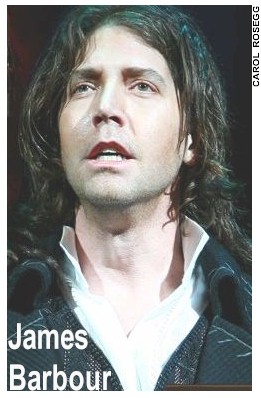 Unquestionably, James Barbour [Jane Eyre, Beauty and the Beast, Urinetown] as Sydney Carlton, that classic forlorn martyr for love, has become Broadway's new matinee idol, mesmerizing audiences with his renditions of Jill Santoriello's "The Way It Ought to Be," "Reflection," the standout "I Can't Recall" and, the duet with Aaron Lazar, "If Dreams Came True."
Audiences get a kick out of Barbour's remark about the special effect stars that are quintuple anything in the heavens. Amazingly, his name is not billed above the title, making the musical a true ensemble piece.
Les Minski as the rotten-to-the-core Marquis St. Evremonde gets affectionately hissed at his curtain call. And though you want to wring her neck and throw a bar of soap over the barricades to her, audiences are wild about diminutive dynamo Natalie Toro as Madame Defarge. Barbour might have a little competition in the "matinee idol" competition, as Kevin Earley, in the role of Ernest Defarge, is making a few hearts flutter.

The 17-piece orchestra wedged somehow under the Hirshfeld stage is blessed with outstanding arrangements and orchestrations by pop composer Edward Kessel, so who cares if it all sounds a little too much like Claude-Michel Schönberg. Two of the hardest-working pit musicians have to be percussionists James Musto and Kory Gorssman who are really beating out da rhythms on those drums.
Have you noticed there's been a run on binoculars? Could be because a young English lad by the name of Daniel Radcliffe, the star of that megapopular book-to-screen franchise, is making his Bway debut in Equus, where he's causing traffic havoc on West 44th Street around the Broadhurst [whose treasurers report a demand for front row seats (are they premium-priced?) -- one even bigger than when Love! Valour! Compassion!played the Kerr and that other Buzz, clothing-free Nathan Lane, and cast had audiences ogling.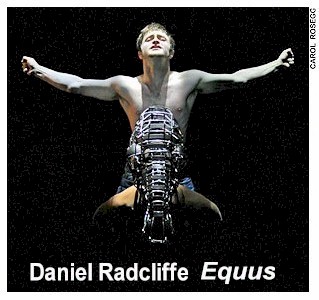 On West 45th, at the Schoenfeld, Katie Holmes of All My Sons; the three Billy Elliots - David Alvarez and the two with tongue-twister names, Trent Kowalik and Kiril Kulish - at the Imperial, where the applause is deafening; and, on West 47th Street at the Barrymore, 2005 Drama Desk-nominee [Fat Pig] and Entourage's Jeremy Piven, making his Bway debut, in the revival of Mamet's Speed-the-Plow , are giving the mounted police quite a workout.
AMS's John Lithgow strolls towering above most of us but hardly noticed through the Theatre District, especially West 46th Street's Restaurant Row, where he'll often have a bite before work. When the curtain comes down, however, it's another story. His 3rd Rock from the Sun TV fans wait in droves.
Soon, attention will shift over to the Booth as fans of the one and only Elizabeth Ashley attempt to reach out and touch her when performances of Horton Foote's Dividing the Estate begins performances.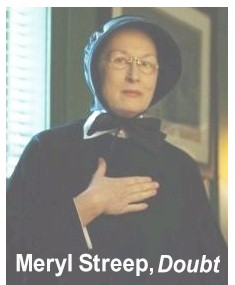 Broadway shows adapted for the big screen will be holiday fare. Two of the most-anticipated are John Patrick Shanley's Doubt, starring Meryl Streep as Sister Aloysius who will explain it all to us, Philip Seymour Hoffman, Amy Adams and Viola Davis; and Frost/Nixon, headlined by the original Bway stars Frank Langella and Michael Sheen and featuring Kevin Bacon, Rebecca Hall, Oliver Platt [soon to be back on Broadway in the Guys and Dolls revival] and Sam Rockwell.
In a different medium, there's buzz on one of theater's brightest stars, Rufus Sewell, Tony and DD-nominated for Best/Outstanding Actor for Tom Stoppard's Rock 'n' Roll , who told me at the Tonys how excited he was CBS CEO/prez Les Moonves greenlighted him to star in Eleventh Hour as a government scientist out to save the world from deadly experiments. Danny Cannon's sci-fi thriller had its premiere last night.

No stranger to TV, Sewell was memorable in one of his early roles, Will Ladislaw, in the BBC's acclaimed 1994 miniseries, Middlemarch, based on the George Eliot classic; and in the title role in the BBC/A&E 2004 miniseries Charles II: The Power & the Passion. He came on the scene in 1995 as matinee idol in his U.S. and Broadway debut in Brian Friel's Translations, opposite Brian Dennehy and Dana Delany.
There will be a female president of the U.S. - at least, again, on TV. No doubt about it, Cherry Jones, so West Coast now and so absent from New York stages, is President Allison Taylor on the upcoming sneak season preview of Fox's rating bonanza 24, Redemption, which stars Kiefer Sutherland and is currently in post production. Jones continues in office in 2009 when the show begins airing weekly.

Still Kicking - Those Gorgeous Gams
You might have spotted her last night at South Pacific, which she had a very special interest in seeing. That is, if you were somehow lucky enough to get a ticket. And you'll definitely be able to spot her up close and very personal this Saturday night.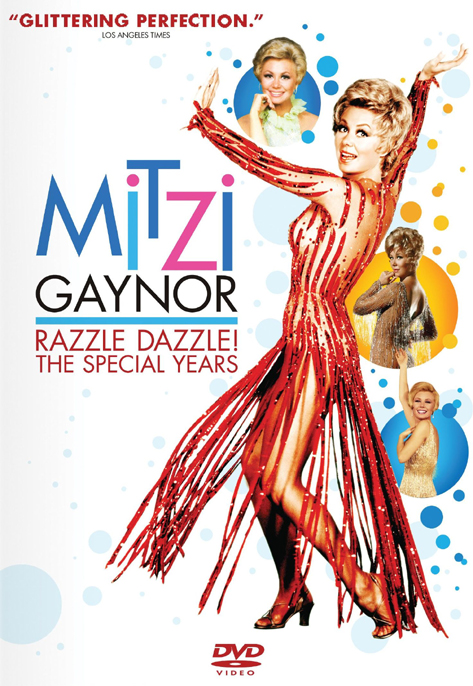 Razzle dazzler Mitzi Gaynor, who's been hailed as "one of the colossal talents of our age," is in town. Something she doesn't do often enough.
Before there was Dancing with the Stars, there was M.G. - the original TV star dancer, winning a decade of huge ratings starting in 1968 with her annual Emmy-winning variety specials. Her triple threat talent - singer, dancer, comedienne - made her a film, TV, concert tour, nitery and stage star.
Her most memorable film role was as Nellie Forbush in the blockbuster film adaptation of Rodgers & Hammerstein's South Pacific, directed by Joshua Logan and shot on location in Hawaii in ultra-widescreen, high depth Todd-A-O.
Tomorrow at 8 P.M., Ms. Gaynor will be live on WLIW, Channel 21, the L.I. PBS affiliate during the broadcast of Mitzi Gaynor - Razzle Dazzle! The Special Years, a one-hour-and-45-minute doc encompassing performances from her telecasts. When I spoke with her at the Regency, Ms. Gaynor noted that some of the numbers haven't been seen in over 30 years.
Dressed to kill in a sparkly black outfit designed by long-time friend and glitz designer to the stars Bob Mackie, Ms. Gaynor will be interviewed during pledge breaks and answer audience call-in questions.
The DVD release [City Lights Home Entertainment and Green Isle Productions; SRP $25], which arrives November 18, celebrates the 40th anniversary of Ms. Gaynor's first TV special and the 50th anniversary of her Golden Globe nom for South Pacific [1958], where her Emile de Becque was Rosanno Brazzi.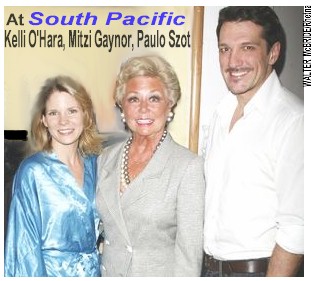 At last night's performance of LCT's S.P., M.G. was ecstatic. "I sang, I danced, I was in awe," she sang. "What a production and the chemistry between Kelli and Paulo. Wow! I can't say enough. Oh, and the orchestra and the orchestrations, which were the original ones used on Broadway!" She went on about the cast, especially Loretta Ables Sayre's Bloddy Mary and Danny Burstein's Luther Billis. "Well, everyone is just marvelous," she added. "What an incredible job [director] Bartlett [Shear] has done."
The feisty Ms. Gaynor, who recently turned 77, is unstoppable and "still going, going, going like that TV battery bunny." Because "I earn my living at night, it's not early to bed or early to rise." She usually sleeps til noon, "but then it's up and about." She vocalizes daily and exercises "on the accursed treadmill." She eats two meals and, amazingly, can still fit into outfits from 25 years ago - something she attributes to "being a professional dancer. That regimen stays with you. Dancers have a mindset. Our bodies are our tools."

But it hasn't always been "fun." It's not supposed to be, she laughs. "If it doesn't hurt, you're not doing it right! I've sprained my right ankle eight times, broken toes; but, thank God, I still have my own hips."
Ms. Gaynor started in light opera, "getting my first paycheck at thirteen. I was a ballet dancer and worked my way up in roles in Los Angeles and San Francisco. I've been there."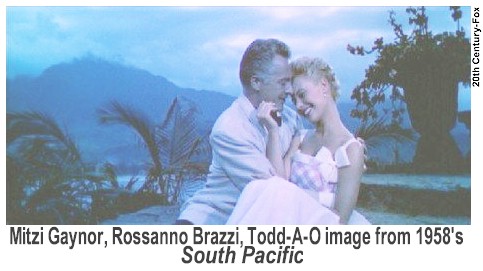 True, and though she's no stranger to regional stages for years -- not only in theater but also presenting her one-woman show, she never came to Broadway, "something I very much regret. Hollywood was my musical heaven, and then there was the money. It's not so awesome anymore; but back when I coulda and shoulda, I missed the boat."
She auditioned in 1950 for Cole Porter for the musical Out of This World . He offered her a role, but a movie intervened. "The money was the deciding factor. I had to make a living."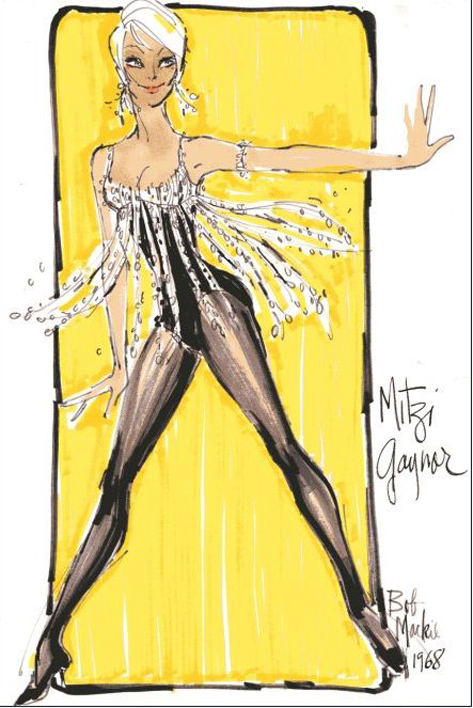 Three years later, Ms. Gaynor worked with Gwen Verdon, who became a life-long friend, in the film The I Don't Care Girl [1953], with some very intricate choreography by Jack Cole.
She and Verdon were cast in a tour of Jolly Anna, a reworking of that exquisite Fain/Harburg/Saidy flop Flahooley. "There were plans to bring it to Broadway, but I was under contract to [20th Century-]Fox and I went into another movie, then another and became a movie star."
Ms. Gaynor's film highlights include There's No Business Like Show Business [1954], opposite Ethel Merman, Donald O'Connor, Marilyn Monroe, Dan Dailey and, as a hoofer turned priest, Johnnie Ray; Anything Goes [1956], co-starring Crosby and O'Connor; opposite Sinatra in The Joker Is Wild [1957]; and, directed by George Cukor, Les Girls [1957], with Gene Kelly, Kay Kendall, and Taina Elg. [In addition to the film, she did a touring company of Anything Goes.]
Mitzi Gaynor - Razzle Dazzle! ... features numbers choreographed by some of film, TV and theater's most influential choreographers, including Cole, Peter Gennaro and Danny Daniels. Highlights include interviews with SP star Kelli O'Hara, Mackie, Kristin Chenoweth, Carl Reiner and dancers she worked with.

Tenor on the Rise
You can rent opera glasses at the Metropolitan Opera [they do not call them binoculars], but during the engagement of the Strauss one-act Salome, starring acclaimed, golden-voiced Finnish soprano Karita Mattila, slinkily-costumed in silk, twitching, writhing and shedding her seven veils, you need to get there early. It's only for an instant, but that split-second well-lit flash of Mattila flesh has audience eyes popping.
Tomorrow's matinee of the sumptuous Santo Loquasto-designed production, adapted from Oscar Wilde's play [running in rep at the Met through October 16] will be transmitted live in theatres worldwide tomorrow as part of The Met: Live in HD series. The Metropolitan Opera Radio on SIRIUS Channel 78 will broadcast the performance of October 16.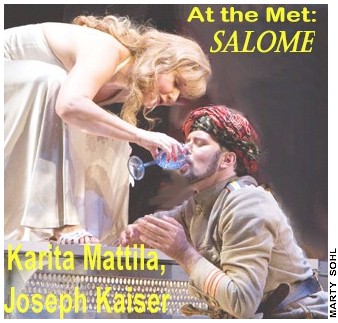 Seemingly, Salome isn't everyone's cup of tea. In the production's Met debut four years ago, there were boos, but they were drowned out by the bravos. Even with this season's revival, it's obvious not everyone came because of a love of opera.
Directed by Germany's Jürgen Flimm and conducted by Patrick Summers [music director, Houston Grand Opera], Salome, also stars one of opera's fastest-rising tenors, Chicago-based Canadian Joseph Kaiser as Narraboth.
Kaiser, just turned 31, was a 2005 Met National Council finalist. He appeared as Tamino in Mozart's Die Zauberflöte, repeating the role in Kenneth Branagh's 2006 loved/hated $20-million English-language Magic Flute film.
"I didn't even mean to audition!" Kaiser says over lunch in the Met commissary. He caught the director's attention at the 2005 Chicago's Lyric Opera dress of Beethoven's Fidelio "during my few minutes onstage as the First Prisoner. Kenneth dropped in to hear René Pape, whom he was considering for Sarastro. I auditioned, that led to screen tests and seven weeks later there I was in an opera movie."
Though neither parent was a professional musician, they instilled in him and his three siblings a love of music. At age 10, he began to take it seriously. "I didn't get involved in heavy technical work early on, but there was lots of music appreciation."
Initially a baritone, Kaiser committed himself to learning the ropes. His acting ability and warm sound garnered critical praise, "but I was getting very little work." Several judges at Canada's 2002 Jeunesses Musicales vocal competition nudged the frustrated singer to switch voice parts.

He was accepted into Chicago's Lyric Opera's Young Artists Program, the Ryan Opera, and settled into the Windy City with his wife and children. "It was a great because they gave me so many opportunities." He did his first professional role at 19 in Madama Butterfly, as the registrar, "a small, small part."
At the Met, he's playing his second major role in a year. On the fast track, 6' 2" Kaiser made his Met debut opposite Anna Netrebko in Gounod's Roméo et Juliette.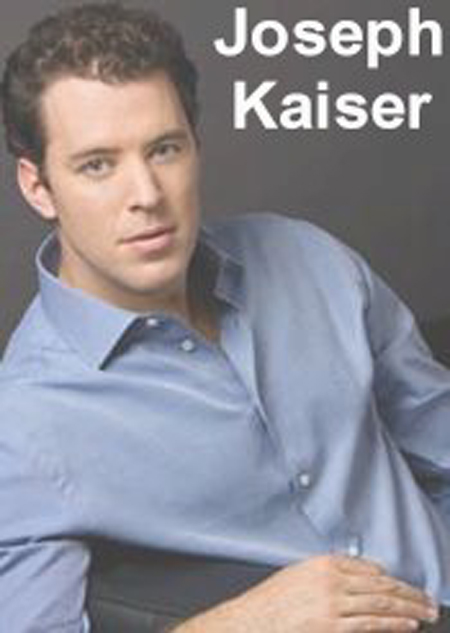 "I'm so happy to be in this place - the Met - at this time. New York is a phenomenal city to perform in. Theatergoers here -- no, entertainmentgoers, are so discerning. They hold things to an incredibly high level. They've seen it all and demand a lot when they lay down their money. New York is the entertainment capital of the country; so when you receive positive feedback for your work, it resonates far beyond."
Salome is his sole Met opera this season, "but I'm now part of the family. I wouldn't complain in the least to be asked to work here for the year." His present schedule is taking him to Salzburg, Munich, Montreal and Los Angeles. It's so diverse, and I'm getting play in various houses in front of different audiences. I'm also getting the experience of working for different administrations."
A positive thing about the Met is getting to work with different directors, conductors and colleagues, "but Munich audiences are different from Chicago audiences, which are different from L.A. and New York. Some can be more conservative; and some houses may have a more conservative board of directors while others might have very avant garde productions."
A major difference when performing is Europe, generally, is less rehearsal time. "In some repertory houses, you may only get three and, before you know it, you're out there."
Kaiser explains there's a vast difference performing in a house with 20 productions in a season versus one with four or eight. "The house that does less isn't going to do a lot of risky operas. In larger houses, you can explore and challenge yourself because if a production doesn't work, there are nineteen others."

Stars, Stars, Stars at the Broadway Cabaret Fest
An incredible roster of marquee names will be on hand next weekend -- Friday and Saturday, October 17 and 18 at 8 P.M.; and Sunday, October 19 at 3 P.M., for Town Hall's Fourth Annual Broadway Broadway Cabaret Festival, hosted by Scott Siegel [Broadway by the Year]. It will be a music lover's paradise, not only with who's hot but also favs from season's past.
Opening night's program, A Tribute to Lerner & Lowe, will headline, among others, Ron Bohmer, Jim Caruso, Robert Cuccioli, Jeffry Denman, Alexander Gemignani, Julia Murney, Daniel Reichard and guest star Marni Nixon, [Sound of Music, and the singing voice double of many stars, including Audrey Hepburn in the film adaptation of My Fair Lady]. Denham, soon to open on Broadway in Irving Berlin's White Christmas will also direct and choreograph.
Colm Wilkinson, the world's original Jean Valjean of Les Miz fame, returns for the first time in years to the New York stage for one day more next Saturday in Broadway & Beyond. He plans a program ranging from Rodgers and Hammerstein and Andrew Lloyd Webber to pop standards by Ray Charles, Leonard Cohen, Muddy Waters and John Lennon. Wilkinson will be backed by a nine-piece orchestra, with Steve Hunter music directing.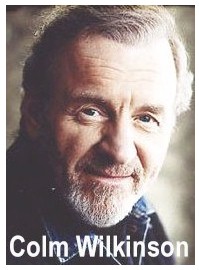 "Colm Wilkinson is arguably the greatest singer to have appeared on Broadway in the last quarter century," states Siegel. "It's quite a coup for us to get him. Town Hall is proud to 'Bring Him Home' to Broadway."
The Broadway Cabaret Festival concludes October 19th at 3 PM with Broadway Originals! and stars from four decades of Broadway performing songs they originated or brought back to life in a revival.
Though there'll be enough marquee names to fill a theatrical Who's Who, it's good Town Hall doesn't have a marquee because there'd be no way to fit them. You get more star power for the buck here than at any other entertainment venue.
Among the scheduled 20 [I know!] artists are Michael Arden [Times They Are a-Changin']; Lucie Arnaz [They're Playing Our Song], D'Jamin Bartlett [A Little Night Music], Joan Copeland [Pal Joey], Gary Beach [B&B, The Producers], Chuck Cooper [Caroline or Change, The Life], Cuccioli [J&H], Cheryl Freeman [Tommy], Stephen Mo Hanan [Cats], Jerry Lanning [Mame], Alli Mauzey [Cry-Baby], Karen Morrow [I Had a Ball], Pam Myers [Company], Alice Ripley [Side Show, Rocky Horror Show] and Bobby Steggert [110 in the Shade].
In Siegel's opinion, Festival audiences never get enough and at press time he was adding more, more, more. I know!
"This is always an emotionally satisfying program," notes Siegel. "The combination of history, great music and stars of yesterday and today never fails to create an unforgettable concert. As is the case with many of these stars, I've been trying to get them for years."
If you are notice a perennial fav missing in the BCF roster, not to worry. Marc Kudisch is in Los Angeles for Center Theatre Group in Dolly Parton's 9 to 5, co-starring Stephanie Block, Megan Hilty and Allison Janney. Kudisch plays "sexist, egotistical, lying, hypocritical, bigot" Franklin Hart. He says he'll be back in town in time for Town Hall's November Unplugged concert.
Tickets for a three-show package for the Broadway Cabaret Festival are $150, with individual tickets at $55. They are available at the Town Hall box office and through TicketMaster by calling (212) 307-4100 or online at www.TicketMaster.com.

Save the Date
One of the most anticipated dance events annually is Career Transition for Dancers' tribute to dancers in all fields. The 23rd anniversary show, On Broadway!, A Glittering Salute To The American Musical, presented by Rolex, is Monday, October 27 at 7 P.M. at City Center with Angela Lansbury hosting. Tommy Tune will receive the Rolex Dance Award. Among participating companies will be the American Ballet Theatre. There'll also be a film montage of Broadway musical choreography. The gala continues with a post performance supper dance in the Hilton New York's grand ballroom. Honorary chairs include Cynthia Gregory, Jane Powell, Ann Reinking and Chita Rivera. Show tickets, at $45 - $130, are available at the City Center box office and through CityTix, (212) 581-1212.
Upcoming at the Metropolitan Museum is a don't miss exhibition, The Philippe de Montebello Years: Curators Celebrate Three Decades of Acquisitions, a spectacular tribute to the retiring, longest-serving director Philippe de Montebellow, who has guided the Met in the acquisition of over 250 masterpieces during his tenure. It opens October 24 and runs through February 1.
Ellis Nassour is an international media journalist, and author of Honky Tonk Angel: The Intimate Story of Patsy Cline, which he has adapted into a musical for the stage. Visit www.patsyclinehta.com.

He can be reached at [email protected]





Why are you looking all the way down here?
For more articles by Ellis Nassour, click the links below!

Previous: NY Film Fest's Final Week, IFC Scores Release Bonanza; Sleeping Beauty Remastered; Mary Costa; Luba Loves Brazil; Road Show; Devlin's Return; More

Next: Tour de Forces; Nostalgia King Honored; Dancers Salute Broadway Musicals; Controversial Mormon Drama; American Buffalo Behind-the-Scenes; Met Museum Retrospective; Marilyn Maye on Stage and Screen

Or go to the Archives