Though it seems Christmas comes earlier each year, with store decorations often going up before Halloween, the season officially kicks off with the Macy's Thanksgiving Day Parade. Tomorrow the sun will come out and it's going to start to feel a lot like, well, Christmas.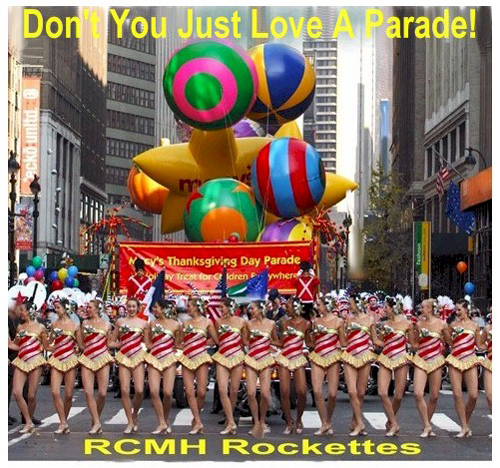 For sure, the Pilgrims, who'll be making their annual appearance in the Parade, and Indians, who'll be reclaiming some Manhattan turf this year, never saw anything like this on the first Thanksgiving.
Tomorrow's is the 82nd Annual display of huge character balloons, floats and marching bands from across the nation. It also marks the first visit of the season to the Big Apple by the one-and-only Santa Claus who appears in the Santaland Express.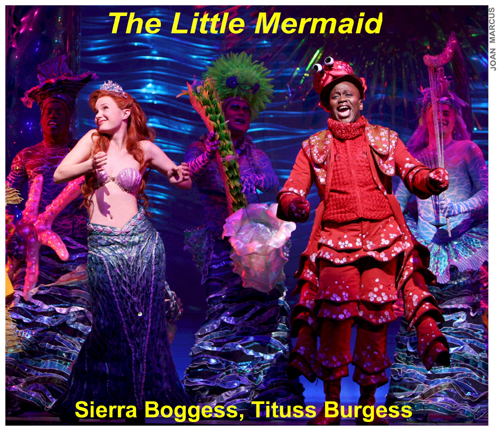 There will be no shortage of A-List celebs in the parade, which NBC will interrupt numerous commercials to telecast almost in its entirety from 9 A.M.
[For an up close and personal experience, hike up Columbus Avenue late tonight as the workers begin inflating the balloons with helium].
As always, the Parade will salute Broadway. Hair, In the Heights, Disney's The Little Mermaid, South Pacific and Irving Berlin's White Christmas cast members will be in front of Macy's performing production numbers from their shows as the Parade winds its way down Central Park West and Broadway to Herald Square. In addition, the Radio City Rockettes will kick it up a sparkly, heated welcome.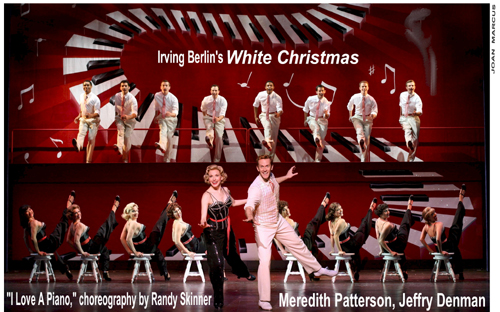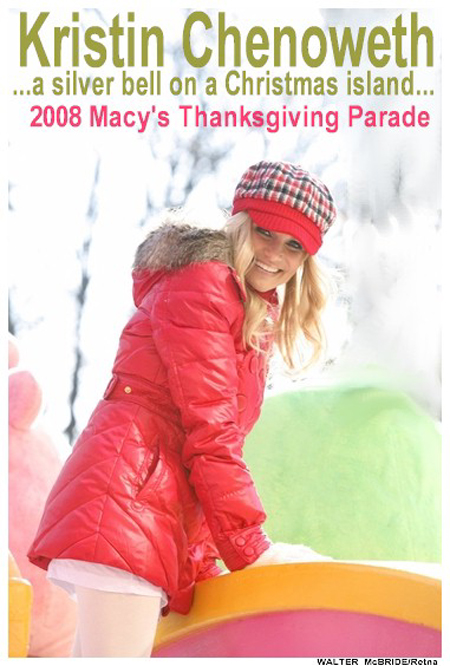 A lovely way to spend Thanksgiving, or any day, is with Broadway's li'l darlin' Kristin Chenoweth, who will be singing tunes from her first ever holiday CD, A Lovely Way to Spend Christmas.
In the Parade tradition, some of the best bands in the land will strut their stuff; and, as always, there'll be stars, stars, stars.
Among the celebs on decorated sponsor floats will be country sensation Trace Adkins, this season's A.I. runner-up David Archuleta, recording artist Ashanti, members of the Big Apple Circus including Grandma the Clown, teen fav Miranda Cosgrove, that overexposed Hannah from Montana Miley Cyrus, Lang Lang [the real one, I presume], Rent and Wicked leading lady Idina Menzel, -- all those and two music legends, James Taylor and Andy Williams.
There will also be floats with Smurf characters [along with a balloon] and visitors from Sesame Street, the Peanuts comic strip and Muppet favs, including that tiny green balladeer Kemit the Frog, who'll be performing live.
Taking flight among the high-flying balloons for the first time will be Horton the elephant and Buzz Lightyear. They join such favs as Dora the Explorer, Hello Kitty, Kermit, Ronald McDonald, Shrek, Snoopy and SpongeBob SquarePants.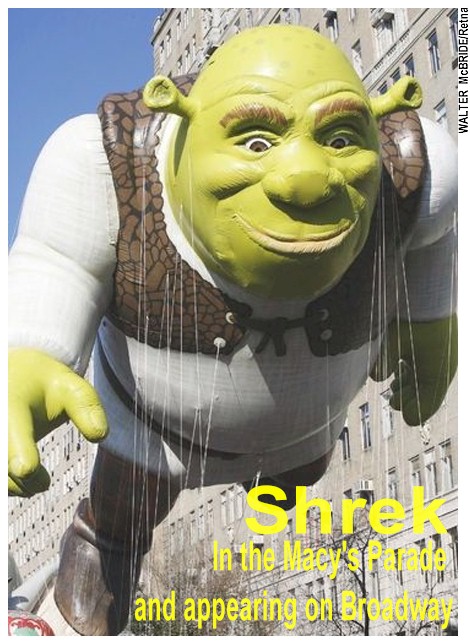 There'll be elaborate sponsor floats and dance and cheerleader groups along with the Alvin Ailey School, Camp Broadway, Colonial Williamsburg's Fifes & Drums, the NYPD Marching Band and Mounted Unit and the huge [maybe half the young women in the state!], Hawaii's Polynesian Dance Ensemble, which will be all leid out.
Over 10,000 participants, including Macy volunteers, take part in America's favorite parade, also called "the longest show on Broadway," which this year celebrates a Macy's milestone: its 150th birthday."
While you're in the neighborhood, check out Macy's and Lord and Taylor's animated holiday windows.

The Music Hall's Christmas Spectacular
The fabled Rockettes, Santa Claus, 3-D, ice skaters, a young ballerina, three well-dressed wise men and a huge cast make up Radio City Music Hall's 76th Christmas Spectacular.

Since its inception, the holiday show has been seen by 65 million. If you've experienced it the before, there's reason to see it again. In many ways, the show is bigger and grander than ever - re-touched, re-tuned and re-imagined with more than half of the 90-minute show all new.
The Rockettes are more front and center than ever before, dominating more than three quarters of the program. In addition to their famed rag doll number, the tour-de-force "12 Days of Christmas" and the classic "March of the Wooden Soldiers," the precision dance group perform two new numbers: a double-decker bus ride that rocks and rolls you through a montage of Manhattan's scenic wonders to a fireworks finale in Times Square; and "Let Christmas Shine," the finale where a tree grows 20 feel high right before your eyes decorated with 36 live Rockette diamond ornaments.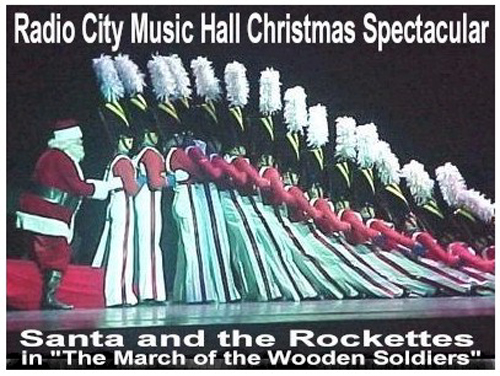 Audiences flock to the Christmas Spectacular to be inspired and uplifted. That's accomplished by the magnificently-staged Living Nativity which features the entire cast and live animals. It's way over the top in splendor [even the manger looks like it could be on The Great Hotels of the World list] but only a cold, cold heart won't be moved by it.
Factor in elements audiences have come to love, such as hundreds of razzle-dazzle costumes for the cast of 140, songs and carols, and you'll know why this is a treasured tradition. It's a very airborne show with flying that includes Santa soaring over Manhattan in 3-D through a blizzard to his North Pole workshops.
The world's largest flying indoor LED screen [90 feet wide, 40 feet high] will knock your socks off with its incredible depth and high res. But, though there some eye-popping effects, I rather miss those gigantic sets that flew in or came up on the elevators.
There are blasts of confetti and tons of special effects and something else. You won't have to dream of one because a white Christmas is guaranteed at the Christmas Spectacular. Snow falls - inside - all the way to the balconies.
You'll want to arrive early. Entertainment begins a quarter hour before showtime when the mighty Wurlitzer organs roll out for a mini-concert.
But something about the great stage's curtain, which replaced the incredibly gorgeous golden one, bothers me; not to mention the attention it's being paid. It's embarrassing to think with this multi-million dollar production of stunning costumes, effects, dancing and singing that no one can find a pair of shears to clip its dangling "chads."

The Big Apple's Own Circus
Artistic and creative Directors Paul Binder and Michael Christensen like to call the Big Apple Circus New York's own circus "because it was born right here in our own back yard."

The spectacular holiday edition of the one-ring up-close-and-personal European-style cirque has pitched its Big Top in Lincoln Center's Damrosch Park for Play On!, the circus' 31st Edition, through January 18.
While the title is from Shakespeare - "If music be the food of love, play on!" - this new edition is, as Christensen puts it, "pure circus, featuring the world's finest artists." Binder, in his last year as A.D., adds, "The Big Apple Circus is family entertainment in the purest sense."
The best thing about the B.A. is that no seat is more than 50 feet away from the ring.
This circus symphony of performers from 11 countries includes a duo from the U.S., Pennsylvania's flashy identical twin hunk jugglers Jake and Marty LaSalle, who're making hearts flutter with desire and lust. Winners of performing medals from numerous international circus competitions, they're also Columbia grads.
Giving them a bit of competition, Guiming Meng juggles colossal Chinese ceramic jars and balances them on his head. One of the most breathtaking acts at the recent Career Transitions for Dancers gals were China's Nanjing duo, Zhu Zhengzhen and An Nan. She's quite the accomplished ballerina. She has to be since she dances on his shoulders and head!
There's never a shortage of thrill acts at the Apple. Sarah Schwarz walks and dances on a sliver of tight wire. The Rodions will have you on the edge of your seat with their soaring leaps and flips from a five-inch wide bar. Not to be outdone, the Flying Cortes soar through the air with the greatest of ease in double and triple somersaults. Regina Dobrovitskaya, who offers beauty with thrills, will literally take your breath away jauntily swinging from high above the ring on her trapeze.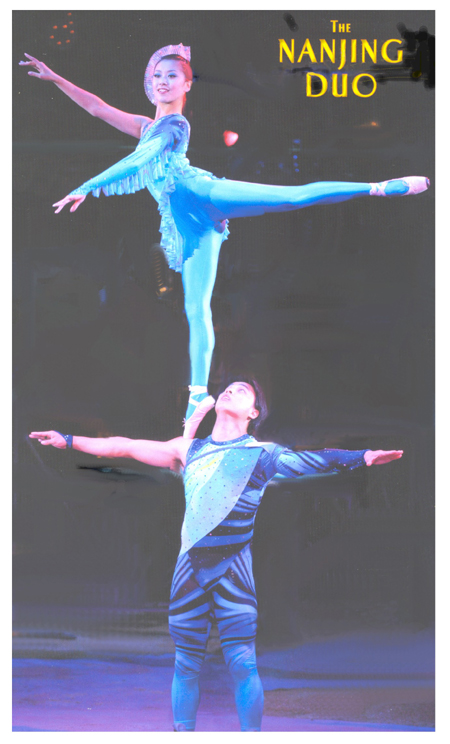 Several traditional acts are associated with every edition of the Big Apple: Horses, dogs and clowns. Christine Zerbini and Sultan Kumisbayev present a new act combining trick riding with eye-catching equestrian displays. Zerbini, sister of Ringling star Sylvia, is a ninth -generation circus performer. Her mother was a famed aerialist; her father, Tarzan, is a legendary animal trainer and circus owner.
The dog-gone fun this season comes from Luciano Anastasini Pound Puppies, canines [rescued from animal shelters] Italian-style presented by.
For more laughter, there's Big Apple's "incomparable paragon of love and laughter," Grandma [Barry Lubin. International Clown Hall of Fame inductee], who's always trying to duplicate what the thrill acts do with sidesplitting results.
The show's "Department of Laughter" is being bumped up with new clowns Glen Heroy and, in particular, Mark Gindick, who could pass for Grandma's grandson.
The Big Apple Circus is staged by veteran clown Steve Smith, with music by award-winning Broadway composer Michael Valenti.

Sarah Brightman Heard but Not Always Seen
Stopping by the Garden Sunday was classical crossover diva Sarah Brightman, POTO's original Christine, promoting songs from her first holiday CD, A Winter Symphony and Symphony, the CD released earlier this year [both on Manhattan Records].
MSqG has the worst sound of any arena I've been in, but in the midst of some powerful odds SB gave it the old college try. She was especially effective when she sang those soaring opera arias and intense romantic Italian ballads.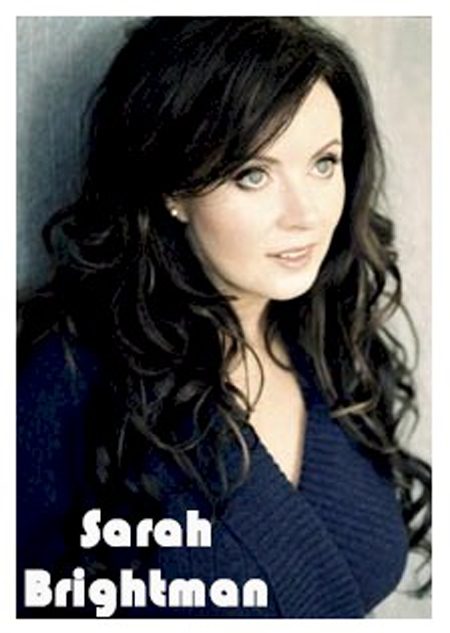 On the bigger, heavily processed numbers, often with eight dancers prancing, she was drowned out by her own sound engineer who had the orchestra pumped so loudly that you could barely make out the lyrics. It helped immensely if you were a fan and knew the songs.
[Having the lyrics in her album booklets has always been an asset, but in the Symphony CD, released earlier this year, there's an elaborately illustrated booklet but to get the lyrics you have to go to SB's web site.]
Brightman has quite a resume: 26-million albums and two million DVDs sold; and 150 Gold and Platinum records for sales in 34 countries. Six albums have ranked No. 1 on Billboard's classical crossover chart.
I've known SB since she was a youngster in the West End musical Albert and I and later, showcasing her years of dance training, as Jemima in the W.E. Cats [where she had a small solo part in "Memory"], have frequently written about her, and am quite fond of her, her mom Paula and sister Violet, so I hate to say it but she's getting lazy.
This became obvious on the Symphony CD, which contains only 12 tracks, 11 of them vocals. After a wait of over four years, don't the faithful fans deserve more? It's also obvious in the length of the concert where there was just over 90 minutes of real entertainment among the numerous costume changes. The 20-minute interval which stretched into almost a half hour only made the show seem longer.
Brightman isn't everyone's cup of tea; however, in the right circumstances, she can be quite mesmerizing. And she's warmed up considerably from her steely reserve during the West End and Bway runs of POTO, which might have been from over protection.
It's interesting to observe SB in those casual backstage meet-and-greets where she displays genuinely charm and interest in fans who adore her to the point of paying upwards of $500 for the meet-and-greets, which include a photo with the star, signed photo and a gorgeous souvenir photo book. In those moments, Brightman also has a few seconds to chat with old friends and acquaintances.
The problem with the concert lies in SB's popularity, which is presumed to be so huge that her shows must play arenas that aren't suited for her style of vocalizing. On top of that, the shows are incredibly overproduced and often have mind-boggling moments. There were certainly a few in the Symphony concert.
SB made her entrance shrouded in bolts and bolts of black fabric as if she was appearing in a mourning sequence in some Fellini film. When the dancers stripped away all that fabric, there she was spotting a tiara in this splendid red gown by costumer Victoria Adcok.
She thanked the audience, shy by at least 1,500 even with the stage setup on one end of the oval, and said how she loves being back in NYC, her favorite city in the entire world. She stated how grateful she was to fans for giving her more than 30 years in show biz spotlight. "I wanted to give something back," Brightman gushed, "especially at this time of year."
I kept waiting for an apology for her misstep in making her film debut in the god awful Repo! The Genetic Opera, where she's very Goth and even rips out her eyes with scissors [what possessed her to say yes to that debacle, which also has the horrendously untalented PHilton attempting to act (and, in a very truthful moment, admitting that she can't) and the once respected Paul Sorvino attempting to sing opera (who the hell ever planted the notion in him that he can sing?)!].
The apology never came. And, after a few minutes, things got worse.
SB was done in by set designer Johan Engles, who seemingly wasn't told the show would play arenas. Otherwise, how does a designer create a set where more than a third of the audience can't see the star in several numbers? Where are the sane production folks, SB's producer, manager, stage manager, anyone?

New York audiences have been ripped off and taken for granted so often I'm amazed at how much they will tolerate. And Brightman's following, for the most part, is considerably older than a rock star's or the Jonas Brothers'. So it was a [wee] bit satisfying when a couple of badly seated patrons yelled "We can't see you!" in an especially quiet moment. Bully for them! However, no one seemed to hear them.
The set's centerpiece are three huge Plexiglas panels that are occasionaly hydraulically raised, but stay mostly lowered for the projection of such images as a garden of red tulips, toy soldiers, a forest and winterscapes. These holographic images were ethereal and added a hi res and 3-D factor. But what's the use if you cater to the reverse of that old axiom that it's better to be seen and not heard.
The setpiece could be effective, as it was in two Busby Berkley cinemaesque moments where Brightman lay in the pit - not coming close to breaking a sweat - washed over by oceans of rippling blue lighting as if she was the little mermaid under the sea. An overhead camera shot her surrounded by dancers performing the type of homages the swimmers did in Esther Williams movies. This was then projected onto the Plexiglas ala those fabled synchronized kaleidoscope overhead shots in 30s movie musicals.
Then SB would run, presumably breathless, behind the glass and sing -- once atop a mattress-stacked bed as might have been seen in a production of The Princess and the Pea; another time, while riding a stationary bicycle.
From time to time, especially for SB to make an extended entrance in another ab fab Adcock creation from the rear stage to the tip of the runway, a bridge would pop up to connect it with the front T-section. The bed and bike could have easily been moved in front of the panels on that bridge without the background effects being lost. A couple of times later, even with the panels raised or semi-raised, the view was still obstructed.
My first thought was that Engels should be shot, but not all the blame can be heaped on him. There's a stubbornness [I was going to say arrogance] when the blunder is pointed out and still no one fixes it.
Doing a little research into the 11 dates that preceded New York, there were complaints galore of not being able to see Brightman during segments of the show. One complaint was from a critic who, amazingly, was placed in a seat with an obstructed view. And yet nothing was or probably has been changed.
In an interview from Los Angeles, SB said, "I'm a great believer in fluidity in music. I see things very much like one would look at a movie. You have to have a vision and an understanding of music and the visual arts, right down to the color of the beads, the makeup and costumes."
That's all well and good, but in a concert where every last aspect is so terribly controlled, someone is not doing Brightman justice.
ALW video regular, Bombay Dreams and Mamma Mia [W.E., Bway and the movie]'s Anthony Van-Laast's contribution of choreography, heavy on Martha Graham movements, was questionable.
Tenor Mario Frangoulis joined Brightman for two duets from POTO. Even in the Garden, his stunning voice resonated well. Usually, for one of her signature hits, "Time to Say Goodbye," which Sunday was a sort of faux finale, SB performs it as she recorded it: a duet, which is so much more affecting. Why she did it solo when she had Frangoulis and the tenor Fernando Lima in the house is puzzling. Lima joined her as he does on one of the loveliest tracks from the Winter Symphony CD, a new, Spanish "Ave Maria" by Loris Ceroni and Jorge Luhrs [the latter wrote the novella theme "Pasión," on the Symphony CD].
Though the Symphony CD has disappointed some fans, it has its moments. Brightman recaptured five of them: the poignant, bittersweet title track; "Fleurs du Mal" [Perfume of Pain] in French and English [Is it you I keep thinking of / Should I feel like I do? / I've come to know that I miss your love / While I'm not missing you / We run Til it's gone]; "Let It Rain"; and the Italian "Canto Della Terra" [Song of the Earth], a duet with Frangoulis.
Number five was a stunning operatic piece, "Attesa," adapted with lyrics by Claudio Ferrau from the symphonic Intermezzo from Mascagni's Cavalleria Rusticana. [La mia vita va come un fiume in piena / Io con lui ogni giorno godrò / Ora sono sola / Presto tempo vola / Portami il mio amor / E fa' svanire il dolor (my Italian is pretty bad but it sort of translates as My life goes on like a river in a flood / I will enjoy every day with him / be with him every waking moment / because his love makes the pain vanish)].
To welcome in the holiday season, SB sang "I Believe in Father Christmas" from Winter Symphony . There were also songs from 03's Harem. After four encores, and long after it was "time to say goodbye," the audience, on their feet, cheering and stomping, wanted more. They didn't get it. Perhaps, what they wanted was Brightman's soaring rendition of "Nessum Dorma." It's long been the aria she's closes her shows with. Sadly, not anymore!
Ellis Nassour is an international media journalist, and author of Honky Tonk Angel: The Intimate Story of Patsy Cline, which he has adapted into a musical for the stage. Visit www.patsyclinehta.com.

He can be reached at [email protected]





Why are you looking all the way down here?
For more articles by Ellis Nassour, click the links below!

Previous: In Remembrance: Gerald Schoenfeld, Clive Barnes

Next: Liza's At the Palace and WOW!

Or go to the Archives