"Quiet please, there's a lady on stage.
She may not be the latest rage,
But she's singing and she means it;
And she deserves a little silence..."
[Carole Bayer-Sager/Peter Allen]
Well, she didn't get it!
The audience response was near pandemonium. After Liza with a Z took six bows, including ones with her pianist Billy Stritch, music director Michael Berkowitz and the 12-piece orchestra, she reluctantly left the stage, completely drained and wet from perspiration, wrapped in Stritch's arms.
"...Quiet please, there's a woman up there
And she's been honest through her songs
Long before your consciousness was raised.
Doesn't that deserve a little praise..."
Absolutely.
No one in Minnelli's physical condition could sustain a two hour and 20 minute show; but she did.
No one who's just done the Ironman triathlon, ridden the final stage of the Tour de France, has a cold and seems to be in a state of terminal asthma could sing, dance, tell jokes and mesmerize an audience into a frenzy of standing ovations throughout the two hours and 20 minutes. Minnelli did.
Among those arriving on the red carpet to pay homage were Sandra Bernhard, Mario Cantone, Alan Cumming, Arlene Dahl and husband Marc Rosen, Vincent D'Onofrio, Christine Ebersole, Harvey Evans, Amanda Green, Julie Halston, Cheyenne Jackson, Palace Theatre co-owner and producer Stewart Lane and wife Bonnie Comley, Linda Lavin, Gavin Lee, Michele Lee, Shirley Maclaine, Karen Mason, Mary Louise Parker, Elaine Stritch, Tommy Tune and Tamara Tunie.
Even 20 minutes into the show, no one would have been surprised if Minnelli fainted and was administered oxygen. It didn't happen. If there was an ambulance standing by, it was soon sent back to whence it came.
The opening night audience of Liza's at the Palace experienced the stuff of a survivor, a legend. The concert, with its many ups and lots of downs, will certainly be talked about - will end up being written about - for years.
Minnelli not only razzle-dazzled but also rang them bells.
Her performance could be described as nothing less than a miracle. Her energy level never seemed waver, even though she was rarely off stage [and when she was, it was for only a matter of moments]. She stayed afloat in the midst of a stamina-challenging production numbers choreographed by her long-time collaborator Ron Lewis, who also directed and co-conceived the concert [which benefited from additional and special material from David Zippel].
Lewis has been a staple on the Las Vegas scene for decades and last choreographed Liza in her Tony Award-winning performance in The Act. He's helped make some of show business' greatest stars and legends look good.
The show was brilliantly conceived - embraced by many signature songs, personal stories, anecdotes and heartfelt reminiscences of who she is and whose daughter she is.
Produced by John Scher/Metropolitan Talent, Liza's at the Palace, will play through December 28.

Minnelli and pianist/co-arranger Stritch are almost synonymous. He seems to know what she's thinking before she thinks it. Then there were "Liza's boys": dancer/singers Cortes Alexander, Jim Caruso, Tiger Martina and Johnny Rodgers.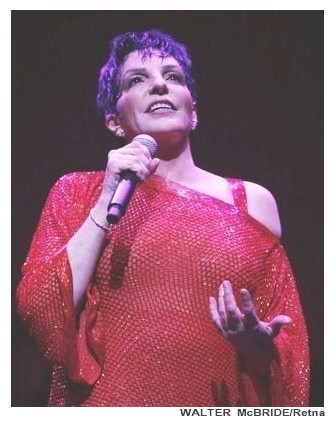 Kudos are also due lighting designer Matt Berman, long-time Minnelli conductor/drummer Michael Berkowitz and the ab fab orchestra.

Musical numbers were arranged and orchestrated by Ralph Burns, Ned Ginsburg, Marvin Hamlisch, Sonny Kompanek, Don Sebesky, Artie Schroeck, Stritch and Torrie Zito.
In a display of Minnelli's well-known sense of generosity, she not only applauded the orchestra members but brought them all down for bows.
The costumes were designed by Minnelli's long-time friend, the late Halston. The first act's sequined white pants suit and second act's sequined flapper dress and red pants suit were dazzlers - thanks in part to her being more svelte than ever.
Minnelli's performance was a sort of train wreck at the gates of heaven. It was not always the best of everything; but put all together, there was, indeed, a star onstage.
No one came expecting the Liza Minnelli of 20 years ago or even 10 years ago. Indeed, her famous vibrato is all but gone. But if they came to see an amazing champion of the art of selling a song with a helluva belt -- and an artist, who [at times] against all odds, worked her butt off to work her way once again into the hearts of dedicated fans, they got what they paid for. Actually, more.
The fact that Minnelli has lost a bit [oh, heck, just come out and say it: a lot] of her vocal range didn't seem to matter. Some of those high notes were screeches and more than wobbly. She was often seemingly nervous, speaking in short blasts of unfinished sentences. But if anyone wondered what the definitions of "determination" and "legend" are, they saw it live and in person.
Minnelli was luminous, wise-cracking, self-depreciating, funny, strutting with pizzazz from Stage Right to Stage Left, upstage, downstage - devouring the audience and, in return, basking in their lavish outpouring of love and support.
There was a particularly iconic moment as Minnelli took bows following her powerhouse rendition of the Act One finale, "Cabaret," when she stepped to the very lip of the stage and tiptoed on her heels. With her eyes closed, she threw her head back. For a moment, she basked in and absorbed the adulation as if she was on an exotic beach in the noonday sun.
Even with limited range, Minnelli sang out like Louise. She didn't have the charts changed to lower the keys, and she really gave it her all. Sadly, she was often done in by the over-the-top amplification of not only the orchestra but also her vocals, which in addition to her sustained deep breathing, made it hard to understand some lyrics, especially in less familiar songs.
Trouper that she is, she even razzed on herself about her breathlessness. "Remember how I used to sit down in the second act?" cracked Minnelli, as she reached off stage and hauled on a director's chair, "Now, I sit down in the first act."
"...So put your hands together and help her along.
All that's left of the singer's--
All that's left of the song.
Stand for the ovation
And give her one last celebration..."
There's evidently a lot left of the singer; and there's no doubting that the songs still work. The thunderous ovations --cheering, loud, sustained ones, made it obvious Minnelli's one of the world's best-loved entertainers. This was more than a celebration. It was like a canonization.
The three-time Tony [Flora, the Red Menace, 1965; The Act, 1978; and a 1974 Best Personal Achievement, for her Winter Garden engagement], Oscar [Cabaret, 1972; a nomination for 1969's The Sterile Cuckoo], Emmy winner [Liza with a Z] and Grammy "Legend" is a born comedienne, something a new generation of fans discovered with her acclaimed turn as Lucille 2 on the Emmy-winning sit-com Arrested Development.
The opening was a bit weak, "Teach Me Tonight" [Gene DePaul; Sammy Cahn], soon followed by the autobiographical "I Would Never Leave You," written by Stritch, Rodgers and Brian Lane Green; and what appeared to be a poignant 60s take on personal choice by Charles Aznavour, "What Makes a Man a Man?" However, even in these quiet moments, most of the lyrics were lost.
But Minnelli was shoveling the coal and building steam. The pace picked up with the uptempo "If You Hadn't, But You Did?" [Jule Styne; Comden and Green, from the 1951 revue Two on the Aisle] and, after a breather to discuss how she came to play Roxie for five weeks replacing Gwen Verdon in the original Chicago opposite Chita Rivera, she rose to the occasion on the Kander and Ebb classics, "My Own Best Friend" [she expressed stunned surprise at it being left out of the movie adaptation] and "Maybe This Time," the first song she says was written especially for her by the duo.*
[* Actually, it was written for K&E's great friend and supporter Kaye Ballard, who was all set to record it, when... Giving the song to Minnelli created a huge rift in the B&K&E friendship.]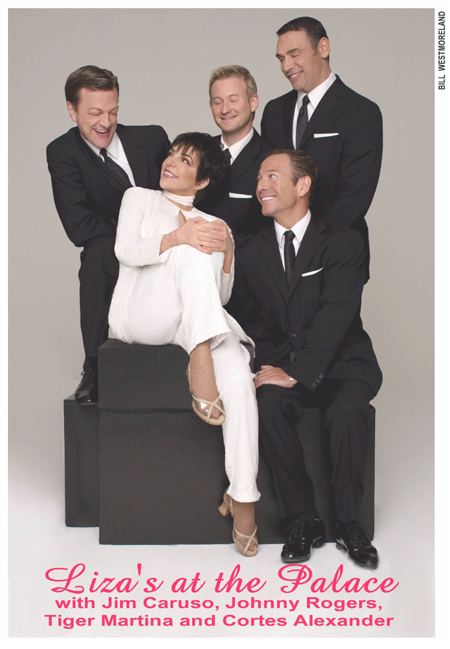 Act One was racing to a close when Minnelli in a moment of déjà vu delivered a beautifully written intro by Kander, Stritch and Zippel to Roger Edens' nostalgic "Until You've Played the Palace (You Haven't Played the Top)."
"...For years I had it preached to me,
And drummed into my head,
Until you play the Palace,
You might as well be dead
...So, it became the Hall of Fame,
The Mecca of the trade.
When you had played the Palace,
You knew that you were made.
So, I hope you understand my wondrous thrill,
'Cause vaudeville's back at the Palace,
And Liza's on the bill."
A medley long associated with Mom Judy followed. The songs were "Shine on Harvest Moon," "Some of These Days" and "I Don't Care." Minnelli added a classic made famous by Fanny Brice in the Ziegfeld Follies, "My Man."
Act One ended with a K&E Minnelli gem and Act Two began with another one, "And the World Goes 'Round."
There were more poignant moments in Act Two with Minnelli's loving tribute to one of her mom's best friends and her very own godmother, a woman who was very important in Minnelli's life, the late effervescent, gregarious and indefatigable Kay Thompson.
Though a top music director, vocal coach and arranger on MGM musicals, that aspect of Thompson's career and the fact that she was a dynamic entertainer is all but forgotten. Minnelli took steps to remedy that by recreating a segment with her singing/dancing ensemble [portraying the young Williams Brothers, fronted at the time by Andy Williams] of Thompson's tumultuously-received 40s Hollywood club act, for which she did all the arrangements.
Many who remember Thompson assumed she was English, but she was a down-to-earth St. Louie gal who became a Hollywood sophisticate. One of her rare appearances in front of the camera was in Funny Face; another was opposite Minnelli in Tell Me That You Love Me, Junie Moon. As an author, she wrote one of the world's most popular children's books, Eloise at the Plaza.
The songs in this sequence included Thompson's "Jubilee Time"; "Basin Street Blues"; "Clap Yo' Hands" by George and Ira Gershwin; George Gershwin's tribute to the Minnelli's little girl, "Liza (All the Clouds'll Roll Away)," with lyrics by Ira and Gus Kahn; Thompson's rousing "I Love a Violin"; and a song Thompson introduced to Garland, the Jolson megahit "Mammy" [Walter Donaldson, Sam Lewis and Joe Young].
Needless to say, the Palace erupted into wild rapture when Minnelli closed with K&E's anthem to the Big Apple, "New York, New York," which she introduced in the film of the same name.
"...Quiet please, there's a person up there...
Give her your respect if nothing else...
Conductor, turn the final page
And when it's over we can all go home
But she lives on - on the stage alone."
With just Billy Stritch on piano, Liza Minnelli closed with a warmly rendered "Have Yourself a Merry Little Christmas," memorably sung by her mom in Meet Me in Saint Louis.
All in all, vocally-challenged and not, Minnelli delivered a concert of songs sung from the heart and soul. The audience not only reciprocated with respect but also applause and genuine love. And they didn't want to go home.
Finally, after several more bows, the curtain was drawn. And Liza Minnelli goes round and round, amazingly living on to thrill, excite, exalt another audience.

Remembrance of Things Past
It seems everyone in the business knows Harvey and that Harvey knows everyone in the business.
Harvey Evans is one of the most loved and delightful artists in show biz. When spotted at Liza's at the Palace, it was impossible not to notice how moved he was by Minnelli's concert - especially at the end when he was in tears.
"I couldn't help it," he said. "Liza did it to me. I was so moved by 'Have Yourself A Merry Little Christmas,' which Judy had sung. And now Liza did as her farewell gift to the audience. My life flashed before my eyes. I feel so privileged to have known and worked with them."

Evans, a spry 68 come January, has appeared onstage, in film and on TV regularly since the 1950s. He can still sing, cut a rug and kick up his heels as he recently
did for choreographer John "Chi Chi" O'Connell in the large dance ensemble for Disney's Enchanted.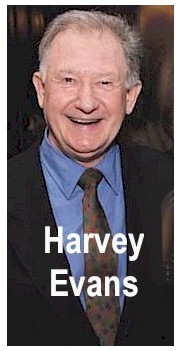 He made his Broadway debut in 1957 under his real name, Harvey Hohnecker, opposite none other than Gwen Verdon in New Girl in Town. He proceeded to dance in classic musical after classic musical, including West Side Story, again opposite Verdon in Redhead, as a Tulsa in the original Gypsy, as a Barnaby opposite Channing in Hello, Dolly!, with Lansbury in Anyone Can Whistle, opposite Joel Grey in George M and as Bobby in the Boy Friend revival.
Evans won acclaim as Young Buddy in the original Follies and followed that as Jim Dale's Barnum standby.
Numerous roles in Sunset Boulevard, The Scarlet Pimpernel and the 2005 Oklahoma! revival followed.
He's done so many benefits, regional and tour productions that he's probably lost count.
On film and TV, he appeared in adaptations of The Pajama Game, Dames at Sea and Applause. And he's still working!
The stories he can tell! The memories he has! Everyone is always telling Evans, "You should write a book," and maybe he will.
And he worked with Judy Garland in her 1963 CBS TV variety series. "I appeared in Mary Poppins, which was choreographed by Mark Breaux and DeeDee Wood, and they were the Garland choreographers. That's how I got hired.
"Judy was amazingly generous," says Evans, "and wonderful to all of us in the ensemble.
There were 12 of us, six guys, six gals. And that's how I met Liza. She was there as often as possible to see Mama and I got to appear with her in the Christmas show."
It was on that broadcast that Minnelli stopped the show, bringing down the house doing "Steam Heat" with Tracy Everitt.
"Liza met Tracy while we were in West Side Story," says Evans. "He was Snowboy. They dated for a while."
But it was the month before that etched a memory he can never forget.
John F. Kennedy had been assassinated. Garland was a Kennedy friend and so distraught she didn't know if she could do that week's show. In the end, she did and by paying tribute with a stirring rendition of "The Battle Hymn of the Republic" that still ranks as one of the most brilliant and emotion moments in TV.
"Liza and I were in the audience," recalls Evans, "It was such an electrifying moment that everyone was in tears. Liza was holding my hand. When Judy finished, everyone jumped up at once."
That kind of response to Minnelli by the opening night audience so affected Evans that he was very slow to get up from his seat. As he walked slowly up the aisle, head bowed, he was wiping away the tears.
"What Liza managed to do was just mindboggling," he says. "My God, what a champion! It was not only a triumph for her but for all of show business."
-- Ellis Nassour
Ellis Nassour is an international media journalist, and author of Honky Tonk Angel: The Intimate Story of Patsy Cline, which he has adapted into a musical for the stage. Visit www.patsyclinehta.com.

He can be reached at [email protected]





Why are you looking all the way down here?
For more articles by Ellis Nassour, click the links below!

Previous: Thanksgiving Launches the Season to Be Merry: America's Parade, the Christmas Spectacular; the Big Apple Circus; Sarah Brightman's Symphony

Next: The Holidays Are Upon Us! How the Rockettes Spend Christmas; Theatrical Stocking Stuffers: Holiday Fare to Catch While You Still Can, What to See, Do

Or go to the Archives