Film Society of Lincoln Center's 47th edition of the New York Film Festival opens tonight with two screenings of the U.S. premiere of French New Wave director Alain Resnais' Wild Grass (Les herbes folles). He's been making film for over a half century. This marks the 10th time Resnais, 87 and famed for his groundbreaking Hiroshima, Mon Amour, Last Year in Marienbad and La Guerre Est Finie (The War Is Over), has been featured. His Muriel... appeared in the first NYFF in 1963.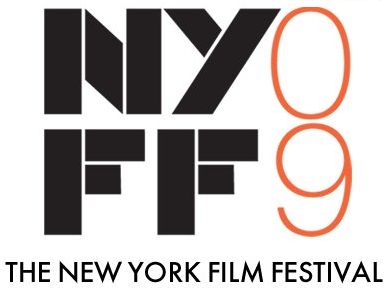 Resnais describes Wild Grass as "a human comedy of manners, mystery and romance, a delightful roundelay." When he began making movie, he promised that he'd only do original screenplays. The he began reading the novels of late-blooming author Christian Gailly, a former jazz musician. He found a rhythm in Gailly's work that he felt suited for film. On reading his 1996 The Incident, about the fate-altering ripples triggered by a purse snatching.
Wild Grass is set for wide release by Sony Classics Pictures. Though the title is puzzling [it might better have been called (Sewing) Wild Oats] and it gets off to a slow and sly start, it has a vibrant charm that soon sweeps you into a very offbeat romance between the stunning, wiry-haired, middle-aged Marguerite and Georges. The roles are superbly played by Sabine Azema [who's won two Cesars, the French equivalent of an Oscar] and veteran French star and multiple Cesar winner Andre Dussollier, in his fifth film for the director.
Azema has a radiant screen presence, so who says they're not making movies for women of a certain age? You just may have to go to France to find them. Co-starring in a very offbeat featured role is another Cesar-winning French star well known to cinepiles, Mathieu Amalric [Quantum of Solace, The Diving Bell and the Butterfly, Sofia Coppola's Marie-Antoinette, Munich, and Rois et Reine (Kings and Queens). It features widely-praised cinematography by Eric Gautier. The film will see wide release from Sony Pictures Classics.
The 17-day NYFF highlights some of the best and, often, the most controversial, in international cinema. This year's Selection Committee, which about mid-way through the Festival may have a lot of cinemalovers wondering what were they thinking [especially in regard to two films], chose 29 films from 17 countries by celebrated and veteran directors and fresh indie faces.
The Fest returns this year to Alice Tully Hall, beautifully restored and renovated with a million dollar sound and projection system.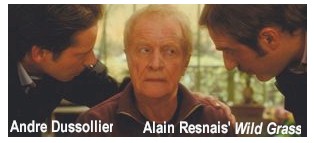 "This year's slate is diverse, fresh and compelling," notes Richard Peña, Film Society Program Director and chair of the Selection Committee. He might have added, re: a couple of the films: "perverse." He points out that, in addition to some "masters," such as Resnais, returning to the Fest, the slate includes "exciting new voices who, we believe, will become filmmakers deserving world attention."
This year's Centerpiece will be Lee Daniels' unsparing and deeply poignant Precious: Based on the Novel 'Push' by Sapphire,which was a huge hit at Cannes, the recent Toronto FF, and at Sundance [where it won the Grand Jury Prize and Audience Award]. It's raising a lot of anticipation now that the Big O and Tyler Perry have joined forces as exec producers.
Adapted from the 1966 novel, it's the story of 16-year-old Claireece Precious Jones who endures unimaginable hardships [poor, angry, barely literate, fat, unloved] abused by her mother and raped by her father.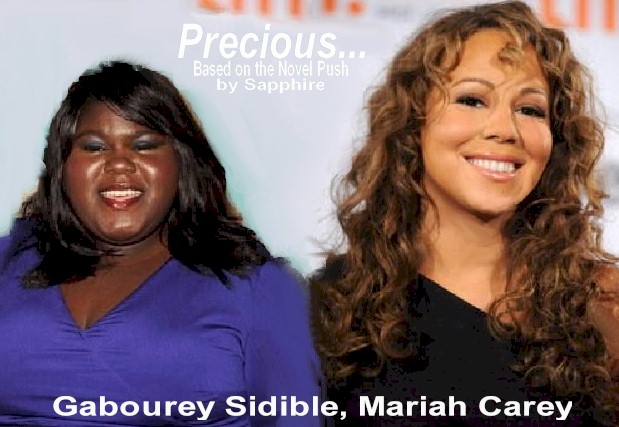 Daniels says, "Precious isn't just a tale of endless abjection. It's also the celebration of a young woman's determination to free herself from the pathologies surrounding her," guided by a teacher who senses innate talents and a tough yet compassionate welfare officer.
The casting is innovative: Sidibe, an unknown; Paula Patton as the teacher; Mariah Carey, in only her fourth film since the Glitter fiasco [and getting award buzz for losing her glam side and appearing "unvarnished"] as a welfare worker; comedienne Mo'Nique showing a drastically different side as the monstrous mother [Special Jury Prize, Sundance], Lenny Kravitz, and Sherri Shepherd [The View; Everybody Loves Raymond]. Lionsgate acquired Precious... for distribution.
The always eagerly-anticipated Closing Night film will be NYFF fav Pedro Almodóvar's Broken Embraces (Los abrazos rotos), his eighth NYFF film. The "comedy/romance/film noir," shot in the Canary Islands, is the story of a screenwriter who loses his sight and the love of his life and then, because of a numbing incident, "experiences a flood of memories that encompass a tale of naked ambition, forbidden love and devastating loss."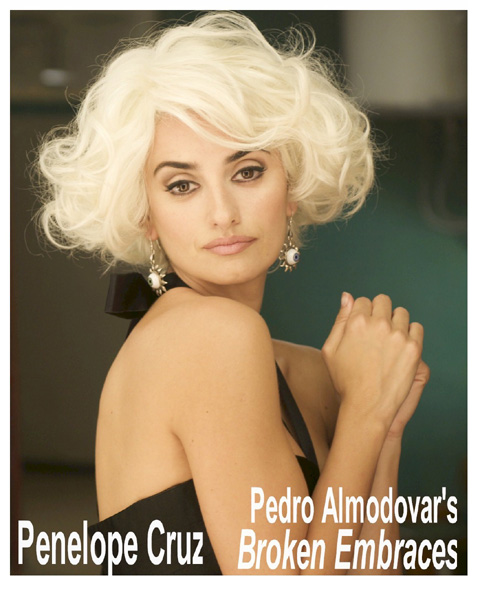 Penelope Cruz, looking more ravishing than ever, costars with Lluis Homar (Bad Education), Blanca Portillo (Volver), and Almodóvar's new Antonio, hot hunk Rubén Ochandiano. The breathtaking cinematography is by Rodrigo Prieto (Amores Perros, Brokeback Mountain). Broken Embraces will hit theatres through Sony Pictures Classics.
Rounding out the 2009 slate are the works of NYFF director alumni: Marco Bellocchio (Vincere), Catherine Breillat (Bluebeard), Claire Denis (White Material), Manoel de Oliveira, (Eccentricities of a Blonde), Jacques Rivette (36 Views of Saint-Loup Peak), Todd Solondz (Life During Wartime), and Andrzej Wajda (Sweet Rush).
A fest highlight will surely be Michael Haneke's Cannes Palme d'Or winner, The White Ribbon, an Austria/French co-production; and said to be "a starkly beautiful meditation set in Germany on the consequences of violence -- physical, emotional, spiritual on the eve of WWI." Sony Pictures Classics will release.
New directors to the Festival include Maren Ade (Everyone Else), Ilisa Barbash and Lucien Castaing-Taylor (Sweetgrass), Zhao Dayong (Ghost Town), Raya Martin (Independencia), Portugal's Joao Pedro Rodrigues (the very weirdly composed, often turgid To Die Like A Man, about the life of a very religious but put-upon drag star struggling with gender identity and a destructive, drug-addled lover) and Sabu (Kanikosen).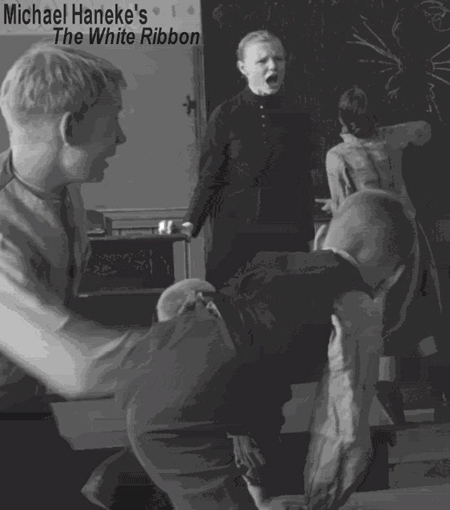 Samuel Maoz will surely make a huge impact with his edge-of-the-seat war drama Lebanon), a brutal, gripping, thought-provoking film, stunningly shot and performed by a cast of young unknowns. It's set against a day in the 1982 Israeli invasion of its neighbor, where even the good guys aren't exactly good. Kudos to DP Giora Bejach. Ninety percent of the is shot within the confines of a tank. Winner of the Golden Bear at the Venice Film Festival.
Misery loves company. That must have been Denmark's always controversial Lars von Trier [Dogma]'s state of mind when he was making Antichrist. In a video conference interview, he stated he was depressed during shooting this sexually graphic psychological horror story of a marriage disintegrating into tragedy as a couple mourn the death of their son. Warning: If you are depressed, this is not the film for you! It will undoubtedly be hailed and booed. Some may even consider tarring and feathering. Many will find it difficult to stay in their seats. And von Trier stated he'd be disappointed if there weren't walk outs.
Antichrist , which stars Willem Dafoe and Charlotte Gainsbourg [Best Actress, Cannes; See interview in current Village Voice]. is deeply influenced by von Trier's admiration of David Lynch and, though the didn't state this in so many words, Stephen King [he's a big fan of Kubrick's The Shiningand, though he didn't state this, prob the above-mentioned King].
Though many will find the violence [even, perhaps, the sex] disturbing and/or shocking, von Trier knows how to manipulate an audience. Anthony Dod Mantie's cinematography for this multinational-financed production is brilliant; and the film has great style. IFC Films will distribute.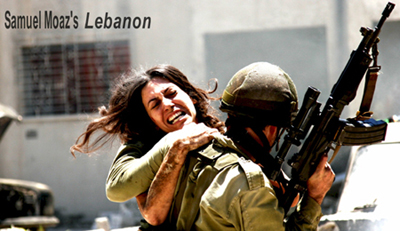 Sure to be a hit is Don Argott's damning The Art of the Steal, a doc with thriller intrigue about the quest for tourism dollars by powerful Pennsylvania politicians and normally highly-respected charities to break the will of the founder of the prestigious Barnes Foundation museum and school and acquire its beyond priceless treasure of Post-Impressionist masters for a new site in Phily. Worse than the powerbrokers' greed is the silence of America's major museums, including the Met.
One of the enjoyable highlights of the NYFF is the vast array of short films submited from around the globe and shown before the main attractions. Two to look forward to this year are Ramin Bahrani's Plactic Bag, about the life of said item from store to its wandering the earth and finally its demise;'and David Moreno's Socarrat [a 10 minute dark comedy about a Spanish family].
This year the NYFF introduces Masterworks which will feature works from India and China. The Spotlight Retrospective this weekend will be Victor Fleming's classic The Wizard of Oz, meticulously restored in Hi Def by Warner Bros. for its 70th Anniversary presentation.
The Film Society receives support from 42BELOW, GRAFF, Stella Artois, Illy Caffè, the New York State Council on the Arts, the National Endowment for the Arts, HBO, The New York Times, and Kodak.
For ticketing, dates, showtimes and related events for the 2009 slate, visit www.filmlinc.com.

Broadway Flea Circus
There'll be more stars than in the night sky [stage, film and TV] and more bargains than you can find at Conway or Costco! In fact, what a buck or a thousand dollars can buy will boggle your mind. Shubert Alley's the place and every donated dollar at Sunday's celebrity-studded 23rd annual Broadway Flea Market and Grand Auction from 10 A.M. - 7 P.M. benefits Broadway Cares/Equity Fights AIDS' massive outreach programs.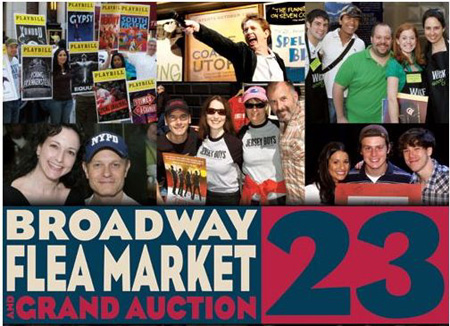 Treasures of a lifetime can be found on over 50 tables filled with theatrical memorabilia. The array of things that will get you to dip in your wallet is vast. The biggest and brightest stars from Broadway, Off-Broadway, dance and daytime television greet fans and sell memorabilia. Casts and company members of dozens of shows sell autographed posters, vintage Playbills, books, DVDs, CDs, autographed original scripts, and rare photos.
Want a few hard-to-get autographs? Get thee to the Celebrity Table, where stars sign and pose for photos. Just make a donation. Each hour approximately 15 celebrities are available for approximately 50 minutes.
The highlight of the flea is the Grand Auction, in which singular items and opportunities such as walk-on roles in Broadway shows, television programs and films go to the highest bidder.
There'll be DVDs of Broadway Bares, the Easter Bonnet Competition, Gypsy of the Year, Nothin' Like a Dame and the Leading Men concerts on sale [$25]. Michael Crawford fans from all over the U.S. and abroad come into town to man his table of memorabilia.

Go to www.broadway to preview the Celebrity Table lineup, live and silent auction items and place a pre-bid,
For more information on the Flea Market and other BC/EFA events, visit www.bcefa.org or call (212) 840-0770.

Last Chance
The next few days are your last to catch two wildly different NY International Fringe audience favs.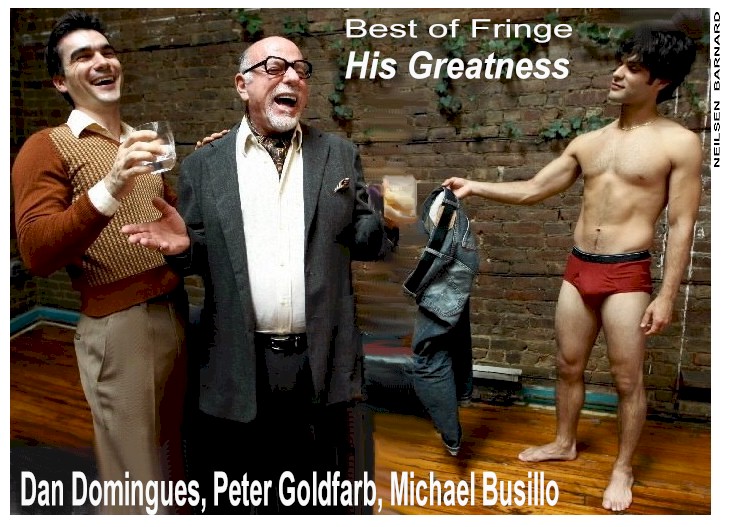 Following its critically acclaimed run and due to audience demand, Obie and Fringe Excellent Award winning playwright Daniel MacIvor's His Greatness will extend beyond tonight at 7 P.M. by three performances: September 29 -October 1, all at 8 P.M. at the Soho Playhouse [15 Vandam Street, west of Sixth Avenue].
The comedy/drama centers on a once-great playwright [think Tennessee Williams], his one-time lover and now beleaguered assistant, and a hustler in search of drugs and stardom who are together in a Vancouver hotel on the opening night of the playwright's "new" work.
The play, produced by the seat of his pants by Adam Blanshay and Lyric Productions, thanks to MacIvor's clever concept and writing is witty, campy, glib, and bitchy. It's tightly directed by playwright/lyricist Tom Gualteri.
His Greatness stars veteran actor Peter Goldfarb, winner of a L.A. Drama-Logue Best Actor Award and D.C. Helen Hayes Best Actor nomination, Dan Domingues, and Michael Busillo.
Seating is first come/first served. Tickets are $18 and available by calling (212) 691-1555 or by visiting www.sohoplayhouse.com. For more information on the play visit www.hisgreatnessPlay.com.
Baring a miracle investment, the Fringe's Excellence Award for Outstanding Play winner, Buddy Thomas' as ridiculous, madcap and ROTF funny as can be sci-fi spoof Devil Boys from Beyond plays its last performances tonight and tomorrow at the Actors Playhouse [Seventh Avenue, south of Christopher Street] at 10:30 P.M., and Sunday at 8.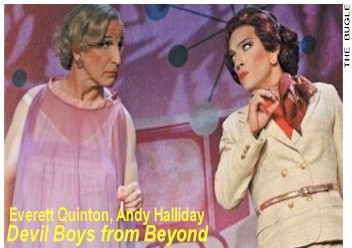 Charles Busch Theatre-in-Limbo co-founder/director/producer/sometime actor Kenneth Elliott [Boys in the Band revival; MTC's Green Heart] directs the insanity so the backstabbing reporters, alien hunks and a very unusual Florida country gal from t-boning into the flying saucers.
Paul Pecorino not-too-sublety channels Busch and Joan Crawford as ace reporter Mattie Van Buren. He's ably supported by Tom Aulino, Robert Berliner, Andy Halliday [as scheming rival reporter Lucinda Marsh], and, in a role only he could play, Ridiculous Theatre co-founder Everette Quinton.
Seating is first come/first served. Tickets are $15 and $18 and available at www.ticketweb.com.

Congrats
Hopefully, we haven't lost Cherry Jones and Michael Emerson forever to TV.
On Sunday, the celebrated Tony and DD-winning Jones took a Supporting Actress Emmy for her dymanic performance as President Allison Taylor on Fox's episonage series 24. This means Bway has lost her for another season as she returns to shoot another season of the Fox thriller.
Michael Emerson [Saw] struggled for years to make it in theater and then became the toast of Off Bway in the lead role in Gross Indecency:The Trials of Oscar Wilde . TV beckoned. He was wildly impressive in the recurring role of serial killer William Hinks on The Practice, then was whisked off to Hawaii for a guest shot as diabolical Benjamin Linus on ABC's sci-fi smash Lost. He was such a sensation, Emerson was kept on and became one of the major reasons to watch the show. On Sunday, he took home his second Best Supporting Actor Emmy.
After doing a smash-up job as this year's Tony Awards host, it seems Neil Patrick Harris [Roundabout's Assassins; TV's How I Met Your Mother] has become the host with the most. His wry humor and ability to put over special musical material is being credited with not only bringing new viewers to the Awards, but also rescusing it from last year's worst-ever rating.

Theater and Food for the Soul>
Susan Charlotte's Food For Thought, which is devoted to light lunches and oft-neglected one-act plays, celebrated its 10th anniversary by bringing out the big theatrical guns - a virtual theatrical Who's Who - at their Monday night gala at Sardi's.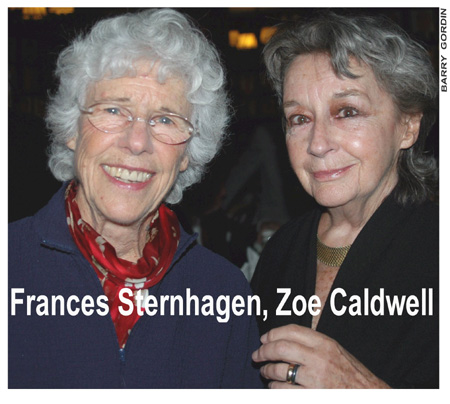 FFT alumni attending included Matthew Arkin, Lucie Arnaz, Zoe Caldwell, Lynn Cohen, Joan Copeland, Bob Dishy, Barbara Feldon, Penny Fuller, Tammy Grimes, Laurence Luckinbill, Larry Pine, Tony Roberts, Marian Seldes, John Shea, Frances Sternhagen, Fritz Weaver, and Elizabeth Wilson.
Resident directors, such as Dishy, Ulu Grossbard, Christopher Hart, and Antony Marsellis, helm approximately 75 works annually by such playwrights as Noel Coward, A.R. Gurney, Tony Kushner, Elmore Leonard, Arthur Miller [who also served as a director], Mark O'Donnell, Joyce Carol Oates, Harold Pinter, Lynn Redgrave, Murray Schissgal, Oscar Wilde, Tennessee Williams, and Charlotte.

KT Sullivan performed at the gala, where several of the "regulars" did readings from two one-acts.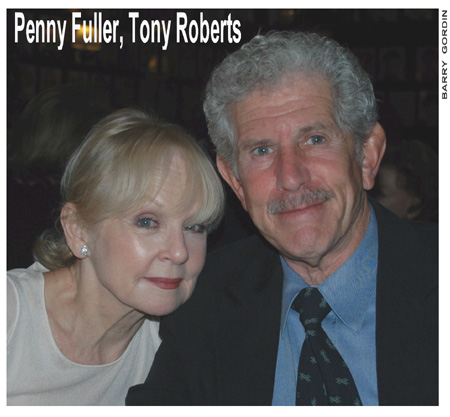 FFT's new season has begun. This Wednesday, Ms. Seldes appears as Lady Bracknell in an adaptation of Wilde's The Importance of Being Earnest ; and co-stars with Ms. Copeland in Charlotte's The Designers. Some Pinter and Coward follow on October 5. On October 8, FFT goes on the road, to the South Orange Performing Arts Center, with none other than Elaine Stritch appearing in Williams' one-act adaptation of The Glass Menagerie, The Pretty Trap.
Later in October, Thornton Wilder, Horton Food and David Henry Hwang will be among the featured playwrights. In December, there will be a special treat, Zoe Caldwell starring in Gurney's The Love Course. For pricing, schedule of readings, and upcoming special events, such as the 50th Anniversary salute to The Twilight Zone, call (646) 366-9340 or visit www.foodforthoughtproductions.com.
Ellis Nassour is an international media journalist, and author of Honky Tonk Angel: The Intimate Story of Patsy Cline, which he has adapted into a musical for the stage. Visit www.patsyclinehta.com.

He can be reached at [email protected]





Why are you looking all the way down here?
For more articles by Ellis Nassour, click the links below!

Previous: Tim Blake Nelson, Playwright, Too; Whitney's Return; Coming Up; Food For Thought Celebrates; Last Call; Weekend Holiday Escapes; More

Next: Theater Hall of Fame Inductees Announced; Welcome Back, Tony; Carrie Fisher to the Rescue; NY Film Festival Closes; It Takes [More Than] Two to Tango; MM's Back in Town; March for Equality; TV Musical Gems Rediscovered; Last Chance to Catch Kate

Or go to the Archives