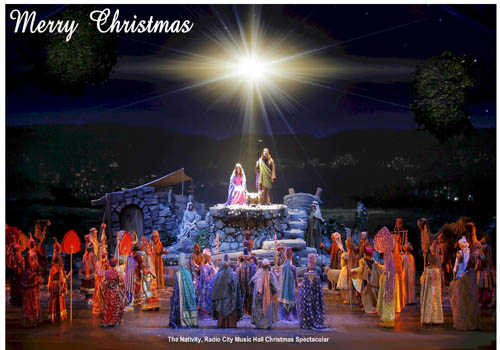 The fabled Rockettes, Santa Claus, 3-D trip from the North Pole to Sixth Avenue and 50th Street, ice skaters, a young ballerina, dancing bears, lavishly-dressed Kings from the East, and a cast of 140 make up Radio City Music Hall's 77th Christmas Spectacular. For more than three-quarters of a century, the fabled Rockettes have entertained more than 65 million [here and on tour] since they began their high kicks in 1933.
Re-touched, re-tuned, and re-imagined last season, more than half of the 90-minute show is new. The show, directed/choreographed by former Broadway gypsy - and one-time assistant to Bob Fosse, Linda Haberman.
The Rockettes dominate the show more than ever. There's their famed rag doll number, the tour-de-force "12 Days of Christmas" and the classic "March of the Wooden Soldiers," a double-decker bus ride that rocks and rolls you through a montage of Manhattan's scenic wonders to a fireworks finale in Times Square; and "Let Christmas Shine," the finale where a tree grows 20 feet high right before your eyes - decorated with 36 live Rockette Swarovski crystal ornaments to match the magnificent Swarovski mobile in the main lobby.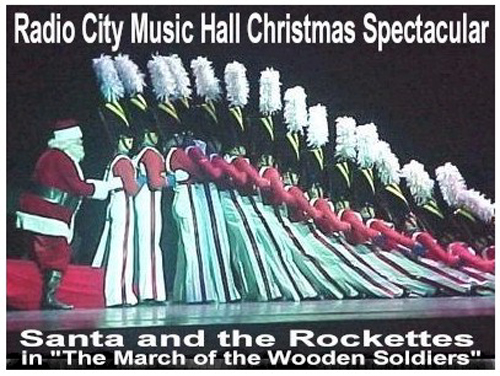 Audiences flock to the Christmas Spectacular to be inspired and uplifted. That's accomplished by the Living Nativity, which features the entire cast and live animals. It's way over the top in splendor [even the manger looks like it could be on The Great Hotels of the World list] but only a cold heart won't be moved by it.
You'll want to arrive early. Entertainment begins a quarter hour before showtime when the mighty Wurlitzer organs roll out for a mini-concert.

Christmas at the Music Hall
This weekend, there will be 15 Christmas Spectacular performances featuring two casts of Rockettes [including three on Christmas Eve and three on Christmas day]. There's not a lot of time for the 72 dancers to spend with family and friends.
"This is especially true on Christmas Eve and Christmas day," says Amy York, a Rockette since 1997, "but we know this going in. It's a great job in a spectacular show that has something for everyone and which has become one of the city's treasured holiday traditions."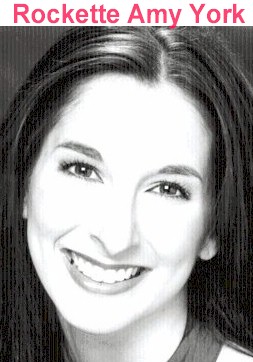 York, a Texas native, has done the holiday show also on tour but says, "There's no place like audiences in New York. Doing the show at the Music Hall is quite different than doing it on the road. Stepping out on that great stage and looking into the vast auditorium filled with people is pure magic."
She says it's an honor to be a part of the Music Hall and Rockette tradition, a sentiment she explains is shared by all of her dancing colleagues, who, on the majority, return year after year. "There's a saying," points out York, "that once a Rockette, always a Rockette!"
There's a group of dancers for the morning and afternoon and another group for evening and night. There are five weeks of 10 - 6 rehearsals, with one day off. "No matter how tired you are," says York, "as soon as you step into those sparkly costumes and set foof onstage the adrenaline really pumps."
With the extra shows as Christmas draws closer, "getting shopping done is not as difficult as one might think," York notes, "mostly thanks to online shopping opportunities."
Christmas Eve and Christmas day, York points out, "We bring the holiday backstage. It's festive. We have a tree and play Secret Santa. On Christmas day, we have a dinner to which we can bring our families."

Music Hall Gifts
You can take the holiday show home in two forms: a colorful Christmas Spectacular pop-up book [Madison Square Garden Entertainment; hardcover, 32 pages; SRP $35], featuring six iconic scenes. High-kicking routines, wooden sldiers, and the "Living Nativity" are transformed from onstage to every page. The book, available at the Music Hall, online, and at bookstores, comes with a storybook, so it's two books in one.

With The Radio City Christmas Spectacular: The Rockettes DVD [Time-Life, 80 + minutes; SRP $30], you can experience the show anytime you're in the doldrums. There are 12 high-kick and precision dance numbers, a behind-the-scenes bonus disc, plus a commemorative ornament.
For much more Christmas Spectacular-related and Music Hall gift ideas, visit www.radiocitychristmas.com.

From Memphis to Broadway
Memphis, a fictionalized account of the roots of rock 'n roll as it emerged from unknown black boppers in "underground" clubs of the 50s along Memphis' Beale Street is anchored by Chad Kimball's bravura performance as DJ Huey Calhoun, the role that dominates the musical. Calhoun ignores racial boundaries of the era in his determination to take "race music" to the mainstream. There are obstacles such as falling in love, racist violence, and his swelling head as he becomes a celebrity.
His performance is a star-making turn after appearing in the short-lived Lennon and roles in the short-lived Good Vibrations, and the Into the Woods revival. There's nothing short-lived about Memphis. The show, six years in germination, with the rousing score by Bon Jovi founding member David Bryan and book by Joe DiPietro [I Love You, You're Perfect, Now Change] has found an ever-growing audience.
"To create a character from scratch and have the opportunity to develop that character over a period," says Kimball, "is every actor's dream come true. I fell madly in love with the music and story."
He says it's work that doesn't feel like work. "I've been able to bring to Huey something from my life, my experiences. All those tough, sad times, those times of desperation served the role. It makes me believe it was meant to be."
Kimball's co-star is stunning, golden-voiced belter Montego Glover as the singer Calhoun pushes into the big time. "What can I say? Montego is an absolute delight to work with. She's passionate, inquisitive, confident, easy on the eye, and can blow the roof off any building with that power house voice. I'm a lucky man to be allowed to share the stage with her."
It appears to be a mutual admiration society. "Working with Chad is thrilling because we've created our roles together over the six years. It's amazing how we've developed a shorthand - this easy language between us. Most amazing is Chad's fearlessness, intelligence, and commitment to his work. I find it engaging and empowering. This is a memorable time."
Regarding his character, he said it wasn't such an easy task to create Huey. "He's a guy who's belligerent, annoying, and selfish - at times! - and stil he has to tug at your heart, make you smile, make you cry. I'd describe him as a likable tragic hero, a sort of everyman. He isn't the suave, debonair leading man Broadway's used to. He is a guy's guy who tries, fails, picks himself up, and repeats. He someone we all can relate to because we live that cycle everyday."

Kimball says the critical and audience response to his performance and the show has been surreal. "You work and work and hope that your work translates. When it does it feels so gratifying. Our audiences are responding with an exhilaration I've never experienced. They're like kids at Christmas! It's magical to see response such as that to a show that has no history, that's not based on a book or a movie, and has no music they've ever heard. They come in with no expectations and leave with a newness that might be likened to the inaugural run of a roller coaster. I feel immensely blessed. I've pinched myself so many times I think I might start scarring."
He praises the Memphis company as "extraordinary, intense." "When you're with so much unique talent, it makes you want to constantly better myself as a performer and as a person."
Just in time for the holidays, Delray Records has released Memphis' original cast recording.

Silent Night, Holy Night
Bending Towards the Light: A Jazz Nativity has swung into Birdland [315 West 44th Street, between Eight and Ninth Avenues] for the fourth consecutive year. There are three more performances tonight - December 25 at 6 P.M.

The show, popular with jazz buffs and suitable for children, has a band featuring Latin percussionist Candido, tenor saxophonist Bob Kindred, vocalist Hilary Kole in the role of Mary, mezzo soprano Stephanie McGuire as the archangel, and special guests, such as Jordan Kirkwood from the Newark Boys Chorus School as the shepherd boy.
Written and arranged by vocalist/songwriter Anne Phillips, Bending Towards the Light combines carols with original music by Phillips, Bob Kindred and Dave and Iola Brubeck. The original cast recording, featuring the late CBS news personality Charles Kuralt as narrator, Lionel Hampton, Dave Brubeck, Tito Puente, Benny Powell, and Toots Thielemans is available at www.jazznativity.com and www.cdbaby.com.

Bending Towards the Light is 75 minutes, no intermission. Tickets are $40 and $45 with l $10 food/drink minimum, and available online at www.birdlandjazz.com or by calling (212) 581-3080.

Holidays at the Met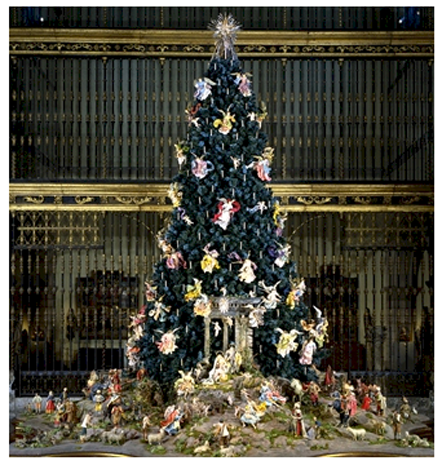 The Met Christmas tree and Neapolitan Baroque crèche are long-established yuletide traditions. The 20-foot blue spruce with a collection of 18th-century Neapolitan angels and cherubs and the crèche figures flanking the Nativity scene are on view through January 6.
Velázquez Rediscovered, on view at the Metropolitan Museum of Art until February 7, features Portrait of a Man, a newly identified painting by Velázquez that was ascribed to artist's workshop. Restored and cleaned, it's being shown with other Velázquez works. The exhibition is accompanied by Velázquez Rediscovered [Metropolitan Museum; trade soft cover; $10], with essays by Jonathan Brown and Michael Gallagher.

Young Archer, the marble nude sculpture attributed to Michelangelo, is now on view in the Vélez Blanco Patio, on loan for 10 years by France. The figure, missing arms and lower legs, was retained in France's Fifth Avenue mansion that housed their Cultural Services office.
Closed Christmas Day, the museum will be open on Monday, its usual "dark" day, December 28.

Kennedy Center Honors Televised
2009 Kennedy Center Honors recipients are Mel Brooks, pianist/composer Dave Brubeck, opera singer Grace Bumbry, Robert De Niro, and Bruce Springsteen received honors and musical tributes from an all-star line-up at the December 6 gala at the Center's opera house. CBS will air a two-hour special of the event December 29 at 9 P.M.

"Mel Brooks created comedic gems that will keep us laughing for years," said Kennedy Center chair Stephen Schwarzman. "Dave Brubeck's genius dazzled us for six decades and helped define an American art form. Grace Bumbry helped break the color barrier on her way to one of the most illustrious operatic careers of the 20th Century. Robert De Niro is one of our greatest cinematic actors and co-founder of one of the world's major film festivals. Bruce Springsteen, with his gritty, honest songs that speak to the everyman, has always had his finger on the pulse of America."
Prior to the ceremony, President and Mrs. Obama received the honorees at the White House and then were seated with them for the tributes.

A Tennessee Williams Screenplay
The Loss of a Teardrop Diamond [Paladin/Constellation Entertainment], the film based on a long forgotten screenplay by one of America's greatest playwrights, Tennessee Williams opens December 30th locally. Directed by stage/screen actress Jodie Markell, Teardrop Diamond has parrallels with Williams' better known works. Bryce Dallas Howard, as a true Southern belle, Oscar-winner Ellen Burstyn in a standout performance, Oscar-nom Ann-Margret in quite the offbeat role, Chris Evans, Mamie Gummer, and Will Patton star in the story of a young, headstrong young heiress who chafes under the constraints of Southern society and rebels by asking, in a business arrangement [at first!], the impoverished, but handsome son of her father's caretaker to escort her to the ball. When she discovers she loves him, it's too late to earn the affection she tried to buy.

More Tennessee Williams
The recent Sydney Theatre Company's weird and strangely acclaimed production of Streetcar; and now the Teardrop Diamond film, coincide with TW on TV: A Tribute to Tennessee Williams, through December 27 at the Paley Center [25 West 52nd Street, between Fifth and Sixth Avenues] and a screening of the TV adaptation of Streetcar, starring Alec Baldwin [Stanley], Jessica Lange [Blanche], Diane Lane [Stella], and John Goodman [Mitch]. The special was nominated for Emmy and Golden Globe awards, with Lange receiving a Best Actress GG. Also screening through the 27th is Too Marvelous for Words: Johnny Mercer, a centennial celebration featuring Mercer's rare TV appearances and tuneful clips by, among others, Midler, Sinatra, and Streisand. Both are included with admission, free for members.

Holiday Reading/Gifts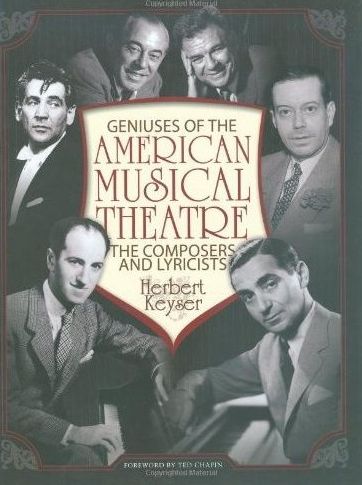 Geniuses of the American Musical Theatre: The Composers and Lyricists by Herbert Keyser [Applause Books, 304 pages, oversized hardcover, profusely illustrated, index; SRP, $30] collects, for the first time, biographies of 28 of our greatest Broadway songwriters and lyricists. Keyser digs to discover what made/makes them tick and uncover not only intimate details and secrets of their success, but also personal foibles that sometimes led to their downfall. While you sing along to tunes that have become part of our lives, some of the personal journey stories will capture your heart, others will bring a tear or a smile. The Foreword is by R&H prez and exec director/American Theatre Wing board chair, Ted Chapin.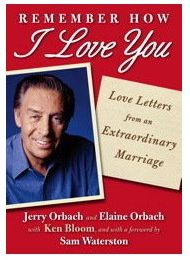 The late Jerry Orbach might be best remembered for roles such as tough Law & Order detective Lennie Briscoe, not to mention Dirty Dancing, but who knew that he was such a romantic? Over his 25-year relationship/marriage to Elaine Cancilla, whom he met when she was Velma's standby in the original Chicago, Jerry wrote poems to her everyday. Along with insightful remembrances of Orbach, the late Mrs. Orback shares a majority of the love notes in Remember How I Love You [Touchstone Books, 190 pages, illustrated; Foreword by Sam Waterston, Afterword by Richard Belzer; SRP, $23]. Mrs. Orbach passed away earlier this year right after the book, written with Ken Bloom, was completed.

Just out: Theatre World, Volume 65, 2008-2009 [Applause Books, vastly illustrated, 482 pages; SRP, $50], edited by Ben Hodges, is the authoritative statistical and pictorial record of the season on Bway, Off, and Off-Off, tours, and regional companies. The new volume of this historic, essential series of theater buffs contains listings of casts, replacements, playwrights, composers, directors, producers, opening and closing dates, song titles, synopses, and much more. And there's a first: overviews of the across-the-boardl theater season by contributing journalists.

On DVD
Every Little Step - a portrait of the struggle to achieve a dream as seen through the mounting of the smash Broadway show, A Chorus Line - is just out on DVD [Sony Pictures Home Entertainment; SRP, $29]. The doc won high praise on the festival circuit. It's directed/produced by multiple Tony and DD nom and winner James Stern [The Producers; Hairspray] and film producer Adam Del Deo.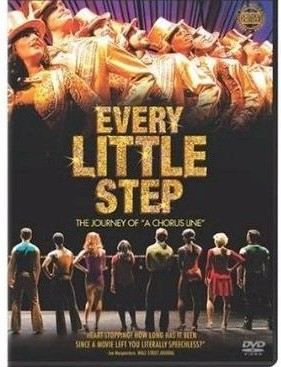 ELS follows auditions and casting of the 2006 stage revival and explores ACL's history from Michael Bennett's ground-breaking concept of gypsies telling their stories, to the phenomenon the show became. There are production numbers, interviews with hopefuls, as well as with Bob Avian, Michael Bennett, Marvin Hamlisch, Jacques and Charlotte d'Amboise, Baayork Lee, and other vets of the original.

Just in time for the holidays comes the 20th Anniversary Ultimate Collector's Edition of National Lampoon's Christmas Vacation [Warner Home Video; 97 minutes; SRP, $40 ], John Hughes' gag-filled comedy starring Chevy Chase and Beverly D'Angelo as the Griswalds. Randy Quaid practically steals the movie as a mooching, unemployed relative. Providing backup are Johnny Galecki, Diane Ladd, Juliette Lewis, Julia Louis-Dreyeus, and Doris Roberts. Bonus material: Chase and D'Angelo commentary, Making Of featurette, as well a tin of stocking stuffers, including character coasters and Santa hat.

Chestnuts Roasting over an Open Fire
'Tis the season to have logs on the fireplace with holiday music playing while you sip spiked eggnog. So what if you don't have a fireplace. Sony Music has taken care of everything but the spiked eggnog with the DVD series Christmas Classics, the Yule Log Edition[SRP, $15 each], featuring top-selling artists' holiday music as backdrop for flaming yule logs: Celine Dion, These Are Special Times, 17 tracks; Il Divo, The Christmas Collection, 10 tracks; Bette Midler, Kool Yule, 11 tracks/12 tunes, including a duet with Johnny Mathis; and Carreras/Domingo/Pavarotti, the Three Tenors, Christmas, 21 tracks. Also in the series: Mariah Carey, Johnny Cash, Kenny Chesney, Kenny G., Whitney Houston, Martina McBride, and Brad Paisley.

More CD Stocking Stuffer Ideas
January, 2009 isn't a month Susan Boyle will soon forget. It actually seems like only yesterday that the shy, awkward, devout, "old maid" of 48 stepped onto the stage of Britain's Got Talent in front of a derisive audience and three doubting judges. Then she began to sing, and there was overnight fame. Boyle captured the hearts of millions and became a worldwide YouTube phenom [300 million hits]. She'll even be singing the title song in the next Bond film! Now, comes her debut CD, I Dreamed a Dream [Sony, 12 tracks; SRP $12]. It's diverse, to say the least. In addition to her signature song, there's "Cry me a River," a haunting rendition of the Stones' "Wild Horses", Madonna's `You'll See," "Daydream Believer" by the Monkees, "How Great Thou Art," and an original tune, "Who I Was Born to Be." She dared to dream, and the dream came true.

The original cast recording of Vanities, based on the Jack Heifner's 1976 play is just out on Ghostlight Records [Ilustrated booklet with lyrics,l15 tracks; SRP, $15]. The show, which traced three friends - Lauren Kennedy, Sarah Stiles, and Anneliese van der Pol - from small town Texas gals to college, career women and marriage with children, has music and lyrics by David Kirshenbaum with a book by Heifner. The director was Tony-winning actress Judith Ivey, who just closed Off Bway in the excellent The Lady with All the Answers, about advice columnist Ann Landers, "a Jewish Joan of Arc, with chutzpah and one hell of a Rolodex to the famous and powerbrokers." The album was produced by Grammy-winner Joel Moss. In July, Vanities made its NY debut Off-Bway. Visit www.ghostlightrecords.com.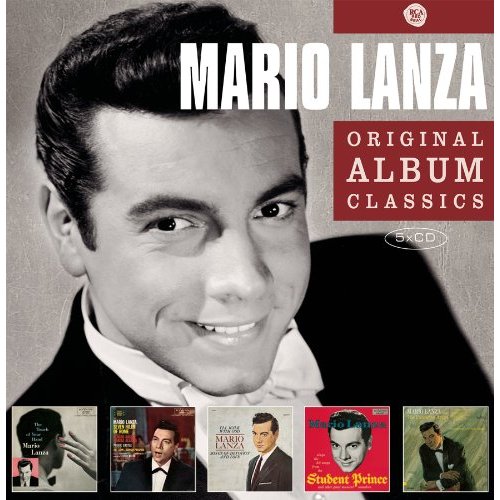 One of the greatest opera and operetta tenor voices was that of the late Mario Lanza and the just released Mario Lanza: Original Album Classics [Sonymasterworks, five discs; SRP, $40] contains some of his greatest recordings, all re-mastered. Unquestionably, Lanza set the benchmark for opera in the movies. Not only blessed with a grand voice, he could act and had the ability to cover a wide variety of operatic territory with incomparabel power and passion; and, what essentially made him so popuar, cross over from opera to popular music. Disc One, 14 tracks, includes "The Touch of Your Hand" from Roberta and "The Song Is You" from Music in the Air,/em>. Disc Two, 13 tracks, includes "Arrivederci Roma" and "Serenade." Disc Three, 14 tracks, "The Lord's Prayer," "Ave Maria," "Because," and "Addio alla Madre" from Cavalleria Rutticana. Dics Four, 15 tracks, "Golden Days," and "Drink, Drink, Drink," and "I'll Walk With God" from Student Prince. Disc Five, 12 tracks, arias from Aida, Andrea Chenier, La Bohème, Pagliacci, Rigoletto, and Tosca.

If you want to rock around your holiday or Christmas tree to an artist other than belter Brenda Lee, there's Handel's Messiah Rocks: A Joyful Noise, the PBS special now on DVD, featuring, among others, the Boston Pops, Tony winner LaChanze, and Tony nom J. Robert Spencer [Sony Music; 15 scenes, plus bonus material galore; SRP, $12]. Sony has also released a same-title CD [SRP, $12].

For her 15th solo CD, Verismo [Decca; 17 tracks; SRP, $18], Renee Fleming, one of the most recorded opera singers, features Puccini arias from La Bohème, Turandot, Manon Lescaut, Sour Angelica; and Catalani's La Wally. Among the rarely heard arias in the verismo style are from Zandonai's Conchita, Giordano's Fedora, Cilea's Gloria, and Mascagni's Iris. A bonus is the premiere recording of the original manuscript version of "Sola, Perduta, Abbandonata" from Manon Lescaut. Tenor Jonas Kaufmann joins Fleming for La Rondine's Act II "Bevo al Tuo Fresco Sorris." Marco Armiliato conducts.
Also available as a DVD.
A Don't Miss Movie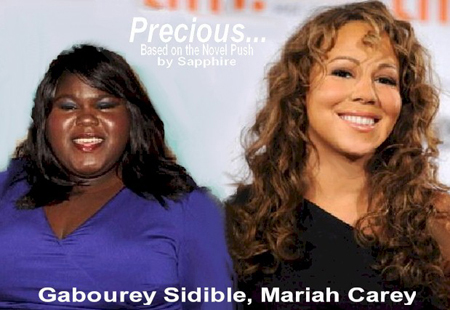 Lee Daniels' unsparing, deeply poignant Precious: Based on the Novel 'Push' by Sapphire isn't exactly holiday fare, but it will make you appreciate who you are. It's raw and not always easy to watch. There are many shattering moments and it's not always easy to watch. There is a high quota of violence, but not the shoot-'em-up, blood-spoutin' kind. It has become one of the year's most talked about films.
Adapted from the 1966 novel, it's the story of 16-year-old Claireece Precious Jones who endures unimaginable hardships - poor, angry, barely literate, hugely overweight, unloved - ridiculed by classmates, abused by her mother and raped by her father. She is blessed in the rare instance when the public school system actually works to benefit the child. Suddenly, a mother and with the help of new friends, her life begins to change.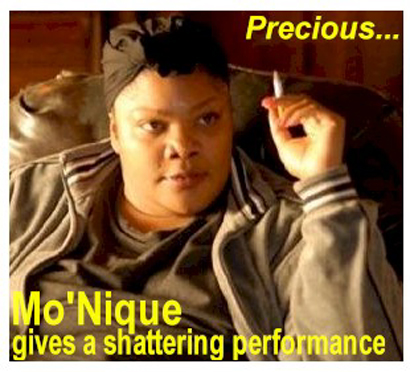 The casting is innovative: Sidibe, an unknown; stunning Paula Patton as the teacher has a magical screen presence [and could be almost mistaken for JLo]; and Mariah Carey, in only her fourth film since the Glitter fiasco should receive award buzz for losing her glam side and appearing "unvarnished" as a welfare worker. Rocker Lenny Kravitz, and Sherri Shepherd [The View; Everybody Loves Raymond] appear in featured roles.
Sidibe is a casting coup and Daniels extracts an awesome performance from her, but there's another coup: comedienne Mo'Nique as Precious' monstrous, jealous, abusive mother. Audiences who know her TV sitcom work and stand-up will be jaw-droppingly stunned at the depth of her performance. She, Sidibe, and the film just received Golden Globe noms. Surely, Oscar noms will follow.

And Still Out There:
The lavishly-packaged Sondheim buff's treasure trove, Stephen Sondheim, The Story So Far [SonyBMG/Legacy Records; four discs, four and a half hours; SRP, $55] has 81 tracks from Sondheim's Broadway shows, film scores, TV specials, incidental music, and private demos [some sung by SS]. There're 28 previously-unreleased tracks and rarities such as songs from Evening Primrose, the 1966 TV musical starring Anthony Perkins and Charmain Carr; demos from Saturday Night, the 1955 musical that would have marked Sondheim's Bway debut had it reached NY; unreleased tracks from Do I Hear a Waltz?; discarded tunes from Company, Follies, A Little Night Music and Pacific Overtures; and songs for an intended 1992 TV production of Into the Woods. The illustrated booklet features an intro by Harold Prince, notes by Library of Congress music specialist Mark Horowitz, as well as Sondheim's reflections.

There's no finer gift for theater fans than a tell-all, but the expanded edition of How Does The Show Go On?, An Introduction to the Theater by Disney Theatricals president Thomas Schumacher and Jeff Kurt [Disney Editions; 120 pages; SRP, $25] isn't gossip dish but just what the title implies: an interactive guide to all aspects of theater. Readers meet playwrights, casts, creative teams, explore the inner workings of theater and theatres. Surprises include a mock ticket to Lion King, a costume designer's sketchbook with swatches, a Playbill, theater-speak glossary, advice on how to present a play, hundreds of mini and oversized color photos, and a quadruple fold-out of LK and Mary Poppins]. Updated to include The Little Mermaid and High School Musical.

Wishing you a joyous, blessed Christmas and an ab fab New Year filled with peace, good health, and prosperity!
Ellis Nassour is an international media journalist, and author of Honky Tonk Angel: The Intimate Story of Patsy Cline, which he has adapted into a musical for the stage. Visit www.patsyclinehta.com.

He can be reached at [email protected]





Why are you looking all the way down here?
For more articles by Ellis Nassour, click the links below!

Previous: Romance, Temptation, Passion, Debauchery, Torment - with Mixed Reaction - Onstage, Onscreen: A Little Night Music and Nine; Zero Hour Plans Move; Big Apple Circus; Rare Revival; La Boheme Telecast; More

Next: Ringin' Out the Old and In with the New: There's Never a Shortage of Things to Do in NYC

Or go to the Archives