A Little Night Music, loosely based on Ingmar Bergman's iconic, enchanting, and erotic movie of Swedish romance, Smiles of a Summer Night, was mastered for the stage by Stephen Sondheim and Hugh Wheeler. The 1973 original won seven of its 12 Tony noms - including Best Musical, Score, and Book; and all seven of its six Drama Desk noms - including Score and Book [strangely it wasn't nominated for Outstanding Musical].
The 19th Century wasn't anywhere as innocent as we seem to think. Leading up to a weekend in the country, where the audience gets to peek through a very large keyhole as all sorts of sizzling liasons go on between the servants and convuluted webs of deceit are uncovered as love triangles erupt among the upper class.
The musical has been remastered for the current revival, a transfer from London's Menier Chocolate Factory, by Trevor Nunn. It stars Catharine Zeta-Jones in her much-anticipated Broadway debut in the role of raucous Desiree, Alexander Hanson [from the London cast] as Frederick, and in the coveted role of aging courtesan Madame Armfeldt, our indomitable, indefatigable First Lady of the Theater, Angela Lansbury.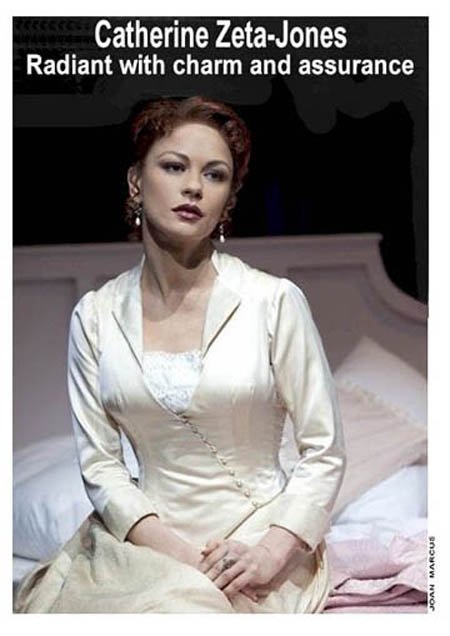 The impact of the original production was sensational. The response to the revival has been strangely mixed. Reaction ranges from "standout" and "superb" to "flawed" and "second-tier boulevard farce." More than a few don't like the smaller [six-piece, but sounding much larger] "chamber" orchestra, the pared-down design, and/or certain members of the cast.
Some claim this very frothy production is much darker than the original. Some others called it glib and garish. A number of theatergoers among the detractors actually may not like it because at the Walter Kerr Theatre, it's all but impossible to get the the bathrooms in a timely fashion because little has been left of the once a spacious crossover [a solution would be for women to all be seated theater left and men seated theater right].
But the most amazing thing is that not everyone is throwing roses in the path of the exquisite, luminous Zeta-Jones, who is making her return to the stage after becoming a mega movie star not to mention Oscar winner for her portrayal of the notorious Velma Kelly in Rob Marshall's also Oscar-winning screen rendering of Chicago. Before hitting the screen, she sang and danced in the West End production of 42nd Street.
More amazing is the fact that some Scrooges in the midst of this holiday season are of the mind that Miss Lansbury, utterly amazing at 84, is overplaying her role. Obviously, they either didn't see or don't remember Hermione Gingold in the original. There was nothing subtle about her or her descriptions of her liasons.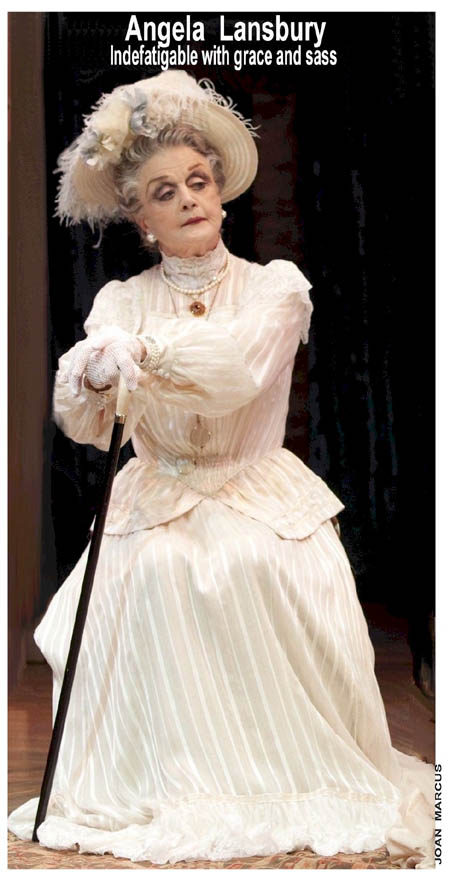 Each theatergoer sees a show from a unique perspective whether seeing one for the first time or revisiting it via a revival. It may not be perfect, but how many shows have the utter perfection of, say, the original cast of Fiddler on the Roof, A Streetcar Named Desire, Oklahoma!, or Man of La Mancha? However, the wide berth of opinion on the ALNM revival is puzzling. Having seen it twice now, I wonder what show its detractors saw.
A heavy criticism leveled is that the producers brought in a major film star to keep the seats filled. No denying that. And since when did producers stoop to this level to attract buyers to the outrageously over-priced seats [and I'm not speaking of the ultra outrageous premium seating]?
Movie star or not, there's no denying that Zeta-Jones is absolutely radiant onstage and quite comfortable and accomplished in the role. She displays a natural sense of comic timing, has a wonderful chemistry with Hanson [who kept reminding me of Howard Keel and Harve Presnell], and doesn't disappoint in "the big moment."
The score's poignant 11:00 number is Desiree's "Send in the Clowns," one of the best known tunes in the Sondheim repertory, one that's been recorded and sung by the biggest and best. There probably was a lot of sitting on hands as Zeta-Jones, seemingly non-fazed, began to sing. Coud she, would she pull it off? She did it and WOW! Even though standing ovations are a dime a dozen, it's rare to "brava' in a Broadway house. There were several. She's got it, and, hopefully, will be bring "it" back to Broadway again soon.

Nine - Love It or Leave It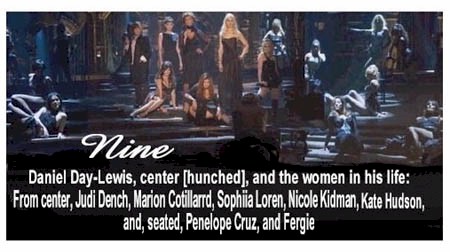 What happened? Here is one of the year's most anticipated films, Nine, the definitive movie homage to Fellini, based on the award-winning musical, which was based on the Fellini masterpiece 81/2, and directed by Rob Marshall, a former Bway gypsy turned director of an Oscar and GG-winning film (Chicago).

The story, what there is of one, centers on a famed Italian film director, about to embark on his next feature, who's plagued with writer's block. He escapes to a spa and is either surrounded by or remembers the hundreds of women he's been entangled with.
Two-time Oscar winner Daniel Day-Lewis shows a completely different side of himself as Guido. The women surrounding him are Marion Cotillard takes on the role of Luisa, Guido's long-devoted, long-suffering wife and former leading lady; Penelope Cruz as his mistress Carla; Judi Dench is Lilli, a new character, as his costume designer and blunt confidante; Fergie as the prostitute Saraghina; Kate Hudson portrays fashion editor Stephanie; Nicole Kidman is his paramour Claudia; and Sophia Loren plays Guido's mother.

Cruz says that Day-Lewis "was always watching everyone do everything which is, of course, very Guido. But he would be there for the other actors, even if he wasn't in the scene. Daniel was always ready for whatever came with absolutely no vanity about his performance. He did seem to enjoy staying in character. He would even leave me little notes signed 'Guido.'"
She got terribly bruised shooting her sexy "slide" but says, "I was so used to rope burns after three weeks of training that I didn't feel the pain anymore. I didn't want them to go away. They were my little medals."
Cruz explains she was intimidated having to sing and wasn't so good in the beginning "but I kept working until I wasn't so nervous." She would love to do another musical, especially with Marshall directing.
Marshall says he couldn't make the film without the participation of 75-year-old and still stunning Sophia Loren [but what has she done to that once-beautiful nose?] and Miss Loren immediately came aboard. "I was proud to be asked," she says. "I'm the only Italian in the film and it's important to show Italian films are still important. I never worked with Fellini, but his story, like the movie, is magical."
Opinion seems evenly divided about Nine. Some camps are calling it: "Dazzling." "Beguiling." "Sparkling." "A major Oscar contender." "A hot-blooded musical fantasia." "Brilliant, sexy." "Impressive filmmaking." Other camps are calling it: "Boring." "Director's Block." "Strains to capture artistic frenzy." "Vulgar chaos." "Two Stars...Short on a Few Counts." "Less a homage to Federico Fellini's 8½ than a travesty."
Hmmmmmm. So go see it and decide for yourself. I hate to decamp on the film's detractors, but a majority of theatergoers, even the most jaded, will thoroughly enjoy it. For movie buffs, it's one for the books. Whether the mass moivegoing public will buy into it is another story.
The director, after seeing/hearing the thunderous ovations at the theater industry premiere and the official New York prem, might be a bit confused. He has a fantastic eye for detail and money shots. Much credit must to Oscar-winning director of photography Dion Beebe for his mix of color and stark B&W, reminiscent of early Fellini; and two-time Oscar-winning production designer John Myhre. Next in line for honors are editors Claire Simpson and Wyatt Smith, and two-time Oscar-winning costume designer Colleen Atwood. Many of the creative team worked with Marshall on Chicago and Memoirs of a Geisha.

The Broadway version, from a play by Italian writer Mario Fratti, who had known and several times interviewed Fellini, and a book later rewritten or doctored by playwright Arthur Kopit and music/lyrics by Maury Yeston, didn't happen overnight. When Fratti told Yeston of his play, he didn't know that the composer had been madly in love with 8½ since his teens. In the 70s, while teaching music at Yale, he and Fratti turned the movie into a stage musical.

The composer decided if he added the extra element of music-and-dance to the director's vision of a man's mid-life battles, it couldn't miss. Introduced by a handwritten note from Katharine Hepburn, he met in Rome with the master and received his blessing.
When the production premiered in 1982 at the 46th Street Theatre, now the Richard Rogers, it became a massive hit. Directed/choreographed by Tommy Tune, NINE The show ran for 729 performances and became the must-see of the season, dazzling audiences with its inventive, visually striking, high-style design and arresting musical numbers--and sweeping five Tony Awards that year. The allure of the show continued with a Broadway revival garnering another 8½ Tonys and countless touring and regional productions.
As a movie, it seemed with the A List cast, it would be a blockbuster. Oprah devoted an entire show to the cast, all praising Marshall to the high heavens. Other shows followed and creating a huge buzz. But there are no sure things in show biz. From all that to a head reading: "Nine a crummy number!"
Marshall wanted cast and crew "to inhabit an Italian movie, to move back and forth between the sleek, Mod streets of 60s Rome, through which Guido zooms in his Fiat Alfa Spyder, and the dreamlike fantasies that his imagination. Fantasies that evoke his lust, love, imagination, and frustration to find a path to his future."
Says Beebe: "If the stage was our playground in Chicago, then moviemaking was our playground with Nine. After our London shooting, we wanted to exploit cinematic ideas to transform Rome's Cinecitta lots and soundstages into the stuff of a man's imagination."
After shooting on soundstages in London, the cast and crew regrouped to shoot where Fellini's films were born: in Rome's Cinecitta Studios, as well as at such iconic Italian movie locations as the Piazza del Popolo, the Via Veneto, and the towns of Anzio, Surti and Anguillara.
Cinecitta, featured in the film and located on the outskirts of Rome, is one of the world's most historic movie studios [founded by Mussolini to create propaganda films]. After WWII it flourished as the home away from home for such films as Quo Vadis, Ben Hur, The Godfather III, Gangs of New York, and Fellini's Amacord.
Myhre says that the only thing that could have been more exciting than a movie about moviemaking "was the idea of a Rob Marshall musical about moviemaking. All Rob had to tell us was 'there has to be a transformation. The audience has to see Guido's world transform,' and immediately big ideas were being put about."
The team split the design elements into three distinct realms: Guido's complicated real life in Rome and the luxe spa he hopes will be his hideaway; memories of Guido's youth that made him the genius he's become; and his very, very, very active fantasy life. The latter all takes place on a half-built set at Cinecitta soundstage that morphs into different visual worlds.

When Zero Equals 10
Some may remember him as Father James on All My Children; from his years of regional theater; still others may recall him Off Broadway in The Big Voice: God or Merman; however, from now on Jim Brochu will be remembered for his vivid, spot-on impersonation of the irresistible, irascible, and famously volatile comic actor Zero Mostel in his one-man play Zero Hour.
Following its NY engagement, which must end January 31, and fulfilling long-booked regional engagements, the acclaimed production and Brochuit will return to a more accessible Off Broadway theatre. It is now at the creaky, handicap unfriendly Theatre at St. Clements [423 West 46th Street, between Ninth and Tenth Avenues].
The play is built around a 90-minute NYTimes interview with Mostel at his West 28th Street artist studio. It's earned across-the-board raves for Brochu's crisp writing and animated portrayal of Mostel. Like Mostel, Brochu has the most expressive eyes.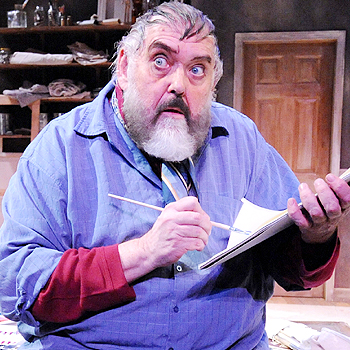 Z.H. has won numerous honors in regional engagements [including L.A.'s Ovation Award for Best New Play], is a must-catch for anyone interested in the origins of a true theater legend, and someone who was caught up in one of America's darkest and most shameful eras [late 40s into the mid-50s] in America: the so-called Commie Hunters of the Congressional House Un-American Activities Committee. This was an off-shoot of the headline-making, buffoon senator from Wisconsin, Joseph McCarthy. The Committee especially targeted high profile actors of stage and screen. Accusations led to years of blacklisting, with some of the accused committing suicide.
For those of a certain younger age, Mostel, who grew up on the Lower East Side, the son of Orthodox Jewish immigrants, went from a childhood obsession with painting to stand-up comedy, and rose from the Catskills Borscht Belt to movies to becoming triumphant on Bway in A Funny Thing... and, most notably, playing Tevye in Fiddler on the Roof. Brochu relives the devastation the blacklist had on careers such as Mostel, Jack Gilford, and hundreds more.
The one person Mostel despised above all others was Jerome Robbins, who went before the committee and named names. In an odd set of love/hate circumstances, it was Robbins, a.k.a. "Loose Lips" by Mostel, who led the actor to two of his most memorable portrayals, that of Pseudolus in AFT... [1962], and Tevye in FOTR [1964]. Before those two landmark performances, Mostel received great acclaim playing John in Ionesco's Rhinoceros.
Then there was Mel Brooks' The Producers, which co-starred Mostel as Max Bialystock opposite Gene Wilder as Leo Bloom. The three-time Tony-winner died in 1977 at age 62. His last role was as Leopold Bloom in Ulysses in Nightgown, which garnered him a DD Award and Tony nom.
"Zero had a great influence on my life," says Brochu. "I was fortunate to get to know him when I was starting out. His life was filled with great laughter, drama, and life lessons. Few in show business had more obstacles to overcome than Zero. Drama is about overcoming obstacles - the protagonist and the antagonist. Zero had a lot of antagonists in his life. He said, 'I've been excluded as a man. I've been excluded as an entertainer. I've been excluded as a Jew.'
"He was disowned by his parents when he married a Catholic," continues Brochu. "There was the blacklist; and just when then things were going great, he was hit by a bus and, had he not spoken up with great determination, would have had a leg amputated. That's a pretty dramatic life."
Mostel tried to heal the rupture with his mother when she was dying by bringing his son Josh to the hospital so she could meet him; but what was broken remained broken. When she raised up from the bed and saw them in the doorway, she screamed, "Out, out, out!"
Zero Hour is directed by one of the 50s most popular movie sweethearts, Piper Laurie, who segued to three Oscars [Hustler, Carrie, and Children of a Lesser God], a Golden Globe nom [TV's Twin Peaks], and nine Emmy noms [including a nod for the live TV broadcast of Days of Wine and Roses, directed by John Frankenheime] with a 1986 win. She appeared on Bway in revivals of Morning's at Seven as Esther; and The Glass Menagerie as The Daughter; Off Bway in Larry Kramer's The Destiny of Me and MTC's revival of Biography. She has toured extensively in William Luce's one-woman show, The Last Flapper, based on the writing of Zelda Fitzgerald. Ms. Laurie also directs film and, still works in them. She just wrapped a featured role in her 61st, Hesher with Natalie Portman and Joseph Gordon-Levitt.
Producers are Kurt Peterson [Lincoln Center revival of WSS, Dear World, the original Follies (Young Ben)] and Edmund Gaynes.
Tickets are $35 and $55 and available through Telecharge.com and by calling (212) 239-6200. For more information, visit www.ZeroHourShow.com.
Before or after the show, pay a visit to the storefront Best Burgers and Shakes, directly across from St. Clements, which serves 8.5-oz. burgers, great fries and onion rings, and premium ice cream 16 oz. shakes.

More Holiday Entertainment ~
The Big Apple's Own Circus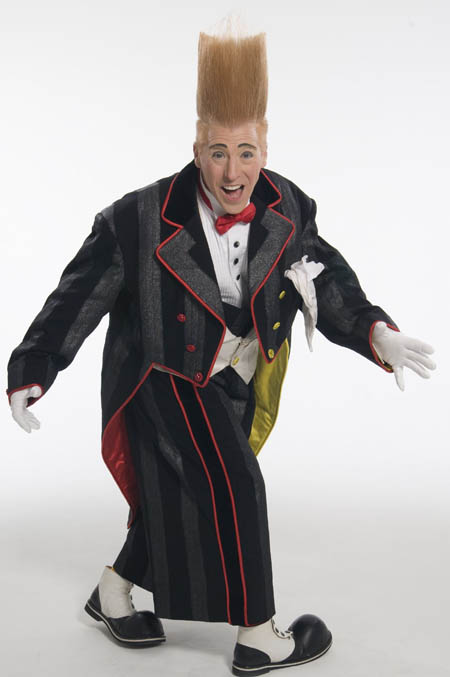 Artistic and creative Directors Paul Binder and Michael Christensen like to call the Big Apple Circus New York's own circus "because it was born right here in our own back yard." The spectacular 32nd holiday edition of the one-ring up-close-and-personal European-style cirque has pitched its Big Top in Lincoln Center's Damrosch Park for Bello Is Back!, a celebration centered on the return of skyscraper hair daredevil clown Bello Nock. It plays through January 18.
The title is in tribute to the return to the fold of the daredevil clown with the skyscraper hair, Bello Nock. Founding A.D. Paul Binder notes, "Our new edition has Bello doing all sorts of edge-of-the-pants and edge-of-the seat antics. Along with Bello we have an impressive roster of globe-trotting artists and colorful production numbers. The Big Apple Circus is family entertainment in the purest sense."
This circus symphony of performers from 11 countries includes juggler extraordinaire Picasso Jr., contortion by the Long Twins, and hand-to-hand acrobatics by the Curatola Brothers. Guiming Meng juggles colossal Chinese ceramic jars and balances them on his head.
The always eagerly-anticipated Christine Zerbini and Sultan Jumisbayev are back with a roaring display of galloping througbreds, Roman circus-style. Zerbini, sister of Ringling star Sylvia, is a ninth -generation circus performer. Her mother was a famed aerialist; her father, Tarzan, is a legendary animal trainer and circus owner.
There's never a shortage of thrill acts at the Apple. Some of the most breathtaking acts is Brazil's David Martins on the "Wheel of Wonder"; Regina Dobrovitskay offering beauty with thrills, swinging from high above the ring on her trapeze and an eye-catching act flying over audiences wrapped in aerial silks; and soaring leaps, flips, and double and triple somersaults by the Aniskin Troupe off a five-inch wide bar onto a trampoline.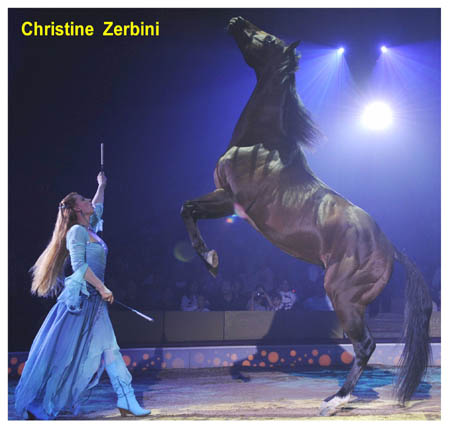 For more laughter, there's Big Apple's "incomparable paragon of love and laughter," Grandma [Barry Lubin. International Clown Hall of Fame inductee], who's always trying to duplicate what Bello and the thrill acts do with sidesplitting results.
The best thing about the B.A. is that no seat among the more than 1,600 is more than 50 feet from the ring.
The Big Apple Circus is staged by veteran clown Steve Smith, with original music copwritten by award-winning Broadway composer Michael Valenti.
Tickets are $28 - (premium seating) $135 and available at the Big Apple's Lincoln Center box office, online at www.bigapplecircus.org or by calling (888) 541-3750. There is a special 9:30 P.M. New Year's Eve performance with a post show meet-and-greet.

Rare Revival
Theater for the New City, the Yip Harburg Foundation, and the Harlem Repertory Theatre are presenting a rare opt to catch the world premiere of a new adaptation of the 1951 allegorical political musical satire, Flahooley. The original has a book by Yip Harburg and Fred Saidy [Finian's Rainbow] and lyrics by Harburg with music by Sammy Fain, one of America's most popular composers. It plays through January 2 at TFTNC [151 First Avenue, between Ninth and Tenth Streets].
This new adaptation by Harlem Rep A.D. Keith Lee Grant and Art Perlman has been germinating for three years. Grant directs/choreographs the 10-member cast, which includes Yip's grandson Ben Harburg. Music direction/arrangements are by Michael Roth, with puppet design by Daniel Fergus Tamulonis.
On Bway, the short-lived Flahooley, a revue with a 40+ cast, featured Barbara Cook in her legit debut, the long forgotten Lulu Bates, Irwin Corey, Louis Nye, Nehemiah Persoff, the unique vocal artist Yum Sumac, Ernest Truex, acclaimed ballet dancer Anthony Tudor, who also choreographed, and the Bill Baird Marionettes. Songs included "Who Says There Ain't No Santa Claus," "The World Is Your Balloon," and "He's Only Wonderful."
Tickets are $8, $10 for student and seniors. For reservations and more information, visit www.harlemrepertorytheatre.org.

Telecast of La Boheme
In October, the pairing of one of the most beloved operas of all time, La Boheme, with a contemporary "dream team" of singers, Anna Netrebko and Rolando Villazón, set the stage for a silver screen romantic blockbuster. On December 23 at 9 P.M. PBS' Great Performances broadcasts the lush film adaptation the glory of Hi-Def. Could the timing be better? It a perfect fit for the holiday season given the first two acts unfold on Christmas Eve.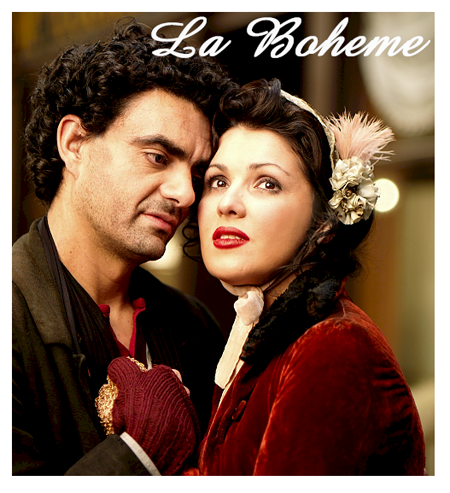 "This film, this music, this story will beguile not just opera lovers," states Austrian director Robert Dornhelm.
Critics raved that this film is one of the best realizations of an opera since Francesco Rosi's 1984 Carmen. "Although it was filmed on soundstages," explains Dornheim, "it's very much a movie rather than an embalmed theater presentation." In addition to the stunning singing, there are impressive visuals, tracking shots, close-ups; and split-screen effects.
Viewers will recall Netrebko and Villazón with super tenor Placido Domingo from last season's telecast of Three Stars in Vienna. Netrebko's starring appearances on Great Performances at the Met [I Puritani, Roméo et Juliette, and Lucia di Lammermoor].
Discussing the differences between "live" and film, Netrebko says, "The camera is intimate. It comes close to you. Your expressions - the eyes, the mouth - are reduced to minimal. You have to put a lot inside your eyes, to have the expression inside yourself."
Dornhelm was Oscar nom for The Children of Theater Street and Karajan, or Beauty as I See It, which aired on G. P., offering a retrospective of conductor Herbert von Karajan on the occasion of his 100th birthday.
John Walker and Bill O'Donnell produced for THIRTEEN and WNET'S G. P..
For a preview and the entire interview with anna Netrebko, visit:
http://www.pbs.org/wnet/gperf/episodes/la-boheme/interview-with-anna-netrebko/896/

Something Holiday Viewing
What did women want - back in the 1900s? Sarah Ruhl's In the Next Room or the vibrator play, being presented by Lincoln Center Theater at the landmark Lyceum, is adult holiday fun that tries to answer that question. It's slow going for a while, but there're plenty of laughs and poignant moments as two upstate New York couples enter the Age of Edison [electricity] with a new anxiety eliminating machine. Wet-nursing also fits snugly into the plot. Truth being stranger than fiction, the play's based on fact. You may not even recognize Michael Cerveris for a few minutes; and, in quite the holiday finale, you see a lot of him. Gorgeous Laura Benanti gets to sing a few notes, and the pace would be quicker had she more to sing. You have to wait until the beginning of Act Three [just after intermission] for the show's scenestealer. Chandler Willams sweeps in - in the guise of an ultra romance painter obsessed with poetry and himself and eats every bit of scenery that's not nailed down [but in a good way].
Who says there are no good roles for women over 40 [50!; 60!!]? Meryl Streep debunks that myth in It's Complicated! [Universal]. There's nothing too complicated about or much new ground broken by Nancy Meyers' [What Women Want, Something's Gotta Give] film but, courtesy of Streep; Steve Martin, in one of the best roles of his career; and especially Alex Baldwin, there's tons of fun. Streep, cooking again and as radiant a screen presence as there ever was, gets high and also gets high on her ex, rollickingly played with total abandon and lack of ego by Baldwin. Enter Martin, and, as he and Big B compete for Streep, some hilarious adult situations develop. A perfect holiday film for gals; and an opt for Streep fans to see her in a new light.
Ellis Nassour is an international media journalist, and author of Honky Tonk Angel: The Intimate Story of Patsy Cline, which he has adapted into a musical for the stage. Visit www.patsyclinehta.com.

He can be reached at [email protected]





Why are you looking all the way down here?
For more articles by Ellis Nassour, click the links below!

Previous: 'Tis the Season to Be Merry, See Lotsa Shows; Holiday Attractions; Lorna Luft; Last Chance/Must Catch; More

Next: A Fairly White Christmas: RCMH's Christmas Spectacular; Memphis' Chad Kimball; Jazz Nativity; At the Met; Kennedy Center Honors; Tennessee Williams; Stocking Stuffers and Chestnuts a Roasting

Or go to the Archives