Though all the season's headliners haven't been announced, look at the star power coming in: Two-time Tony and three-time DD-winner John Lithgow, making his frequent transition from screen to stage roles, this season co-starring at Second Stage in Douglas Carter Beane's Mr. and Mrs. Fitch; Two-time Oscar-winner Denzel Washington, returning five years after his Brutus in Julius Caesar, in the Fences revival; and Kelsey Grammar is back after 10 years and roles in Shakespeare classics for a total change of pace as Georges in the La Cage revival.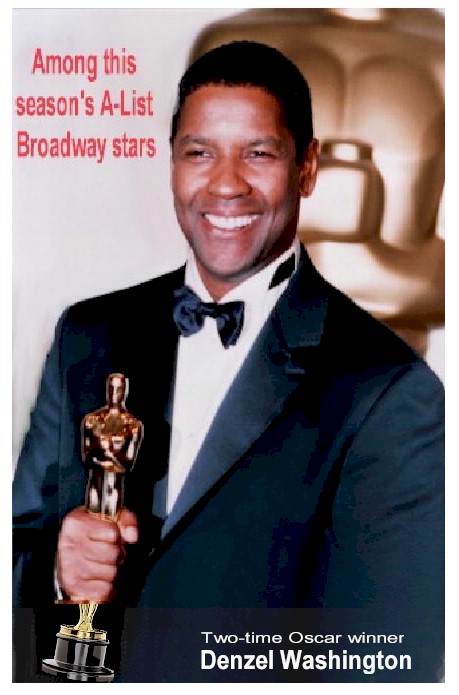 Joining them are Vanessa Williams, Sondheim on Sondheim; Oscar nom Abigail Breslin, above the title in The Miracle Worker revival; Valerie Harper, absent almost 10 years, as over-the-top Tallulah Bankhead in Looped.; and the multi-talented Megan Mullally will co-star in Roundabout's Lips Together, Teeth Apart revival, with Lili Taylor, who returns to theater after 13 years apart. Let's not forget Hugh Dancy upcominging in Pride; and Michael Urie [Ugly Betty] returning in The Temperamentals.
In addition to the long list of revivals, there're new works, such as former hoofer Christopher Walken returning to his stage roots in Martin McDonagh's black comedy A Beheading in Spokane, playing a man searching for his hand; and he'll b e joined by Anthony Mackie [The Hurt Locker]. In the revival of Noel Coward's Present Laughter, Victor Garber, after transitioning from stage to film to TV [co-starring or with recurring roles in seven series, including ABC's smash Alias], headlines.
There'll be the revival of Lend Me a Tenor , fully- loaded with star power: Tony Shalhoub [back after 18 years], [his wife] Brooke Adams [absent since the late 80s], Justin Bartha [from The Hangover]. Directing is Oscar nominee and Golden Globe/Emmy winner Stanley Tucci, absent from the NY stage for almost eight years.
But there's already megawatt star power on the boards: Oscar-winner [as Velma in the screen adaptation of Chicago] Catharine Zeta-Jones, in her Broadway debut in the Little Night Music revival; and Liev Schreiber and Scarlett Johansson, making her Bway debut in the role of Beatrice, in the revival of Arthur Miller's sizzling noir View from the Bridge .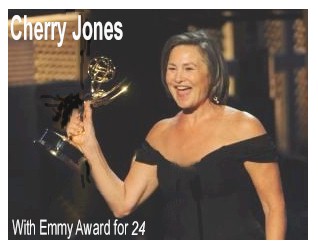 Stage vets Meryl Streep, Stockard Channing, Kevin Kline, Glenn Close, Richard Thomas, Swoosie Kurtz, and Kristin Chenoweth rode the early wave from East Coast to West Coast, with frequent or occasional trips back East. Thomas is back on Broadway in David Mamet's Race, with James Spader and Kerry Washington, making their Bway debuts. Chenoweth will join Sean Hayes in the revival of Promises, Promises.
Among the stars who made the leap from stage to screen, and whom we may not be seeing here for a while, are: Cherry Jones, after coming up the Off Bway ranks to Tony and Drama Desk Awards, is now the first female president of the United States on Fox megahit 24; Michael Emerson from his acclaimed performance as Oscar Wilde Off Bway has become one of the best - or maybe just misunderstood - villains of all time, Ben Linus, on ABC smash Lost; and Matthew Morrison, from Light in the Piazza, and Lea Michelle, from Spring Awakening, are full of Glee on their new Fox hit.
Tony and DD-winner Tonya Pinkins made the transition to daytime TV with her role as attorney Livia Frye on All My Children, and more recently in a recurring role on 24. The actress with a hundred different looks, the amazing DD-winner and Tony nom Kathleen Chalfant [Angels in America, Wit] has been in transit for years between stage, TV, and film. Spamalot's Lady of the Lake Sara Ramirez was cast in TV smash Gray's Anatomy after 11 months on Bway. Patrick Wilson, who returned last season for All My Sons, made it known he wanted a film career and, since exposing himself to good effect in some hot hump sequences in Little Children, seems to be on a movie roll.
Numerous NY actors have established bulging retirement annuities for their guest roles in NBC's Law & Order franchise; and, HBO's Sex and the City.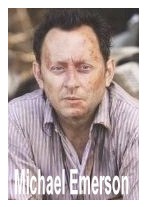 Following Oscar winners Susan Saradon, away 37 years, and Geoffrey Rush, in his Bway debut, who co-starred last season in the Exit the King revival, among the screen names who came or returned to the stage were Hugh Jackman, in his second Bway outing, and Daniel Craig, making his Bway debut, in A Steady Rain; Jude Law as Hamlet; and John Stamos in Roundabout's revival of Bye, Bye, Birdie after a gap of over six years following stepping into three revivals [Nine, Cabaret, How to Succeed...]. More recently, Kristen Johnson delivered a rollicking characterization Off Bway in the long-forgotten So Help Me God!
Last season also saw Jane Fonda, after 46 years, on Bway in Beethoven's Ninth; Allison Janney, after almost seven years and stardom on and Emmys for TV's West Wing, receiving a Tony nod and DD win for 9 to 5; and Daniel Radcliffe from Warner Bros. blockbuster fantasy franchise Harry Potter delivering a sizzling Bway debut in the Equus revival.
Sadly, after winning raves for a month in a tiny Off Off Bway house in The Starry Messenger, Matthew Broderick will be exiting theater for a while to follow in his wife Sarah Jessica Parker's footsteps in NBC's sitcom Beech Lane, his first TV series. He'll play a famous writer trying to run a Hamptons' newspaper.

Drama League Fetes Angela Lansbury
A galaxy of stars will honor theater legend and five-time Tony winner Angela Lansbury at the Drama League benefit gala, A Musical Celebration of Broadway, Monday night at the Pierre Hotel.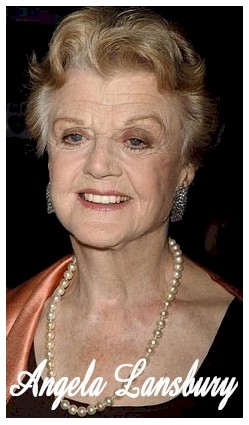 Scheduled to appear or perform are James Barbour, Charles Busch, Ann Hampton Callaway, Len Cariou, Will Chase, Edie Falco, Beth Fowler, Victor Garber, Alexander Gemignani, Malcolm Gets, Dee Hoty, Cheyenne Jackson, Chad Kimball, Donna Murphy, Bernadette Peters, Christopher Sieber, Will Swenson, and, among others, Catherine Zeta-Jones.
There will be surpries, too: 1966 Tony winner, Featured Actor, Frankie Michaels, young Patrick in Mame, his only listed Bway credit; and 1979 Theatre World Award winner Sarah Rice, Johanna in Sweeney Tood, her only listed Bway credit.
Callaway will honor Miss Lansbury with a tribute song composed on the spot, using descriptions of the star shouted out by attendees. A duo of Broadway leading men will reprise "Bosom Buddies" in tribute to Miss Lansbury and Mame co-star, the late Bea Arthur. Murphy, DL board member, will salute with "Me and My Town," which Miss Lansbury, as corrupt mayor Cara Hoover, stopped early in the first act of all 12 performances of Sondheim's unconventional satire Anyone Can Whistle.
The evening begins at 7 P.M. with cocktails and a silent auction/raffle in the hotel's Cotillion Room. It will be followed by dinner at 8 in the grand ballroom. The tribute and entertainment portion of the gala will include selections from Miss Lansbury's prolific career, including Anyone Can Whistle, Mame, Dear World. Gypsy [revival], Sweeney Todd, Blithe Spirit revival, and the current revival of A Little Night Music in which Miss Lansbury co-stars opposite Zeta-Jones.
Drama League President Jano Herbosch announced there will be a salute to her long film career, which included many age-stretching characterizations. They include Disney's Beauty and the Beast, for which she provided the voice of Mrs. Potts, and her celebrated long-run [1984-1996] as Jessica Fletcher on CBS/Universal's Murder She Wrote TV series. Fans of Miss Lansbury will know that as a precursor to playing Ms. Fletcher in MSW, she portrayed Jane Marple in the 1980 film, The Mirror Crack'd.

Among her acclaimed film roles are the servant Nancy in Gaslight [her 1944 debut, opposite Charles Boyer, Ingrid Bergman, and Joseph Cotten]; Sibyl in The Picture of Dorian Gray; Em opposite Garland in The Harvey Girls; and her celebrated portrayal of sinister Mrs. Iselin in The Manchurian Candidate .
Miss Lansbury also appeared opposite June Allyson, Bette Davis, Jane Fonda, Kathryn Grayson, Katharine Helpburn, Lee Remick, Maureen Stapleton, Elizabeth Taylor, Esther Williams, and, among numerous others, Joanne Woodward. Male co-stars included Peter Finch, Anthony Franciosa, Laurence Harvey, Paul Newman, Christopher Plummer, Elvis Presley, Spencer Tracy, and, among numberous others, Orson Welles.

After 16 films as a major contract player at M-G-M, Miss Lansbury easily made the transition to the "Golden Era" of TV. She made her Broadway debut in 1957. For a complete listing of Miss Lanbury's Broadway roles and awards/nominations, visit www.ibdb.com. For a complete listing of film and TV roles/appearances, visit www.imdb.com.
The DL entertainment program will be co-directed by Tony winner Michael Mayer [Spring Awakening] and Beatrice Terry [his SA associate director].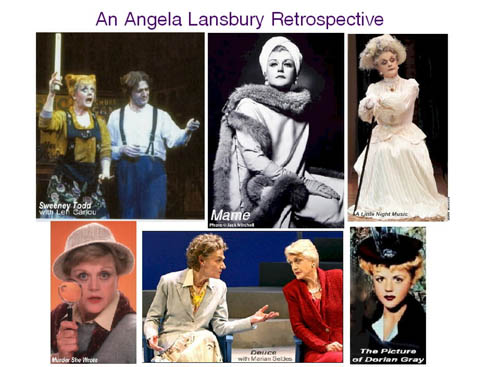 Among the prizes for the auction are opening night tickets to Broadway's upcoming, groundbreaking new musical by rock band Green Day, Mayer and Tom Kitt, American Idiot ; a backstage chat with Miss Lansbury following a performance of A Little Night Music; a watercolor portrait by two-time Tony, three-time Drama Desk, and Emmy winner John Lithgow, currently starring Off Bway in Mr. and Mrs. Fitch; and a California "Wine Lover's Tour."
Founded in 1916, the Drama League funds artist education and audience development programs designed to strengthen and enhance professional theater in America. Through key programs, such as the Audience Project and the Directors Project, the org annually serves 100,000 theatergoers, artists, industry professionals, and students.
$200 performance-only tickets are still available. To reserve, call special events manager Roger Calderon, (212) 244-9494, X. 5. For more information, visit www.dramaleague.org.

Encores!
For Encores! milestone 50th concert adaptation, the City Center series is presenting a musical considered one of Broadway's greatest love stories, Harold Rome/S. N. Behrman/Josh Logan's 1954 Fanny, based on Marcel Pagnol's classic film trilogy set in Marseille.
There are four more opportunities to catch this romantic musical, the story of Fanny's passion for Marius, who leaves to sail the seven seas, little realizing that she's pregnant. Her marriage of convenience to Panisse, a wealthy older man desperate to have an heir, is complicated by Marius' return years later. But, in the end, love, as always, conquers all.

Fred Applegate [The Producers, Sound of Music revival] is Panisse, Elena Shaddow [Clara in the national tour of Light in the Piazza; soon to be seen as Anne in the La Cage revival] is Fanny. James Snyder [Crybaby] is Marius, and two-time Tony and a DD-winner George Hearn is his father Caesar.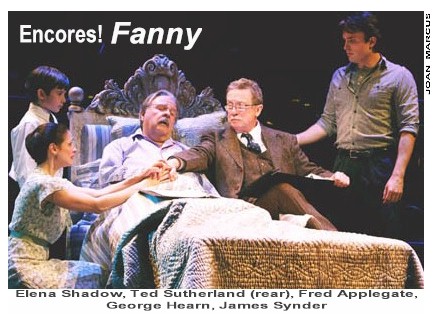 David Patrick Kelly, Michael McCormick,Tony and DD-winner and ACL legend Priscilla Lopez [In the Heights], and Ted Sutherland are featured witrh a spirited chorus/dance ensemble of 20 +.
Rome's score contains some ardent and sweeping melodies, including "Restless Heart"; "Never Too Late For Love"; "The Thought of You," a duet for the lovers; "I Have to Tell You," which is beautifully rendered by Shaddow in a warm soprano; the poignant "Welcome Home," a showstopper for Applegate; and the poignant title tune sung with passion by dashing tenor Synder.
Attending tonight's performances will be TV legend Florence Henderson, the original Fanny. Other stars of the show were Walter Slezak as Panisse, William Tabbert [South Pacific's Lt. Joseph Cable] as Marius, and opera star Ezio Pinza [of SP fame] as Caesar. In spite of being quite controversial for its themes at the time, it played 888 performances.
Directing is Marc Bruni, with choreography by Lorin Latarro. Encores! music director Rob Berman conducts the large Encores! orchestra, using the original vocal arrangements by the celebrated Lehman Engel and Philip Lang's lush orchestrations.
Encores! is made possible by support from Newman's Own Foundation and the Stephanie and Fred Shuman Fund. Jack Viertel, is Encores! A.D. The series is the recipient of a 2000 Tony Honor for Excellence in the Theatre.
Remaining performances are tonight and Saturday at 8 P.M.; Saturday matinee at 2; and Sunday at 6:30. Tickets for the 2009-2010 Encores! season are available at the City Center box office, through CityTix at (212)581-1212, or online at www.nycitycenter.org. Individual tickets are $25-$95.

Broadway by the Year Opens 10th Season
Town Hall will present the 10th Anniversary Season of the Broadway By the Year series, created, written and hosted by Scott Siegel. This season's concerts showcase Broadway musicals of 1927, 1948, 1966, and for the season finale there will be a big surprise.
The season opener, on Monday, February 22 at 8 P.M., will be Broadway Musicals of 1927 with tunes from Good News, Hit the Deck!, Rio Rita, Showboat, Ziegfeld Follies of 1927, and many others. As almost always, there'll be a much-anticipated "unplugged" moment, when a cast member performs, as Siegel loves to say, "with sound by God." Since Showboat is one of the musicals, can you just wonder what song that will be?
BBTY takes audiences on a musical journey through the best of the Great White Way, featuring show-stopping numbers as well as lesser-known gems and little-known facts and humor about our favorite shows. The NY Times called the series "an event that is treasured by Broadway babies."
"It is our intention to make this 10th Anniversary season as special and memorable as possible," said Siegel. "To that end, we are assembling casts for each of our four concerts that will make each a must-see event for fans of Broadway musicals. We have cast a combination of Broadway regulars, as well as the stars, who are currently in Broadway shows.
"For our final show of this season [June 14]," he continues, "we'll got something spectacular and very special planned - something we've never done before. The cast members will perform one song from each show we've celebrated from 1990 to 2010. That's going to be 21 great showstopping tunes."
The BBTY season: March 22, Broadway Musicals of 1948 - Kiss Me, Kate, Lend an Ear, My Romance, Love Life, Where's Charley?, more. May 10, Broadway Musicals of 1966 - The Apple Tree, Cabaret, I Do! I Do!, Mame, Sweet Charity, others. June 14 - Broadway Musicals of 1990-2010 - highlights: Aspects of Love, Falsettos, Jersey Boys, Kiss of the Spider Woman, Ragtime, Wicked, many more.
Subscriptions for Broadway By the Year are available at www.the-townhall-nyc.org. Single tickets, $45-$55, are available at the Town Hall box office, through Ticketmaster, (800) 982-2787 or their web site, www.ticketmaster.com.

Zero Hour Back on the Clock
Some may remember him as Father James on All My Children; from his years of regional theater; still others may recall him Off Broadway in The Big Voice: God or Merman; however, from now on Jim Brochu will be remembered for his vivid, spot-on impersonation of the irresistible, irascible, legendary, and famously volatile comic actor Zero Mostel in his one-man play Zero Hour.
Following its acclaimed run earlier Off Bway, Zero Hour returns for an open-end engagement February 23 at the DR2 Theatre [103 East 15th Street, east of Park Avenue South]. Opening night is March 7.
The play is 90 minutes of edge-of-the-seat explosive theater. The concept is built around a 1977 NYTimes interview with Mostel at his West 28th Street artist studio. The ensuing session leads to an explosion of memory, humor, outrage, and juicy backstage lore. It's earned across-the-board raves for Brochu's crisp writing and animated portrayal of Mostel. Brochu, who even without makeup bears a strong resemblance to Mostel, like the character he is impersonating has the most expressive eyes.
Jason Zinoman, in the New York Times, wrote, "Singularly captivating. Zero Hour is a success. Brochu is the spitting image of the bearish Mostel, down to the strands of hair barely covering his head. His wildly expressive gestures are particularly spot on. It brings Mostel back to life, just the way his fans want him."
The interview, given shortly before Mostel left for Philadelphia for the pre-Broadway tryout of The Merchant of Venice. He played one performance as Shylock before his sudden death at age 62.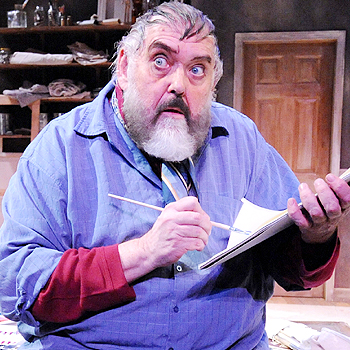 Z.H., which won numerous honors in regional engagements [including L.A.'s Ovation Award for Best New Play], is a must-catch for anyone interested in the origins of a true theater legend.
Brochu traces Mostel's early days growing up on the Lower East Side as the son of Orthodox Jewish immigrant parents, through his rise as a stand-up comedian, from the Borscht Belt to Manhattan's most exclusive supper clubs, and from the devastation of the blacklist to his Broadway triumphs - most memorably in A Funny Thing... and as Tevye in Fiddler on the Roof.
Brochu relives the devastation the blacklist had on careers such as Mostel, Jack Gilford, and hundreds more in one of America's darkest, most shameful eras, In the late 40s into the mid-50s the buffoonish but powerful senator from Wisconsin, "Commie Hunter" Joseph McCarthy, who headed the Congressional House Un-American Activities Committee. House, seized headlines wildly accusing high profile actors of stage and screen of being "reds." These actors were exiled, with some of the accused committing suicide.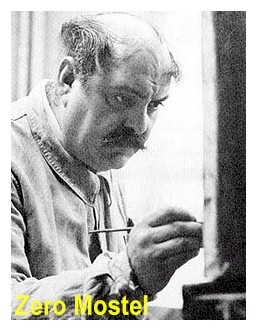 The one person Mostel despised above all others was choreographer/director Jerome Robbins, who went before the committee and named names. In an odd set of love/hate circumstances, it was Robbins, a.k.a. "Loose Lips" by Mostel, who led the actor to two of his most memorable portrayals, that of Pseudolus in AFT... [1962], and Tevye in FOTR [1964]. Before those two landmark performances, the three-time Tony-winner received great acclaim playing John in Ionesco's Rhinoceros.
Then came his triumph onscreen: Mel Brooks' The Producers, which co-starred Mostel as Max Bialystock opposite Gene Wilder as Leo Bloom. His last role in New York was as Leopold Bloom in Ulysses in Nightgown, which garnered him a DD Award and Tony nom.
"Zero had a great influence on my life," says Brochu. "I was fortunate to get to know him when I was starting out. His life was filled with great laughter, drama, and life lessons. Few in show business had more obstacles to overcome than Zero. Drama is about overcoming obstacles - the protagonist and the antagonist. Zero had a lot of antagonists in his life. He said, 'I've been excluded as a man. I've been excluded as an entertainer. I've been excluded as a Jew.'
"He was disowned by his parents when he married a Catholic," continues Brochu. "There was the blacklist; and just when then things were going great, he was hit by a bus and, had he not spoken up with great determination, would have had a leg amputated. That's a pretty dramatic life."
Mostel tried to heal the rupture with his mother when she was dying by bringing his son Josh to the hospital so she could meet him; but what was broken remained broken. When she raised up from the bed and saw them in the doorway, she screamed, "Out, out, out!"
Zero Hour is directed by one of the 50s most popular movie sweethearts, Piper Laurie, who segued to three Oscars noms [Hustler, Carrie, and Children of a Lesser God], a Golden Globe nom [TV's Twin Peaks], and nine Emmy noms [including a nod for the live TV broadcast of Days of Wine and Roses, directed by John Frankenheimer] with a 1986 win.
She appeared on Bway in revivals of Morning's at Seven as Esther; and The Glass Menagerie as The Daughter; Off Bway in Larry Kramer's The Destiny of Me and MTC's revival of Biography. She has toured extensively in William Luce's one-woman show, The Last Flapper, based on the writing of Zelda Fitzgerald. Ms. Laurie also directs film and, still works in them. She just wrapped a featured role in her 61st, Hesher with Natalie Portman and Joseph Gordon-Levitt.
Producers are Kurt Peterson [who, in his career as an acclaimed Broadway actor/singer, starred in the Lincoln Center revival of WSS, with Angela Lansbury in Dear World, and as Young Ben in the original Follies ] and Edmund Gaynes.
For more information, visit www.ZeroHourShow.com.

Valentine's Day
Have you bought your special loved one(s) a gift that has love written all over it. If roses are red but not quite enough, what about tickets to a Bway or Off Bway show. There's plenty of romance and passion in shows currently on the boards.
The TDK booths offer half-price or heavily discounted tickets to 90% of shows. Theatrical web sites offer incredible discounts. If you plan ahead to the February 18 start of previews, tickets for The Temperamentals at New World Stages are $19.52, cheaper than two dozen long-stems. [Call (212) 947-8844 or go to the box office; use the code TEPPRV12.] And NWS features others shows and the Time Out cocktail lounge. You couldn't go wrong with a series subscription to Town Hall's acclaimed Broadway by the Year series, priced quite reasonably.
For romantic musical intimacy, there's always the Metropolitan Room. There'll be a Valentine's eve rare performance by Melba Moore. The roster for "Love the One You're With Day" will be Jenna Esposito, Gianni Russo, and Craig Pomranz. Later in the month, Tom Wopat headlines. For reservations and more information, visit www.metropolitanroom.com.
Betty Buckley presents For the Love of Broadway at Feinstein's at Lowes Regency, the height of a romantic supper club, through February 27. The good news is the cover for her shows is a bargain $40 when booked directly though the club. Gregg Edelman is Back In Town Sunday and Monday. He'll be followed by Ashley Brown, Ryan Silverman, Michael Urie [The Temperamentals] and Becki Newton, co-stars of Ugly Betty. Minimums may apply. To book, call (212) 339-4095 or visit online at www.feinsteinsatlowesregency.com.

New to DVD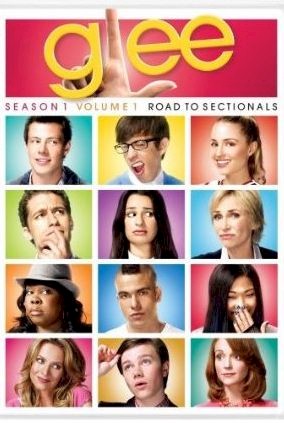 Nip/Tuck series creator Ryan Murphy certainly writes from one extreme to the other.
This is certainly evidenced by the hit Fox sitcom Glee, the vastly dysfunctional and entertaining adolescent soap opera with big musical numbers that's pure feel-happy delight. Season One, The Road to Sectionals, is now available on DVD [20th Century Fox Home Entertainment; four discs, nine hours and 40 minutes; widescreen; SRP, $40].
The background story of teen angst and the ups and downs of a high school glee club lures you in, but what makes the series a standout are the amazingly talented cast and the musical numbers, which mix Bway with classic pop and rock.
Series anchor Will Schuester [Matthew Morrison, Light in the Piazza], the earnest Spanish teacher of McKinley High School, who's determined to guide the glee club to regional and national victory. He sees this collection of overemotional misfits as heroic, but they're looked down on as losers by the rest of the school dudes, H.S. queen, and outrageous Sue Sylvester [Emmy nom Jane Lynch, The 40 Year Old Virgin]].
Glee is abetted by one of the standout ensemble cast in decades. Morrison exhibits talents no one ever imagined he possesed. Lea Michelle [Spring Awakening], as the "really, really talented" H.S. diva everyone hates and whose self-obsession, is as uninhibited as she's annoying. Lynch, the ruthless cheerleading coach who stops at nothing to destroy the glee club in order to save her extravagant budget, is never less than memorable.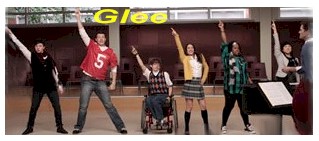 They aren't alone. Other standouts are germaphobic guidance counselor Emma [Jayma Mays], who's hopelessly in love with Morrison; sassy, big-voiced [think Jennifer Holliday] Amber Riley; Jessalyn Gilsig [the memorable Gina on Nip/Tuck], as Morrison's never-satisfied wife; and cherubic, flamboyant, never-been-kissed Kurt [Chris Colfer], who becomes immensely popular on discovery that he possesses a fantastic football kick. Then there are such guest stars as Kristin Chenoweth, Victor Garber, Josh Groban, Idina Menzel, Deborah Monk, Stephen Tobolowsky, and John Lloyd Young. Zachary Woodlee's choreography and the music rock.
The package features include Rachel and Mercedes audition pieces, Dance Boot Camp, and the short Deconstructing Glee with Murphy.

Director Mira Nair [Vanity Fair, Moonsoon Wedding] creates screen experiences. She loves tales of epic romance, struggle and triumph. So she was the right choice to helm Amelia, the factual and not-so-factual biopic of legendary flying ace Amelia Earhart, as she lives her dreams - and chases love across the horizons. The film lands this week on DVD and Blu-ray disc [20th Century Fox Home Entertainment; 111 minutes, widescreen: SRP, $30/$40; Blu-ray comes with a digital copy].
Hailed as "The Queen of the Air," Earheart boldly flew into the history books with her solo flight across the Atlantic. The film, starring two-time Oscar winner Hilary Swank [Million Dollar Baby, Boys Don't Cry], is equal parts drama, documentary, romance, and adventure as Earheart balances ambition, marriage, and a passionate affair [only one is presented in the film]. In 1937, in quite the bold move, Earheart began an attempt to fly around the world. Her plane disappeared over the Pacific, and has never been found.

Richard Gere portrays husband Gene Putnam and Ewan McGregor plays probably the best-know of Earheart's affairs of the heart in her open marriage, Gene Vidal [father of Gore]. Cherry Jones, keeping very close to the White House these days, is featured as Eleanor Roosevelt. William Cuddy portrays young, sensitive Gore.
The film, told in flashbacks as Earheart undertakes her great adventure, isn't exactly a potent epic. It takes it's time getting started; and, very much like in The Spirt of St. Louis, it has difficulty holding interest with reaction shots of Swank's face as she pilots from continent to continent. The flying sequences by cinematographer Stuart Dryburgh are breathtaking and could send your spirits soaring. Gabriel Yared contributes an excellent score rooted in leitmotifs of Spanish composer Joseph LaCalle "Amapola," which Ennio Morricone beat him to the punch and to much greater effect in Once Upon a Time in America.
Amelia's bonus material is really a bonus. You don't often want to question a director's judgement in cutting material from a film that's too long, but Amelia would have immensely benefited from some of the 13 + minutes Nair deleted - especially the sequences involving Virginia Madsen as Putnam's wife that show their marriage dissolving. Though it's only a bit, there's another interesting sequence featuring Mariska Hargitay [in a rare outing from L&O], looking absolutely the spitting image of her mother Jayne Mansfield as rival aviatrix Mabel Boll.
In addition, there are a making-of feature and docs Making Amelia, The Power of Amelia Earhart, and The Plane Behind the Legend.
Ellis Nassour is an international media journalist, and author of Honky Tonk Angel: The Intimate Story of Patsy Cline, which he has adapted into a musical for the stage. Visit www.patsyclinehta.com.

He can be reached at [email protected]





Why are you looking all the way down here?
For more articles by Ellis Nassour, click the links below!

Previous: Ringin' Out the Old and In with the New: There's Never a Shortage of Things to Do in NYC

Next: On and Off Broadway: A Season of Gay Themes; Kathryn Grayson; Broadway by the Year Season Opener; Some Opera; At the Movies; More

Or go to the Archives