It would appear that a lot of producers are taking their cue from Mel Brooks. Remember [how could you forget?] that song from The Producers?
"...The theater's so obsessed
With dramas so depressed,
It's hard to sell a ticket on Broadway [and Off Broadway].
Shows should be more pretty,
Shows should be more witty.
Shows should be more--
What's the word? ... Gay?...
No matter what you do on the stage
Keep it light, keep it bright, keep it gay!
Whether it's murder, mayhem or rage
Don't complain, it's a pain
Keep it gay!
People want laughter when they see a show
The last thing they're after's a litany of woe
A happy ending will pep up your play...
Keep it gay!..."
-- Mel Brooks, The Producers
How true some of the large roster of gay-themed plays are to Brooks' lyrics, and if they'll keep Strindberg and Ibsen at bay, is questionable; but it appears it will be a season of keeping it gay.
Either playing or announced for the On or Off boards are The Temperamentals, The Pride, The Boys in the Band revival, the musical Yank, Next Fall, and the La Cage Aux Folles revival.

Forget Sally. When Harry Met Rudi -- Harry Hay, emerging fashion designer Rudi Gernreich -- there was no Viennese waltzing about; no boating on the Danube. The sparks flew as they fell in love. That's the story according to playwright Jon Marans as presented in The Temperamentals; and he's sticking to it.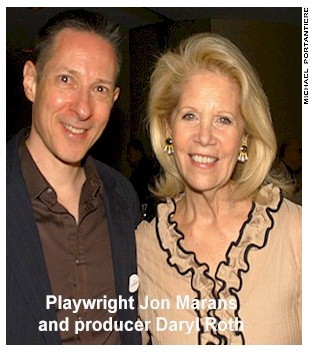 They say opposites attract. It sure was true of Harry and Rudi. The Temperamentals, however, is far more than a love story. The affair ignited during revolutionary times as awareness for gay rights was awakening.
Marans points out that coverage of gay rights in American history books has been "egregious - with most making gays invisible. This is a story that deserves to be told. It's a relatively unknown chapter in gay history."

The first of the season's gay-themed plays, The Temperamentals, which premiered as a showcase last April in a 40-seat black box, directed by Drama Desk nom Jonathan Silverstein [The Dining Room], resident director of the award-winning Keen Company. The play received across-the-board raves for Marans and the five member cast. As its audience base grew, it moved into a 99-seater. Still, they had to turn away customers.
That intrigued Carl White and Paul Boskind of Martian Entertainment, who produce and GM. They did something rare in show biz. "We came aboard without even reading the script or seeing the play," says Boskind. "We got into producing with [2008's] Bash'd [A Gay Rap Opera]."
"That was a great experience of how we could invest in something that could affect change," states White. "And like that show, this had the type of message we look to support."
It didn't hurt Boskind had seen Marans' hit Old Wicked Songs and that both were friends of the playwright. Phone calls went back and forth between them and veteran producer Daryl Roth, who told them that she was getting involved to help facilitate an open-ended run Off Bway. They joined producer Stacy Shane, a board member of the Barrow Group Theatre Company, and his plans went forward for the move to New World Stages where the play just began previews in a 199-seat proscenium theatre. The opening is February 28.
Marans is thrilled with the critical response, but says, "What's been even more heartening - and what has separated this show from others I've written, is the close collaboration with Jonathan. Maybe it's because he went to Quaker schools which stressed family. It was all of us working, arguing together as a community for the play. That's apt for a play about a group of difficult, opinionated men working for a common cause."
The title refers to the early 50s slang/code word for "homosexual." According to Marans, "it was part of an underground language used to communicate in their world where danger was always an underlying presence."
Thomas Jay Ryan [In The Next Room], who plays firebrand Hay, and Michael Urie [TV's Ugly Betty*], who portrays the elegantly, always stunningly-dressed Gernreich, found the ultimately doomed affair all the more fascinating because H and G were the unlikeliest of couples. [* He plays the always fabulously dressed Marc St. James, hilariously vacillating between good guy/bad guy.]
Hay was a teacher/labor advocate and passionate for causes. In 1950, drawing on his background in the U.S. Communist Party, he co-founded the Mattachine Society, the country's first enduring LGBT rights org. In the same vein as another later prominent organizer, after he built up the org into a powerful lobby for gay rights, he was ousted. Unlike the other more contemporary person, he withdrew from mainstream activism. However, following the infamous and landmark Stonewall riots [1969], he was on the scene again as co-founder of Radical Faeries.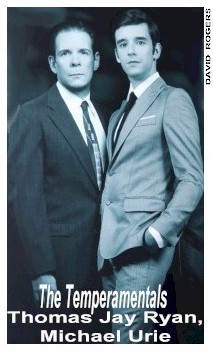 Gernreich was an elegant Viennese refugee and dancer. Urie discovered he left gay politics before he became the fashion rage of the rich and famous with his headline-making, futuristic designs in the 50s on into the 70s of the topless swimsuit, thong, unisex and vinyl clothing and sheer no-bra bra]. While Fashionistas hailed him, others derided him.
The story of Hay and Gernreich fascinated Urie from first read. "Six years ago, we did a reading and I was sold. Every time there's been an opportunity to do, I've been there."
When his TV sit-com relocated to shoot in New York, he jumped for the opt to perform in the showcase. "Rudi Gernreich is a role I don't want to let go of, It's too good, too rich."
He credits working with Silverstein for helping him to keep finding new insights into his character. "Jon has written a play you can sink your teeth into. That doesn't happen often." He added that what has impressed him is that audiences, whether gay, bi, or straight, have been moved."
Joining cast members Matthew Schneck, and Sam Breslin Wright is Arnie Burton, an original cast member of 39 Steps, which following its Bway run ironically soon will be in residence at NWS.
The Temperamentals has been nominated for a GLAAD Award for Outstanding New York Theater: Broadway & Off-Broadway.

Starting March 1, The Temperamentals will begin "TalkOut Mondays." The first panelists are Obie-winning playwright/author/activist Larry Kramer, who co-founded the Gay Men's Health Crisis and ACT UP, and playwright/author Paul Rudnick [Jeffrey].
March 8, guests will be Derek & Romaine [Sirius Out Q109 hosts] and cast. On March 15, playwright Bill C Davis [Mass Appeal, Avow] will be joined by Broadway Cares/Equity Fights Aids exec director Tom Viola.
Further down the line, panelists will include Elizabeth Ashley, Charles Busch, author Charles Kaiser, Judith Light [Ugly Betty, among other countless credits; producer of the gay-themed film Save Me], Terrence McNally, David Hyde Pierce, co-producer Daryl Roth, and radio host/activist David Rothenberg.
For schedules, ticket purchase, and panel updates, visit www.thetemperamentals.com.

The boys are back. The Boys in the Band, that is. The Drama Desk-winning Transport Company has mounted a revival of Mart Crowley's controversial, groundbreaking gay black comedy in a site-specific production at 37 West 26th Street [between Broadway and Sixth Avenue, Penthouse], It officially opens Sunday [and is set to run through March 14] .
In 2008, T.G. A.D. Jack Cummings, who directs the revival, received a call from an agent who represented playwright Mart Crowley. His goal, especially since the playwright had just relocated from the West Coast to the City, was to get the Drama Desk-winning company to present a 40th anniversary production of the play. "The stars weren't exactly aligned to do that," says Cummings. However, the idea intrigued him.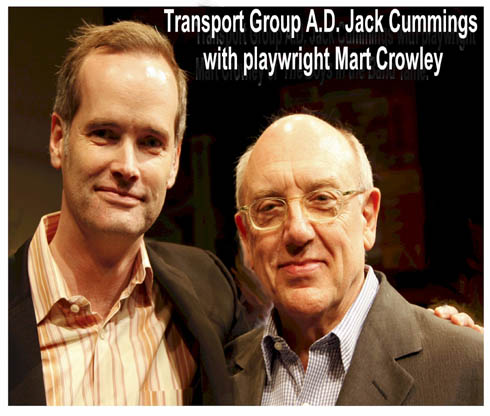 In June, 2008, T.G., presented and Cummings directed, An Evening With...The Boys in the Band, a star-studded staged reading with Malcom Gets, Jonathan Hammond, Christopher Innvar, Norm Lewis, and Manoel Felciano. Late best-selling author/writer/producer Dominick Dunne, exec producer of the film adaptation and a long-time Crowley friend, was on the panel with original cast members Laurence Luckinbill and Peter White. Shortly after, Cummings began discussions with Crowley "on developing the work for a new generation of theatergoers."
Cummings and Crowley got on well. They benefited from their mutual friend Dunne.
Cummings worked on the side as Dunne's assistant. "Dominick kept asking me, 'When are you going to do The Boys in the Band? And that got Mart and I talking."
Their conversations led Crowley to reexamine his play, which after its 1968 debut ran Off Bway for 1,000-performances went on to productions worldwide. Cummings suggested cutting the intermission to keep the momentum at a high level. Then came script discussions.
For the reading, Crowley put back cuts that director Moore had suggested taking out. "When the play was published," explains Cummings, "Mart put the material back. When we began looking at the script, he realized Bob was right and made some trims. So we are doing the streamlined version, with a few snippets in some of the monologues." Running time is just under two hours, no intermission.
Cummings had a unique idea on the staging. "I wanted you to come in and feel at home with the cast, so our design was going to have to be non-traditional." Sandra Goldmark created a 99-seat apartment setting in a loft space on West 26th Street. At first, Crowley wasn't wowed. "He'd always seen the play proscenium-bound," states Cumming. "He told me, 'This is going to look like a 12-step AA meeting,' and I shot back 'Well, in a way, it is!'"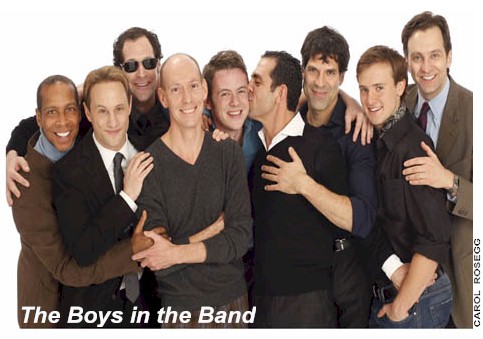 Casting was a challenge, Cummings admits. He states that many of those who read came with no knowledge of the play, its impact, or an understanding of the characters. "I was hoping they'd done their homework. Though there's a very campy and a very bitchy character, the 'boys' actually represent a cross section. Not all are flamboyant, bitter, or self-loathing. Mart deftly mixes sharp humor with emotional revelation. It's a story told on a very human level about people we all know."
In the end, Cummings feels he put together the perfect cast: Hammond [Michael] and Innvar [Larry] are back and joined by Kevin Isola [Alan], Jon Levenson [Harold], Kevyn Morrow [Bernard], Graham Rowat [Hank], Aaron Sharff ["Cowboy"], John Wellmann [Emory], and Nick Westrate [Donald].

Information and tickets for BITB are available at www.transportgroup.org or by phoning TheaterMania at (866) 811-4111 or (212) 352-3101.

Alexi Kaye Campbell's The Pride, a heartfelt, sometimes brutal Brit import about sexual repression and promiscuity issues. In a clever concept, both are the same named but with their story set in different decades. Hugh Dancy [Journey's End; numerous movies] portrays a 30-something Londoner, both named Philip - one, living in the late 50s, who cannot accept his homosexuality; the other, in 2008, who's openly gay and seeking love. It's being presented by MCC Theater, in residence at the Lortel Theatre, and just opened to mostly raves. Co-starring are Adam James, Andrea Riseborough, and Ben Whishaw. Directing is Joe Mantello. One critic observed the play has "thought-provoking observations about cultures of repression and openness."

Yank! , a musical set to the popular tunes of the '40s, is set during World War II and chronicles the relationship between two servicemen who dare prejudice with courage in order to survive. Thousands of gay men and women served their nation, some even rose to high rank, but under very deep cover. It's presented by the DD-winning York Theatre. Music direction is by John Baxindine, with choreography by Jeffry Denman. The large cast includes Nancy Anderson [Wonderful Town], Jeffry Denman, Ivan Hernandez, and Bobby Steggert [Ragtime, 110 in the Shade]. Honors for Yank! include a GLAAD Media Award nomination, a NYMF Audience Award for Best Musical and the New York Innovative Theater Award for Outstanding Musical Production. For information and tickets, visit www.yorktheatre.org or call (212) 935-5820.

The Naked Angels company is moving Geoffrey Nauffts' intriguing and complex Next Fall , from Off to On, with a March 11 opening. It's "an intellectual stealth bomb" dropping on a gay couple [Christian and atheist], Adam and Luke [Patrick Breen, Patrick Heusinger], agonizing over religious differences as one of the lies in hospital in a coma as a result of an auto accident. Ben Brantley wrote in the Times, that it "proceeds with the stinging breeziness of a cosmopolitan comedy. You can imagine its concept being pitched to a television producer as a sort of Will & Grace with an ontological conscience." Co-starring are Patrick Breen, Maddie Corman, Sean Dugan, Patrick Heusinger, Connie Ray, and Cotter Smith. Sheryl Kalleron is the director.

On April 18, Emmy-winning Kelsey Grammar of Fraiser and Cheers fame returns to Bway for the first time in 10 years to co-star as Georges with Douglas Hodge as Albin in the revival of Jerry Herman/Harvey Fierstein's La Cage aux Folles. Featured will be Nick Adams, Christine Andreas, and Veanne Cox. The director is Terry Johnson, with choreography by Lynne Page.

A Great Lady, a Great Voice Silenced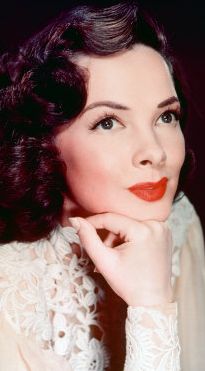 Kathryn Grayson, whose beauty and lilting soprano brightened M-G-M's golden age of classic musicals in the 40s and 50s - in such films as Anchors Aweigh, Show Boat, and Kiss Me Kate, died peacfully at her Pacific Palisades home Wednesday. She turned 88 on Februrary 9. Besides being a great beauty on the outside, she was beautiful inside.
I first met Miss Grayson on location when some riverboat shots were being filmed for Show Boat. She was rather surprised a "youngster" knew so much about her career. We corresponded and later we did a number of interviews about her career and years at Metro.
Miss Grayson, who rarely uttered an unkind word, was beloved by "old school" Hollywood. Her image onscreen was elegant and genteel, but she had a devilish sense of humor. However, she was well known for her positive outlook on life and immense graciousness. Her kindness to those in need was vast.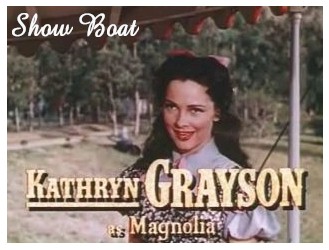 On visits, she sat at her magnificent concert grand and told of José Iturbi coming over to play; and regaled with stories of Mario Lanza singing from her small Spanish balcony "with his gorgeous voice echoing out over the Pacific." Though she and Lanza were often paired in film, it took a while for them to become such devoted friends. "When we met," she said, "I found his ego and temper tantrums intolerable. Typical tenor!" After Lanza's sudden death, with his family in great debt, Miss Grayson took the entire family into her home.
Oddly, at a time when opera wasn't in fashion with the masses, Miss Grayson was as popular as Betty Grable -- even to military men, though she was never a Grable-like pin-up girl. Her mainstay was the girl-next-door image.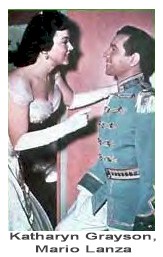 Miss Grayson spoke fondly of Howard Keel and revealed that Howard Hughes and Sinatra pursued her "but I was vigilant." Since her screen image was so elegant, some of them most enjoyable and surprising stories she told were the behind-the-scenes ones: for instance, how the studio, not wishing for her to appear sexy onscreen, would do all sorts of tricks to conceal her ample bosom.
One quite memorable afternoon, her assistant and devoted friend and assistant of many years Sally Sherman goaded Miss Grayson into telling how a Metro director, "a family man and infamous skirt chaser," was absolutely determined "to have me. At first, I was terribly insulted, but eventually I found his persistence flattering - and then I'd realize all the gals he bedded."
Miss Grayson, who passed on a possible career with the Metropolitan Opera to make movies, in later years was very much in demand for opera master classes.
For a full list of Miss Grayson's credits, visit www.IMDB.com.

BBTY at 10
Broadway by the Year kicks off its 10th Anniversary season at 8 P.M. on Monday at Town Hall with a salute to a truly golden era of classic shows, Broadway Musicals of 1927. The lineup includes some ragin' hot stars and BBTY audience favs.
Appearing will be Alexander Gemignani [Road Show, Sunday in the Park..., Sweeney Todd, Assassins], who's also directing, Chad Kimball [showstopping star of Memphis], and the indefatigable Marc Kudisch.
Kate Baldwin and Christopher Fitzgerald of the gone-too-soon revival of Finian's Rainbow will be onstage, with a quartet of stars from the also gone-too-soon Ragtime: Ron Bohmer, Quentin Earl Darrington [the much acclaimed Coalhouse Walker], Christiane Noll, and the much acclaimed Bobby Steggert [who was yanked from the Neil Simon stage door and cast into Yank]. Also on the roster are Melinda Sullivan [High School Musical], Bway-bound in Frank Wildhorn's Wonderland; and cabaret artist Carole Bufford.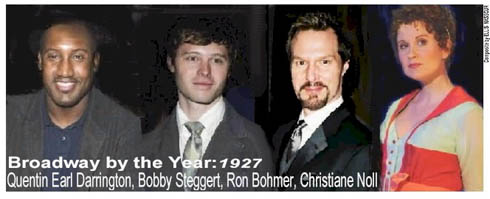 Some of musical theater's classic songs came to light in 1927: George and Ira G's ethereal "S'Wonderful" [Funny Face]; Izzy Berlin's "Shaking The Blues Away" [introduced by Ruth Etting in Ziegfeld Follies of 1927]; Kern/Hammerstein's "Can't Help Lovin' Dat Man of Mine," "You Are Love," and "Ol' Man River" [ from Show Boat]; and Brown/DeSlyva/Henderson's "The Best Things in Life Are Free" and "The Varsity Drag" [Good News]. Ross Patterson is back as musical director/arranger with his incredible Little Big Band.
Darrington [wanna bet he's singing a particular classic from Show Boat? And "unplugged"?] and Kimball are making their BBTY debuts. Also appearing will be will tapper/hoofers/choreographers extraordinaire Jeffry Denman, Kendrick Jones, and Noah Racey. Denman and Racey will perform the long forgotten "The Babbitt and the Bromide" from the '27 Follies in tribute to Astaire and Kelly who performed it in the 1946 film adaptation.
Upcoming at BBTY: 1948, March 22; 1966, May 10, and the anniversary season finale spectacular, Broadway Musicals of 1990-2010 with a bigger-than-usual star lineup, June 14.
Tickets are $45 and $50 and available at the Town Hall box office, through TicketMaster, (212) 307-4100 or www.ticketmaster.com.

This Just In
The 55th Annual Drama Desk Awards will take place Sunday, May 23 at 9 P.M, at the F.H. LaGuardia Concert Hall at Lincoln Center. Nominations will be announced May 3 at a Friars Club press conference. Watch Theatermania.com for DD Awards ticket availability. Awards exec producer Robert Blume will soon announce who's hosting. Can't tell. It's top secret!

How About Some Opera?
The unusually-named Glenn Seven Allen, who for a long time has easily transitioned by the musical stage to opera, will portray the Duke in New York Lyric Opera's concert production of Verdi's Rigoletto on February 27 at 8:30 P.M. at Symphony Space. Valentina Fleer will play Gilda. Stephen Crawford conducts.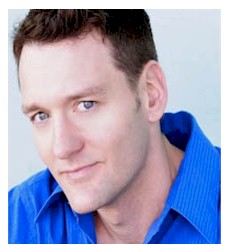 Allen has appeared on and Off Bway, City Center Encores! Girl Crazy [directed by Jerry Zaks], and at major regionals but it's in opera where he's made not only a name for himself but also received luminous raves in various company's productions as Rodolfo in La Boheme, Romeo in Romeo et Juliette, Alexis in The Chocolate Soldier, and Rodolpho in William Bolcom's A View from the Bridge.
Allen was a finalist in the San Francisco Opera's 2009 Merola competition, one of the most prestigious American opera training programs. Onstage, he covered the roles of Fabrizio and Giuseppe.in LCT's hit production of Adam Guettel/Craig Lucas' The Light in the Piazza; and, prior to the NY production directed by Bartlett Sher, he originated the role of Giuseppe in LITP at Chicago's Goodman and, under Lucas's direction, in the Seattle' premier at the Initman. He was nominated for a Helen Hayes Award, Best Actor, for his Clifford Bradshaw in Arena Stage's Cabaret. Allen also runs a voice studio with many A-List Bway performances among his clients.
For more information and tickets, visit www.symphonyspace.org.

Battle Fatigues
The Metropolitan Museum's uptown, scenic Cloisters museum, the branch devoted to the art and architecture of the Middle Ages, will host 30 citizens of the Netherlands wearing historically accurate attire based on medieval designs from 15th Century illuminated manuscripts. On February 28, at 1 and 3 P.M., they'll participate in a lecture demonstration with costume historian Desirée Koslin. The costumes are those that would have been worn by dukes, duchesses, ladies of the court, and merchants, as well as the hoi polloi. The event is free with Museum admission.

At the Movies
Move over Vertigo, Mulholland Drive and Antichrist, Oscar-winning director Martin Scorsese's ultra psychological thriller/puzzler Shutter Island [Paramount Pictures], arriving in theatres today, will be the subject of endless "watercooler" debates. Based on the 2003 best-selling suspense novel by Dennis Lehane [Mystic River], it's set against the backdrop of a hospital for the criminally insane on a rugged island of towering cliffs - out in Boston harbor!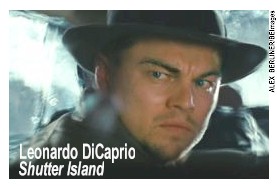 Starring is three-time Oscar nom Leonardo DiCaprio as a U.S. marshal haunted by the sights of WWII German death camps, who may or may not have an identity problem brought about by a traumatic incident. Trauma plays a large role in the proceedings. As dozens of psychopaths roam, there's a lot of psychiatric mumbo jumbo from Oscar winner Ben Kingsley as the asylum head DiCaprio butts heads with.
In a convoluted story, DiCaprio stands out in probably his best role to date. Even if at times he looks like the spitting image of Jack Nicholson in The Shining, It's a nomination-caliber performance.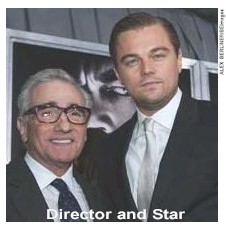 No doubt heavily-influenced by Hitchcock and David Lynch, Scorsese doesn't mind going out on the proverbial limb. So pay very close attention. The film switches more gears than an old Buick. There are clues everywhere, especially at the very beginning and about 20 minutes later. It takes another 20 minutes to really get going, but then buckle up because it's a bumpy ride. It's intense! Never turn away from the screen, and don't believe anything you see or hear.
Shutter Island co-stars Mark Ruffalo; Michelle Williams; Oscar nom Max von Sydow, who can chew the hell out of scenery even while sitting in a wingback chair [he wins the prize for the most elegantly dressed doctor in his priceless pinstripe suit]; Emily Mortimer; Oscar nom Jackie Earle Haley [Little Children; TV's Human Target and Watchmen]; and, in one of the most mind-boggling performances of her mostly quite distinguished career, Oscar nom and Emmy winner Patricia Clarkson, who bravely portrays her real or unreal character sans make-up.
Audiences will have to take several leaps of faith, because you can't count on reality. There are enough holes in the pic to fill a doughnut factory, but that didn't hurt Vertigo. Even if the film might not be everyone's cup of tea, there are many standout things: Rob Legato's visual effects, editing by Scorsese vet Thelma Schoonmaker, Robert Richardson's incredible cinematography, and the ominous score [with lots of lilting Polish classical music to boot] by Bernard Herrmann wannabe rock composer Robbie Robertson.
An aside: Overheard at the media screening, Friend to film critic: "Did you think it was cerebral?" Film critic: "The only thing cerebral about it was Marty Scorsese having his head up his cerebral xxx!"
Ellis Nassour is an international media journalist, and author of Honky Tonk Angel: The Intimate Story of Patsy Cline, which he has adapted into a musical for the stage. Visit www.patsyclinehta.com.

He can be reached at [email protected]





Why are you looking all the way down here?
For more articles by Ellis Nassour, click the links below!

Previous: A Season of Star Power; Encores! Fanny; Angela Lansbury Feted; Broadway by the Year's 10th Season; Zero Hour Returns; What to Give for Valentine's Day; New to DVD

Next: Over 40 Years Later, Mart Crowley Revisits The Boys in the Band

Or go to the Archives