There is nothing like a dame, goes that familiar refrain from Rodgers & Hammerstein's South Pacific, and there's nothing like Dame Edna Everage. And there's nothing like an evening of soothing Michael Feinstein. So, put them together and what do you have? All About Me, the new revue which opened last night at the Henry's Miller's.

What's it about? "It's really all about me!" claims Dame Edna emphatically. Says Feinstein, always a gentleman and much less emphatically, "It's really all about me."
Anyone with any inside sources in this business - and isn't everyone an inside source? - knows that staging a show with two pretty powerful egos isn't easy. One is an artist with global theatrical background; the other, a composer/artist who's weathered musical trends to remain a force.
How does one placate what Dame Edna called "strange bedfellows" with equal billing and time onstage? That task went to Tony and Drama Desk nom'd director/choreographer Casey Nicholaw [who took over from Jerry Zaks on his departure to The Addams Family] and, seemingly to a lesser degree if the material in the 90-minute revue is fairly judged, Tony nom'd playwright Christopher Durang.

Playbill even joined in the faux feud, complementing both stars with their individual program, which eliminates any mention of the other [even sans bio].
All About Me opens smoothly with an extended overture, with snippets from Cabaret, Cats, ACL, Chicago, Gypsy, POTO, Sunday in the Park..., Sweeney Todd, Sweet Charity, WSS, and a sample of "New York, New York."
Feinstein appears on a Art Deco-style set with a 12-piece orchestra under Rob Bowman's direction. In very fine voice, he sails through classics from the Great American Songbook fronting the band and at his very own concert grand. The tunes include Bricusse/Newley's "What Kind of Fool Am I?", the Gershwins' "Strike Up the Band," Lerner/Lane's "What Did I Have That I Don't Have," Rodgers/Hart's epic torch "My Romance," and then he lets loose rockin' Jerry Lee Lewis style with "Great Balls of Fire." Along the way he removes a gigantic vase of gladiolas.
But whose show is this anyway? All havoc breaks loose with the arrival of Dame Edna Everage, who has no idea what Feinstein's doing center stage. Is he her warm-up act?
Decked out in glitzy gowns - one, supposedly hand-sewn by Australian nuns, with enough rhinestones that it must have shut down the mine - and glam footwear, the bejeweled, wisteria-haired Aussie expatriate takes the spotlight and the gladiolas are in bloom again. She does what she does best, what her fans have come to expect: dish out her brand of tough love.
All About Me came about after many years of friendship with Feinstein. "We met on the Tonight Show," recalls Feinstein, "After the program, we struck up a conversation about classic American songs. Dame Edna was especially interested in learning about Oscar Levant. Later, I invited her to join me at one of Roddy McDowell's famous, star-studded dinners. That further cemented our friendship."
"I've always loved the music of the Great American Songbook," explains Dame Edna. "And Michael is one of its greatest interpreters. He's more than a singer and pianist. He's a music scholar and historian. One of his great achievements is showing the American public that this is one of its greatest gifts."
AAM, the Dame adds, "is the kind of entertainment everyone needs." Feinstein says it'll give Dame Edna the opportunity to further "explore her theatrical roots."
They wanted to create the best show in town, says Dame Edna. "It's an all-new theatrical infrastructure. I'll be glowing in never-before-seen frocks designed by my son Kenny. I'll be singing and we'll be doing duets." She describes the show as "a meditation on loss, a sort of story of reconciliation"; and slyly adds, "Since it's all about me, it will be a bit of a love/hate relationship."
Dame Edna continues her tradition of giving "very spot-on psychic readings to astonished audience members." She feels the need to do it because "my audiences are needy. I'm here to help the darlings. I cut through the nonsense and tell it like it is. I pretend they're as intelligent as I am. As a result, afterward they bask in newfound self-confidence. My only consideration is for my less fortunate peers."
It would be hard to imagine her not offering fashion advice to select audience members, who will in turn either laugh it off, hide under their seats,or run for cover. Be warned: It's never a good idea to get out of your seat to run to the "potty"; and, God forbid, don't arrive at 7:45 for a 7 P.M. performance! The Dame's raison is, "I came all the way from Australia and I get here on time."
These little admonitions don't always go over well with those who've paid Broadway prices to see the legendary star. "When audience members feel I'm a little too in-their-face with my gentle probing," says Dame Edna, "I have fits of depression."
She states, "I've been known to say such constructive things as 'That's a nice outfit. I used to make my own clothes, too!' And the poor dear I addressed didn't return for Act Two. Some people just are not ready for the truth! I want my possums to dress as if every day is a special occasion. I hate this American obsession with do-rags and torn dungarees. Why not relax in designer outfits as I do. Of course, I'm not only gorgeous, but also rich."
The Dame says audiences have come to experience her originality and freshness, "so I don't over-rehearse. I want to be spontaneous." Some things, however, are predictable, "such as no sooner than I set foot onstage, audiences - even hard bitten old Broadway theatergoers -- rise to their feet. Except for one man the other night. Sadly, he only had one leg. Still, he rose to his foot."
She reluctantly admits to having a joyous heart. "My motto is 'I'm sorry, but I care.' Do you know doctors prescribe tickets to my show as therapy? At every performance, there are busloads of poor, depressed darlings in need. And I zero in on them. If I can't coax a little twinkle out of them, I actually contemplate suicide."
Her Broadway outings Dame Edna: Back with a Vengeance and Dame Edna: The Royal Tour* were long enough ago [2004 and 1999, respectively], both devised and written by Barry Humphries, that you might expect some surprises, but - the Dame's claims notwithstanding - there's not much of an extreme makeover.
[* Following The Royal Tour, which ran close to 400 performances, Dame Edna was buried beneath an avalanche of awards, including a 2000 DD for Outstanding Solo Performance. In 2004, Back with a Vengeance was DD-nom'd for Outstanding Solo Performance. The Dame captured her first DD nom [Unique Theatrical Experience] for 1978's Housewife! Superstar!.]
"I have a simple message," she claims, "laughter. It's a magic tonic and the best weapon against world tension ever invented. I'm fortunate to do a job that makes me happy and gives people pleasure, because, when you laugh, you use muscles that you don't use in any other way."
Not to be outshone by Feinstein, the Dame also sings select tunes from The Great Australian Songbook, such ditties as "The Dingo Ate My Baby" and "The Koala Song." She and her boys surprise by channeling the Beyoncé hit "Single Ladies (Put A Ring On It)." In a truly introspective moment, Dame Edna brings down the house with her unique rendition of Sondheim's "Ladies Who Lunch."
According to her, when she leaves town, a deep depression settles over the theater community. "Psychiatrists call it EDS or the Edna Deprivation Syndrome. It happened after my last forays on the Great White Way; so, to show how caring and compassionate I am, I'm back."
Not if Feinstein can help it. He's persistent, even returning to the stage torn and battered after being exiled by two chorus boy toughs. The production stage manager comes to the rescue, recommending they do the show together.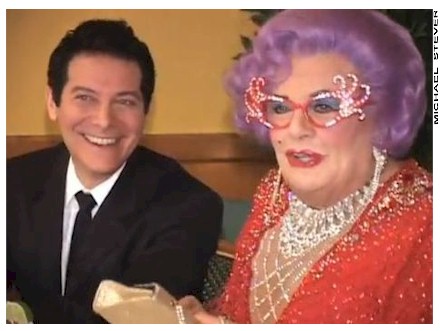 It all ends in perfect harmony, with what is the best part of the show: an extended, often hilarious medley by the duo. Songs include Berlin's "A Couple of Swells," Porter's "Friendship" and "I Get a Kick Out of You," Arlen/Mercer's "One More for the Road," Kahn/Woods' "Side by Side," Youmans/Caesar's "Tea for Two," "Wind Beneath My Wings," "You Go To My Head" - even Amy Winehouse's "Rehab," Pete Townshend's "See Me, Feel Me," and "YMCA."

The finale is a rousing sing-along to "The Gladdy Song." "My possums may arrive agitated," states Dame Edna, "but they leave happy -- more often than not, with a gladiola in hand."
The tradition of the gladiolas began by accident. "At one performance, I noticed a woman in the front row staring at my vase of gladdies. I became quite cross and began flinging them at her. I said, 'You might as well have them. You prefer looking at them instead of me.' She proceeded to share them with the entire row. When I did my last song, several people raised their gladies and began waving them in time with the music. It was poetic, funny and weirdly symbolic -- like an ancient rite."
Though Dame Edna makes no guarantees, she says her gladiolas have healing properties. "The ushers have found neck braces, canes, walkers, and prosthetics. If an audience member has a body part that's giving them trouble, all they need do is strap the gladdie to the affected area. Overnight, enzymes will leech into their organs and amazing things will happen. All for a one-price-includes-all ticket!"

Pre-show preparations begin early "because, when it comes to make-up, I entrust my transformations to no one but moi! I am so gorgeous that I actually have to tone myself down instead of make myself up. I don't believe in surgery. Do you know what I call crow's feet? The dried-up beds of old smiles. I won't have them injected with poison! I pamper my skin with my own line of beauty products created from flowers and animal by-products."
An intimate confession slips into the conversation, the sort you would never expect to hear from Dame Edna Everage: she suffers pre-performance jitters. "Even a tough old trouper like me gets butterflies in the tummy. When audiences see me, I seem to be full of energy and confidence, but before I go out I'm shaking and sick with nerves; then I put on my glasses and I'm ready to expose myself."
Her success in America led to many media opportunities, including a short-lived TV show with such guests as Mel Gibson, Burt Reynolds, Robin Williams, Bea Arthur and Cher; an appearance on the 2001 Oscar telecast; and a recurring role on TV's Ally McBeal.Certainly one of TV's most memorable broadcasts was Dame Edna's 2008 appearance on the Tonight Show, where another of Jay Leno's guests was Nicole Kidman. She explained how, when Kidman was growing up in Australia, she was the actress' mentor.
"When little Nicole was an acting student," said the Dame, wrapping Kidman in warm embraces, "I coached her. I taught her everything she knows. I would have taught her singing to, but somehow she managed on her own."
As Dame Edna went on and on, Kidman stared in disbelief. The Dame ignored Leno and began another show with Kidman. As she went on and on in intimate detail, Kidman tucked her hands into what Dame Edna called "a most unlady-like part of the anatomy." Dame Edna admonished her and Kidman turned beet red as Leno and the audience were ROTF. Continuing with a relentless barrage, the Dame, without directly saying so, intimated Kidman wet her panties. The actress recoiled in jaw dropping horror. To her eternal credit, though she'll probably make sure she's never on another show with Dame Edna, Kidman was a trouper, sitting there when others might have stormed off.

The Dame Edna Everage Backstory
So, how did a star of the magnitude of Dame Edna Everage come to be? Her delightful, outgoing, helpful and sensitive exterior masks decades of interior horror. It wasn't always sparkling and blinding eyewear and dazzling sequins and jewels.
Behind every great woman, they say there's a great man. Claiming to be "behind" the Dame, there's satirist/performer/author/composer/painter John Barry Humphries. Dame Edna has become such a show business force to be reckoned that Humphries' claims of having created her persona bring stern words. "Can you believe anything a man ever says?" she admonishes.
Research, if it can be believed, reveals Humphries was a spoiled child but that his building contractor father spent little time with him. He reveals he was so painfully shy that "facing an audience amounts to my own form of highly paid therapy. As a child, I hid behind the curtains when relatives came around. Mother would say, 'Sing us a little song. Pretend to be the wireless.'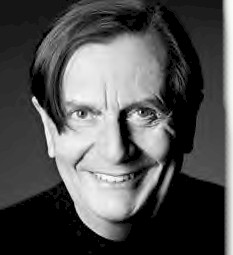 "I would disguise myself as different characters," he continued. "I had a whole box of dressing up clothes - red Indian costume, sailor suit, Chinese costume." That pretend helped create the persona we have come to know. "I found entertaining people gave me a feeling of release. Making people laugh was a good way of befriending them. People couldn't hit you, could they, if they were laughing?"
At Melbourne University, Humphries studied law, philosophy and fine arts. After writing and performing songs and sketches in revues there, he was a charter member of the Melbourne Theatre Company.
In 1955, Humphries claims, and wrote candidly about this in his 1992 autobiography, More Please, he created a character similar to Dame Edna in a sketch titled Olympic Hostess, in which "Edna" was "a caricature of Australian suburban complacency and insularity." The evolution to the celebrated, titled housewife/megastar Edna took four decades.
At age 20, after earning a following as "Dame Edna" in one-woman shows and on TV, he arrived in Britain. In the 70s, the career blossomed via such shows as A Night with Dame Edna. He began his theatrical career in the Berlin musical Call Me Madman and made his West End debut as undertaker Mr. Sowerberry in Lionel Bart's Oliver! opposite Clive Revill's Fagin. In 1963, he reprised the role on Broadway, where it won the Tony for Best Musical. That show had sets and costumes designed by Sean Kenny. Any relation? Could this be the Dame's beloved Kenny?
It's been difficult locating any official records indicating the bestowing of a royal title by QE2. However, Down Under, Humphries holds their highest honor, the Order of Australia.
He appeared in numerous West End shows and on radio. In 1967, following another Oliver!, revival, he met Peter Cook and Dudley Moore which led to his screen debut, as Envy in their film Bedazzled, directed by Stanley Donen. In 1977, he appeared opposite Shirley MacLaine in The Bliss of Mrs. Blossom.
In 1997, Humphries joined Cameron Mackintosh's long-running London Palladium Oliver!, revival, directed by Sam Mendes, following Jonathan Pryce in the role of Fagin. Jim Dale, who later took on the role, says Humphries "was priceless. In the scene where Fagin opens a box of jewels, Barry decked them about himself, then took out a pair of jeweled spectacles and played Fagin as Dame Edna for a few minutes. He had the audience in convulsions."
Humphries became an avid painter in his late teens - when he discovered there were nude female models. He's considered an outstanding landscape artist.
With success, came a demon. Humphries admits alcohol contributed to the breakup of his first two marriages. He hasn't picked up a drink since the 70s. But he has been on the marriage-go-round four times. Current wife Lizzie Spender, daughter of British poet Sir Stephen Spender and an actress, playwright and cookbook author, is nearly 20 years his junior. Humphries has four children.
Humphries, taking a cue from Dame Edna, began branching out and away from his and her's other persona. He portrayed Mrs. Crummles/Mr. Leadville in the 2002 screen adaptation of Nicholas Nickleby; and provided the voice of Bruce in Disney/Pixar's Oscar-winning mega animated hit Finding Nemo.
Next up is Madam Needham opposite Lucinda Rhodes-Flaherty in Ken Russell's just-wrapped film adaptation of Moll Flanders. Can you imagine that combination?

Must See Bway
Geoffrey Nauffts' Next Fall appears to be a top contender for one of the season's best plays. One audience member called is a "dramedy" because its love story between two gay men - Luke, a Christian; and Adam, a non-believer - has equal elements of drama, comedy, and tragedy. There's no shortage of Kleenex moments, so you could call it a joyful tear-jerker.
The play, presented Off Bway earlier by Naked Angels, seems to be set for a long run thanks to 13 producers, including Elton John and his partner, film producer David Furnish. Sheryl Kaller makes an auspicious Bway debut as director.
Ben Brantley, writing in the Times under the headline "Love with a Proper Atheist and Other Leaps of Faith" that later became "Leaps of Faith to Transcend Urban Angst," called Next Fall "a thoughtful and very moving story of a gay couple agonizing over differences in their religious faiths that proceeds with the stinging breeziness of a cosmopolitan comedy."
Luke, portrayed by TV's Gossip Girl co-star Patrick Heusinger, believes in God. The much older "nebbish" Adam, played by Patrick Breen [original Brighton Beach Memoirs, Big River, many, many more], doesn't.
In subtle and not so subtle ways and sometimes in total silence, Nauffts explores the ups and downs of this unlikely couple's five-year relationship with honesty and humor. The play has political relevance since Luke refuses to admit to his divorced parents, particularly his Born Again/homophobic father, that he's gay. Adam can't understand why he wishes to hide his sexuality and their love.
They're already having a rocky road, when Luke is critically injured after being hit by a taxi. As he lies in a coma, friends and family gather. Luke and Adam's story is told in flashback.
Next Fall boasts a strong, superb cast, all with an endless list of theater/film/TV credits. In addition to the leads, Connie Ray [a star and writer of the down-home musical Smoke on the Mountain; The Heidi Chronicles], as Luke's rebellious stepmom, and Maddie Corman [Isn't It Romantic] as best friend Holly, supply beautifully-etched character portraits and scene-stealing moments.
They have excellent support from Sean Dugan [Bway debut; Valhalla, Flesh and Blood, Corpus Christi] as an introspective, seemingly self-hating friend from Luke's past; and Cotter Smith [An American Daughter, Burn This, How I Learned to Drive], as Luke's father, aptly named Butch. You can quibble with Nauffts' fade out. When Adam picks up the phone, you know he's about to say three more words.
Another Good Year
Grammy-winning Platinum-selling recording legend Melissa Manchester will join the cast of Scott Siegel's Broadway by the Year: The Broadway Musicals of 1948 on Monday in the acclaimed Town Hall series, celebrating its 10th Anniversary season. 1948 was one of the last seasons top-heavy with revues.
Shows that graced Broadway for 1,077 performances during that "unplugged" season include Cole Porter's Tony-winning treasure Kiss Me, Kate, with Tony-winning book by comedy vets Bella and Sam Spewack, based on the Bard's Taming of the Shrew and starring Alfred Drake, Patricia Morison, Lisa Kirk, and Harold Lang; and the classic musical comedy Where's Charley? by Frank Loesser and starring Ray Bolger.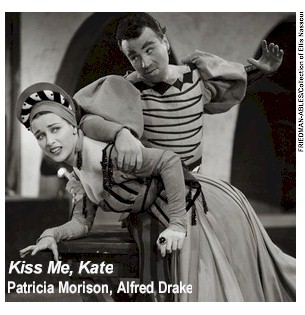 Kate songs to be heard, some undoubtedly "unplugged," are "So In Love," "Where Is the Life that Late I Led," "Were Thine that Special Face," and "Too Darn Hot." Charley will be highlighted by its runaway hit, "Once In Love With Amy,"
"Mr. Right," from the Weill/Irving Schlein/Lerner "vaudeville" Love Life with a time period from 1791 to 1948; "Schraffts," from Richard Lewine/Arnold Horwitt's hit revue Make Mine Manhattan; "Haunted Heart" from Inside USA; and "Neurotic You and Psychopathic Me" from Charles Gaynor's hit revue Lend An Ear.
Headliners include: Jeffry Denman [White Christmas], Erin Denman [42nd Street], Josh Grisetti [Enter Laughing], Jeff McCarthy [Urinetown], William Michals [South Pacific], Noah Racey [Curtains], Bobby Steggert [Yank!, Ragtime, 110 in the Shade], and Grammy-winning opera singer John Easterlin. Stuart Ross [Forever Plaid] directs, with musical direction/arrangements by Ross Patterson, who'll be accompanied by his Little Big Band.
Tickets are $45 and $50 and available at the Town Hall box office, through TicketMaster by calling (800) 982-2787 or online at www.ticketmaster.com.
"Having a star of Melissa Manchester's magnitude join us for 1948," says Siegel, "brings yet a greater spotlight to the wonderful music of Broadway's golden age and further underscores our efforts to make our 10th Anniversary season memorable."

Mark your calendar for Broadway Musicals of 1966, May 10; and the BBTY 10th Anniversary spectacular, June 14, the night after the Tony Awards, which will celebrate Broadway Musicals of 1990-2010 with one tune each.

Last Chance
Olivier, Tony, Drama Desk, and Outer Critics Award-winning actress Lea Salonga continues in her New York nitery debut at the Café Carlyle in The Journey So Far through March 27. In The Journey So Far, Salonga features songs from theater, film, the American songbook and her native Philippines. Larry Yurman is music director/pianist, accompanied by a trio. Daniel Kutner directed.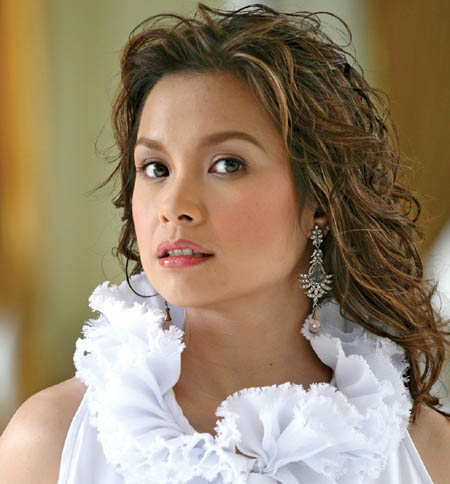 Salonga, 38 and celebrating 30 years in show business, was catapulted to international fame when cast at 17 as Kim in Miss Saigon. She later appeared in Les Miz and was chosen by Disney for the singing voices of Princess Jasmine in Aladdin and the title character in Mulan.
For shows Tuesday - Friday at 8:45 P.M., seats are $75, with VIP seating at $125 and seating at the bar, $45; and Saturday at 8:45 and 10:45, $85, $125, and $45. Dinner seatings are at 6:30, 7, and 7:30. For reservations, call (212) 744-1600.
There's the strong possibility that Salonga will soon be back on Broadway. While she's in town, she'll continue in development readings of a musical set in the U.S.'s infamous Japanese internment camps during WWII.
Salonga will play Grizabella in a limited July premiere engagement of Andrew Lloyd Webber's Cats, to be presented at Manila's Philippine Culture Center mainstage, the Tanghalang Nicanor Abelardo Theatre. The international cast will also feature Australia's John O'Hara in the role of Rum Tum Tugger.

Penny Serenade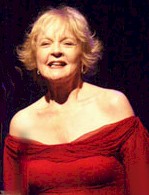 Tony nom Penny Fuller [The Dinner Party], who also won plaudits as Eve Harrington opposite Lauren Bacall's Margo Channing in Applause, the musical adaptation of the backstage drama All About Eve, will play the Metropolitan Room one-night-only, April 3, at 7:30.
Following her 1962 Bway debut, Fuller appeared as a replacement in Barefoot in the Park and Cabaret. She co-starred in Wendy Wasserstein's An American Daughter . Her last Bway outing was Richard Rodgers' 1976 short-lived Rex, in which she appeared as Anne Boleyn opposite Nicol Williamson's Henry VIII and Glenn Close's Princess Mary. Off Bway, she co-starred in William Finn's A New Brain and NJ's George Street Playhouse's 1999 revival of Rodgers' Do I Hear a Waltz?.
There's a $25 cover and two-drink minimum. Also, upcoming in April: Annie Ross, Marcus Simone, and, among others, Baby Jane Dexter, For reservations and complete talent line-up, visit www.metropolitanroom.

At the Ballet


Riding a wave of critical and popular acclaim, the Richmond Ballet, under Stoner Winslett [soon to be celebrating her 30th anniversary as A.D.], returns to the Joyce April 6 -11. It's been five years since their NY debut. In celebration of their 50 + years of dance, the 18 + strong company will present two mixed programs, three ballets each, making their Manhattan debut.

Program A will include Ancient Airs and Dances by Winslett with Italian and French lute songs orchestrated by Respighi. Program B will be highlighted by Vestiges by Colin Connor, with music by Michael Nyman.

The Richmond's resident artists are ballet master Jerri Kumery, formerly of the NYC Ballet and who serves as repetiteur with the George Balanchine Trust; and Igor Antonov, former principal dancer with the Ukraine's Donetsk Ballet and major international companies.

Tickets are $10 - $49; $26 and $37, for Joyce members. They're available through JoyceCharge (212) 242-0800 and www.joyce.org, where you'll find scheduling. A "Dance Chat" will follow Wednesday, April 7's performance and the Saturday, April 10 matinee. For more information, visit www.richmondballet.com.
Ellis Nassour is an international media journalist, and author of Honky Tonk Angel: The Intimate Story of Patsy Cline, which he has adapted into a musical for the stage. Visit www.patsyclinehta.com.

He can be reached at [email protected]





Why are you looking all the way down here?
For more articles by Ellis Nassour, click the links below!

Previous: Dame Edna & Michael Feinstein Featurette: All About Me

Next: Broadway's Beloved Patti LuPone to Host the 55th Annual Drama Desk Awards May 23

Or go to the Archives