Tony and Drama Desk multiple award winner Patti LuPone, will host the 55th Annual Drama Desk Awards on Sunday, May 23, at 9 P.M.. Robert R. Blume, exec producer of the Awards, and William Wolf, DD prez, made the announcement. The Awards will take place at the Concert Hall of the LaGuadia High School for the Performing Arts at Lincoln Center.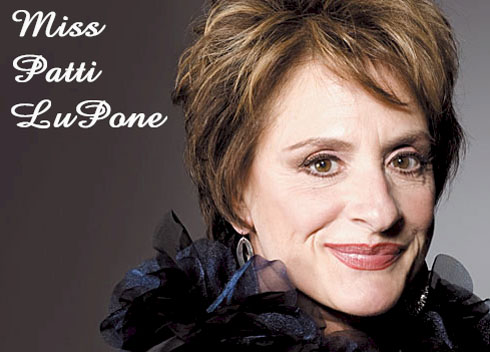 "It's an incredible honor for our Drama Desk Awards to be hosted by such a well-regarded and acclaimed stage legend," says Wolf.
"We are honored beyond our wildest dreams that Patti has accepted to host," states Blume. "Her indefatigable presence and personality will not only add entertainment value, but also lend added prestige to our event."
LuPone follows in a glittering line-up of DD Awards hosts: Bernadette Peters, Bebe Neuwirth, Lily Tomlin, Rue McClanahan, Chita Rivera, Harvey Fierstein [the host with the most: four times], Kristin Chenoweth, and the cast of [title of show].
LuPone's recent stage credits include her debut with LAOpera in Weill-Brecht's Mahagonny, the world premiere of Jake Heggie's opera To Hell and Back with SF's Philharmonia Baroque Orchestra; and, on Bway, her memorable Rose in the critically-acclaimed revival of Styne/Sondheim/Laurents' Gypsy, and as Mrs. Lovett in John Doyle's Tony and DD-winning no-frills Bway revival of Sondheim's Sweeney Todd; Fosca in a concert version of Sondheim's Passion, which was broadcast on PBS' Live From Lincoln Center; and a multi-city tour of her theatrical concert, Matters of the Heart.
LuPone received the Best/Outstanding Actress, Musical, Tony and DD Awards for the Gypsy revival, which she originated at City Center Encores! and Chicago's Ravina Festival.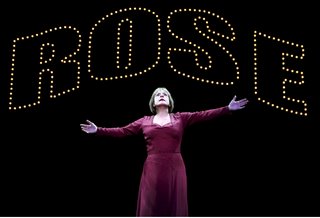 The much-honored LuPone, whom the NYTimes' Jesse Green referred to as "the "musical star built for another age, an Ethel Merman without portfolio."
Of her performance in Gypsy, this writer wrote: "Once she hops on the bike and revs the engines; once she stokes the furnace and reaches full speed ahead; once she takes off and reaches maximum throttle and roars into orbit, the luminous Patti LuPone is unstoppable as she gives the performance of several lifetimes ... With her astounding performance, she can hang her portfolio with pride right next to Merman's star."
Lupone was also the recipient of the Best/Outstanding Actress, Musical, Tony and DD for her title role Rice/Lloyd Webber's Evita; Tony and DD Actress, Musical, noms for the Sweeney Todd revival; Tony and DD Actress, Musical, noms for LCT and Porter's Anything Goes; Tony and DD Featured Actress, Musical, noms for Uhry/Waldman's Robber Bridegroom, based upon the Eudora Welty novella; and a DD, Featured Actress, Play, nom for Mamet's The Old Neighborhood.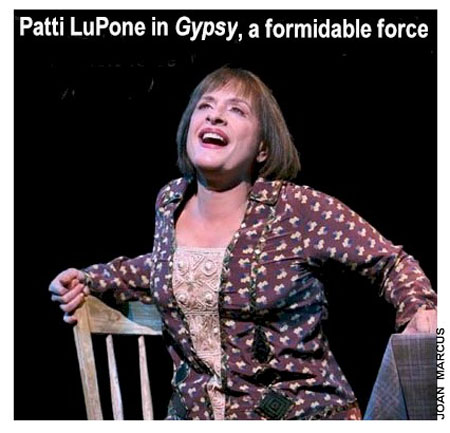 In addition, LuPone was honored with a Drama League Award for Outstanding Contribution to Musical Theatre; an OCC Award for her one-woman show, Patti LuPone on Broadway; and Olivier Best Actress, Musical, Awards for her West End performances in Les Miz and The Cradle Will Rock.
She also famously created the role of Norma Desmond in the 1993 West End world premiere production of Sunset Boulevard , for which she won an Olivier Best Actress, Musical, nom.
The Mahagonny cast CD won two Grammys, Best Classical Recording and Best Opera Recording. She has toured in the concert An Evening with Patti LuPone and Mandy Patinkin. The latter was, of course, her Evita co-star in the role of Che. Her solo concerts include Matters of the Heart, Coulda, Woulda, Shoulda and The Lady with The Torch. The latter is LuPone's latest CD [Ghostlight Records].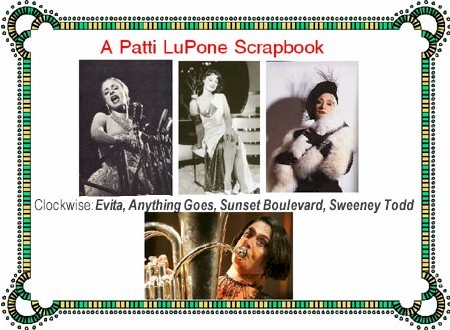 LuPone made her auspicious Bway debut in 1973, in repertory revivals of Three Sisters as Irina and The Beggar's Opera as Lucy, cast by John Houseman, then A.D. of the City Center Acting Company, in residence at the Billy Rose Theatre, now the Nederlander.
Incidentally, LuPone is penning her eagerly-anticipated tell-all autobiography, tentatively scheduled for later this year or early next by Harmony Books.
DD noms for the 2009-2010 season will be announced at the NY Friars Club on Monday, May 3, at 9:30 A.M.
The DD Awards will be co-presented by Theatermania.com, with Jeff Kalpak as director.
Drama Desk, organized in 1949, is an organization of theater critics, writers and editors that honors Bway, Off Bway, Off Off Bway and not-for-profit theater excellence. The first awards were presented in 1955.

[In the spirit of full disclosure, I am a member of Drama Desk and presently on the Executive Board; and an exec producer of the Drama Desk Awards.]
Ellis Nassour is an international media journalist, and author of Honky Tonk Angel: The Intimate Story of Patsy Cline, which he has adapted into a musical for the stage. Visit www.patsyclinehta.com.

He can be reached at [email protected]





Why are you looking all the way down here?
For more articles by Ellis Nassour, click the links below!

Previous: Dame Edna's Back and Michael Feinstein's Got Her; Next Fall; Broadway, 1948; Last Chance; Penny Fuller Sings; Richmond Ballet Returns

Next: You Know How to Whistle, Don't You?: Encores! Season Finale Is a Hit; A Shattering Glass Menagerie; Yank! to Soldier On; No Miracle for Miracle Worker; More

Or go to the Archives